BTS At The Louis Vuitton Fall-Winter 2021 Show 
ICYMI, in what is probably Louis Vuitton's best business decision to date, the brand named BTS their global ambassadors in April 2021. Ever since, the Bangtan Boys have been looking absolutely "dynamite" decked out in Louis Vuitton.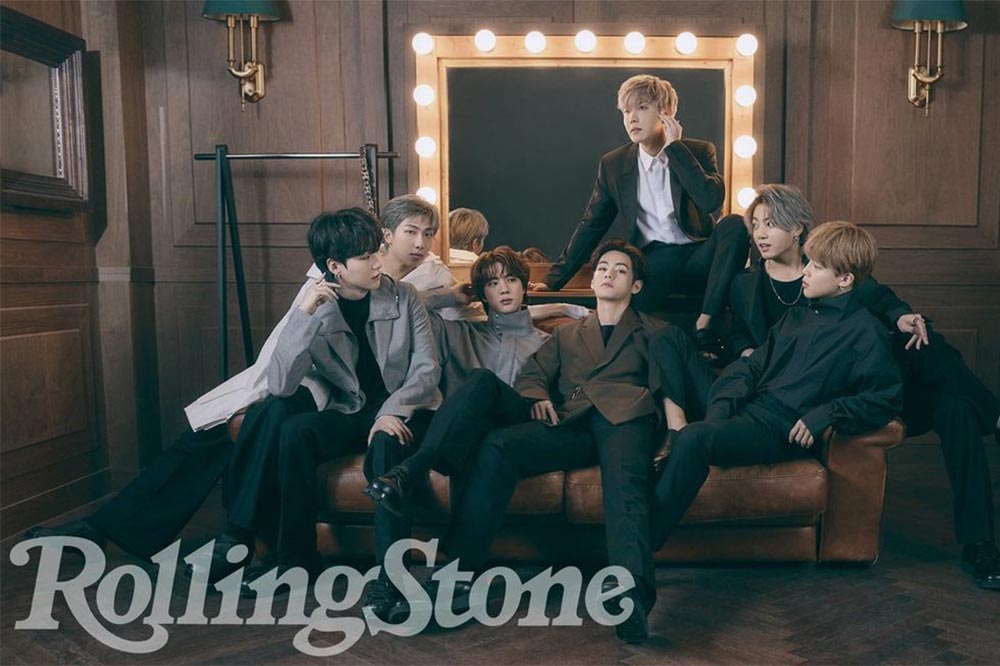 BTS dressed in Louis Vuitton for their shoot with Rolling Stone magazine
Source
The pictures speak for themselves. Must I say more? 
Recently, to present the pieces for their Fall-Winter 2021 collection, Louis Vuitton invited their house ambassadors to star in a short fashion film. Even if you're not into luxury fashion, you'll certainly be interested in the looks rocked by BTS themselves. 
Spoiler warning: they're drop-dead gorgeous. 
The fashion show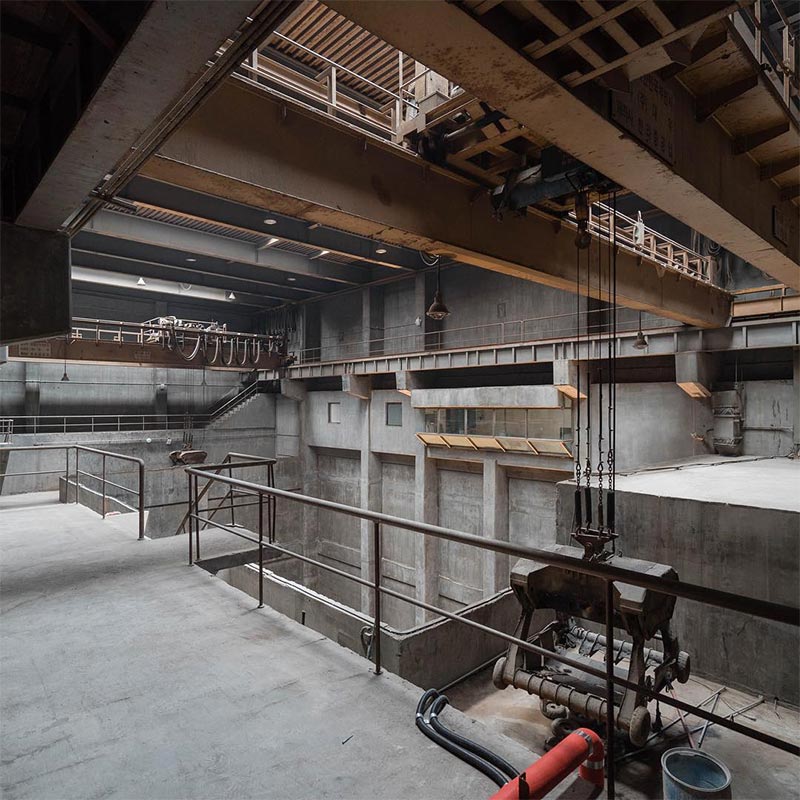 The fashion show was filmed at Art Bunker B39, an arts and culture space at Bucheon, which is just outside of Seoul. 
Fun fact: the space used to be a garbage incinerator plant, explaining the bunker's industrial look.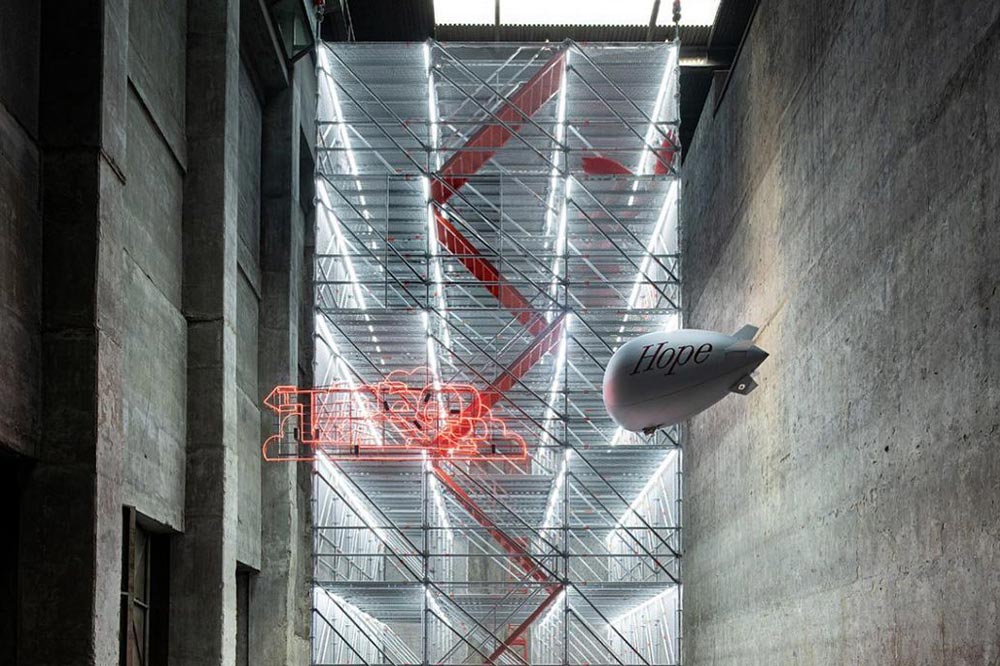 As part of the show, a 9-storey construction site-like lattice structure was installed. It's complete with neon lights, inflatables and a mini blimp with the word "Hope" printed on. Virgil Abloh, the brand's artistic director of menswear who has a degree in engineering and history as an architect, played a role in designing the structure. 
Also read:
The New BTS Pop-Up At Funan Is Now Open For ARMYs To Get Butter-ed Up With Exclusive Merch
BTS' outfits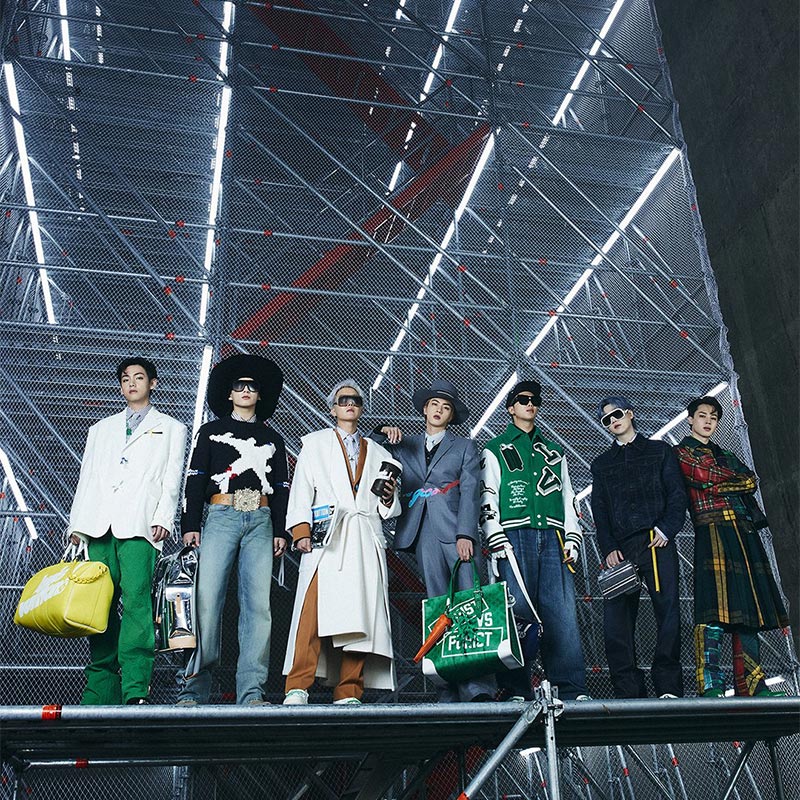 Each member of BTS was dressed in their own individual looks, modelling different outfits for Louis Vuitton as the undeniable stars of the show.
RM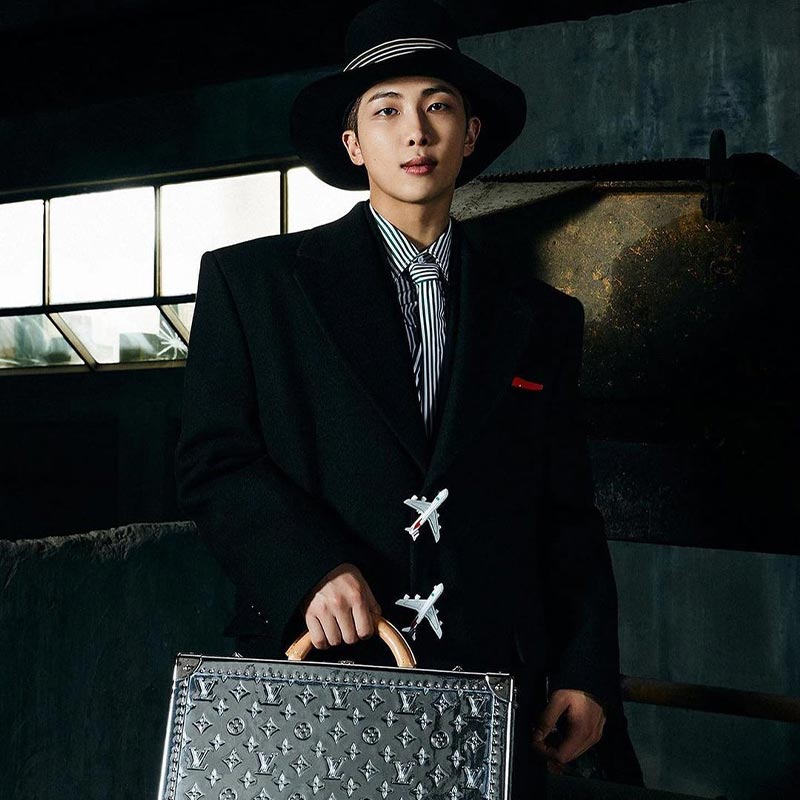 Rap Monster, or Kim Namjoon is the leader of BTS. So, it makes sense that his outfit, with a long black trench coat and top hat, makes him look like a boss. Quirky elements such as the airplane button motif and his shiny embossed silver briefcase further elevate the look.
Jimin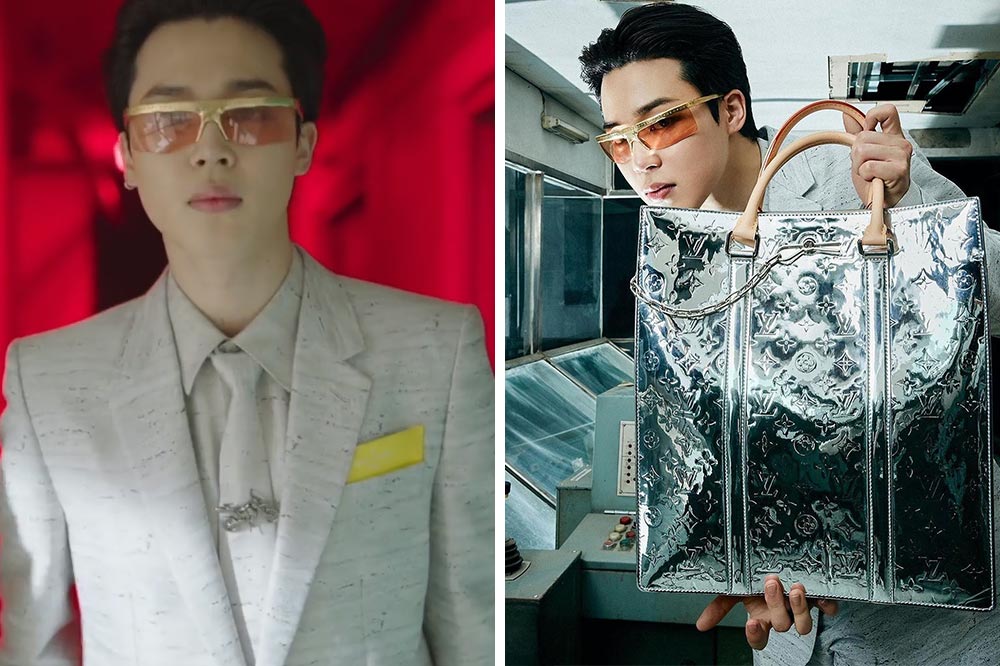 Jimin goes a more futuristic route with his ensemble. It includes a matching white suit with stone-like textures paired with a reflective embossed tote as shiny as RM's. However, the highlight of Jimin's outfits would be his glasses that can't help but remind me of something Will.I.Am would wear.
Jungkook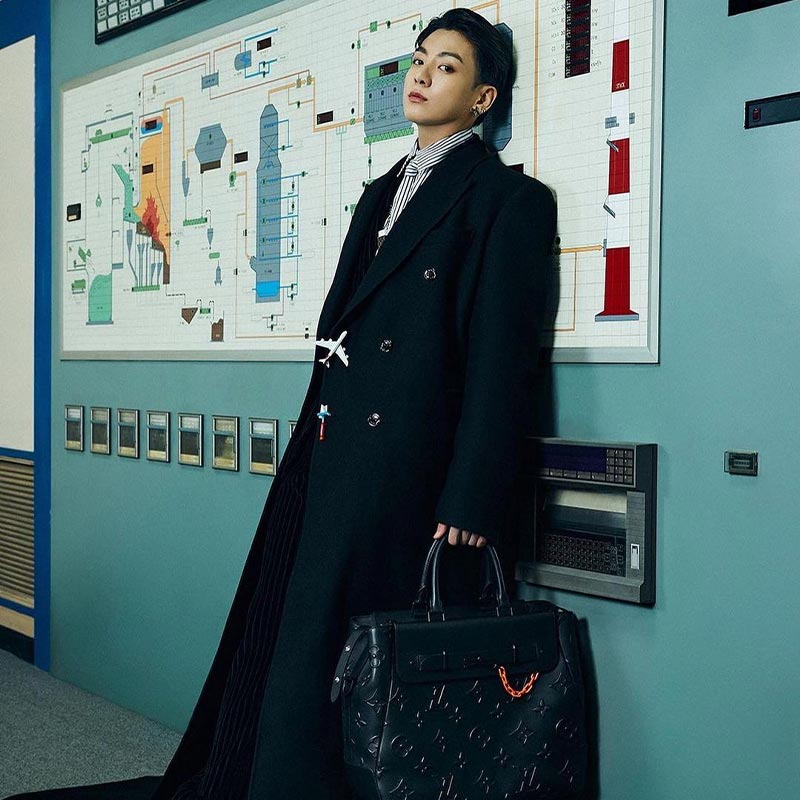 Jungkook continues to impress ARMYs and once again proves why he's called the Golden Maknae (a term referring to the youngest member in a K-pop group). His outfit comprises similar elements to RM's: a long black trench coat and a pinstriped shirt underneath. 
Jungkook also sports an embossed black duffel bag. I can only hope he's carrying that to prepare for a weekend away with me. *Sobs in desperate ARMY*. 
Jin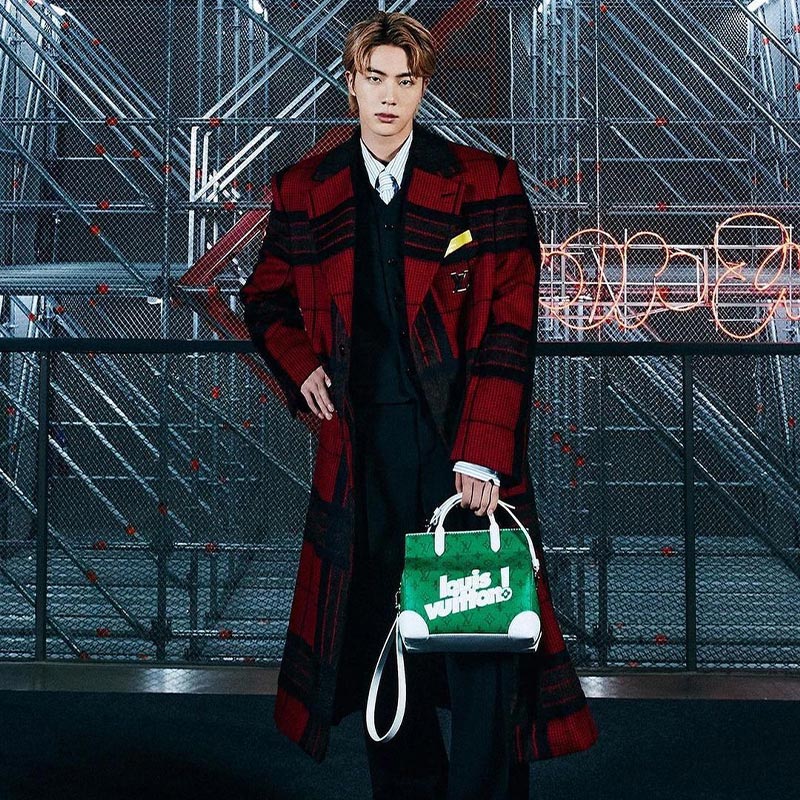 While the others so far were mostly dressed in rather monochromatic outfits, Jin probably didn't get the memo. Instead, his look is a masterclass in mismatched colours. To usher in the coming cold months, Jin is clad in a red-black checkered coat over a suave vested-suit. Adding a spot of  colour, he rocks an emerald-green bag with an almost cartoonish typography of the Louis Vuitton brand name.
J-hope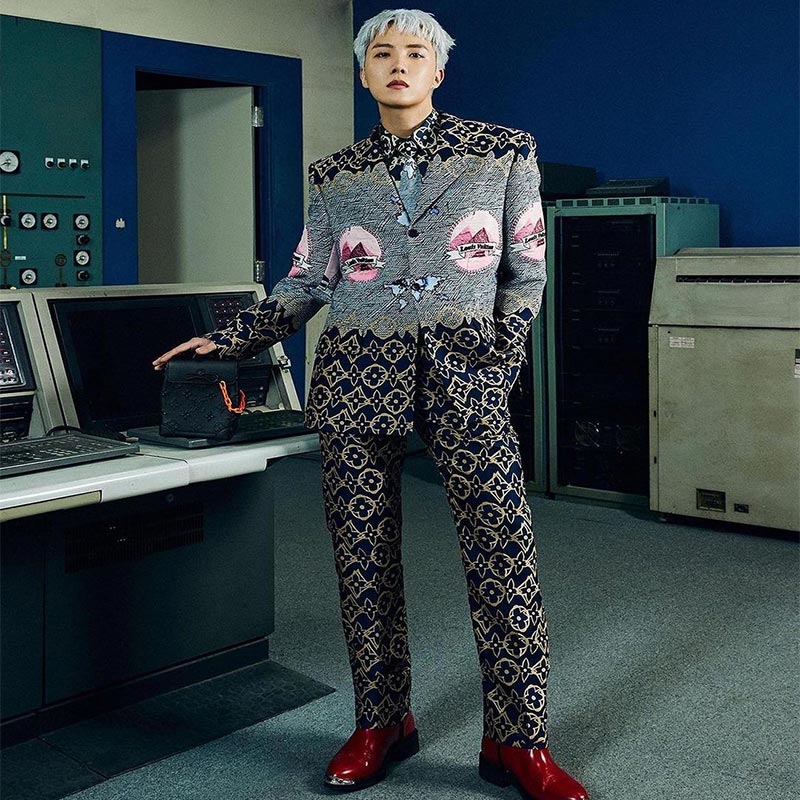 Out of all the members of BTS, J-hope's ensemble is no doubt the most eye-catching one, very reflective of the main dancer's personality. He complements his patterned-suit with a pair of red boots and a simple men's satchel. 
SUGA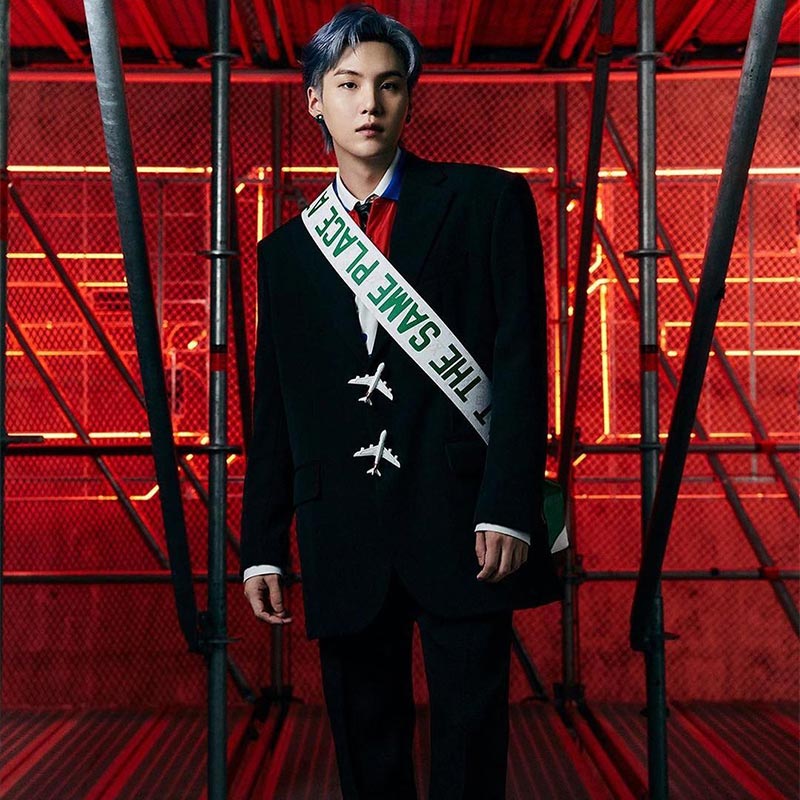 SUGA, Agust D, Yoongi. The rapper goes by many names. Now, as he rocks a sling bag with a strap resembling a pageant sash, he can add "King" to that list. SUGA rocks a baggy suit fixed up with the familiar airplane buttons motif. Smart casual vibes are definitely taking flight with this look.
V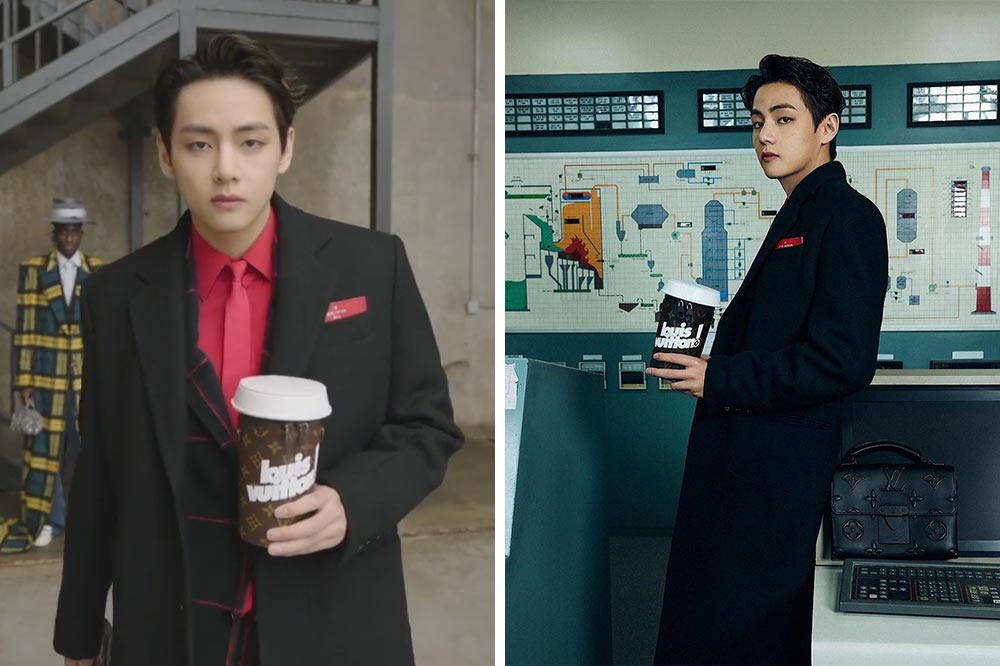 V's outfit and coupled with his fierce demeanour screams one thing: "I mean business". From his bright red shirt and tie, long trench coat, black bag and his coffee cup, Taehyung looks like a kingpin and he knows it. 
Side note: I won't drink coffee again until it's served in the exact same Louis Vuitton cup held by V. Never.
BTS Is Serving Winter Looks As Louis Vuitton Ambassadors
If you're enamoured by the looks BTS has served as Louis Vuitton ambassadors at the brand's Fall-Winter 2021 show, be sure to check out the full video on YouTube. Now that the band has conquered the music industry, it seems they're setting their sights on fashion. We can't wait to see what other luxury looks they'll bring to the screen next. 
While we can't physically cheer for BTS on the runway (or Bunker), we can show our support for them at the ongoing BTS pop-up at Funan Mall. 
Cover: Source 
Also read: 
These Custom Sneakers Made From The McDonald's BTS Meal Will Make You Keep Your Nugget Boxes