BTS x Starbucks Korea: Be the Brightest Stars
K-pop boy band BTS and Starbucks Korea have collaborated on a new line of merchandise and an exclusive menu titled, 'Be the Brightest Stars'. The collaboration will be available from 21 January to 6 February 2020.  
The merch includes pouches, bag charms, glasses and coffee mugs. The menu has a purple theme, with items like a Purple Star Cupcake, Purple Berry Cheesecake and Blooming Purple Vin Chaud.
Laptop and tablet pouches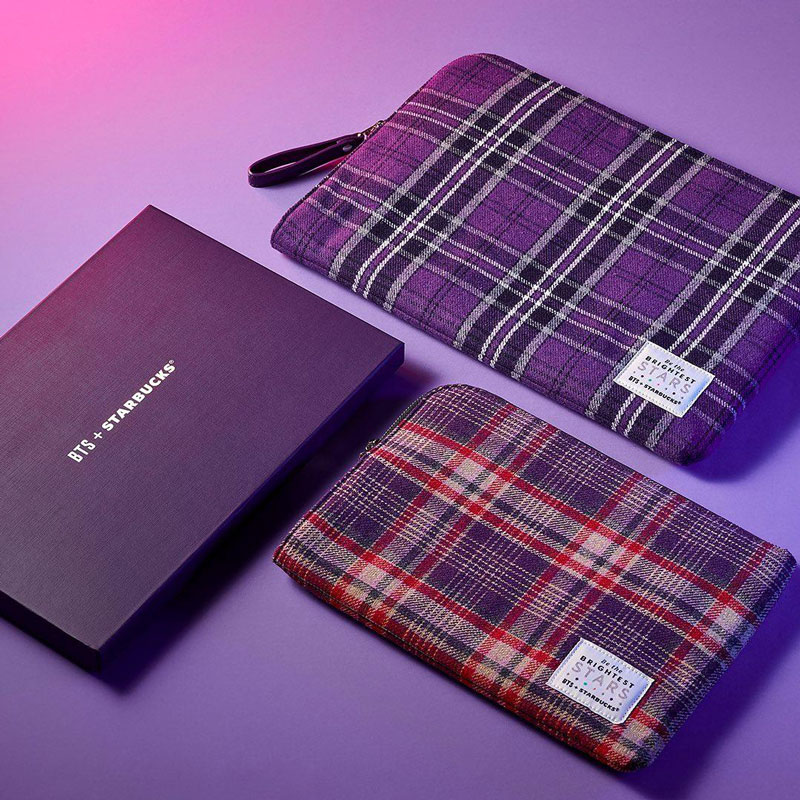 Source
There are two pouches in a checkered print: a tablet pouch in red, brown and purple and a laptop pouch in purple, black and white. A patch with the words "Be the brightest stars" adorns the pouches, acting as a source of encouragement each time you whip out your tablet or laptop at school.
Bag charms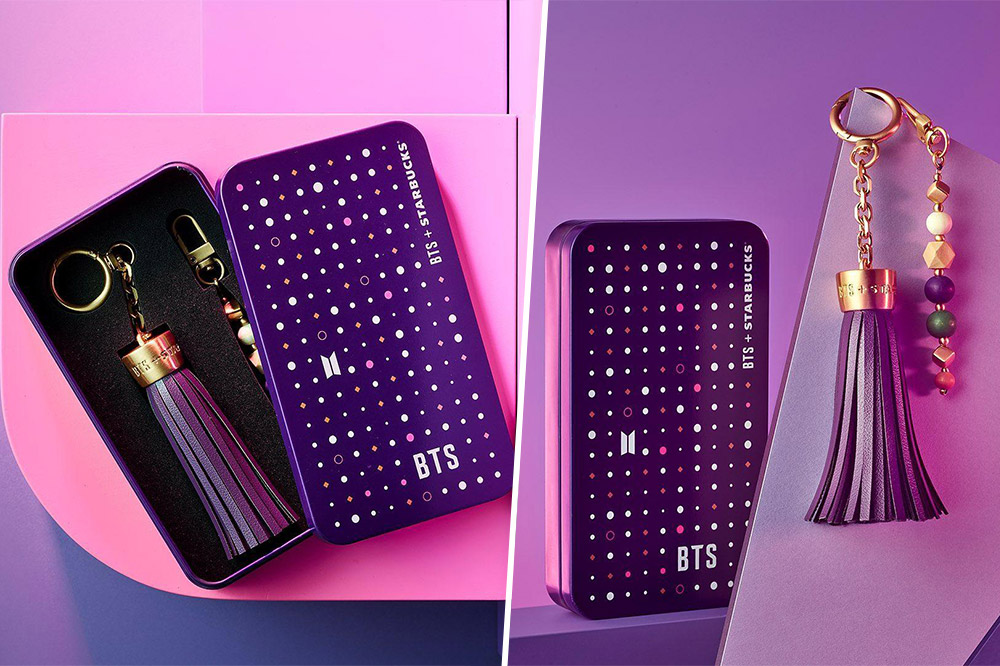 Source
Bedazzle your bags with these bag charm—available as a set with a purple tassel and a string of 7 bold studs, possibly symbolising the robust personalities of the 7 members. The charms come in a gorgeous purple tin box with the campaign's polka-dot motif. 
Glasses and coffee mugs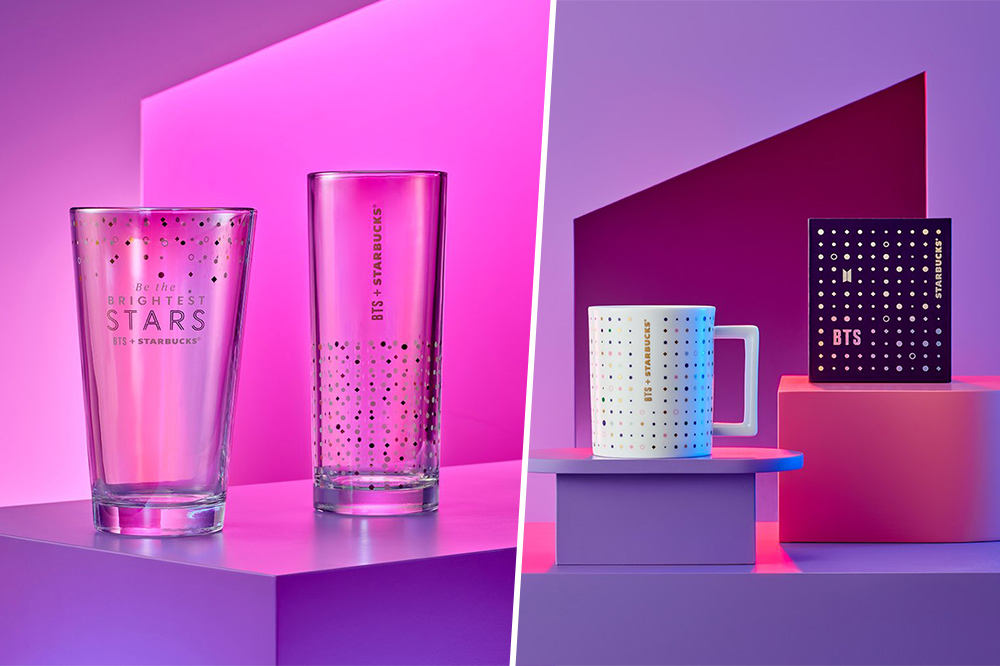 Source
A total of 2 glasses and a coffee mug will be available in the collection as well, featuring the same polka dot print.
Also read:
Anti Social Social Club x BT21 Hoodies Available Online For BTS Fans To Sweater Weather It Up
Purple Star Cupcake & Purple Berry Cheesecake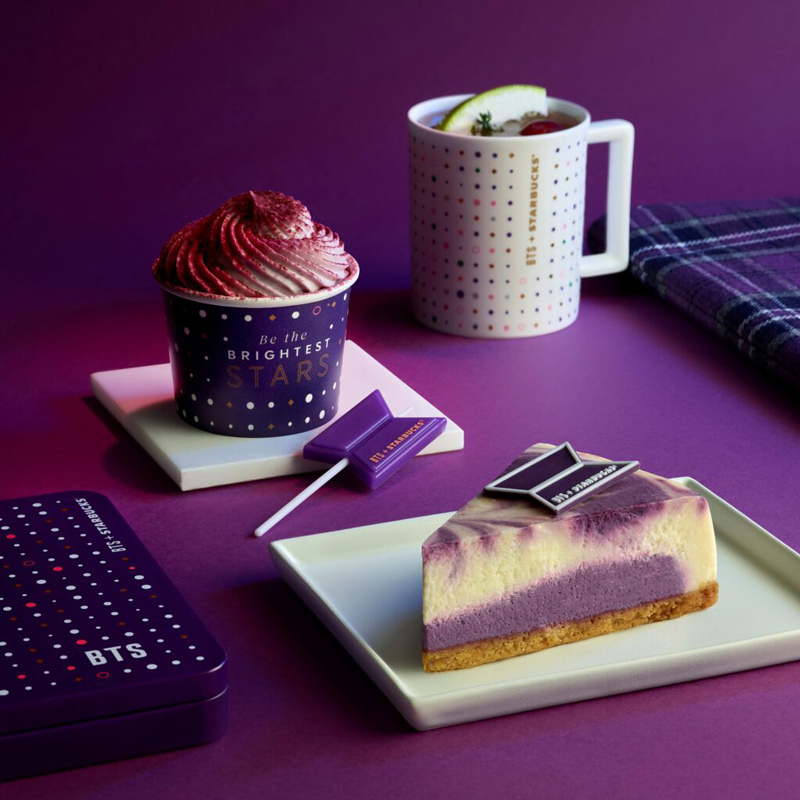 Source
The purple theme is apparent in both the merch as well as the menu items. For those with a sweet tooth, indulge in the decadent Purple Star Cupcake and Purple Berry Cheesecake, both topped with what seems to be chocolate BTS logos. 
If these don't strike your fancy, you can also consider getting the Blueberry Star Macaroon, Vanilla Star Macaroon or Purple Star Poundcake as well.
Blooming Purple Vin Chaud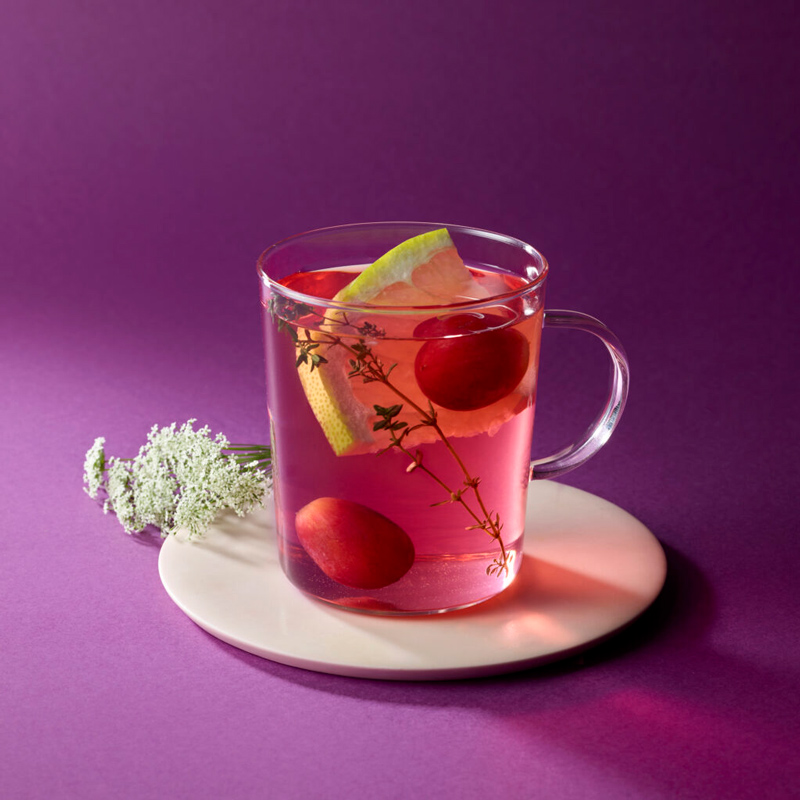 Source
No Starbucks collection will ever be complete without beverages. The highlight of the menu is the Blooming Purple Vin Chaud, a fruity concoction of elderflower, grape juice and fruit, which is available both hot and iced.
Gift bag & cup sleeve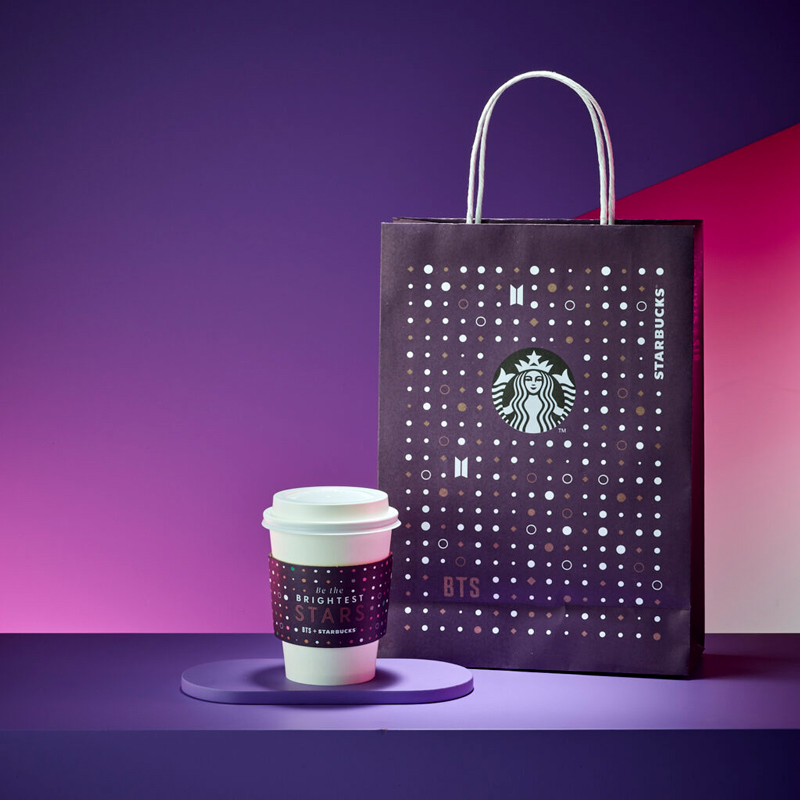 Source
If you still can't get enough of this dynamic collaboration, you'll be glad to know that exclusive gift bags and cup sleeves with the campaign's motif will be available too, with the purchase of merch or takeaway beverages from the collection.
During the campaign period, 'Make It Right'—a fan-favourite song from their album MAP OF THE SOUL: PERSONA, will play across stores for you to enjoy the full BTS experience.
BTS and Starbucks Korea Launch 'Be the Brightest Stars' Campaign 
Part of the sales from this campaign will go towards career and educational development programmes for disadvantaged youth in Korea. If you're in Korea, and planning to get your hands on the merch, note that all customers are limited to one of each item per transaction only.
While this campaign is currently exclusively available in Korea, we're hoping that it'll expand to Singapore soon.
Also read:
New Starbucks Member-Exclusive Collection Includes Pouches Inspired By Its Paper Bag & Adorable Bearista Cup Clips
Cover image: Source