Picnic In The Clouds
"Let's go on a picnic" usually calls to mind plastic mats, self-prepped meals and an afternoon at Sentosa or Marina Barrage. As an alternative to planning your own picnic, why not spend an evening at Cé La Vi and kick back with a glass of Grey Goose vodka in their special "Picnic In The Clouds" event. 
You can bring along your friends and indulge in alfresco-style dining at the rooftop bar, located on the top floor of MBS. While you admire the golden sunset view from level 57, you can sip on their specially-made cocktails that will get your spirits feeling high as well.
The Picnic
Known for its stunning views and atas atmosphere, Cé La Vi is hosting its second "Picnic In The Clouds" event on 18 September 2021. Spend the evening on top of the world with free-flow cocktails and spirits served alongside familiar picnic-style dishes, with an Asian twist. 
The event is from 5pm to 8pm, meaning you can revel in the golden hour glow too and snap stunning sunset pics for your Instagram stories, all while seated at the very top of the 57-story building. 
The drinks come as part of the package and will be served free-flow throughout the 3 hours. Selections include cocktails made with Grey Goose vodka, Martini Prosecco, beer and a range of spirits. 
The 2 specially made "cloud" cocktails have fruity flavours to suit the picnic theme of the event. While the Blossom is made with Grey Goose vodka, orange liqueur, lychee, coconut and bitters, the Sunset Sling is made of rum, Benedictine Dom, Jasmine and Pineapple for a more tropical vibe.
Further sticking to the theme, the menu for the evening consists of Asian-style picnic dishes such as smoked salmon sandwiches and pandan bombolini aka Italian doughnuts. You can also consider sharing a charcuterie board with friends – after all, it isn't a picnic without cheese and crackers. 
If you fancy a trip down memory lane, there's even peanut butter and jelly cupcakes which are a unique take on the childhood favourite.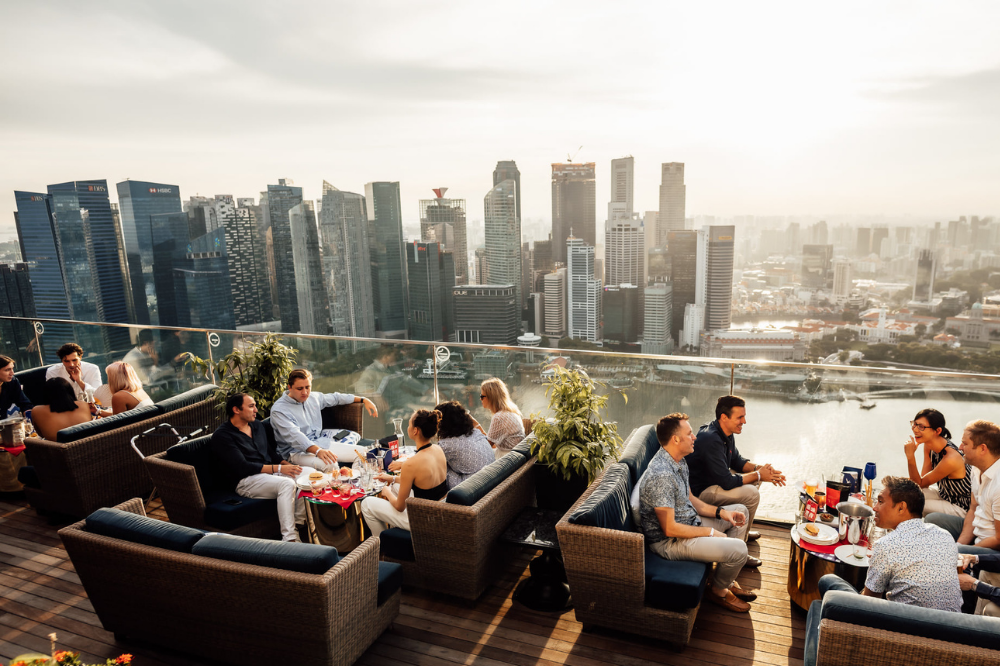 If you want to take down a reminder for this, the event will be taking place on 18 September 2021, from 5pm to 8pm, at the Sky Lounge, MBS. Each table can hold up to 5 people, making it the perfect excuse to catch up with your vaccinated BFFs. 
The package is priced at $168++ per person, excluding GST and service charge, and bookings can be made on the Cé La Vi website. There's also a white and blue dress code, to keep to the sky theme.
Indulge With Picnic-Style Dining Among The Clouds
Picnics don't always have to include a mat, cheap wine and finding a shaded spot in an outdoor park. Instead, why not consider a refined evening with good food, loads of alcohol and an amazing atmosphere. 
All images courtesy of Cé La Vi.
Also read:
9 Hen's Night Ideas To Celebrate Your Friend's Big Day While Keeping To The 5-Pax Rule