Hen's Night Ideas
Phase 3 of Singapore's reopening might be upon us soon, but social distancing measures will remain in place for the foreseeable future. That doesn't mean you can't organise a hen's night to celebrate one last hurrah before your bestie gets married this year. We've gathered a list of 8 unique hen's night ideas for you that still adhere to the 5-people-per-group rule. 
From joining an escape room challenge to a luxurious seacation, there'll be something suitable for you and your crew, no matter what the bride-to-be's personality is like.
1. Plan a bachelorette picnic
Save yourself the hassle of buying decorations, props and food, and turn to picnic logistics provider Picneeds for a glamorous picnic experience. Its range of curated picnic packages includes a Fling Before the Ring bachelorette picnic package, which has everything you need for a picture-perfect picnic. The package includes a basic picnic set-up for 4, a sash and tiara for the bride, and a helium balloon bouquet.
First, pick your picnic's Feelter, aka the look of the picnic. There's A Class Act, an elegant white theme, or Bohemian Rhapsody, a rustic theme. You can also choose to add food and drinks to the package. Give me a Cheese (~$75 for 3-5 pax), for example, includes a premium cheese platter, chips, iced tea, mineral water and a cooler bag for your party. Last but not least, zhng your picnic with add-ons such as extra flowers, balloons or even a 1-hour professional photography session.
Price: From $260 for the Fling Before the Ring package
Contact: Fill in the contact form or email picneeds@gmail.com
Website | Facebook | Instagram
2. Relax with the bridal squad at a spa
After stressful months of planning a wedding, the bride-to-be deserves to wind down and relax. Treat her and the rest of the bridal crew to Aramsa Spas' Weekday Hen's Special.
Take a day off from work and immerse yourself in the lush greenery at Bishan Park as you enjoy some time with your best friends. You can expect to be pampered with a 30-minute Garden Radiance Scrub, and a 90-minute Aramsa Touch Massage or an Elemis facial for a rejuvenating spa experience.
Price: $488/4 pax for the Weekday Hen's Special
Address: Aramsa Spa, 1384 Ang Mo Kio Avenue 1, Bishan Park 2, Singapore 569932
Opening hours: 10am to 9pm (Sundays to Tuesdays) | 10am to 10pm (Wednesdays to Saturdays)
Booking: Call 6456 6556 or WhatsApp 9462 4969
Website | Facebook | Instagram
3. Host a party staycay to remember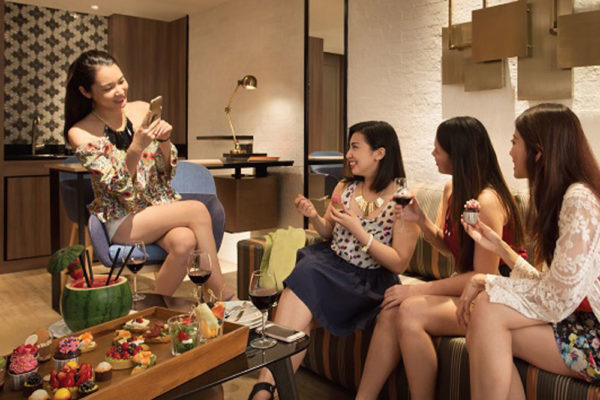 Source
Clubbing as one of the options on your list of hen's night ideas is out of the question at the moment. If your bestie enjoys partying with the girls, consider Hotel Jen's Party Staycation Package. The package includes everything you need for a fun night in, including a watermelon with vodka upon arrival, a round of mixers in the fridge and a beer pong set-up. 
To capture the memories made on the night, the package also includes the use of a GoPro with a 16GB SD card. Up to 8 guests are allowed in the Executive Suite, but a maximum of 4 guests can sleep overnight, so the rest of the squad will have to leave before 11pm.
Price: $680 per night
Address: 1A Cuscaden Road, Singapore 249716
Booking: Check the room availability on Hotel Jen's website
Website | Facebook | Instagram
4. Get hands-on by arranging flowers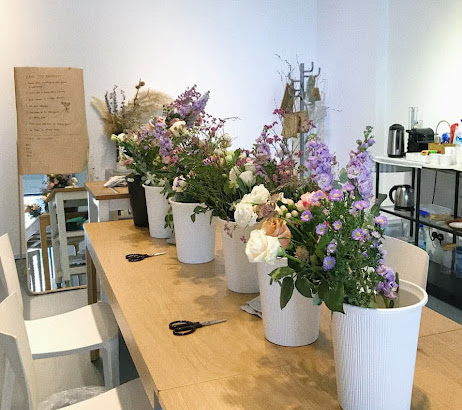 Source
Don't worry if you haven't got any clue about arranging flowers – pick up this skill with Botany Studio even if you're a beginner. Floral arrangement is the perfect way to get in touch with your creative side with your fellow girlies.   
At Botany Studio's bridal parties and private workshops, you can choose to create fresh or preserved floral arrangements. They also provide you with the options of styling your flowers in a vase, bouquet or box using seasonal blooms ‒ three types of arrangement styles that give off different aesthetics.  
Along the way, their florists will also show you the best way to care for your flowers and provide you with some insider tips on floristry.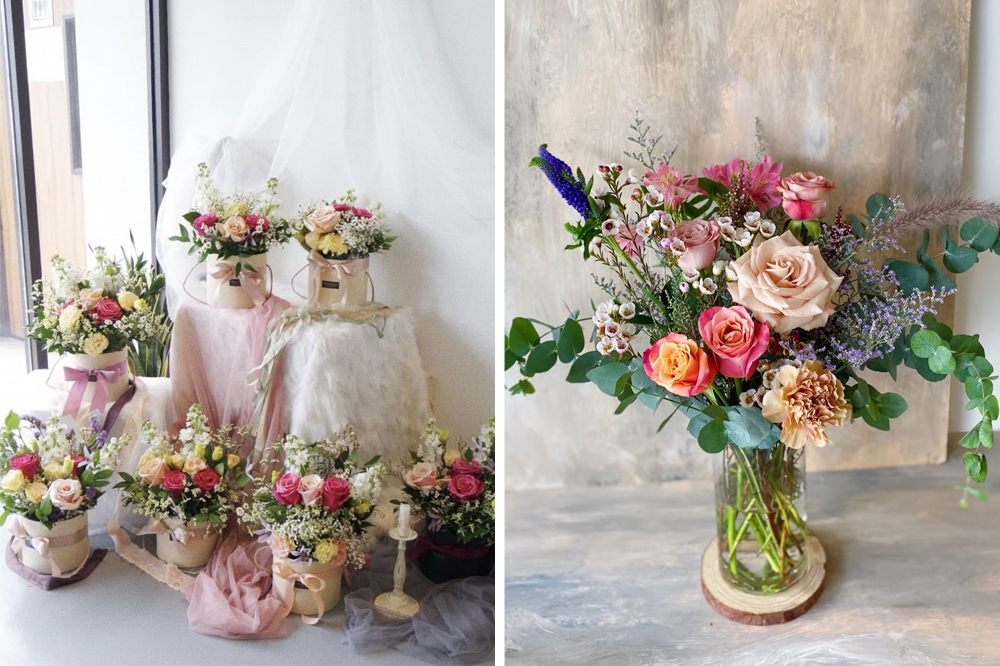 Source
If you opt for the preserved floral arrangement workshop, you can even use your creations as bridesmaids' flowers or as decorations at the actual wedding venue. Not only will you be picking up an interesting skill, you'll also get to spend a relaxing and fun afternoon at their atelier with your bridal squad.  
Price: From $85+ per pax
Address: 2 Pereira Road 03-02A, Singapore 368024
Opening hours: 10am to 6pm (Tuesdays to Sundays)ㅣClosed on Mondays
Contact: WhatsApp 8808 0723 or email info@botanystudio.com
Website | Facebook | Instagram
Also read:
9 Loft-Style Hotel Rooms in Singapore From $151/Night To Take Your Staycation To The Next Level
5. Putt-y the night away with mini-golf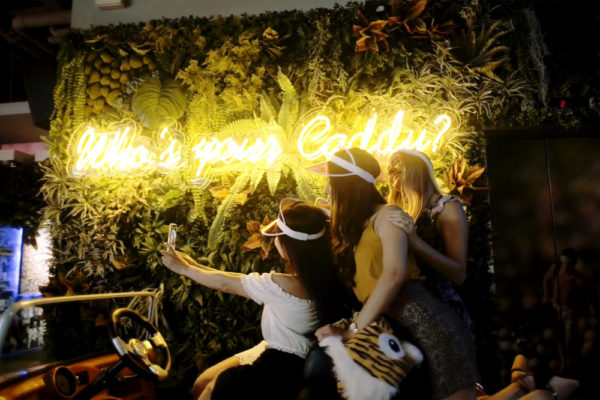 Source
If you're looking for a fun activity that might be new to most people, rally the crew and head to Holey Moley. There are 3 courses available —9 holes, 18 holes and 27 holes—featuring Instagram-worthy backdrops such as the living room from the Simpsons and the Yellow Brick Road from The Wizard of Oz. 
While their Hen's Night Packages are currently not available due to safe distancing measures, you can still make a booking for a group of 5 pax max. Remember to check out their weekly deals before heading down. On Wednesdays, the Ladies' Night promotion means all food and drinks are 1-for-1 after 8pm, and all ladies get 9 free holes of mini golf.
Price: From $20++ per person for the 9-holes course
Address: 3B River Valley Road, Singapore 179024
Opening hours: 1pm to 11pm (Mondays to Fridays) | 12pm to 11pm (Saturdays and Sundays)
Booking: Fill in the booking form on Holey Moley's website
Website | Facebook | Instagram
6. Make your own wedding jewellery
If craft workshops are more your jam, Hands on Klay's Hen's Party package will tick all the right boxes. Spend a fun and relaxing few hours at this clay jewellery making workshop, where you can even customise your colour theme to match your bridesmaid dresses!
Besides hand-on crafting, a mini high tea set is also provided for you and your girls to have a proper tête-a-tête. Party props and Bride-To-Be decorations add to the celebratory vibes.  
Price: Packages start at $100 per person for a 2.5 hour class
Address: 99 Duxton Road, Singapore 089543
Opening hours: 10am to 10.30pm daily
Contact: WhatsApp 8858 9654
Website | Facebook | Instagram
7. Head out to sea for a luxurious seacation
With staycations becoming a regular affair these days, amp up the luxe factor by heading for a seacation on a private yacht instead. ONE15 Luxury Yachting's Sea Staycation package will ensure the bride-to-be bids goodbye to singlehood in style.
With a licensed skipper operating the boat, you can focus on having a good time as you enjoy amenities like floats and a slew of activities. Spend a full day out at sea kayaking, floating, or just lounging around on a sun deck with your friends. Enjoy an al fresco dining experience with meals freshly prepared by the crew on board, while taking in the magnificent ocean view. 
At night, wander into the luxurious en-suites for a good night's sleep and wake up in the morning with breakfast specially made and served to you.
Price: $3,200++ for 5 guests
Address: 11 Cove Drive, #01-01, Sentosa Cove, Singapore 098497
Contact: Call 6305 9676 (9am to 6pm on weekdays) or email sales@one15luxuryyachting.com
Website | Facebook | Instagram
8. Celebrate love while solving a mission
Maybe you want your bestie's hen's night to revolve around the reason you are holding it in the first place. Why not celebrate this joyous occasion with a love-themed escape room for brides-to-be who love puzzles? 
Xcape's Mission X – The Love Confession is a themed mission where you and the girls will take on the role of someone who has a crush. Solve puzzles and overcome challenges to confess your love. This is a great option to include in your list of one-day hen's night ideas as it'll only take an hour, so you can go for dinner and drinks after.
Price: $22 (before 6pm)/$28 (after 6pm) per person for a 60-minute game
Address: 161 Rochor Road, Bugis Village, Singapore 188436
Opening hours: 11am to 11.30pm daily
Contact: Call 6908 1918 or email support@xcape.sg
Website | Facebook | Instagram
9. Hold a private baking session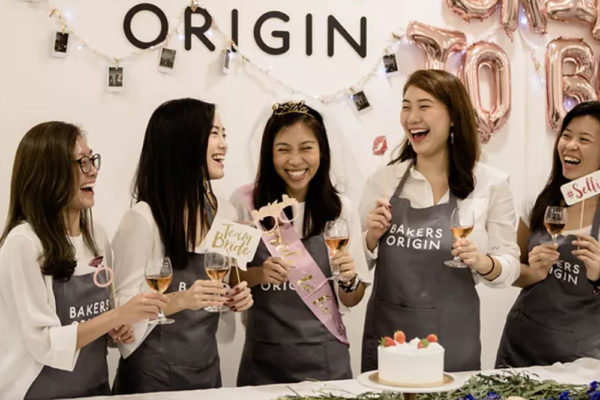 Source
For a wholesome bonding experience with your friends, sign up for a private baking session. Baker's Origin has a Hen's Night Out package that includes all the baking necessities you can think of and more, so you won't have to worry about equipment, ingredients or tools. 
The package also includes a sash, tiara and photo booth props to commemorate the special occasion, along with a complimentary bottle of rosé or moscato. Each guest will be served their choice of coffee/tea, and you'll also receive packaging to bring back your baked goods.
Price: $100/pax for a 2.5-hour session
Address: 463 Crawford Lane, #02-21, Singapore 190463
Opening hours: 9am to 9pm daily
Contact: Call 96556147, email enquiry@bakersorigin.sg
Website | Facebook | Instagram
A 5-Pax Hen's Night Can Still Be Lots Of Fun
Bachelorette parties don't require a lot of people for the bride to have fun before her big day. You can use these hen's night ideas for you and the clique to celebrate her new chapter in life. After all, this is (mostly) a once-in-a-lifetime experience, so why not make it one to remember?
This article contains partial partnership content. However, all opinions are ours.
Originally published by Vivien Q on 30th Apr 2020. Last updated by Jou Teng Tan on 27th August 2021.
Also read:
9 Craft Workshops In Singapore To Spend Quality Time With Your Loved Ones While Avoiding Crowds