Character Themed Hotel In Japan
Now that travelling to Japan is possible, plenty of us are eagerly yearning for our next trip there. While making your plans, you can also check out Japan's Grand Chariot Hotel for your accommodation to make your stays extra adorable and IG-friendly.
Their rooms are designed with the likes of Hello Kitty, Naruto, and Crayon Shin-chan, which will give fans of any age more reason to stay indoors. 
Hello Kitty themed rooms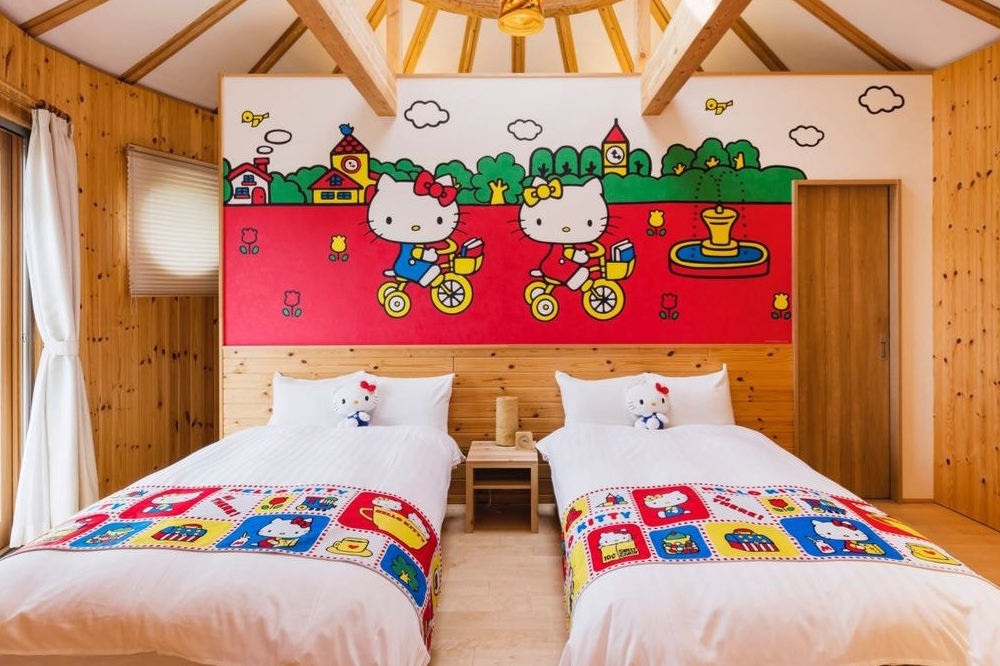 This Hello Kitty room will definitely give you extra sweet dreams. Panelled with wood, the room gives a rustic feel to its interior, and is covered with red, yellow and blue Hello Kitty designs. On the wall, two Hello Kittys are cycling around a town, fountain and buildings.
A pair of beds make up the focal point of the room, with adorable plush toys seated on the pillows. The bedspread has Hello Kitty quilt designs, adding an explosion of colours to an otherwise classic white bed setup.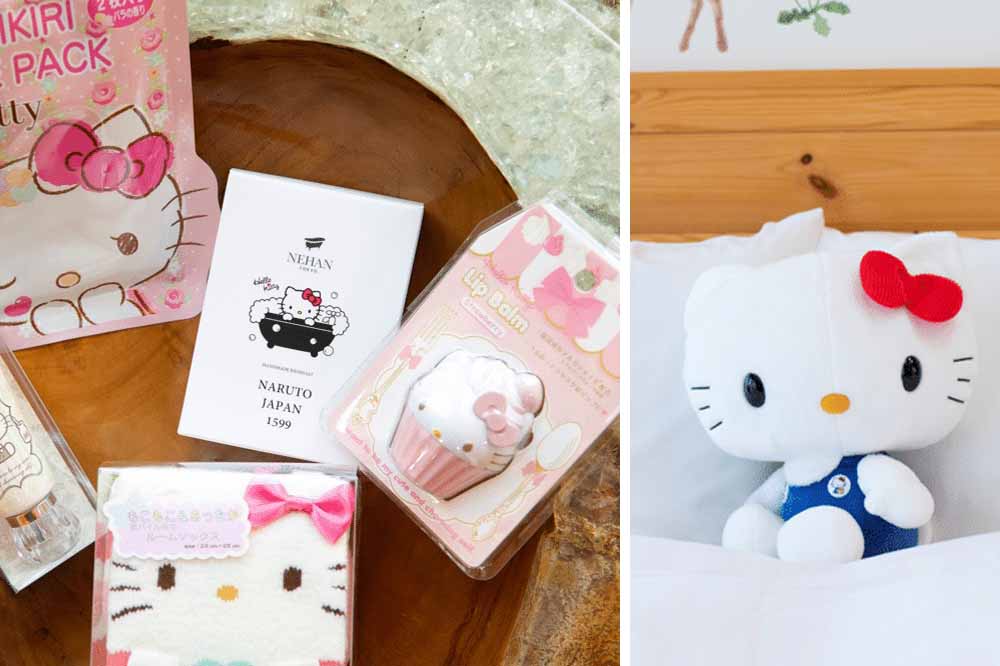 Suitable for couples or a small family, the room starts from 61,105 yen (~S$583.49) per night per pax, with dinner and breakfast included.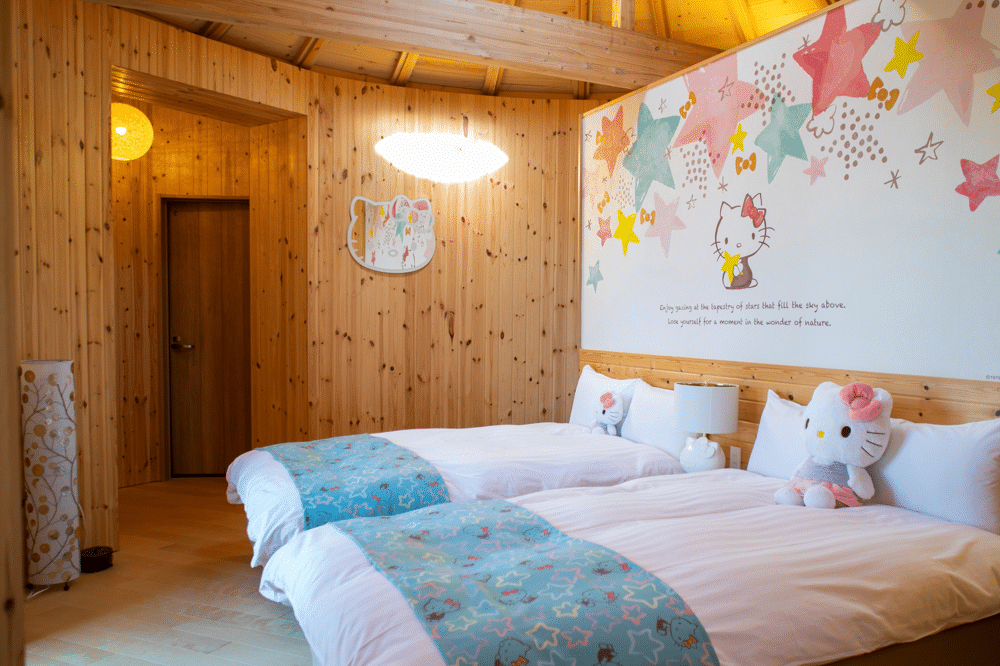 Alternatively, you can choose the other Hello Kitty room, with a more pastel pink and blue feel. The wood panelling has blue, pink, and red stars adorning the board, with two beds beneath. Similarly, each bed has a Hello Kitty plush toy alongside a blue bedspread designed with similar stars to the board.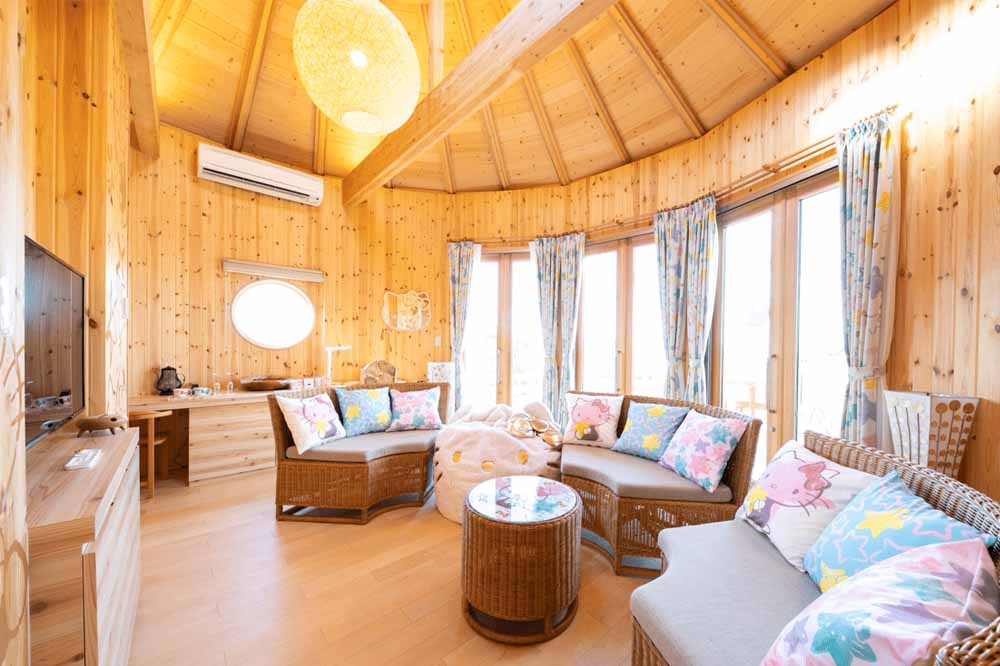 This room is able to fit four, making it suitable for families. Prices start from 50,518 yen (~S$482.46) per pax per night, with dinner and breakfast included.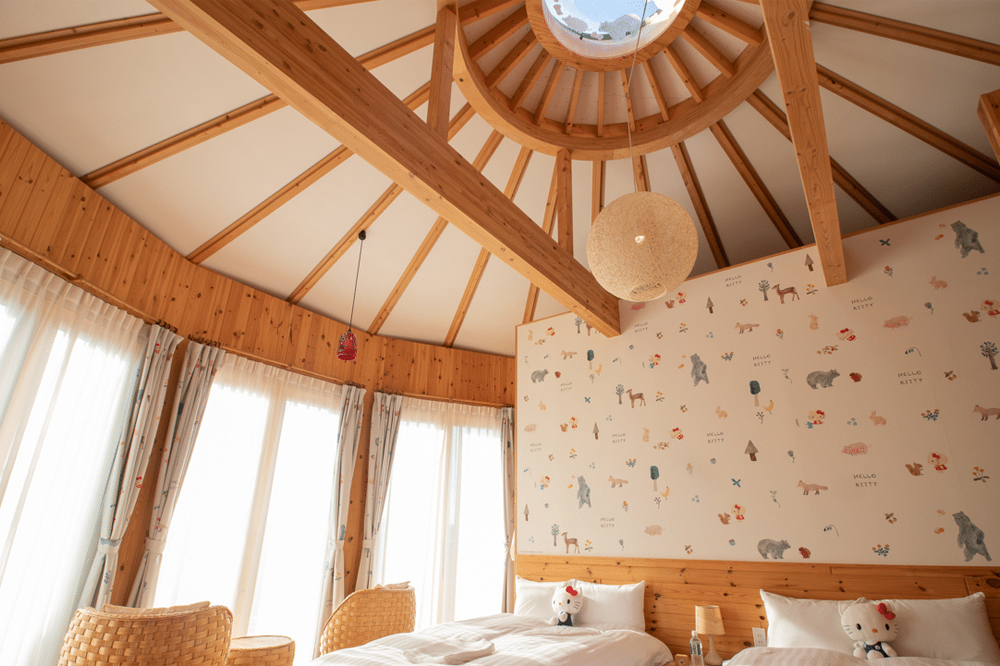 The cuteness continues with this third Hello Kitty room – this time, with soft animal prints and plenty of light streaming in. For those who prefer a slightly more mature look to your stay, consider this room instead.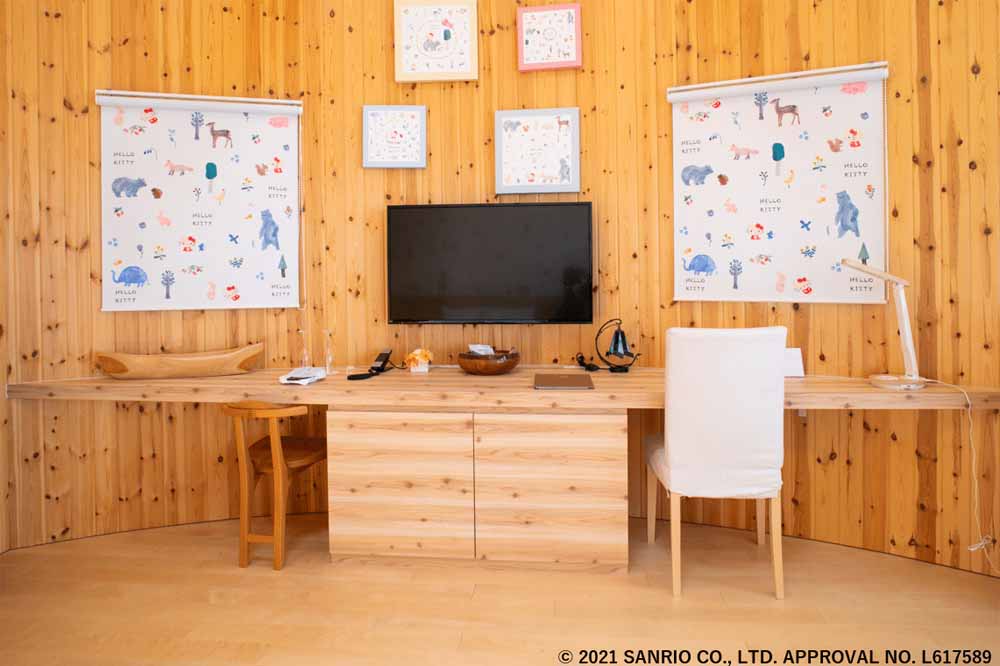 This room is able to fit two people, and costs 55,055 yen (~S$525.67) per pax per night.

Naruto & Crayon Shin-chan themed rooms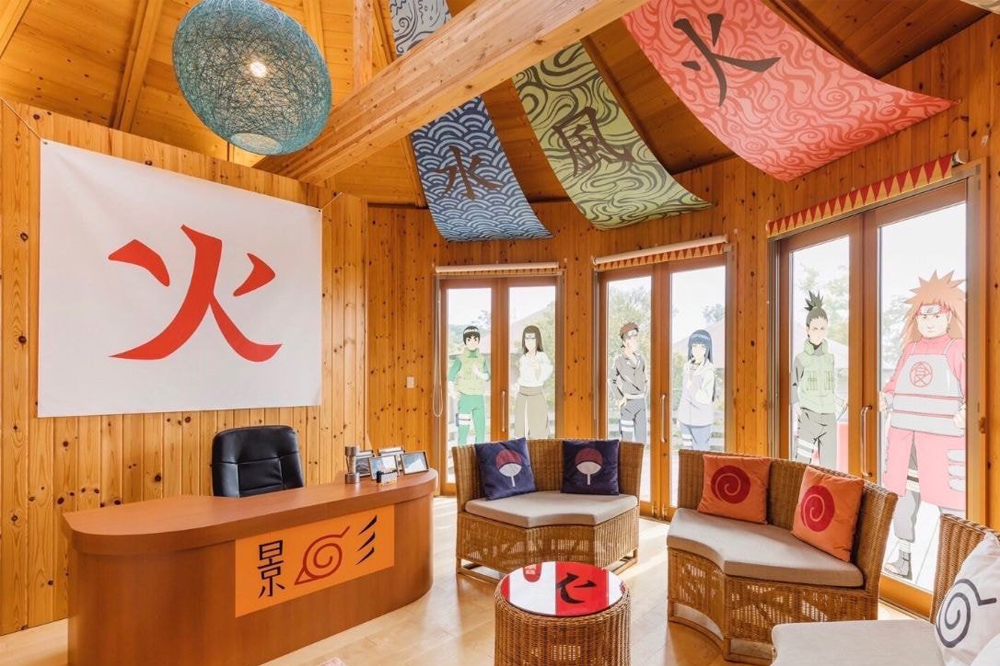 With posters of the four elements hung across the room, you guessed it – this room is Naruto-themed. The room's concept is based on the Hokage villa from the anime, and is designed with character prints, throw pillows, and banners. 
With two single beds and two bunk beds, the room is suitable for four. The room is priced at 50,518 yen (~S$482.46) per pax per night, with dinner and breakfast included.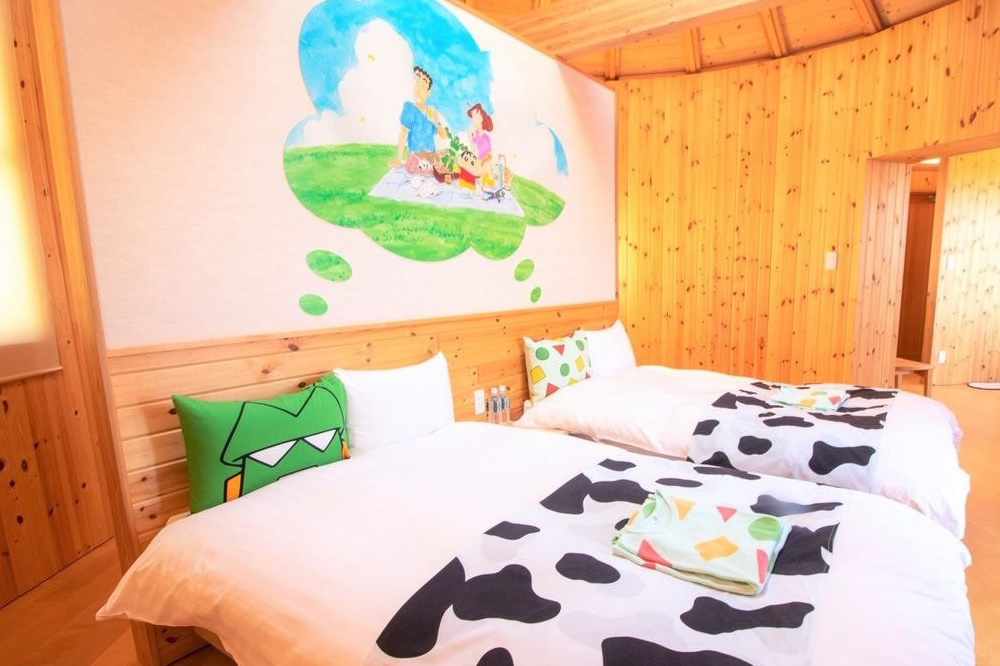 For a taste of your childhood, you can consider the Crayon Shin-chan room. Filled with vibrant green and blue designs from the beloved series, the walls are decorated with pictures of the Nohara family on a picnic. Directly beneath are the beds, designed with a cow-patterned bedspread and themed pillows.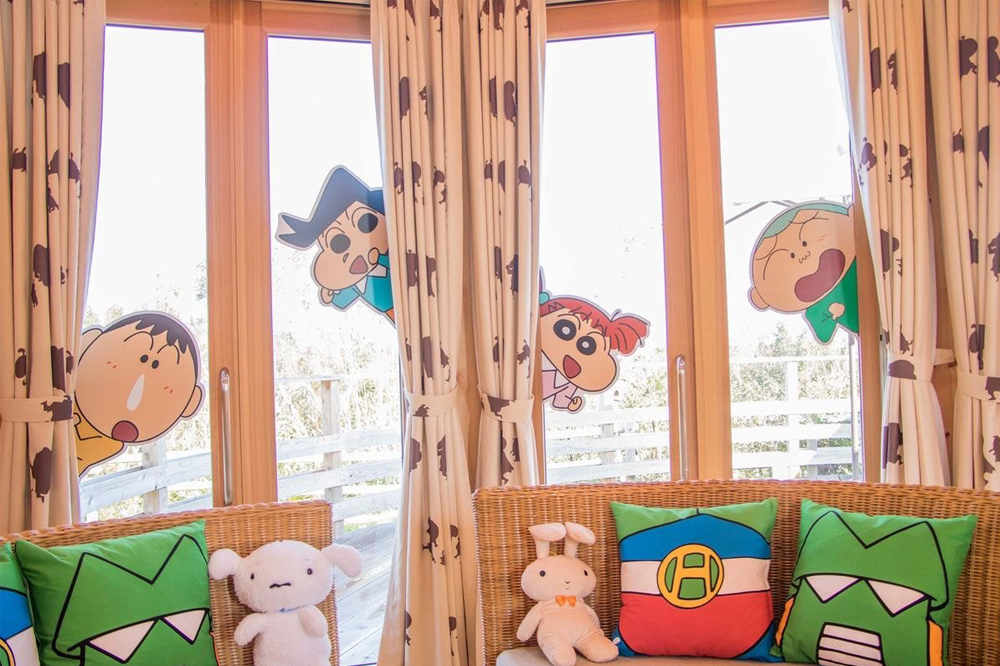 Say hello to Shin-chan's friends as they peek in from the window. The couch overlooks the scenery outside, with cute throw pillows featuring designs inspired by the series. 
This room is able to fit four people, with two single beds and two bunk beds. Rates start at 50,518 yen (~S$482.46) per pax, with dinner and breakfast included. 
These Themed Rooms Will Transport You Back To Your Childhood For A Memorable Japan Stay
Grand Chariot Hotel Japan is located in the Hyogo Prefecture, and is just a 3 minute walk from the Crayon Shin-chan Adventure Park, giving you an alternative experience compared to the usual Tokyo and Osaka itineraries. 
The best part? The rooms include some themed merchandise of the animated series you're staying in as well. 
If you're interested in booking one of these rooms, you can head over to Grand Chariot Hotel Japan's website. Alternatively, if you prefer checking out their non-themed options, the hotel offers dog-friendly rooms as well. 
All images courtesy of ipdukhalrae. 
Also read:
OWNDAYS Now Has A Kuromi Frame Collection With Exclusive Pouches & Stickers, Featuring Her Sidekick Baku