Colourpop x Alice In Wonderland
Ask any makeup junkie, and they would recommend Colourpop as a brand with affordable and quality cosmetic products that come with chio packaging. As a cherry on top to those who are also Disney fans, Colourpop has released collections like the ones with Mulan and Disney Princesses. 
Now, they are dropping an Alice In Wonderland collection with lip masks and never-seen-before eyeshadow shades for fans to create a whimsical look. 
The collection
Fun fact: Alice is not an official Disney Princess, but she has been confused as one in many artworks and campaigns. Fans of only Alice in Wonderland will appreciate this collaboration with Colourpop since the entire makeup collection is inspired by the film. 
Instead of individual eyeshadow pots, the collection treats fans to the Lost In Wonderland Pressed Powder Palette ‒ a 12-pan eyeshadow palette that includes matte, metallic, and duo-chrome shades. 
The exterior features an illustration of Alice falling, while the palette opens up to motifs of mirrors, chairs, and vases on the inside. Upon closer inspection, you'll also notice the eyeshadow pans have whimsical names like Mad Tea Party and Curioser & Curioser that pay homage to the film.
The Lost In Wonderland Pressed Powder Palette retails at USD$22 (~S$29.30). 
From left: Care for Tea?, Full of Wonder, Not All There
No worries if you're a shadow stick kind of gal ‒ the collection has three shades for you to make your eyes pop. 
Care for Tea? might be an unconventional colour choice, but the shimmery green adds extra sparkle to your eyes when you head to music festivals or nightclubs. Full of Wonder is a glittery baby pink that livens up your eyes, and Not All There is perfect for those who are going for a mysterious, smokey look. 
Each shadow stick retails at USD$9 (~S$11.99). 
This collection also sees the introduction of lip kits that include a lip gloss and a lipstick. The Queen of Hearts lip kit features a dark maroon lip gloss with shimmer, and a deep red lipstick for you to channel your inner queen. 
On the other hand, the Topsy-Turvey features a lip gloss that accentuates the plumpness of your lips thanks to its high-shine formula in light pink, and a lipstick with rose hues. 
Since each lip kit is packed in a box with either an illustration of Alice or the Queen of Hearts, they double as gifts to surprise your makeup-loving BFF. Each lip kit retails at USD$18 (~S$23.90).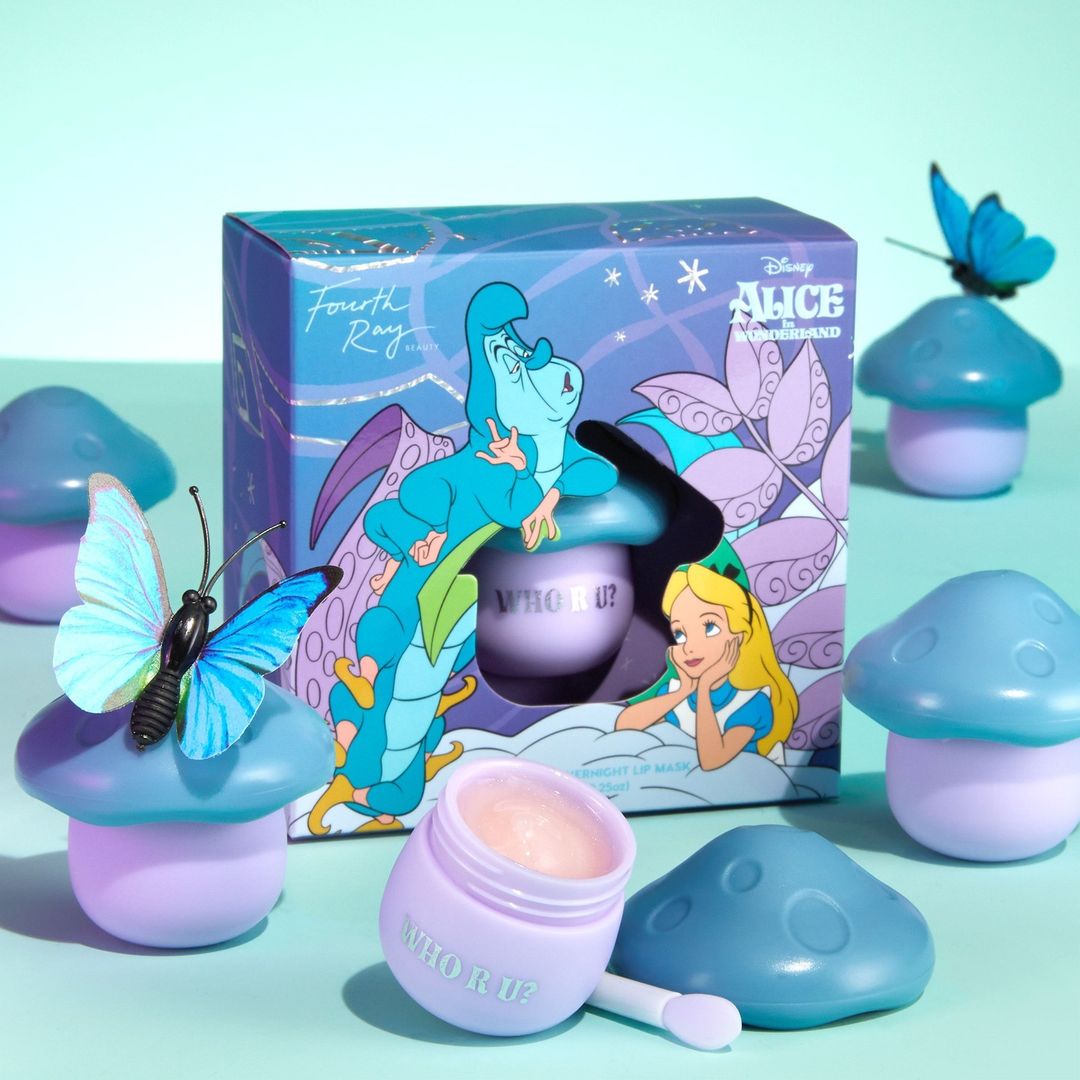 Chances are, many of us are so caught up with applying lip products that we forget to take care of our lips. Enter the Pure Madness Overnight Lip Mask, a birthday cake-flavoured lip mask that promises the softest and sweetest pout. 
Shaped like one of the mushrooms Alice ate in the film, the adorable container opens up to reveal the lip mask. It even features the lettering "Who R U?" on the outside, which pays tribute to the classic animation. Plus, it also comes with a mini spatula for easy application.
The Pure Madness Overnight Lip Mask retails at USD$12 (~S$15.90). 
From left: "Oh Dear!" Pressed Powder Blush, "Silence!" Pressed Powder Blush
Unless you're blessed with a natural blush on your cheeks, you'd probably need a dust of colour to brighten up your complexion. Here to save your day are the "Oh Dear!" and "Silence!" Pressed Powder Blushes that come in pink and red. 
P.S. The two blushes are named after the iconic lines of the White Rabbit and the Queen of Hearts.
Each Pressed Powder Blush retails at USD$14 (~S$18.60). 
Similar to how the White Rabbit carries a pocket watch, you can carry this "Oh My Fur and Whiskers!" Pocket Hair Brush with a clock face design that features motifs of Alice, the Mad Hatter, the Cheshire Cat, and the Queen of Hearts. 
The dainty accessory opens up to a mirror on one side, and a retractable hair brush on the other. Since it also comes with a key chain, you can hook the hair brush onto your bag or the side of your bottoms to untangle stubborn knots even when you're on the move.
The "Oh My Fur and Whiskers!" Pocket Hair Brush retails at USD$12 (~S$15.90). 
Make Space On Your Vanity Table For The ColourPop x Alice In Wonderland Collection
Whether you're a hardcore fan of Alice In Wonderland or a bold makeup girlie, there is something in the collection for you. Those eager to purchase the items can do so on ColourPop's official website starting from 13 April 2023. 
All images courtesy of ColourPop. 
Also read: 
Casetify x Alice In Wonderland Has Whimsical Phone Cases For Curious Fans To Explore Down The Rabbit Hole