Where To Buy Crystals In Singapore
With the trend of self-care on the rise, turning to the spiritual and divine for guidance is no longer uncommon. These days, millennials and Gen Zs are gaining an interest in crystals, said to have physical, mental and emotional healing properties. Compared to a time when crystals were mainly used by our parents for feng shui, they are making a comeback as chio accessories that give off #positivevibes in a space.    
Whether you're looking for an amethyst cave to put at home or searching for a fashionable bracelet, below are 17 places to get crystals in Singapore.  
1. Glace Crystals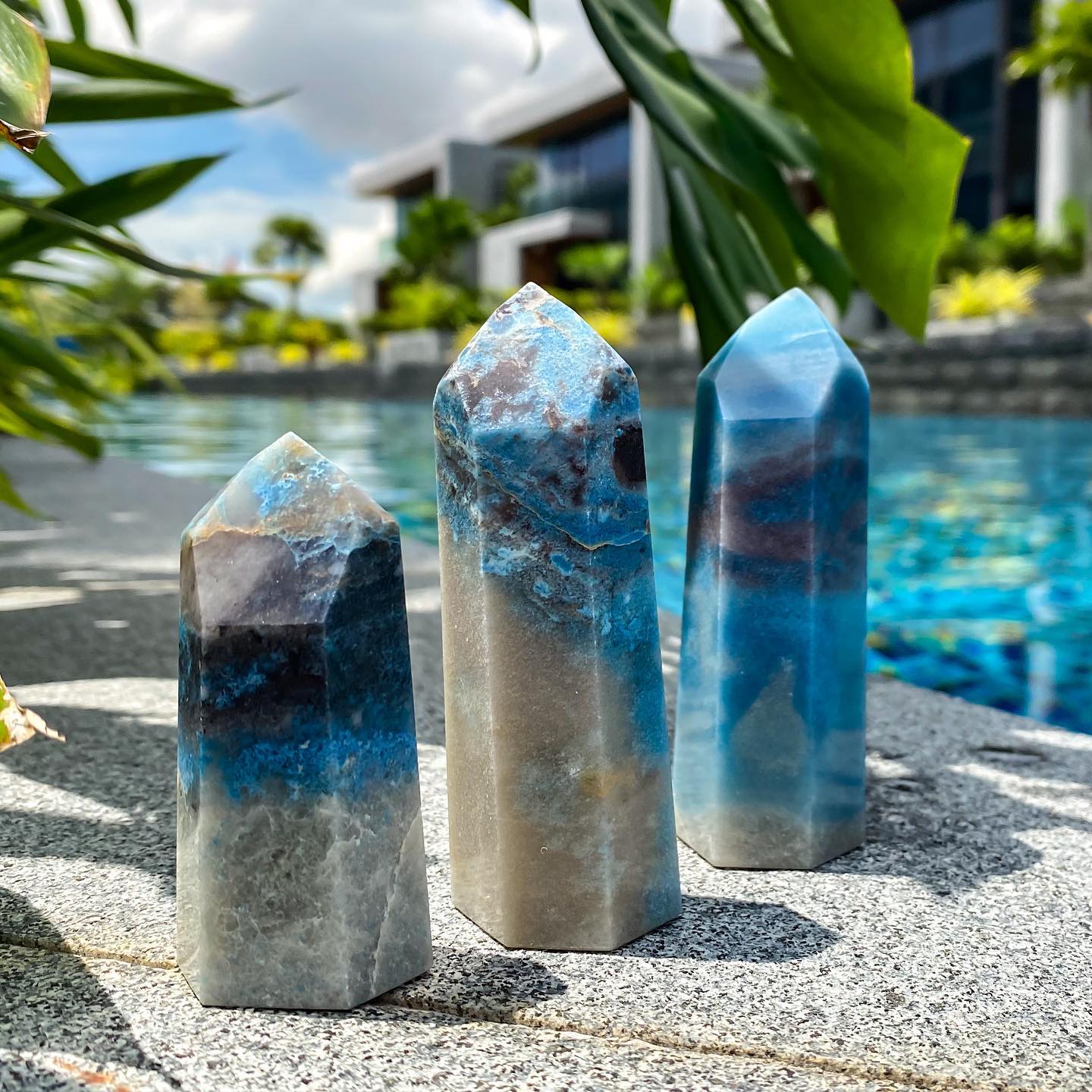 Source
At Glace Crystals, you won't have to worry about the origins of the crystals as all of them are ethically-sourced. Hailing from different parts of the world such as China and Brazil, you get to pick from a selection of high quality crystals. They come in various shapes and sizes such as animals, crescent moons, and seashells. 
Glace Crystals ships worldwide and they also have an official Shopee store. If you're planning to learn more about their products, make sure to follow their Instagram to learn about their next IG live sale. 
Price: From $4
Shipping: Free shipping for orders above $120
Contact: Through Facebook messenger or email glacecrystals@gmail.com
WebsiteㅣFacebookㅣInstagram
2. Glow Crystals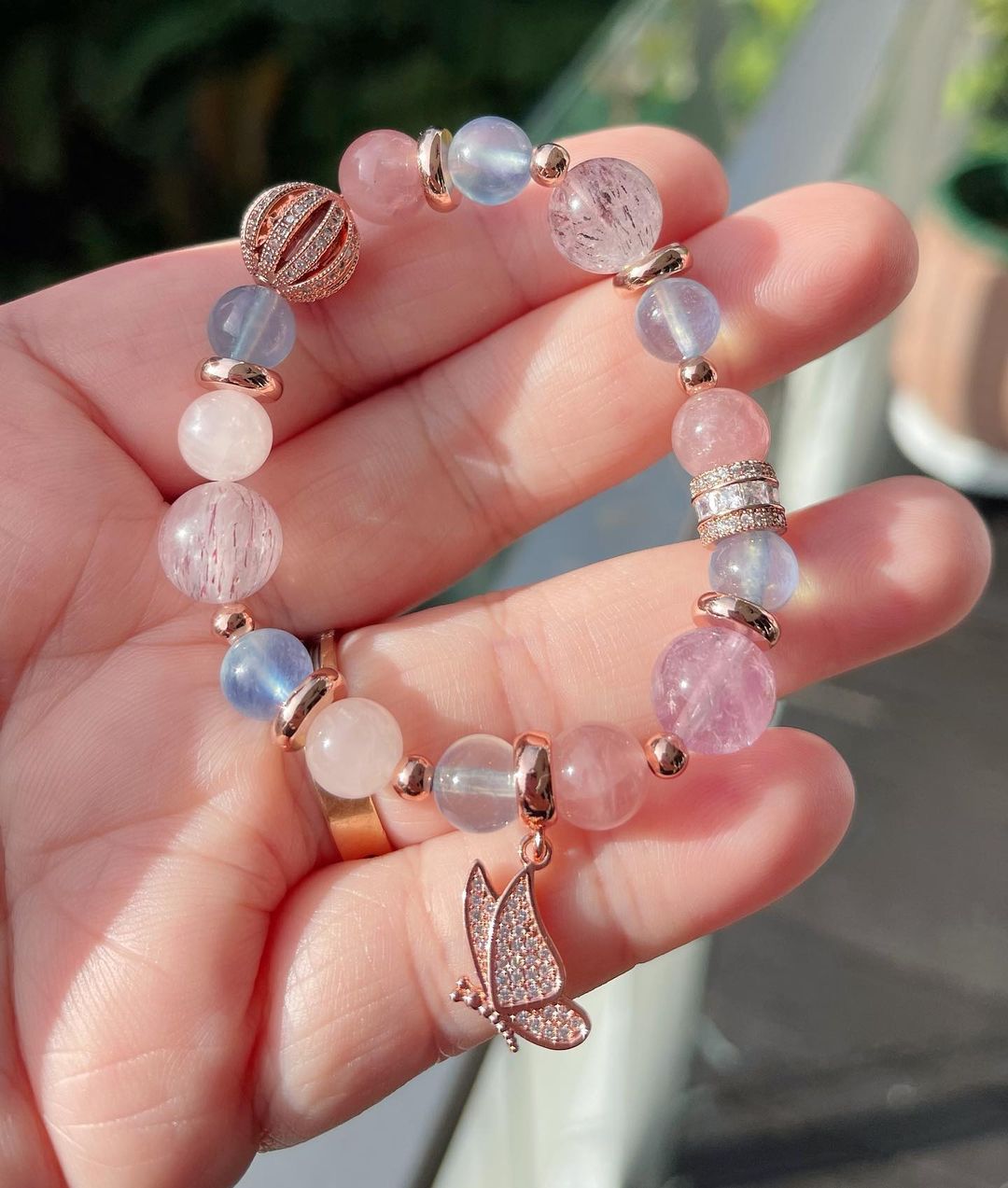 Glow Crystals' Super 7 Crystal Bracelet
Source
Owning exquisite handmade crystal bracelets by Glow Crystals means you don't have to resort to boring accessories. Every design is unique as Glow Crystals customises according to your preferences. 
One of the popular designs on Glow Crystals is the Super 7 Crystals, said to have healing, cleansing and energising properties. It incorporates 7 kinds of minerals such as Amethyst, Clear Quartz, Smoky Quartz, Cacoxenite, Rutile, Goethite and Lepidocrocite.
For those who are interested in making your own customised bracelet, you can reach out to them on Instagram.
Shipping: Contact for price 
Contact: Instagram direct message
Instagram 
3. Ohmou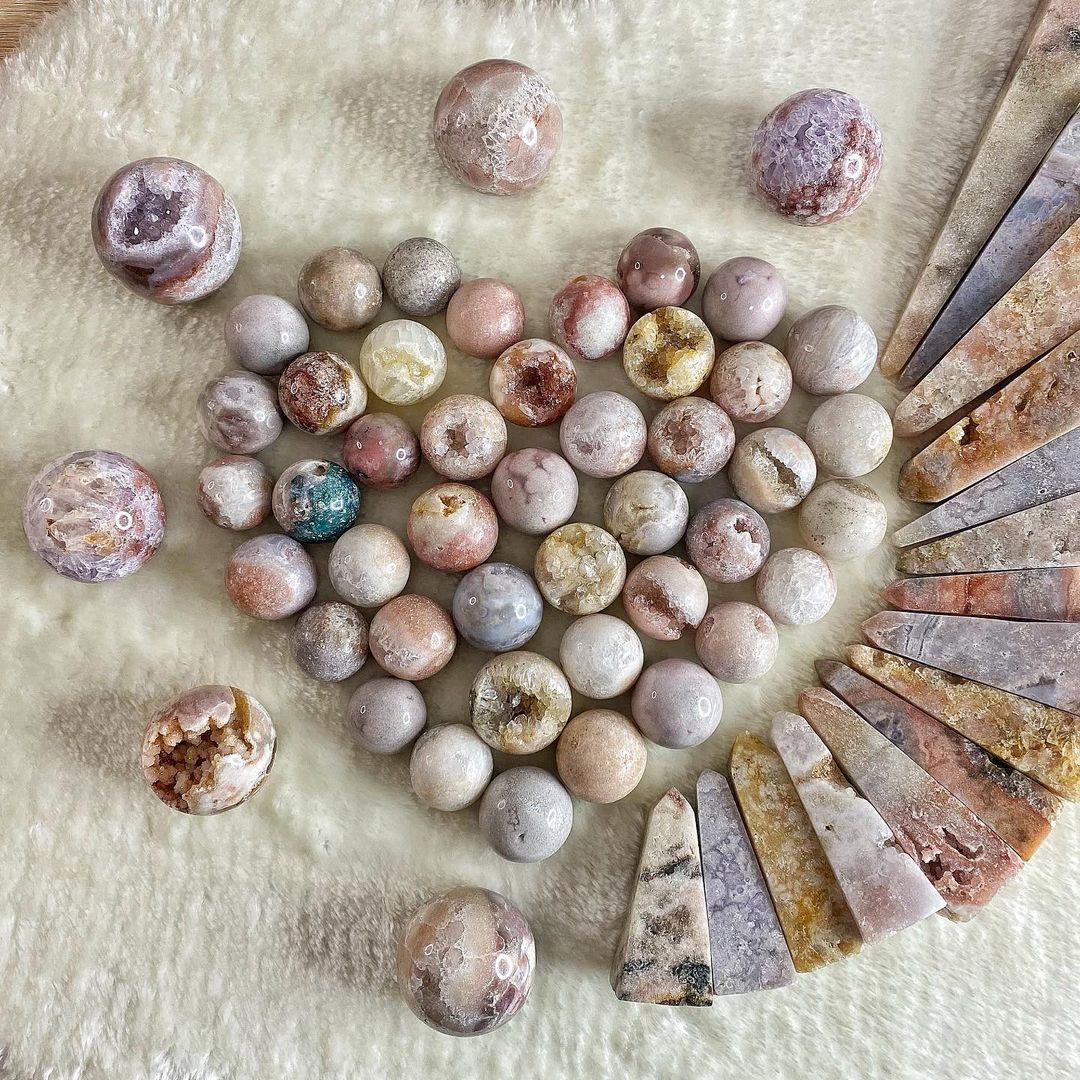 Source
Ohmou offers many crystals for various purposes including one called "Money Magnet" ‒ aptly named for those who are seeking more cash inflow. On the other hand, the "Uptown Girl" collection features simple gold chain bracelets with stones like Sapphire and Moonstones, perfect for minimalist lovers. 
If you happen to be looking for a thoughtful present for someone, Ohmou provides a solution with its Crystal Stones Aromatherapy Package. It comes with a personalised glass filled with crystals and a bottle of essential oil.  
Tune in to their live sale that takes place every Wednesday at 8pm. 
Shipping: $5ㅣFree shipping for orders above $120  
Contact: Email ohmousg@gmail.com
WebsiteㅣFacebookㅣInstagram 
4. The Wanderland Event
You can get these rose quartz crystals at The Wanderland Event pop-ups
Credit: Crystallize Crystals
Crystals are increasingly commonplace at flea markets and pop-up events, and one such place where you can find such gems is from The Wanderland Event, which organises pop-ups and carnival-themed events in various parts of Singapore, with locations changing every month. Their next upcoming event is Fantasia Fest, happening on 8 and 9 October, 12pm to 8pm, at 91A Lavender Street (Level 2).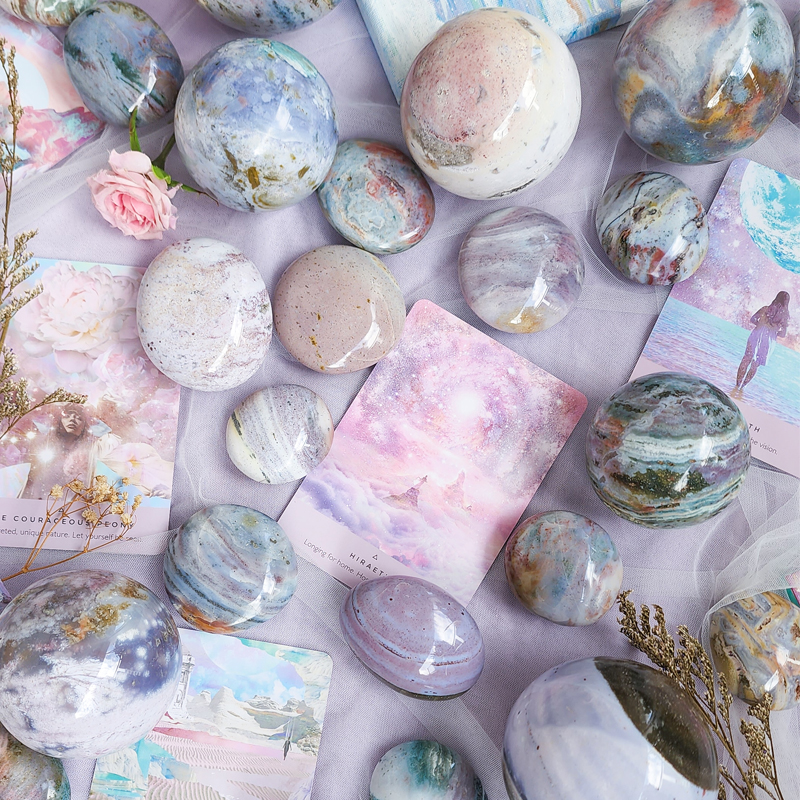 Credit: Crystal Queer
The variety of options might make it hard to pick out a fave right away, but take your time to walk around the booths to see which one calls out to you.
But if you're looking for a specific crystal, there will also be personalised assistance on site to help you find a suitable crystal that fits your needs. For those who enjoy other craftsmanship, there will be booths selling resin and clay artworks, as well as candles.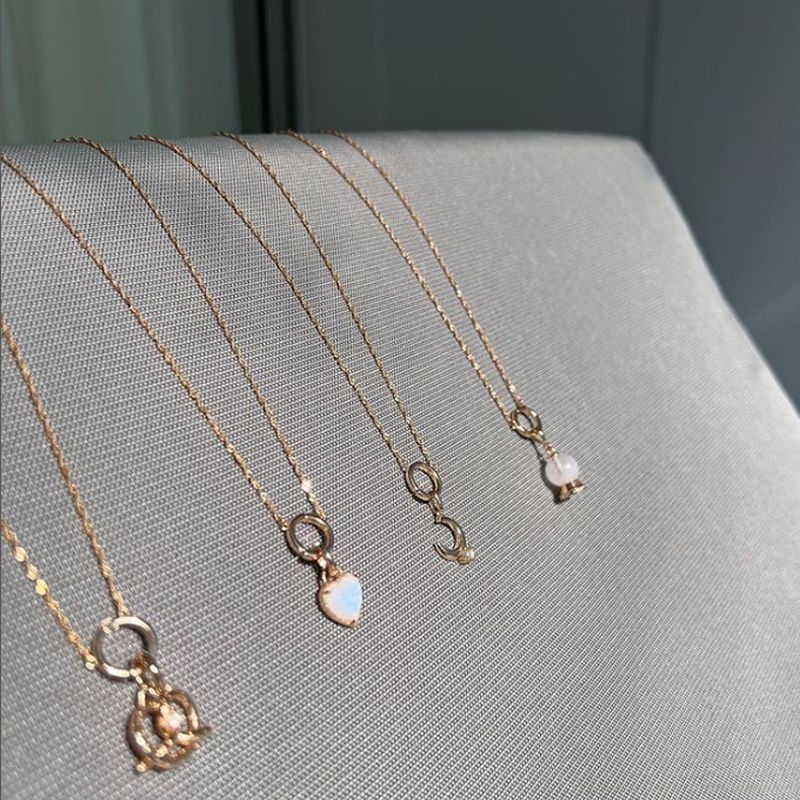 Other booths like TeaTime Jewel sell crystal jewellery
Source
The event also has in-house carnival games and giant plushie prizes to be won. Spend $150 at one or across different booths, and you stand a chance to win a gift at the giveaway counter. Psst… if you're one of the first 50 each day to say this phrase "I Love The Wanderland" to any of the Fantasia Fest crew, you can even redeem three free carnival games. 
FYI, if you become increasingly obsessed after the event, look out for other upcoming happenings by The Wanderland on 3, 4, 10, 11, 17 and 18 December, from 12pm to 8pm – perfect excuses to buy early Christmas gifts for your BFFs. 
Price: Varies from booth to booth
Contact: Instagram
Instagram
5. Crystal Mojo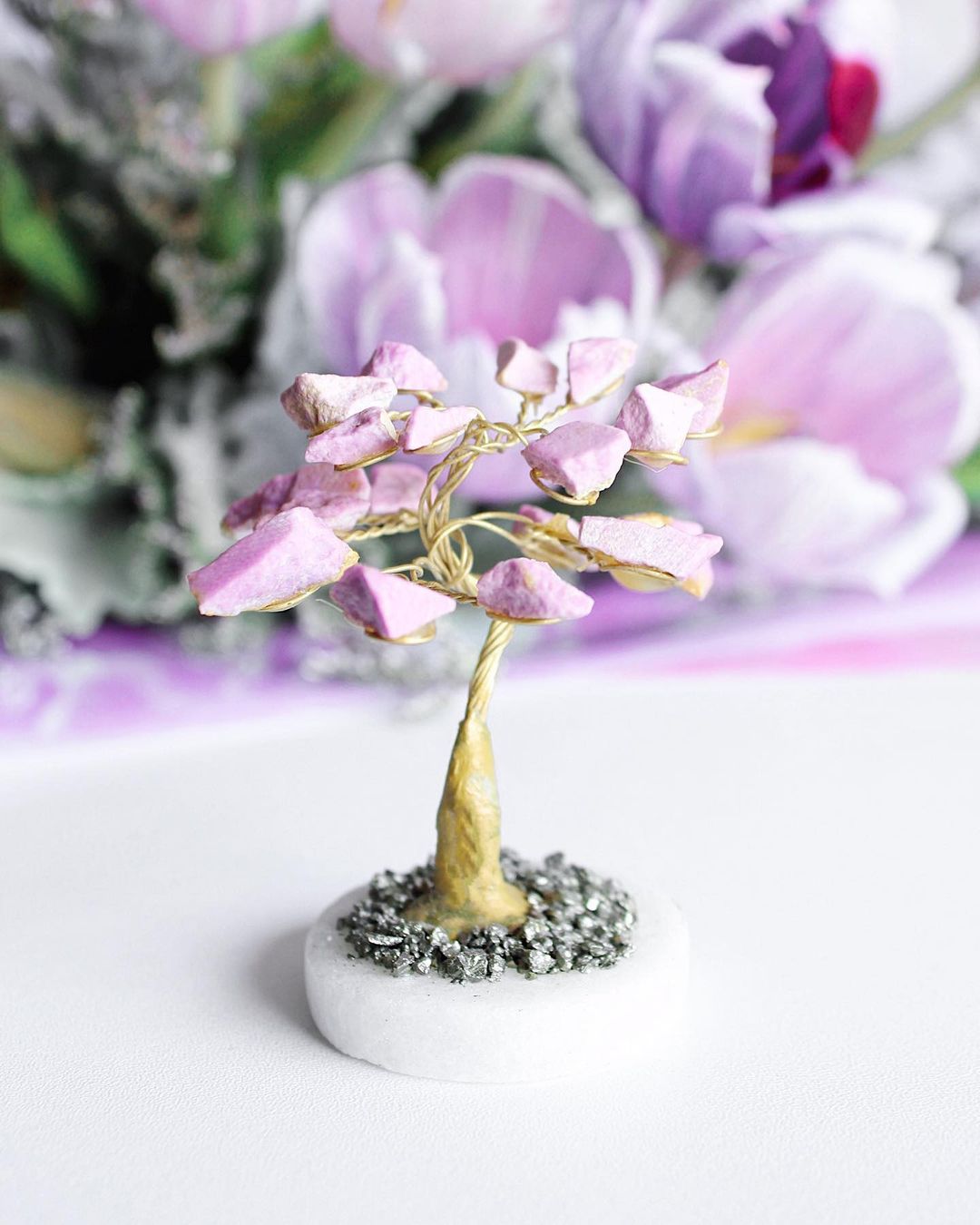 Source
At Crystal Mojo, be rest assured that you will find genuine crystals that are double cleansed. In addition to the high quality gems, Crystal Mojo lets you be spoilt for choice with their range ‒ from geodes to adorable carvings that even feature characters like Jigglypuff.  
To help you keep your crystals in pristine condition, Crystal Mojo also has cleaning tools available for purchase. Plus, you can invest in a crystal stand for the display of your entire collection. For more products, you can also visit their official Shopee store and join them at their weekly Instagram live show held every Sunday at 8pm.  
Price: From $4.88
Shipping: Free shipping for orders above $120  
Contact: Email hello@crystalmojo.co
WebsiteㅣFacebookㅣInstagram 
6. Covet Crystals Jewellery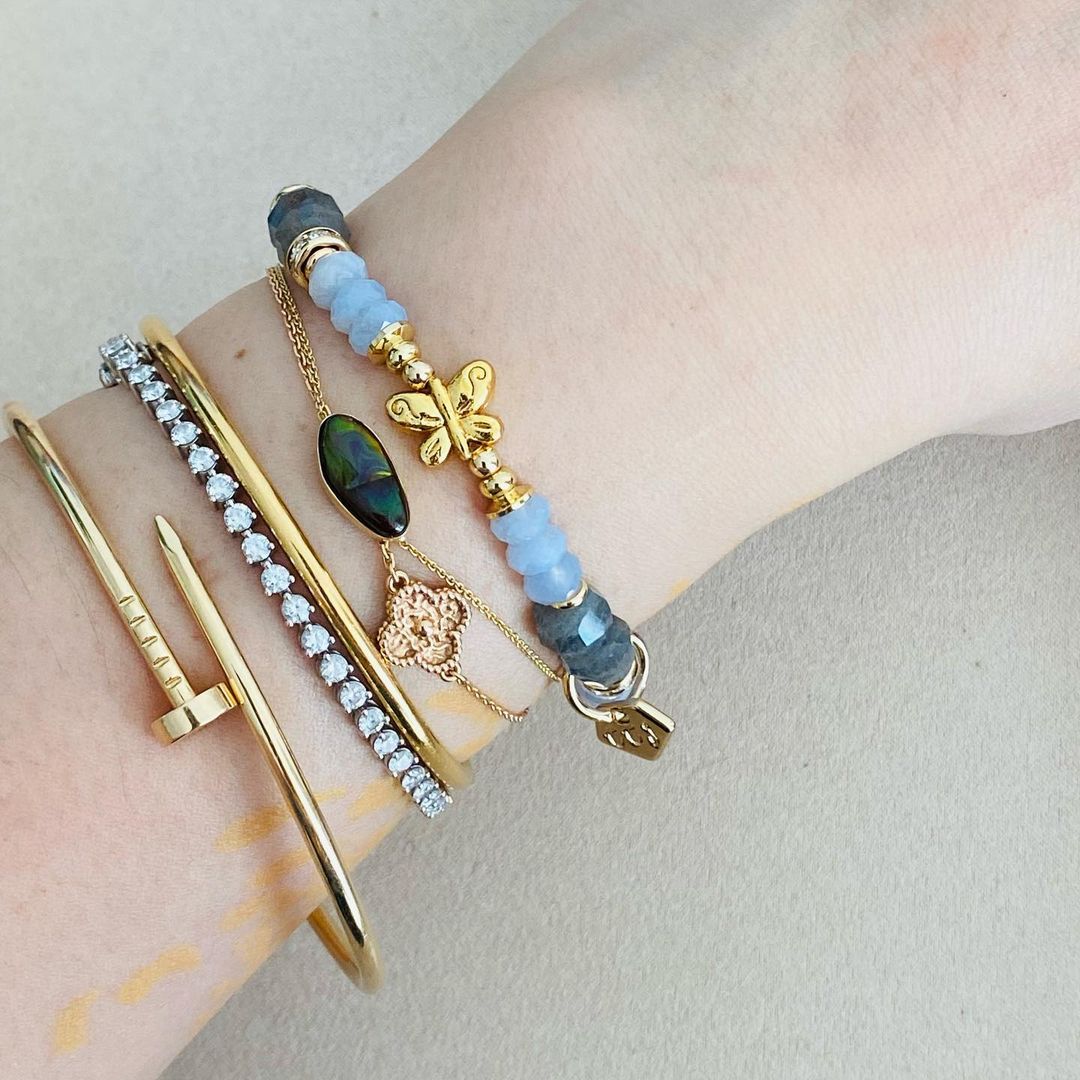 Source
Covet Crystals Jewellery makes shopping easy by sorting their products into categories ‒ gems, chakras, intentions, colours and collection. This way, you won't be lost on their website, especially when you're only just stepping into the crystal community. 
The highlight of Covet Crystals Jewellery is their loud statement crystal bracelets. All of them have an original design and feature gemstones like Coral Carnelian, Rose Quartz and Citrine. For fans of subtle pieces, they also have chic designs that are suitable for everyday wearing. Other products include mask chains so you can keep your mask clean and wear them in style. 
Shipping: Free shipping for orders above $100  
Contact: Facebook messenger or email customerservice@covetcrystals.com
WebsiteㅣFacebookㅣInstagram
7. Fated Itis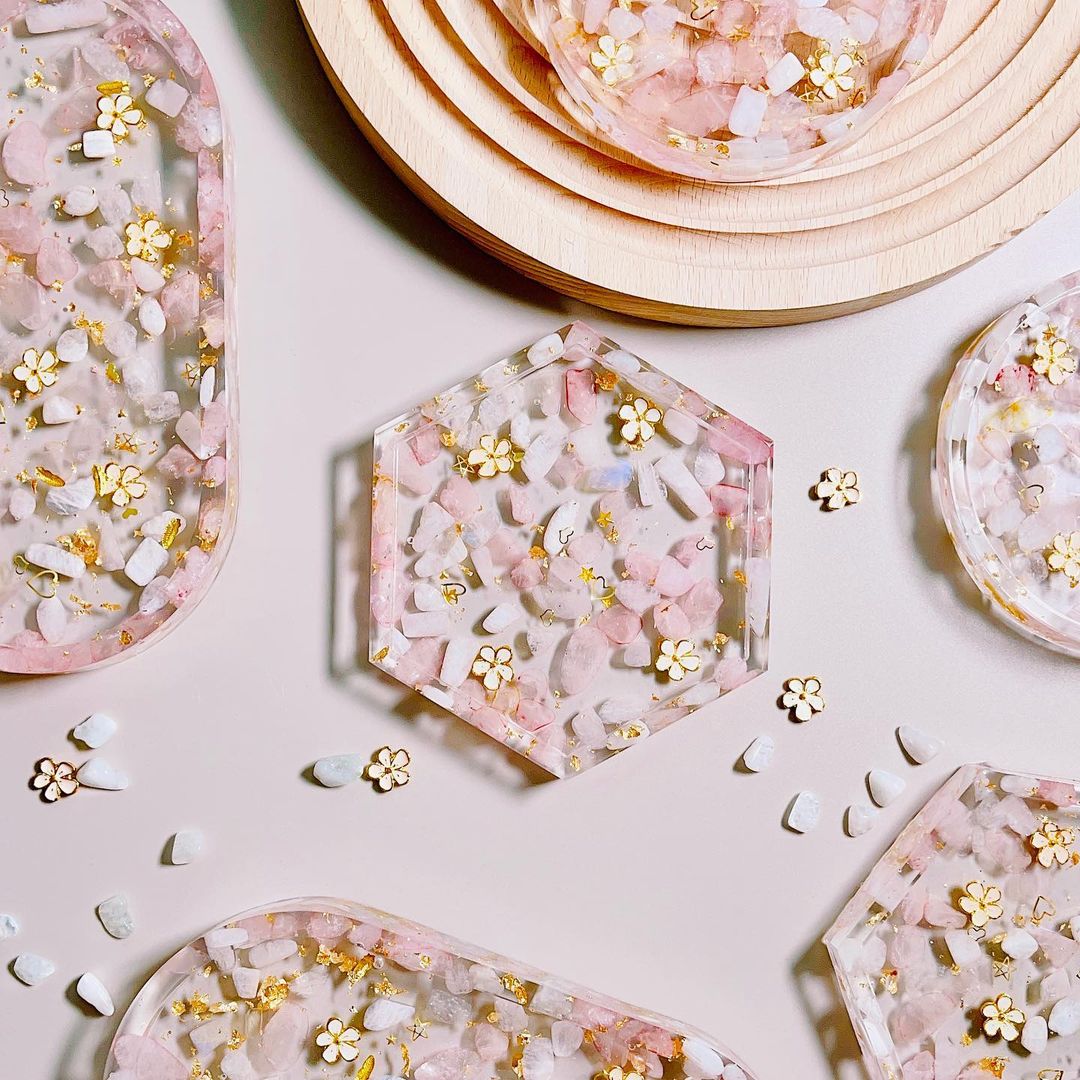 Source
Not everyone is a fan of owning chunky crystals. While you still want to get the same healing properties, you can do so with the crystal resin trays from Fated Itis. Making use of crystal chips, the trays are decorated with additional accessories such as dried flowers and gold flakes. 
You can customise your own tray by first deciding on the shape ‒ oblong, round and hexagon ‒ before choosing from 13 crystal chips options. Use the trays to hold your small knick knacks or even as a display for your other crystals. 
Other products include various crystal forms and sphere ring stands to hold crystal balls in place. 
Shipping: $5ㅣFree shipping for orders above $100  
Contact: Facebook messenger or Instagram direct message
Facebook ㅣInstagram 
8. Illa Nocte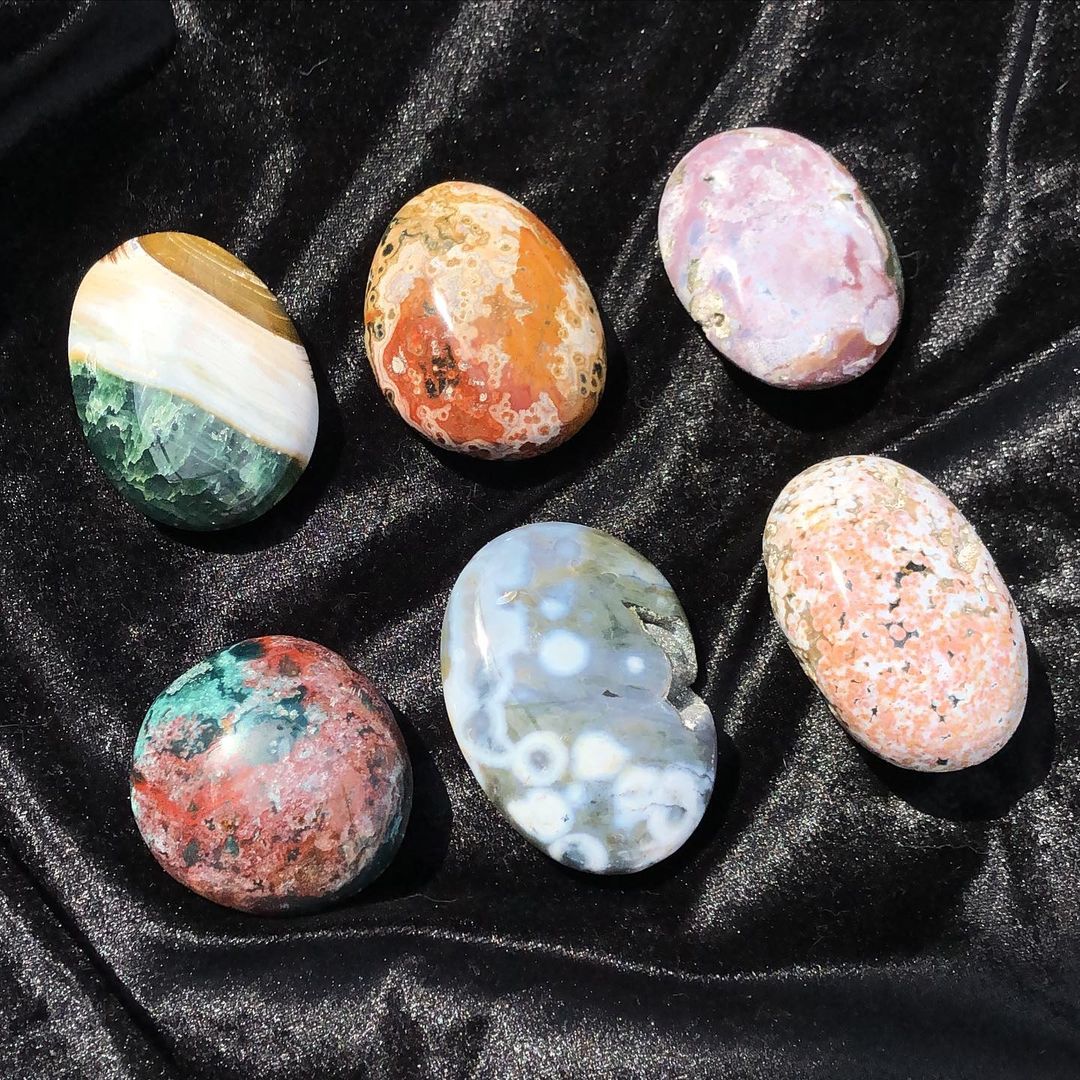 Source
Illa Nocte stands out from other crystal shops thanks to their specialisation in more gothic-themed crystals and jewellery. A glance at their Instagram account, and you will notice the concept that they are going for, with crystals in the shapes of snakes, skulls and spiders.
If you wish to learn more about these "dark" crystals that they offer, catch their weekly Instagram live session on Saturdays. You can also head down to their first flagship to look-see before you buy. 
Price: From $5 
Shipping: Free shipping for orders above $130
Address: 157A Jalan Besar, Level 2, 208874.
Contact: Facebook messenger or email illanocte@gmail.com
WebsiteㅣFacebookㅣInstagram
9. Kayla Crystals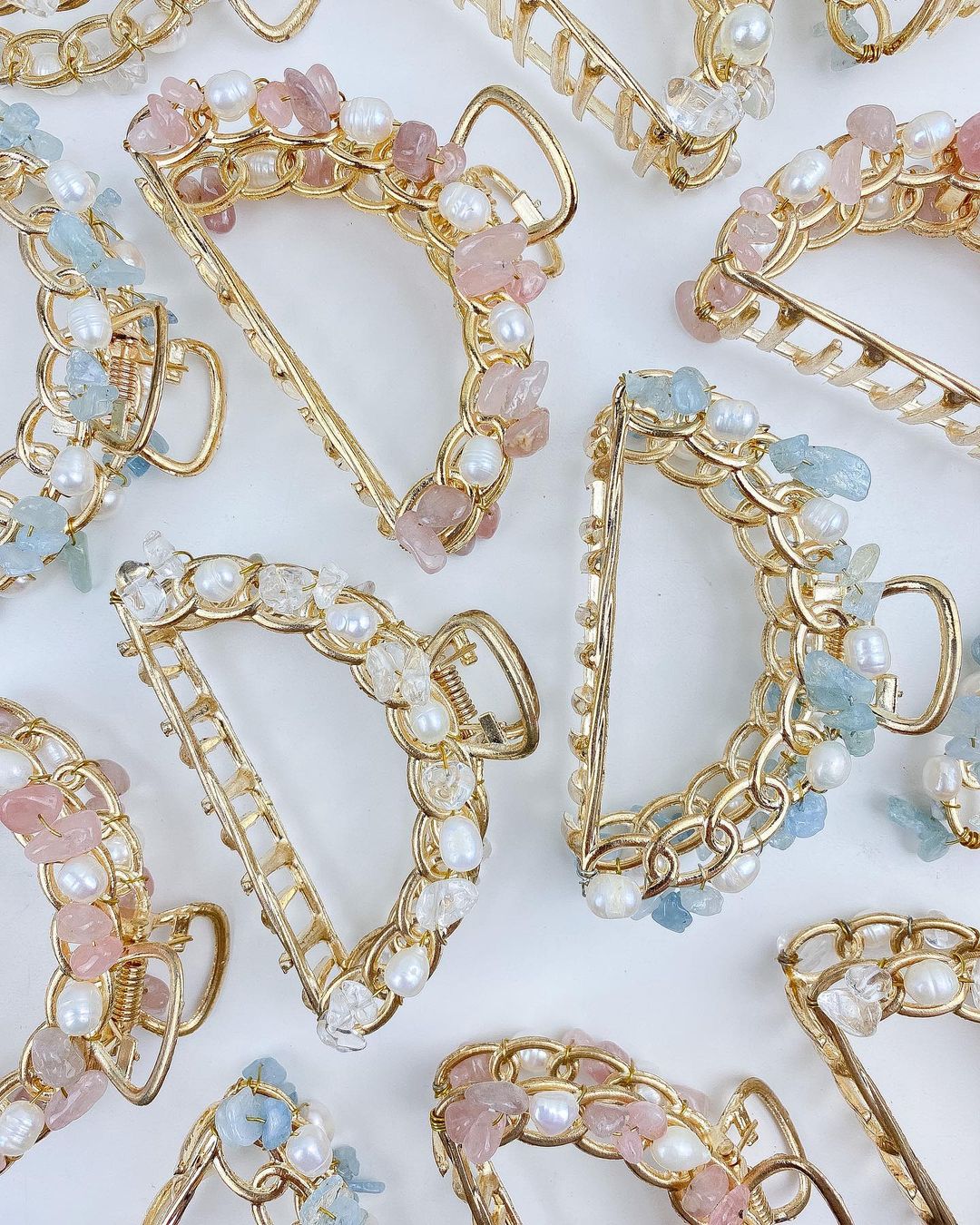 Source
Small crystals are handy to have while on-the-go, but not everyone enjoys carrying a piece of crystal in their bag. Kayla Crystals has come up with an excellent solution ‒ hair clips with crystals decorated on them. As such you get to carry and wear your crystals in a subtle manner. Plus, they have bracelet charms that make an excellent addition to your daily OOTD too. 
Kayla Crystals might be a recent online shop but they are gaining attention thanks to the variety of crystals that they offer and affordable prices. Be sure to catch their Instagram live every Monday and Tuesday at 8pm for live sales of accessories and crystals respectively. You can also visit their official Shopee store. 
Price: From $2.49 
Shipping: Contact for price
Contact: Instagram direct message
Instagram
Also read: 
14 Instagram Blogshops In Singapore Selling Cute Customisable Jewellery Including Tutu Kueh & Dinosaur Earrings
10. Crystalliac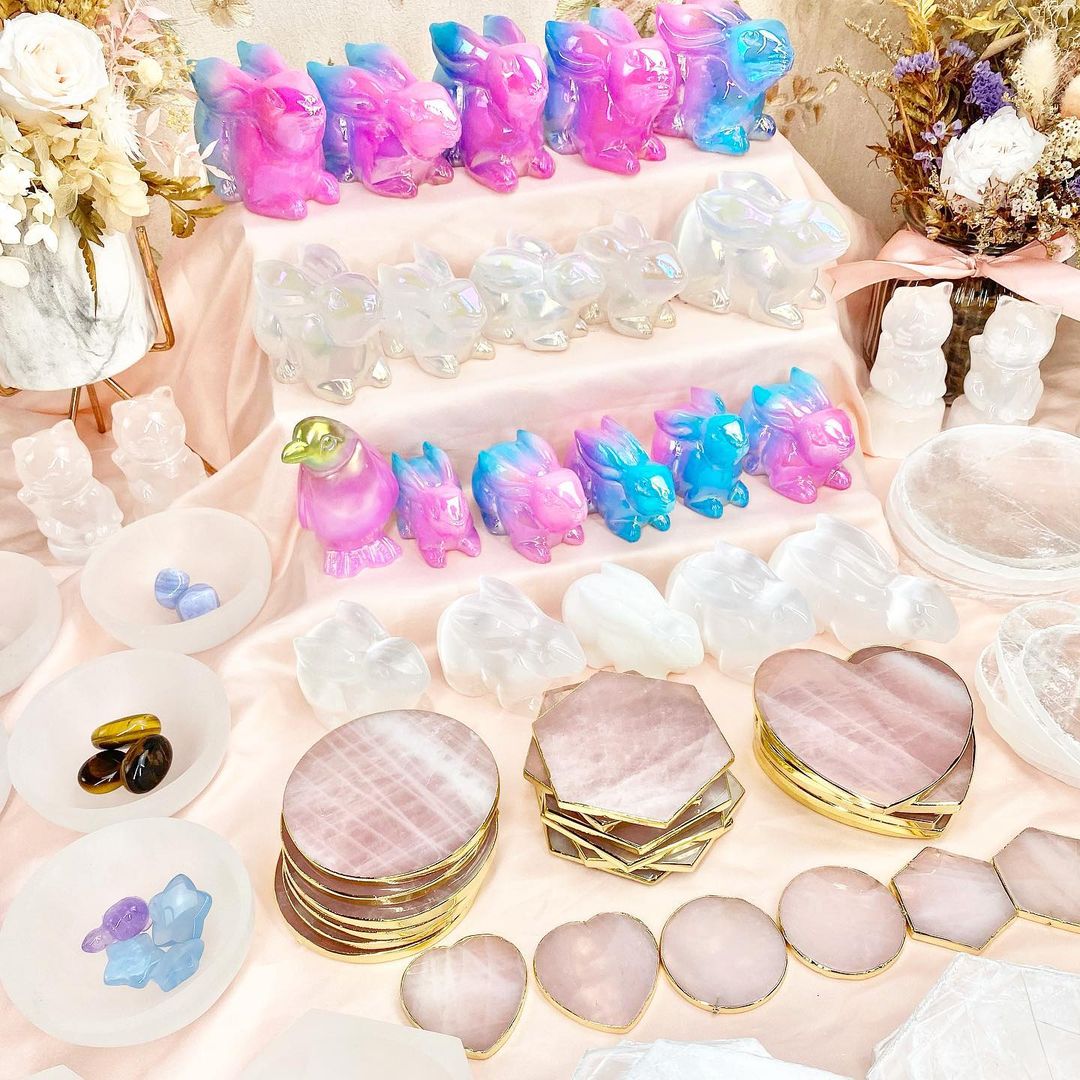 Source
Crystalliac is the place to head to for all your crystal needs. Their wide selection of crystals come in forms such as towers, chips and slabs. Plus, they also have them in shapes inspired by poodles, Pokemons, and Hello Kitty ‒ a modern take on popular characters. Also, the crystals are made in vibrant colours that are Instagram-worthy. 
Before you visit them at their physical store, make sure to book an appointment in advance. You can also follow them on Instagram so you won't miss out on their next Instagram live sale. Additionally, you can visit their official Shopee store.
Shipping: Free shipping for orders over $60
Address: 21 Woodlands Close, Primz Bizhub, Singapore 737854
Opening hours: Inquire for details
Contact: Facebook messenger and Instagram direct message 
WebsiteㅣFacebookㅣInstagram
11. Gem And You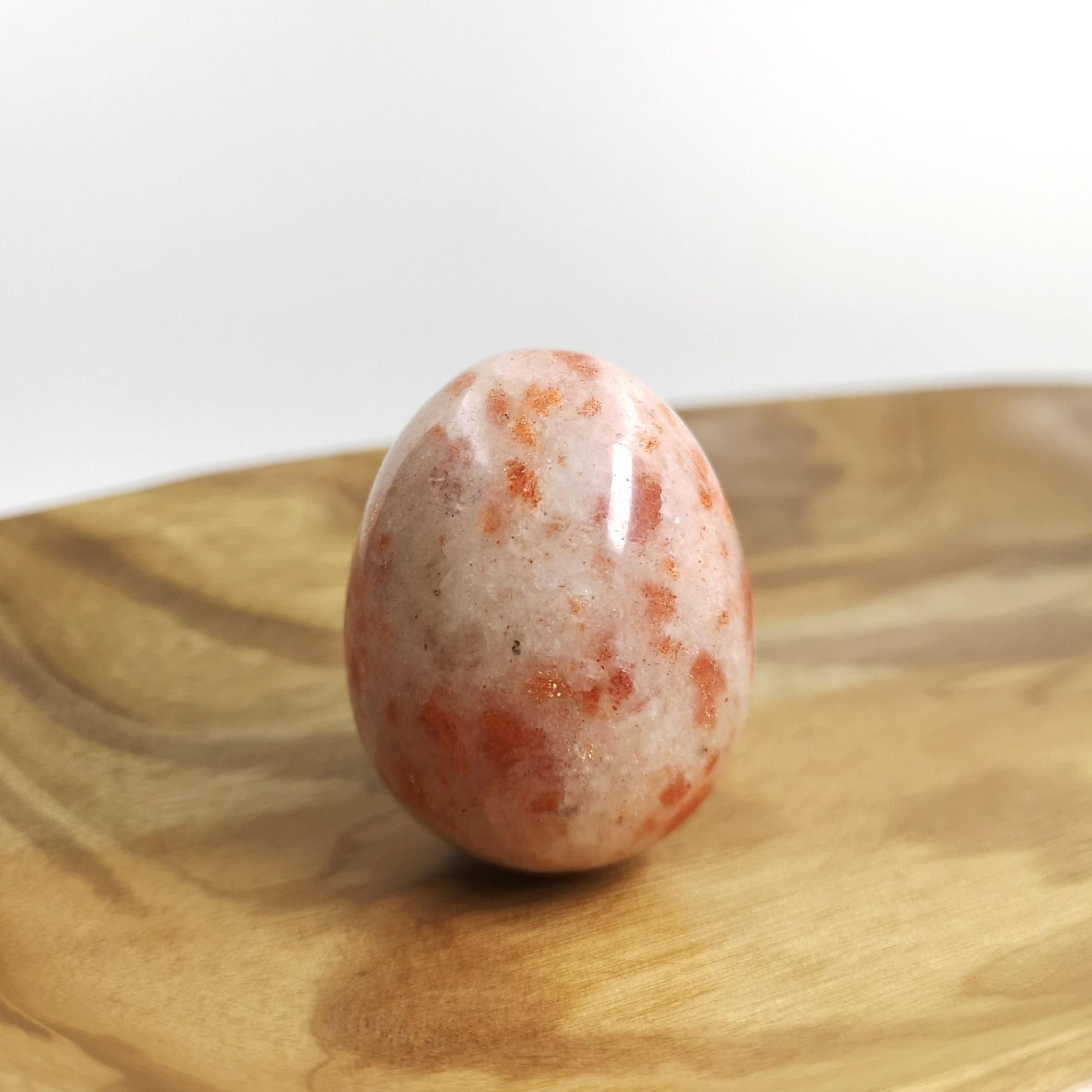 Source
Gem and You is one of the more traditional crystal shops that opened in 2003, with their physical outlet located at Rochor Road. If you find yourself lacking in crystal knowledge, get a copy of their book which covers the basics and informative details about crystals. 
From raw crystals to polished palm stones, rest assured you'll be able to find a crystal that suits your needs. Plus, they ship worldwide – in case you want to send a crystal to an overseas friend or family member.    
Shipping: Free shipping for orders over $70
Address: 149 Rochor Road, #02-39, Singapore 188425
Opening hours: Inquire for details
Contact: Call 9127 8227
Website
12. Secret Crystals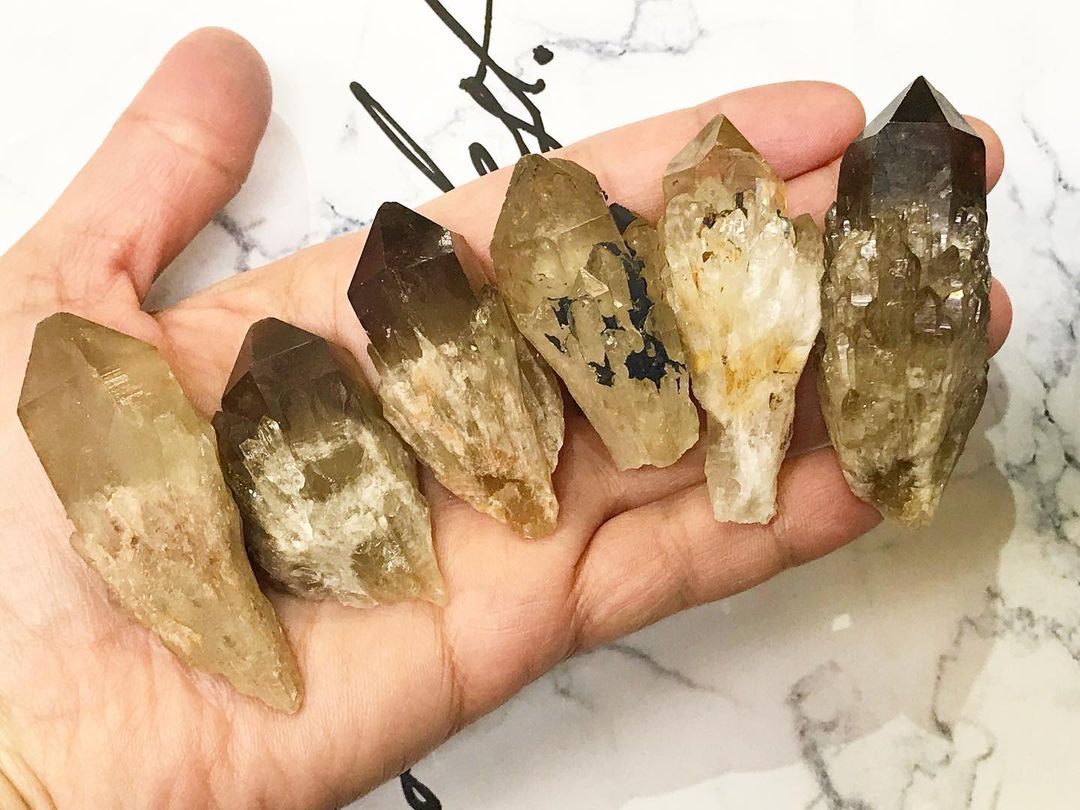 Source 
You know you're in good hands when Secret Crystals has an average of 4.8/5 stars rating on Google reviews. Located near the National Gallery of Singapore, Secret Crystals offers rough crystals, various crystal forms and accessories. 
If you prefer to shop online, they also have a website where you can see their entire crystal collection. 
Shipping: Contact for price
Address: 1 Coleman Street, #04-27, The Adelphi, Singapore 179803 
Opening hours: 1pm to 7:30pm Tuesday to Fridaysㅣ1pm to 6pm Saturday. Closed on Sundays and Mondays
Contact: Call 8101 7466
WebsiteㅣInstagram
13. TAMZA House of Crystals & Lifestyle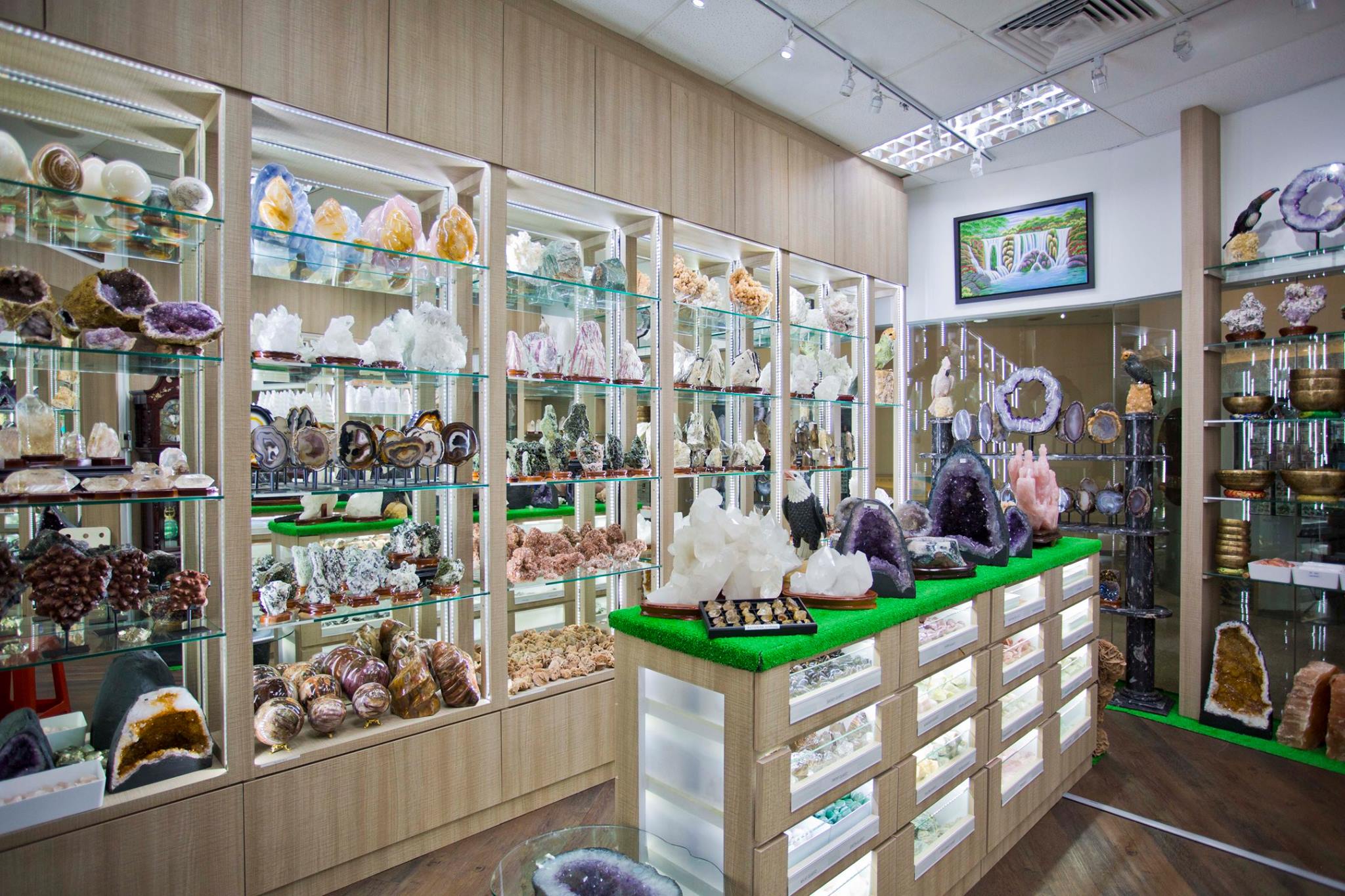 Source
As TAMZA House of Crystal and Lifestyle deals mainly with ornament crystals and rough minerals, you will find their selections in various textures and odd shapes. Currently, their crystal collections are from South America ‒ a popular region for gemstones. 
For those hoping to change the feng shui in your house, this is the place to take home some crystals that also double as home decor. Take for example the Canadian Auralite Amethyst ‒ believed to be beneficial to those suffering from tense muscles and stress. 
If you're curious about their physical store, you can visit their official Facebook page for a 360 degree virtual tour.  
Address: 91 Bencoolen Street, #01-61/64/65, Sunshine Plaza, Singapore 189652
Opening hours: 12pm to 7pm Mondays to Saturdays. Closed on Sundays
Contact: Call 6337 1446
WebsiteㅣFacebookㅣInstagram
14. Crystals Cube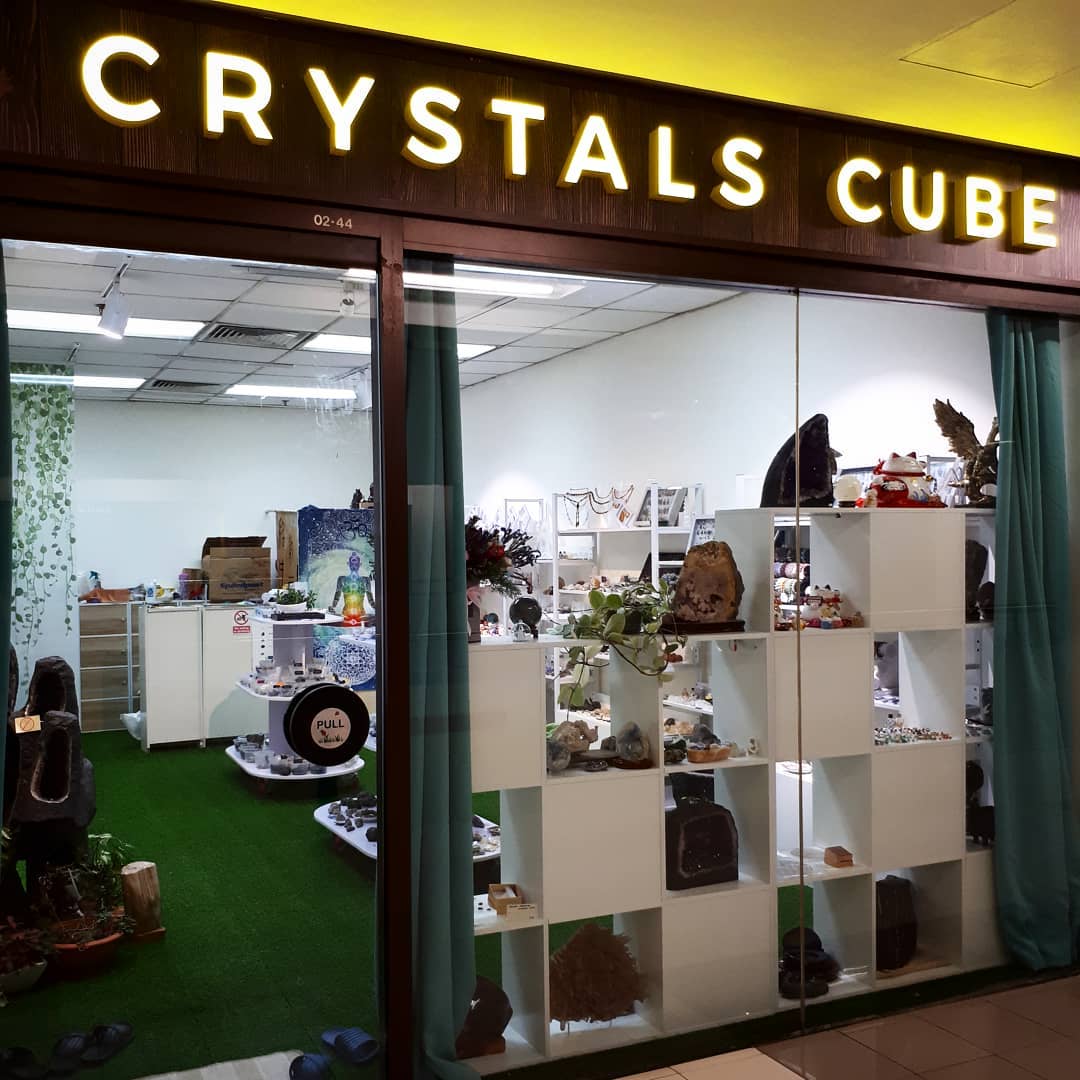 Source
If you're new to collecting crystals, Crystals Cube offers a vast array of to choose from, such as raw crystals and tumble stones, with experts onsite to guide you through their different meanings. 
They also specialise in energy reading and making customised bracelets at an affordable price. Plus, you can get advice from them on how to improve personal situations by channelling the energy through various types of crystals. 
Shipping: Free shipping for orders over $25
Address: 1 Coleman Street, #02-44, The Adelphi, Singapore 179803 
Opening hours: 2:30pm to 10pm daily
Contact: Call 6337 5698
WebsiteㅣFacebookㅣInstagram
15. Qi New Age Healing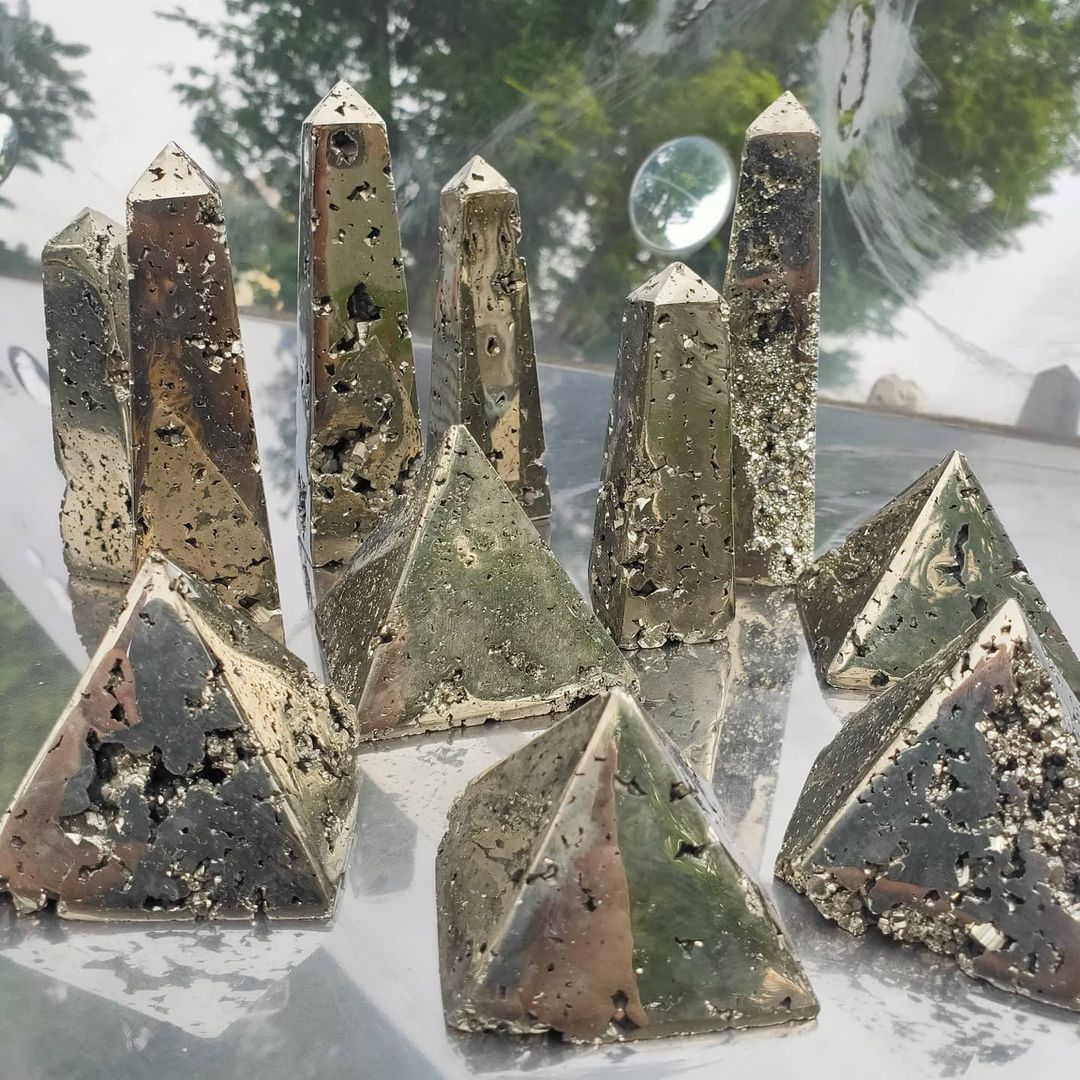 Source
Qi New Age Healing is both a physical and an online crystal shop. From sets to rare collectibles, they have almost everything for your crystal needs. Other products include tarot cards, for those who are in-touch with their spiritual side or wish to gain an insight about the future. 
On top of those, they also welcome individuals to promote their products through their sales platform. 
Shipping: Free shipping for orders over $100 
Address: 42 Kandahar Street, Singapore 198896
Opening hours: 1pm to 7:30pm Mondays to Tuesdays, Thursdays to Fridaysㅣ1pm to 6:45pm Wednesdays & Saturdays. Closed on Sundays.
Contact: Call 9711 6843
WebsiteㅣFacebook ㅣInstagram
16. Kristal Takata Crystal Shop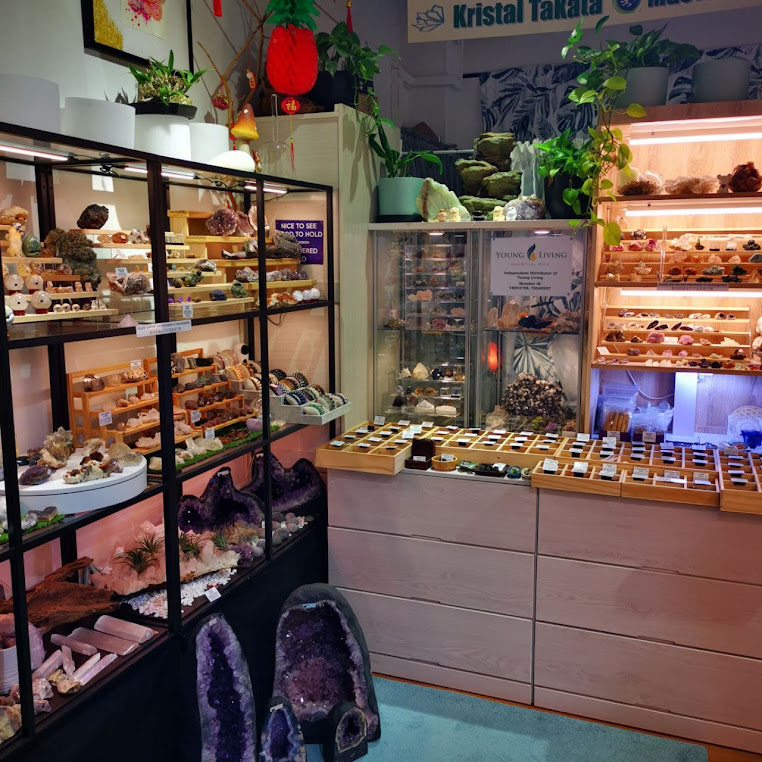 Source
Located in Far East Plaza is Kristal Takata Crystal Shop ‒ home to amethyst caves, pendulums, crystal bracelets and many other crystal forms. As the owners believe in the uplifting of personal energies, they hope for customers to experience the benefits of crystal healings. 
They also extend their services to holding sound bath workshops ‒ that have properties such as body, mind and soul rejuvenation. The workshop uses instruments to create gentle, powerful and therapeutic sounds that help to rejuvenate your exhausted body and relieve stress.  
Address: 14 Scotts Road, #01-28, Far East Plaza, Singapore 228213
Opening hours: 1pm to 7:30pm Tuesdays to Saturdaysㅣ2pm to 6pm Sundays. Closed on Mondays. 
Contact: Call 9733 2548
WebsiteㅣFacebook ㅣInstagram
17. Love For Crystals By Audrey's Wellness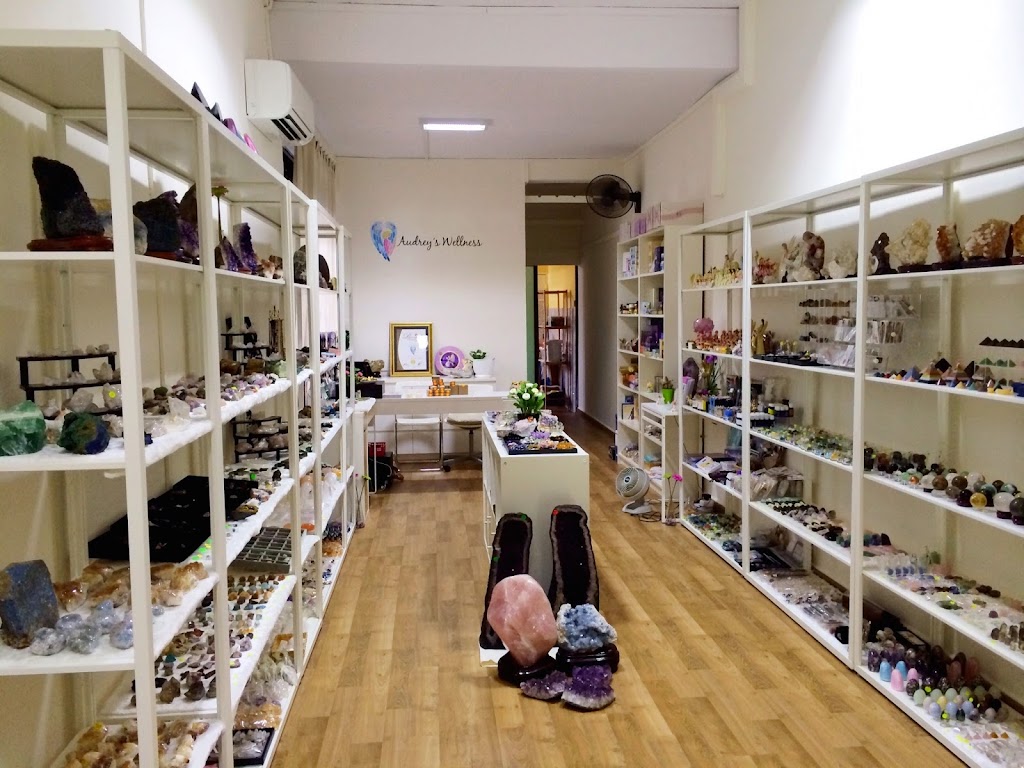 Source
Love For Crystals by Audrey's Wellness sources from reputable miners and suppliers from countries such as Brazil, Pakistan, and the UK. Their crystals and gemstones are of excellent quality as they are carefully selected, cleansed and charged before being put on sale. 
Catering to more New Age needs, they extend their services by holding crystal workshops too. You can clear your mind by attending the Space Clearing Session or get a sneak peek of your future with their 1-on-1 Psychic Reading Session.  
Shipping: Free shipping for orders above $150
Address: 228A Upper Thomson Road, Singapore 574360 
Opening hours: 4pm to 7pm Mondays to Wednesdaysㅣ12pm to 8pm Saturdays to Sundays. Closed on Thursday and Fridays
Contact: WhatsApp 8498 7653
WebsiteㅣFacebook ㅣInstagram
These Crystal Shops Will Come In Handy If You're Looking For Good Juju
Whether you're a newbie stepping into the crystal community for the first time or an enthusiast looking to expand your crystal collection, these crystal shops have assorted crystals for you to choose from. Some even have workshops on spiritual healing and provide advice on how to make full use of crystals. 
If you're looking for Instagram blogshops in Singapore, check out this article.   
This article contains partial partnership content. However, all opinions are ours.
This article was originally published on 13 September 2021 and updated by Rebecca Low on 5 October 2022.
Cover: Source, source, source
Also read: 
19 Telegram Channels To Join For The Best Shopping, Fitness & Lifestyle Deals In SG