Instagram Blogshops In Singapore
Cute, customisable statement accessories are all the rage right now. Whether you are looking to add personality to first-date outfits with handmade resin earrings or don a character-inspired charm to jazz up a monochrome look, these Instagram blogshops in Singapore selling cute customisable jewellery have you covered.
Colourful charms & characters
1. Pastel Dream Collective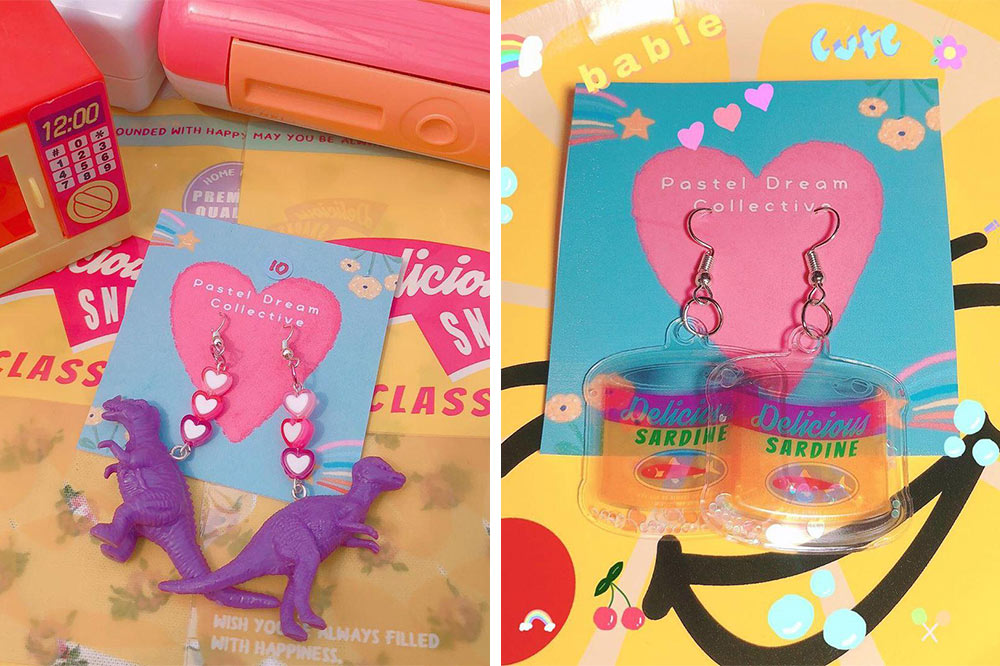 Source
Pastel Dream Collective started because of its founder Rosie's love for pastels and grocery stores. The self-proclaimed "toy concept store for your ear candy treats" has all sorts of whimsical and psychedelic designs, from dinosaur figurines to snack charms. The pieces, which usually consist of plastic figures dangling from a chain, will put a smile on your face. 
Orders are on a first come, first served basis; the person who comments "Me" on the Instagram post first gets the piece. Prices are inclusive of local normal mail for buyers in Singapore.  
Price: From $5
Instagram
2. Darling Loops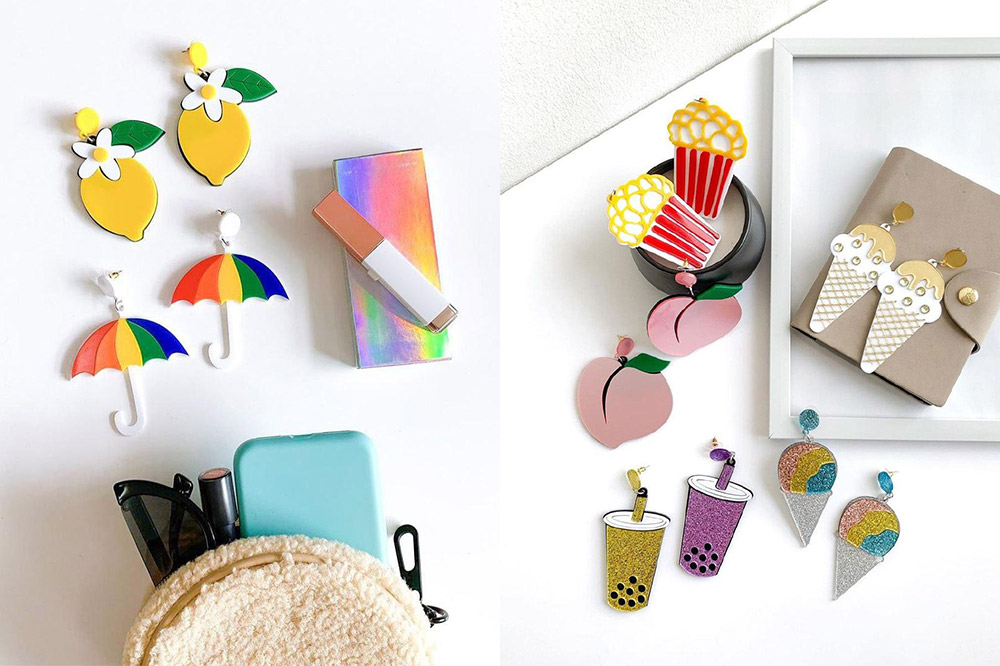 Source
Amp up your outfits with colourful handmade acrylic earrings from Darling Loops. The eye-catching designs are based on popular emojis and trending items like bubble tea, perfect for dressing up a simple LBD. 
You can pay via PayNow or PayLah, and the prices include postage via normal mail.
Price: $15 for all earrings
Instagram
3. Spicy News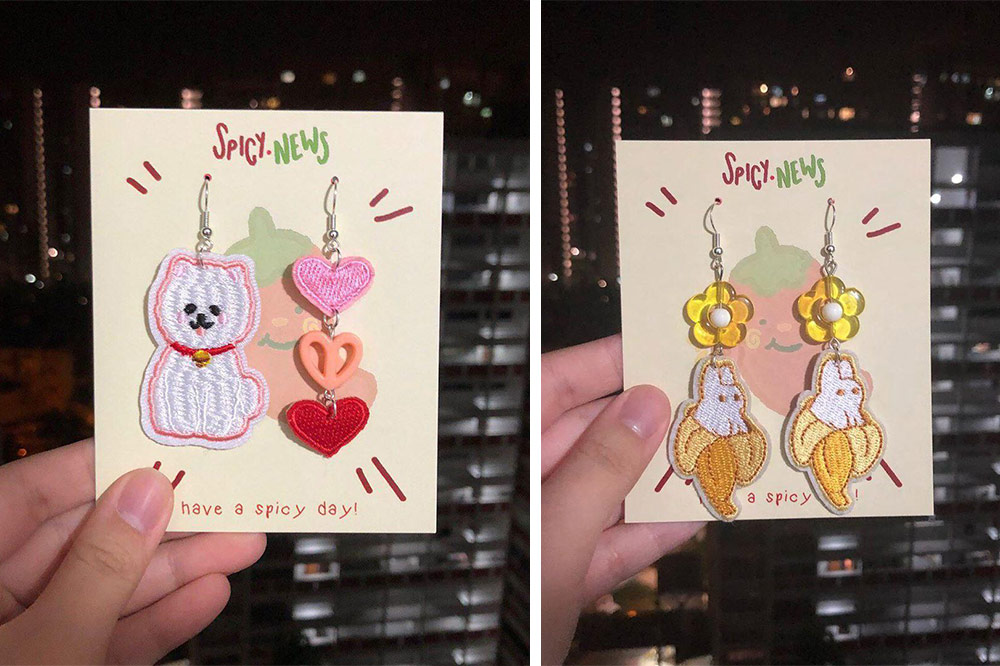 Source
Spice up your outfit with kawaii earrings from Spicy News. Most of the designs are made up of lightweight cloth charms, so you don't have to worry about the earrings weighing down your ears. The shop has a wide variety of designs, including characters like My Melody, Mr Potato Head and even Mr Bean's teddy bear.
If you would like to be on top of its latest launches, it also has a Telegram channel you can join.
Price: From $6.90
Instagram | Telegram
4. Cloudy Beams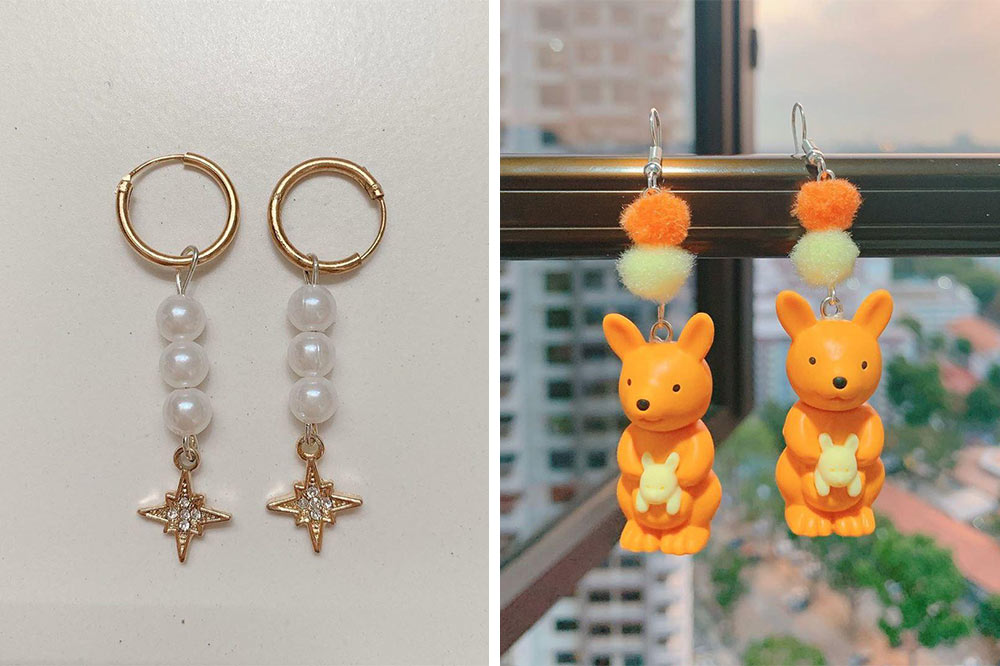 Source
Cloudy Beams will appeal to girly girls and those with more eclectic tastes too. The former will be pleased to find dainty pieces like a chain necklace with pink, red and iridescent star charms, plus pearl and butterfly earrings. The latter will fall hard for earrings like the animal figurines with pom pom accents.
DM or comment "me" to purchase. Normal mail is free in Singapore—more reason to snag some of these earrings to add to your collection. 
Price: From $5.50
Instagram
5. StitchTreats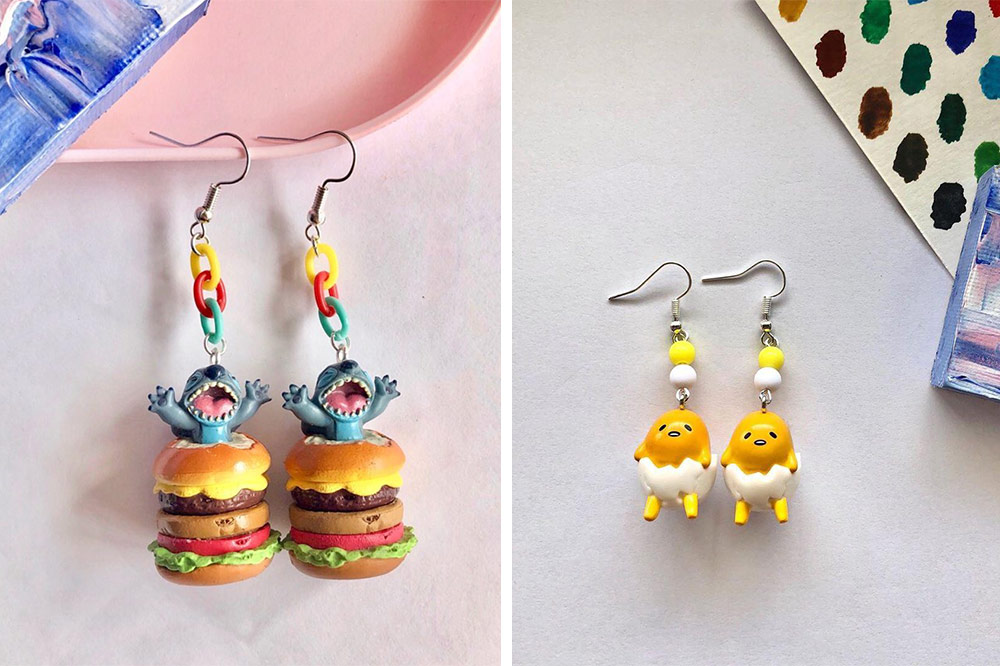 Source
As its name suggests, Stitch Treats has an abundance of accessories starring the lovable blue monster. Besides Disney characters, there are familiar faces such as those from Sumikkogurashi, Gudetama and Pokemon.
If you do not fancy the beads or ribbons on top of the charms, you can drop the seller a request to have them removed (+$0.50) or changed (+$1.50) before they are mailed out to you. If you have sensitive ears, 925 silver hooks are also available at an extra $0.30. 
DM to purchase and for custom orders.
Price: From $5
Website | Instagram
6. Kuey Lapis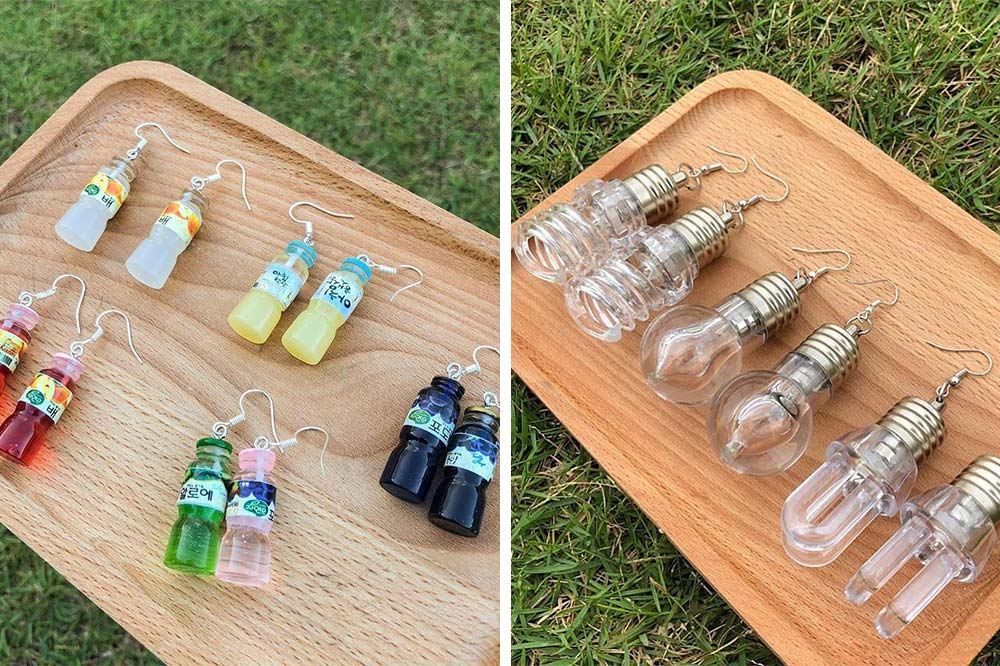 Source
While most Instagram blogshops in Singapore focus solely on earrings, Kuey Lapis also stocks necklaces and hair clips. Many of its earrings come in multiple colours (like the Korean bottled drink earrings, left) or designs (like the light bulb earrings, right), so you and your squad can pick a favourite and represent.
DM to purchase, payment can be made via Paylah, Paynow or via bank transfer. Shipping costs $2 for normal mail, and $5 for courier via NinjaVan.
Price: From $8
Instagram
7. Bloppity.Blop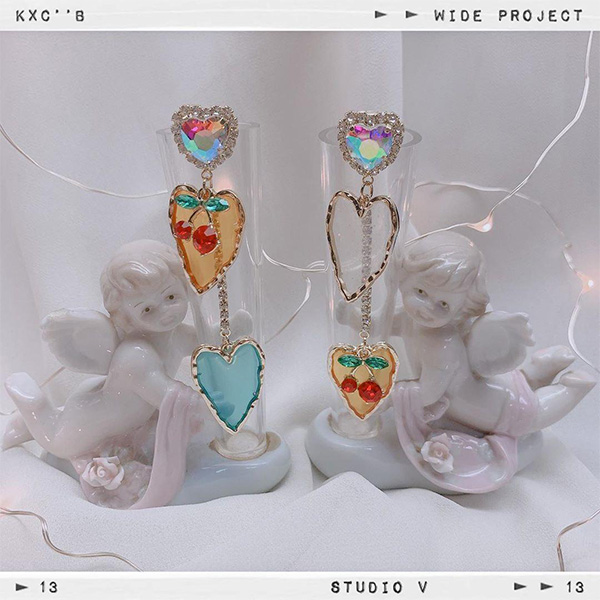 Source
You never know what to expect with Bloppity Blop—and we mean that in the best way possible. Every new collection sees a drop of around 9 products revolving around a similar theme. Past collections have included a dainty and elegant series straight out of Sailor Moon with colourful rhinestones and heart motifs; and bracelets with iridescent quartz surrounded by pearls and flower beads.
DM to purchase or to order a customised item.
Price: From $7.90
Instagram
8. Maybe Earrings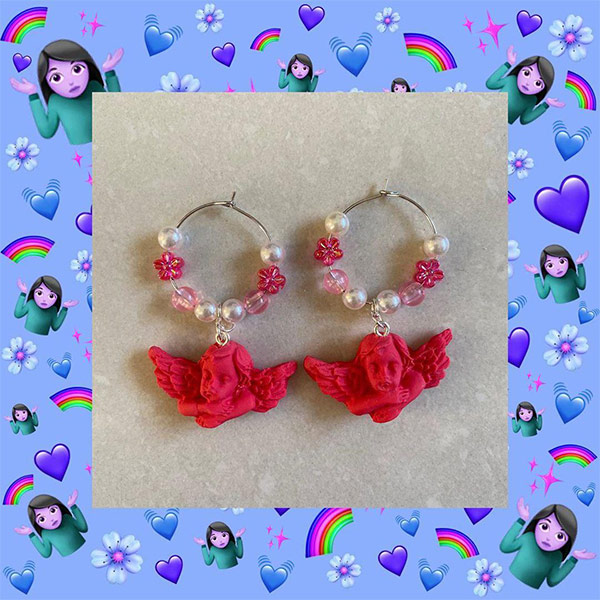 Source
Sport adorable cherubs hanging from your ears with these handmade celestial clay charms from Maybe Earrings. The angel collection features charms in bold colours such as neon green, bright yellow and orange for a look that is sure to turn heads.
New designs drop twice a month, so keep an eye out for them on your IG feed.
DM or leave a comment on the post to purchase.
Price: From $5
Instagram
Also read:
These Toilet Paper Earrings & Hair Clips Are A Cheeky Reminder To Wash Your Hands & Stay Home
Handmade clay & resin earrings
9. Tutu and Ball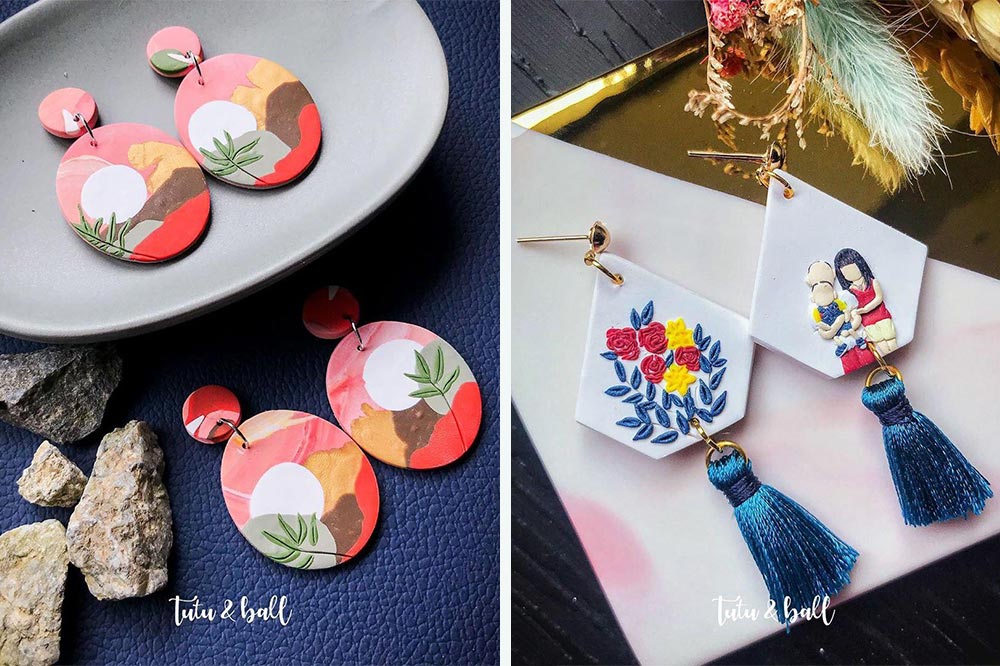 Source
Each pair of earrings from Tutu and Ball is an art of work in and of itself. Its ready-made designs are intricate and elaborate, inspired by Hokusai's waves, sunsets in the desert (left), the Milky Way and other natural and cultural phenomena.
DM to purchase or for customisation requests. If you're looking for a one-of-a-kind gift, you can even pass the seller a portrait of your friend, who will design a pair based on the picture.
Price: From $24
Instagram
10. Dusted Bunnies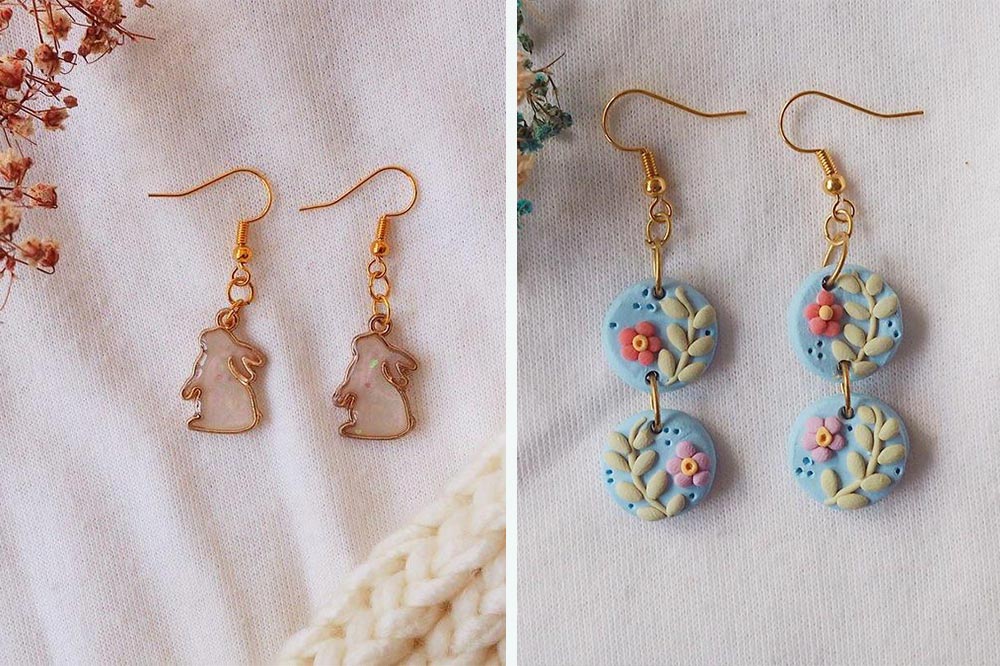 Source
One look at Dusted Bunnies' Instagram feed and you will fall in love with its romantic and feminine aesthetic. The handmade clay and resin earrings come in soothing pastel hues with motifs like flowers, bunnies and butterflies.
DM or comment "me" to purchase.
Price: From $6
Instagram
11. County Donuts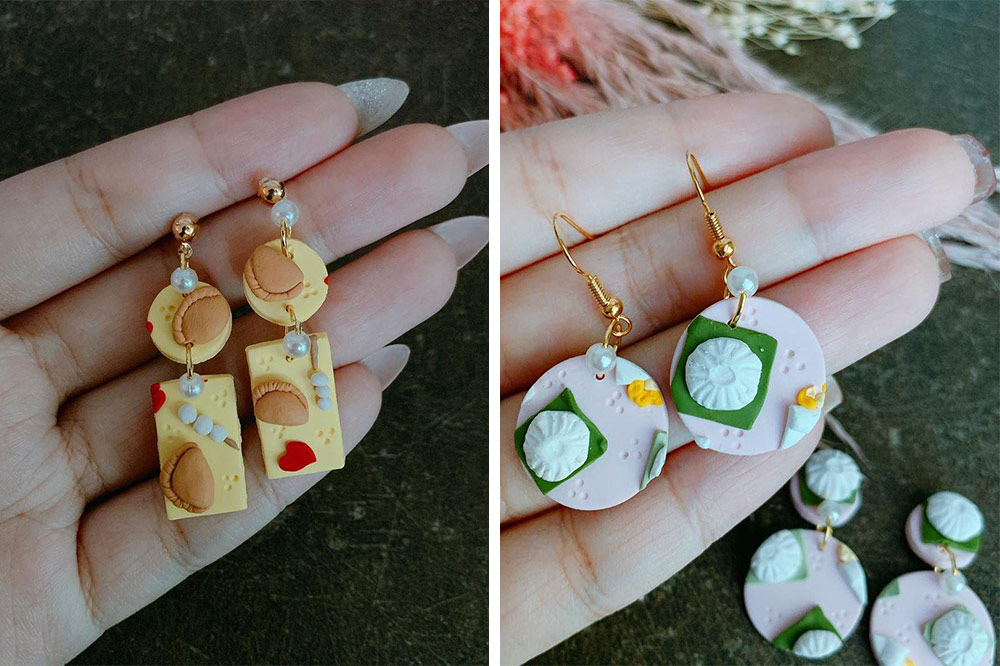 Source
Every collection of handmade polymer clay earrings by County Donuts is available as pins, hooks and studs, so you can pick one according to your preference. The designs are utterly unique, from local food-inspired ones like the curry puff and fishball (left) and tutu kueh (right) series, to ombre shells and even Minion designs.
DM to purchase and for customisation requests.
Price: From $6
Instagram
12. Penelope The Label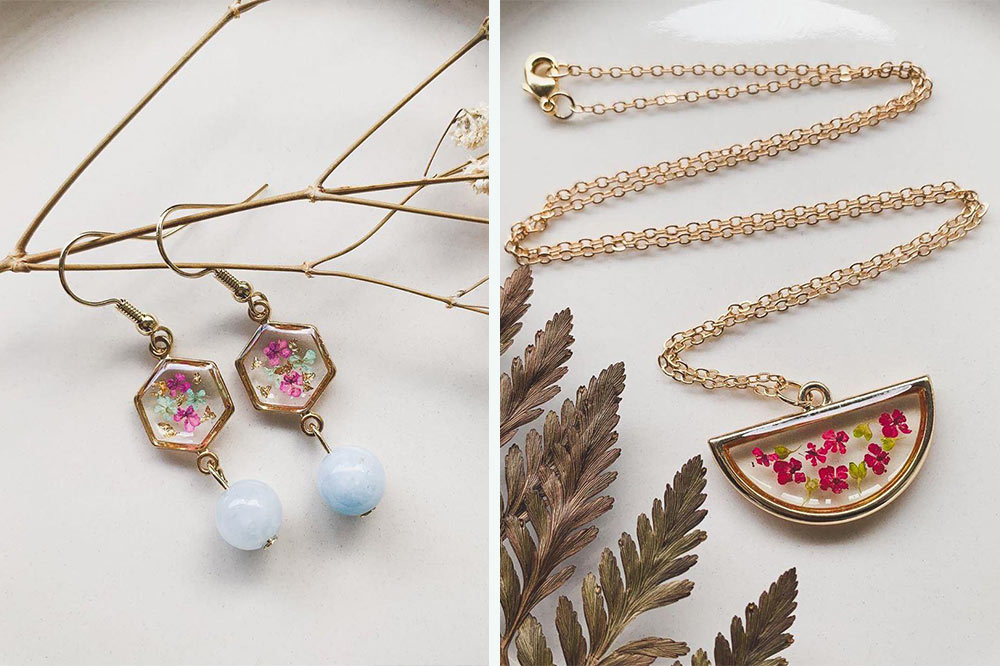 Source
Penelope The Label incorporates real flowers in all of its handcrafted jewellery. Queen's Crape Myrtle flowers, Queen Anne's lace flowers and rice flowers are paired with beads, crystals, shells and tassels, resulting in exquisitely delicate earrings. If you'd prefer the focus to be on the flowers, opt for the necklaces, where the blooms take centrestage.
DM to purchase and search #PTLavailable to see which designs are still available.
Price: From $20
Instagram
13. Ear to the Rings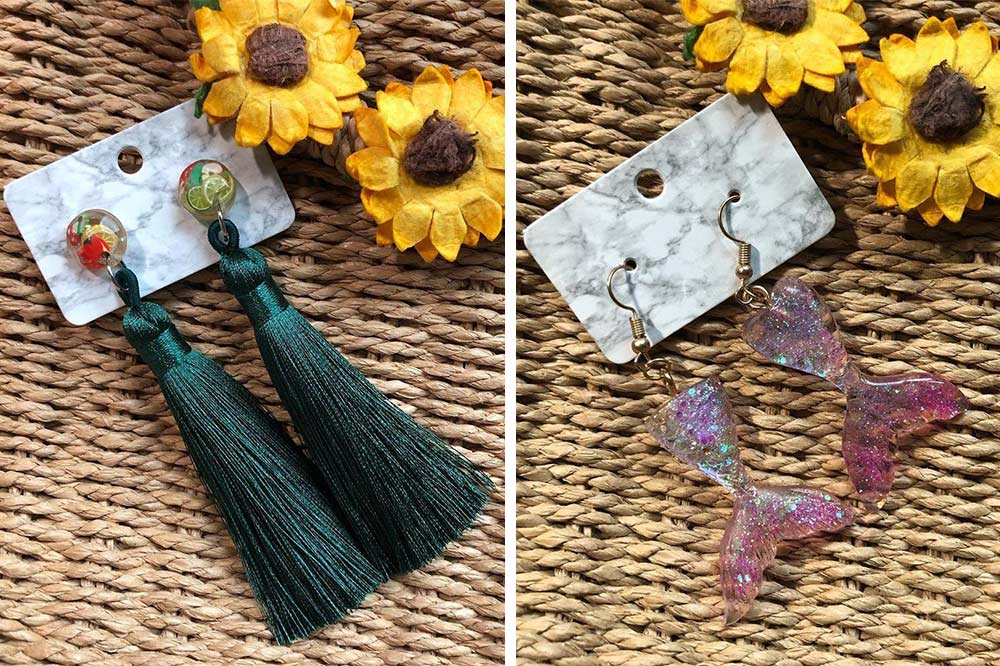 Source
If you're a fan of all things glitter and confetti, look no futher than Ear to the Rings. The handmade accessories will add a touch of fun to every ensemble, be it via fruity tassel studs (left) or mermaid tail earrings (right).
DM or comment on a post to purchase.
Price: From $5.50
Instagram
14. The Green Field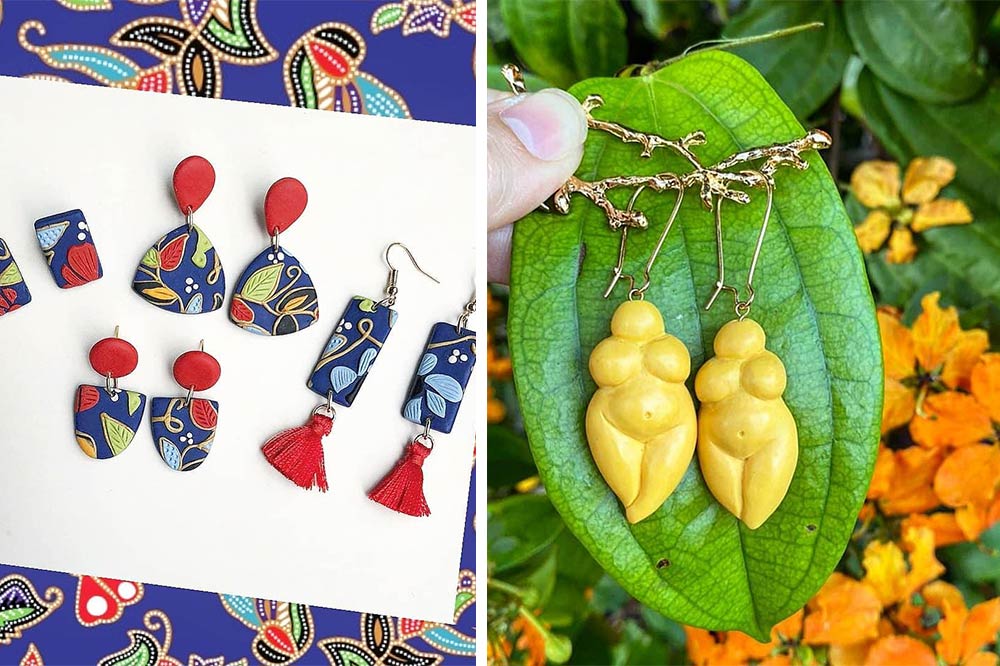 Source
The Green Field's earrings have an artsy vibe to them, whether it's the batik earrings (left) or ones celebrating the female form, named after goddesses, no less (right).
The earrings are made to order, and here's how to order them: First, browse through its Instagram page and the "Selling" tabs under its Highlights. Screenshot the designs you are interested in, then DM the seller. Each design takes about 2-3 days to make.
Price: Upon request
Instagram
These Instagram Blogshops In Singapore Have Handmade And Customisable Accessories 
Shop directly from these Instagram blogshops and you will be supporting small local businesses while looking cute at the same time.
Also read:
10 Places To Get Nail Stickers In Singapore Including Sushi, Batik & Holographic Nail Designs