Telegram Channels To Join 
As savvy Singaporeans, we are always on the lookout for the latest promotions and discounts.
If you've already downloaded Telegram for its cute and wacky sticker packs, you'll be glad to know that Telegram is more than just an instant messaging app—it also helps you to live it up in Singapore even on a shoestring budget.
From the hottest fashion sales to the latest cab promos, here are 12 Telegram channels every Singaporean needs to join for the best deals.
1. SG Budget Babes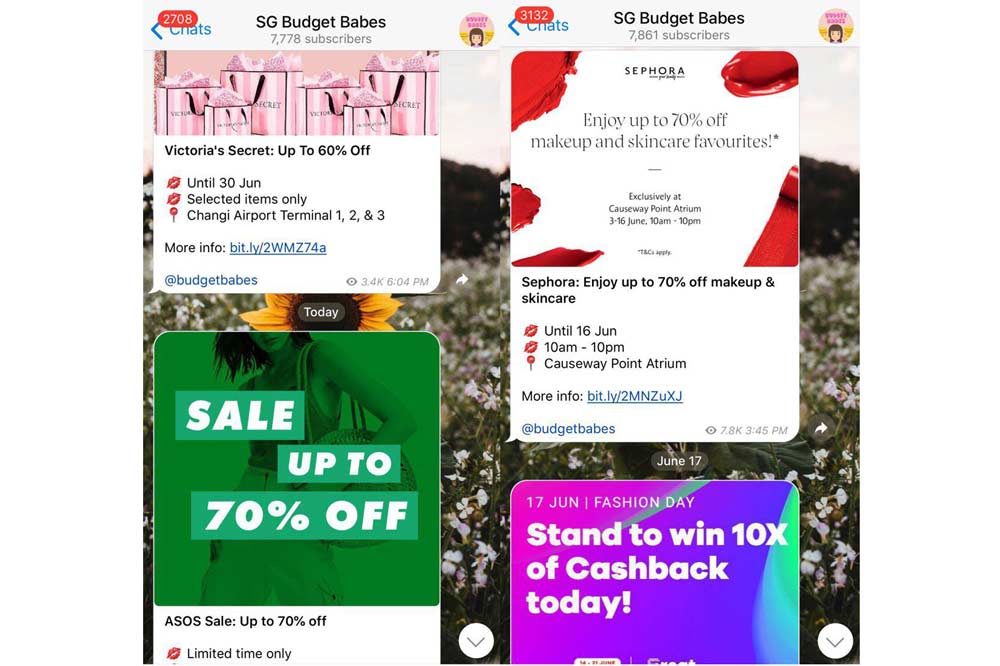 From beauty and fashion sales to upcoming product releases, @budgetbabes is a Telegram channel you should follow for updates on the latest promotions. It regularly highlights sales from popular stores like ASOS, Sephora and Zara, so you can pamper yourself more frequently without breaking the bank!
Join here.
2. SG Student Promos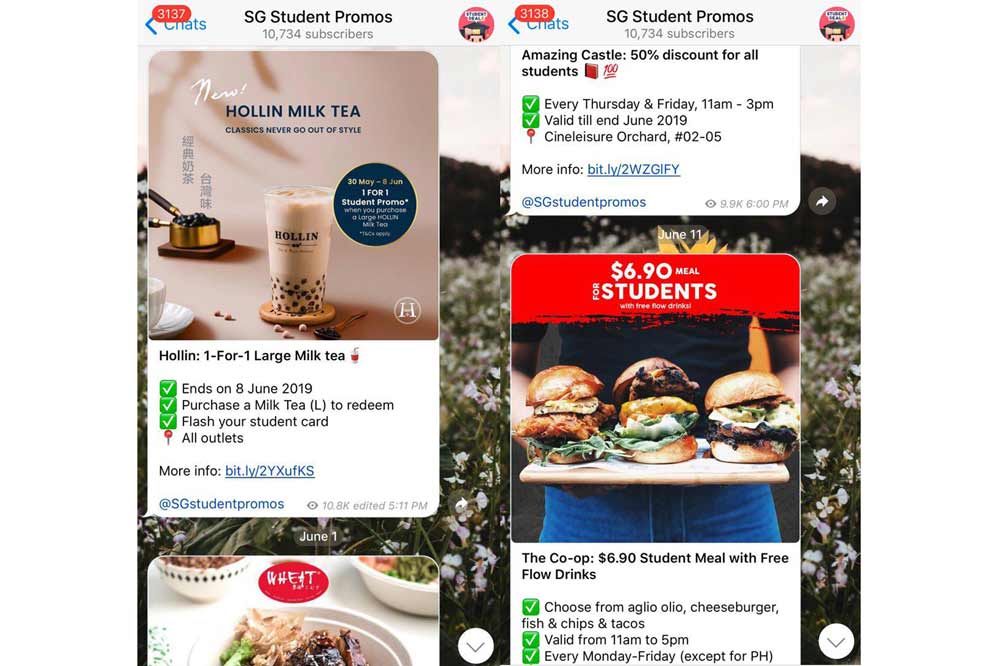 If you're a perpetually broke student who finds it tough to ration your allowance, @sgstudentpromos has your back (as long as you have your student ID card with you). Subscribe to the channel to receive alerts on student-only offers from stores like Topshop and Owndays, affordable lunch sets and even gym membership promotions.  
Join here.
3. The Smarter Way – ShopBack SG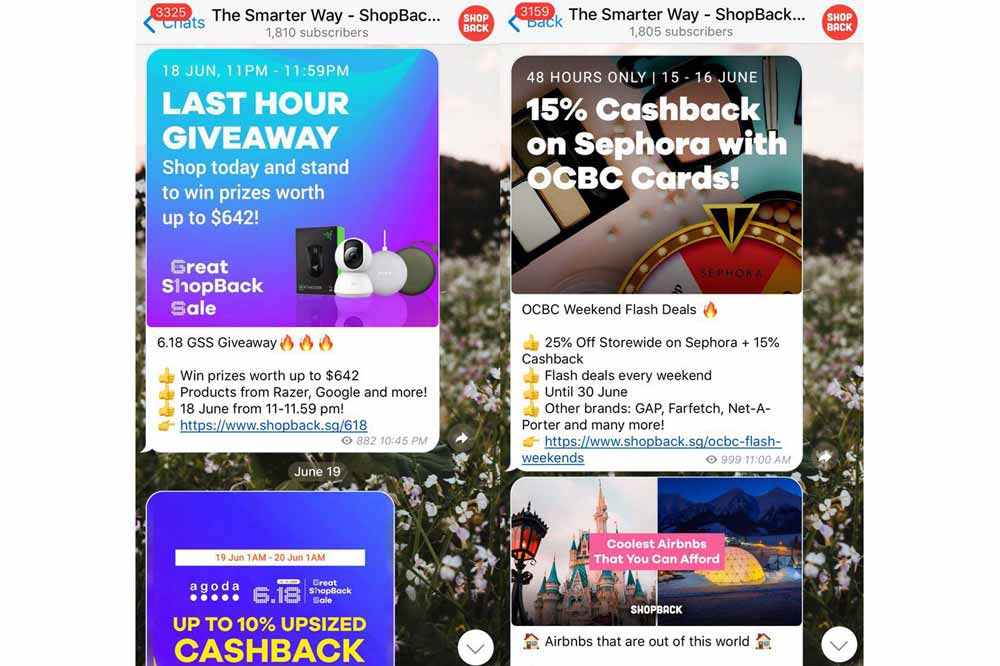 In-the-know online shoppers would no doubt already be regular users of ShopBack. Level up by following its Telegram channel, @SBsmarterway. Not only will you receive alerts on the best cashback deals, but you'll also be notified when the brands on its platform are having storewide/site-wide discounts.
Join here.
4. SG Travel Promos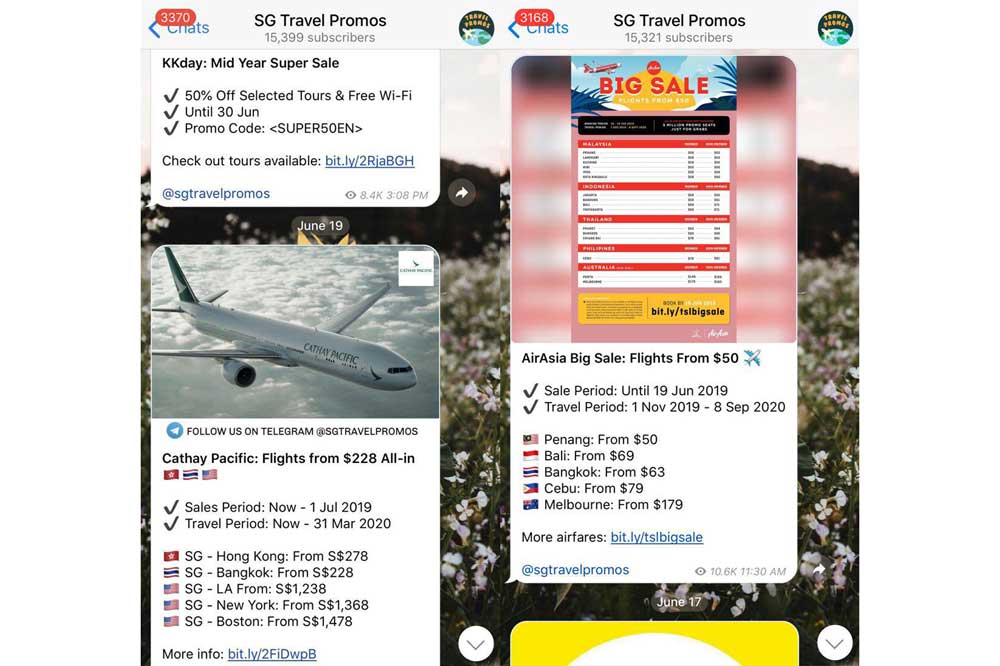 @sgtravelpromos is a Telegram channel dedicated to all you budget travellers out there. Be it airline ticket sales, itinerary hacks or overseas accommodation promos, you can afford to go on more vacays without burning a hole in your pocket.
Join here.
5. SG Happy Hour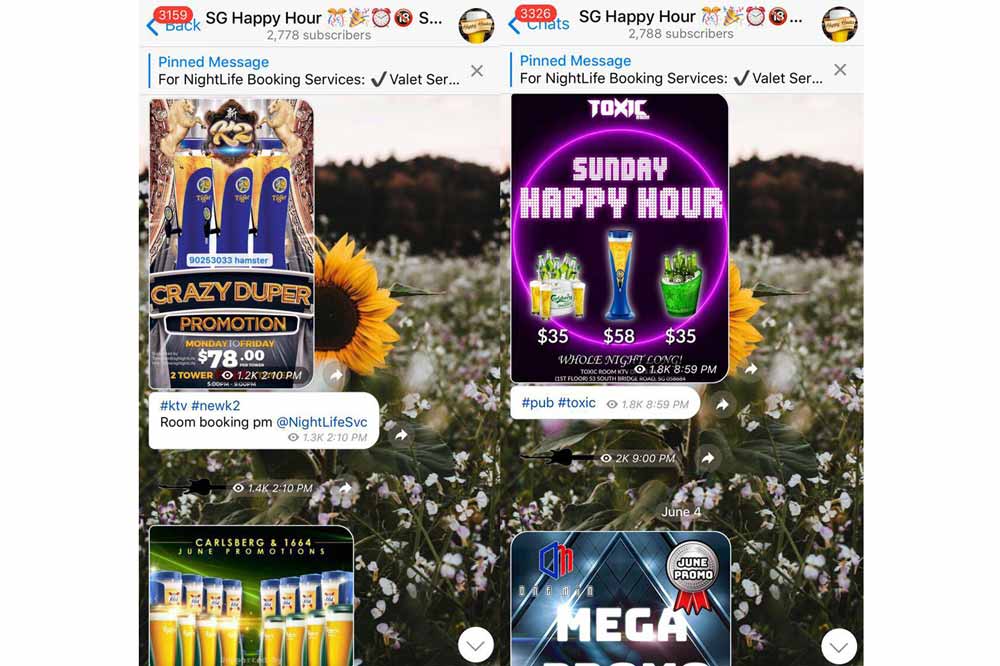 Look past the sometimes questionable pictures featured on @SGHappyHour and look out for alerts on affordable happy-hour deals. Jio your girlfriends out to party the night away, with beer tower promotions and 1-for-1 drinks at various clubs and pubs in Singapore.
Join here.
Also read:
10 Aesthetic Bars In Singapore With Awesome Drinks, Legit Food Pairings And Insta-worthy Backdrops
6. SG Cab Promos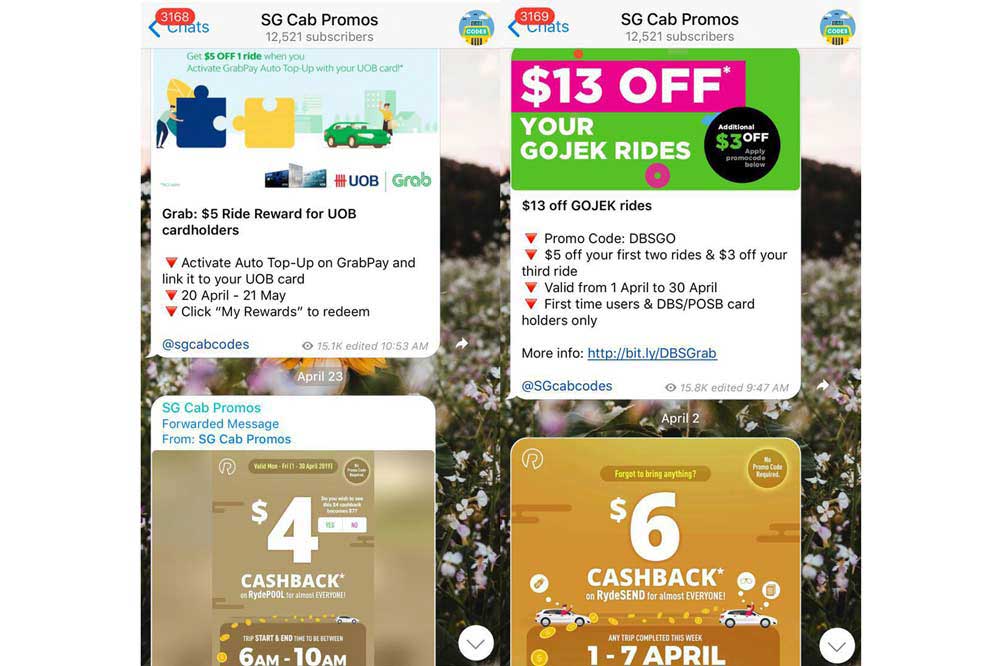 The days of regular promo codes on ride-hailing apps might be over but thankfully, @sgcabcodes is here to inform us on ride rewards, cashback deals and promo codes when they do come up. The Grab, Go-Jek, Ryde and ComfortDelGro Taxis codes are tested first before being published on the channel. 
Join here.
7. SG Food Deals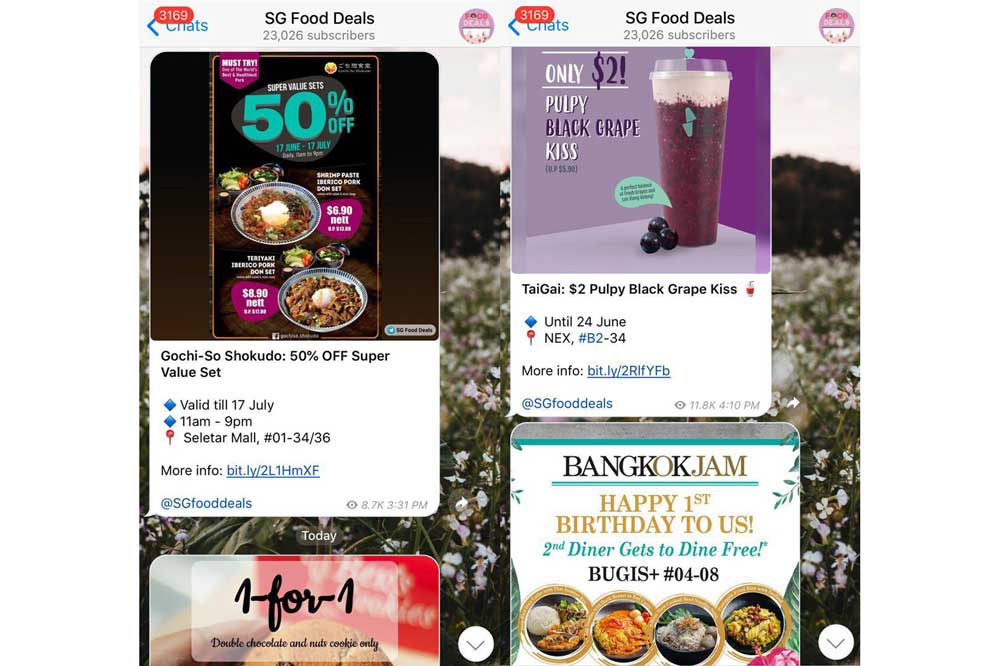 You know you're a true Singaporean when you're always on the hunt for delicious fare at affordable prices. Thanks to @sgfooddeals on Telegram, you can now make wiser dining options with weekday set meal promotions and 1-for-1 deals.
Join here.
8. TheSmartLocal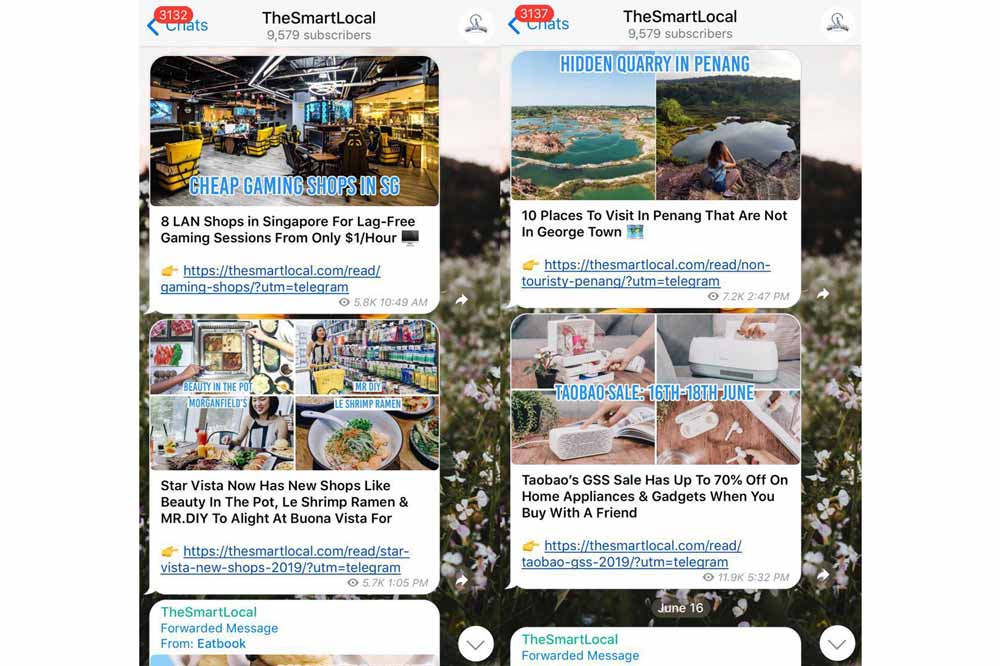 @TSLMedia is a one-stop Telegram channel you can turn to for the latest sales and offers, whether it's from online stores like Taobao, malls or even gaming shops. It's also a great resource when it comes to making plans for the weekend, thanks to the useful guides on what to do and eat in the Little Red Dot.
Join here.
9. MS News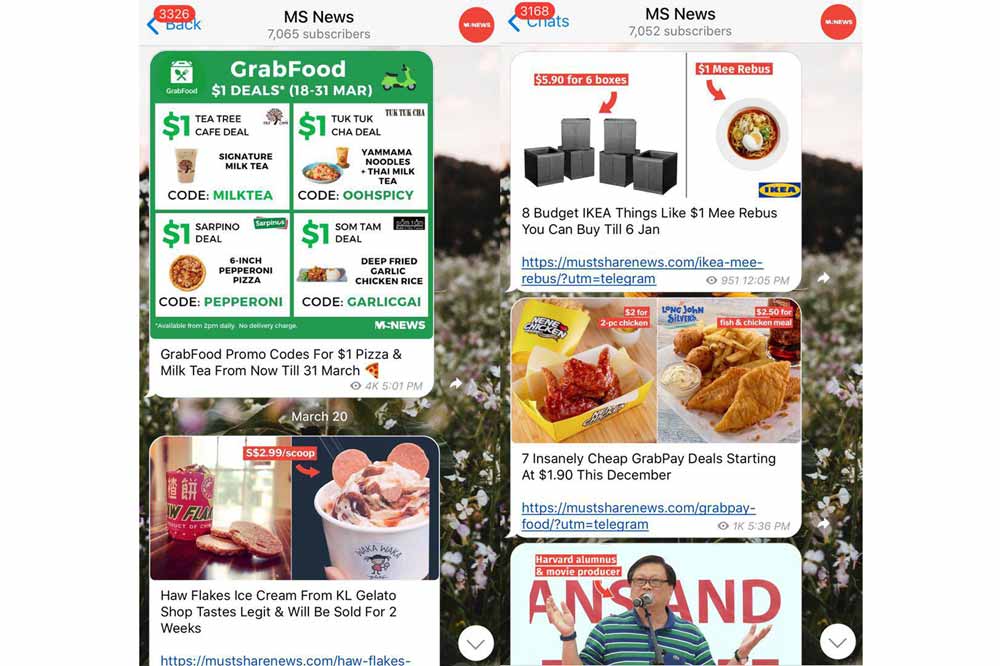 Must Share News reports on current affairs and viral happenings in Singapore—and that includes the latest deals as well. Subscribe to its Telegram channel, @mustsharenews, for up-to-the-minute alerts on promotions from the likes of IKEA and GrabPay, as well as warehouse sales around the island.
Join here.
10. Eatbook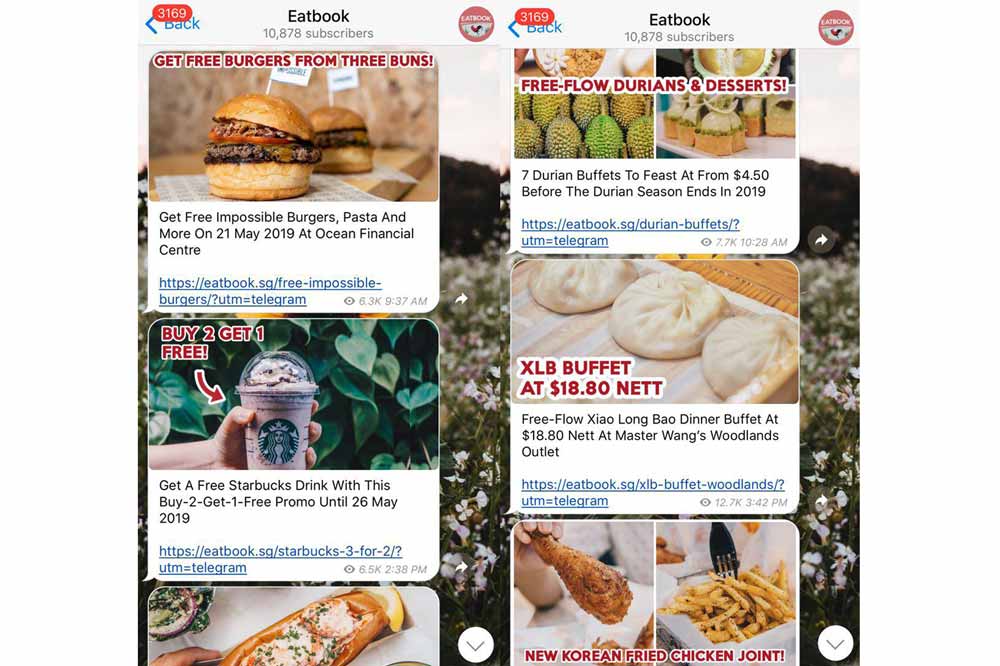 Find out how to score free burgers and complimentary Starbucks drinks when you follow @eatbooksg. On top of the latest food news such as pop-up diners and one-day-only promotions, you can also rely on Eatbook for honest food reviews, and comprehensive food guides based on areas and themes.
Join here.
11. SG Parent Things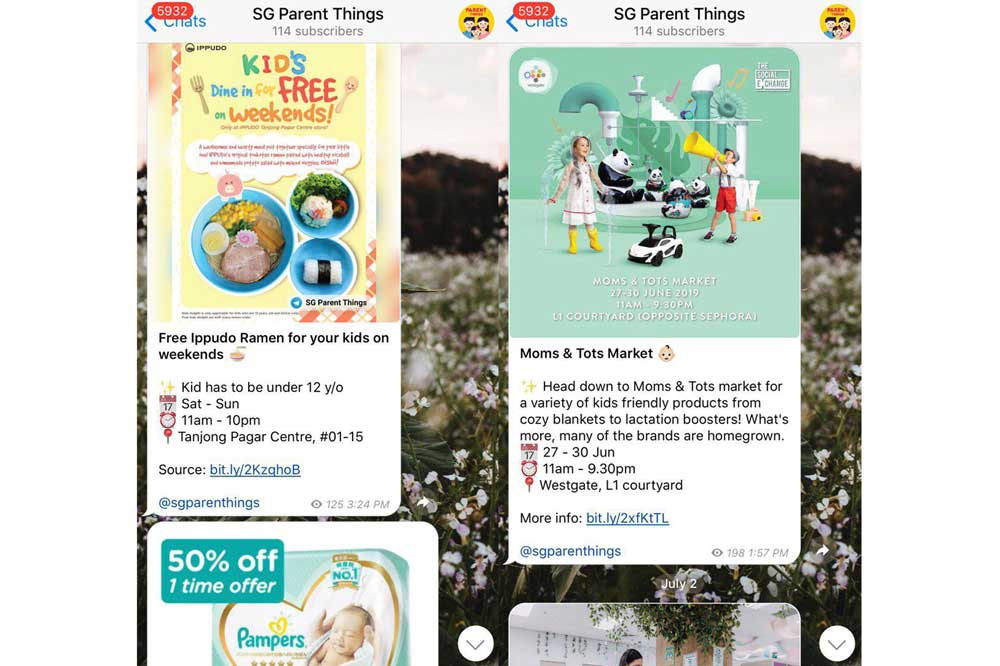 Raising a child can be stressful and especially costly in Singapore. Hence, be sure to subscribe to @sgparenthings where you'll learn about the latest events and carnivals you can bring your kids to, as well as exclusive deals like scoring a free bowl of ramen from Ippudo for your little ones.
Join here.
12. ZULA.sg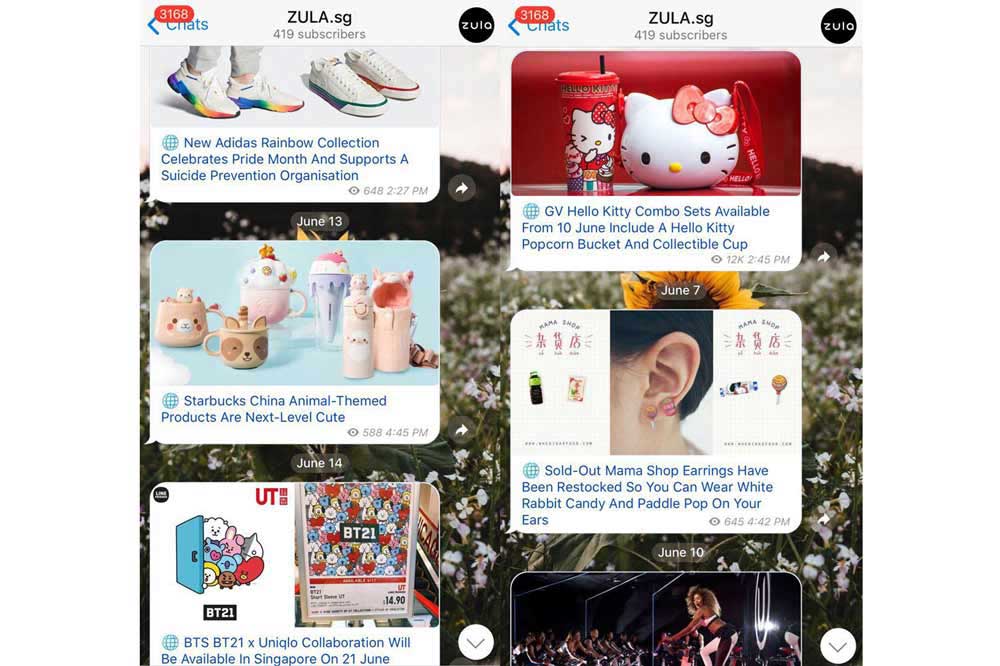 Of course, here's a casual plug for our Telegram channel. Subscribe to @ZULA.sg for your dose of juicy, relatable and ratchet content, and the latest fashion and beauty drops. 
Join here.
Telegram Channels To Join For The Best Deals
With this list of Telegram channels, you now know where to get regular updates about the latest fashion, beauty and travel deals in Singapore!
Also read:
11 GSS 2019 Beauty Deals Including Up To 30% Off Brow Resurrection At Browhaus, Innisfree & More