Telegram Channels To Join 
As savvy Singaporeans, we are always on the lookout for the latest promotions and discounts. If you've already downloaded Telegram for its cute and wacky sticker packs, you'll be glad to know that Telegram is more than just an instant messaging app—it also helps you to live it up in Singapore even on a shoestring budget. 
From the hottest fashion sales to the latest cab promos, here are 21 Telegram channels every Singaporean needs to join for the best deals.
1. SG Weekend Plans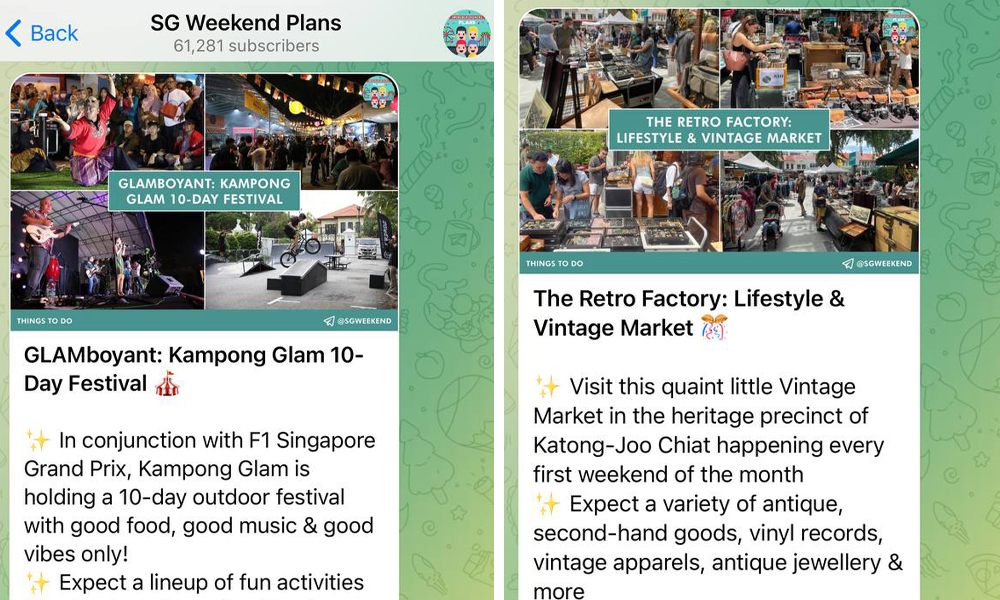 NGL, Singaporeans always complain about the lack of things to do in Singapore, but that's actually fake news when you have a Telegram channel that compiles a list of activities for you to do. 
Enter SG Weekend Plans, an info deck for active folks who are seeking new things to do during their weekend break like exploring a new hiking trail or attending a festival. 
Join SG Weekend Plans on Telegram. 
2. SG New Movies & Shows
From mainstream Hollywood movies to indie films by local filmmakers, SG New Movies & Shows is where you can find the latest updates and movie deals in Singapore. Occasionally, they also hold exclusive movie ticket giveaways, so be sure to follow them to score some awesome lobangs. 
Join SG New Movies & Shows on Telegram. 
3. SG Adulting 101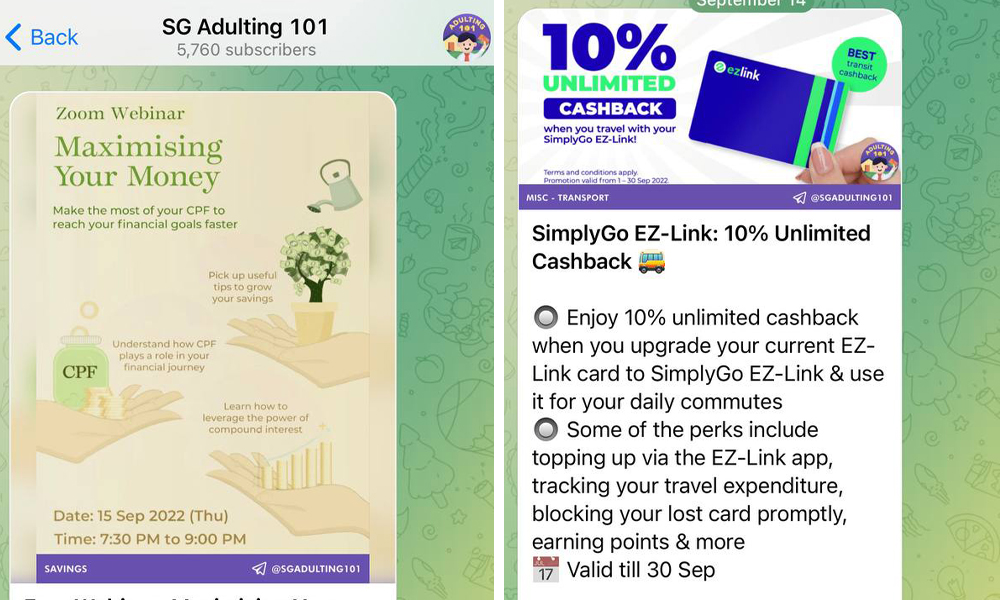 No one said navigating through adulthood is easy, and it is especially challenging when there is no rulebook on how to do so. As a guide to getting a headstart, SG Adulting 101 has tips on housing, investment, and even updates on the latest credit card promotions. 
Join SG Adulting 101 on Telegram. 
4. SG Fitness & Health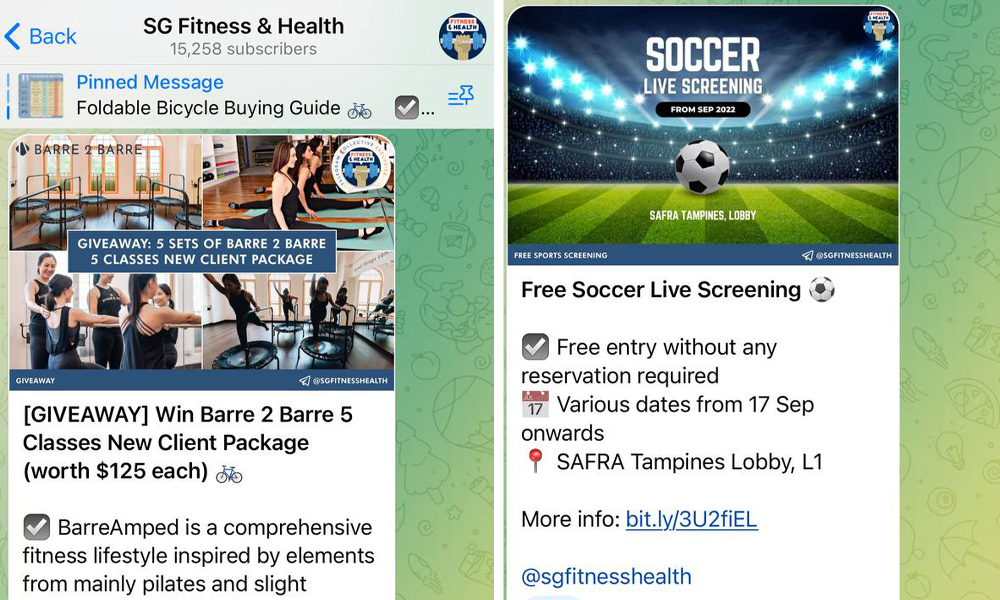 Whether you're into yoga or HIIT, SG Fitness & Health has news, tips and discounts on live-stream workouts, free trials and more. Athleisure fans will also want to click the "Join" button for timely updates on activewear promotions from the likes of Adidas, Puma and Nike.
Join SG Fitness & Health on Telegram.
5. SG Budget Babes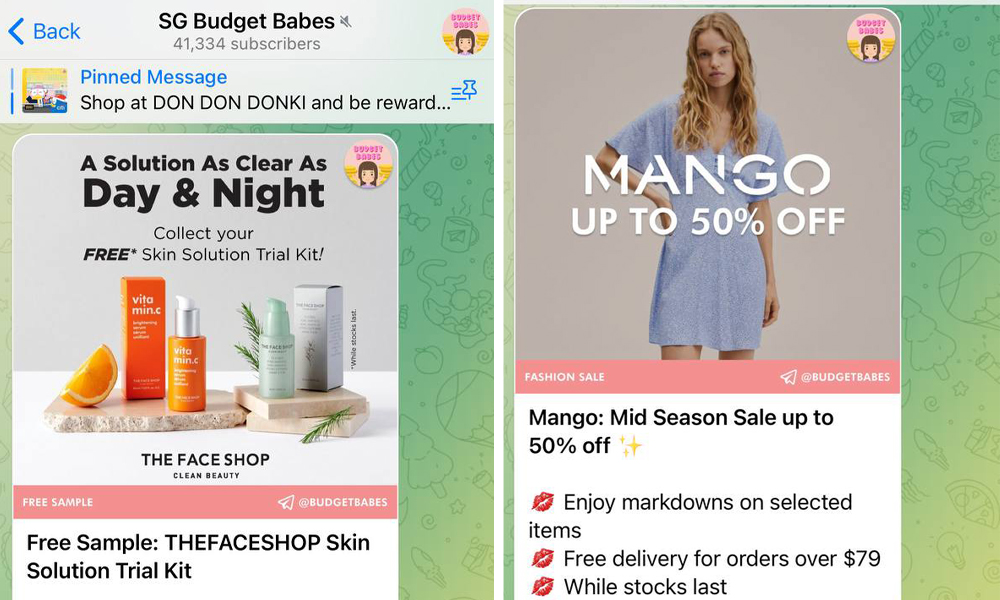 From beauty and fashion sales to upcoming product releases, SG Budget Babes is a Telegram channel you should follow for updates on the latest promotions. It regularly highlights sales from popular stores like ASOS, Sephora and Zara, so you can pamper yourself more frequently without breaking the bank!
Join SG Budget Babes on Telegram.
6. SG Student Promos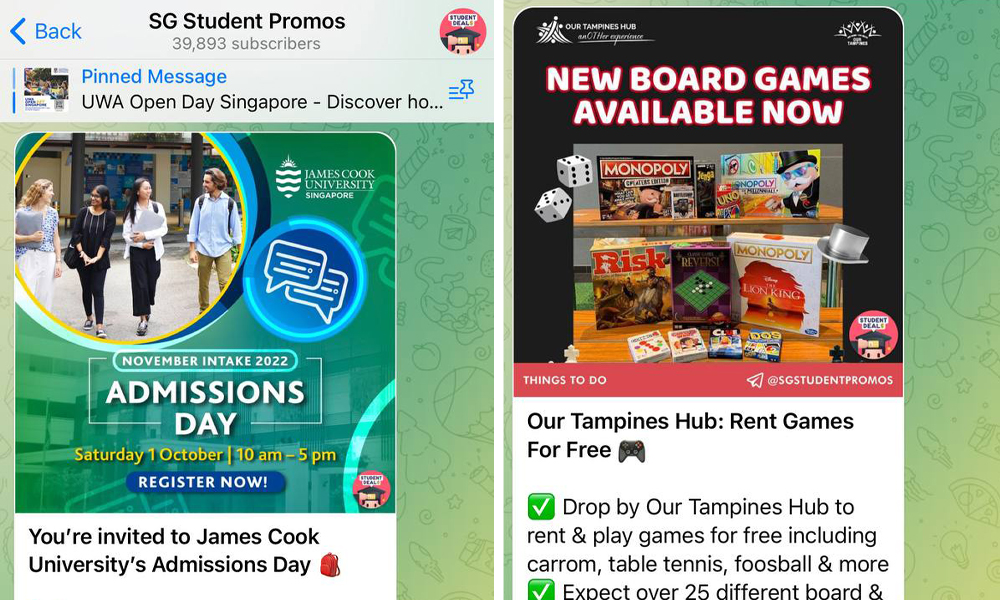 If you're a perpetually broke student who finds it tough to ration your allowance, SG Student Promos has your back (as long as you have a student ID card). Subscribe to the channel to receive alerts on student-only offers from brands like Samsung and Singtel, free online courses and even gym membership promotions.  
Join SG Student Promos on Telegram.
7. SG Tech & Games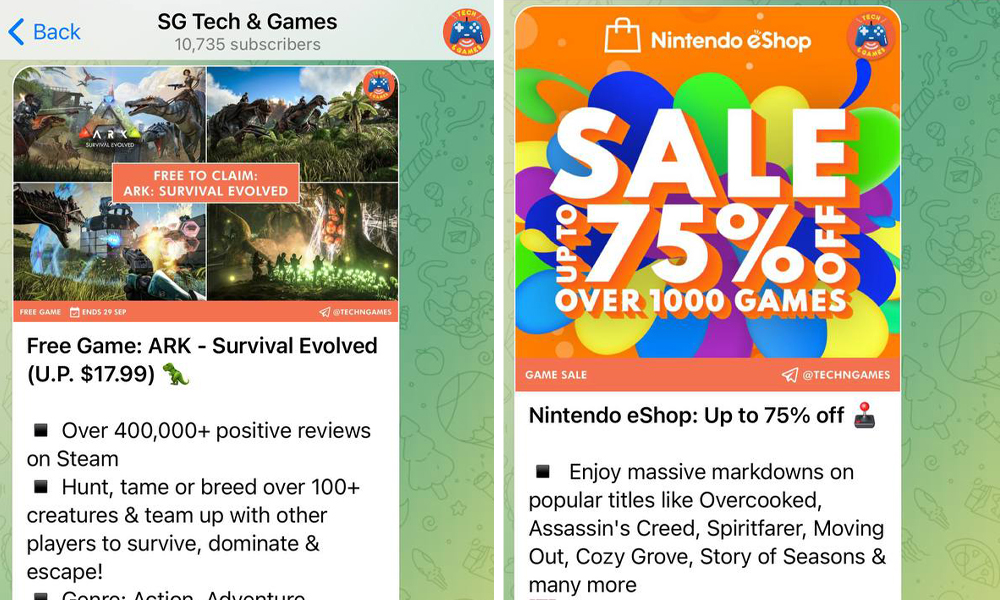 If you've emerged from the Circuit Breaker as a gaming fanatic, SG Tech & Games has your back. The channel aims to provide you with the hottest promotions and updates on tech, electronics and gaming gadgets in Singapore. On top of that, it even has compilations of popular and highly-rated games to play. 
Join SG Tech & Games on Telegram.
8. SG Parent Things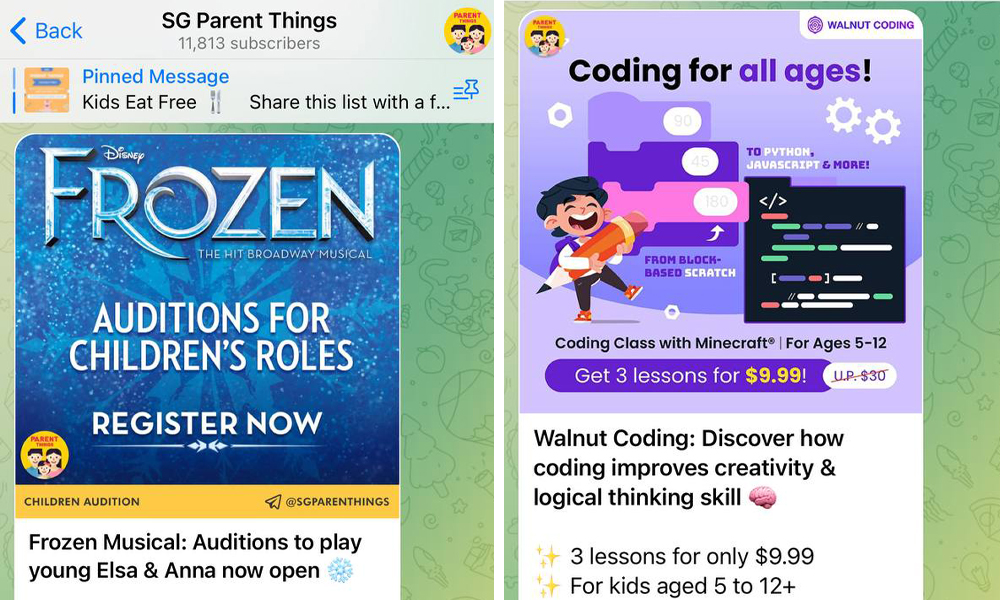 Raising a child can be stressful and especially costly in Singapore. Be sure to subscribe to SG Parent Things to take some of the load off your back. You'll get insights into the latest online sales and baby fairs, virtual preschool tours and notifications on different activities to keep your kids entertained.
Join SG Parent Things on Telegram.
9. SG Food Deals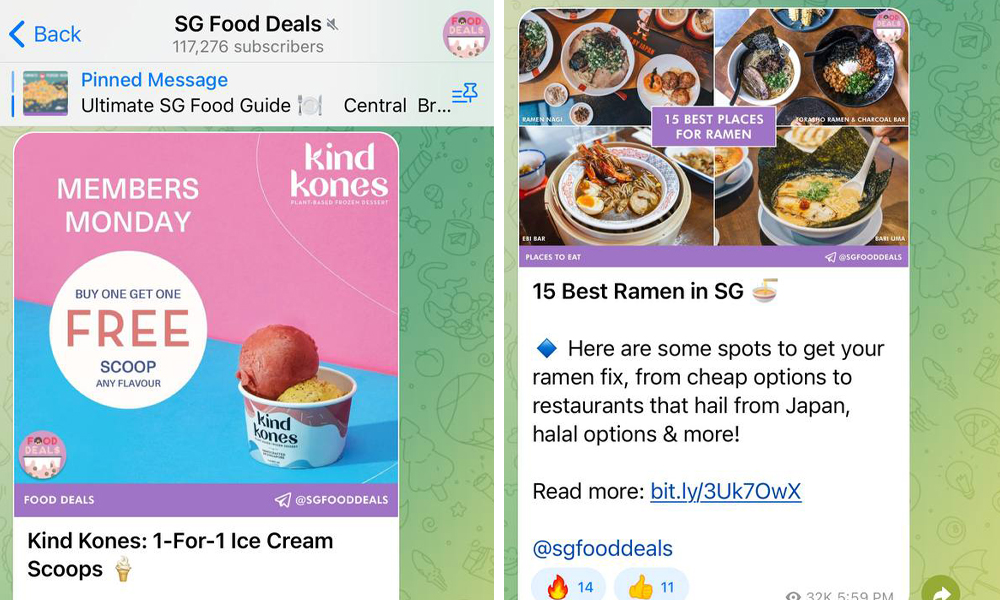 You know you're a true Singaporean when you're always on the hunt for delicious fare at affordable prices. Thanks to SG Food Deals on Telegram, you can now make wiser dining options with weekday set meal promotions and 1-for-1 deals.
Join SG Food Deals on Telegram.
10. UglyFood Fresh Produce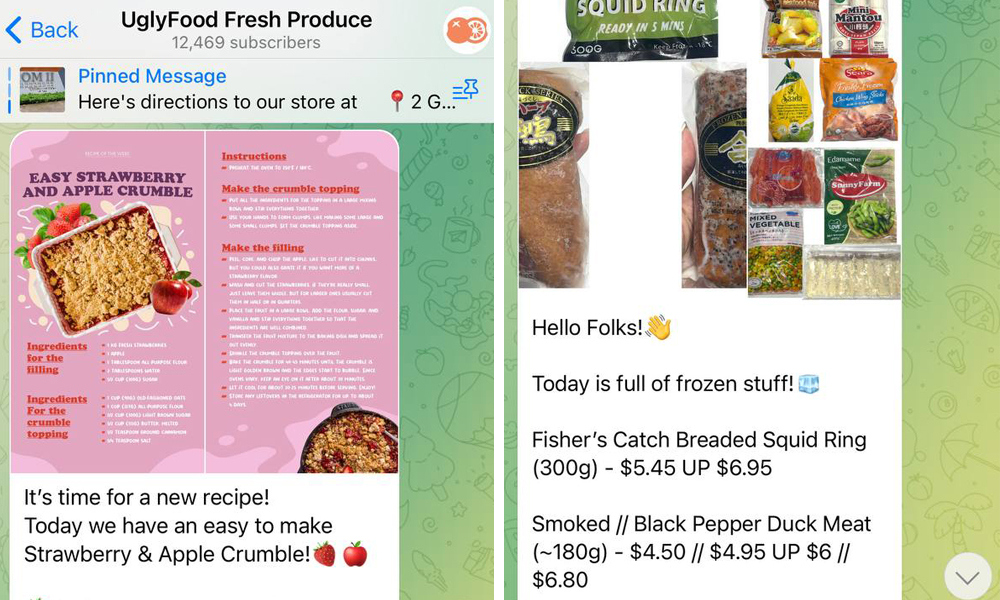 Sustainable living advocates, this one's for you. UglyFood Fresh Produce aims to reduce food wastage in Singapore by selling surplus fresh produce from suppliers like wet market stall owners. Not only will you be doing your part for the planet, the prices are lower compared to regular retail prices too. 
Join UglyFood Fresh Produce on Telegram.
Also read: 
15 Hotel Spas In Singapore So You Can Get The Royal Treatment That You Deserve All Year Round
11. SG Happy Hour & Events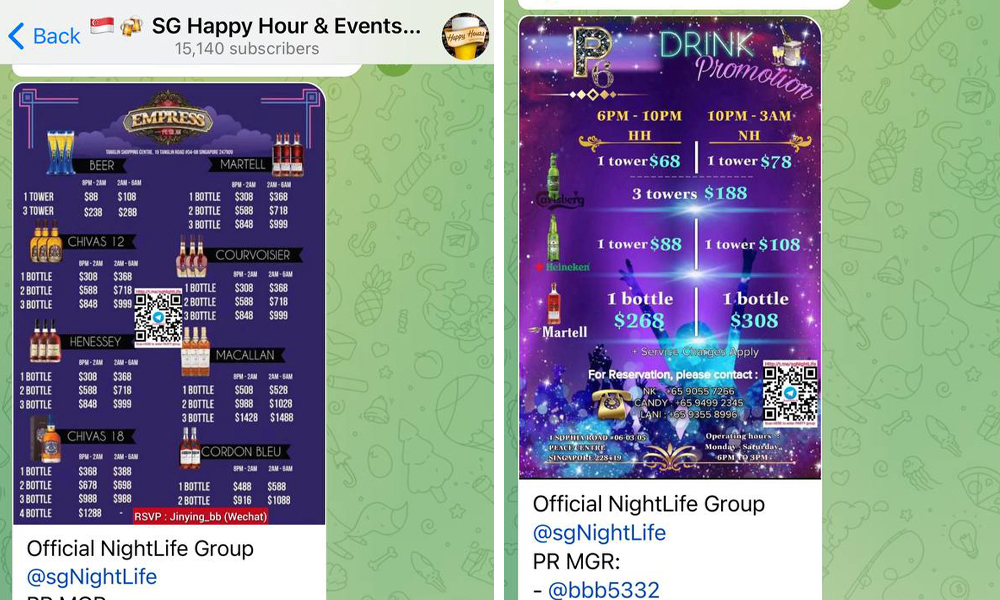 With Singapore's nightlife back and running, SG Happy Hour & Events is a very much-needed Telegram channel, especially on days when you jio your fellow drinking buddies. Enjoy affordable happy-hour deals, and receive the latest promotions like beer towers and 1-for-1 drinks at various clubs and pubs in Singapore.
Join SG Happy Hour & Events on Telegram.
12. SG Travel Promos
Be it a spur-of-the-moment weekend escape or a family trip overseas, SG Travel Promos is a Telegram channel dedicated to all the budget travellers out there. From travel insurance to airline ticket sales, itinerary hacks, and overseas accommodation promos, you can afford to satisfy your wanderlust without burning a hole in your pocket.
Join SG Travel Promos on Telegram.
13. SG Cab Promos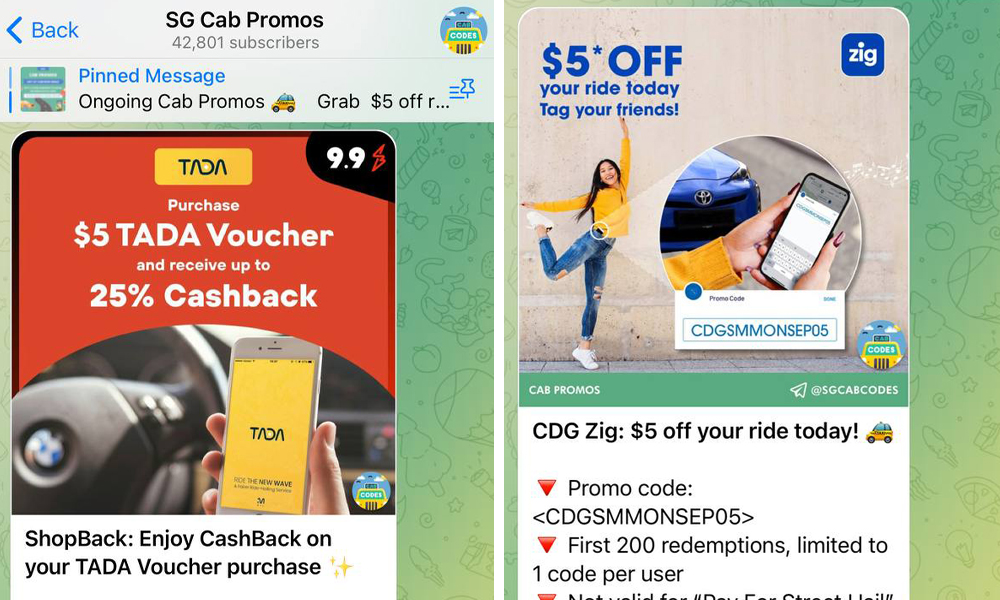 The days of regular promo codes on ride-hailing apps might be over but thankfully, SG Cab Promos is here to inform us about ride rewards, cashback deals and promo codes when they do come up. The Grab, Gojek, Ryde and ComfortDelGro codes are tested first before being published on the channel. 
Join SG Cab Promos on Telegram.
14. SG Giveaways & Freebies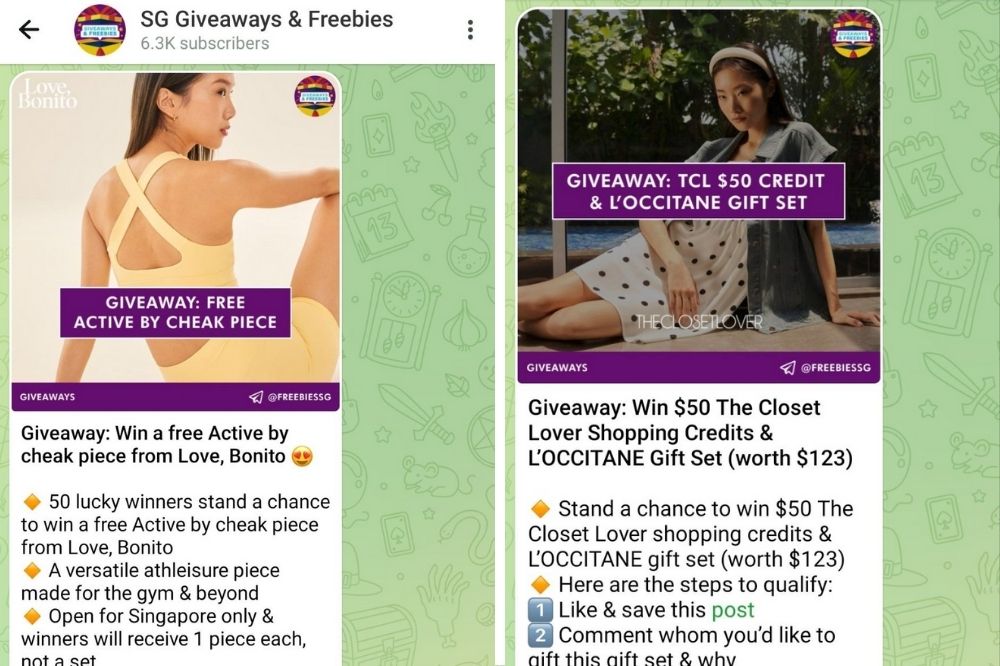 Your eyes ain't playing tricks on you. Yes, there is a Telegram channel that compiles all the giveaways and freebies that you can find in Singapore. From stylish athleisure pieces giveaways to restaurant freebies, SG Giveaways & Freebies is a channel that you won't want to mute.
Join SG Giveaways & Freebies on Telegram. 
15. SG Property Deals & News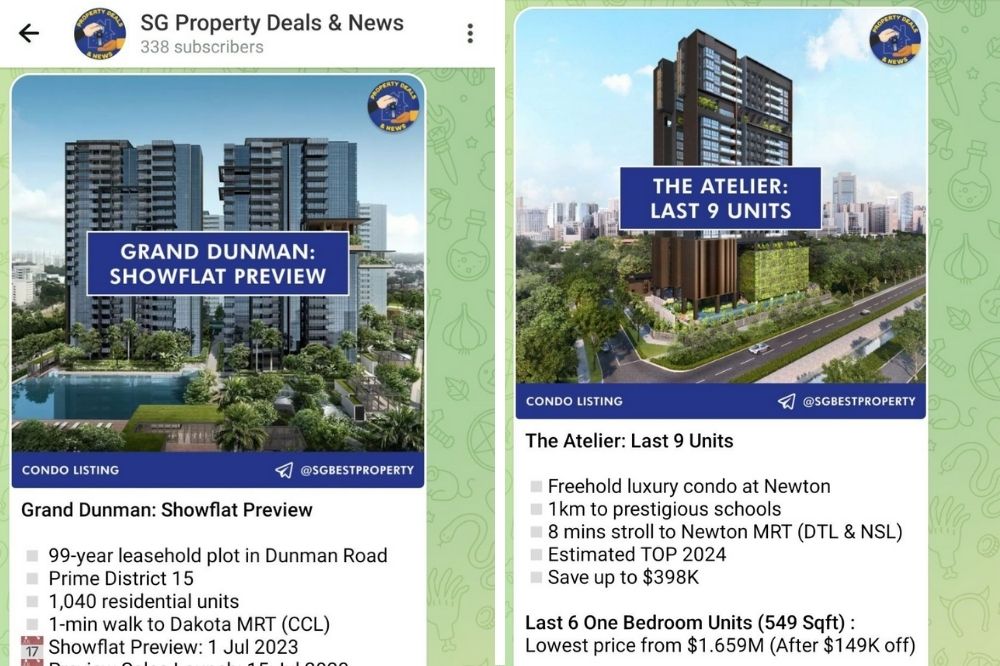 Homeowners who are looking to upgrade to a condo can follow SG Property Deals & News to find out more about the latest listings. Apart from the number of units available, the channel also shares deets about pricing and showflat dates. 
Join SG Property Deals & News on Telegram. 
16. KL Weekend Plans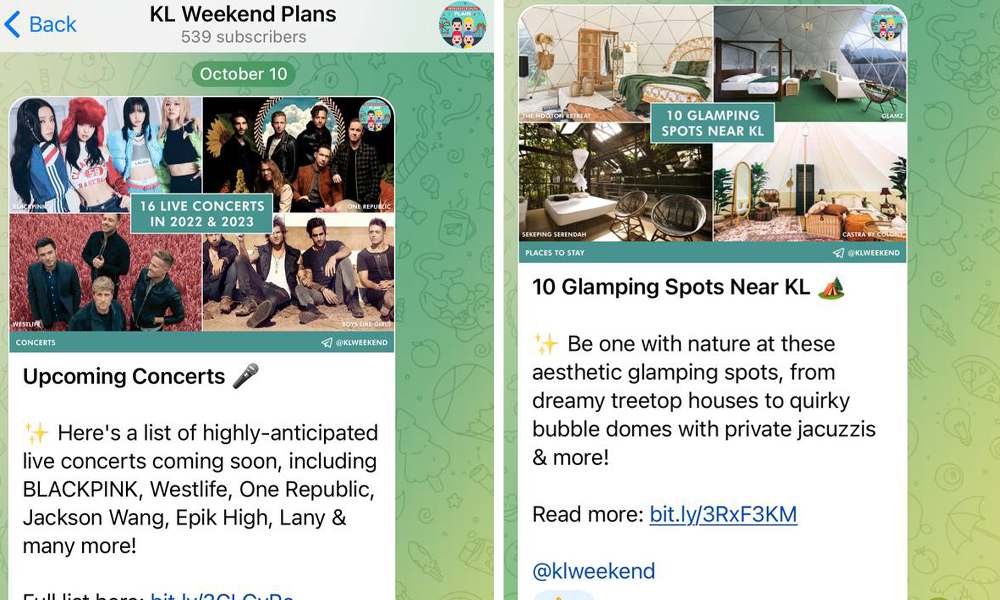 Singaporeans love travelling to Malaysia for many reasons, and if you are one of them, KL Weekend Plan is a Telegram channel you need to have to know about the happenings in the capital city. Be it updates on upcoming concerts or Instagram-worthy glamping spots, the channel provides you with ideas on how you can maximise your time with fun activities when you're in KL.
Join KL Weekend Plans on Telegram.
17. Uchify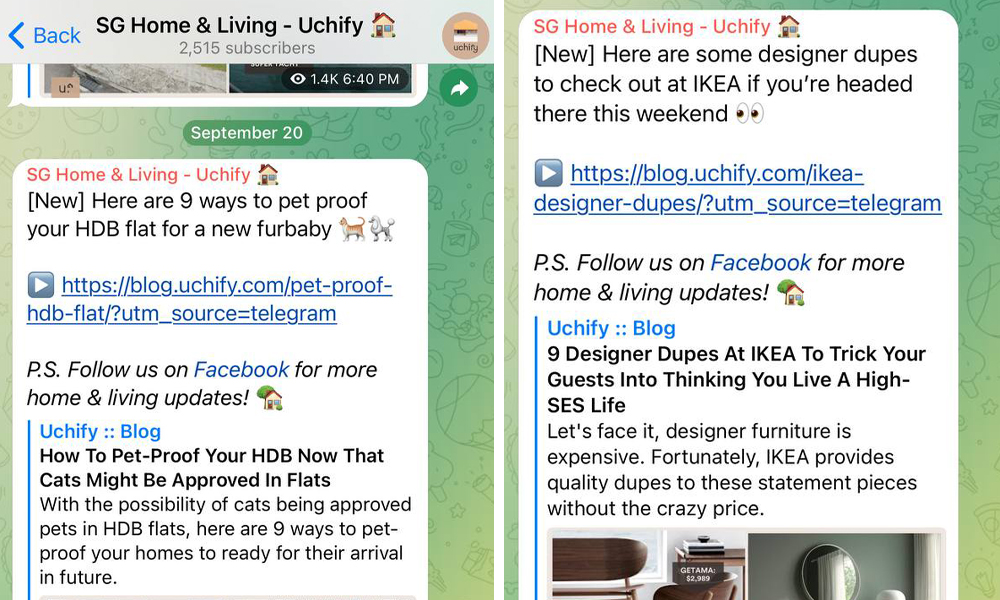 If topics such as property, interior design, and modern living fall under your radar, consider following Uchify for more of such content. The Telegram channel provides useful information on the latest property in the Singapore market, updates on BTOs, and even ways to pet-proof your HDB now that cats might be approved in the near future. 
Join Uchify on Telegram.
18. TheSmartLocal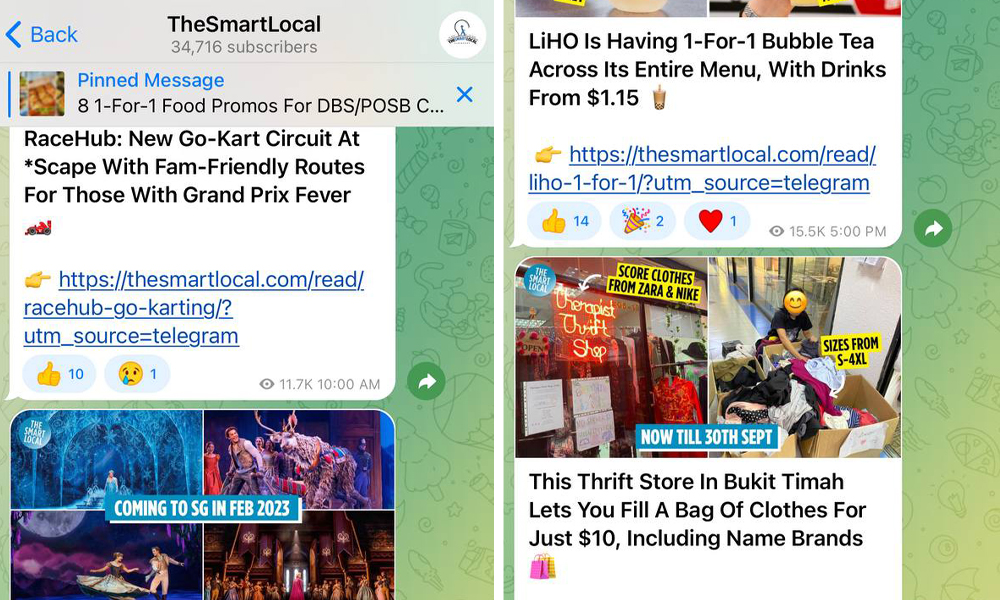 TheSmartLocal is a one-stop Telegram channel you can turn to for the latest sales and offers, whether it's from online stores like Taobao or shopping malls. It's also a great resource when it comes to making plans for the weekend, thanks to the useful guides on what to do and eat in the Little Red Dot.
Join TheSmartLocal on Telegram.
19. MS News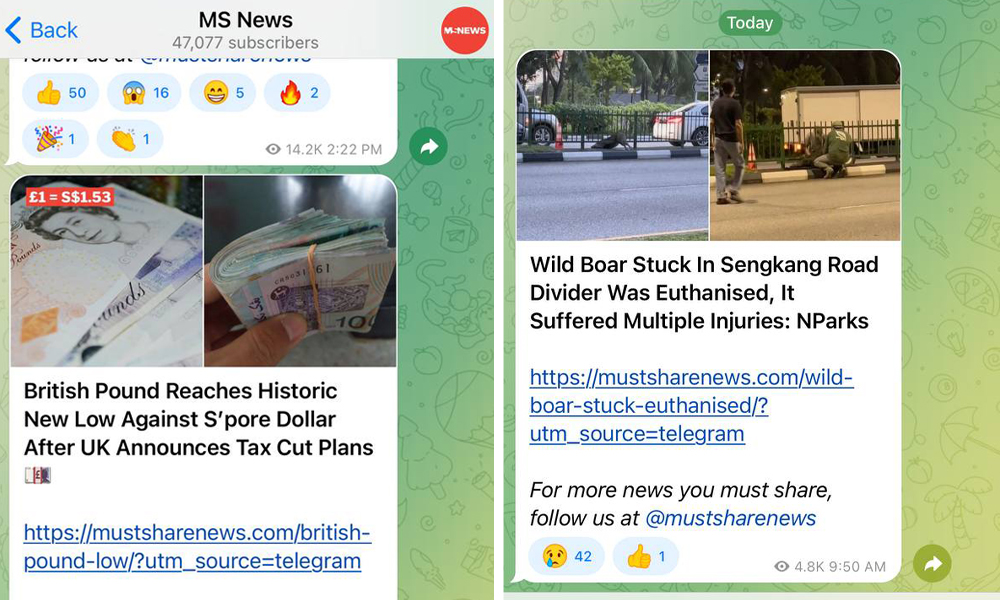 MustShareNews reports on current affairs and viral happenings in Singapore — and that includes the latest deals as well. Subscribe to MS News on Telegram for up-to-the-minute alerts on promotions from the likes of IKEA and GrabPay, as well as warehouse sales around the island.
Join MS News on Telegram.
20. Eatbook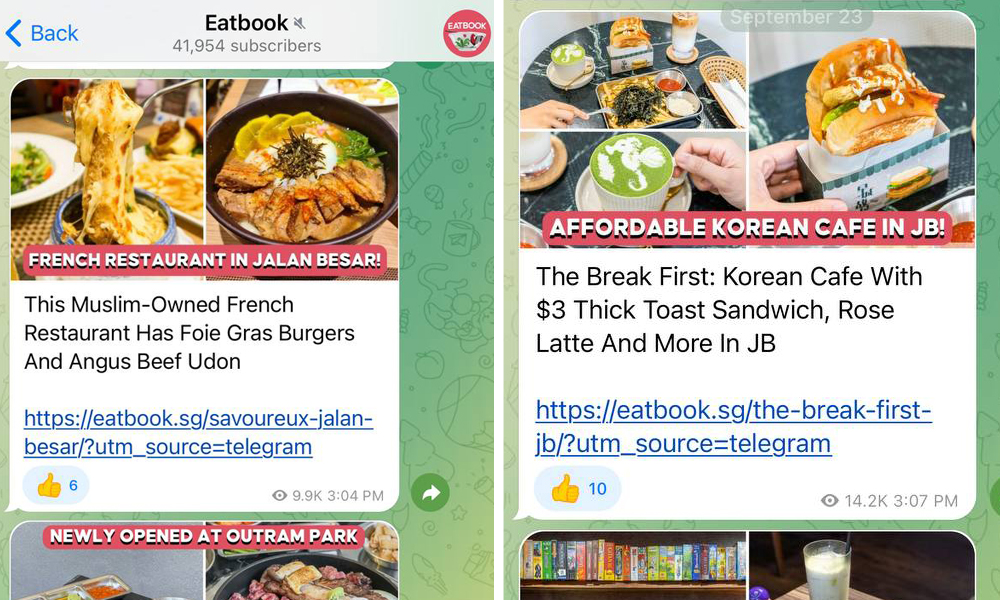 Find out how to score free ice cream and 1-for-1 bubble tea when you follow Eatbook. On top of the latest food news such as one-day-only promotions, you can also rely on them for honest food reviews, and comprehensive food guides based on areas and themes.
Join Eatbook on Telegram.
21. ZULA.sg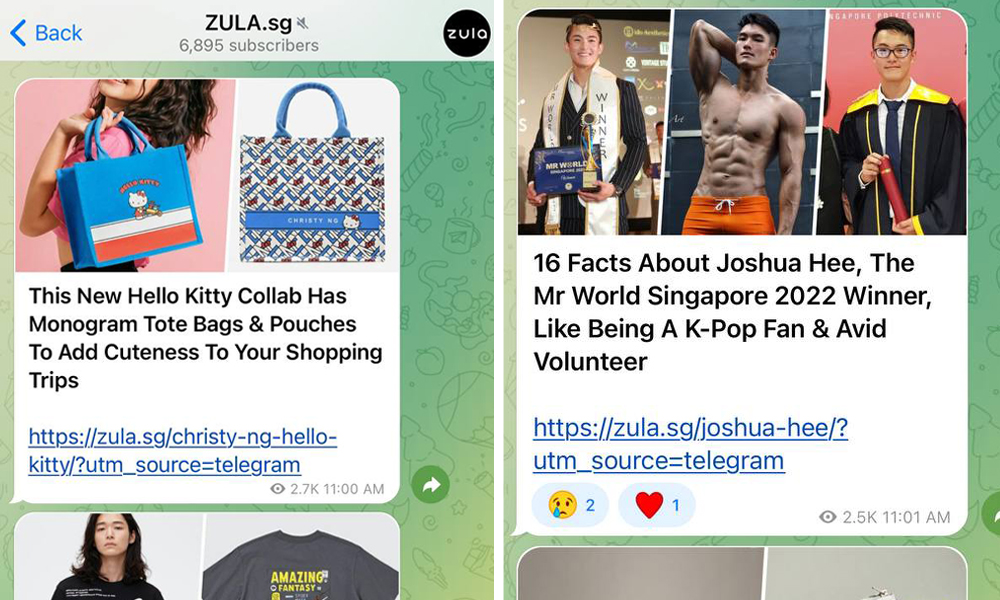 Of course, here's a casual plug for our Telegram channel. Subscribe to ZULA.sg for your daily dose of juicy and relatable content, as well as the latest fashion and beauty drops. 
Join ZULA.sg on Telegram.
These Telegram Channels Provide You With The Best Deals & Happenings In Singapore
With how busy most of our schedules are, we simply don't have the time to search for the latest promotions and exciting happenings in our Little Red Dot. But with this list of Telegram channels to join, you will now know where to get regular updates about the latest fashion, beauty, food, and home-living deals in Singapore so you'll never have a dull day again. 
This article was originally published on 4 June 2020 and updated by Jou Teng Tan on 22 June 2023.
Cover: The Smart Local (right)
Also read: 
20 Free Samples From Skincare & Makeup Brands In Singapore Through Delivery & Pick-Up