Disney Local Food Collection
Earlier in July 2021, Suntec City opened a Disney Tsum Tsum pop-up kiosk with collectables and sweet treats. Behind the setup is the company, Goldwood, who has come up with another collection of Disney merchandise. This collection features apparel and plushies inspired by Singapore's local food, just in time for you to wear them while watching the upcoming National Day Parade. 
T-shirts 
Durian Lover T-Shirt 
Durian lovers can now express their love for the king of fruit and Disney with this Durian Lover T-shirt.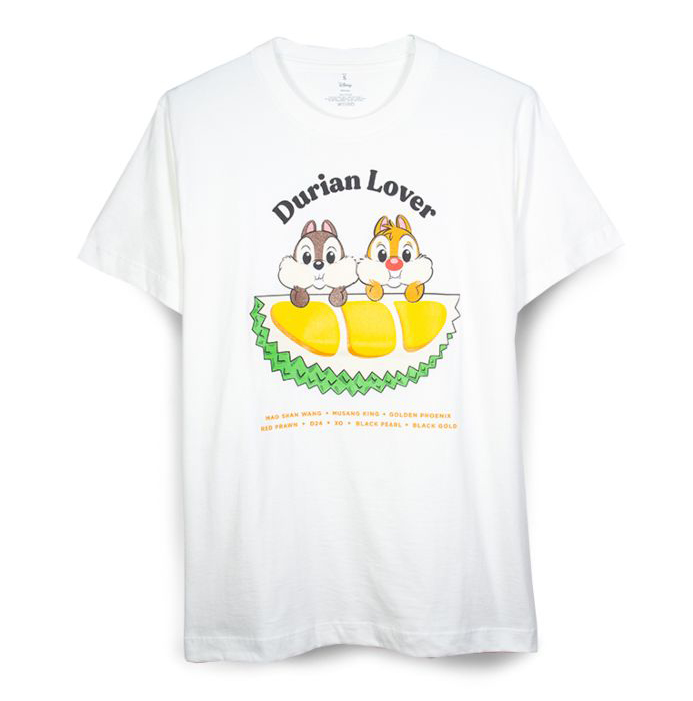 At the front of the T-shirt, Chip N Dale appear to have stuffed their cheeks with durians. Below them, you will also notice the wordings of 8 different kinds of durians such as Mao Shan Wang, D24, and Black Gold.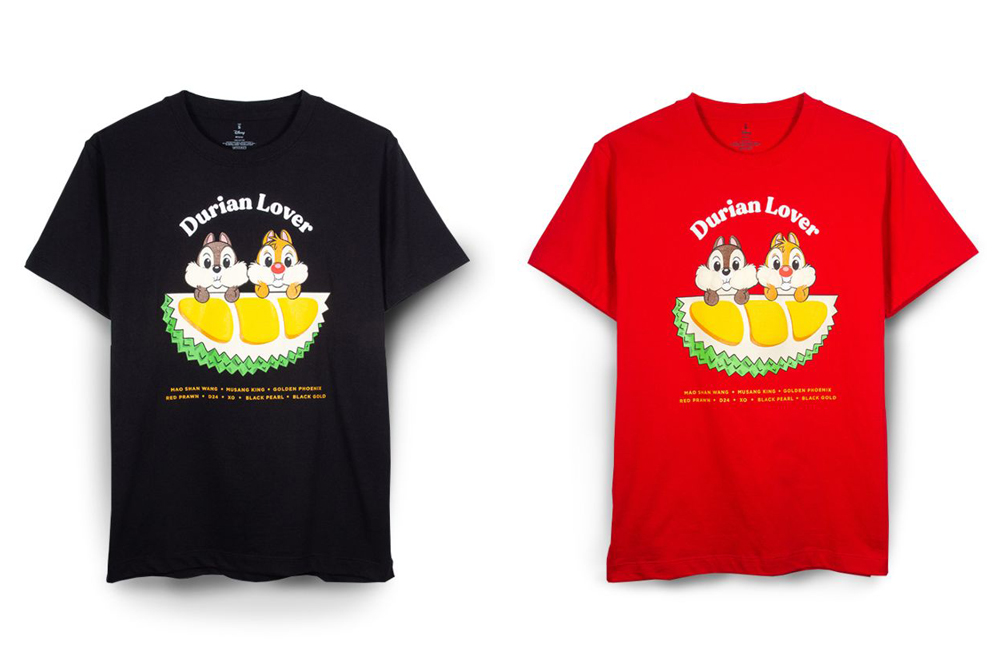 On the back, the fluffy butts of the chipmunks greet us.
The Durian Lover T-shirt comes in black, white, and red and retails at $29. 
Bao Jiak T-Shirt
Anyone who has tried to buy durians would know the term bao jiak. For those who don't, it has the meaning of guaranteed taste, a term commonly used by durian sellers. 
This Bao Jiak T-shirt has Chip N Dale making another appearance and at the front, you will see them carrying the fruit above their heads. 
On the back, it reads "You can't buy happiness but you can buy durian", suggesting the small joy that durians provide us in life.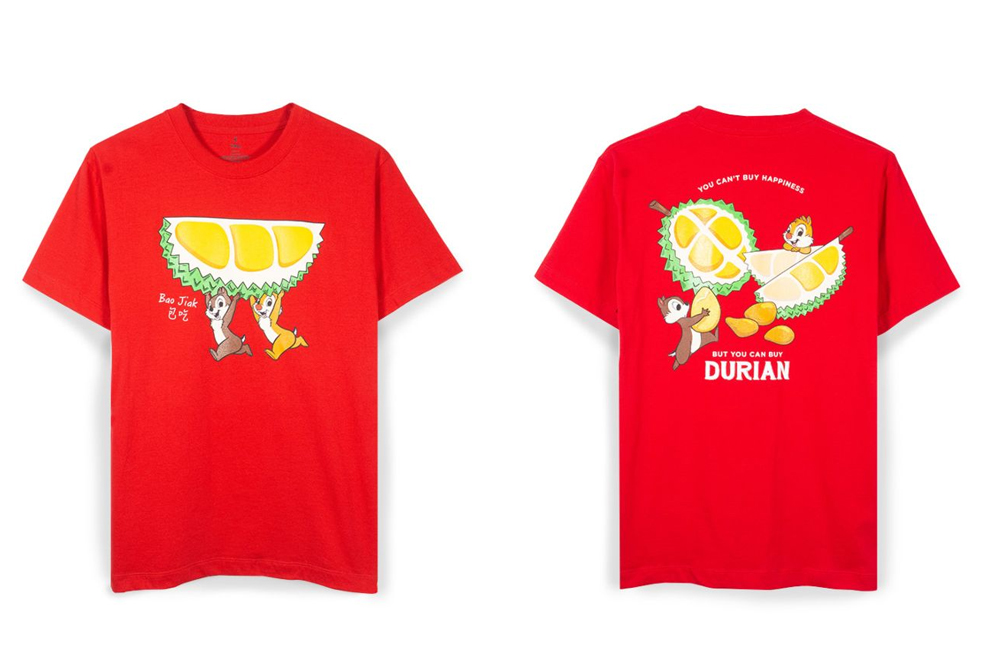 The Bao Jiak T-shirt comes in black and red and retails at $29. 
Mickey Durian T-Shirt
It is hard to imagine Mickey Mouse and durian in the same picture but on this Durian T-shirt, they actually complement each other. 
It features a graphic of Mickey Mouse licking his tongue while he rests above an opened durian. 
The Durian T-shirt comes in red and retails at $29. 
Tote Bags
Tote bags make an excellent addition to your OOTD as they are easy to match and have enough storage for your barang barang. 
Chip N Dale Gem Cookies Canvas Tote Bag
You can reminisce about your childhood snacks with this Chip N Dale Gem Cookies Canvas Tote Bag. 
On one side, you will see the illustrations of gem cookies stored in a Mickey Mouse shaped container. At the bottom left corner, there appears to be a "hole" with a couple of the snacks falling out.
It looks like Chip N Dale are the culprits as they are "running" away while holding several gem cookies on the other side of the tote bag. 
This Chip N Dale Gem Cookies Canvas Tote Bag retails at $25. 
Chip N Dale Bao Jiak Canvas Tote Bag
Similar to the designs on the Bao Jiak T-Shirt seen earlier, there is also a tote bag for you to complete the look.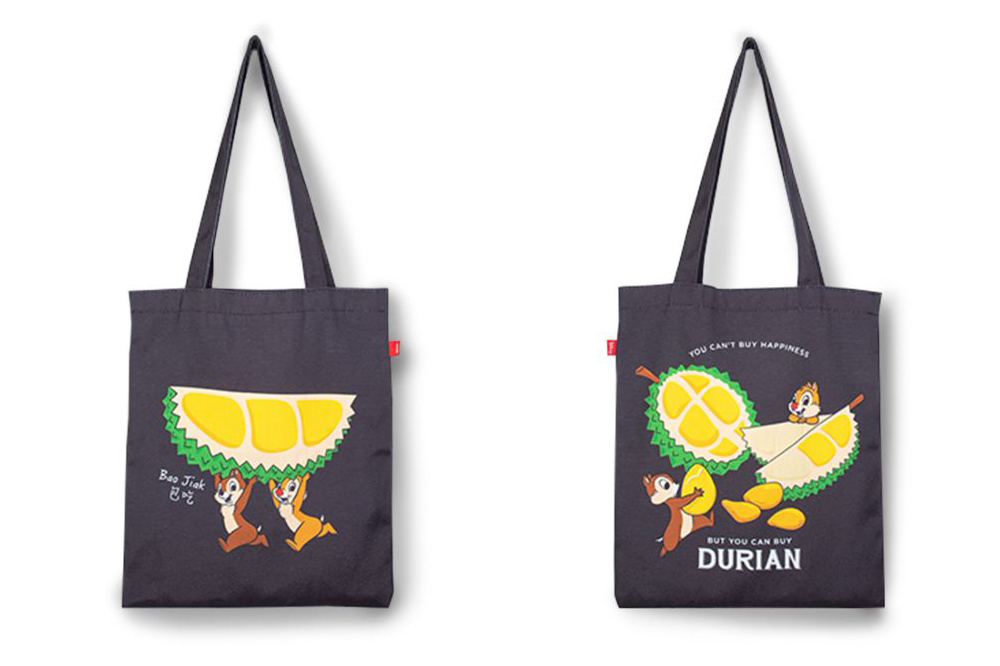 Decked in black, Chip N Dale share their love for durian on this Chip N Dale Bao Jiak Canvas Tote Bag. 
It retails at $25. 
Chip N Dale Kopi Tote Bag
Nothing hits the spot quite like Kopitiam-style kopi. On this tote bag, you will find Chip N Dale sitting in a traditional coffee cup, a familiar drinkware for many Singaporeans.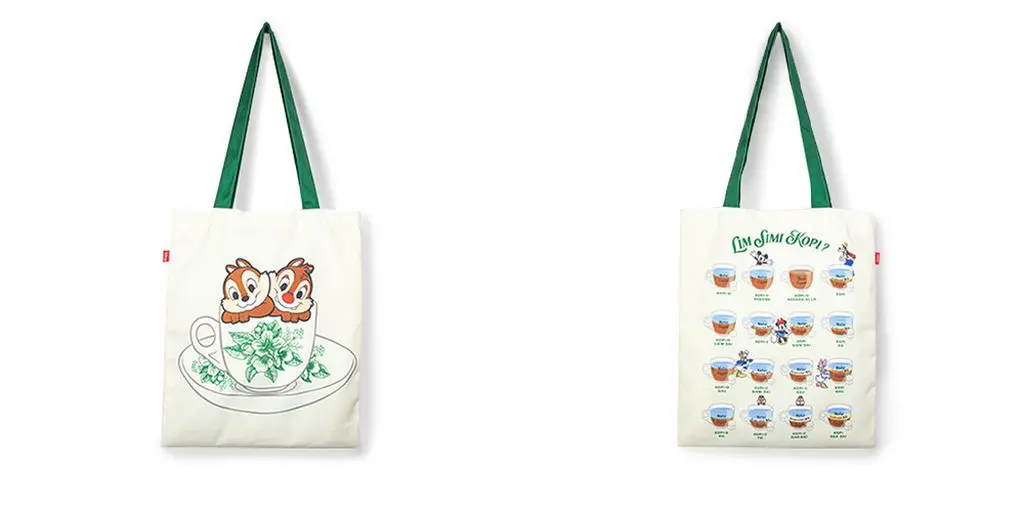 On the back, you will notice the words "Lim Simi Kopi?" ‒ a Singaporean way of asking the type of coffee you are drinking. 
Below the tagline, it also features 16 different types of kopi along with the motifs of various Disney characters such as Donald Duck, Daisy Duck, and Goofy.  
This tote bag retails at $25. 
Plushies 
Sticking with the SG theme, there are also plushies of Disney characters holding Singapore's local snacks. 
Kueh Mickey Plush
This Kueh Mickey plush features Mickey Mouse holding rainbow lapis and tutu kueh on his hands. Instead of his classic red and white pants and yellow shoes, he is wearing an outfit that calls to mind the colours of a Paddle Pop ice cream.
The Kueh Mickey Plush retails at $21.90. 
Cookie Gem Minnie Plush
Gem cookies seem to be the favourite of Minnie Mouse as this Cookie Gem Minnie plush is holding them in her hands. 
Once again similar to the colours of our favourite childhood dessert, you will find the ribbon and shoes of Minnie Mouse decked in pastel yellow, green and pink hues.
The Cookie Gem Minnie Plush retails at $21.90. 
Durian Chip N Dale Plush
If you can't have enough of the cheekiness of Chip N Dale, check out this Durian Chip N Dale Plush. 
The playful chipmunks are lying comfortably on top of an opened durian that makes them absolutely odor-able. 
The Durian Chip N Dale Plush retails at $39.90. 
Express Your Love For Local Food Through These Disney Apparel And Plushies
These Disney apparel and plushies are available for purchase on Goldwood's official website. In addition to the local food-inspired collection, there is also a Singapore-themed collection with designs that define a true blue Singaporean such as a Mickey T-shirt that greets you with "Ho Sei Bo?!" wordings and a tote bag that features various Disney characters exploring Singapore shophouses. 
If you are looking for more Disney-themed items, check out this Disney x Mayer mini stand mixer and Mickey foodware collection from FairPrice. 
All images courtesy of Goldwood. 
Also read: 
UNIQLO Has A New Disney Furry Friends Collection Featuring The Likes Of Bambi & 101 Dalmatians