Where To Donate Books In Singapore
If you're an avid reader like me, your shelves are likely filled with books. Textbooks you haven't touched in ages. Novels you bought on impulse but have no time to read. Cookbooks you have no recollection of buying.
Instead of leaving your books to gather dust on the shelves, donate them to these organisations and initiatives. You will grant your books a new lease of life and enrich someone else's life at the same time.
1. National Library Board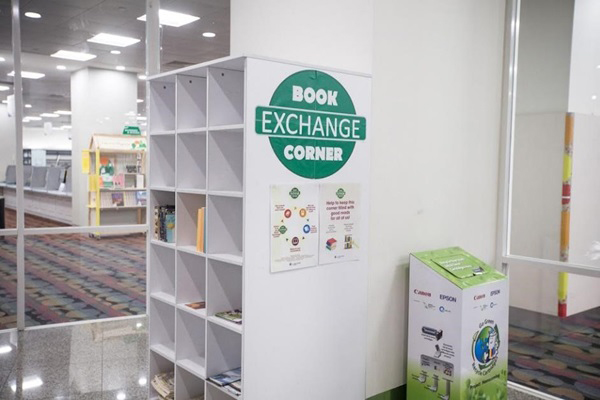 Source
The National Library Board (NLB) has Book Exchange Corners at certain library branches. Here, you can drop off your old books for other people to bring home. Simply bring your books down and load up the designated shelves.
Branches with Book Exchange Corners can be found across the island. These include Ang Mo Kio, Bedok, Bishan, Bukit Merah, Central, Geylang East, Jurong Regional, Jurong West, Queenstown, Toa Payoh and Woodlands Regional.
If you have more specialised books that are specific to Singapore and Southeast Asia, try submitting them directly to NLB, which is looking to expand its collection of such works. All you have to do is fill up this form, and they will assess which works they can take from you.
2. Dignity Mama

Dignity Mama operates four kiosks selling donated books at hospitals in Singapore. It engages youths with special needs and caregivers to manage the kiosks as a way to teach them basic entrepreneurial skills.
To donate books to Dignity Mama, fill out this online form before dropping them off either at Ng Teng Fong Hospital or National University Hospital.
For those working in the CBD, Dignity Mama is running a pop-up bookstore at Singapore Land Tower from now until end October 2019. You will be able to drop off your books from 11am to 3pm, as well as pick up pre-loved books or handmade items starting from $1.
Drop-off locations: Ng Teng Fong Hospital, 1 Jurong East St 21, #02-10, Tower A NTFH Clinics, Singapore 609606 |
National University Hospital, 1 Lower Kent Ridge Road, #01-39, One @ Kent Ridge, Singapore 119082
Opening hours: Ng Teng Fong Hospital: 10am to 9pm (Mondays to Fridays) | 10am to 6pm (Saturdays)
National University Hospital: 10.30am to 8pm (Mondays to Fridays) | 10.30am to 2.30pm (Saturdays)
3. FairPrice Share-A-Textbook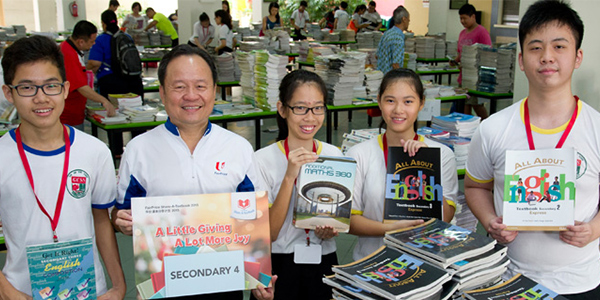 Source
Launched in 1983, FairPrice Share-A-Textbook is an annual community programme that collects textbooks to be distributed for free to students from needy families. Apart from textbooks in the current syllabus, it also accepts assessment books, story books and encyclopedias. These are classified as "reference books".
During the donation period, members of the public will be able to drop-off their books at any NTUC FairPrice store (besides Cheers and Unity). Taking place every November, visit its website to stay up-to-date on the upcoming donation drive.
Also read:
8 Charitable Beauty Brands In Singapore That Give Back All Year Round
4. Migrant Library Singapore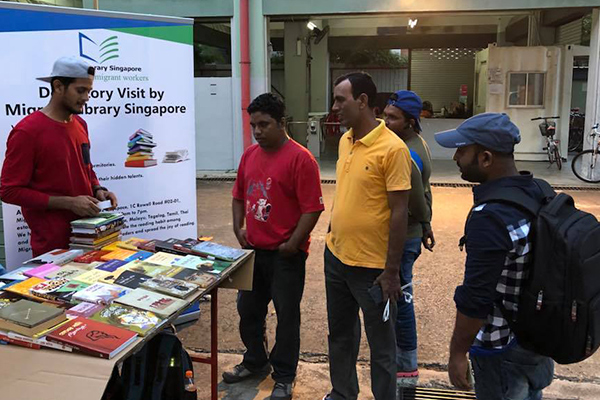 To inculcate a love for reading amongst migrant workers, Migrant Library Singapore organises mobile libraries to the workers' dormitories. It also runs literary activities such as poetry readings and book discussions.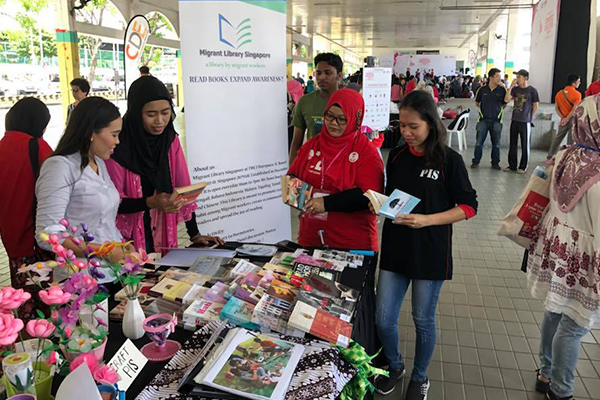 Migrant Library Singapore's booth at Centre for Domestic Employee's May Day Domestic Employees Celebration
Source
Migrant Library Singapore's collection is entirely derived from donations. All types of books are accepted. This includes those written in Bahasa Indonesia, Bengali, Burmese, Malay, Mandarin, Tamil, Tagalog and Thai.
Drop-off location: TWC2 Dayspace, 1C Rowell Road, #02-01, Singapore 207958
Opening hours: 10am to 7pm daily
5. EcoBank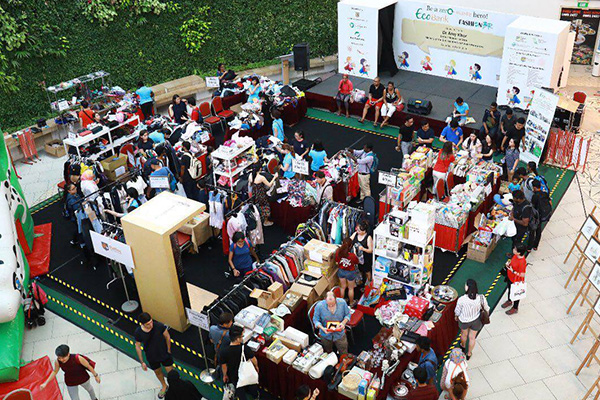 Set up to combat waste in Singapore, EcoBank organises annual collection drives. You can donate used items such as toys, clothes, electronics and, of course, books at specific drop-off points around the island.
The donated goods will then be curated and sold at the EcoBank Bazaar, with all proceeds going to Arc Children's Centre. Any unsold items will be donated to the Embodhi Foundation, a non-profit organisation that works to improve the lives of women in India, Vietnam and Sri Lanka.
While this year's collection drive has already ended, keep yourself updated on the next one by following EcoBank's Facebook page.
6. The Salvation Army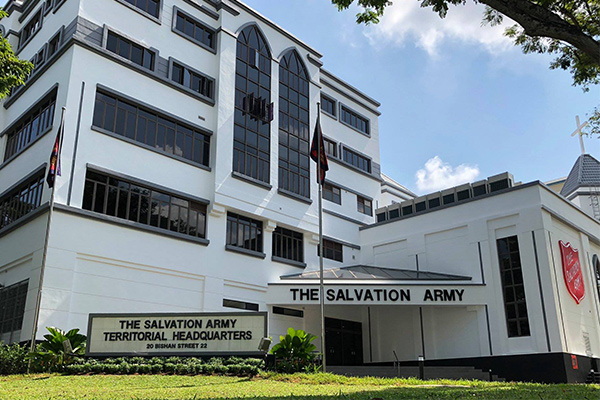 Most Singaporeans would be familiar with The Salvation Army and how it accepts donations of all kinds of items to aid the underprivileged. Besides dropping off your pre-loved clothes once a year while spring cleaning, why not donate your used books to be sold at its Family Stores any time of the year as well?
You can bring your old books to any of its Donation In Kind booths. Visit its website for the list of locations across Singapore.
7. Singapore Really Really Free Market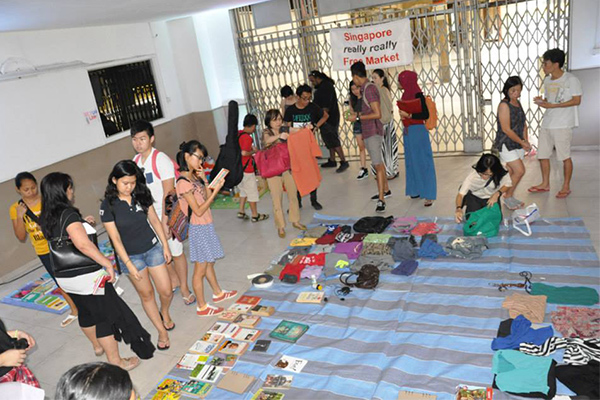 Source
The name says it all: everything at the Singapore Really Really Free Market is FOC.  Hosted periodically at different locations, simply set up shop to give away your pre-loved items, including your books!
Registration for space at the market is hassle-free too. All you need to do is indicate your participation on the Facebook page's wall, and you're good to go.
Donate your books in Singapore
With this list of places to donate your old books, decluttering your shelves should be a breeze. Some of these places even take in old books for good causes, so you can rest assured that your books will wind up in good hands!
Also read:
10 Places To Donate Clothes In Singapore—Gowns For Stillborns, Low-Income, Teenage Mums