Éclat By Oui Diamond Simulant Jewellery 
Getting married in Singapore is no easy feat. There are many parties to please, lots of administrative duties and the costs can really rack up. Well, if there is one thing you can look forward to after your big day, it will be your dream honeymoon. 
Seeing as how millennials prioritise experiences over material goods, you might want to spend less on your wedding and use the money for an extravagant honeymoon instead. The thousands of dollars you save can be used to upgrade your hotel suite or to splurge on Michelin-starred restaurants to treat yourself after all the hectic preparations.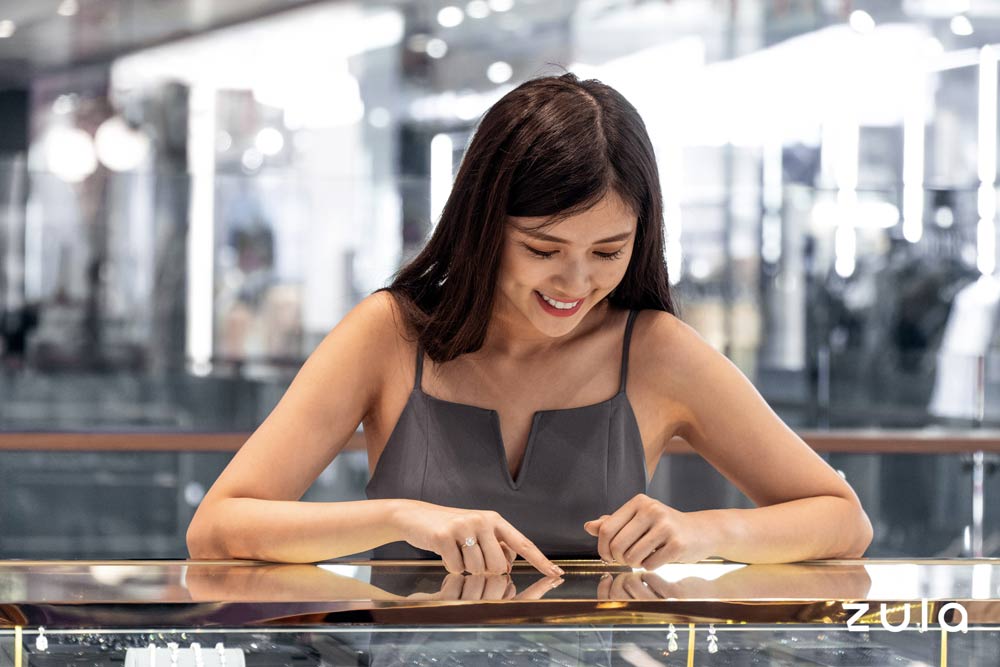 Some couples opt to cut their wedding costs by sending digital invites and RSVPs instead of fancy invitation cards. Others skip big hotel weddings for intimate brunch receptions. Another pro-tip will be to purchase a diamond simulant engagement ring instead of a mined-diamond one. 
What is a diamond simulant
Diamond simulants are significantly more affordable than mined or even lab-grown diamonds. They are designed to look and sparkle like real diamonds but are not the same as lab-grown diamonds, which have the same chemical composite as their mined counterparts. 
Éclat by Oui is a homegrown brand that specialises in diamond simulant jewellery. Every piece of jewellery is designed here in Singapore and handcrafted in Hong Kong using the highest grade of diamond simulants.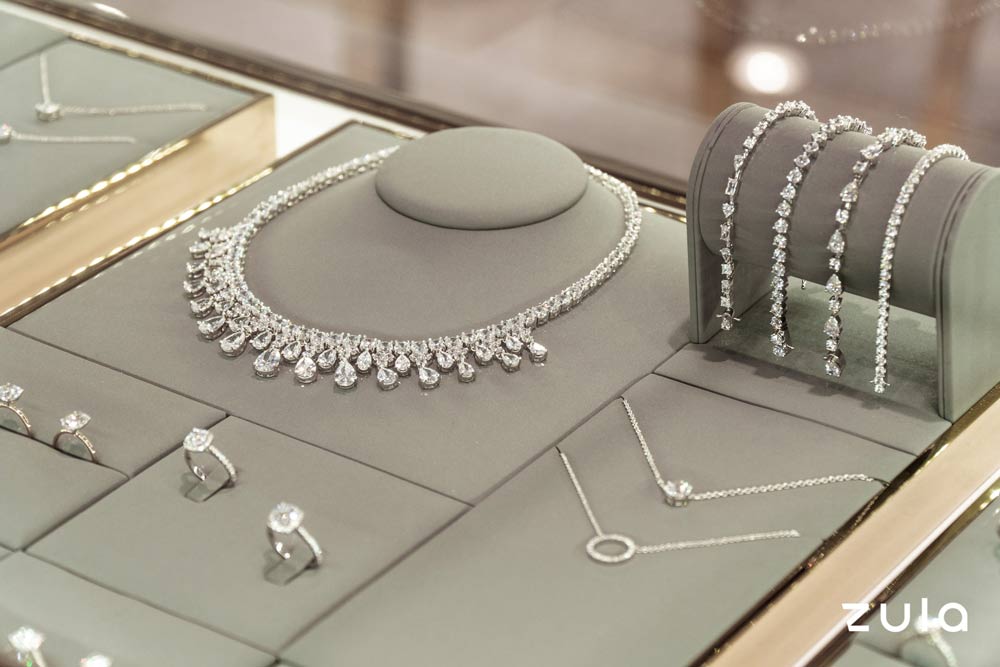 The brand has a range of earrings, necklaces and bracelets to choose from that will elevate any outfit. Of course, there are also plenty of ring designs to choose from for your engagement ring or wedding bands. 
Engagement ring and wedding band designs
As Éclat by Oui uses diamond simulants, the price of a 1-carat-equivalent ring starts from only $300. This is a steal if you are comparing it to the other bills you will have to foot for your wedding. 
Diana solitaire ring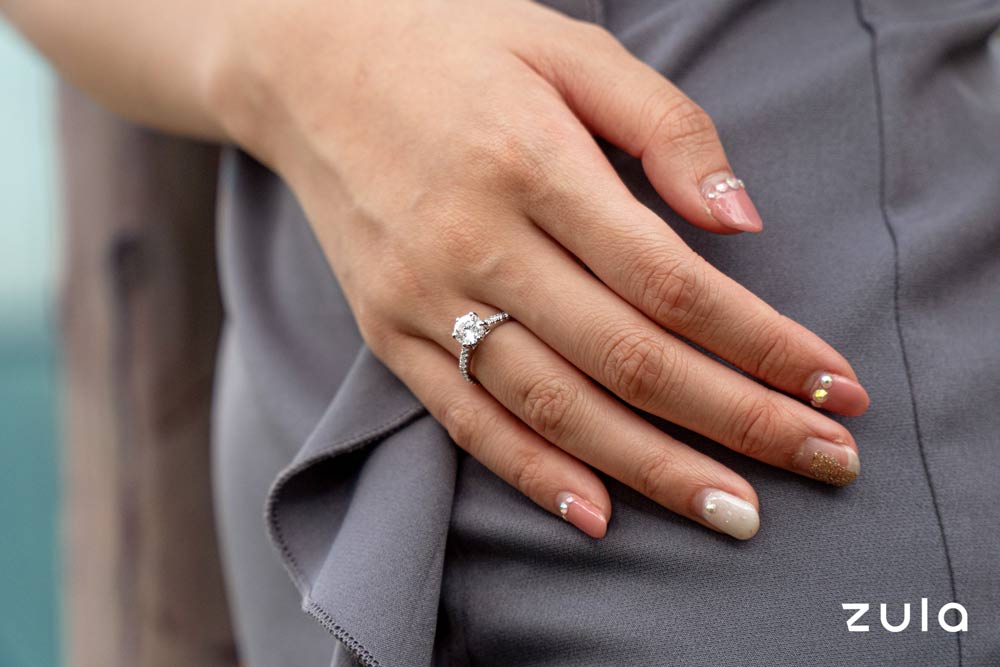 If you'd like a timeless design, the Diana is a classic round stone set in a 6-prong claw with an exquisite French pavé setting. The small side stones on the ring body accentuate the bling of the ring. You can choose from 1, 2 or 3-carat-equivalent options, depending on how big you like your rock.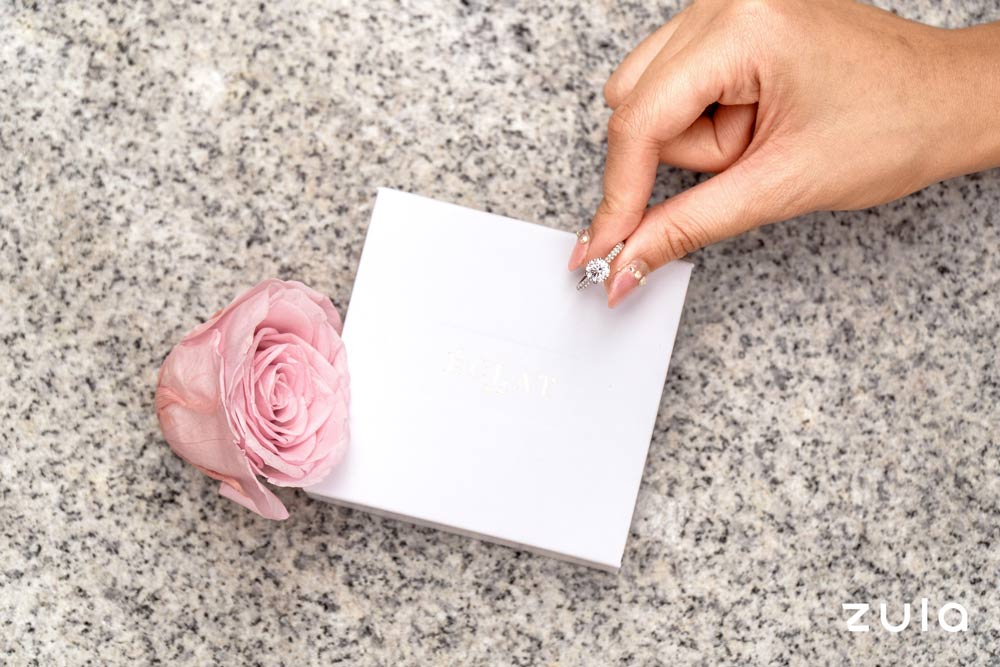 A 1-carat-equivalent Diana ring begins at $300, with the option of upgrading the ring body to solid 18K gold. 
Super Skinny Band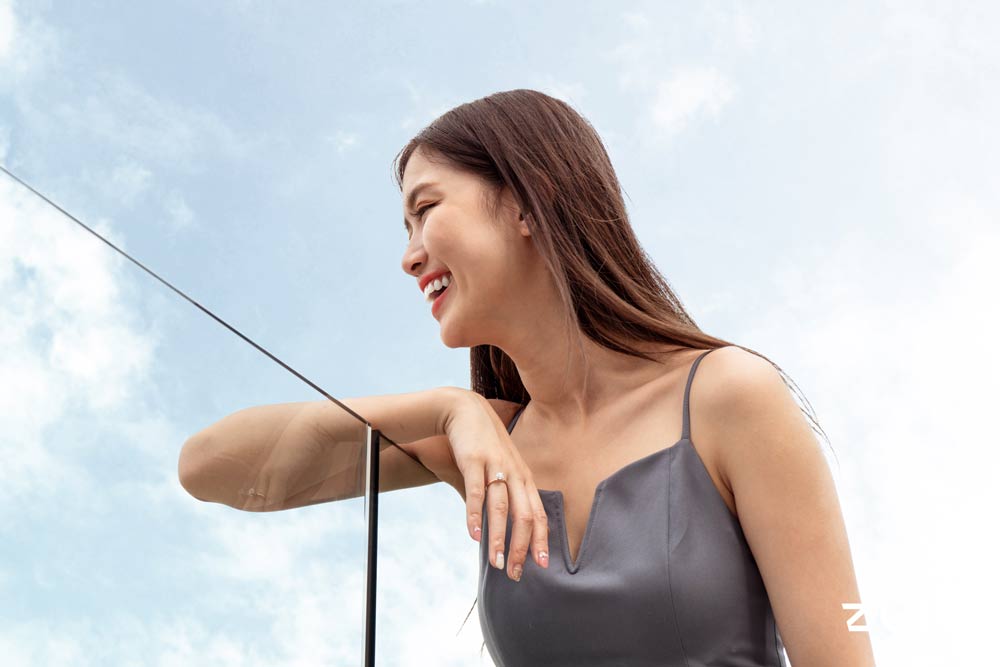 Éclat by Oui's premium range of Super Skinny Band rings feature an elegant and slim ring body. The contrast of the gem and ring body creates a more contemporary style, perfect for those who prefer modern and minimalist designs over a classic look.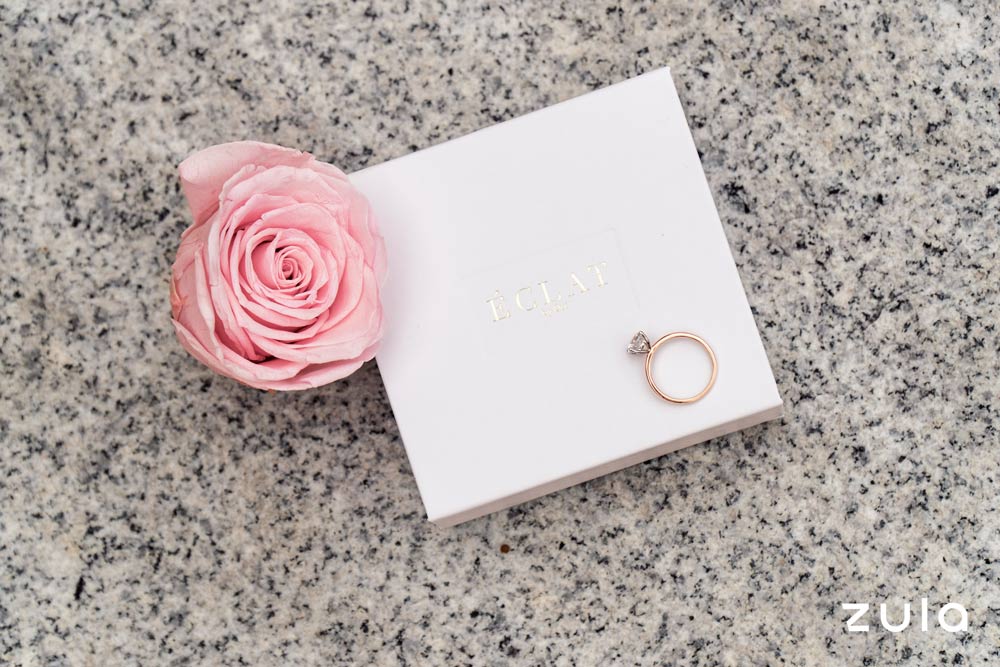 The ring bodies are made of solid 18K gold and you can choose between rose gold (pictured), yellow gold or white gold for the ring body, depending on your preference. 
The Super Skinny Band ring with a round stone starts from $1,500. 
Josephine Half Eternity ring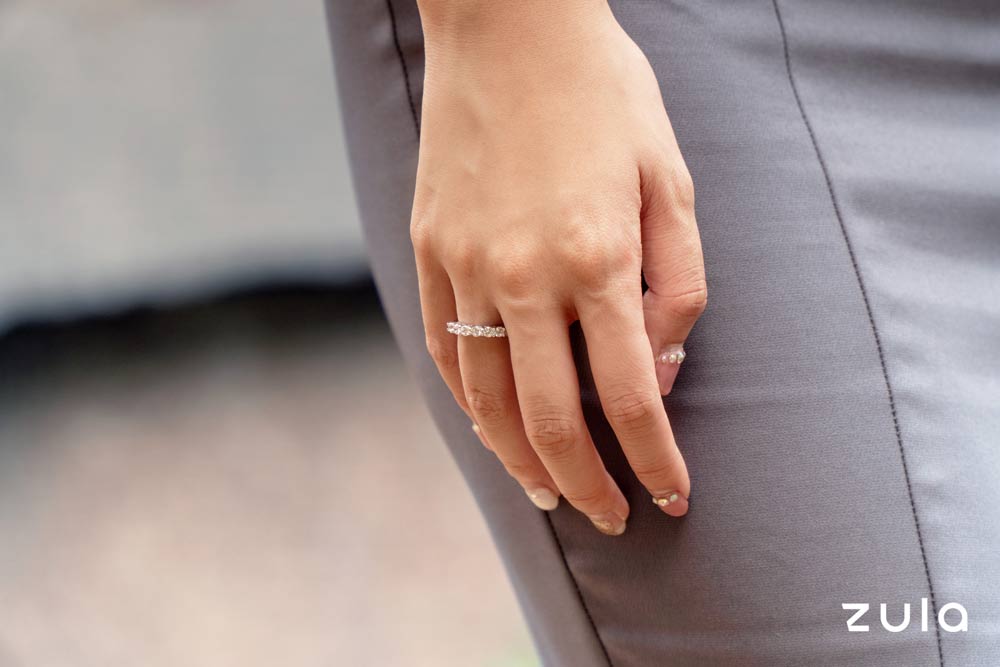 The Josephine Half Eternity ring will be great as a wedding band to commemorate your special day. It features seven 0.3-carat diamond simulants set around the band. The simple and elegant design means it is versatile enough to go with both casual and formal outfits.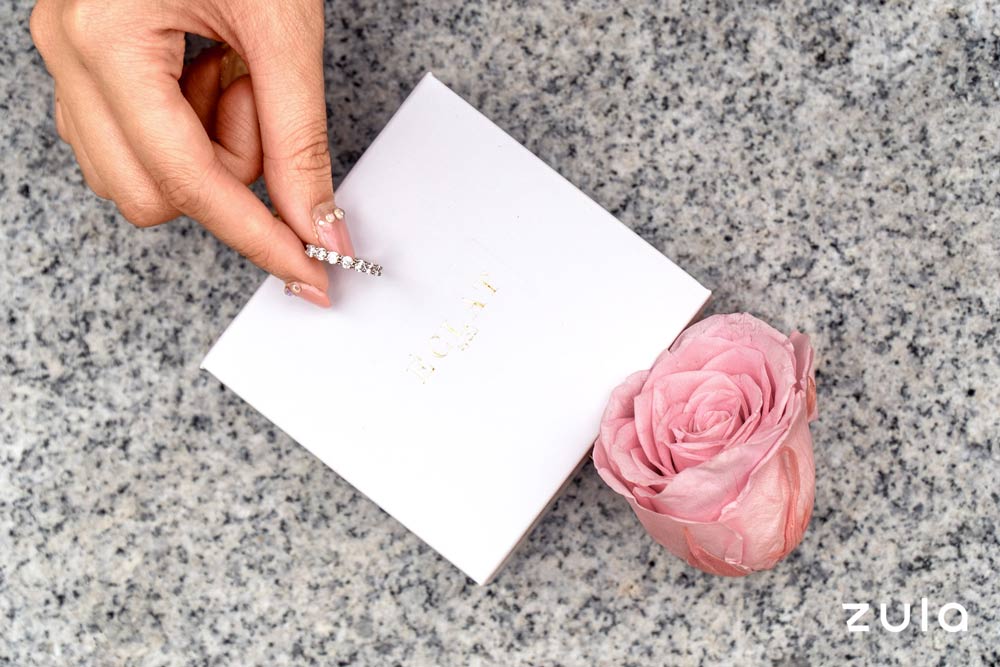 The Josephine Half Eternity ring costs $250.
Rings for any occasion
As Éclat by Oui's rings cost a fraction of mined diamond jewellery, they can also make for wonderful gifts during anniversaries and birthdays. These will be perfect as presents for yourself as well because you don't need to wait for a man to buy you beautiful jewellery.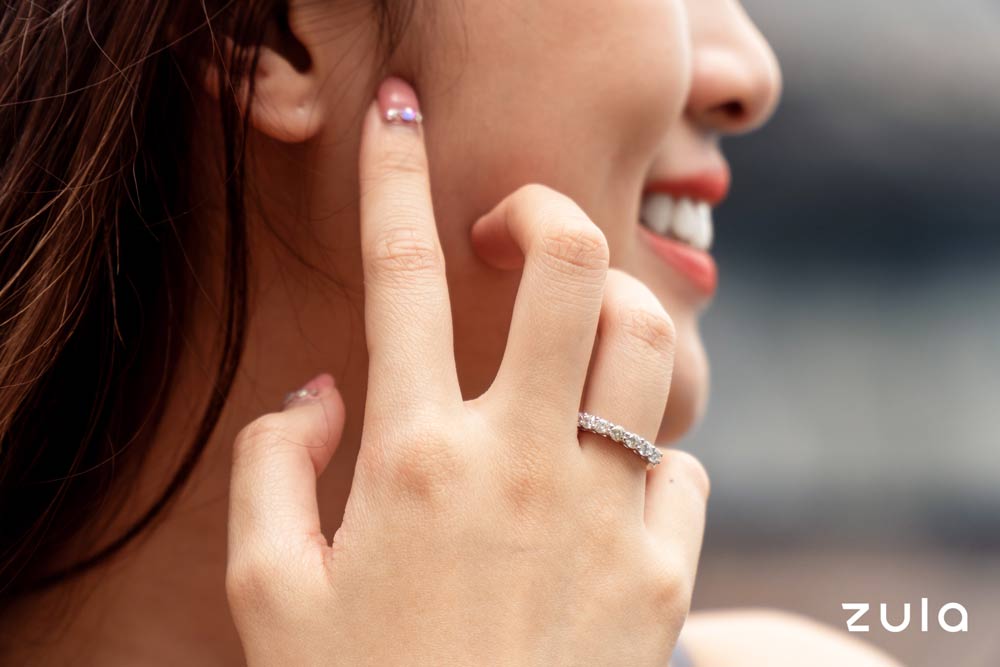 Josephine Half Eternity ring
Many of the designs will go well with regular office wear or a cocktail dress. And in the words of Rihanna, they will "shine bright like a diamond" wherever you go.
Best of all, you can bling up your look with these luxurious pieces without constantly fearing that you might lose them because they don't cost an arm or a leg. 
How Éclat by Oui began
Interestingly enough, Éclat by Oui began when its founder Ethel Neo lost her own engagement ring on a trip to Hong Kong. While getting a massage, Ethel fell asleep and when she woke up, her engagement ring was missing.
She panicked as she was unable to find her 5-figure engagement ring and left the parlour traumatised.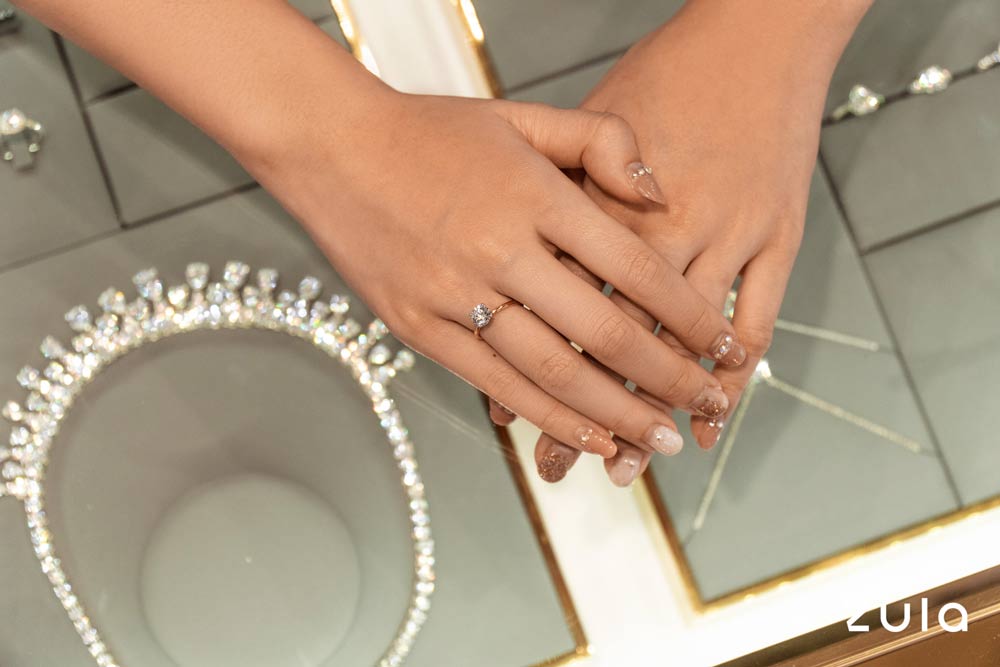 Super Skinny Band ring with roundstone
Eventually, Ethel received a phone call from the massage parlour that the ring had been found. 
Nonetheless, this incident inspired her to design diamond simulant jewellery for other ladies. 
In other words, thanks to Éclat by Oui, there will be no more worrying about losing a 5-figure engagement ring when you are doing a massage or other activities. You can also have peace of mind if you are travelling. 
Éclat By Oui's Diamond Simulant Rings Are Great For Any Budget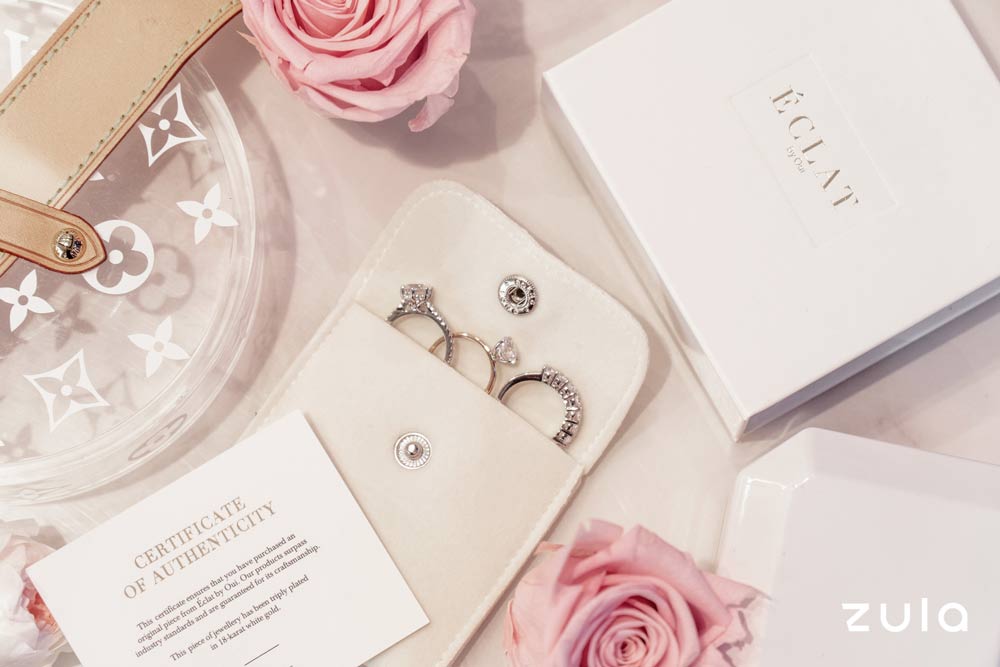 With a wide variety of designs and rock sizes, Éclat by Oui's diamond simulant jewellery are perfect for any occasion and relationship status. They will also help you save costs on your wedding and proposal, so you can enjoy the romantic honeymoon of your dreams. 
This post is brought to you by Éclat by Oui.
Photography by Sebastian Tan
Also read:
8 Romantic Wedding Proposals By Singaporeans Couples That Will Hit You In The Feels