ETUDE x HERSHEY'S KISSES Collection
Last Valentine's Day, ETUDE and HERSHEY'S collaborated to give us eyeshadow palettes shaped like HERSHEY'S chocolate bars. This year, they're spreading the love again with their second collaboration, this time featuring eyeshadow palettes that look just like HERSHEY'S KISSES.
Eyeshadow palettes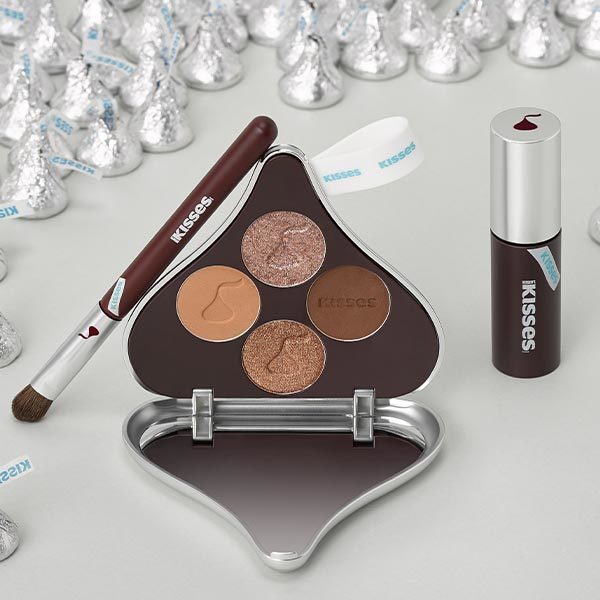 Shaped like the iconic HERSHEY'S KISSES, the eyeshadow palettes in this collection are named after the brand's most popular chocolate flavours: milk, dark and almond. All of the ETUDE x HERSHEY'S KISSES Play Colour Eyes Mini Kisses palettes have a mix of matte and shimmer eyeshadows with the silhouette of the chocolate stamped into the powder. A ribbon with the HERSHEY'S logo is attached to the top of each palette, imitating the part that you pull to unwrap the sweet treat.
The first palette, MILK, features a variety of brown tones that complements both warm and cool skin tones. This palette is perfect if you're looking to go for an intense smokey eye look for your Valentine's day date. Make use of the shimmer to highlight the inner corner of your eyelids and blend the darker shade towards the end to finish the look.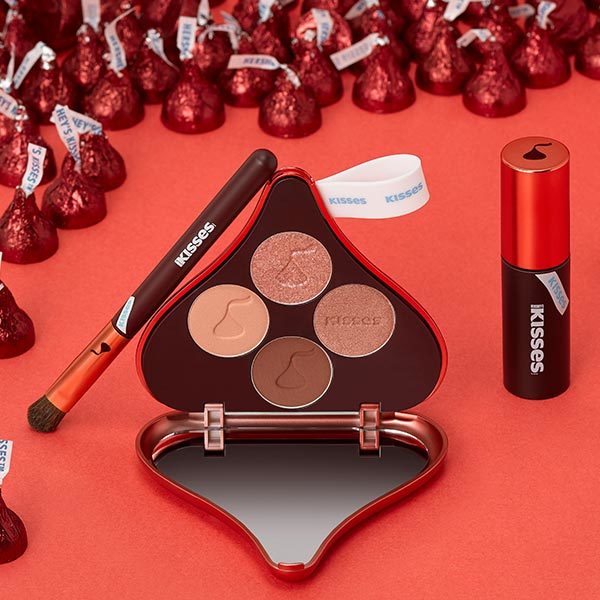 The DARK palette is packaged in a metallic red colour that seems to perfectly represent the feelings of desire in love. Like the brighter tones of its packaging, the palette consists of 3 eyeshadow colours in a light and sweet rosy shade. This colour scheme matches a softer pink makeup look. Blend the neutral pink matte shade into the crease, and use the light pink shimmer to go around the centre of your eyelid.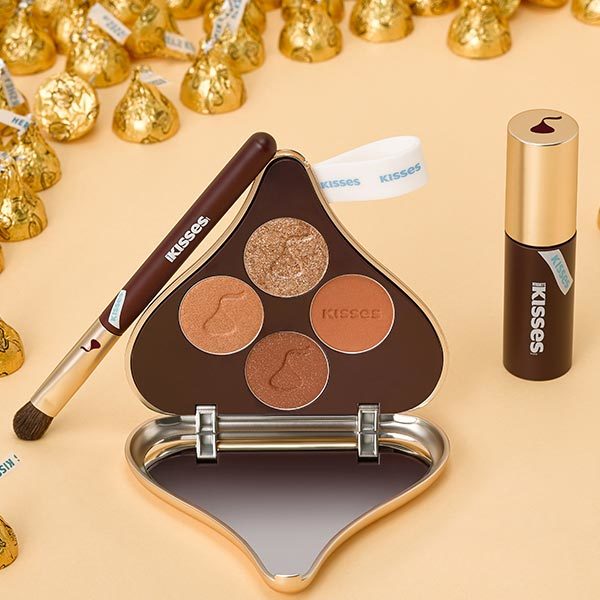 The last palette, ALMOND, doesn't disappoint with its orange and red tints. This warm colour palette reminds us of the extra crunch you get when biting into an almond HERSHEY'S KISSES. For candlelit dinners, the mix of colours in this palette will work well to create a radiant eye look to look gorgeous in the darkness with its golden shimmer. The orange tones can also leave your eye in a classy, subtle glow. 
The Play Colour Eyes Mini Kisses eyeshadow palettes are retailing for $32.90 each.
Also read:
ETUDE Has Banana, Blueberry & Strawberry Milk-Themed Makeup & Packaging To Usher In The Year Of The Ox
Lip tints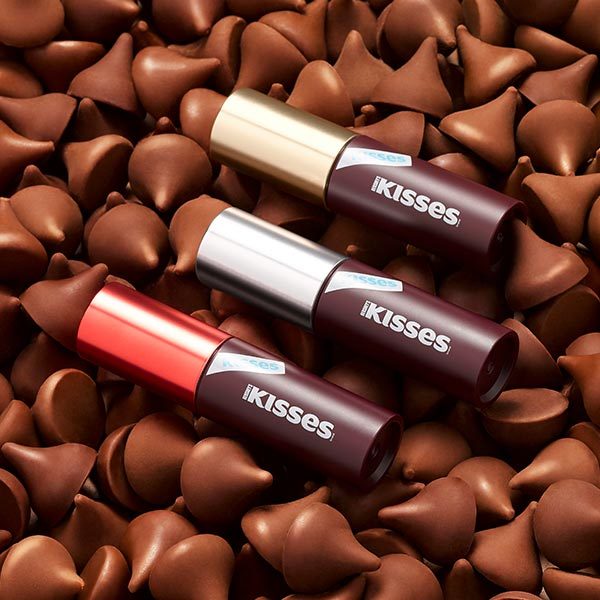 Each eyeshadow palette has a matching Choco Mousse Tint. These lip tints are available in 3 warm and neutral shades: Milk Chocolate, Almond Chocolate and Dark.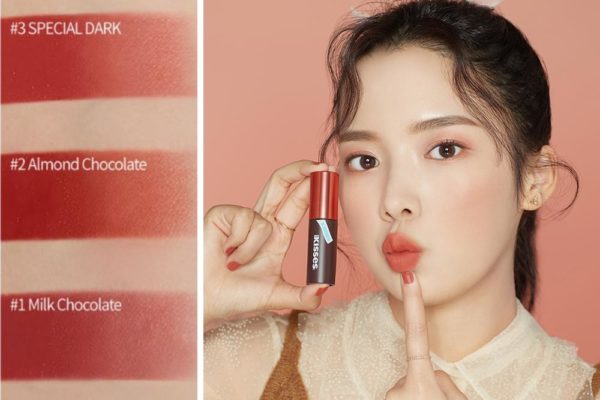 Milk appears to be the lightest shade in light pink tones, whereas Almond takes on a darker pink undertone for a more intense colour. Unlike its name, the Dark Choco Mousse Tint isn't too intense. As seen on the model, when blended into the lips, Dark offers an even and smooth pink finish that looks great for a casual date out. 
The Choco Mousse Tints are retailing for $17.90 each.
Valentine's Day 2021 Will Be Even Sweeter With The ETUDE x HERSHEY'S KISSES Collab
The ETUDE x HERSHEY'S KISSES collection launches exclusively on the ETUDE Official Store on Shopee on 3 February 2021.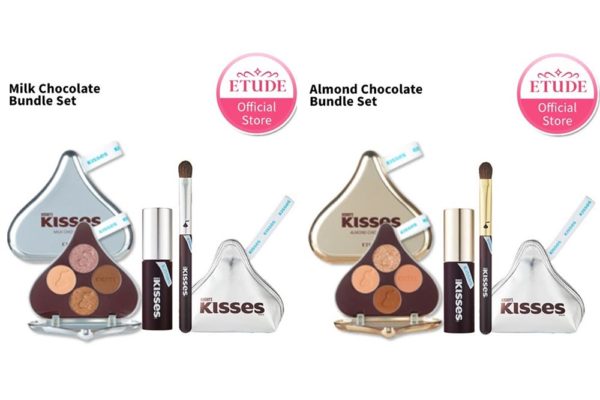 From 3 to 5 February 2021, the store will also have exclusive ETUDE x HERSHEY'S KISSES Milk Choco and Almond Choco bundles at 50% off. This bundle includes an eyeshadow palette, a lip tint, as well as a limited edition pouch and eyeshadow brush. Make sure to get your phones and fingers ready to check out your online carts before it sells out.
All images courtesy of ETUDE.
Also read:
Starbucks Singapore's Valentine's Day Collection Is The Cutest Way To Ask Someone To Bee Your Valentine