Face Mask Dress
Even though face masks have become an essential part of our OOTDs, most of us have probably experienced the panic that ensues when you leave the house and realise you forgot to mask up. At that point, you might have thought how convenient it'd be if your clothes came with an inbuilt face mask. Well, we're glad to let you know that such a thing now exists.
Pictures of Lottie Moss (supermodel Kate Moss' sister) wearing a black bodycon dress recently went viral. Nothing unusual there, but what made headlines was the fact that the dress had a face mask built into it. Made by UK-based fashion retailer Pretty Little Thing, the 2-in-1 dress quickly sold out online as many people found it to be a "genius idea".
Went viral online
A few days ago, Twitter user @Baelizean posted this screenshot of Lottie Moss wearing Pretty Little Thing's face mask dress. The tweet received a lot of attention, garnering over 290,000 likes. There were mixed reviews from other Twitter users, with some loving the idea and wanting the dress, while others found it ugly and impractical. 
It wouldn't be the COVID-related item to garner such opposing views. There's also the US$250,000 (~S$340,491.25) Diamond Face Mask and gold-plated Coronavirus necklace to consider.
Sold out and restocked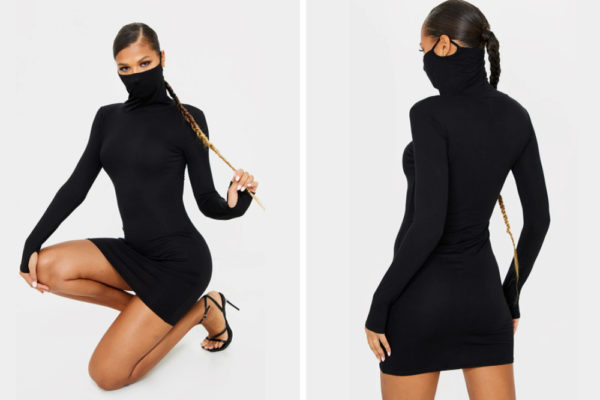 After the dress went viral online, it soon sold out on Pretty Little Thing's website. They've since restocked the item and it is now available for £15 (~S$26.36). Though only one colour is available at the moment, a representative from the company shared that they are planning to restock the dress with new colours and even printed versions.  
Also read:
10 Shops in Singapore With Chio Reusable Face Masks From $7 Since They're Now A Must-Have Accessory
An alternative take on the dress

Source
If you're not into little black dresses, Brooklyn-based lifestyle label Tribes of Kin also has its own take on this unique design. The Turtle Mask Dress is long-sleeved and ankle-length, and is made of a ribbed jersey fabric. Instead of ear loops like a normal face mask, it has an extended turtleneck design that goes up to your nose.
The dress is retailing for US$199 (~S$270.35) on Tribes of Kin's website. 
The Face Mask Dress Is For Those Who Always Leave The House Without Their Mask On
Of course, we can't speak for the protection both dresses offer. They probably also wouldn't pass the Safe Distancing Ambassador test here in Singapore, so you'd still have to wear a face mask underneath nonetheless. But based on how innovative companies have been when it comes to all things mask-related, we wouldn't be surprised if someone creates a dress with an N95 filter built in soon.
In the meantime, the face mask bodycon dress is currently available on Pretty Little Thing's website. The good news is that they ship to Singapore, so you can get your hands on one now or wait to see what other colours they'll be releasing. 
Also read:
These Atas Spike Sneakers Cost Over $1,000 For Those Who Really Need Their Personal Space On The MRT