Female Politicians In Singapore 
This GE2020, 27 female politicians in Singapore were successfully elected into Parliament. 
Many of the People's Action Party's (PAP) female candidates who had contested for Single Member Constituencies held their ground firmly. The election of the Workers' Party's (WP) He Ting Ru and Raeesah Khan, both of whom are well-spoken and credible opposition candidates, has also been widely supported by many younger Singaporeans. Moreover, Progress Singapore Party's (PSP) Hazel Poa will also be taking up 1 of the 2 Non-Constituency Member of Parliament (NCMP) seats.
With a record-breaking 29% of seats that will be held by women this term, it seems there will be a shift in the way that our political scene has conventionally been run, an issue that the recent elections proves resonates with the younger generation of Singaporeans now more than ever.

Female representation in politics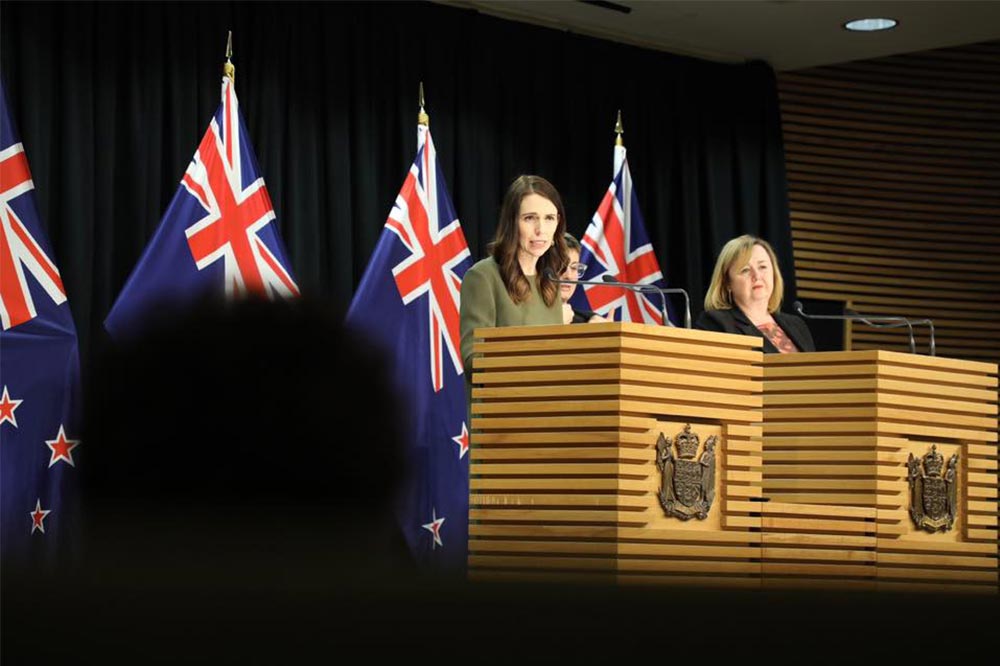 Source
Movements such as #MeToo have played a prominent role in raising conversations about what feminism really entails and why it is important. Social media has also cast a spotlight on the relative success of female politicians like Taiwan's President Tsai Ing-Wen and New Zealand's Prime Minister Jacinda Ardern in combatting COVID-19. We have witnessed their ability to succeed in political governance, regardless of their gender.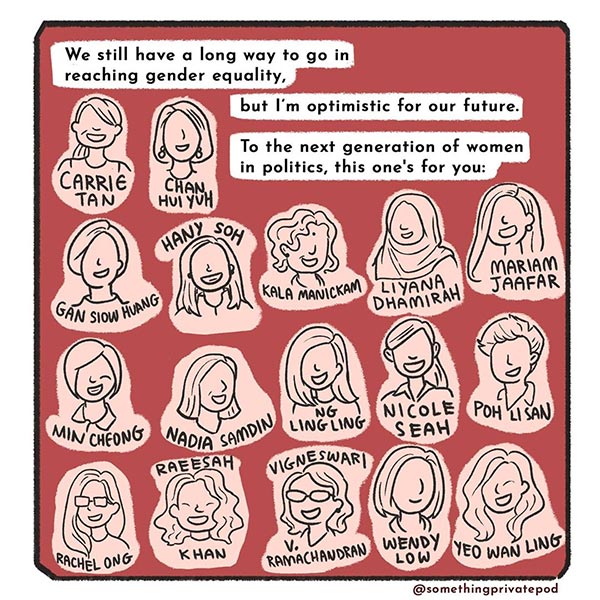 An illustration on Instagram featuring some of the female candidates this GE2020
Source
And this is exactly why young women in Singapore want to see ourselves in our elected representatives. We want to know that it is possible to rise above the challenge of navigating a largely male-dominated world and succeed. We want to know that all of our leaders are making a conscious effort to equalise the playing field by opening opportunities to groups which have been conventionally disadvantaged. We want to know that change is possible.
Gender representation as a pragmatic concern
During GE2020, WP was the only party to specifically mention women's issues such as the gender wage gap in its manifesto. In the midst of a pandemic, it's no surprise that most of the manifestos and online rallies centred around bread-and-butter issues. Pragmatism is tightly woven into our political DNA, after all.
But while it may not seem to be the case on the surface, the reality is that the issue of gender representation is a pragmatic concern too. The COVID-19 pandemic has affected specific groups of vulnerable women in disproportionate ways. Reports by AWARE have highlighted the increase in cases of domestic violence, as well as the burden that single mothers have had to face given challenges surrounding childcare arrangements. 
Ultimately, there will never be a "convenient" time to address gender representation. The issue of representation is always timely and shouldn't be consistently viewed as an afterthought.
Also read:
10 GE2020 Life Lessons Including How To Be A Good Leader & Fighting Adversity With Humility
What female leaders have done for Singapore
But what is the value of having greater female representation in the context of Singapore's political scene? 
If we were to look towards our past, Aline Wong demonstrates how female leaders have contributed positively to Singapore. In the 1980s, Dr Wong became one of the first 3 women elected to Parliament. She held portfolios including Minister of State for Health, Senior Minister of State for Education and Chairman of the Housing and Development Board. 
Dr Wong chaired the Committee on Compulsory Education in 1999 to investigate if Singapore should adopt Compulsory Education. The Committee eventually recommended that compulsory education should be introduced up to the Primary 6 level in national schools, which arguably contributed to shaping the world-renowned educational landscape we enjoy today. Dr Wong was also a big champion for women's rights. She frequently raised awareness on women's equality in public spheres. She also led the PAP's Women's Wing from 1989 to her retirement in 2001.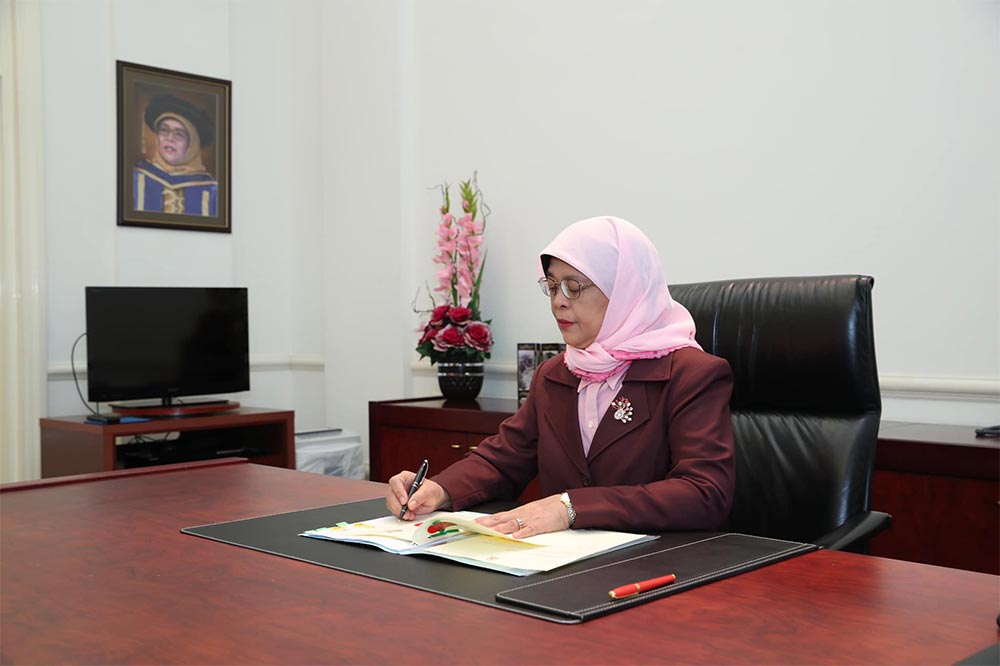 Source
Similarly, President Halimah Yacob has shattered the proverbial glass ceiling through her roles as the first female Speaker of Parliament and first female President. She recently called out Okletsgo's misogynistic podcast, asking the group to "humbly apologise to all women" for their degrading remarks in a Facebook post. Her unprecedented action prompted greater discourse surrounding casual sexism and the insidiousness of offhand remarks that objectify women. 
Her social media post also led to an apology from the group, which has shown a pattern of misogyny through subconsciously sexist remarks in several episodes since they first began their podcast. At its core, this incident highlighted President Halimah's effectiveness in using her platform to amplify not only female-oriented issues, but also to provoke thought on equality among all members of society.
What our newly elected female leaders could bring to the table
The profiles of female leaders who have been elected into Parliament this GE2020 similarly provide hope that causes surrounding equality will increasingly be placed at the forefront rather than on the backburner.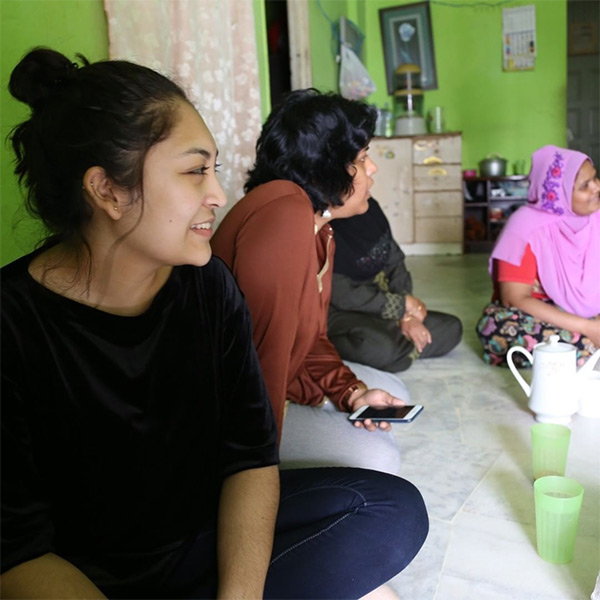 Raeesah Khan at a house visit in Kuala Lumpur meeting female victims of violence
Source
An activist since she was 17, WP's Raeesah Khan has long been pushing for change in society. She is the founder of the Reyna Movement, a non-profit organisation that seeks to empower women in Singapore and Malaysia through workshops and education. She has also been vocal about human rights on social media, including when it comes to migrant workers and refugees.
Many millennials and Gen-Z Singaporeans recognised in her qualities that resonate with what they are looking for in a politician, and they stood in solidarity with her through the brouhaha surrounding her during the election. As an intersectional feminist and one of the few double minorities in Parliament, they believe that Raeesah will work hard to stand by her claims of "fight[ing] for a more fair and equitable system for all workers and families in Singapore".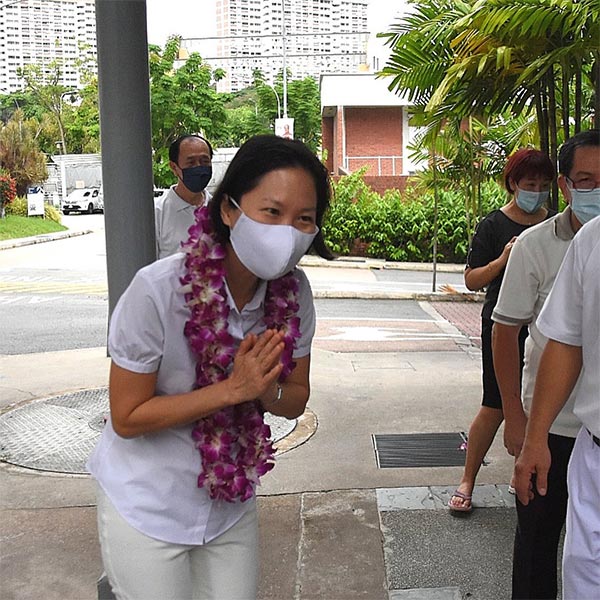 Source
Another candidate to keep a lookout for is Gan Siow Huang, who became the Singapore Armed Forces' first woman Brigadier-General in 2015. It will be interesting to see how her experience maneuvering a male-centric environment in the military—which she has called a "tough journey"—might shape her views and the issues that she raises in Parliament. 
Siow Huang has previously been vocal about her belief that it is possible for women to balance both family and career, and also encouraged women to be conscious of their self-selection biases. Given the many firsts that she has achieved, there is arguably more pressure on her to stand up for opportunities for women throughout her political career, especially given the fact that she is likely able to relate to this sentiment. 
These are but 2 of the women who will be serving their terms in Parliament over the next 5 years. Our newly elected female politicians hail from different walks of life. They wield a range of experiences that will ideally contribute to more diverse perspectives, which is precisely why we need to aim for more than 29%. 
More than 29% means fresher ideas being discussed at the table. But most significantly, more than 29% heralds a special, rare feeling—this thing called hope.
There Might Be More Female Politicians In Singapore But The Fight For Greater Representation Doesn't Stop
Beyond GE2020, we need to do more to actively reorient ourselves as a society and probe deeper into what can be done to reshape cultural and institutional norms. Many have called for more women to step forward and serve. But the truth is, women have already been serving the public through their work with NGOs and grassroots organisations for decades.
What is more important is recognising the circumstantial and social factors that might impede women from stepping up in the first place. Several women have expressed their desires to be elected to positions of power based on merit. Yet there often exist invisible barriers (perhaps even ones that they aren't even consciously aware of) that might hinder their chances.
We need to create a more conducive environment for women to toss their names into the ring. But what exactly can we do to help on an individual level?
Most crucially, we need to be more conscious of our own biases. When we're assessing female candidates during election season, watching speeches of them in Parliament or even interacting with them in person, do we unconsciously hold them to a higher standard? When we're tuning in to double minority candidates, do we expect them to overcompensate in any way due to our flawed perceptions on their race, sexual orientation, or other aspects of identity that have been traditionally marginalised by society?
More than this, we should also acknowledge that viewing political representation in binary terms can be problematic. However, perhaps the call for more equal gender representation in terms of male and female politicians could serve as a catalyst for greater inclusivity that transcends the bounds of traditional binary distinctions. This is especially since various components like class, race and LGBTQ+ status invariably intersect with one another, and are all moving parts that must come together to reorient social norms.
I remember meeting PAP member Rahayu Mahzam at a youth outreach event a year ago. As I watched her engage the room with insightful pointers and questions, I felt a sense of awe and excitement. Against the backdrop of political developments like the #NoMarriage movement in South Korea, observing the female politician in Singapore in her element ignited a sense of empowerment within me.
At the end of the session, we had a brief conversation about the work that she was doing. Before she left, I said, "I just wanted to tell you how inspiring you are, especially as a woman in politics. I'd imagine it's probably been difficult at times, but thank you for representing us."
Here's hoping that one day, women in politics will become so commonplace that these words won't need to be said.
Also read:
5 Baby Steps To Fight Racism In Singapore So You Can Take Your Activism Beyond A Hashtag