Finding Serious Relationships On Tinder
Most Singaporeans know Tinder as a great hookup app and a terrible place to search for love. However, against the odds, I found an A++ guy, who'd eventually become my boyfriend on Tinder.
After returning from my semester abroad in Paris last July, I went on a casual dating spree. My last relationship had gone sour in the City of Love, and I was ready to nurse my bruised ego with the attention of hot men.
My best friend, Laura, would help me vet potential dates, swiping on Tinder during French class breaks. A thousand swipes later, I came across the profile of my current boyfriend, Kiat.
Almost swiped left
I wanted to swipe left because he wasn't my type. I liked sporty, muscular, rough-looking guys with kind eyes, and a loping grace. Kiat was tall, lean, and prettier than I am.
Also, he didn't have a Tinder bio, the ultimate sign of a f**kboy.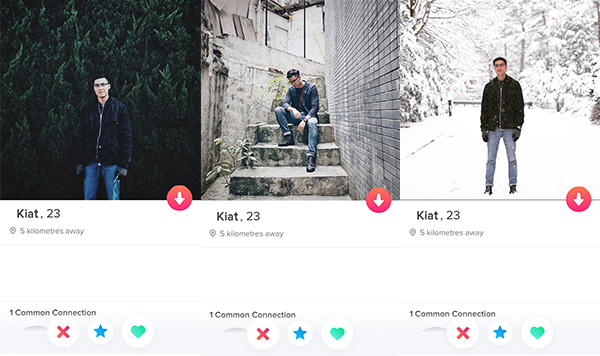 Laura grabbed my phone and screamed, "Eh swipe right! That guy's from my school. He's cool, he likes photography. Date an artsy guy for once!" Grudgingly, I consented and we matched.
After chatting for a few weeks, I suggested we meet for dinner because he didn't seem like he'd try to murder me.
He replied with an enthusiastic, "Yeah I was just thinking that too!" (Later I'd learn he was just being polite because he literally wanted to 'just be friends'). We fixed a date and were set to meet at the Botanic Gardens the following week.
First date
I remember getting ready for the date with Laura and fretting over what to wear.
As I picked out a pair of jeans and a black long-sleeved top, I asked: "What if I fall in love with your friend, wouldn't it be weird?"
"If it happens, it happens," she replied.
When I met him, I was engulfed by a giant hug and overwhelmed by his height. I liked how his hair fell messy over one side, and how he smelt like fresh laundry.
Somewhere between pronouncing food off Casa Verde's menu with terrible Italian accents and shyly leaning toward each other over dessert, I decided I wanted to spend the rest of my life with him.
I've dated other guys before, but no one made me feel as strongly as Kiat did. It was an unexplainable feeling, and I took it as a sign I should try to date this boy.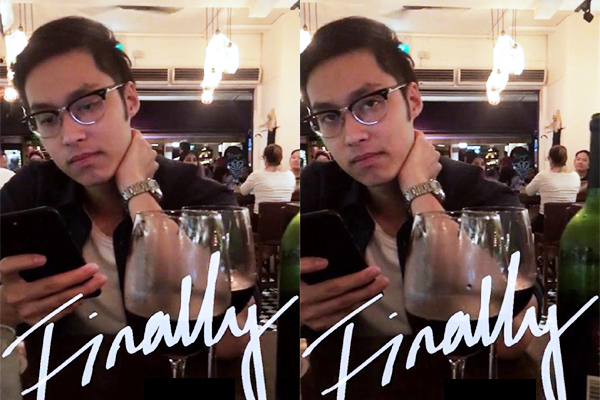 Convincing him to date me
When we first started dating, my boyfriend wasn't looking to settle down or commit, neither was he looking for an FWB. He was one of those dudes who genuinely wanted to make friends on Tinder.
It was a new experience for me as he refused to smash for the first three months of the relationship. I'd stay over sometimes and I would try, OMG I would try so hard. His dick would go up but his pants would never go down.
He reasoned he would only sleep with someone he could see a future with, and felt I could be that person. Only, he was slow to warm up to me and was cautious when it came to falling in love.
I would go on to meet his friends, his family and extended family, as he did mine before we took a trip to Guilin, China in December last year.
On the last night of our trip, he asked me to be his girlfriend while we were cuddled in bed. Yawning, I kissed him on the cheek and told him I already was, before falling fast asleep.
Being in a relationship
We're both romantic, sensitive people, who like art exhibitions, naps on rainy days, and sushi. Despite, or because of, our deep understanding of each other, we know we're not a perfect couple.
We're still learning how to be patient and accommodating. We know there'll be fights and other people who might tempt us to stray.
But our relationship works because we know we'd like nothing more than to come home to one another at the end of a long day.
More importantly, we make the conscious choice to choose, and to love each other every day.
Finding Love Online
Some might say, "One does not simply find love on Tinder". Though rare, it is possible to meet potential partners through the platform.
If you're adamant about finding love via online dating apps, adding the liner "not into casual sex" to your bio will help filter your matches.
What you'd also need is an idealistic, optimistic attitude to the point of naiveté, enough patience for at least 5000 swipes, the ability to handle rejection, stave off creeps, and to keep hope.
The thrill of Tinder can quickly dull after one too many 'pointless' conversations, so don't let yourself become jaded about love.
Ultimately, just go with the flow and don't be too quick to judge people. Rather than placing your focus on finding 'The One', enjoy the process of dating. After all, if it happens, it happens!