Dating App Success Stories
To most, dating apps have the reputation of being populated by f-boys looking to quench their thirst.
However, it's not to say it's impossible to find a long-term partner, or even your soulmate through dating apps.
Through a stroke of luck or fate, these 8 dating app success stories will make you believe you can find love in a 'hopeless' place.
1. "I super-liked her and we had fried chicken on our first date."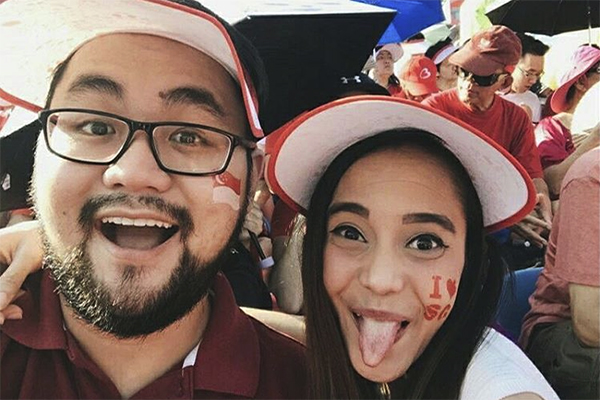 I swiped right on her and waited a few weeks before dropping her a "Hello there!".
I was the first guy she replied to on Tinder and she revealed she replied me only because I had super-liked her.
We went to Waffletown for our first date for some fried chicken, and I guess the date went well because we've been together for about a year now.
Chuan, 28
2. "It was love at first swipe on Tinder."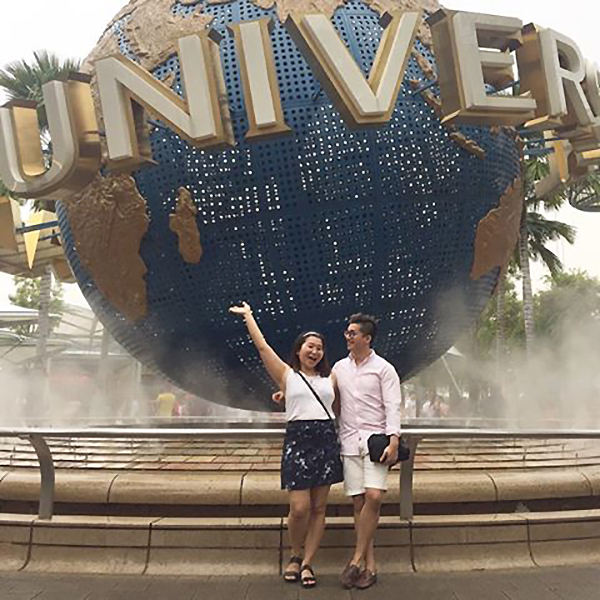 10 months ago, I met my partner through Tinder and for me, it was love at first swipe. We got along really well and we both put in much effort to court each other.
I've surprised her at her workplace with food, and she's laid the stairs and bed with flowers during our recent staycation.
I'm thankful she's understanding and accepting of who I am. She always laughs at my stupid and corny jokes and doesn't get mad when I make fun of her. She makes me happy and I hope I make her happy too.
Shawn, 26
3. "We met on Paktor because I was doing work research."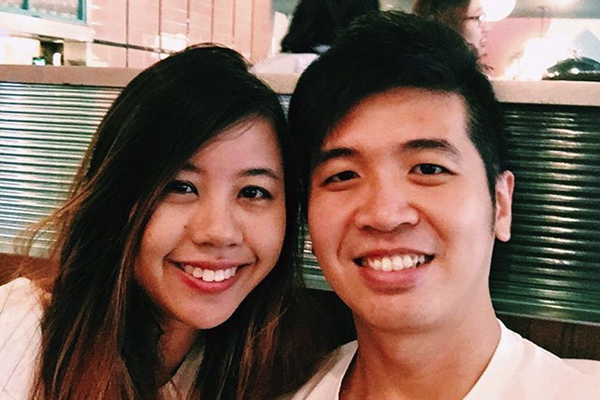 My boyfriend and I have been dating for 2 years 8 months. Back then, I was a writer for an online magazine and was assigned an article on online dating. To do 'research', I signed up for multiple dating apps.
I matched with my boyfriend on Paktor and we chatted for a bit. Eventually, we started dating and he asked me to be his girlfriend at an Italian restaurant, with flowers and all.
But this sweet gesture is nothing compared to how he sends me home after every date. He lives in Toa Payoh and I live in Pasir Ris, so I really appreciate the effort he puts into maintaining our 'long distance relationship'.
Jess, 27
4. "I swiped right because I recognised him as someone's boyfriend."
I saw this guy on Tinder whom I recognised as the boyfriend of a pretty girl and swiped right. Surprisingly, we matched and after chatting for awhile, we decided to meet up.
We had our friend-date over chicken rice at a hawker centre. Then, one meeting turned into two and three and it cumulated with us getting drunk at a beach, confessing our feelings for each other.
Turns out, she had cheated on him and it was over. After that talk, we decided to try dating. We've been together for a bit more than 2 years now and I've never been happier!
Wenhui, 25
5. "We matched on Tinder and he treats me like a princess."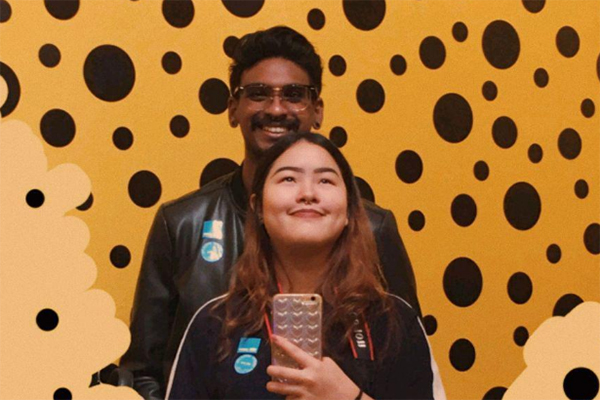 My boyfriend and I met on Tinder and have been together for 10 months. It's cheesy but he really is my best friend. Though he treats me like a princess, it's difficult to be 100% happy as my parents disapprove of our relationship.
My boyfriend is Indian-Eurasian and I'm Chinese, and my parents are prejudiced against non-Chinese. It doesn't help I'm the first one in my conservative family to have a non-Chinese boyfriend.
Thankfully, my family is slowly warming up to the idea of him. They now refer to him as my 'friend' when we speak about him. I'm sure they will come around and accept us some day.
Jade, 20
6. "We matched on Coffee Meets Bagel and he asked to meet at a kopitiam."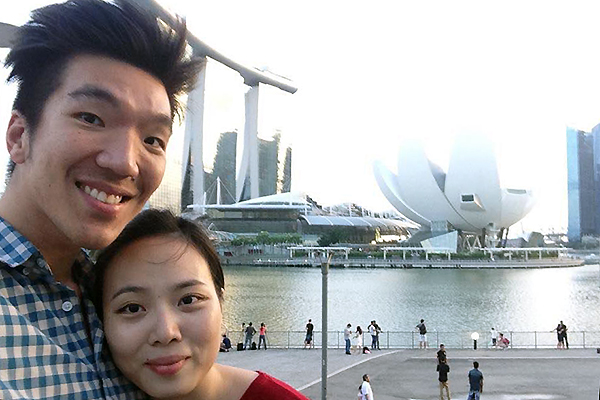 My previous company was organising a pageant and out of desperation to get men to join, I downloaded a couple of dating apps. I was also single at that point, so I thought it wouldn't hurt to look around.
I struck a few meaningful conversations with matches on Coffee Meets Bagel. Among them, there was one guy who didn't text much but was the first to ask me out.
He proposed meeting at a kopitiam at Little India, which I thought was refreshing because he didn't try too hard to impress. During the meeting, the conversation flowed easily and the rest is history. We've been happily dating for about 2 years.
Kaiying, 26
7. "He asked me for my ASL on Paktor."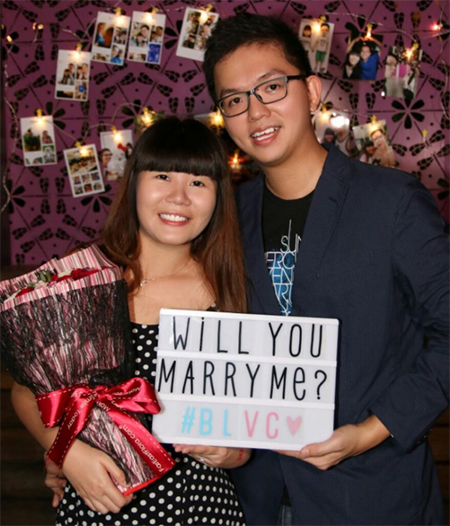 We matched on Paktor and first started talking at the end of 2015 when he texted me "A/S/L?". Confused, I replied "????, A???, S??? And L???".
We laughed at my confusion and started talking. We started going out on dates and slowly, my feelings for him developed.
On Boxing Day 2015, he took me on a surprise date at Gardens By The Bay to visit the ongoing Christmas Wonderland. There, he asked me to be his girlfriend.
Exactly one year later, we went back to Gardens By The Bay and he asked me, "Will you marry me?"
His actions and thoughtfulness touched my heart, and I said "Yes", as I believe he'll treat me well for the rest of our lives.
Vanessa, 28
8. "There wasn't any wild attraction when we matched on Coffee Meets Bagel."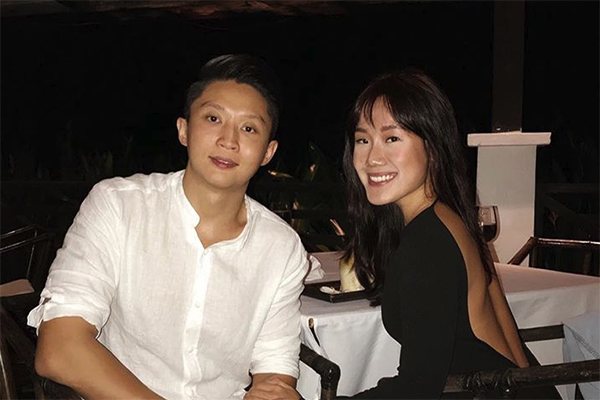 I matched my boyfriend on Coffee Meets Bagel. Initially, there wasn't any wild attraction, but our friendship and feelings for each other gradually blossomed.
In the early stages of our relationship, we hit a rough patch because I kept nitpicking on his quirks and habits.
I only stopped much later when I realised I wouldn't be able to find someone else like him. Luckily, he wanted nothing more than our relationship to work out, so he was extremely patient with me.
Since then, he's always been there and I know he's got my back. There are days when I doubt my abilities or worth, but he never stops believing in me and that's more than I can ask for.
Vanessa, 26
Bonus:
9. "I was selling concert tickets on Carousell and he responded."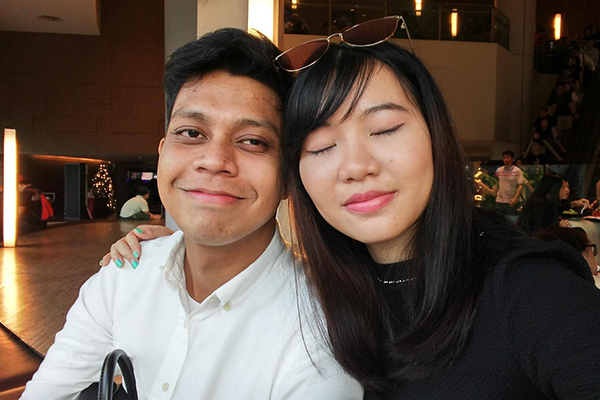 A few months ago, I placed an ad on Carousell looking for a friend to go to the One Ok Rock concert with. My boyfriend responded as none of his friends were interested in going.
After the concert, we continued texting, and gradually, I fell for his personality and his way with words. Not long after, we both confessed our feelings after a bar date and started dating.
However, things aren't always easy. We have different schedules because of his irregular hours as a firefighter serving NS. It doesn't help that we're in a 'long distance relationship'–I live in the east while he lives in the west of Singapore.
But he prioritises spending time with me, and I'm thankful for him for always choosing me first.
Jessica, 20
Love At First Swipe
They say fairy tales don't exist anymore in today's world of dating apps and hook-up culture, but these stories prove that theory wrong.
My personal advice—let love find you, because trust me, it comes when you're not looking and it'll sweep you off your feet.
Cover image: source