How I Found My Self-Worth
While some might argue that making poor decisions is a canon event, we can learn a lot of valuable lessons from them. I'm no exception. During my teenage years, I made a lot of bad decisions that I now look back on with nervous laughter — the self-sabotage was real.  
But journeying towards finding self-love and realising my self-worth changed my life for the better. The road was treacherous IMO, but it was essential for me to ditch old habits and break toxic patterns. Becoming a part of the "self-love club" wasn't simple, but here's my story on how I discovered my self-worth.
Growing up as a "good girl"
17-year-old me
Having attended a girls' school for 10 years, I would say I led a 'sheltered' life. I was your standard 'good girl' — I did my best in my studies, headed home before my curfew, and read books all day. Everything was fine, but in the typical fashion of a teenager, I craved something more exciting beyond my comfort zone.
Being the youngest in my family, I also felt the pressure to be the most guai kid, not wanting to trouble my family. However, these expectations also brought feelings of restriction, which fueled my desire for more freedom in my choices and actions.
In late secondary school, I gradually saw classmates having a richer social life, going out every day and hanging out at trendy places like *SCAPE until late. Secretly, I yearned for that life.
So, when I entered polytechnic in 2017, I decided to adopt a more 'extroverted' persona. I thought by starting afresh, I could leave behind the old me instead of accepting my past self into my present identity.
You know how Miley, Demi and Selena all had their "bad girl" phase after their Disney Channel days? It was as if I was entering my very own era of that. 
Toxic friendships & dating habits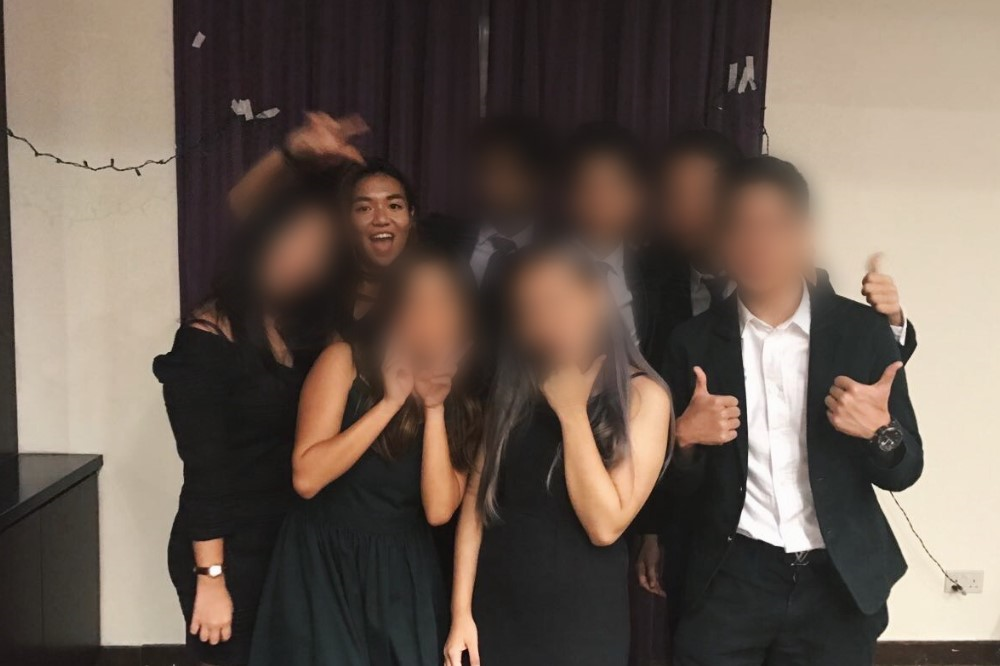 Attended many school-related events to fuel my "extroverted" self
When I began meeting new people through camps and school clubs, I found myself in circles of friends whom I hung out with almost every day. We would stay out late at night, and sometimes even go to Holland Village for drinks, even when I felt the need to go home. You could call it peer pressure. At the time, if I didn't go, I would experience intense FOMO.
Forming a core group of friends gave me purpose, and this cycle of late nights continued for two hard years. One thing I neglected? Time with my family. Naturally, my parents grew concerned about me staying out late and hanging with the wrong crowd. But oh how I was wrong.
Case in point: my "friends" would gossip and bring down others without recognising the faults that we had. They glamorised drinking and how it was the "cool" thing to do, disguising the habit of getting drunk as "building tolerance".
Needless to say, I was swept up in this toxic behaviour and my childhood friends gradually distanced themselves from me.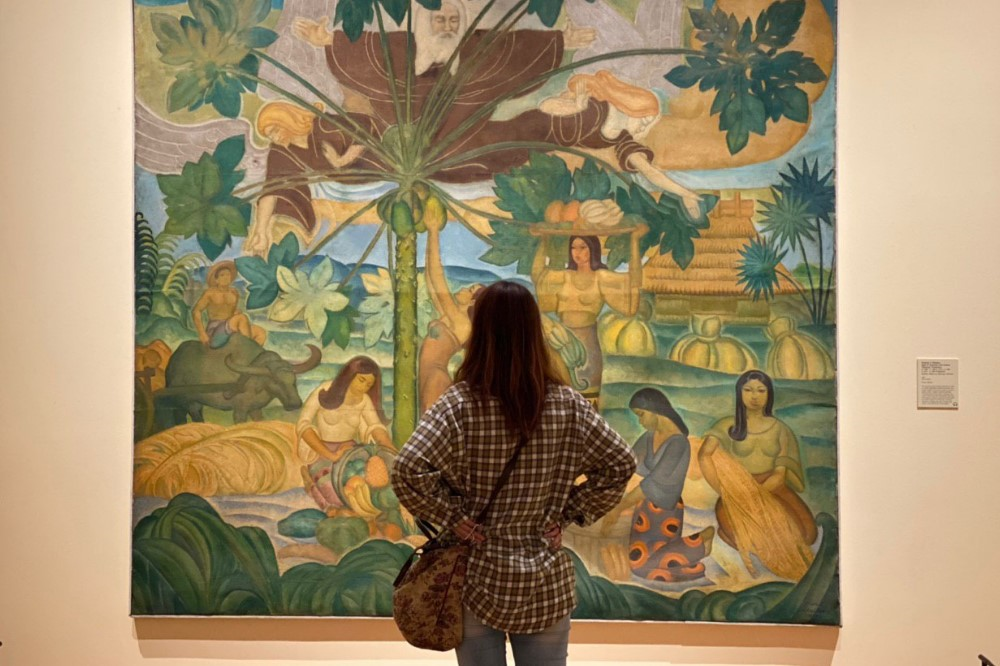 My first ever museum date with my ex-boyfriend
My dating life wasn't all sunshine and rainbows either. After all, being acquainted with boys after a decade with only–female friendships was a brand new world.
I tried dating apps and meeting new people face to face, but they didn't quite have the compatible personalities I was hoping for. During this time, I was dealing with my own insecurities about being a good partner. However, I noticed that some of the individuals I dated seemed to project their own insecurities onto me. Gaslighting much?
One time, someone "broke up" with me just because his friends told him to. To make matters worse, while I was overseas, he sent me lengthy paragraphs asking me to take him back. He once again blamed me for my behaviour that had made his friends feel a certain way towards me — yikes.
Looking back, I feel like I purposely swiped on people I knew weren't the best for me, so I wouldn't feel as bad if it didn't work out. NGL, it messed with my self-esteem a bit when those matches ghosted me in the end.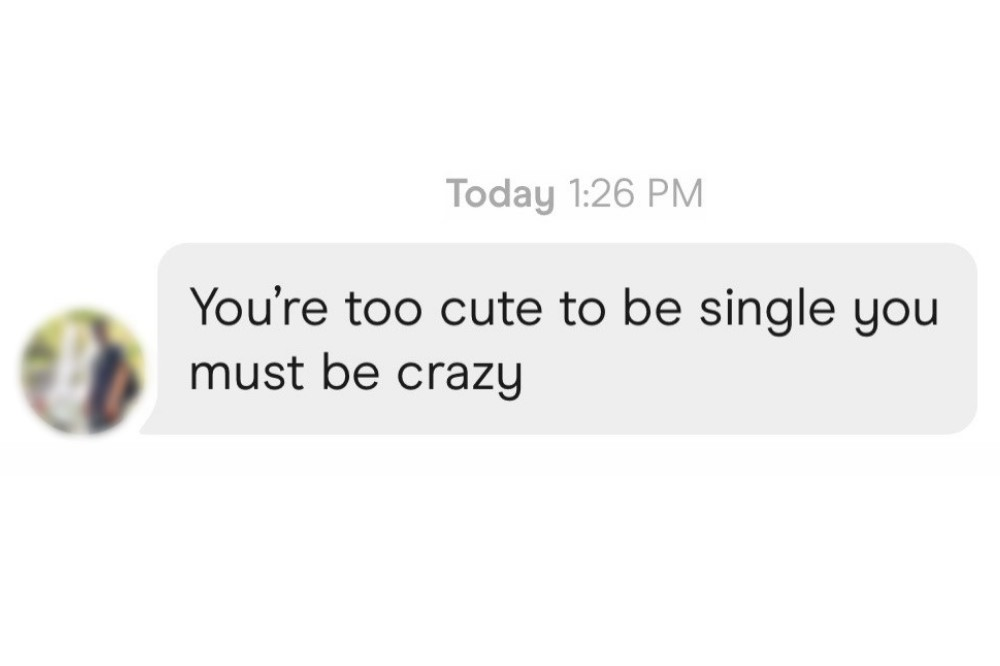 Immediately after we matched, he decided to start the conversation with this
Coming from a more conservative background, I didn't really understand the concept of casual flings. I would be confused when the people I matched with would hit me with "WYD?' texts late at night and would ask me to go over to their place. 
Thankfully, my younger self didn't entertain them to the point where it got ugly ━ phew. 
I fondly remember one guy asking me how I would like to die on our first date and there was another who, upon meeting in person, commented that I had a striking resemblance to his ex ━ good times. 
Reaching the lowest point and having a wake-up call
Things took a sharp turn when my grades plummeted after countless late nights spent going out. Even during times when I tried to sit down and study, I found myself easily distracted and procrastinating.
See, the thing about life they don't teach you until you experience it for yourself: actions have consequences. I started having epiphanies on my "friendships" I once thought were unconditional too. There were moments when I felt like I needed help, yet they seemed unavailable. However, whenever they needed assistance, they would suddenly appear, seeking my help.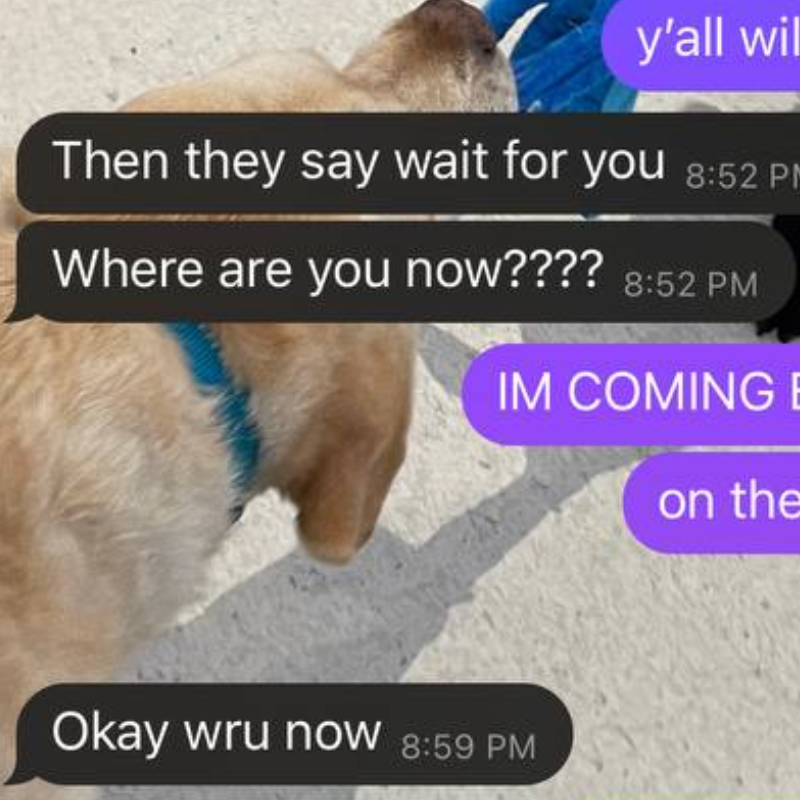 My sister constantly checking in with me if I didn't reply her for long
The breaking point was when some of these friends would ignore my feelings when I confided in them, and gave absolutely shitty advice like "just get over it lah". Yet I still pined for their connections either way. 
Meanwhile, my dating app journey was an absolute bust. All the guys I swiped were either chauvinistic or serial players, and my "type" was starting to seem like "walking red flags". 
They say family will always have your back, so thank god for my sister for pulling me back to reality and threatening me to wake up, after seeing the signs and depressive state I was starting to form. After a while, I started recognizing the toxic patterns I had. As Taylor Swift says, "I'm the problem, it's me".

With the newfound revelation I had, I realised that I have the power to change my unhealthy habits and mindset if I put my mind to it. So, my self-love journey began. 
Learning self-love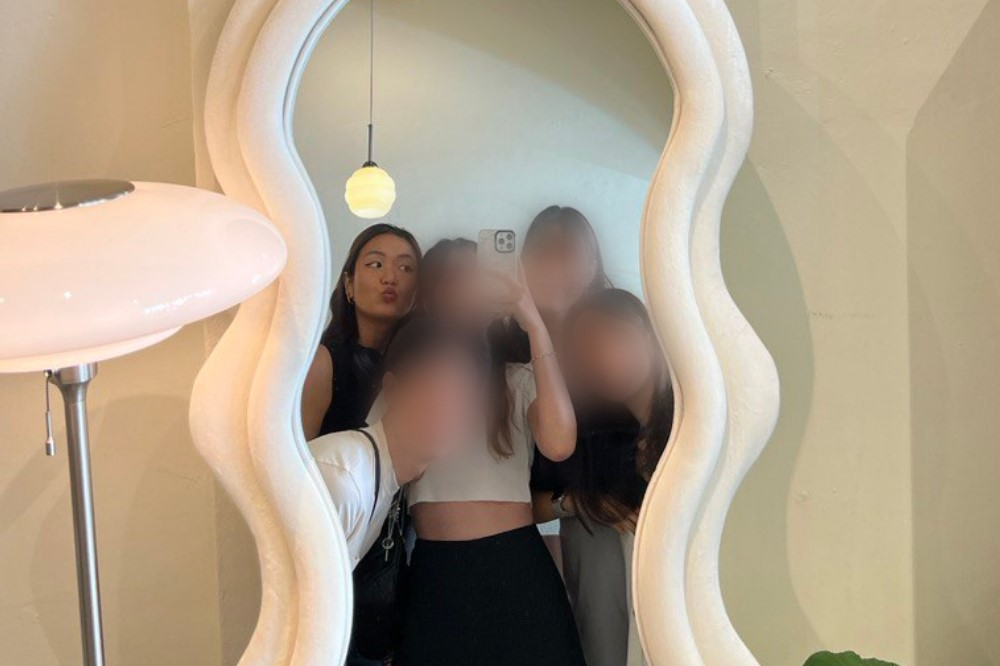 My friends who supported me throughout school
With newfound direction, I decided to refocus on my goals and prioritised myself. My number one priority? Keeping up with my schoolwork, where things took a turn when I really put in the hours studying to score decent grades. 
It helped that I found new friends whom I could lean on when I needed help with assignments; to this day, they remain one of my greatest support systems.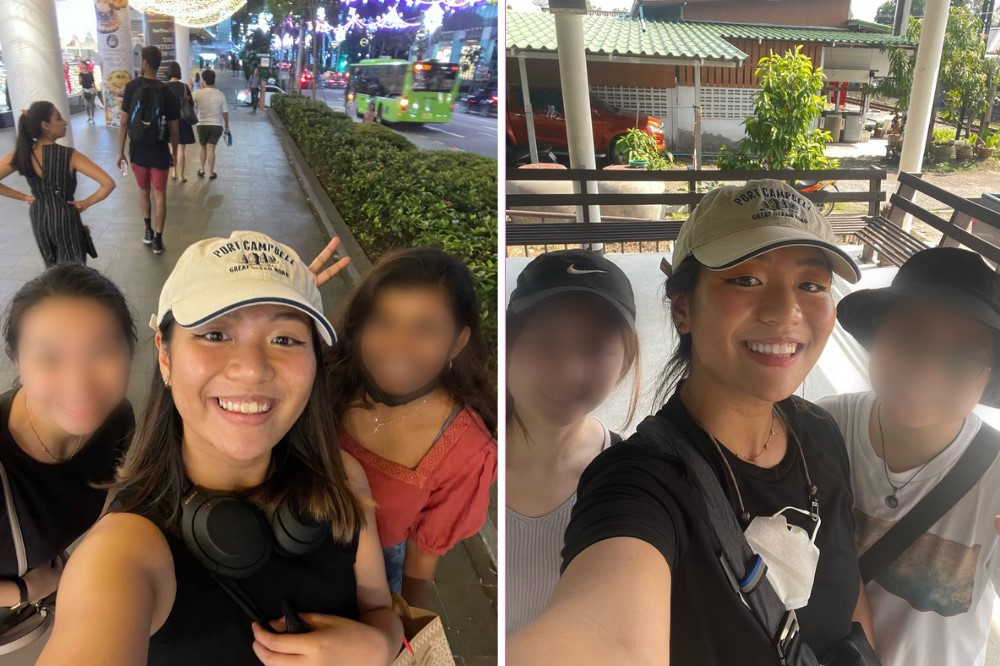 Reconnected with my friends, we are still good friends till this day!
At the start of my journey of discovering my self-worth and learning self-love, I gained the clarity to recognise those who stood by me. I reconnected with friends I hadn't spoken to in a while which surprisingly strengthened our bond, and we also evolved the friendships to a deeper level. 
I also spent more time with my family, making sure to set aside a specific day of the week to enjoy some quality family time.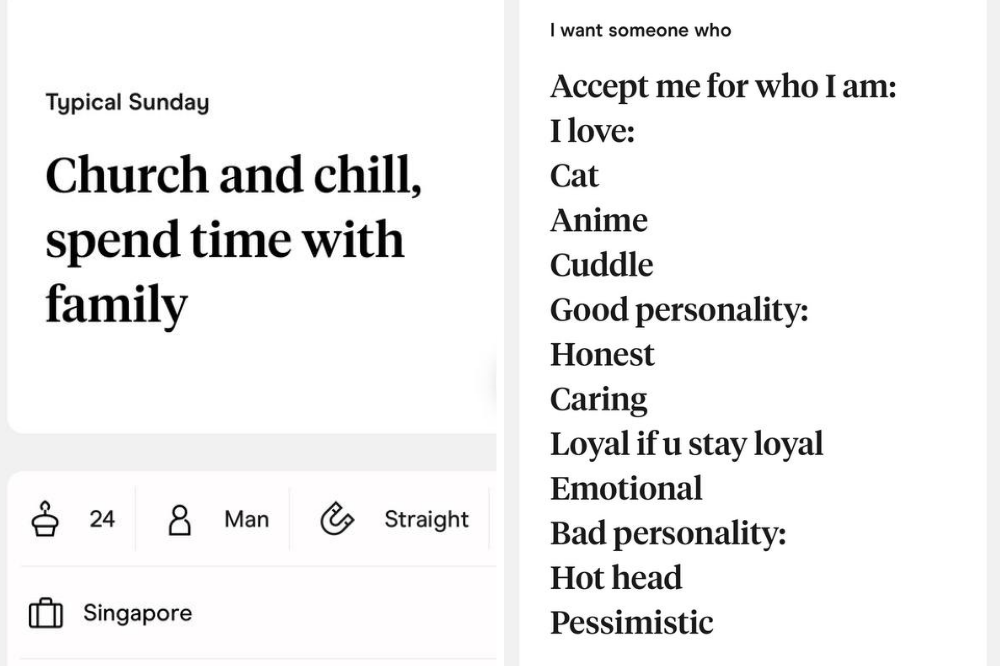 What I would swipe on and what I wouldn't ━ sorry, man
To clear my toxic mindset towards dating, I decided to take some time off dating apps for a few months. Instead, I began to try out new hobbies like crocheting and gymming, which helped me recognise my value and made me less tolerant towards the disrespect online people might display. 
The old me would probably swipe on a stereotypically f-boy or what I like to describe "tall, dark and handsome" without considering how they portrayed themselves on a dating app. I would have also overlooked some "red flags" such as suggesting to meet-up only at night or have questionable morals just because they are "good-looking".
Now, I am more cautious with my approach on dating apps as my criteria has changed for way better. Right swipes are reserved only for someone's lifestyle that's similar to mine, which I would follow up with open communication while still maintaining my boundaries ━ self-love FTW.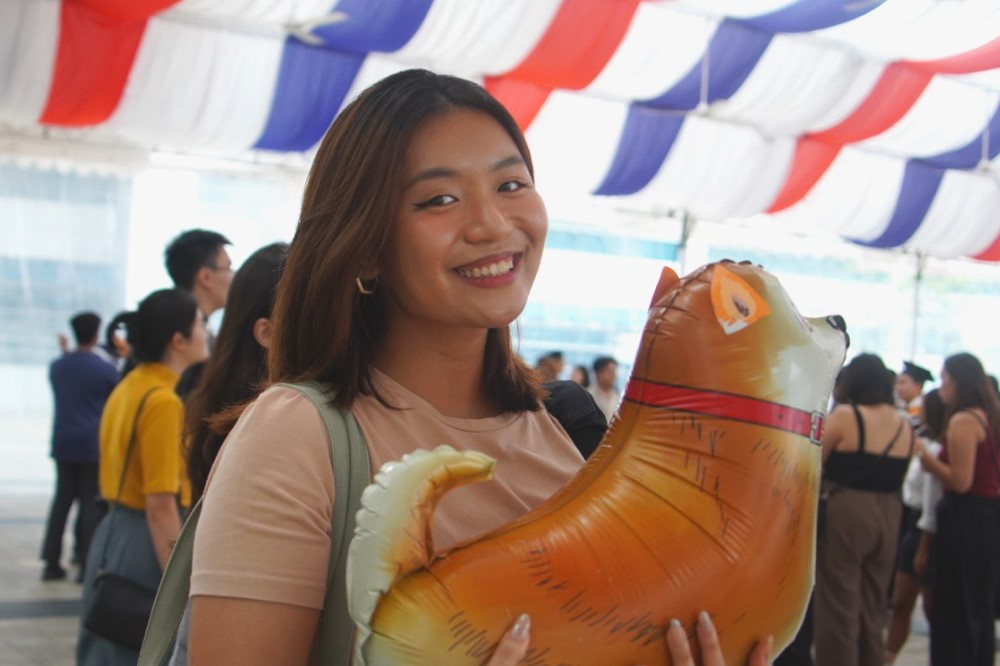 To a happier and healthier me!
Apart from listening to self-help podcasts and reading personal development books, I even went for therapy so I could understand myself better. Surprisingly, my friends and family were supportive of my decision as they wanted the best for me. 
After initial struggles to communicate with a complete stranger, I started becoming more comfortable with sharing my feelings. That coupled with my therapists' advice, I soon improved my relationships with family and friends again. I found myself.
While I don't go for it as often anymore, I pursue my interests in writing and volunteering at animal shelters to give back to my community. And hey, I feel fulfilled AF.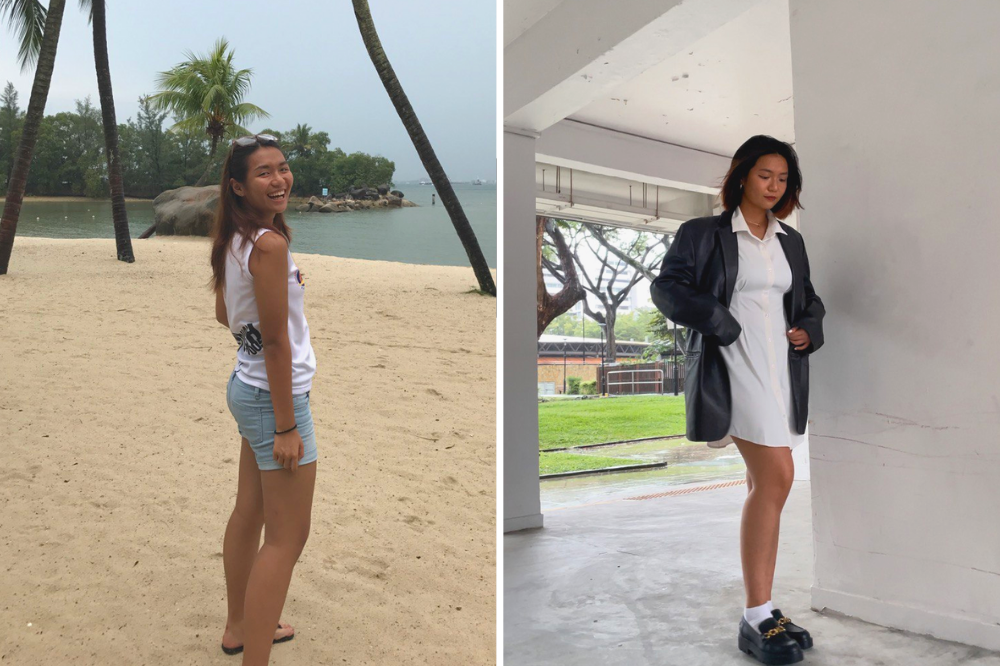 My usual outfit in 2018 vs now
I also learnt that finding self-love goes hand in hand with confidence. In the past, I used to worry about receiving comments on my fashion sense, and I was super self-conscious about dressing up "nicely". I would purposely dress down for school, donning elephant pants and dri-fit shirts everyday, trying to blend in as an unassuming poly kid.
But there was a part of me which knew that I could express my true self through my dressing as I would feel more comfortable in my skin.
Now, I firmly believe that wearing what makes you most comfortable can empower you to slay your day in and out. And when I say this, I'm not referring to the usual clothing pieces like tees, jeans, but even accessories or lingerie. 
Embrace Self-Love, Acceptance & Confidence With Pierre Cardin Lingerie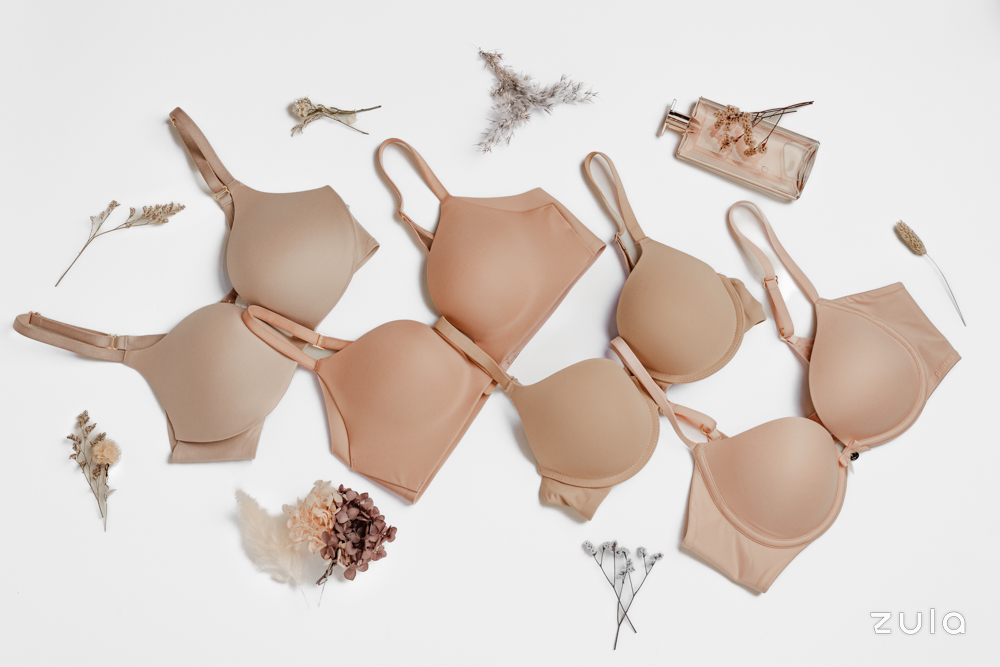 Pierre Cardin's Best 9 Styles — from left: Miracle Comfort; Miracle Wireless; Everyday Cooling Push-up Demi; Miracle Cover-up
While we can find self-love and self-empowerment in knowing who we are and by having strong relationships, we can also establish it through treating ourselves. First introduced to Singapore in 1995, Pierre Cardin's wide array of bras offer a first step you can take to practise self-love.
For me, finding comfortable and functional bras for support gives me the utmost confidence to power through my day. Additionally, since I sweat a lot in Singapore's hot weather, I particularly love their Best 9 Styles range because it's lightweight and super breathable.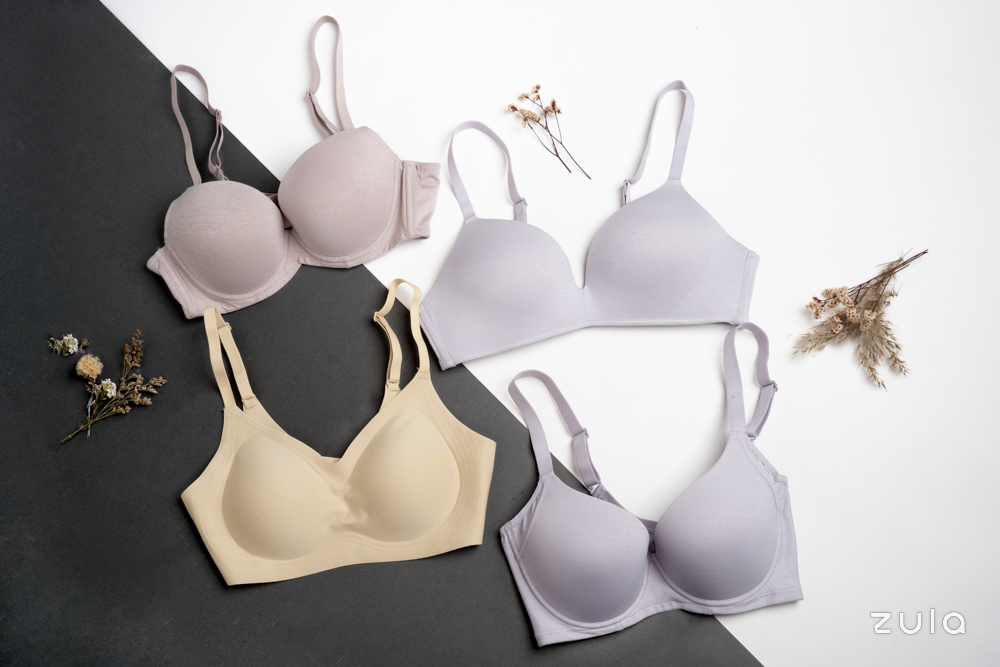 Pierre Cardin's Best 9 Styles — clockwise from top left: Harmonic Padded Demi; Wireless Comfort; Harmonic Full-coverage,  Next-To-Skin Wireless Bralette
Developed by an all-women development team, rest assured that these bras are well-equipped to help you embrace your curves with a feminine touch. If you're thinking of going for a quick yoga sesh, I recommend their Harmonic Full-coverage bra which will give your boobs unconditional support.
Or for date night, you can opt for their Miracle Wireless range for a sexier edge with its deep plunge look. Pair it with a LBD and you'll be channelling feminine energy all night long.
NGL, trying on the range, really boosted my confidence. Their cushy cups are really helpful when I'm running errands or going on spontaneous shopping sprees with my BFFs.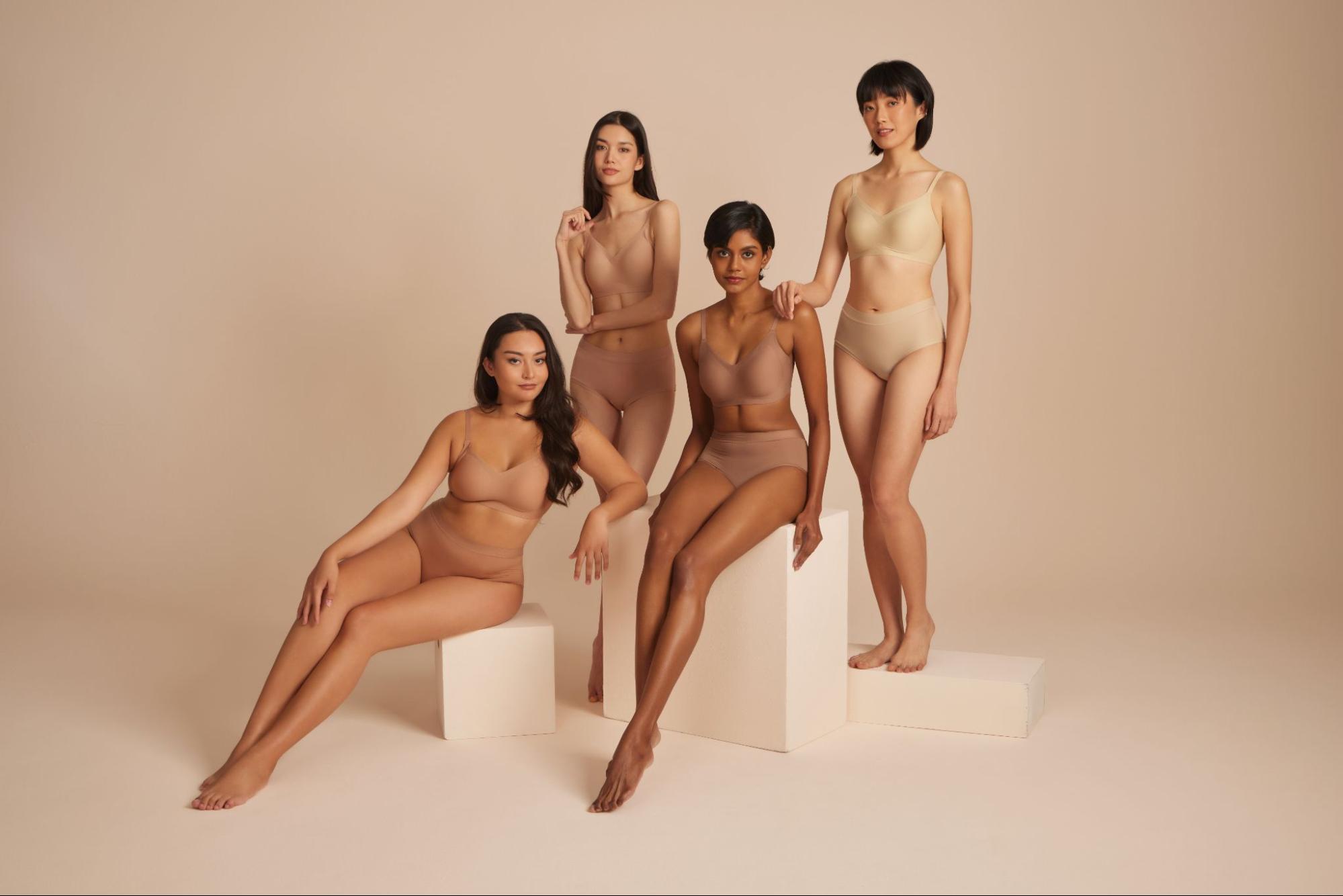 Pierre Cardin's Next-To-Skin collection 
Or, if you prefer bralettes which definitely help you to embrace your own skin, Pierre Cardin's Next-To-Skin collection will be your next go-to for comfortable wear. Its adaptability to various body types will leave you even forgetting that you have it on at times.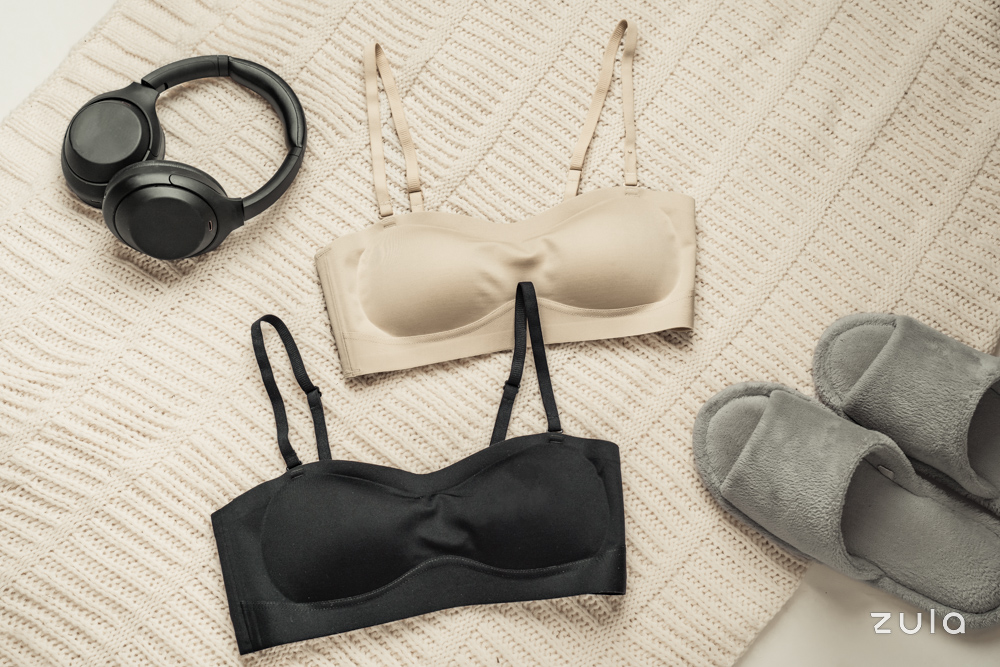 Pierre Cardin's Next-To-Skin collection 
Plus, it's worth noting that this unique series has an inclusive foundation skin tone and earthy shades so there is something for everyone.
So whether you're looking for a T-shirt bra or a skin-like bra which feels smooth like butter, rest assured that Pierre Cardin's T-shirt and Next-To-Skin collection has your back ━ and boobs.
This post was brought to you by Pierre Cardin.
Photography by Liu Xing Ying.