Goodwood Park Hotel High Tea
As we're making our way into the month of October, not only is it Halloween season, but it's also Breast Cancer Awareness month. Goodwood Park Hotel is introducing a special collection of pink high tea treats to commemorate this month, paying tribute to the Breast Cancer Foundation's signature pink ribbon.
From 1 October to 30 November 2021, indulge in some self-care with high tea sets available for dine-in and takeaway — all while increasing awareness and support for early detection, treatment and care for breast cancer. 
The Deli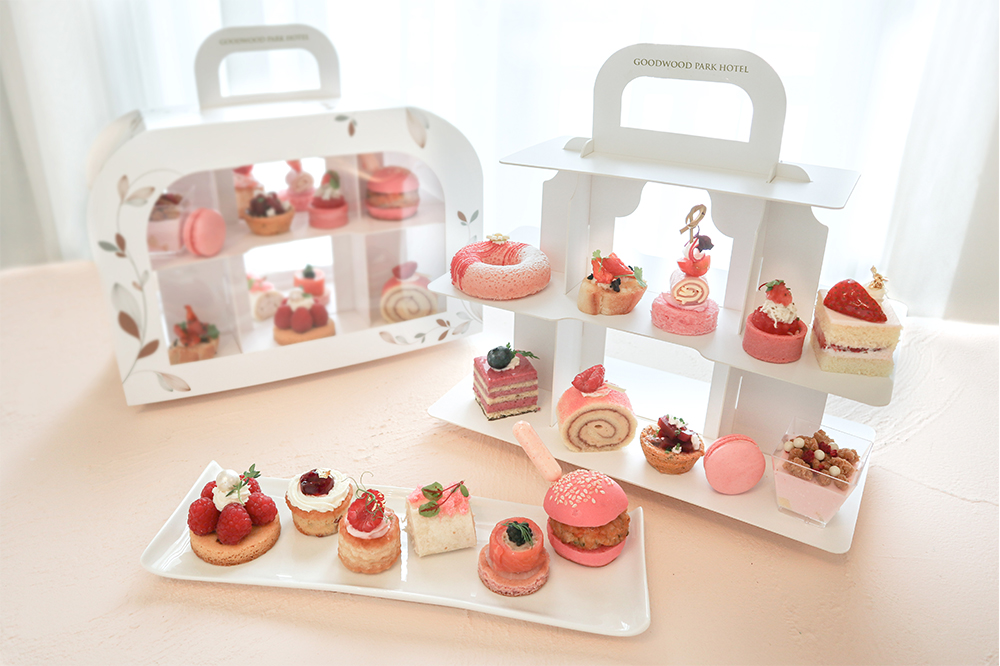 When it comes to pink-themed treats, the first fruits that immediately come to mind are undoubtedly strawberries and raspberries. The Rosy Medley of Sweets features Raspberry Sablé Breton, Morello Cherry Cupcake and Rose Lemon Cheese Mousse — perfect for those with a sweet tooth. 
Don't out on unique pink savouries in the Rosy Medley of Savouries, with Mini Seafood Burger, Hot Smoked Salmon Rillette and Greenland Shrimp with Raspberry and Mango Aioli. To enjoy the best of both worlds, guests can also opt for the Rosy Medley Of Sweets and Savouries that includes an assortment from both sets. 
Each set will be sold at $72 via The Deli. With the rise in Covid-19 cases recently, you can choose to stay home and stay safe by enjoying this high tea takeaway set in the comfort of your home. Delivery is available on The Deli's online website with an advanced order of 3 days required. 
To make your meal even sweeter and more meaningful, Goodwood Park Hotel will be donating $2 to the Breast Cancer Foundation for every Rosy Medley Set sold for the entire month of October.
L'Espresso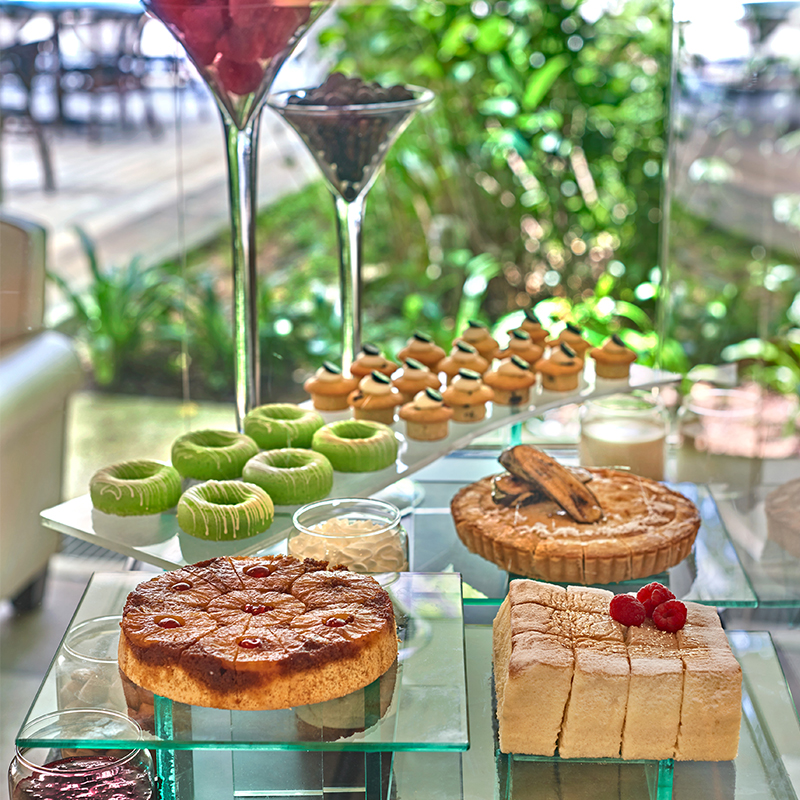 That's not all for the rosy-themed treats. L'Espresso at Goodwood Park Hotel is out to spoil us with an additional English Afternoon Tea buffet during the same period with more pink desserts. Pamper yourself with an endless spread of rosy-hued bites such as the Bacon and Sakura Denbu and Strawberry Macarons.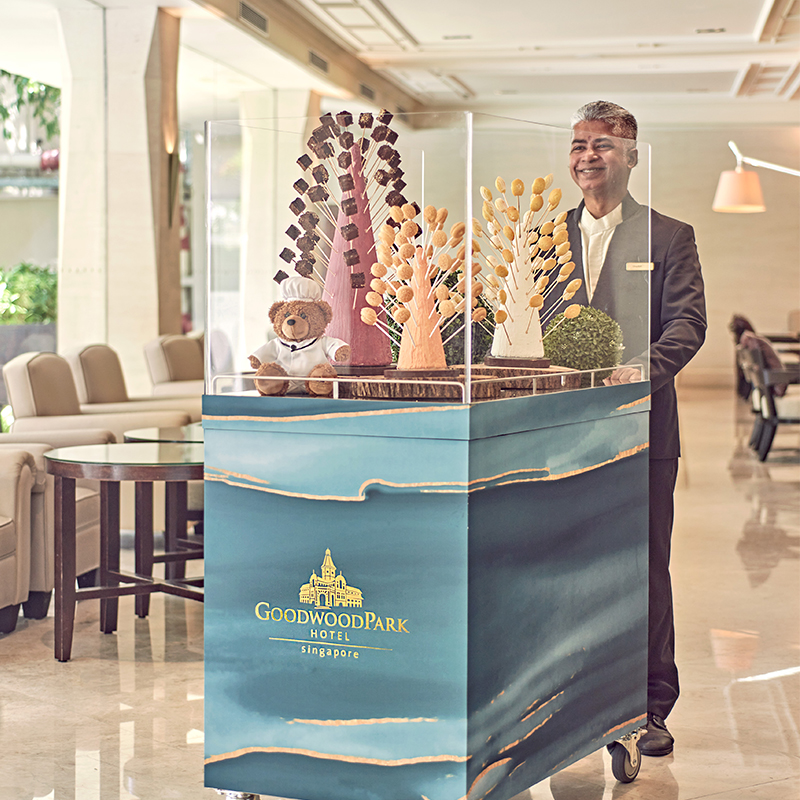 When it comes to high tea, there's always room for more desserts. Keep your eyes peeled for the roving Good Ol' Days Desserts trolley that will be making its way around the buffet venue. The trolley will be filled with a line of sweet treats and classic pastries such as Castella Cake and Mini Pandan Donuts.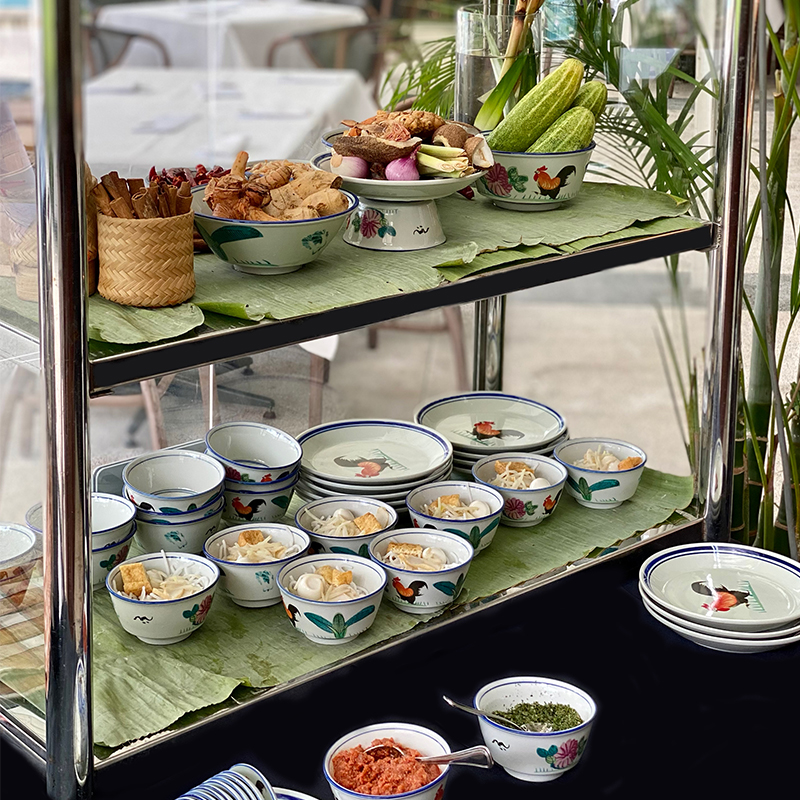 If hawker food is life for you, don't miss out on local delights like Nyonya Laksa and Dry Mee Siam offered during the buffet. After all, there's nothing like a familiar taste of home to get your appetite going.
Of course, a high tea buffet isn't complete without the actual tea drinking. Wash down your hearty meal with a unique blend of TWG teas or other beverages of your choice such as coffee, ice lemon tea and hot chocolate. 
The English Afternoon Tea with Local Favourites and Rosy Medley Specials buffet is available at $60++ per adult and $36++ per child from 6 to 11 years of age.
Mark Breast Cancer Awareness Month With Goodwood Park Hotel's Chio Pink High Tea Promo
Make your high tea experience even more meaningful by doing more and donating to a good cause. For the month of October, Goodwood Park Hotel will be placing donation boxes for the Breast Cancer Foundation at The Deli's counter and at the hotel's reception desk. 
Every high tea dine-in table also has a QR code card for diners to pledge their support, with every minimum $5 donation entitling them a Breast Cancer Foundation Pink Ribbon pin.
Address: 22 Scotts Road, Singapore 228221
Opening hours: 12pm to 2.30pm, 3pm to 5.30pm (Mondays to Fridays) | 11am to 1pm, 1.30pm to 3.30pm, 4pm to 6pm (Saturdays and Sundays)
Booking: Fill in the booking form on its website, call 6730 1743 or email lespresso@goodwoodparkhotel.com
Contact: Call 6730 1743 or email lespresso@goodwoodparkhotel.com
Website | Facebook | Instagram
All images courtesy of Goodwood Park Hotel.
Also read:
14 High Tea Takeaway Sets In Singapore For An Atas Break While Working From Home