Hadilao Wedding In Singapore
As if the endless Haidilao stores across the country isn't telling enough — Singaporeans love hot pot. Whether it's comfort food on rainy days or post-drinking supper at 3am, there's no fixed time to indulge in a hearty bowl of mala or tomato soup. 
Instagram user @princessamantha recently attended the wedding of her friends, Ya Ting and Yao Zhong, as a bridesmaid. Taking the Haidilao love to the next level, the wedding was held in Haidilao Marina Square, with a whimsical pink carpet right at the mall entrance.
The wedding ceremony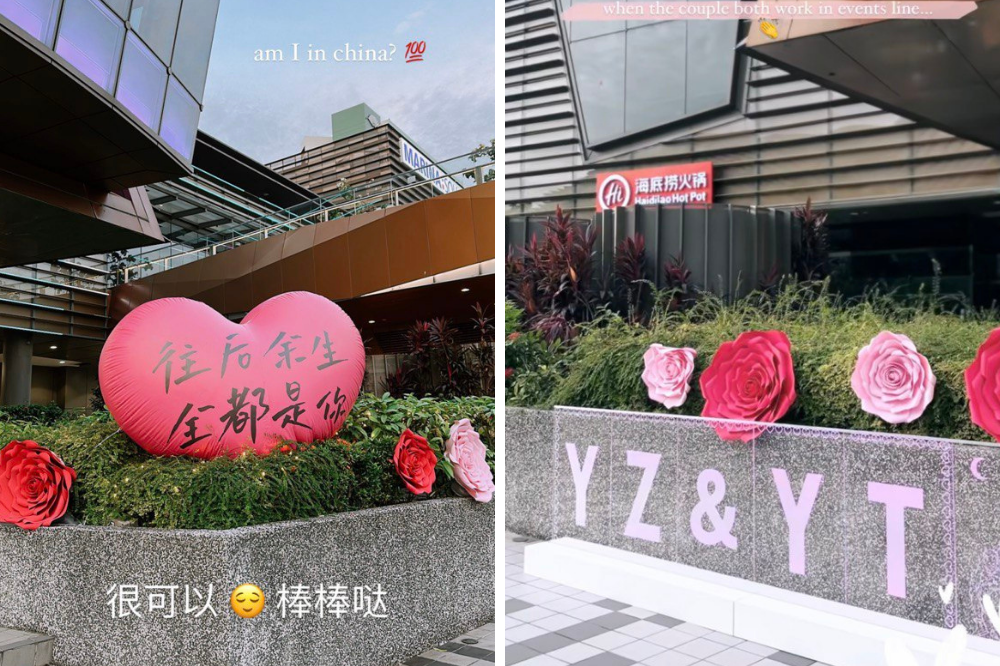 According to Samantha, apart from booking the entire Haidilao store, the couple also had to get permission from Marina Square to have the wedding reception at the mall entrance. 
Wedding decor was spotted along the entrance of the mall, such as this adorable pink heart balloon with the words "往后余生 全都是你", which roughly translates to "for the rest of my life, it'll always be you". Fun fact: these are also the lyrics to a popular mandopop song. 
Wedding guests and mall shoppers alike could also view the couple's initials, "YZ & YT", on the exterior of the mall.
To get to Haidilao, wedding guests had to first walk into the mall via a large pink carpet at the entrance, decked with flowers and a wedding arch.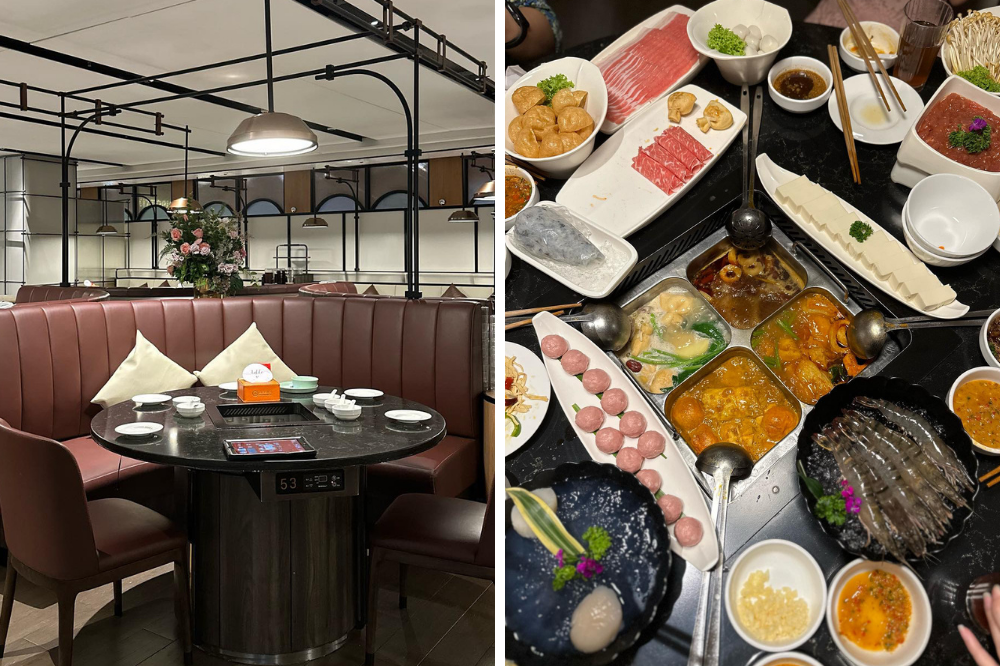 Tables at Haidilao were labelled for the guests
Of course, it isn't a Haidilao wedding without their iconic soup bases and hot pot ingredients for dinner. It's a fun twist to the typical banquet dinner that wedding guests would be served at a hotel.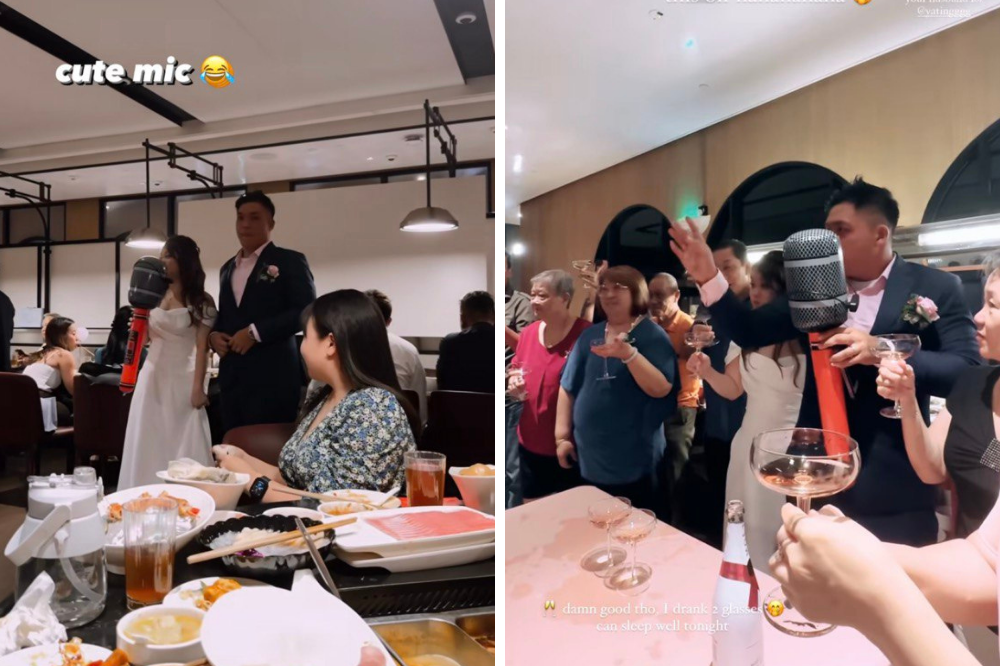 Much to the guests' amusement, the bride and groom also gave a speech via a giant microphone balloon. 
And no wedding is complete without the traditional yam seng, where everyone raises their glasses to congratulate the couple on their marriage. This event seemed to be led by the enthusiastic groom, who was joined with the couple's loved ones, all while still holding the inflatable microphone in one hand.
This Haidilao Wedding In Singapore Is A Unique & Fun Way To Celebrate A New Life Milestone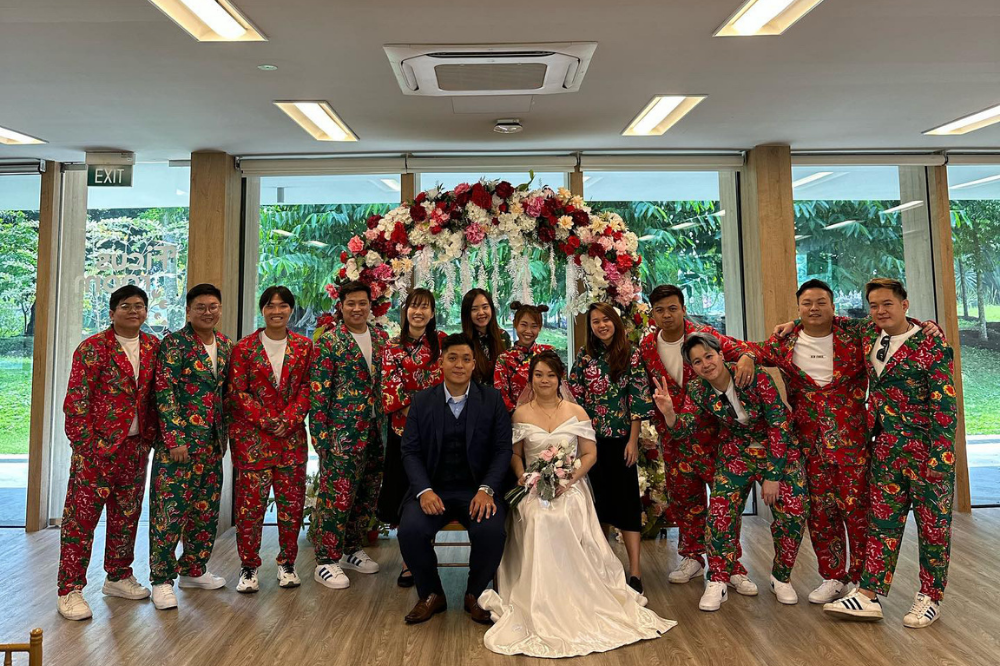 The couple with their floral-themed bridesmaids and groomsmen 
Weddings are viewed as the biggest day of our life, so naturally, many of us hope to have a memorable one to fondly look back on. As Singaporeans are slowly gravitating away from traditional hotel weddings, this also means that there is a rise in unique wedding locations, such as this Haidilao wedding. 
Perhaps this wedding ceremony might also inspire you to think out of the box for the next time you decide to tie the knot with bae. 
All images courtesy of @princesssamantha.
Also read:
This Singaporean Couple Created DIY "Wedding Magazines" With Bingo Cards To Celebrate Their Big Day