Hair Loss Treatment For Postpartum Hair Fall
Like most people, I have bad hair days. Frizzy strands and chunks of unruly hair can occasionally turn me into Hagrid and cramp my everyday style. However, nothing could quite prepare me for the bad hair phase I went through after giving birth to my first child.
During my pregnancy, hormonal changes blessed me with fuller, glossier hair. My healthy hair made me look more youthful, which gave me a much-needed boost of confidence. After I gave birth, my hormones fluctuated again, and I experienced massive hair loss.
Experiencing hair loss as a new mum
Besides caring for an infant and worrying about others judging my parenting skills, I was also concerned about losing the weight I'd gained during pregnancy. I didn't have a dedicated helper, so I wasn't able to work out much. When I first noticed alarming clumps of hair on the shower drain cover, my heart sank.
The accelerated hair loss added to the overall anxiety I was feeling. The parting in my hair appeared more prominent, and when I gathered my hair into a ponytail, it felt thinner—another blow to my self-esteem.
After a bit of research, I found out that new mums shed about 400 strands of hair every day. That's a huge jump compared to the usual 80 to 100 strands. In a bid to strengthen my hair, I tried using anti-hair loss and deep cleansing shampoos. These products worked for a while, but the root of the problem remained.
So when I was offered the chance to try Topp Care Hair Solutions' Hair Loss Prevention Treatment, I jumped at the opportunity immediately.
Visiting Topp Care Hair Solutions
Located on the third floor of Eastpoint Mall in Simei, Topp Care Hair Solutions specialises in hair and scalp care. From hair loss to greying hair, its services are specially customised for those who struggle to manage their mane regularly.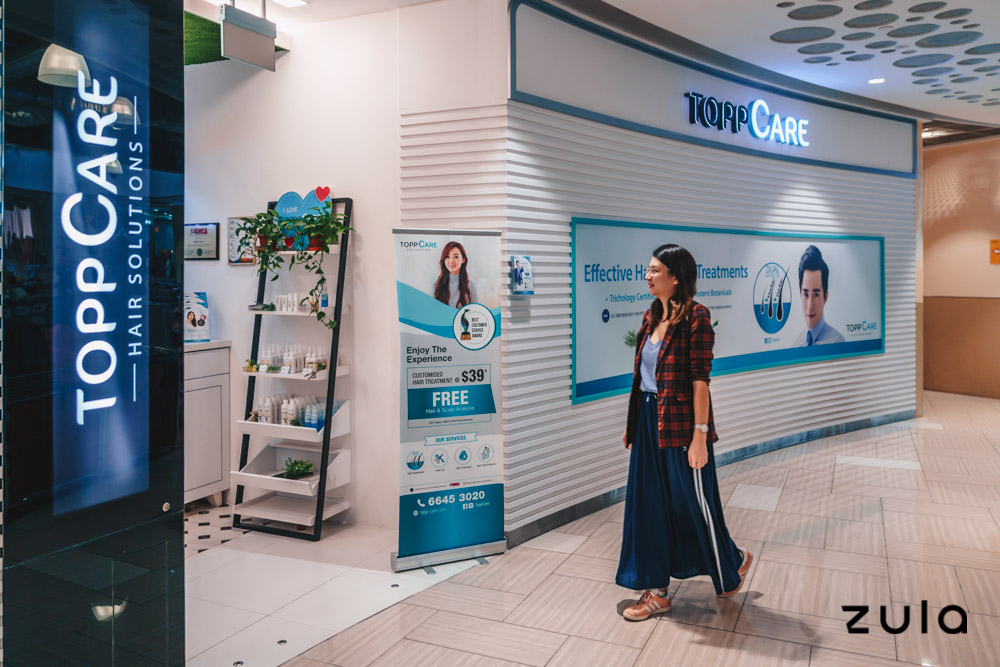 As I walked into Topp Care Hair Solutions, I was greeted by a welcoming interior that was minimalist, clean and well-lit, which put me at ease instantly. Then, I was ushered into a private room for a consultation.
The consultation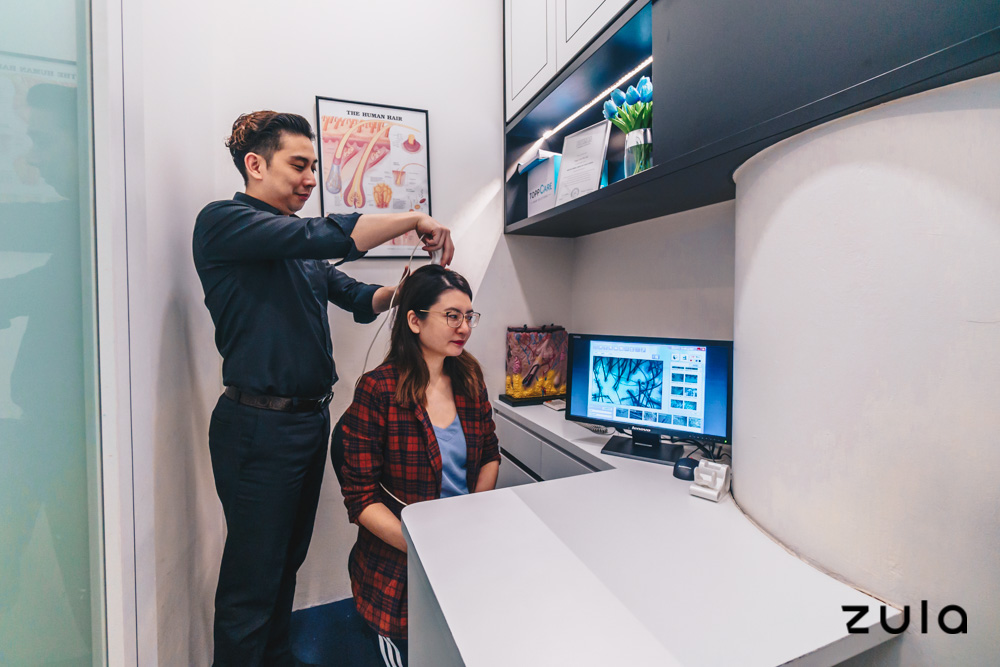 The consultation room was compact but cosy, outfitted with a computer screen and a handheld device. The consultant gently placed a handpiece on my scalp to take magnified images, so he could show me the condition of my scalp and hair roots.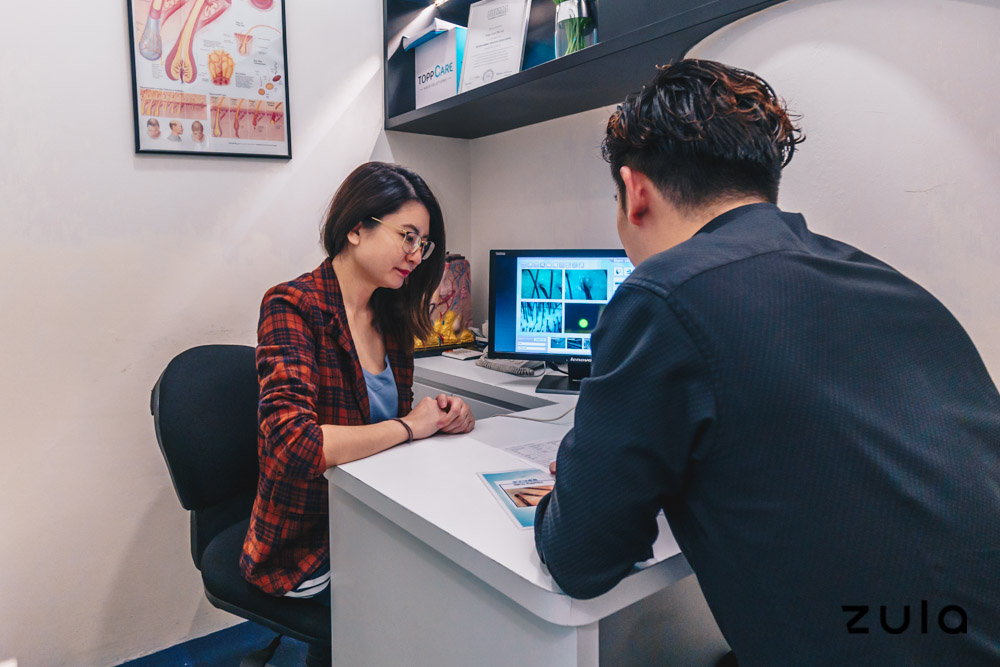 The consultant explained my scalp condition to me after the scan
Shiny patches and pink areas appeared on the computer screen, which indicated a greasy scalp and skin sensitivity. Though my hair is thick, the consultant told me that my hair pores were "ageing", so the hair follicles in these pores aren't as strong and may fall off easily.
Topp Care Hair Solutions' Hair Loss Prevention Treatment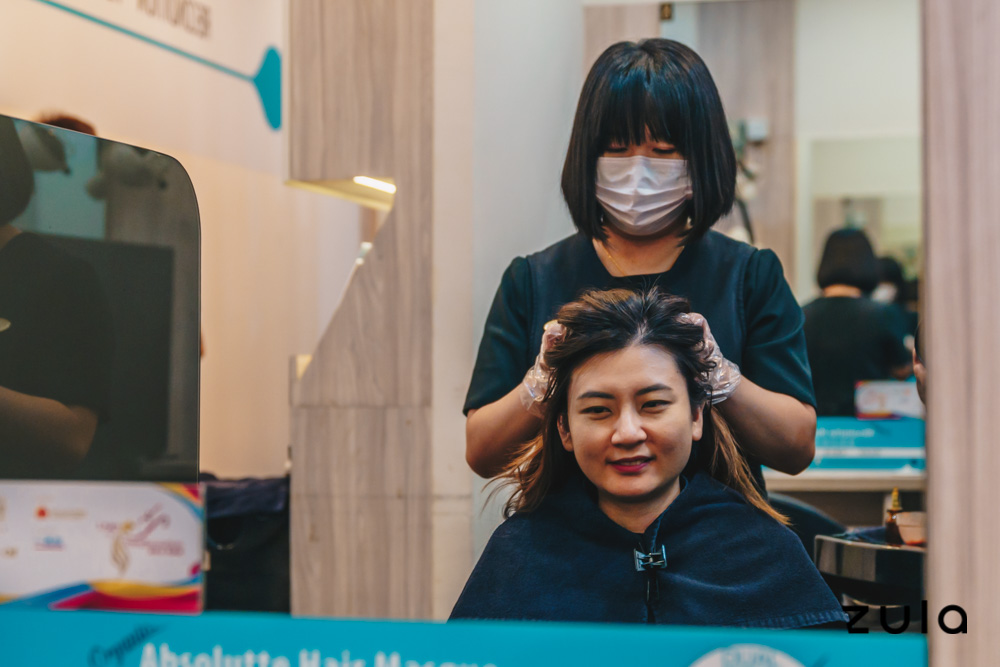 After the consultation, I was led to the treatment area. The partitions between the treatment stations provide sufficient personal space for you to feel comfortable and I settled into my seat immediately.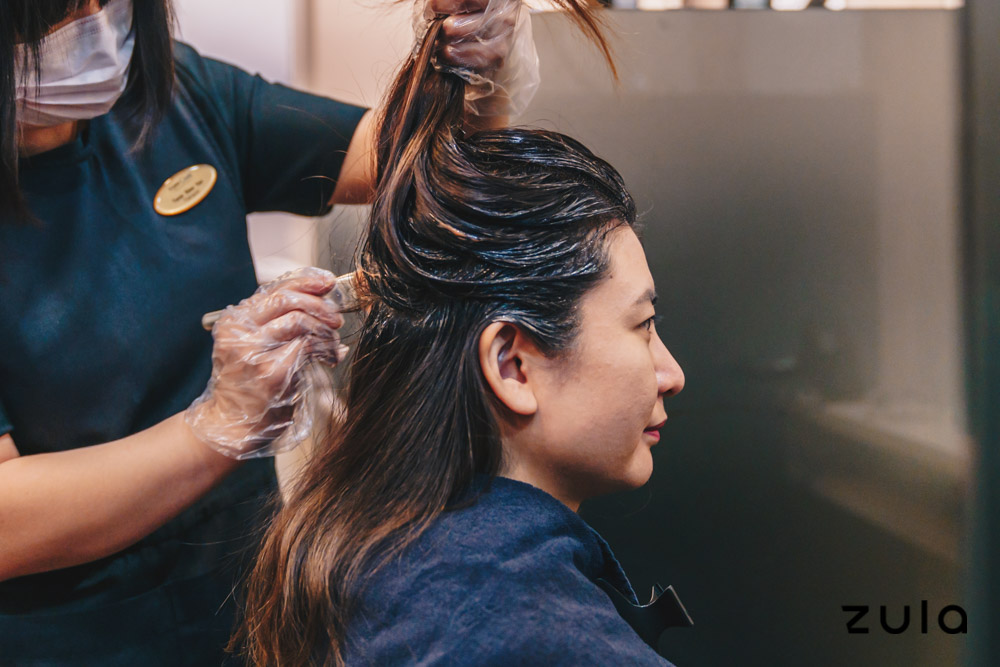 First, the therapist gave my scalp a deep cleanse using a pre-treatment lotion. Then, she applied a cooling masque to prevent hair loss, which felt refreshing after a long day at work.
This hair and scalp treatment contains various botanical extracts such as Thuja Orientalis, which helps to stimulate hair growth by supporting each follicle's regenerative functions.
Excess sebum can lead to clogged scalp pores, providing the perfect environment for bacteria to thrive in. That's why this treatment deeply cleanses the scalp to regulate sebum production and halt the growth of bacteria for healthier hair.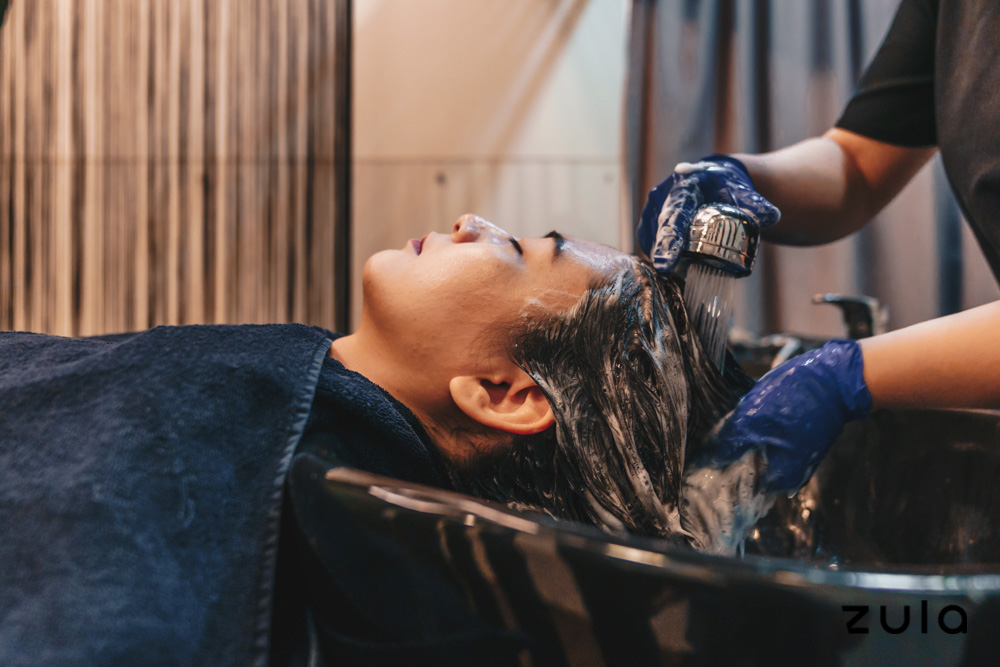 After 20 minutes, I was escorted to the shampoo area for a rinse. As the therapist cleansed my hair, she gave me a haircare tip. Instead of scrubbing my scalp with my nails while shampooing, I should gently massage my scalp with my fingertips. This helps to prevent any irritation, which could cause flaking or wounds.
To further nourish my hair and scalp, the therapist applied the Hair Fall Rescue Lotion onto my scalp and stimulated blood circulation with a soothing massage.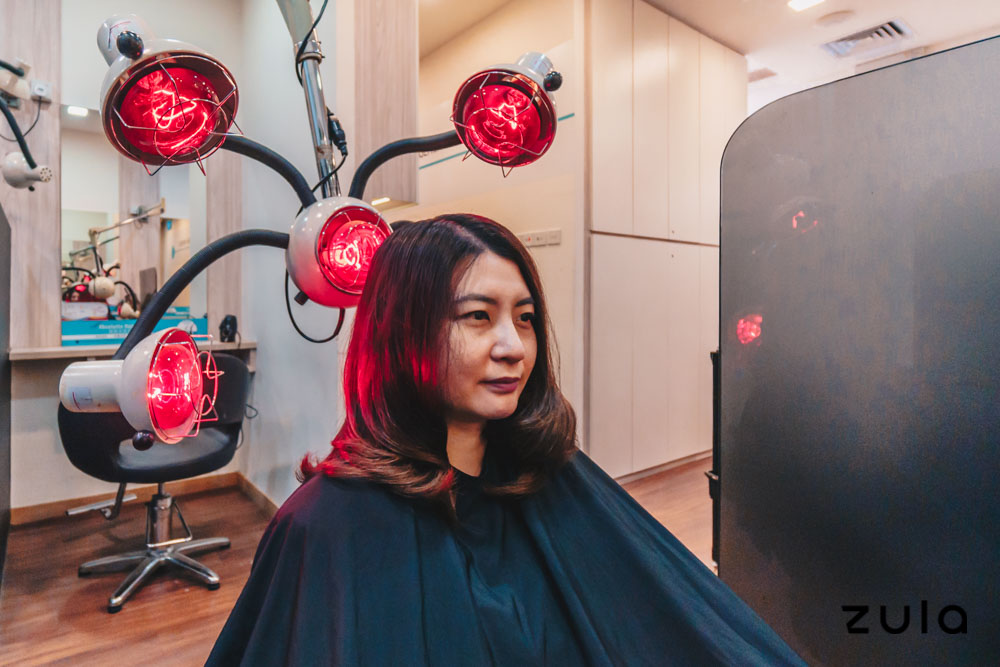 After the therapist blow-dried my hair, she brought out an infrared light therapy machine, which reminded me of Spiderman villain Doctor Octopus. Red light therapy has been found to increase blood flow to the scalp, which means it speeds up hair growth.
The lamps surrounding my head produced a slight warming sensation when the machine was turned on. I was left to chill in my chair for another 10 to 15 minutes.
The results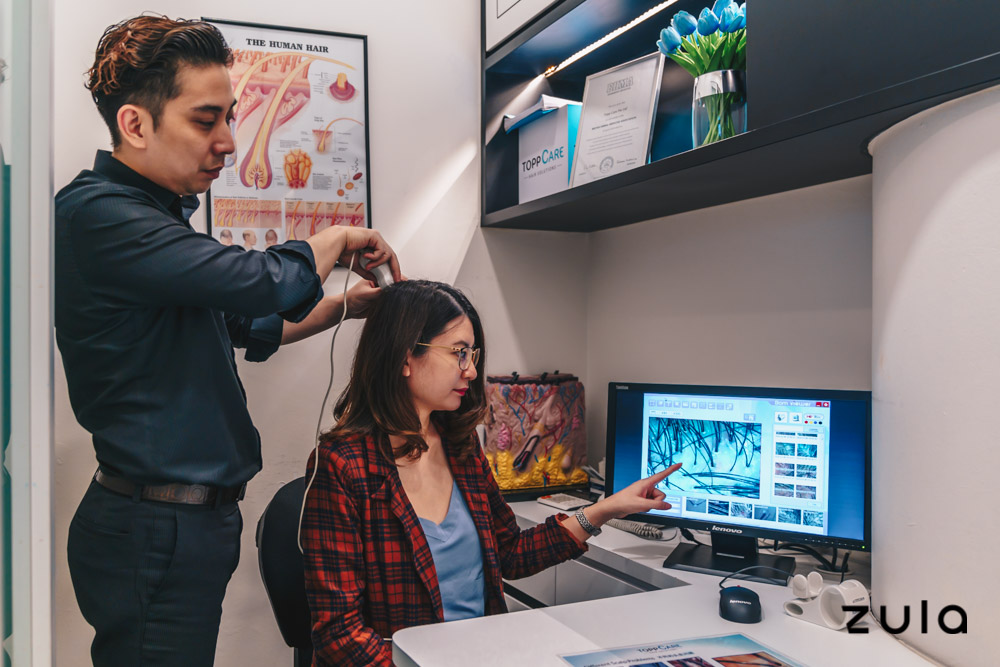 When the infrared light therapy session was completed, I was brought back to the consultation room for a second scalp scan.

How my scalp looked before (left) and after (right) the treatment
From the images, my scalp looked visibly less oily and more refreshed compared to the initial scan. The treatment masque sopped up most of the grease, so my hair pores didn't look as clogged as before. My hair felt lighter and my scalp felt less tense, which is likely due to the relaxing massage and soothing herbs in the treatment masque.
Topp Care Hair Solution's Shampoo & Conditioner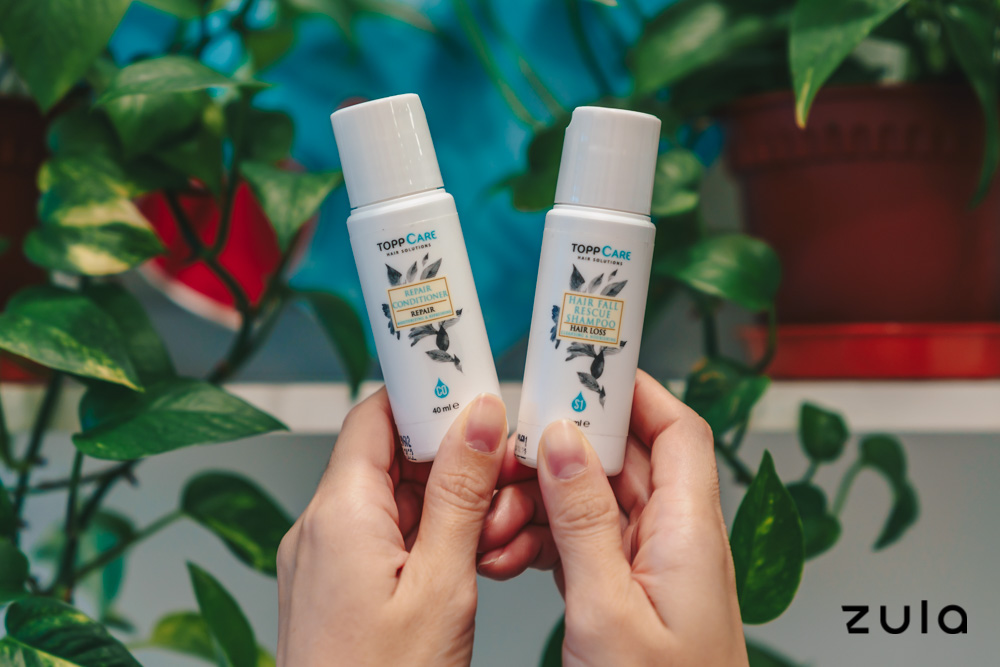 Since I was there for my first trial, the consultant gave me travel-sized bottles of Topp Care Hair Solution's Hair Fall Rescue Shampoo and Repair Conditioner to take home.
The shampoo bears a citrusy scent, while the conditioner smells more sweet and powdery. I liked that the shampoo cleanses without drying out my hair, and the conditioner managed to detangle my hair and smooth out any frizz without feeling heavy.
For thinning and greying hair
Experiencing postpartum hair fall was traumatising, but I felt more assured after trying out Topp Care Hair Solutions' Hair Loss Prevention Treatment. However, I was also concerned about facing thinning and greying hair in the future.
To address both hair issues, the consultant recommended I try Topp Care Hair Solutions' Signature Absolutte Masque Hair Treatment on my next visit here. This hair treatment counteracts age-related hair changes while providing essential nutrients to prevent hair loss—the first to target 2 hair concerns at the same time.
Gardenia Florida, rosemary and sage extracts are key ingredients used in Topp Care Hair Solutions' Signature Absolutte Masque Hair Treatment. Gardenia Florida extract is rich in antioxidants and produces a deep colour to strengthen and darken hair naturally, while both rosemary and sage contain natural oils that stimulate hair growth.
How I Got My Hair Confidence Back After Giving Birth
I found Topp Care Hair Solutions' Hair Loss Prevention Treatment relaxing and fuss-free, which is perfect for new mums. My hair loss decreased significantly—by at least 50% compared to my usual amount of hair fall—for 3 consecutive days after the treatment.
Before (left) and after the treatment (right)
The therapist also styled my hair beautifully, so I felt more confident stepping out into the weekend with healthier and smoother hair. Treatments like these usually take a few sessions for a visible difference in hair volume, but from the improvement I've seen with just one session, I already trust Topp Care to keep my hair in tip-top shape.
If you're struggling to manage hair fall, try Topp Care Hair Solutions' Hair Loss Prevention Treatment. You can enjoy the treatment at $40 (U.P. $269) and receive a complimentary travel-sized hair care kit to take home.
This post is brought to you by Topp Care Hair Solutions.
Photography by Kenneth Chan.