Heinz x Gong Cha Tomato Bubble Tea 
It's no secret that most of us are avid bubble tea lovers, with some of us even indulging in multiple cups a week. Guilty as charged. However, one popular BBT outlet has decided to bring the game of boba to new heights. Gong Cha and familiar sauce brand Heinz, have collaborated on a new series of tomato bubble tea, and yes, you can drink them straight from ketchup bottles. Read on to find out more about this new tangy treat.
Tomato Bubble Tea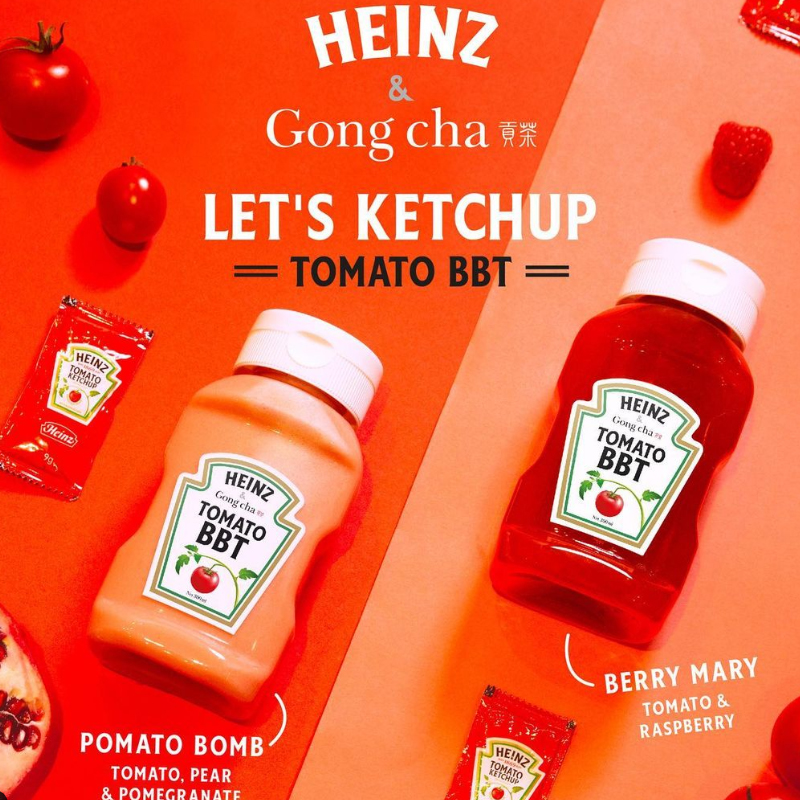 Source
If you thought you've seen enough strange combinations like cabbage Nike Airs, think again. This new BBT series is cleverly called "Let's Ketchup", and brings to the table two new drinks – titled Pomato Bomb and Berry Mary. 
Even though both drinks just look like tomato ketchup in different colours, they are actually added with other fruity ingredients. 
For Berry Mary, the concoction is made up of tomato and raspberry. The red colouring might make some think it's just ketchup, but hey, don't diss it until you try it – maybe it'll taste better than a Bloody Mary. Pomato Bomb, on the other hand, has notes of pear and pomegranate in it, which definitely turns up the exotic factor. 
Ketchup Bottle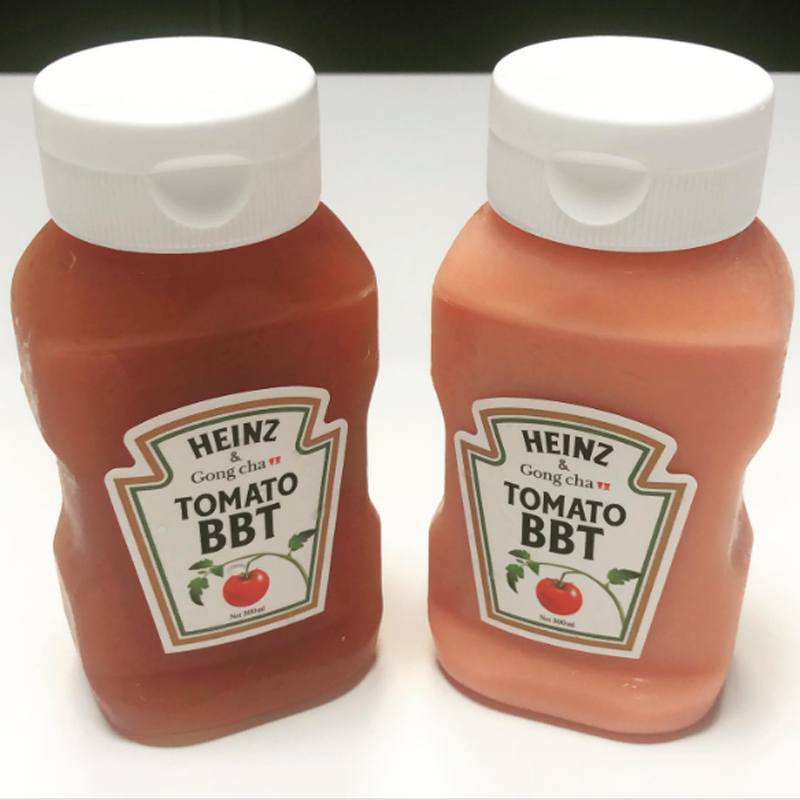 On the left is Berry Mary (left) and on the right is Pomato Bomb (right)
Source
The saying "what matters is on the inside" doesn't apply here, because the best part of this new series is the packaging the drinks come in. Designed just like the Heinz's signature ketchup bottles we see in food joints; the only difference is that the label has been altered to add Gong Cha's logo and the text has been changed to "Tomato BBT". 
You can also reuse this bottle after you're done drinking them, as it is made out of plastic. As Halloween is coming up, you can even fill this with fake blood for part of your costume. 
The Heinz x Gong Cha Tomato Bubble Tea Is Here For A Limited Time Only 
Tomato haters might change their mind to try this new Tomato BBT series from Heinz x Gong Cha. Each drink from the series costs $7.80, and is available from September 29 2022 onwards at all outlets. It's while stocks last, so make sure you run, don't walk to your nearest Gong Cha branch.
Also read:
Pandora Now Has A Bubble Tea Dangle Charm To Flaunt Your Love For The Sugary Drink