Hello Kitty x Dr. Martens
Dr. Martens just announced that it will be releasing a new collection featuring our feline bestie, Hello Kitty. The collection includes 4 pairs of shoes, 2 pairs of socks and a bag—all in classic black.
Leather ankle boots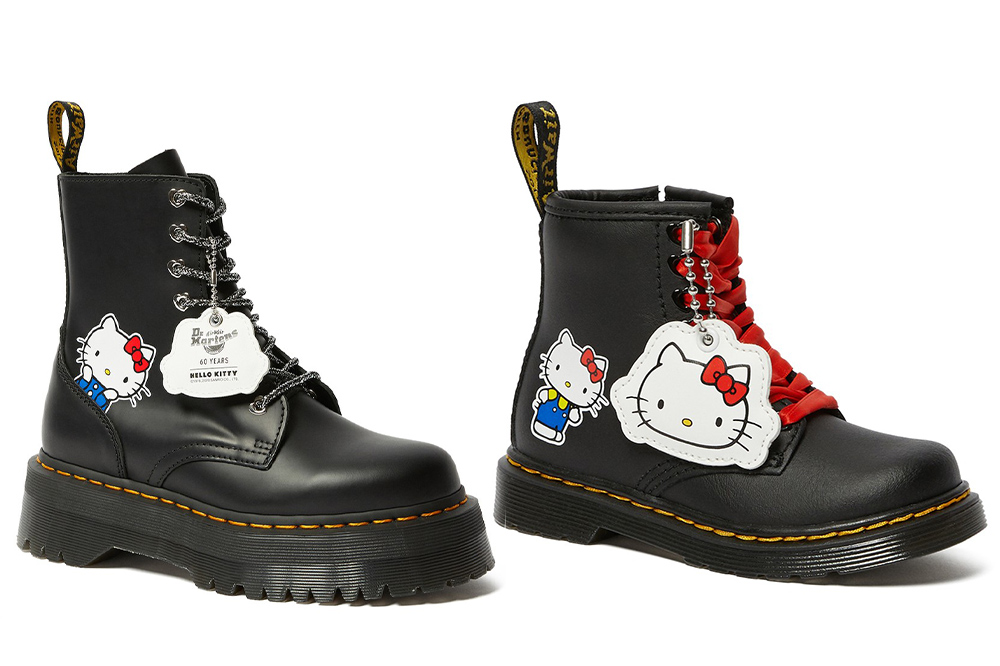 The first product featured in the collection is the classic Dr. Martens leather ankle boots, available in 2 iterations. 
The first design is a pair of Jadon leather platform  boots laced with a rugged-looking grey shoelace. 
The second is the 1460 kids boots, accented with a striking red ribbon shoelace resembling the one Kitty wears on her head. 
Both shoes feature kitty peeking out from the side of shoe in an inquisitive manner. These shoes exude punk vibes and make sure everybody know who's the alpha kitty.
Platform leather shoes and sandals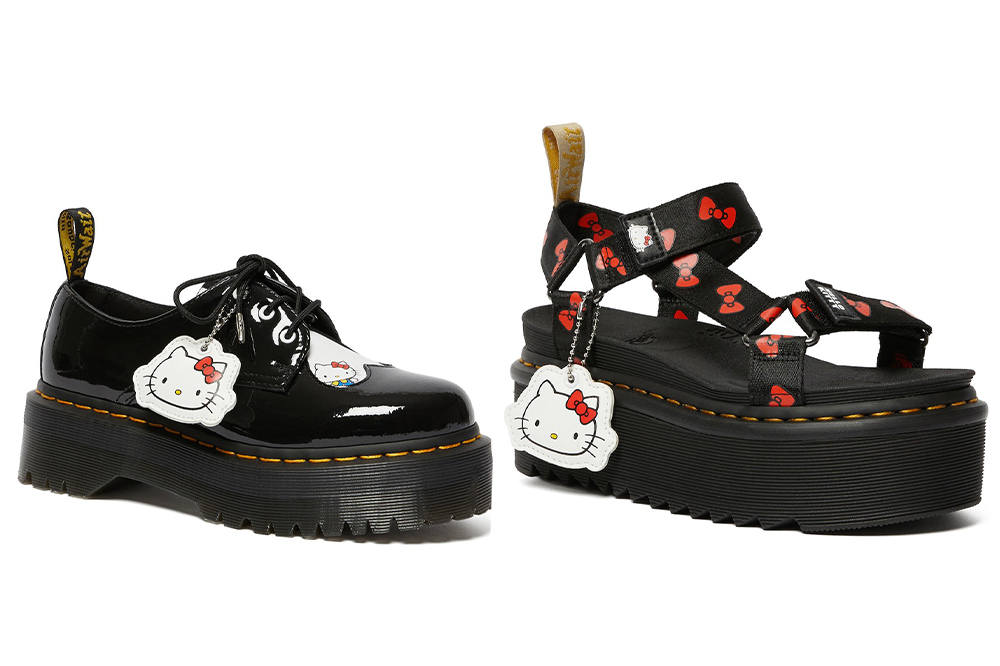 A pair of platform leather shoes and sandals will also be released. The 1461 Quad leather platform shoes come in a glossy finish with an adorable heart shape cut-out on the top of the toe box, revealing the white tongue. Hello Kitty is once again seen peering out from the corner of the cut-out.
If you prefer something more eye-catching and vibrant, consider opting for the Vegan Sandals instead. Its straps are dotted with her signature red bow motif, making it rebellious-looking and sweet at the same time. 
Socks & a shoulder bag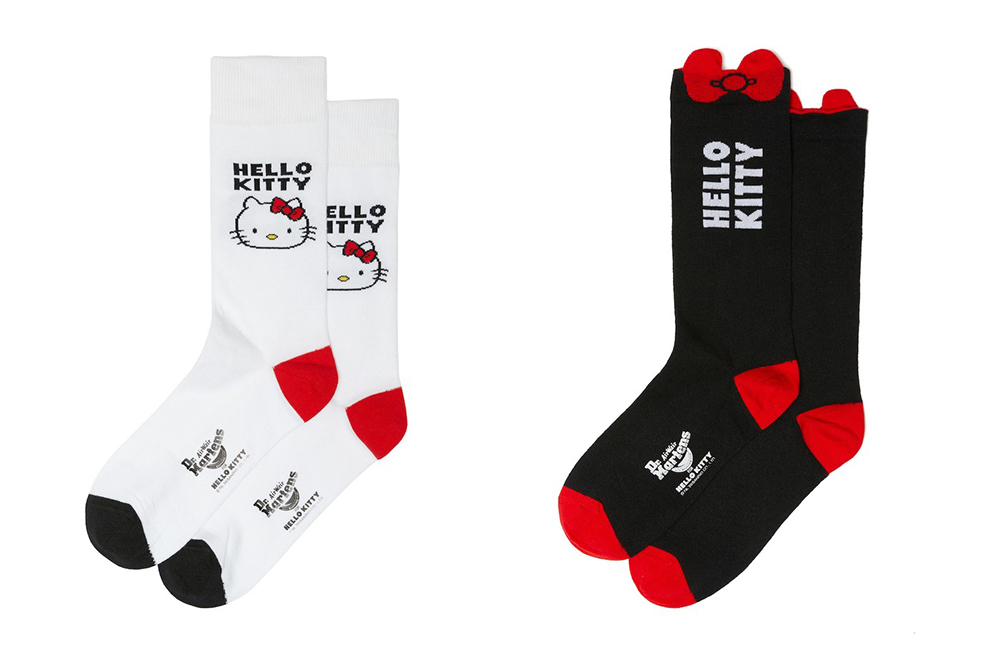 On top of shoes, Dr. Martens will also be including socks and a shoulder bag in the collection. Available in black and white, these high socks will match any of the shoes above to complete that J-Pop girl look. With the words 'Hello Kitty' plastered loudly and proudly on the sides of both socks, no one will be able to deny you your title of being the 'Number 1 Hello Kitty fan'.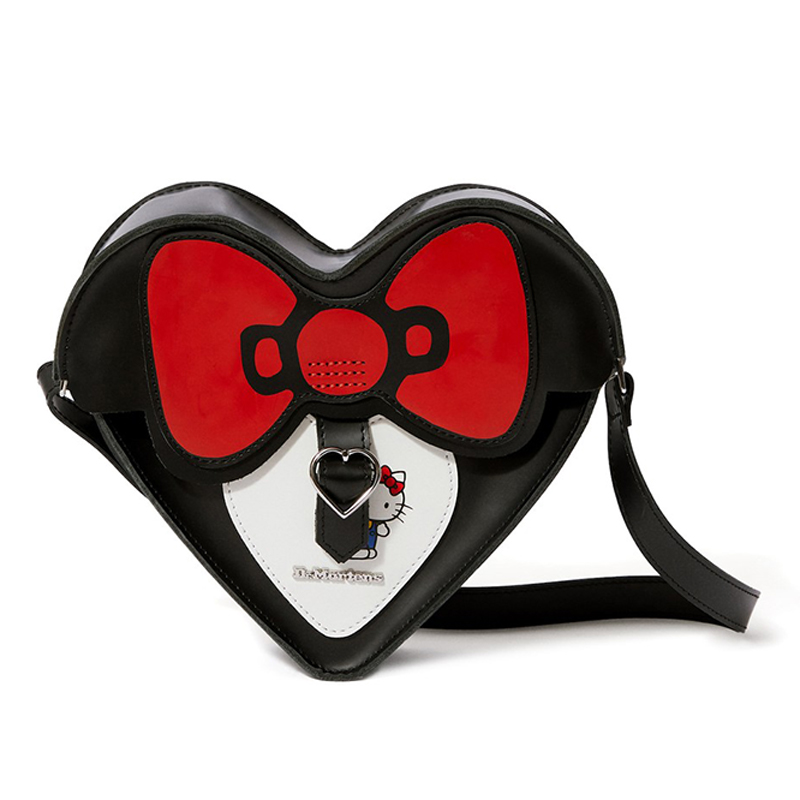 Finally, top your ensemble off with a heart-shaped shoulder bag. A huge red bow acts as the front flap, accompanied by a silver heart-shaped buckle. This bag is the perfect size for a casual day out to store your necessities, like your Hello Kitty EZ-Link card. Super kawaii.
The Upcoming Hello Kitty x Dr. Martens Collection Is Punk Meets Kawaii
The Hello Kitty x Dr Martens collection will be available in Singapore soon. Stay tuned to its Facebook and Instagram pages for more information.
Also read:
All images courtesy of Dr. Martens.