Hello Kitty Theme Parks & Cafes
2020 has been a roller coaster ride so far. While we're all grounded for the time being, many of us are seeking to cure our wanderlust by making travel plans consisting of future holiday destinations. With adorable decorations, Instagram-worthy food and irresistible merchandise, these 10 Sanrio and Hello Kitty theme parks and cafes across Asia deserve a spot on every Sanrio fan's travel bucket list.  
1. Hello Kitty Smile in Awaji Island, Hyogo, Japan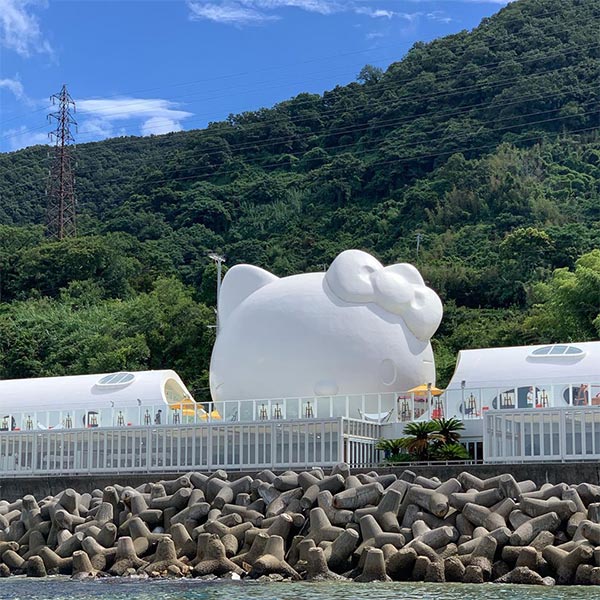 Source
With an 11-metre tall and 14-metre wide Hello Kitty head greeting would-be visitors, Hello Kitty Smile is striking even from afar. The massive building lies on Awaji Island, situated west of Osaka and south of Kobe. What lies within is equally impressive, with a museum, restaurants and a projection mapping theatre.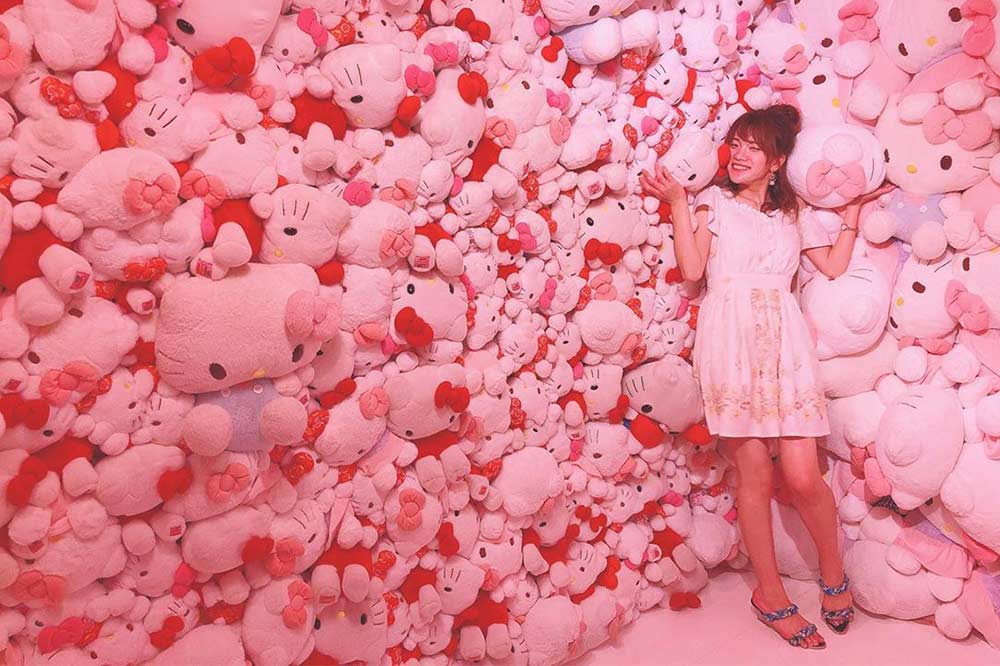 Source
Otohime is a goddess from Japanese folklore, and Hello Kitty Smile's Otohime Dragon Palace features Hello Kitty dressed as the mythical creature. There are 8 different areas for you to explore. Make your way through a mirror maze, a sparkling kaleidoscope and end off at Hello Kitty's Room.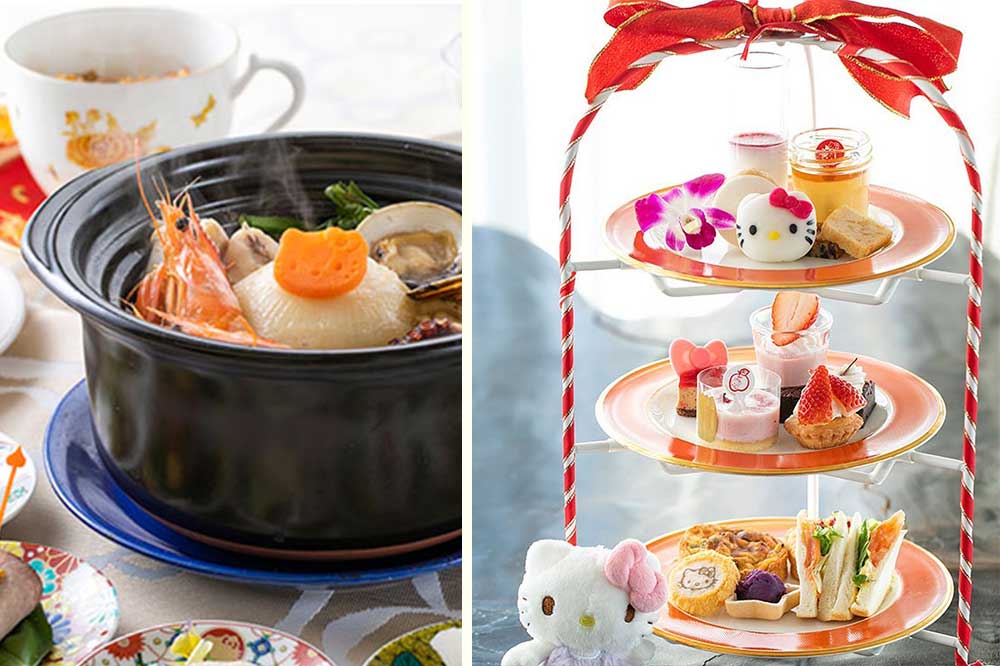 Source, source
Enjoy some fancy fare at Hello Kitty Smile's 4 restaurants, all of which offer glorious views of the sea. If you're craving hotpot, try Restaurant Tamatebako and choose among their collagen, anti-ageing and stamina one-person hotpots. Alternatively, check out Party Balcony if you would rather have high tea with seasonal sweets.
Address: 985-1 Nojimahikinoura, Awaji, Hyogo 656-1721, Japan
Opening hours: 11am to 8pm (Wednesdays to Mondays) | Closed on Tuesdays
Website | Facebook | Instagram
2. Hello Kitty Apple Village in Miaoli County, Taiwan
Source
Hello Kitty Apple Village features Hello Kitty and her Sanrio friends as decorations, wallpaper and even on tableware. The restaurant has many unique seating areas, with picnic mats laid out on artificial grass and giant apple hollows. The mini playground area, complete with a ball pit and slide, is sure to charm young ones too.
Source
Other Sanrio favourites such as Gudetama also appear on the menu, which includes hearty fare like omurice.
Address: 1355 Zhonghua Road, Toufen City, Miaoli County, 35156 Taiwan
Opening hours: 11am to 8pm (Tuesdays to Sundays) | Closed on Mondays
Facebook | Instagram
3. Hello Kitty Island in Jeju Island, Korea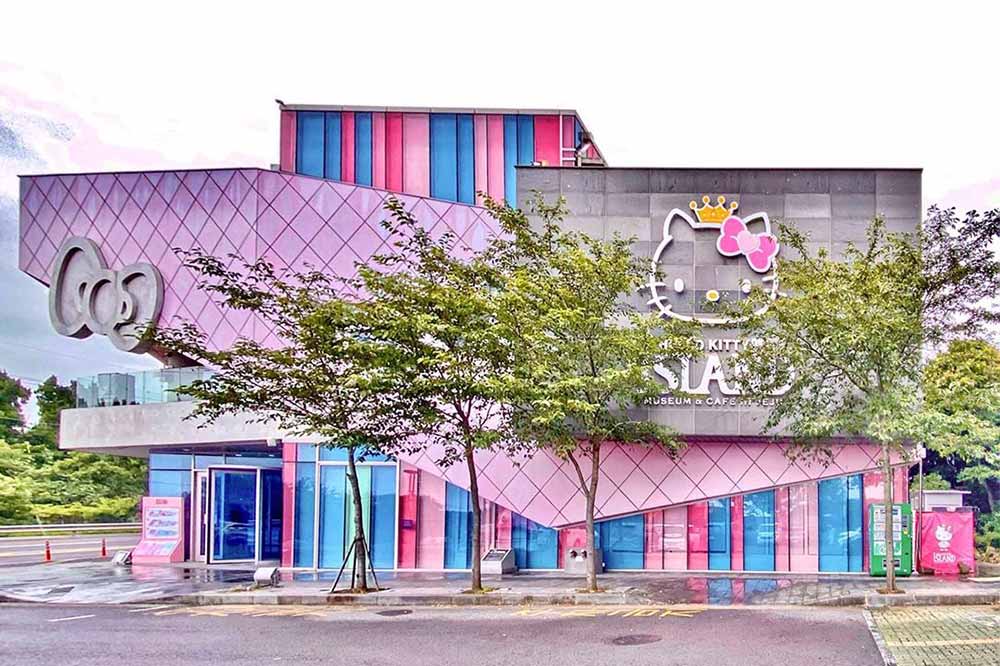 Source
For die-hard Hello Kitty fans, this vast museum and cafe on Jeju Island dedicated to your favourite feline is a must-visit.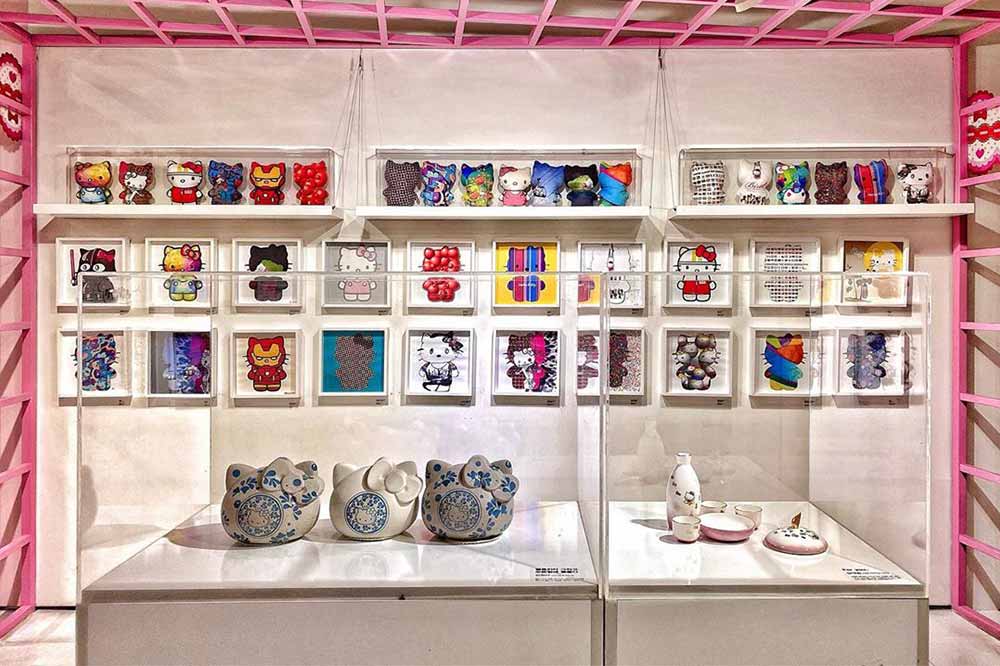 Source
From the Kitty History Hall to the Art Gallery and Music Education Hall, it's a fun and engaging way to get your Kitty and culture fix. You can even take part in activities like boarding a pirate ship, or star-gaze at Hello Kitty constellations.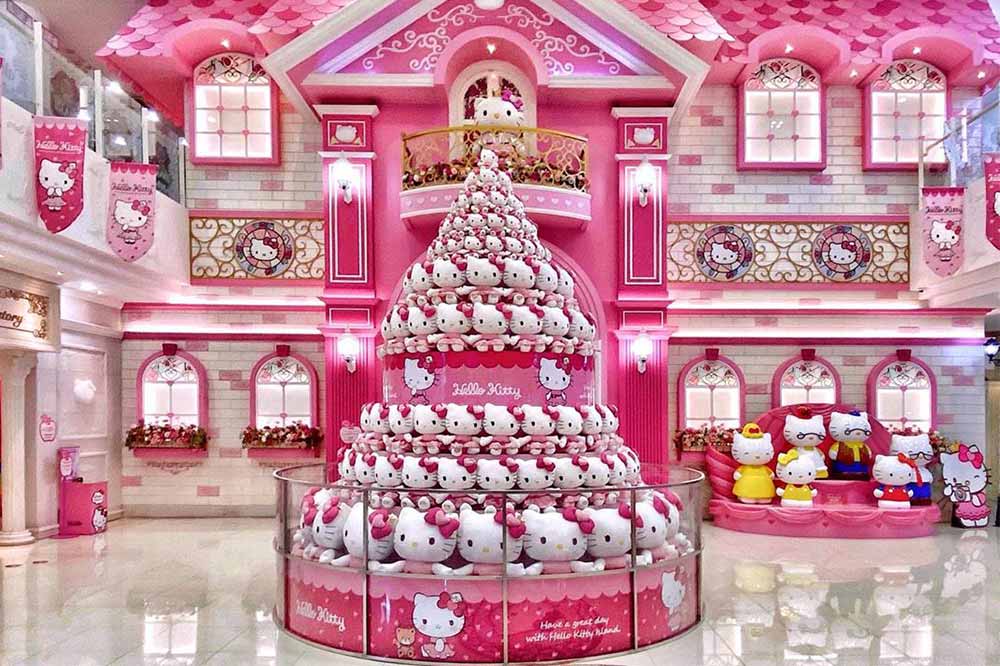 Source
With 3 floors of Hello Kitty-themed decorations, rest assured there are photo ops galore. While you're there, visit the Hello Kitty cafe for a bite, or the gift shop for a keepsake.
Address: 340 Hanchang-ro, Andeok-myeon, Jeju-si, Jeju-do, South Korea
Opening hours: 9am to 8pm daily (summer) | 9am to 6pm daily (winter)
Admission fee: ₩14,000 (~S$14) for adults, ₩13,000 (~S$13) for teenagers, ₩11,000 (~S$11) for children
Website | Facebook | Instagram
4. Sanrio Cafe in Tokyo, Japan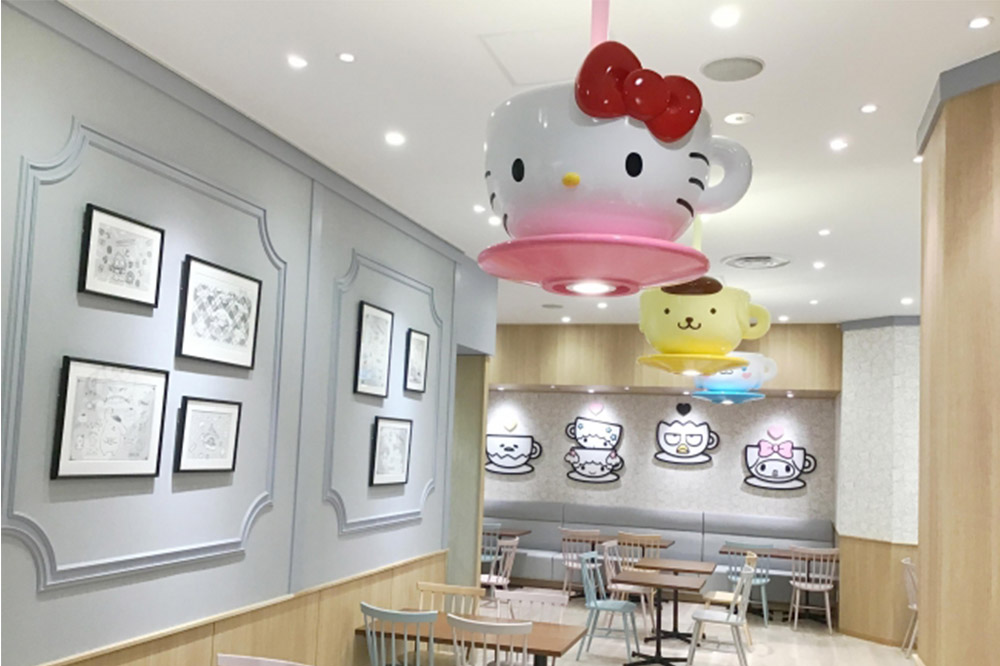 Source
Situated in Tokyo's Ikebukuro neighbourhood, the recently opened Sanrio Cafe will not disappoint Sanrio fans. If you're craving dessert while shopping, check out the takeaway menu in the truck at the entrance of the cafe. You can grab an ice cream with each flavour corresponding to a different character, or doughnuts in the shape of Hello Kitty ears.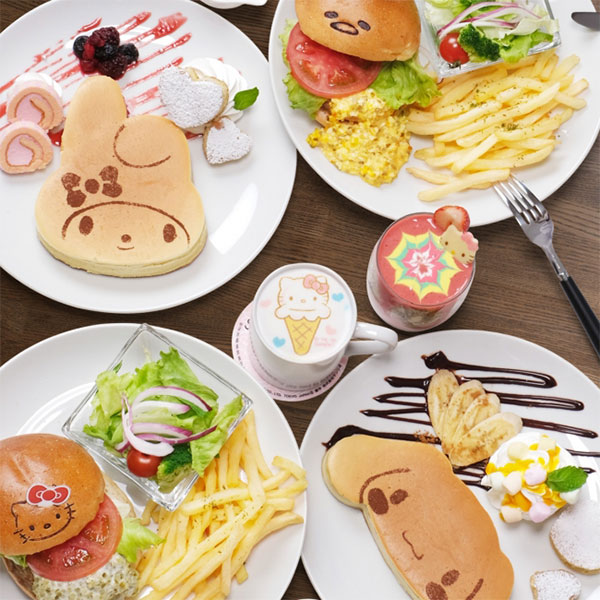 Source
If you've got more time to spare, enjoy a meal under the massive tea cup lights that brighten the cafe's crisp surroundings. The pancake dish, made in the shape of various Sanrio characters like Cinnamoroll and My Melody, is a must-try. Pair it with a drink featuring adorable latte art to complete your meal.
Address: 3 Chome-1 Higashiikebukuro, basement 1, Sunshine City, Toshima City, Tokyo 170-8630, Japan
Opening hours: 10am to 10pm daily
5. Sanrio Puroland in Tokyo, Japan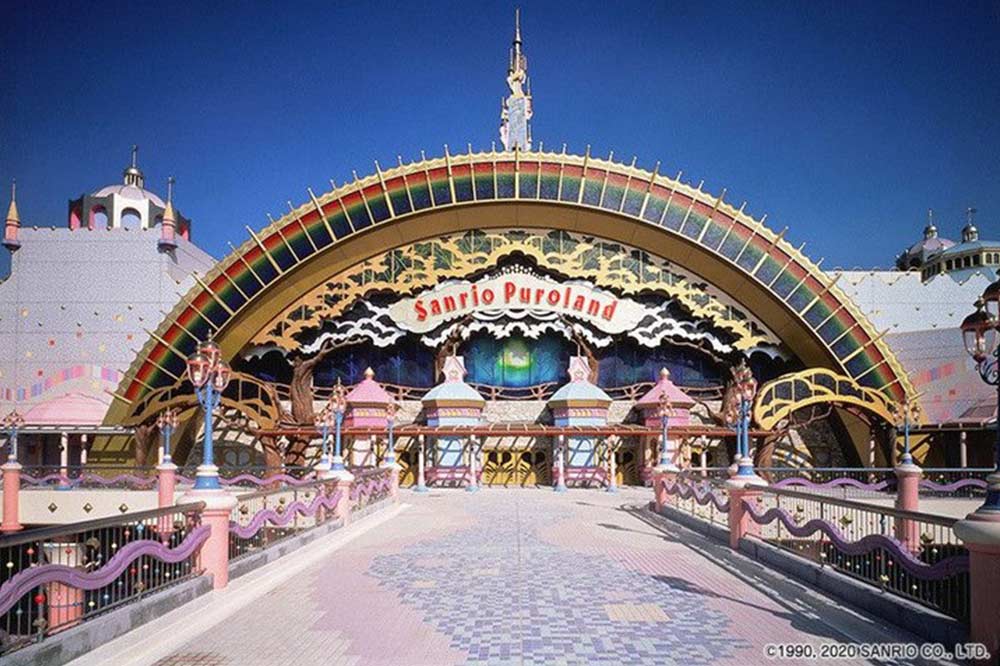 Source
Perhaps the most famous Sanrio attraction, Sanrio Puroland has long been a mainstay for Sanrio fans across the globe. It features every Sanrio character you can think of, and there are daily meet-and-greets with both main characters like My Melody and side characters like Cinnamoroll's pal Mocha and Hello Kitty's sister Mimmy.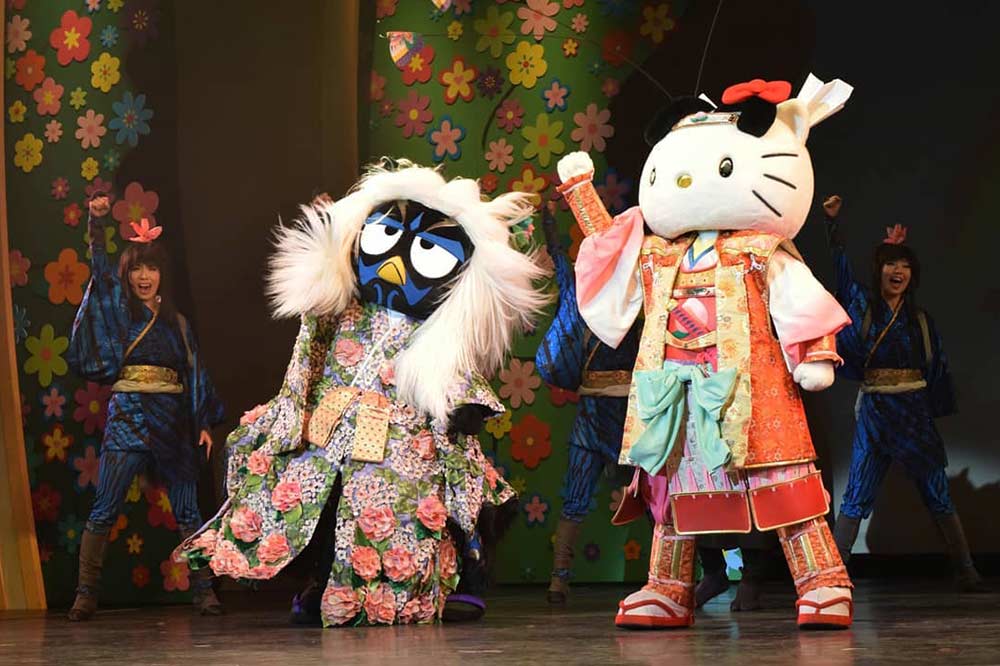 Source
There's no such thing as feeling bored when you're at this theme park. Hop on the Sanrio Character Boat Ride, watch the Kawaii Kabuki musical featuring Hello Kitty, Bad Badtz-Maru and other characters in kabuki makeup or catch Gudetama the Movie Show.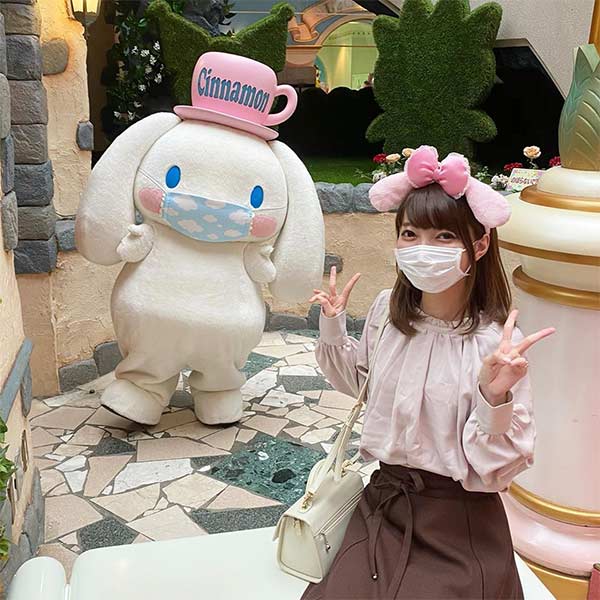 Source
The park was closed for an extended period of time due to COVID-19, and only recently reopened its doors to the public. Some of its mascots are now wearing masks, so you can match them in your photo ops.
Address: 1-31 Ochiai, Tama, Tokyo 206-8588, Japan
Opening hours: 10am to 5pm (Mondays to Fridays) | 10am to 8pm (Saturdays) | 10am to 6pm (Sundays)
Admission fee: Adults: ¥3,300 (~S$43) for a Weekday Passport, ¥3,900 (~S$50.85) for a Holiday Passport, ¥2,200 (~S$28.70) for an Afternoon Passport | Children: ¥2,500 (~S$32.60) for a Weekday Passport, ¥2,800 (~S$36.50) for a Holiday Passport, ¥2,000 (~S$26) for an Afternoon Passport | Seniors: ¥2,200 (~S$28.70)
Website | Facebook | Instagram
Also read: 
EVA Air's Upcoming Hello Kitty Flight Will Make A Round Trip Without Landing For Those Who Really Miss Flying
6. Sanrio Harmonyland in Kyushu, Japan
Source
Located in Oita prefecture in Kyushu, Sanrio Harmonyland is another theme park with lots of different sights to lose yourself in. There are 7 zones, 14 attractions and rotating live shows; as well as souvenir shops, a restaurant and fast food shops.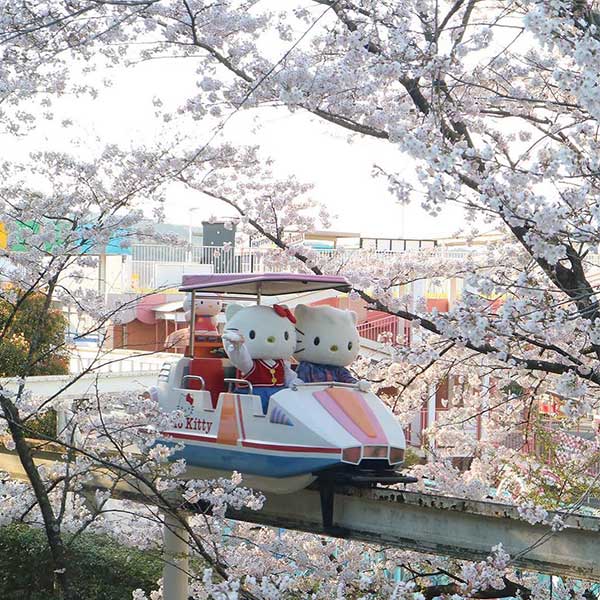 Source
Online reviews have mentioned that this amusement park might be more suitable for children and the young at heart, as well as Sanrio fans. On the plus side, the park is not crowded, so you will be able to soak in the cuteness without worrying about long queues at every attraction. 
Address: 5933 Fujiwara, Hiji, Hayami District, Oita 879-1598, Japan
Opening hours: 9am to 5pm (Fridays to Wednesdays) | Closed on Thursdays
Admission fee: ¥3,000 (~S$39) for a full-day ticket, overseas visitors get a ¥600 discount on a full-day ticket upon presentation of their passport; ¥1,500 (~S$19.50) for an evening ticket (after 4PM); free entry for children under 3
Website | Instagram
7. Sanrio 7-Eleven in Taipei, Taiwan
Source
The 2 Sanrio 7-Eleven stores in Taipei are brimming with spots for a holiday #OOTD. From the pink brick walls and giant plushies lining the shop front to the overhead banner featuring Sanrio mainstays indoors, the stores prove you can get your Sanrio fix without having to travel out of the city, or even paying admission fees.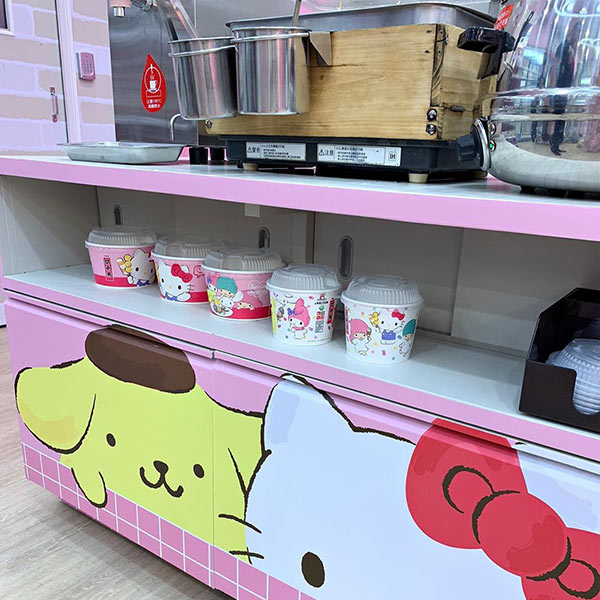 Source
Their takeaway coffee and tea cups, as well as oden bowls, have also been customised to fit the Sanrio theme. The main store also has a seating area, in case you want to enjoy a cup of steamy oden while surrounded by Sanrio paraphernalia.
Main store
Address: No. 73, Section 2, Hankou Street, Wanhua District, Taipei City, Taiwan
Sub store
Address: No. 41, Section 1, Zhonghua Road, Zhongzheng District, Taipei City, Taiwan
8. My Melody Café in Osaka, Japan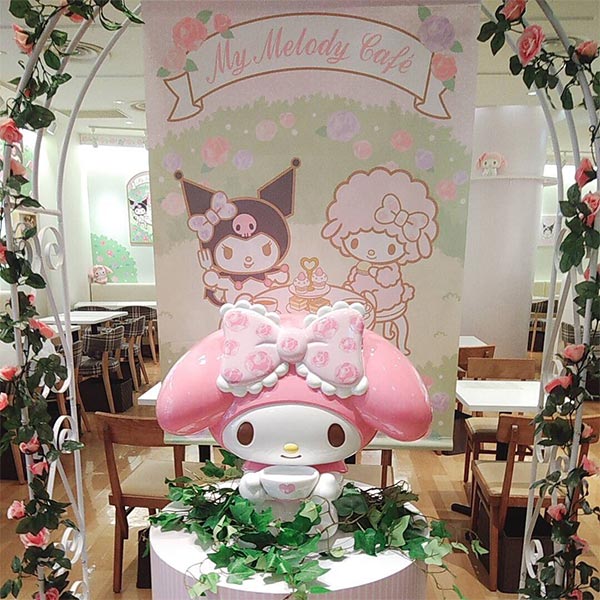 Source
My Melody Café has an English rose garden theme and is decked out in pastel colours. Starring the beloved bunny and her 2 friends, My Sweet Piano and Kuromi, you can look forward to original merchandise and photo spots focusing on the trio here.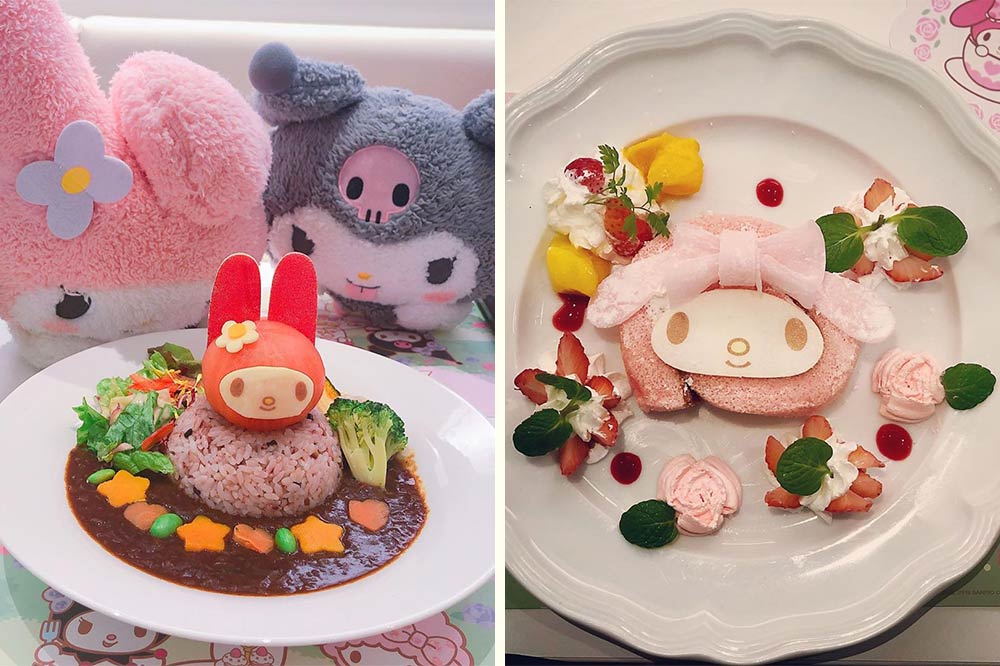 Source
The dishes on the menu also each feature a different main character. There's My Melody European-Style Curry, Kuromi's Green Flower Prawn and Avocado Doria, as well as My Sweet Piano's Fluffy and Foamy Pollock Roe Pasta. Once you're done with your main course, try the adorable waffle bowl ice cream, served with the ice cream ball resembling a character's head.
Address: 5-15 Kakudacho, level 7, HEP FIVE, Kita Ward, Osaka, 530-0017, Japan
Opening hours: 11am to 10.30pm daily
Website | Instagram
9. Pompompurin Café in Tokyo, Japan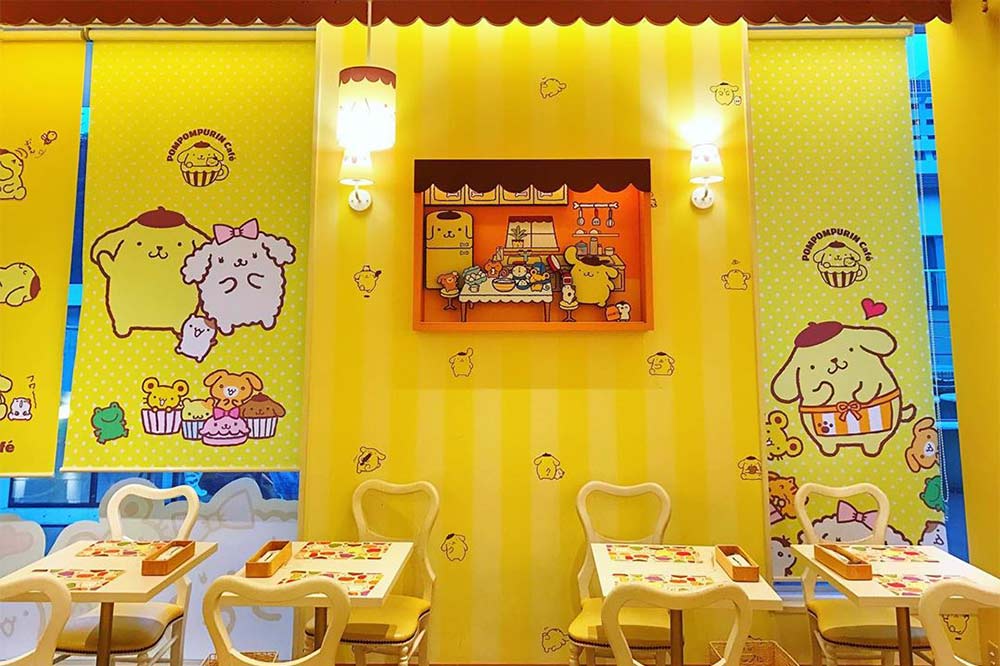 Source
There are 3 Pompompurin Cafés dotted across Japan, in Osaka, Tokyo and Yokohama. If you're visiting Tokyo, you'll probably be spending a day or 2 in Harajuku. While you're there, set aside some time to bask in the warm golden hues of the Pompompurin Café in Cute Cube Harajuku. It's decorated in the signature colour of the golden retriever that resembles his favourite food, cream caramel pudding.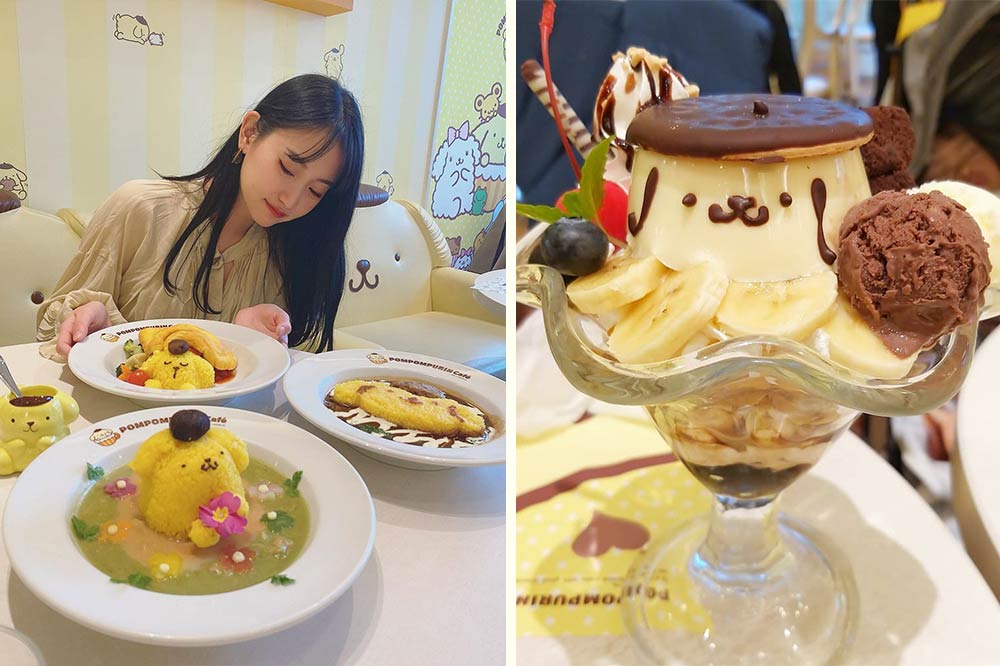 Source, source
Each of the 3 outlets have a dish that is unique to their menu. At the Harajuku store, the exclusive item is  the super pretty Pompompurin's Colorful Flower Curry. Of course, Pompompurin's favourite dish, caramel custard pudding, is also available in various forms across all the cafes.
Address: 1 Chome-7-1 Jingumae, level 3, Cute Cube Harajuku, Shibuya City, Tokyo 150-0001, Japan
Opening hours: 11am to 9pm daily
Website
10. Cinnamoroll Cafe in Tokyo, Japan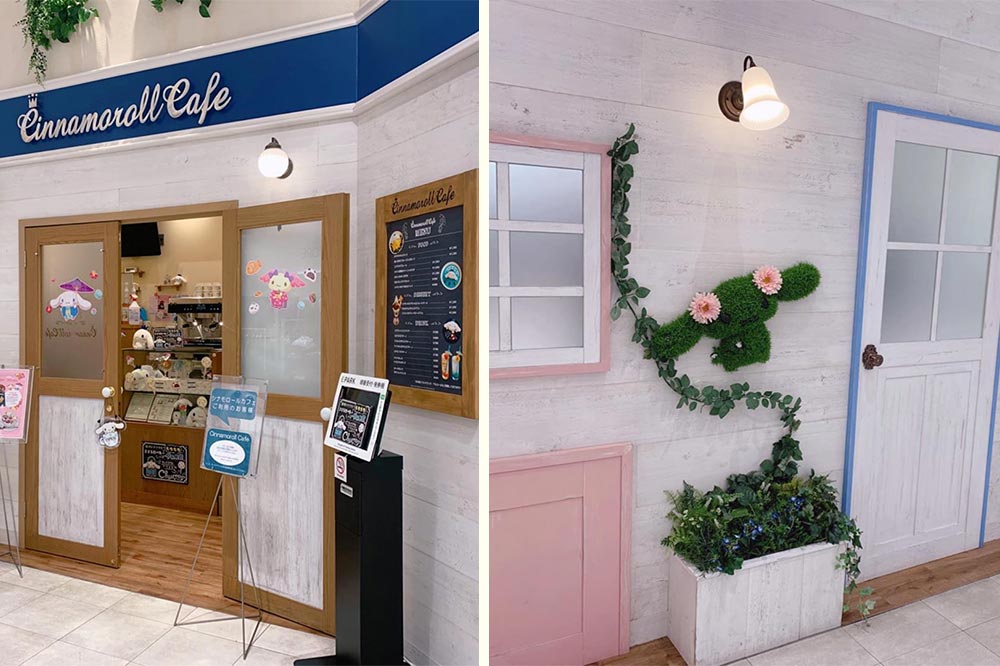 Source
When you're done with the good vibes at Pompompurin, hop over to nearby Shinjuku to check out Cinnamoroll Cafe. The interior is decorated with faux greenery, plush toys, framed artwork and wooden accents for a cosy and homely feel.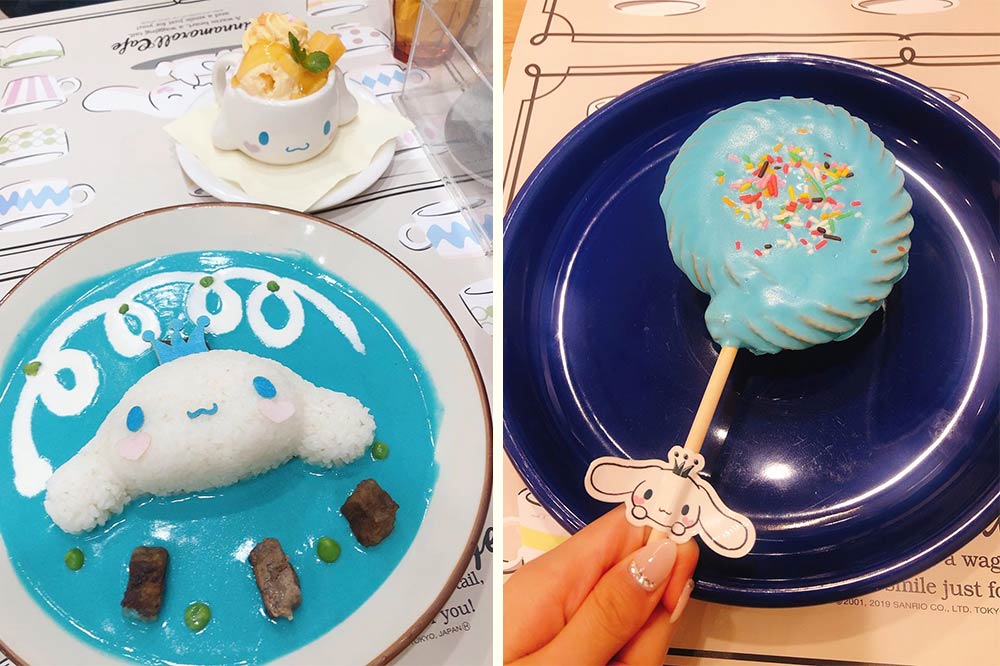 Source
Pay homage to the cute doggo's signature colour with the Instagram-worthy Blue Stroganoff in the Distant Sky, then complete your meal with a selection of blue-themed desserts and drinks.  
P.S. Make a pit stop at the restroom before you go. An adorable surprise awaits there too!
Address: 3 Chome-1-26 Shinjuku, level 1, Shinjuku Marui Annex, Shinjuku City, Tokyo 160-0022, Japan
Opening hours: 11am to 8pm daily
Website
Add These Hello Kitty Theme Parks & Cafes To Your Bucket List
Whether these Hello Kitty theme parks and cafes are a pit stop or a full-day affair on your travel itinerary, you'll definitely leave with keepsakes and reminders of great memories.
Also read: 
9 Hello Kitty Home Appliances & Accessories For Sanrio Fans To Zhng Their BTO