Hello Kitty & My Melody Toothpaste
Sanrio fans in Singapore, listen up. Think of all the times you lusted over Sanrio collaborations, only to find out they were available exclusively in other countries. Well, good things come to those who wait. Sanrio and Darlie will be launching limited-edition Hello Kitty and My Melody toothpaste, and they will only be sold in Singapore.
Hello Kitty toothpaste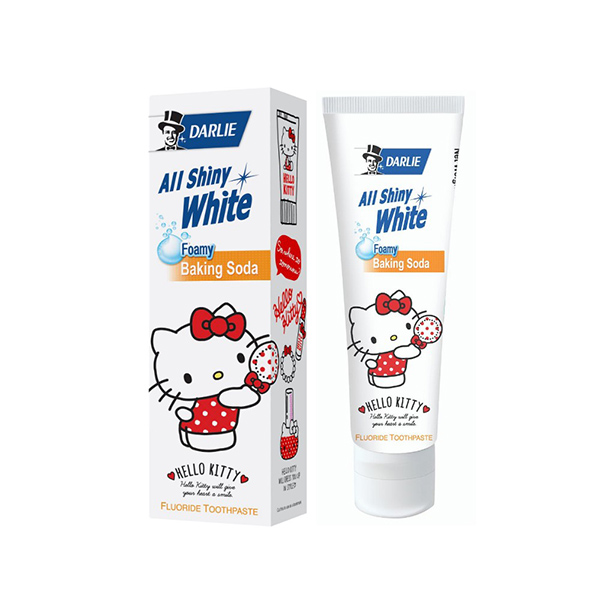 First up, Darlie's All Shiny White Baking Soda toothpaste features Hello Kitty both on the tube and the box packaging. She's wearing a polka dot outfit and holding up a mirror. If it were anyone else, we'd say she was checking to see if her teeth were clean. But we all know Hello Kitty doesn't have a mouth.
Unlike Hello Kitty, the rest of us definitely have to worry about our dental hygiene. This toothpaste uses a gentle baking soda formula to polish your teeth. Those who swear by coconut oil will also be pleasantly surprised to know that it is infused with natural cold-pressed coconut oil, which keeps your oral cavity clean.
Lastly, it's been found to have twice the stain dissovability power compared to Darlie's Whitening Toothpaste. This means it can remove stain build-up on your teeth and prevent stains from forming at the same time. Bear in mind that the effects can vary from one individual to another. So if you're looking for a more targeted solution to address a specific tooth discolouration issue, you can read up on teeth whitening treatments as well.
Also read:
13 Teeth Whitening Treatments In Singapore At Aesthetic Salons & Dental Clinics From $69.90/Session
My Melody toothpaste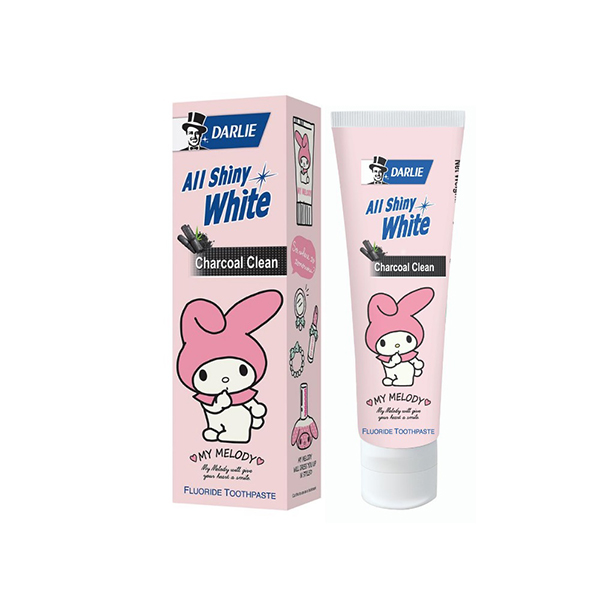 The second Sanrio toothpaste is the All Shiny White Charcoal Clean toothpaste featuring My Melody. The bunny seems to be lost in thought, as if she is wondering whether she remembered to brush her teeth before bed. The great thing is, with such adorable packaging, brushing your teeth before bed is going to be something you look forward to instead of a chore.
Like the Hello Kitty toothpaste, the My Melody toothpaste also has twice the stain dissovability power compared to Darlie's Whitening Toothpaste. What is unique about the formula is that contains natural Korean bamboo charcoal particles. These work to deeply cleanse your oral cavity and keep your breath fresh.
Sanrio x Darlie Hello Kitty Toothpaste Will Make Brushing Your Teeth Less Of A Chore
The Sanrio x Darlie collection featuring Hello Kitty and My Melody toothpaste will only be sold in Singapore. The limited edition packs are expected to retail for $3.80 per pack from 1 September 2020. You can find them at selected NTUC Fairprice, Giant, Sheng Siong, Prime and Watsons outlets. You can also get them online on Darlie's Official Store on Shopee and on Redmart.
All images courtesy of Darlie Singapore. 
Also read:
7-Eleven's Sanrio Baked Mooncakes Featuring Hello Kitty & My Melody Come With Cute Collectible Cooler Bags