Hello Kitty Wine And Sanrio Soju
Taiwanese alcohol brand 醉月, aka Lovemoon, is known for creating popular alcoholic drinks inspired by Sanrio characters. This time round, the store is launching a Hello Kitty cherry blossom rose wine that comes in a bottle shaped like the famous cat. A Sanrio characters cherry blossom soju set and a My Melody cherry blossom soju set accompany Hello Kitty to celebrate the new season.
Hello Kitty cherry blossom rose wine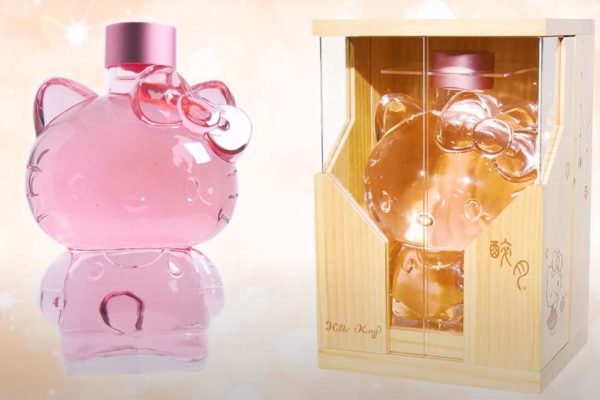 The Hello Kitty cherry blossom rose wine bottle is endearingly shaped like the character itself. It measures 30cm tall and contains 2,700ml of wine. Don't be deceived by the pastel pink hue of the wine, and the innocent-sounding cherry blossom and rose flavours. The sweet-looking beverage has an alcohol percentage of 10%.  
The wine comes in a wooden box, serving as a great way for you to display this kawaii wine bottle in your house.
My Melody cherry blossom soju set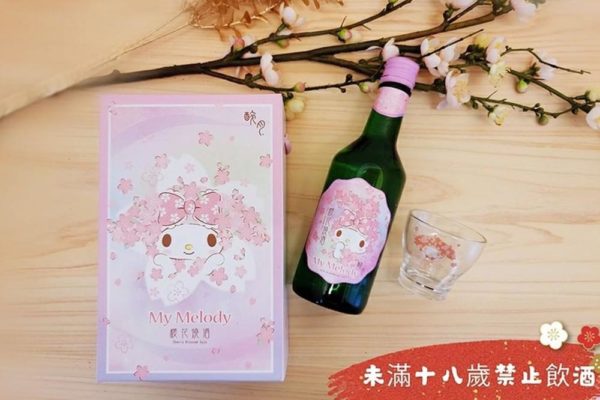 If your preferred poison is soju instead of wine, the My Melody Cherry Blossom Soju has your name written on it. Since we can't travel to experience the cherry blossom season, this 360ml soju ensures that you'll at least get to have a taste of it. The soju has a faint cherry blossom scent, and is 10% ABV. 
The set comes with a soju glass featuring My Melody surrounded by pink cherry blossoms, to match the bottle and box. If you're feeling down and need a drink, My Melody's cheerful face on the soju glass serves as a mini companion to get you out of your funk.
Also read:
This High Tea Set With Sakura Flowers & Strawberry Desserts Lets You Experience Cherry Blossom Season In SG
Sanrio cherry blossom soju set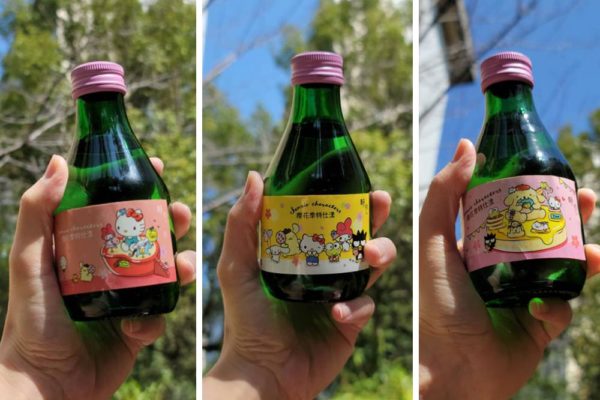 Besides Hello Kitty and My Melody, who can forget the other Sanrio characters such as Pompompurin, Cinnamoroll and more? The Sanrio cherry blossom soju set includes 6 mini soju bottles at 180ml each. These come with different prints of Sanrio characters having fun together on the bottles. 
Take a refreshing sip of this cherry blossom-inspired soju, and you might just find yourself transported amongst Japan's sakura trees.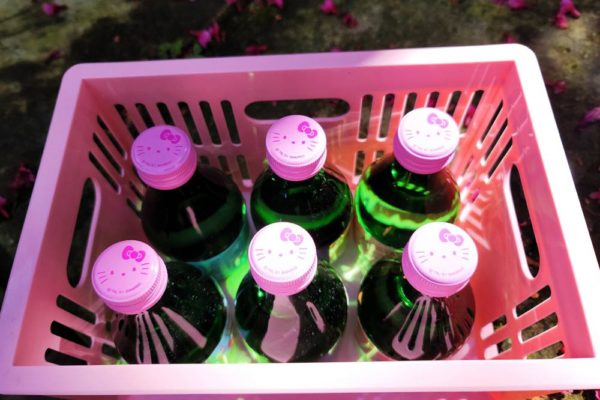 Above each mini soju bottle sits a pink Hello Kitty bottle cap. These stand out from the dark green colours that you typically see on soju bottles.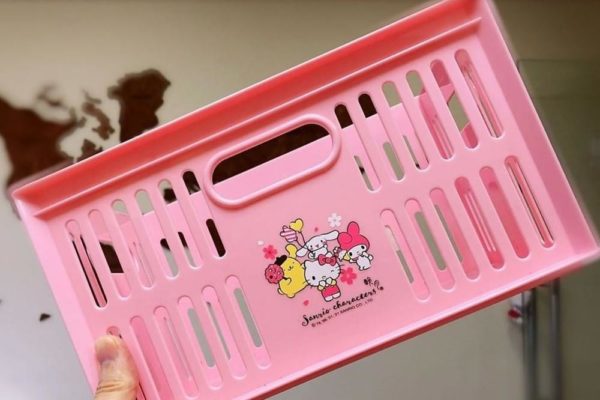 Additionally, the set includes a mini crate with Hello Kitty, My Melody, Pompompurin and Cinnamoroll on it. You can easily carry the 6 bottles of soju around after purchasing the set. Like the rose wine and soju caps, the pink crate further showcases the theme of pink cherry blossoms in spring.
Hello Kitty Wine And Sanrio Soju Make Lovely Spring-inspired Gifts For Your Friends
We're excited to celebrate the start of spring with more cherry blossom-themed goodies such as these. Unfortunately, Lovemoon's Hello Kitty cherry blossom rose wine, Sanrio characters soju and My Melody cherry blossom soju are only available in Taiwan for the time being. 
Meanwhile, we can still get to enjoy cherry blossom events and merchandise in Singapore. Don't miss out on this sakura high tea set featuring strawberry sweets, with fresh cherry blossoms flown from Japan, and getting your hands on the super chio Starbucks sakura 2021 merch.
All images courtesy of Lovemoon
Also read:
Starbucks' Sakura Collection For 2021 Is Almost Here, It'll Make You Say "Shut Up And Take My Money"