Starbucks Sakura Collection 2021
Last week, we saw Starbucks Japan's 2021 sakura collection. Now, it's our turn to enjoy the cherry blossom season through sakura-themed merch. Starbucks Singapore just unveiled its latest sakura collection in Singapore. While last year's Sakura Blossoms had illustrations of mountains and clouds, this year's Sakura collection is fit for minimalists who'd still like a pop of colour or flowers.
Pink drinkware

From left: 13oz bottle, $38.90; 16oz cup, $36.90; 12oz mug, $39.90
Source
Enjoy an iced latte or cold brew in these pastel pink stainless steel bottles and cups. This design features a pink sakura wreath as its highlight to make your coffee experience just a touch sweeter. 
If you prefer your coffee hot, the pastel pink mug makes for a great companion too. It has white and pink petals in place of whole flowers to keep the minimalist aesthetic. 

From left: 12oz tumbler, $45.90; 16oz tumbler, $53.90; 12oz tumbler, $39.90
Source
To have your coffee on the go, carry these pastel pink tumblers with you. They have whole sakura flowers and petals cascading down the sides, with one in plain pink if you're after a more subtle look. 

From left: 12oz bottle, $23.90; 20oz tumbler, $29.90; 24.5oz bottle, $32.90
Source
Stay hydrated with these clear bottles decorated with pink flowers and their petals. Find one in any size to fit into your handbag for a quick sip anytime, anywhere. 
Also read:
Starbucks Japan Gives Its Sakura Collection A Colourful Twist In 2021
Blue drinkware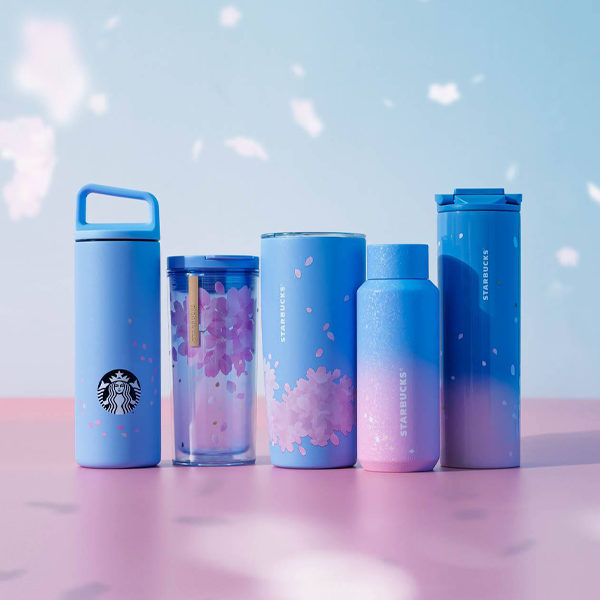 From left: 16oz tumbler, $44.90; 12oz tumbler, $23.90; 20oz tumbler, $49.90;
12oz bottle, $39.90; 16oz tumbler, $45.90
Source
Just like how Starbucks Japan introduced new colours into its sakura collection, so has Starbucks Singapore. In place of the purple backgrounds used last year, we now have blue drinkware that resembles the clear skies above when appreciating cherry blossoms in Japan. 

Source
Have a refreshing floral drink from Starbucks in this pink and blue clear 24oz cup for a feel of Japan's sakura season. It is retailing for $28.90. 

Source
Similar to how there are light blue designs in this collection that look like the sky during the day, there is also navy drinkware that will make you think of enjoying the flowers at night. Cop this 16oz tumbler at  $26.90. 

Left(from left): 18oz cup, $49.90; 12oz tumbler, $34.90; 12oz tumbler, $39.90
Source
Aside from pastel tones, there are also navy blue options when it comes to the sakura drinkware. The same sakura wreath and petals make another appearance on the stainless steel cups and tumbler but against a dark background, which makes the flowers stand out more. 
Teacups
From left: 3oz cup, $28.90; 8oz mug, $39.90
Enjoy your espresso shots in the pink 3oz cup that not only has a cherry blossom-shaped base, but a matching cherry blossom-shaped saucer as well. It's even lined on the inside with pink and white sakura patterns. 
For a full-sized cup of coffee, the 8oz option also has a sakura-shaped base. On top of that, the rim of the cup is also designed to resemble the edges of a cherry blossom flower. Like the espresso cup, the 8oz glass also comes with a pastel pink saucer.

Source
For those who enjoy winding down with a soothing cup of tea, this gold-rimmed teacup and saucer might make you feel fancier. Sip on your favourite floral tea and relax after work with this glass teacup set, which costs $43.90. 

Source
The navy teacup has a cherry blossom-shaped base that matches its saucer. If that's not enough sakura for you, the inside of the cup is lined with illustrations of the pink flower as well. The 10oz mug is retailing for $45.90.
4-cup Pourover: $33.90
If you enjoy brewing your own coffee in your personal home cafe set up or are looking to start, this pour over cup might come in handy. In place of the usual circular shape, this cup has an almost rectangular form, making your coffee experience much more interesting. It also comes in a set of 4, so you get to impress your guests with home-brewed coffee when they come over.
Umbrella
While the outside of the umbrella is simple, with only pink and white petals around the Starbucks logo, the inside is where most of the flowers are. There are petals gently falling down the side, making it feel like it's raining cherry blossom petals wherever you go. It is retailing for $35.90.
Starbucks Sakura 2021 Collection Will Be Available From 24 February 
While we can't enjoy the sakura season in real life this year, at least we can experience part of it through this collection. The Starbucks Sakura 2021 line will be available in physical locations and on Starbucks' official online stores at LazMall and Shopee starting 24 February 2021, so you'll still have time to pick your favourite from this series. 
Cover: Source
Also read:
Starbucks Has Rainbow, Hologram, Sequin Plus Matte Cold Cups For Maximalists & Minimalists Alike