HOOGA Gift Ideas
As we're inching closer and closer to Christmas, the panic is real when it comes to sorting out your gifts in time. And for those whose Secret Santees don't leave a wish list, we then tend to rely on home items like plushies and diffusers. 
If you're looking to start your Christmas shopping, read on to find offers and gift ideas from HOOGA that are not just affordable but also practical. From chio home decor to stuffed toys, these thoughtful gifts will ensure that you won't be called out as a terrible Secret Santa.
10% off home items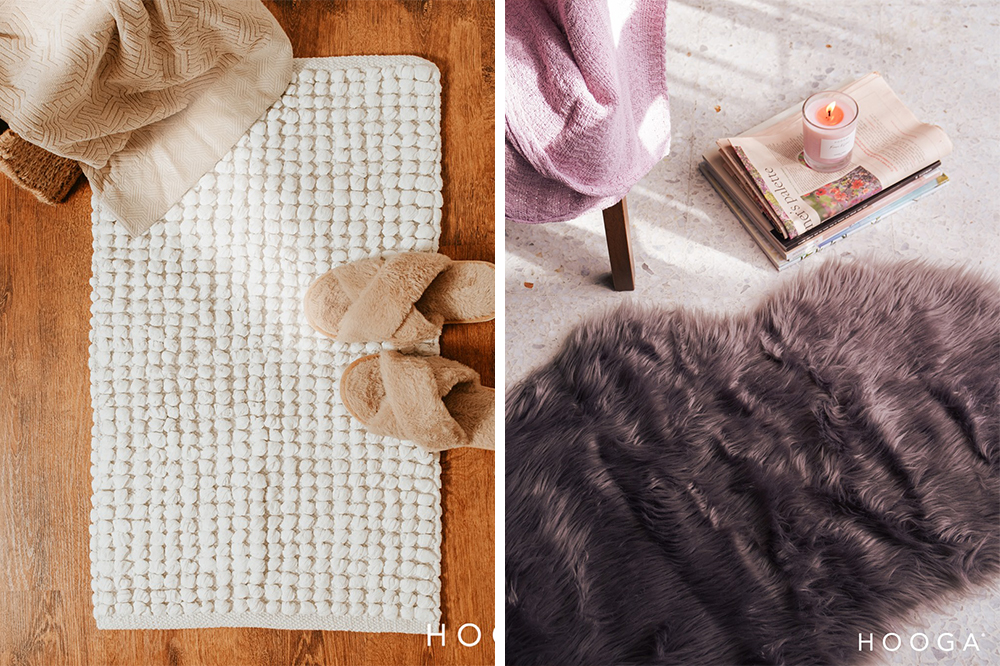 From left: Cabana Bath Mat, Merynna Faux Sheep Rug
Images courtesy of HOOGA.
For a limited time only, HOOGA will be having a 10% off Weekly Treats discount from 10 to 13 December 2021. For those whose giftees enjoy useful homeware items, you can't go wrong with an interior mat to zhng up their living room aesthetics. 
The Cabana Bath Mat (U.P. $19.90) comes in a simple design with a fluffy texture to keep their feet dry after leaving the bathroom. Meanwhile, stepping on the Merynna Faux Sheep Rug (U.P. $19.90) might channel their inner Agnes from Despicable Me and go "it's so fluffy I'm gonna die!"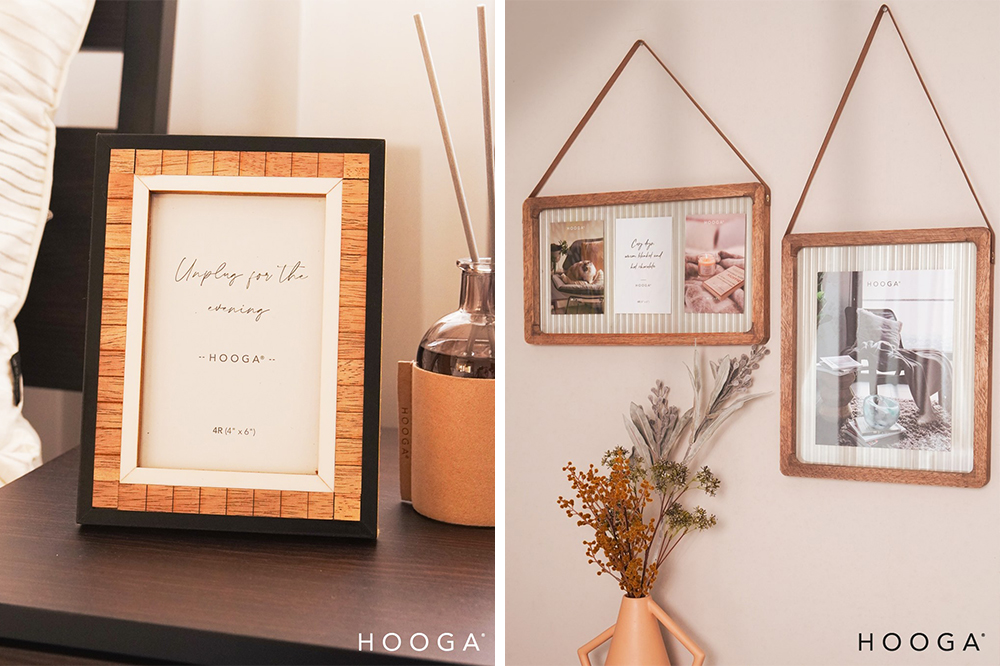 From left: Evie Table Frame, Langley Wall Frame
Images courtesy of HOOGA.
Photo frames are a great gift to show your loved one how much you cherish your favourite memories together, especially for new homeowners who are looking to add some personal touches at home. Slot your most memorable photo with them on the Evie Table Frame (U.P. $8.90), that can easily fit on a bedside table or work desk.
Or, if your giftee is all about that minimalist vibe, opt for the Langley Wall Frame (U.P. $18.90) instead that saves space for other furniture in the house.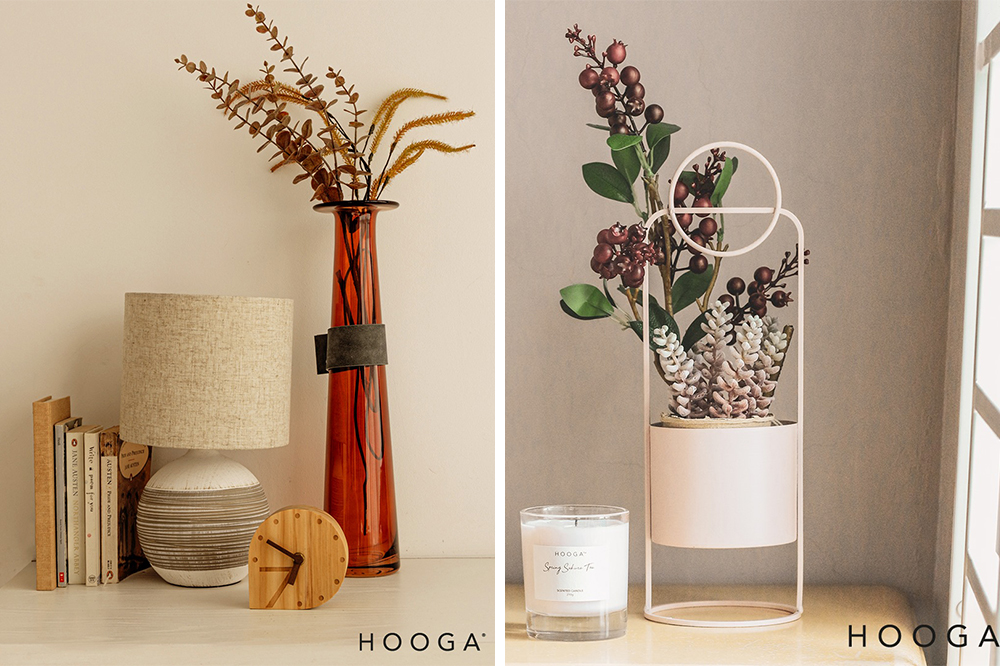 From left: Poppy Vase, Rikka Faux Botanical Accs
Images courtesy of HOOGA.
For friends who love displaying flowers to add warmth at home, the Poppy Vase (U.P. $23.90) and Rikka Faux Botanical Accs (U.P. $8.90) will help to show off their lovely blooms. Selected frames, vases and interior mats are on 10% off, so make sure to cop them ASAP before the promotion ends on the 13 December 2021.
Gift ideas less than $20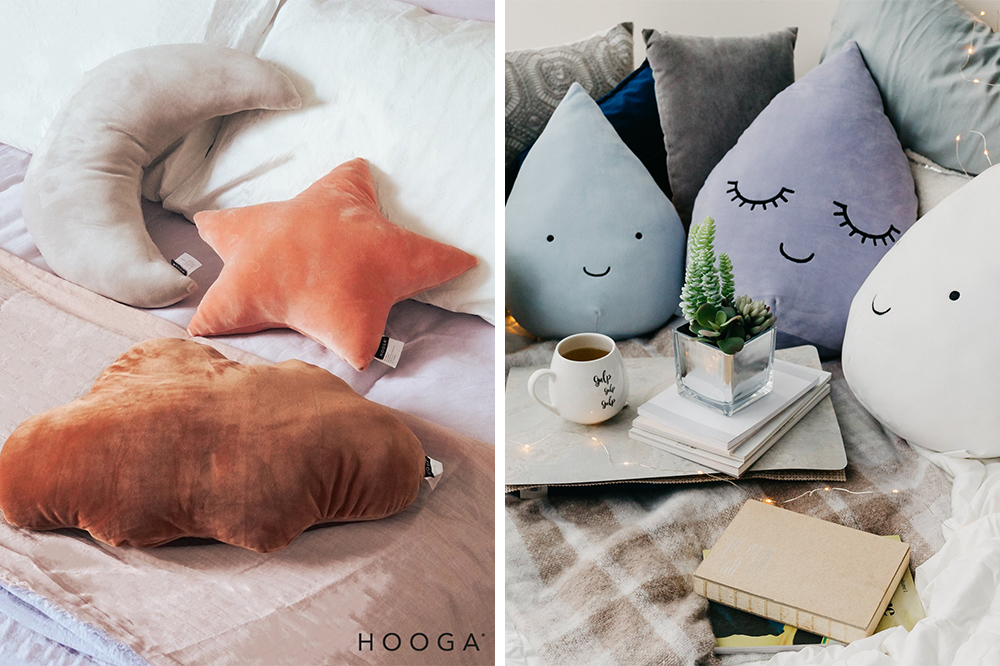 From left: Mystical Soft Toys, Dew Soft Toy family
Images courtesy of HOOGA.
But that's not all — even if you start your X'mas shopping after the 13th, you can still take home HOOGA's range of gift ideas that are less than $20 too. If you know of someone who needs a cuddle buddy while they sleep, the Mystical Soft Toys (from $8.90) come in whimsical designs for one to float off to dreamland easily.
For something in a cuter design, the Dew Soft Toy family (from $7.90) are shaped like droplets while remaining warm and cosy to hug.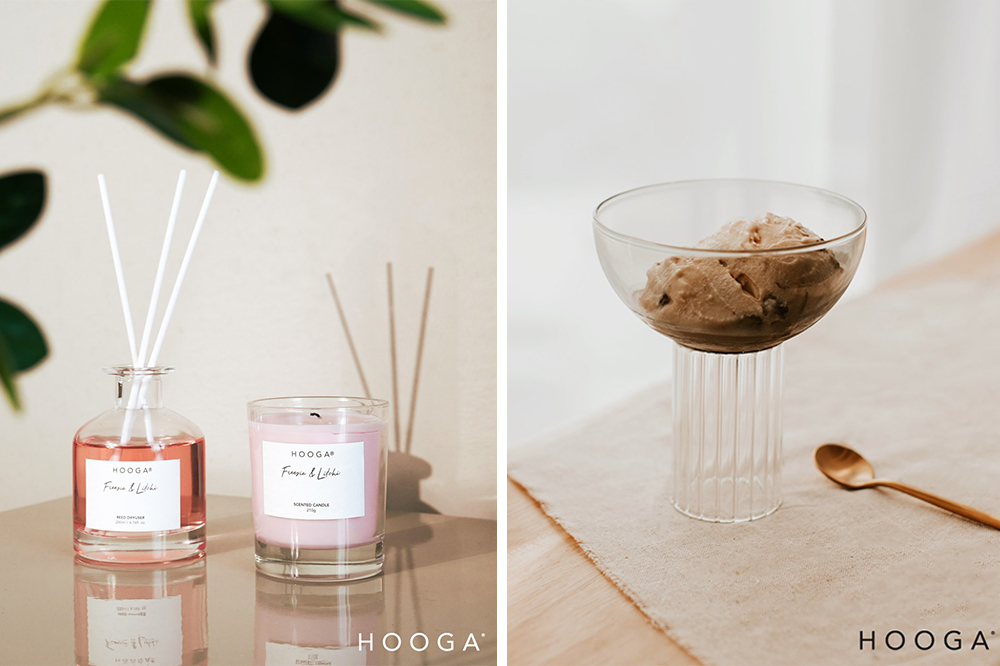 From left: Gourmand Reed Diffuser, Hepburn Ice Cream Glass Smoke
Images courtesy of HOOGA.
Add a dash of atas vibes to a place with the Gourmand Reed Diffuser (U.P. $16.90) that comes in a variety of pastel tones. Alternatively, be spoiled for choice with the Black Reed Diffuser, White Intense Reed Diffuser and Modernist Reed Diffuser, each having their own unique scents and elegant finish. Fun fact: HOOGA has nearly 100 different scents available.
On the other hand, the Hepburn Ice Cream Glass Smoke (U.P. $10.90) contributes to an aesthetically-pleasing tableware collection, making you feel like royalty while scooping up some ice cream for dessert.
More practical gift ideas that are under $20 can be found at HOOGA's stores islandwide and on their website, so make sure to head over to explore the whole collection.
HOOGA Has Home Items & Gift Ideas To Spoil Your Loved Ones This Christmas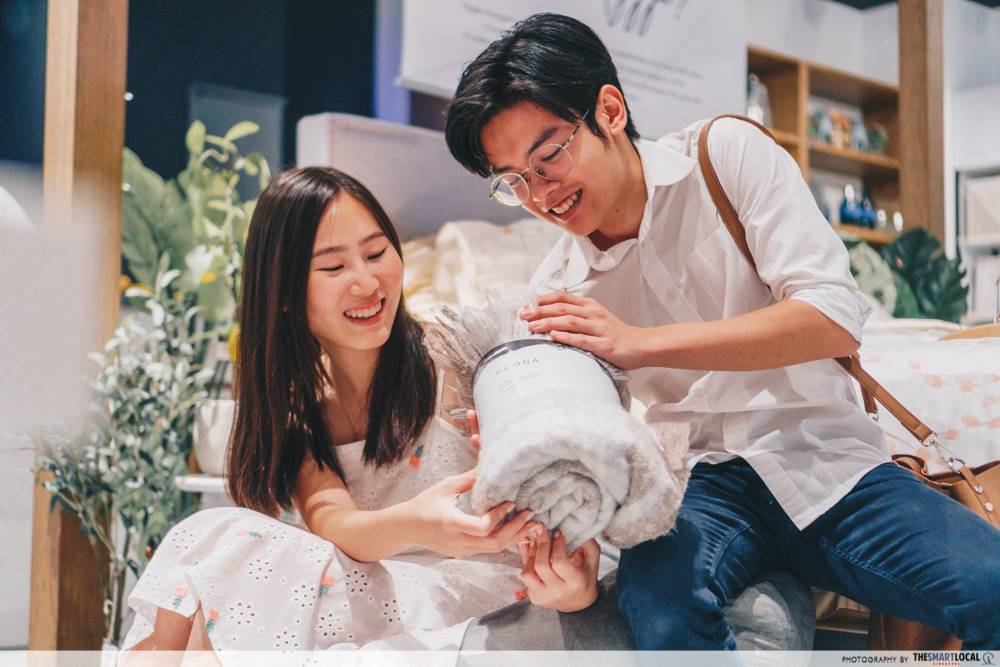 HOOGA has plenty of gift ideas suitable for your partner, family member or BFF
Even if your Secret Santee might tell you that "all I want for Christmas is you", go the extra mile and surprise them with a special and practical treat instead. With gifts from HOOGA at 10% off for a limited time, you'll be guaranteed to find a gift for anyone of any age. 
As Christmas is the season of giving, HOOGA is also giving away special treats for 25 days in The Giveaway Sleigh Contest to add some extra joy this holiday season. To enter the contest, post an Instagram Story featuring HOOGA items, tag them at @hoogaofficial and hashtag #thegiveawaysleigh. A winner will be chosen every day.
If you're feeling extra lucky, a lucky draw will be happening on 27 December 2021 for shoppers who spend a minimum of $100 from 1 to 25 December 2021 in HOOGA stores. The grand prize winner will win all of HOOGA's 25 advent calendar gifts — that's 25 presents to share or give away to kick start your 2022 on an extra festive note.
As December is the perfect period to unleash our inner shopaholic, jio your friends who also need to do some last-minute purchases and head to HOOGA together. Stay tuned to HOOGA's official Facebook and Instagram page for more updates on these promotions.
This post was brought to you by HOOGA.
Cover images courtesy of HOOGA. ​​Other photography by Olivia Tan.