How to get men to adopt a skincare routine
I grew up with the notion that men only need soap and water to crush their self-care game. While I watched my mum and sister dedicate countless hours pampering themselves with face masks and long baths, my dad only needed 10 minutes in the bathroom, with a bar of soap and water as part of his routine.   
Then, I met my boyfriend, Dom, who reinforced this stereotype by only using $2 soap from sample racks at drugstores to wash his face. 
Self-care is for everyone
It was only after a spa-filled holiday to Phuket together that I realised my now-husband actually needs as much TLC as I do. Millennial burnout is real, and it would be wise for anyone—male or female—to just take time to squeeze in a little pampering sesh whenever they can. As the wise Justin Bieber once said, "You should go and love yourself". 
So when my editor challenged me to get Dom to adopt a skincare routine, I took it as a sign that it was time to introduce him to the idea of self-care. I was prepared to hear his standard whines of "This is so troublesome!" ringing through the air, but I knew he would still be game to try it.
First impressions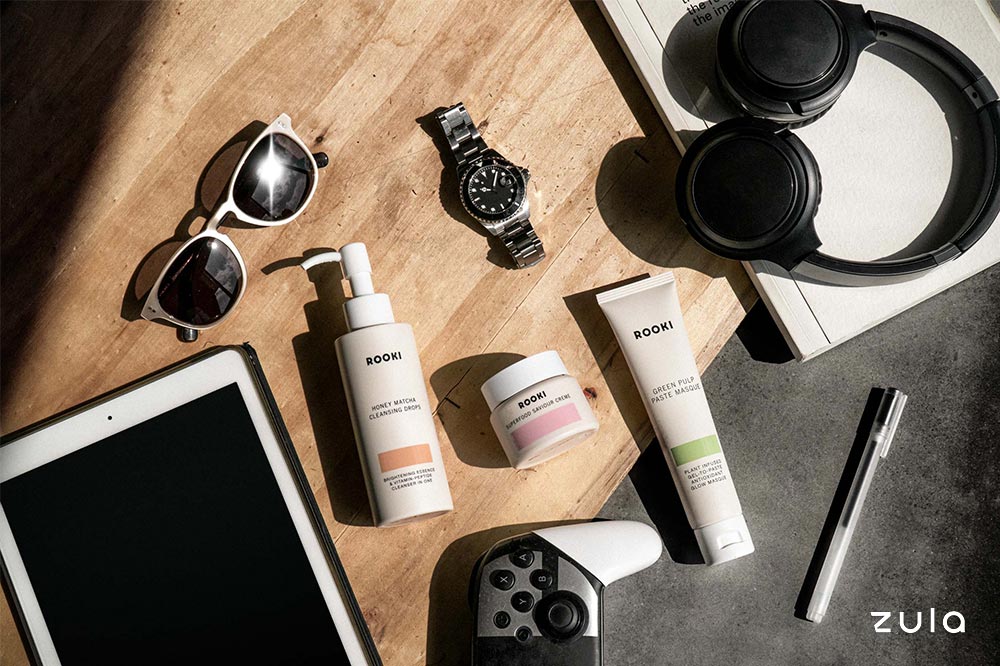 Rooki's Freshman Year Superfood Starter Pack includes a cleanser, moisturiser and mask
Since we were starting from scratch, Rooki Beauty's Freshman Year Superfood Starter Pack was the ideal way to ease Dom into the world of skincare. As its name suggests, the 3-step routine is ideal for beauty noobs; those used to washing their faces with bar soap will not be overwhelmed. 
Men are visual creatures, so first impressions count. Thankfully, Dom was pretty nonchalant when I presented the cleanser, moisturiser and mask to him, saying he has seen weirder products on my dresser. 
Step 1: Cleanser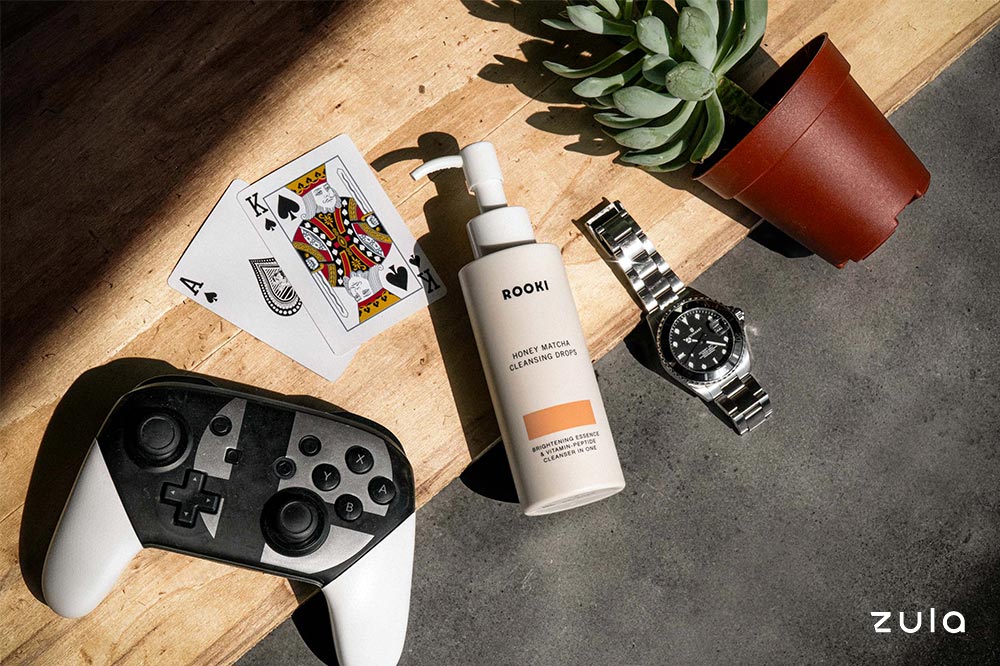 "Honey and matcha. Might as well make myself sia," exclaimed Dom as he applied the Honey Matcha Cleansing Drops. Typical. 
Bickering is one of our favourite pastimes, so I retorted and informed him that besides being delicious, honey is also known for its antibacterial properties while matcha can help reduce blemishes and soothe redness.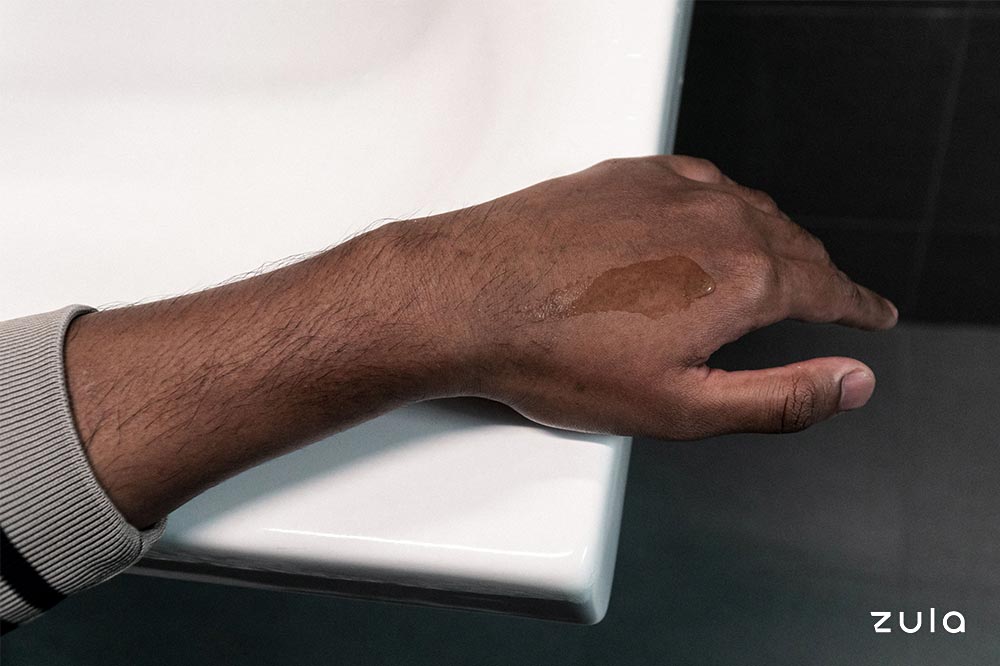 The cleanser came out clear, and as he applied it to his face, he expressed surprise at how creamy it felt upon lathering.
The changes he felt from the first wash were apparent: his face did not feel as tight or dry as it usually did, and had a smoother finish. "Like a baby's butt," he proudly proclaimed.
Step 2: Moisturise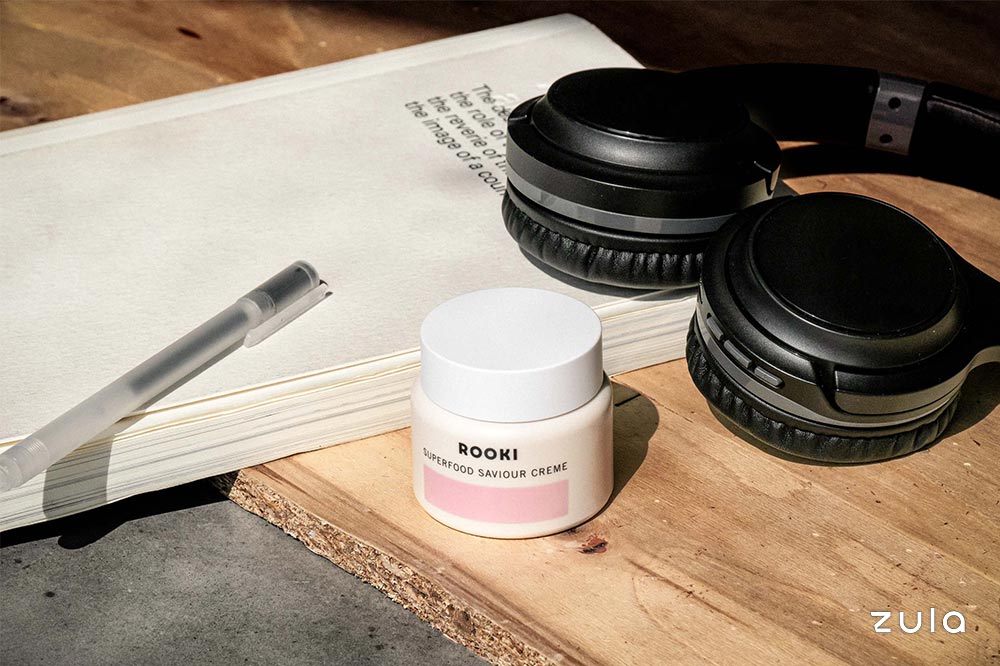 Now, my husband has a sister and is very much aware of the "effects" of moisturising—to be specific, he knows how some moisturisers leave a sticky finish on your face. This was his main concern, as he didn't want to look shiny with goop all over.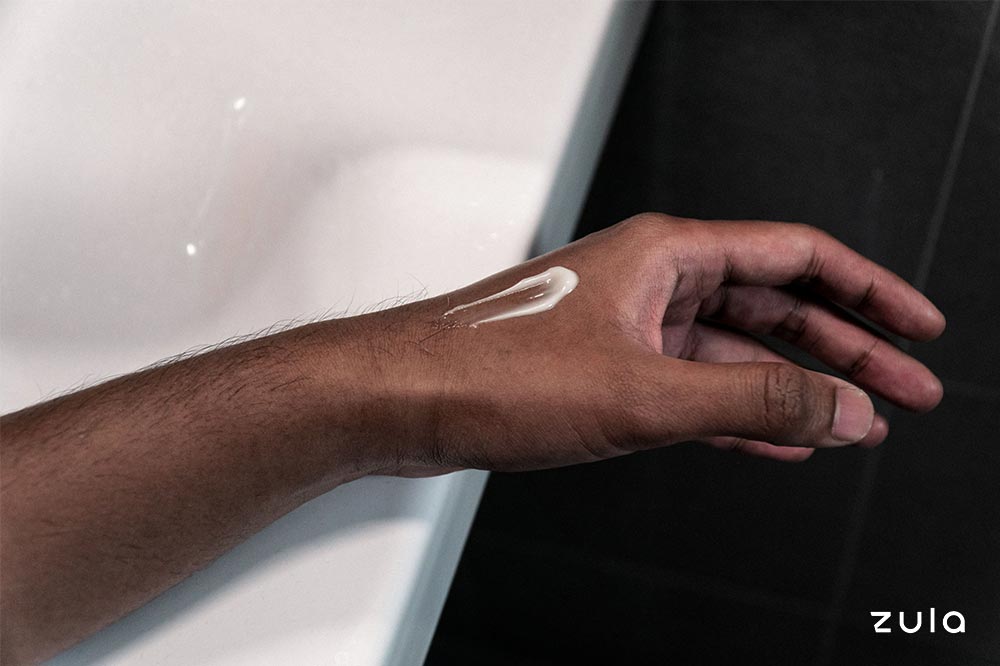 Thankfully, Rooki's Superfood Saviour Cremè had a matte finish. Packed with moisturising powerhouses like hyaluronic acid and squalane, this three-in-one cream had a rich, velvety texture and was not greasy at all. 
Dom was surprised by how his face still felt smooth at work, and couldn't stop proclaiming how his skin looked better and healthier. Guess he might start spending more on skincare than I do now.
Step 3: Mask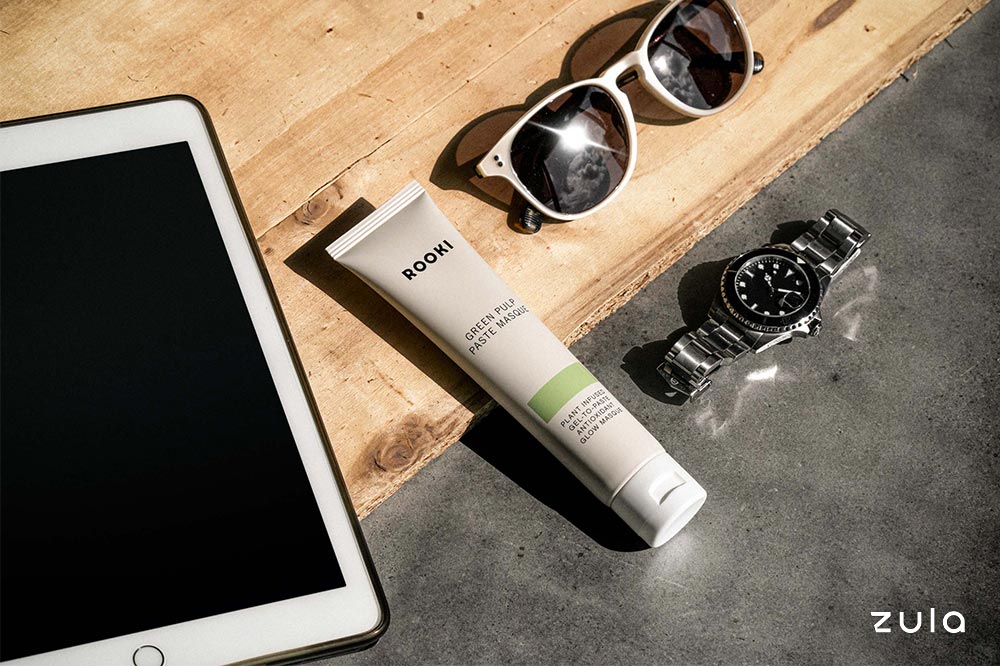 An engineer by trade, my husband is trained to read instruction manuals. As such, I thought I didn't need to explain to him how to use Rooki's Green Pulp Paste Masque since the steps on the packaging were very clear. But I guess understanding a manual on electric circuits is easier than learning how to put on a mask.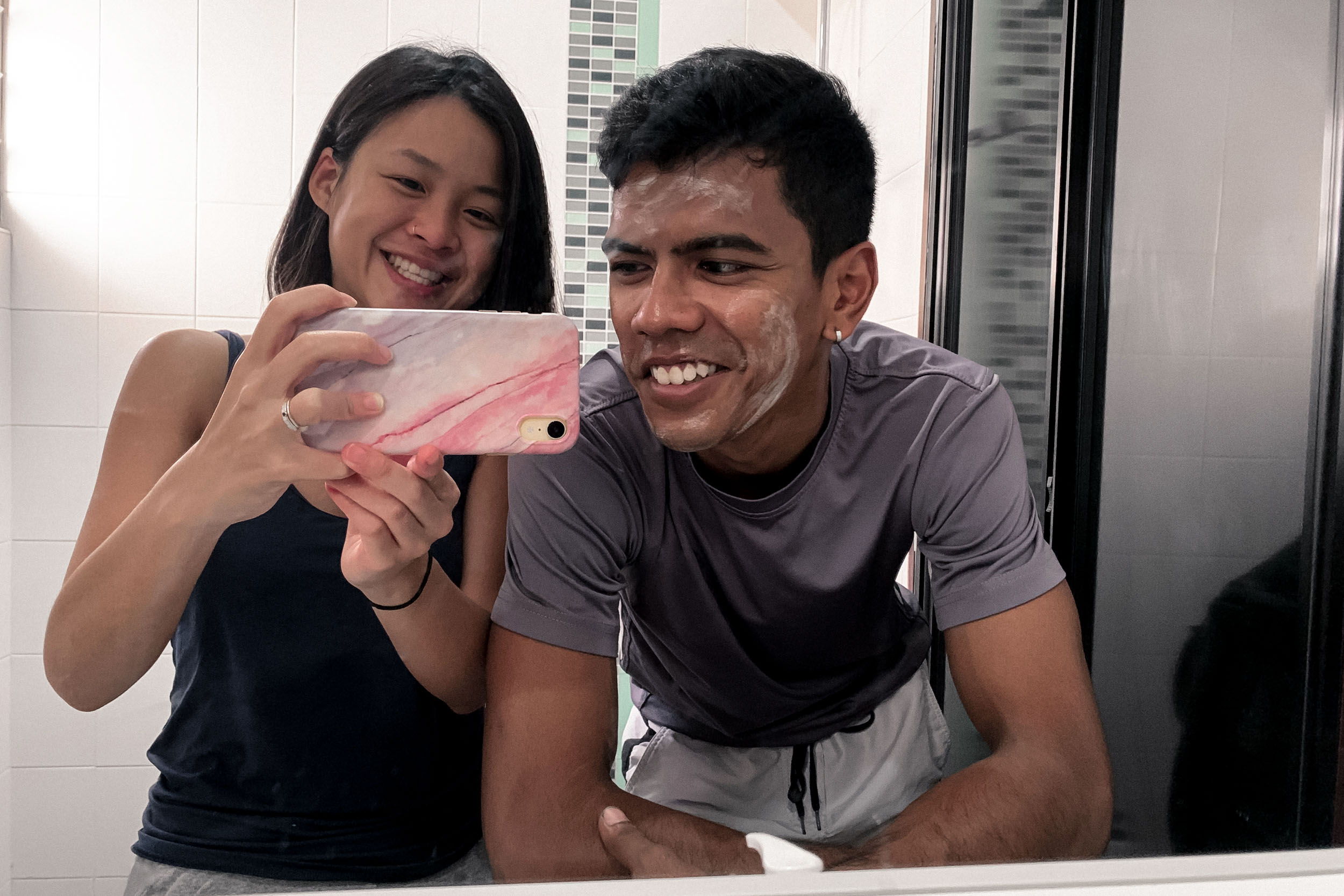 Documenting Dom's failed attempt at masking
The first time he applied the hydrating gel mask, which contains antioxidants and phytonutrients like vitamin E and beta-carotene, he slathered it onto his face immediately after moisturising. On top of that, he did not massage his skin for the recommended one minute. In the end, the mask did not turn into a creamy white paste and his anticipation for the stated warming effect was not met.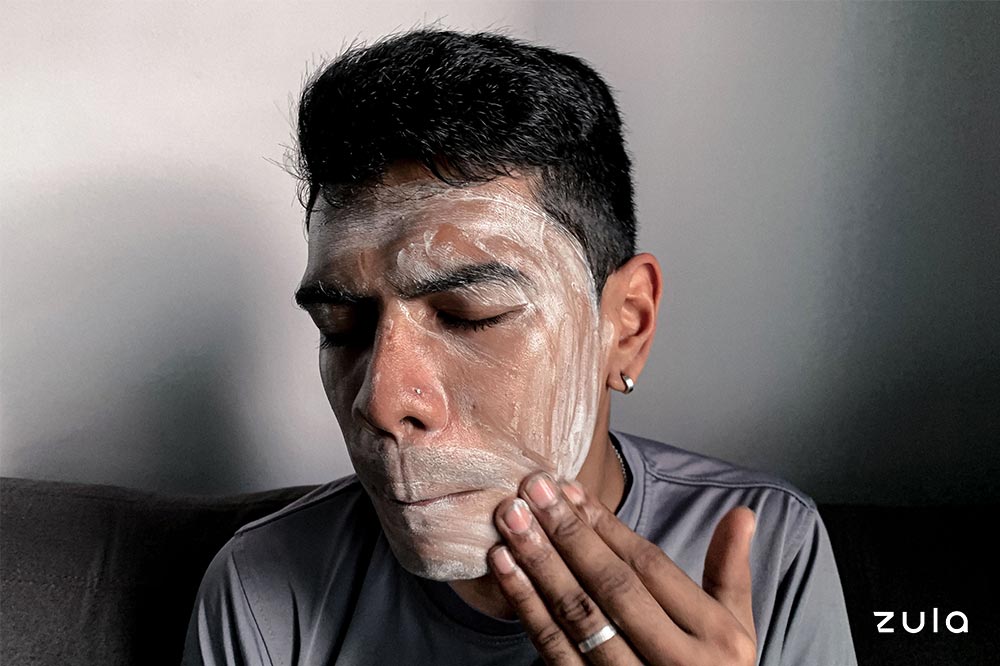 He waited a few days to use the mask again and was more successful this time around. He even proudly sent me a photo of him using the mask on Telegram. 
"I now see why you girls are addicted to spa sessions," he mused. He added that the warming sensation was surprisingly therapeutic, and he enjoyed the pleasant scent that came with it.  
As for his skin, I could see it was less grey, with his pores appearing visibly smaller. While he is still far from the youthful man I met four years ago, his face was definitely starting to look plumper and brighter.
I Forced My Husband To Try A Skincare Routine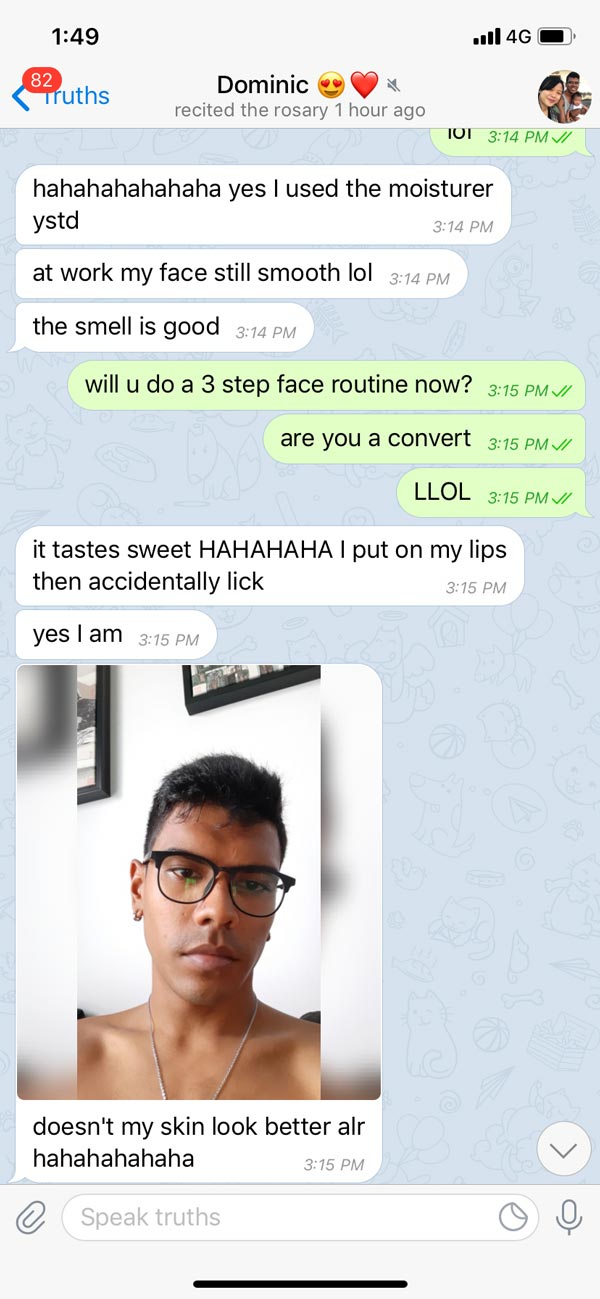 While I wouldn't recommend you to eat your skincare, you'll be glad to know that Rooki's moisturiser tastes sweet
Even though this was his first time using so many products on his skin, Dom did not break out, which was a huge plus point in making him a skincare convert. I was actually quite surprised by how easily he adopted the routine as well as his positive mindset throughout the entire journey.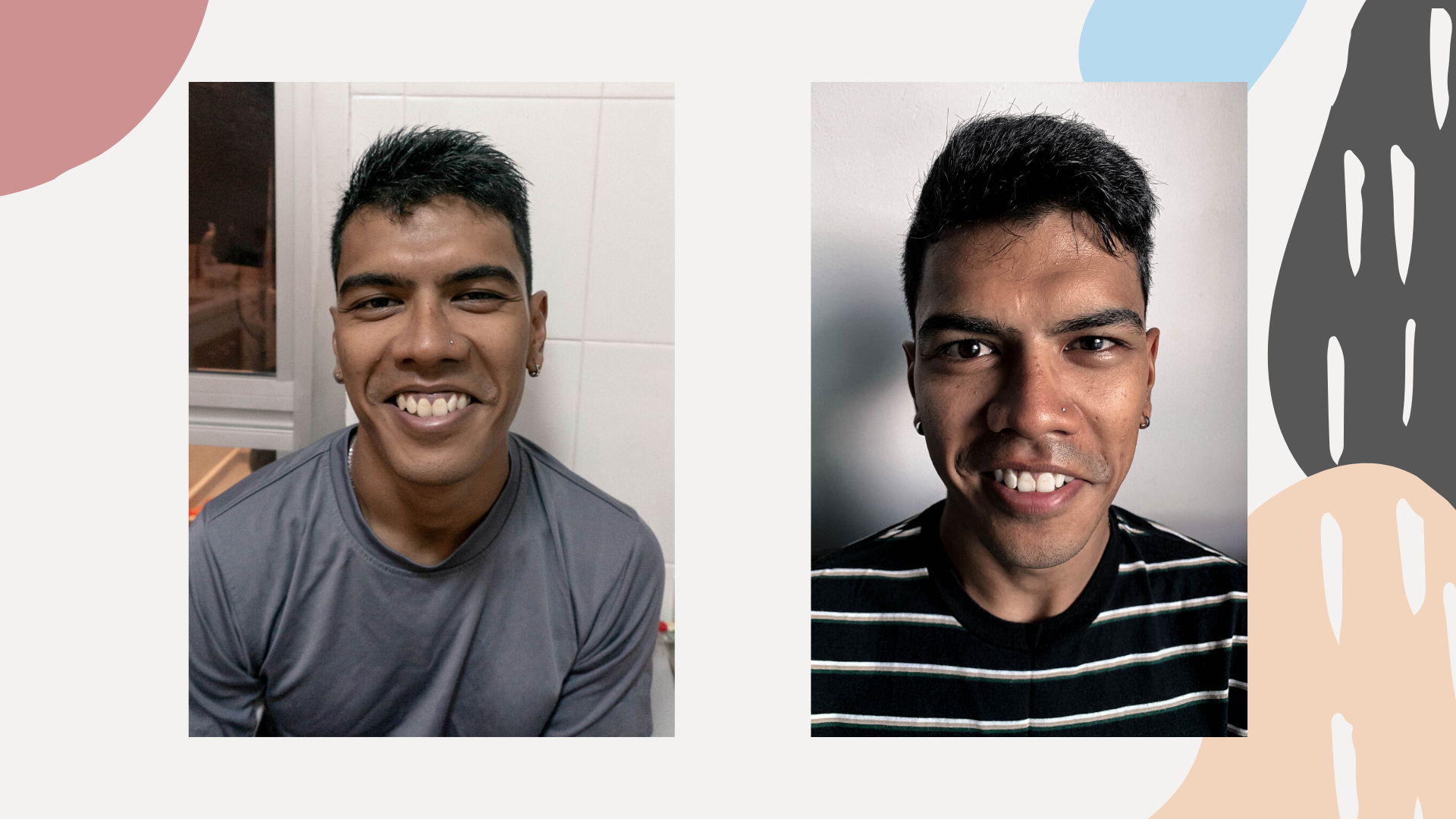 Before (left) and after (right) the one-week challenge
That being said, I believe the only way Dom will religiously follow a skincare routine is if I constantly replenish his beauty pantry for him. After all, this is the man who doesn't replace his toothbrush even though the bristles are frayed. 
If you would like to challenge your other half to get on a beauty regime, you'd be pleased to know that Rooki Beauty will be giving away free samples from now until 23 December 2019! Do note that the samples will only be shipped to Singapore addresses, and each household is limited to one set of samples. 
This post is brought to you by Rooki Beauty.
Photography by Sebastian Tan.