T. Milky Way Infrared LED Mask
Besides pampering our skin with the typical facial cleanser, toner and moisturiser, some of us also go through the extra mile of going for monthly facial services. But if you're lazy AF like I am, treating yourself to a sheet mask twice a week seems like the next best thing to give your skin.
But how efficient the benefits of sheet masks get absorbed into my skin was a question I frequently asked myself. It was sheer coincidence then, that I started seeing my Korean oppa idols like Park Seo Joon and Lee Min Ho gracing my screens using LED masks in commercials and shows like The King: Eternal Monarch.  
Here's the thing – I've heard of LED masks from my idols, but I wasn't sure about its benefits. Plus, I didn't know if it could really offer me anti-ageing, whitening and oil control features as advertised, beyond the products I was already using. 
With the knowledge of my love for masks and Korean idols, my supervisor sent me to try out T. Milky Way's signature Infrared LED Mask for a week, also known as Audrey. I was told that all I had to do was use the mask for 10 minutes a day to "reverse" time and achieve smoother and younger skin.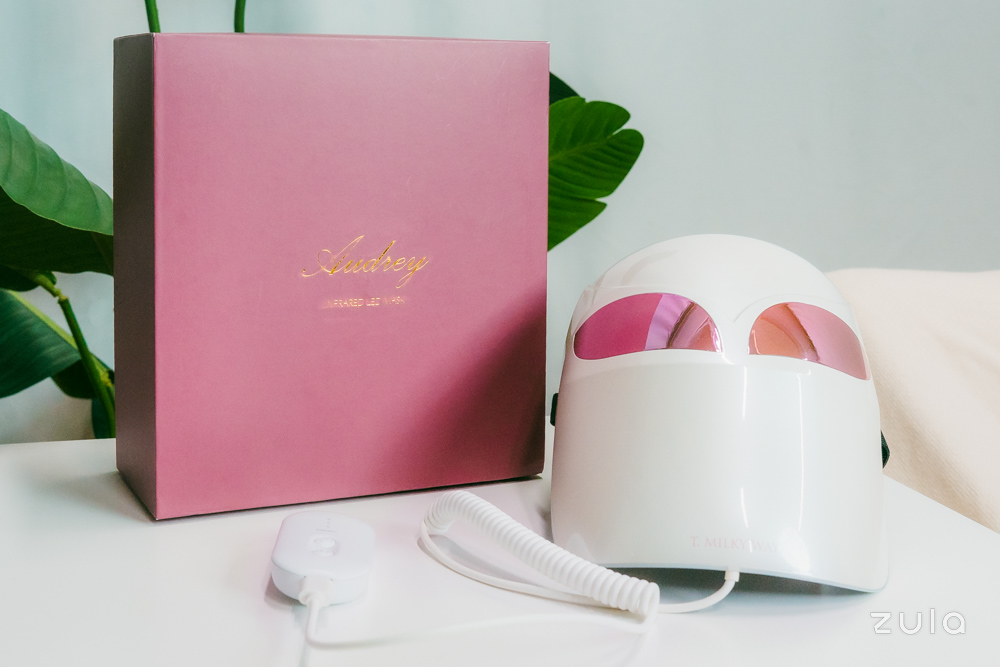 The Audrey Infrared LED Mask comes in a pink box and features a detachable remote
Trying the Audrey Infrared LED Mask with my mum
The catch? My lovely mum had to do this trial with me too. FYI, my mum is 30 years older than me and shares my adventurous side for trying out new things. So when I first asked her if she would like to try the Audrey mask with me, her agreeing "yes" came almost instantly.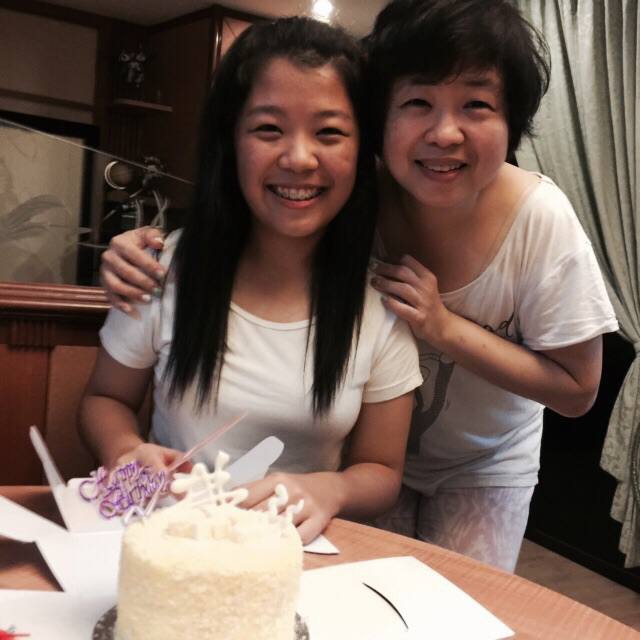 My mum and I when we were 47 and 17
My mum and I are currently 54 and 24 respectively, but regularly reminiscing about the pre-outbreak and pre-wrinkle days is something we find ourselves being guilty of too. With that, we were hopeful that the LED mask could also restore our past of having more radiant skin. 
Within the course of the week, we did our usual skincare routine and ended off with the Infrared LED mask nightly to complement our daily products. Here's how the process went.
Current skin conditions and expectations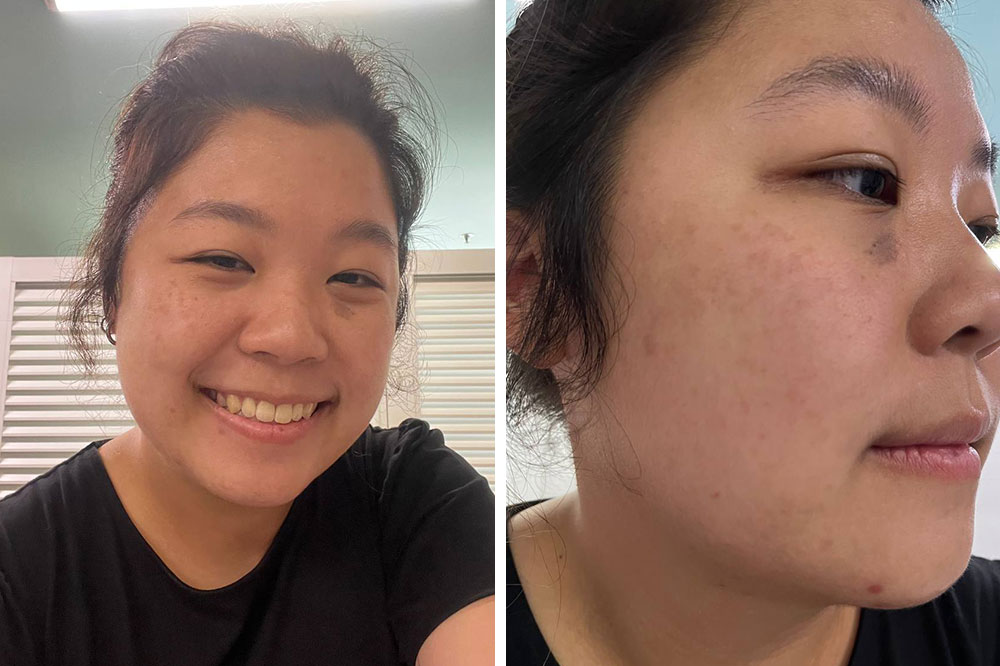 As an introduction, my skin condition is on the oily side, and I occasionally get pimples along my chin and cheeks. Plus, I also have a few dark spots and freckles along my cheekbones — a result of spending long hours in the sun playing netball when I was younger. 
I was told that I might not be able to see noticeable changes in my skin within just a week, since most users see the mask's effects in at least 90 days. Still, I hoped that my skin would start to feel more youthful, and the dark spots would lighten up too.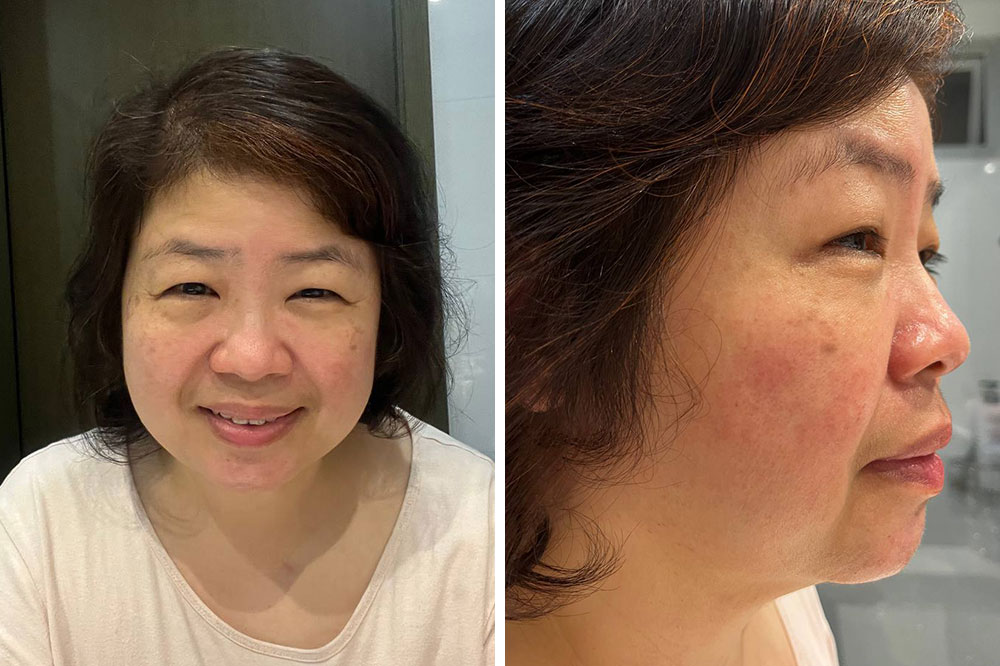 While my mum doesn't get pimples anymore at her age, she doesn't like the dark spots and pigmentation on her cheeks. Unlike me, her skin type is dry. She doesn't have many noticeable wrinkles, which she's actively trying to avoid, and her cheeks are slightly red. 
Since my mum has fair skin, any potential wrinkles or dark spots tend to be more obvious. She was hoping that some of her skin concerns would begin to resolve by the end of this trial.
Day 1: First impressions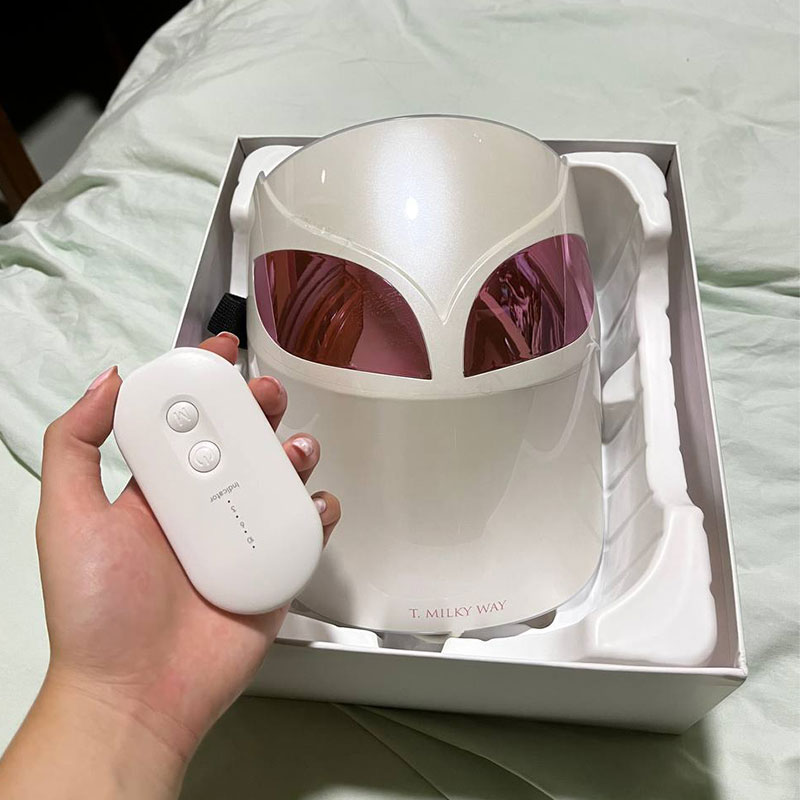 When I first saw the product, not gonna lie, I thought of Ultraman's mask — it was truly giving superhero vibes. But unlike Ultraman's tough exterior, the Audrey mask came in a sleek white and pink design that looked less intimidating and easy to use.
The mask came with seven different LED lights to target different skin concerns. Here's a brief overview of each colour and its respective features.
Red: Stimulate collagen production for firmer and smoother skin.
Purple: Improve lymph metabolism and acne control.
Yellow: Smoothen wrinkles and lines.
Green: Fade dark spots, freckles and blemishes.
Blue: Improve acne skin and oil control.
White: Relax and rejuvenate skin.
Cyan: Smoothe, neutralise and stabilise sensitive skin. 
My mum and I pondered over which setting to use together since we have some similar skin concerns. At first, we were deciding between yellow, green or blue, but we eventually settled on red as we researched that it was the most popular setting for new users.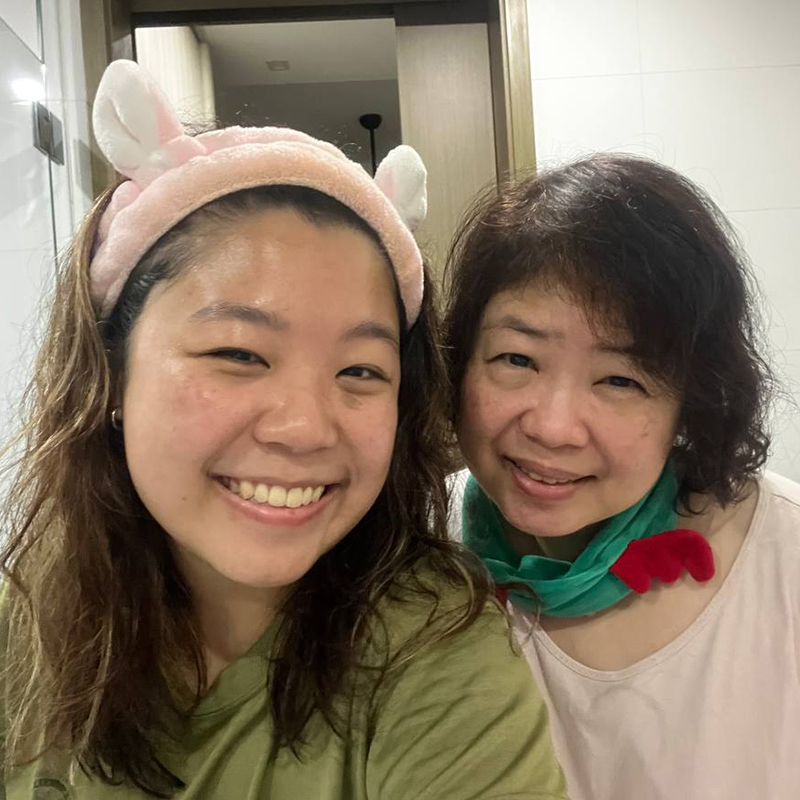 My mum and I fresh after doing our nightly skincare routine and ready to try on the LED mask 
The mask is used for only 10 minutes a day after our skincare routine, so that it can enhance the absorption of our products and improve blood circulation. Fun fact: while putting on skincare every night does help your skin, not all of it would penetrate into its layers.
Luckily, the LED mask works as an extra boost to treat into the deeper layers, where my products are unable to reach. This meant that it was time to whip out my expensive serum for this trial, hoping to make my money worth, down to every last drop.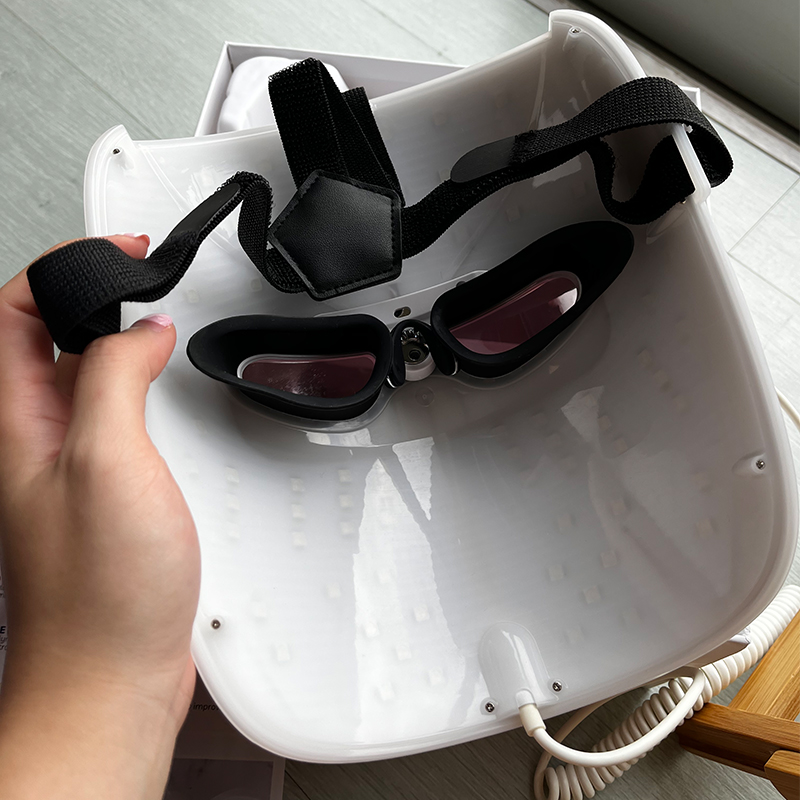 The remote came with two buttons, one for switching on and off, and the other labelled "M" to switch between the different light modes. Putting on the mask was pretty simple — all I had to do was adjust the head straps and fit my eyes into the rubber shields to protect them from the bright lights.
Switching it on, I was pleasantly greeted to a voice assistance to declare the start of the treatment. No need for my lazy self to start a timer either, as the voice assistance helped countdown on the 6-minute and 3-minute mark, before announcing the end of the treatment and automatically switching off.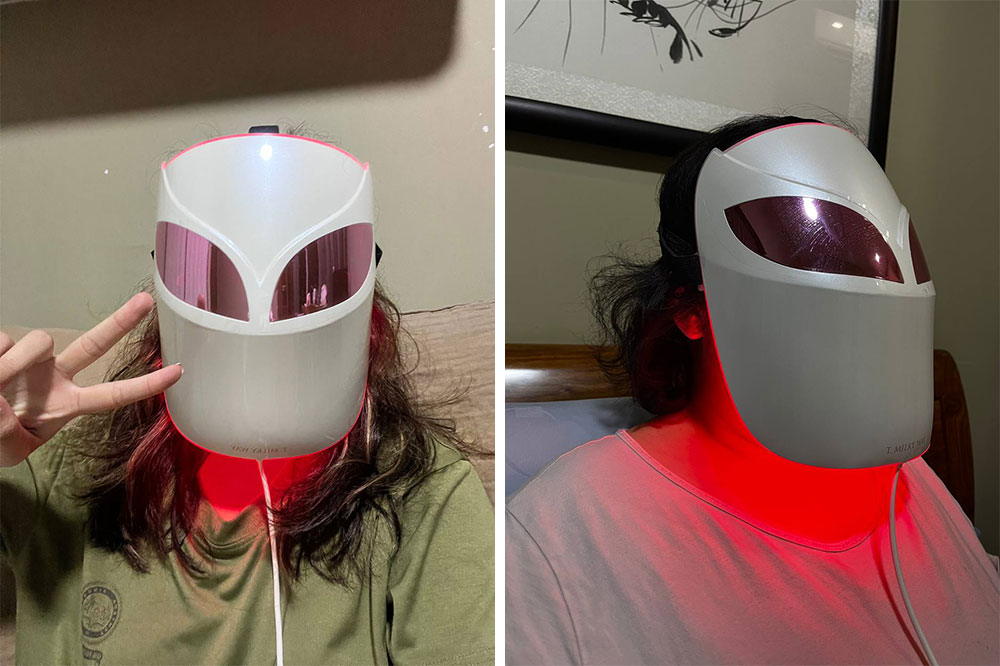 From there, all I had to do was close my eyes and relax. At first, I experienced a bit of discomfort while trying to get used to wearing the mask straps. But I didn't let that discourage me from trying out different angles to suit my face shape, so that I could lie back comfortably. 
Meanwhile, my mum, like the champ she is, told me that she felt no discomfort at all. The light itself didn't cause any pain either — it literally felt just as if someone was shining light onto our skin.
Day 3: Mid point check-in
My mum sending me a selfie to show that she was using the mask
On the first day of the trial, I helped my mum to set up the mask and showed her how to use it. By the third day, she was already a pro. I was out that night and told her to go ahead to use the mask first, and she hilariously sent me a selfie update of her using it.
If you're wondering how she took this selfie, the rubber eye shield allowed us to still see our surroundings. This means that we're not completely "blind" throughout the treatment while we kick back and relax.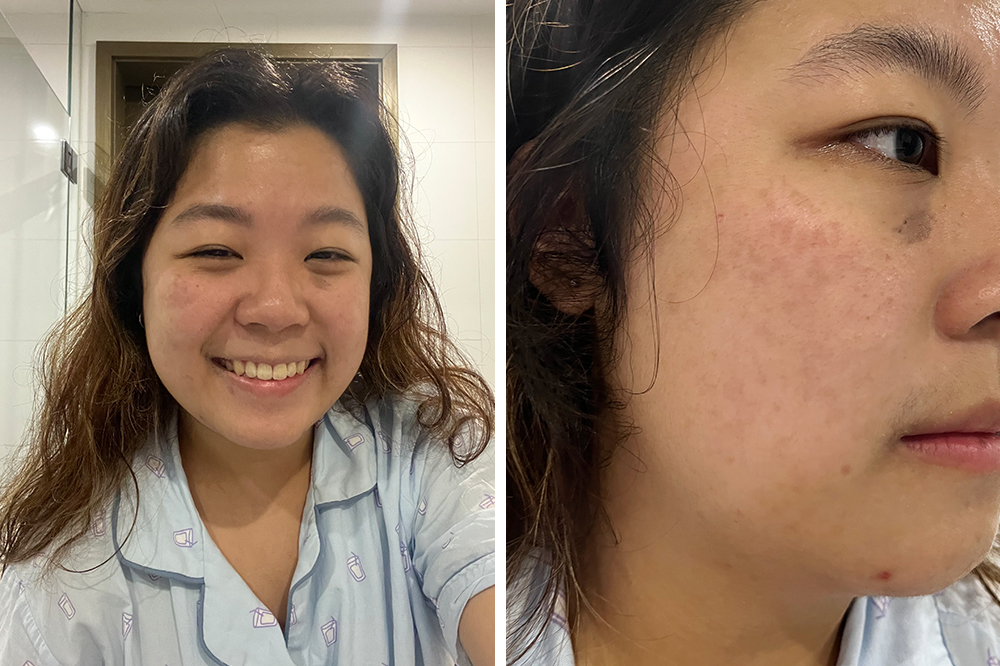 At this point, I did feel that the oil production on my skin had improved, especially since I was out the whole day and my skin didn't feel as oily as usual. I also did not see any new pimples on my face. 
Since my dark spots are pretty harsh, I didn't expect them to magically fade away overnight, but I hoped that I could expect a change in the next few days.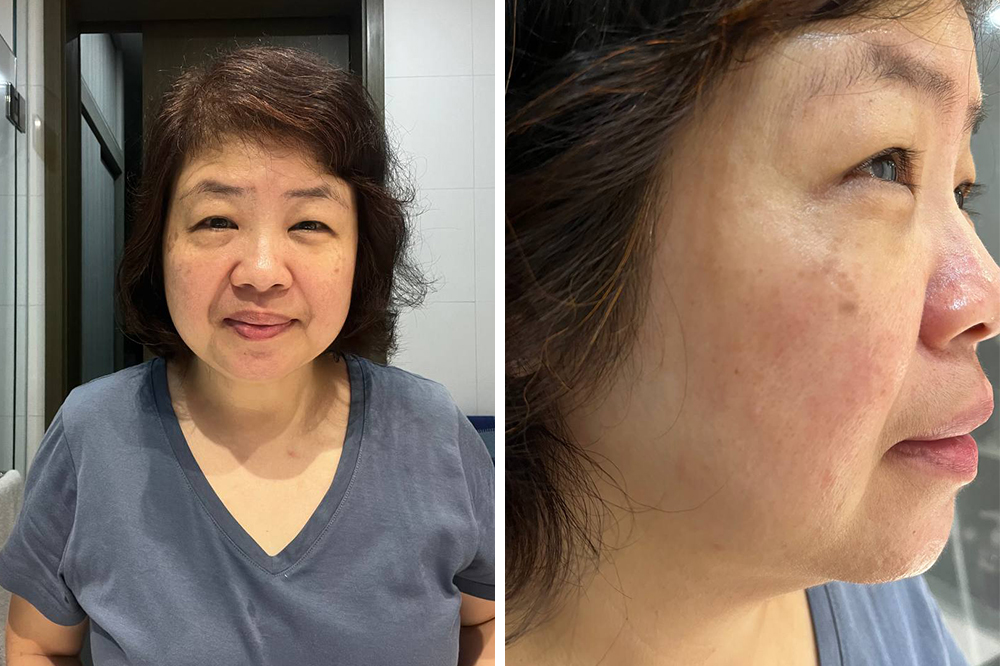 By day 3, my mum's skin looked smoother and there was less redness on her cheeks. She mentioned that her skin also "felt soft to the touch the next morning", and was already looking forward to using the mask more.
Funnily enough, she became the one reminding me to use the mask with her every night. Adding this step to our routine also meant that we started having bonding sessions together, where we would share about our day while the treatment was ongoing.  
Day 7: Final thoughts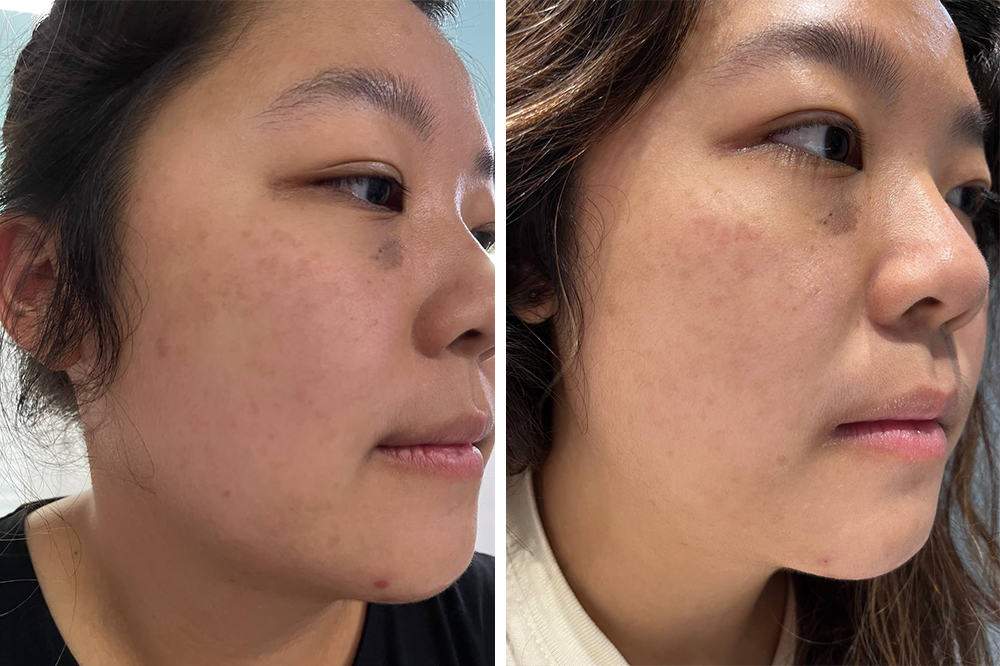 Before (left) vs after 1 week of using the LED mask (right)
At the end of the week, my skin looked brighter and I noticed some of my pimple scars near my chin and jawline were beginning to fade. 
I really liked that oil production on my face was reduced, as I didn't have to use a lot of blotting paper like I normally would when I'm out the whole day.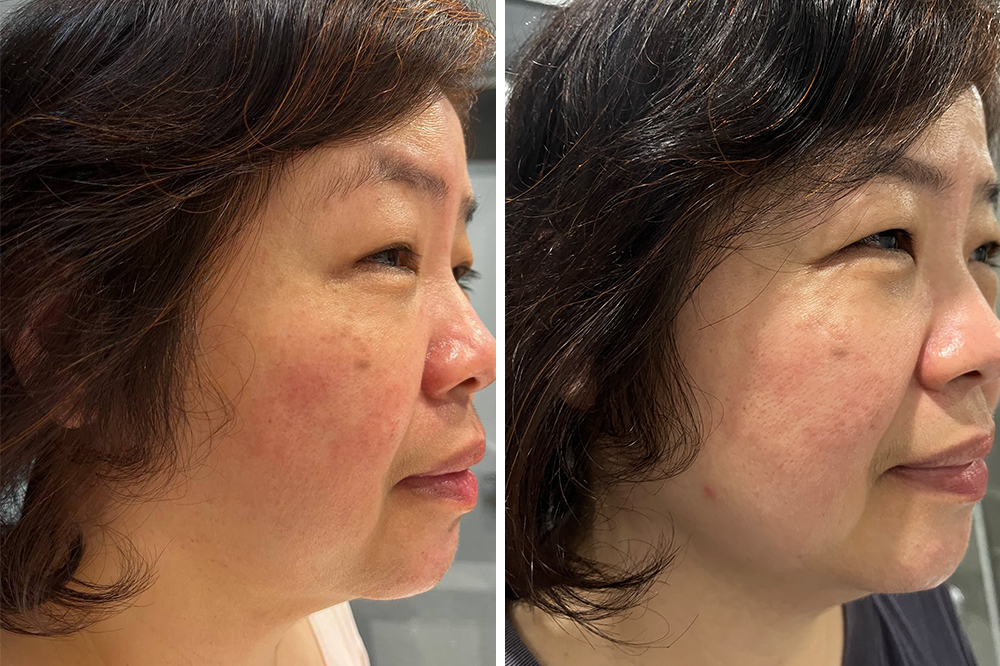 Before (left) vs after 1 week of using the LED mask (right)
For my mum, she pointed out that her cheeks were "noticeably less red, and there was a more even skin tone". Some of her dark pigmentation began to lighten up, and her skin also appeared brighter and smoother. 
Of course, it was not possible for my mum and I to go back in time and look exactly like our younger selves again. But throughout the course of this one week, we both managed to see some of our initial skin concerns being resolved.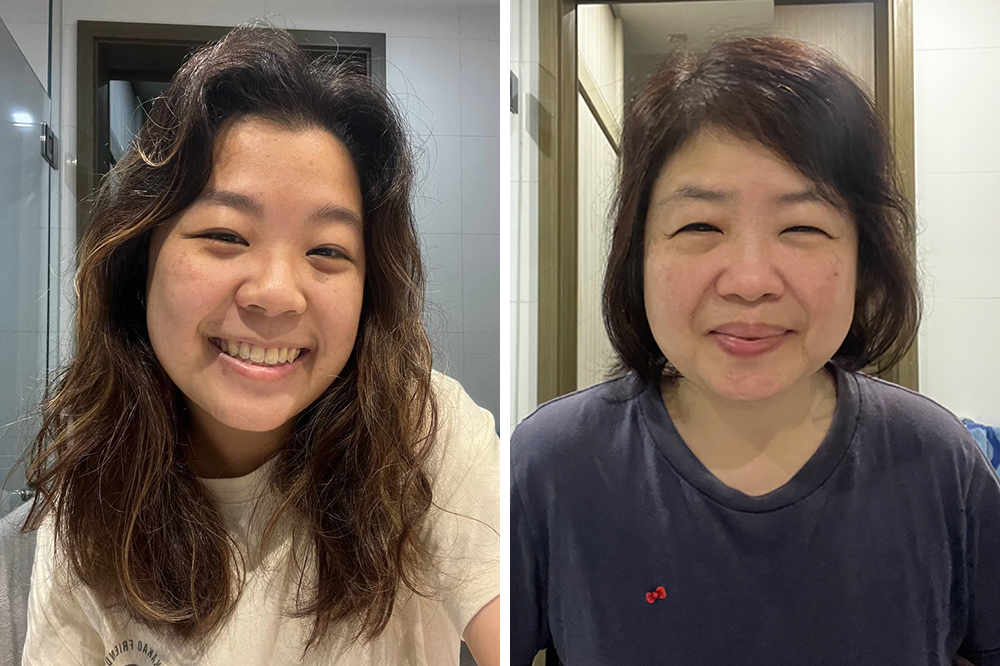 Feeling younger with my mum already 
I'll admit, some days I felt too nua to do something as simple as getting up to put on a mask. But unlike sheet masks where you still have to get up again to dispose of it, the Audrey mask is reusable. The small effort to get up to put on the mask soon felt extra worth it. 
It was so much more convenient, and my mum even used the 10 minutes to meditate as part of her nightly self-care routine. She excitedly shared the mask with her friends too, who were in turn, eagerly waiting for her review so that they could try out the mask themselves too.
Moving forward, we both agreed that we definitely have to use the mask for a longer period to see more significant results. My mum and I are also planning to alternate the different colours to reap other benefits, so that we can enjoy all 7-in-1 solutions.
My Mum & I Tried Adding An Anti-Ageing Infrared LED Mask To Our Skincare Routine For A Week
Adding this small step to my skincare routine was simple and fuss-free, and I really enjoy exploring new products to better pamper my skin.
It's almost hard to believe that with just 10 minutes a day, anyone can achieve radiant skin from the comfort of home. Yep, it's possible with the Audrey Infrared LED Mask — time to say bye to expensive spa treatments when this atas device is already at your fingertips.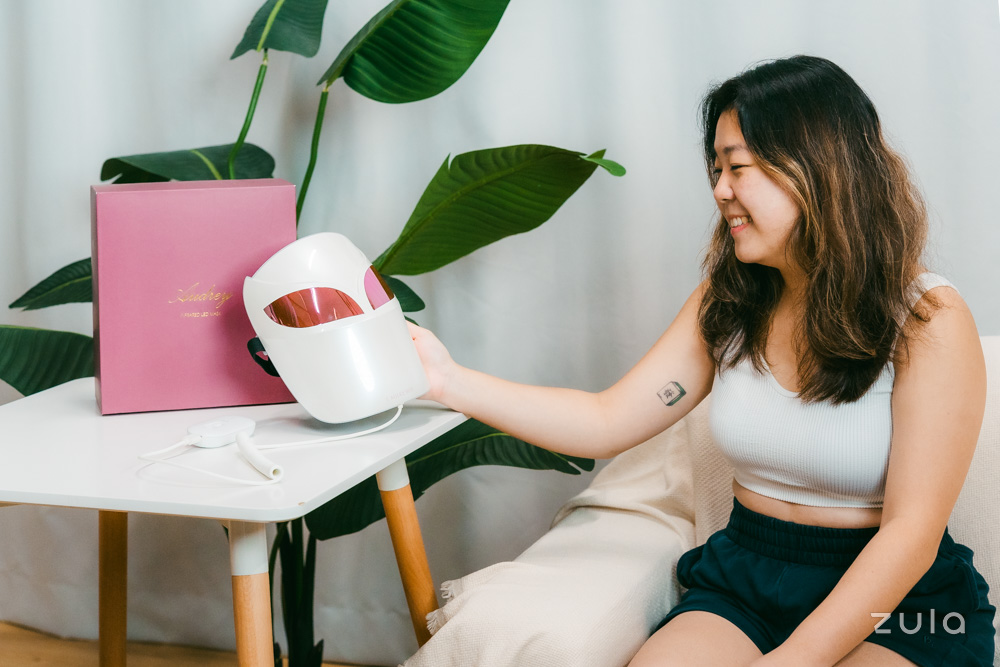 The mask is suitable for all skin types, and is also lightweight so you won't feel weighed down while the treatment is ongoing. 
It's perfect for both newbies and seasoned skincare junkies who have yet to explore the benefits of LED lights. These LED lights are able to penetrate and reach the inner layers of our skin, repairing your skin cells, increasing blood circulation and shortening our skin cycle. 
FYI, your skin cycle is almost similar to a period cycle, where every few weeks, it will repair and restore itself anew. With the LED mask shortening this cycle, this means you'll get to enjoy smooth and new skin more often than before.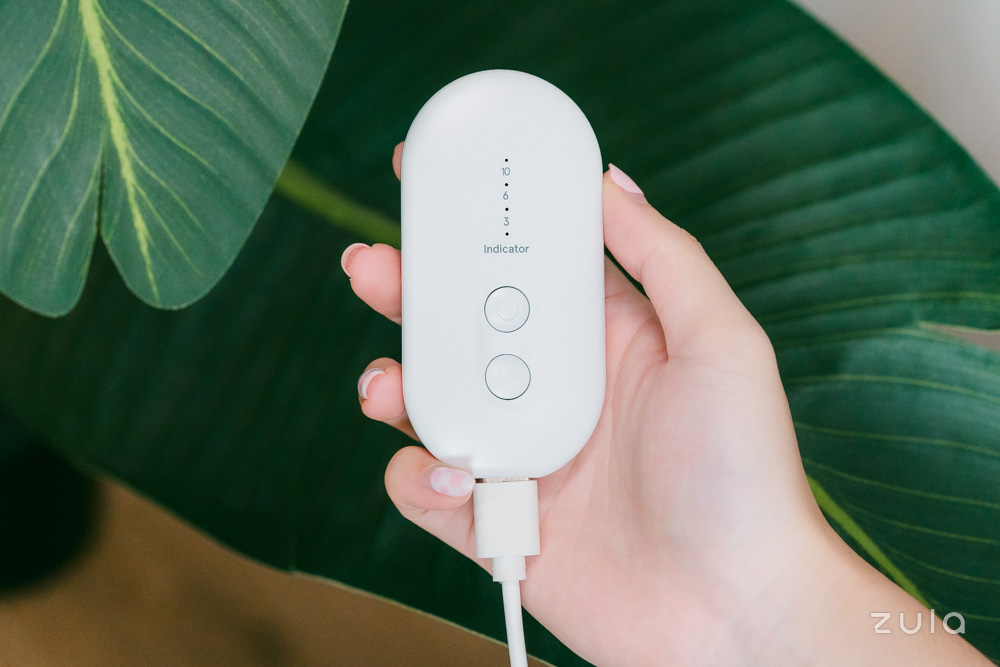 On top of these benefits, the Audrey Infrared LED Mask is also organic, environmentally friendly and animal cruelty free, with results observable within just 3 months. The mask is retailing at $490 per set — worth it in my opinion, since its long-term uses and benefits will help you to achieve your dream skin condition and build up confidence in no time. 
With Christmas quickly approaching, customers can now also enjoy $60 off at checkout online. Simply cart out before 24 December 2022 and the discount automatically applies, with gift wrapping services available too.
Milky Way will also be holding a Christmas giveaway special, where you can stand a chance to win an Audrey mask yourself. Make sure to share this lobang with your BFFs and stay tuned to @t.milky.way's Instagram page for more information on the full giveaway mechanics. 
Pregnant women and photosensitive individuals are not advised to use Audrey.
This post was brought to you by T. Milky Way.
Photography by Afiqah Amir.