Personal Experiences With Invisalign
Besides flawless skin and good hair days, most of us have perfect teeth on our wishlist. While you'll definitely have heard of braces and know of friends who have undergone the process, Invisalign might be unknown territory for you. For those curious to find out more about Invisalign treatments in Singapore, we spoke to 3 millennials about their personal experiences, opinions, tips and what you need to know before taking the plunge.
"It gave me the confidence to smile"
Emily dreamt of having straight teeth for at least 7 years before starting her Invisalign treatment. The main trigger? When she looked at photos of herself, she thought she had what people would term as "Bugs Bunny teeth".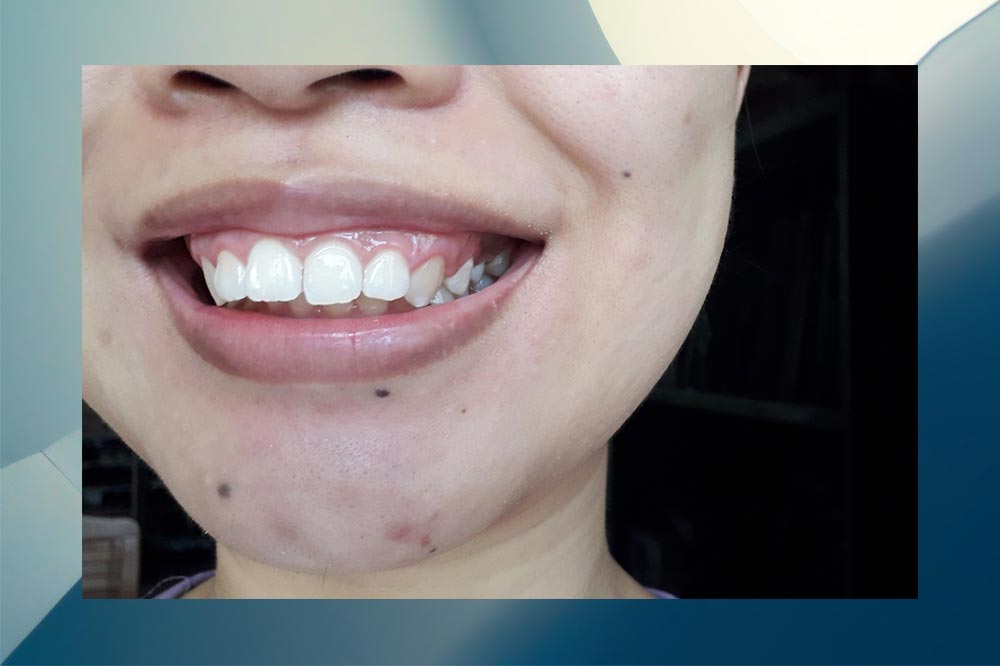 Before starting Invisalign. Photo courtesy of Emily
Initially, she postponed treatment due to cost concerns. But since she also had an overbite and overjet, which occurs when your front teeth protrude forward, she eventually bit the bullet and signed herself up for Invisalign.
Not many know that Invisalign not only fixes crooked teeth but can also help correct the bite concern in complex cases. When asked if there was any pain at all, she says it was only for the first 3 days. Now, it's been a year or so since she's started Invisalign treatment:
"It gets much better and more manageable after that. I can do anything I want to do with aligners in my mouth now. Imagine that there is one finger pushing very gently on each of your teeth. That's what Invisalign feels like 99% of the time for me."
As she says, "Actually, I've never taken a single painkiller or been unable to focus on work due to Invisalign soreness."
But she clarifies that it varies for each person, relaying social situations as what most will find challenging:
"I have to excuse myself after group meals—often while others are still slowly eating—to brush my teeth. If everyone I'm dining with understands that I'm an Invisalign patient, that's okay. But some people to whom I haven't disclosed the details of my treatment have thought I'm antisocial or rude, or that I have an unusual obsession with keeping my teeth clean."
But to Emily, it was all worth it.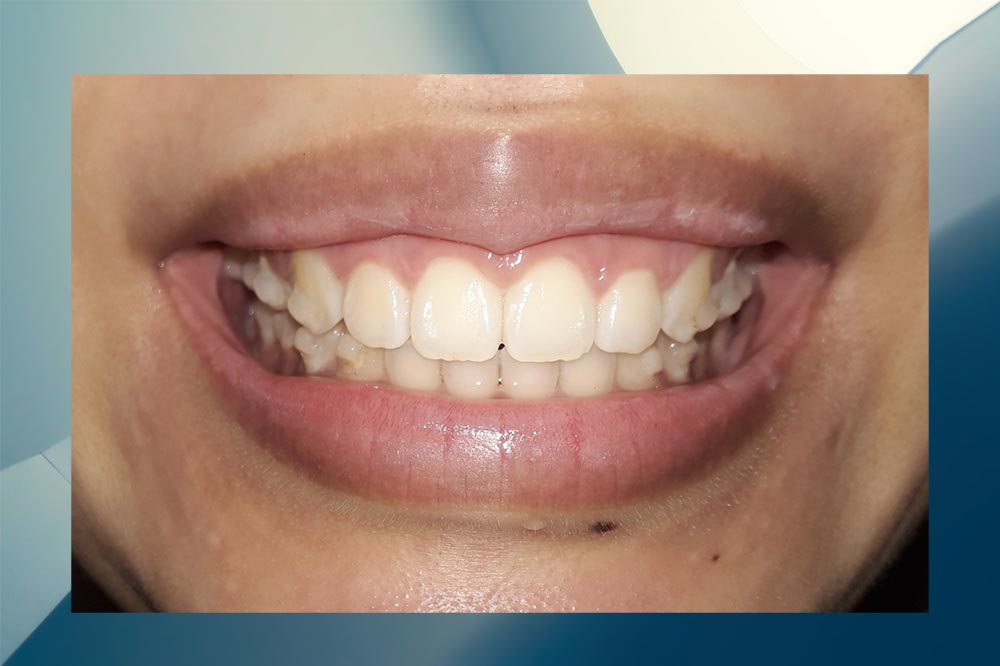 Midway through treatment. Photo courtesy of Emily 
Her overbite is down from 9mm to 4mm, she no longer has a deep bite, and her teeth don't protrude as much. In her opinion, the best thing about Invisalign or any kind of dental treatment is that "it gives you more confidence when you smile".
"And maybe in the process, who knows, you may leave a better impression on others, which can open doors for you."
Tip: Download the free My Invisalign app so you can easily keep track of your daily wear time—you'll need to keep your aligners in for a minimum of 22 hours a day. You can also save photos of your teeth with this app, so you can see its weekly progress.
Emily started her Invisalign journey in end September 2019 and is due to finish her treatment in early December 2020.
"It's the most convenient option on the market"
It was at a regular dental visit when Joyce was told that the bottom row of her teeth was overly crowded, which would eventually affect her oral health. But it was only after a long period of WFH that she made up her mind to correct her teeth: in all her video conferencing calls, she couldn't help but notice that her top row of teeth could use some correction too.
Photo courtesy of Joyce
After consulting different orthodontists, what struck Joyce the most was that "different orthodontists have different treatment philosophies". She shares, "The first one I saw recommended the extraction of 2 wisdom teeth at the back to make space, while the second suggested removing a bottom front tooth."
As such, it's worth "shopping" around for different orthodontists first to find out what treatment plan or pricing rates suit you best. While Joyce did end up with the first orthodontist she consulted, a good chairside manner makes a massive difference—that is, soft skills like quality service and the patience to listen to your concerns.
For Joyce, service plays an important role: "It also helps that the service is better than any dental practice I've been to. That can really make or break the experience of a year-long commitment."
You're given different aligners when progressing through the Invisalign treatment
She ultimately chose Invisalign over braces, since she felt like the visible brackets and elastics would make her "look a little kiddish". But at the same time, she advises people not to buy into the stock images that are touted online or in pamphlets, and to be aware that treatment plans may still include attachments and rubber bands.
Yet, Joyce believes that Invisalign is the most convenient option since it has the "lowest maintenance in the market". There's no need to make frequent trips to the dentist since you can simply scan your teeth to track your progress. If your teeth are on the right track, your orthodontist will give you the green light to start your next set of aligners.
She adds, "I am quite fascinated by how some of my teeth have moved backwards, presumably to create space, just by giving them a different mould to fit every week".
She's just 2.5 months into her Invisalign journey but thinks it's a good idea for those interested to start now.
"The silver lining is that we'll all be masked up in the foreseeable future so now's a pretty good time to start the treatment."
Tip: Invest in an ultrasonic cleaner or an electric toothbrush to help keep your aligners clean—you'll be saving a ton of time. You can also soak them in a mixture of dental cleansing tablets and warm water.
Joyce started her Invisalign journey at the start of September 2020.
"Wearing aligners meant I had to plan my meals ahead of time"
Although Jasmine had considered braces when she was younger, she only took the plunge after interviewing an orthodontist for an article. It was when she found out more about the treatment itself from an Invisalign-certified expert, combined with the fact that "she didn't really want to look like a kid with braces", that convinced her it was the right choice.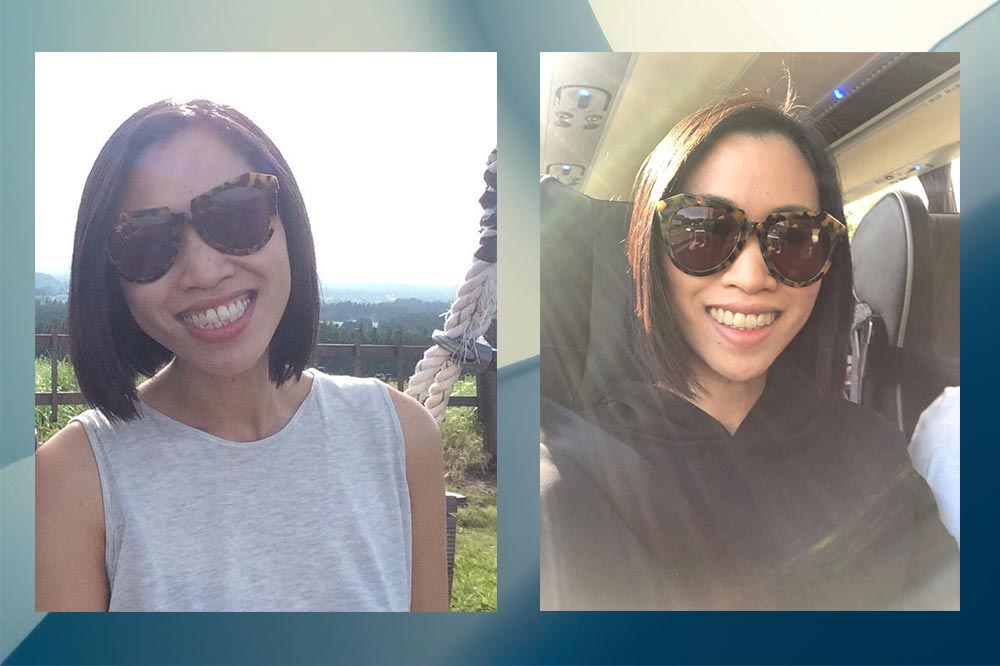 Before (left) and nearing the final stage (right) of her Invisalign treatment. Photos courtesy of Jasmine 
Thinking back, her most dreaded experience surrounding the entire treatment was extracting 4 of her teeth. She says, "Frankly, the extractions were the part that scared me the most in the whole process."
The Invisalign treatment itself wasn't anything as dire, besides facing some pain for a day or so after changing to a new set of aligners, a process that happened every 1 to 1.5 weeks. Jasmine admits to occasionally getting headaches at the time but assures that it eventually got better:
"The first day with a new set of aligners is always quite uncomfortable and tight. Sometimes it got so bad that I'd have a headache, but nothing so terrible that I couldn't just sleep off. It got better as my teeth got straighter."
Jasmine also shares that she had to brush her teeth "in some of the weirdest places", from the office to romantic restaurants. She had to remove her aligners before eating too, but soon "developed a skill to stealthily do it at the table" when she was casually dining out with her friends, so it was of little inconvenience.
While Invisalign certainly helped with her teeth concerns and underbite, her most unexpected takeaway was the benefits to her diet. Wearing aligners meant having to plan when she could eat and drink—you can only drink plain water—and she noticed she was eating healthier.
"You're not supposed to eat with the aligners on, so that meant I snacked a lot less," she chuckles.
In her early Invisalign days, she once drank a matcha latte while wearing her aligners and had to "live with green-tinged trays for a week".
Tip: Bring a toothbrush and toothpaste wherever you go. Since you'll need to brush your teeth after having a meal, snack, or even a sip of coffee, it's best to be prepared.
Jasmine started her Invisalign journey in 2017, and has been wearing retainers since the start of 2020.
Straightening Your Teeth With Invisalign 
All 3 millennials have one thing in common when it comes to their Invisalign experiences: no regrets. From gaining physical results to indirectly getting a confidence boost, Invisalign treatments prove to be a solid choice when it comes to correcting most teeth misalignments and bite concerns, including more complex conditions.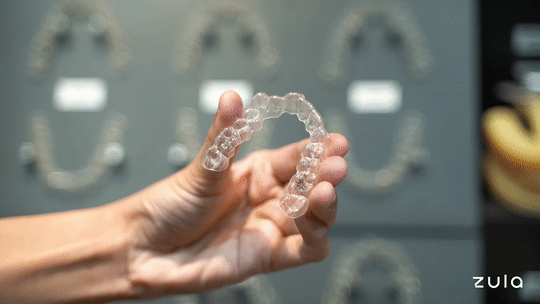 Since Invisalign aligners are made of a special SmartTrack material, they use a gentle force that moves in a predictable manner. These are made to be lightweight and thin to fit comfortably in your mouth and are easy to remove whenever you need. 
While it might take some time to adjust to wearing aligners for 22 hours a day, no one faced any major lifestyle changes and agreed that Invisalign was equal parts convenient and effective. As Emily says, "I can do anything I want to do with aligners in my mouth now. I have zero problems brisk walking, jogging, or doing physical activity".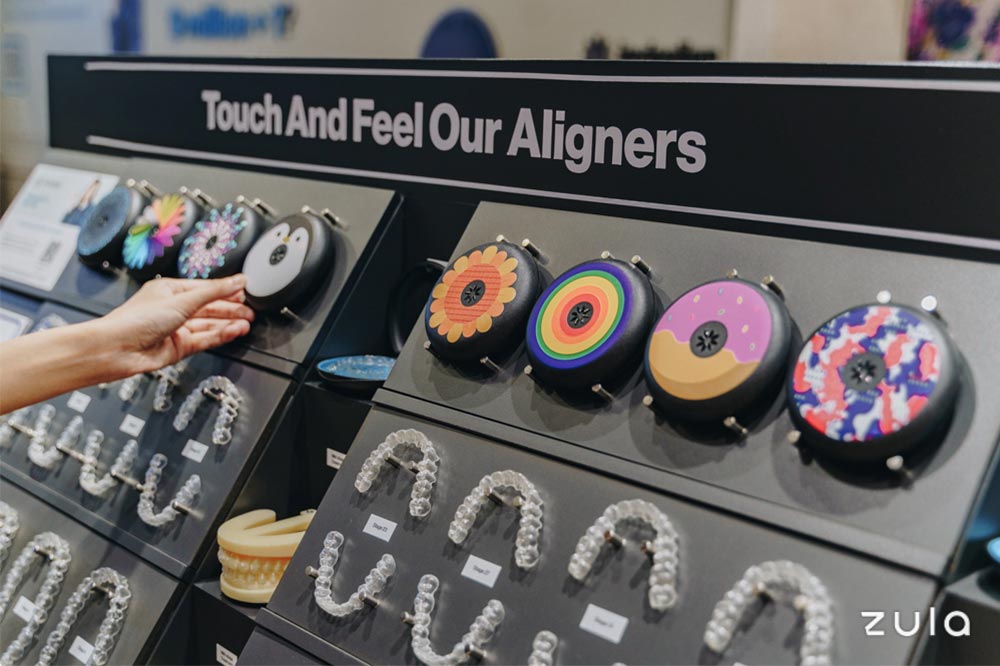 Each treatment is customised according to the individual, and you'll also be in the safe hands of an Invisalign-certified doctor. Rest assured that Invisalign offers customised treatments that are based on years of research and cutting-edge technology, so you can have the smile you've always wanted.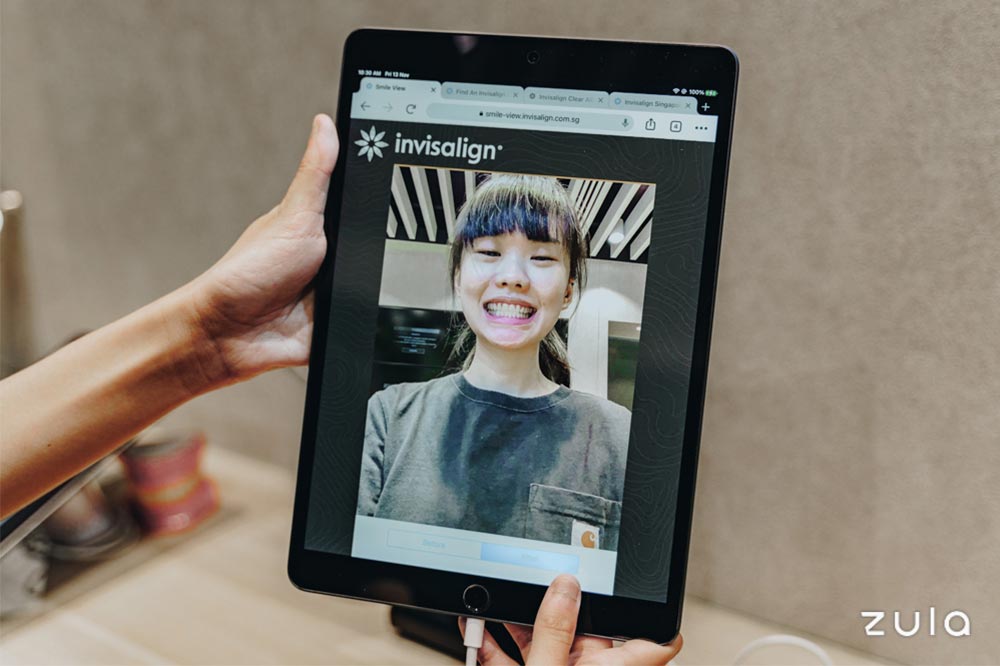 SmileView shows you what you look like with straighter teeth
Invisalign is suitable for any age and has treated more than 9 million people around the world—including more than 2 million teens.
If you want to find out more about the Invisalign treatment or to see if your teeth are suitable, head down to Invisalign Centre Singapore at Wisma Atria #B1-14. Here, you can get a first-hand experience of 3D scanning machines, touch and feel various aligners on display, and even see what you'll look like with straighter teeth.
There are also Smile Concierges on standby whom you can consult if you have any questions regarding the treatment process. If you want, they can also help you book an appointment with a doctor, location and timing of choice.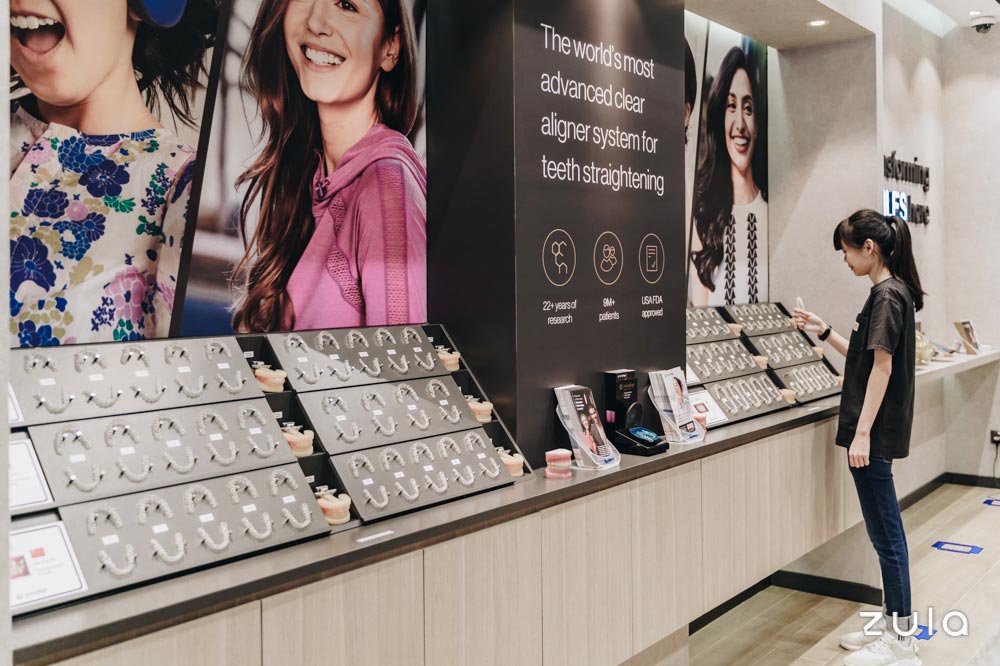 Get started on your Invisalign treatment for straighter teeth with a free smile assessment, to help identify which issues you would like to correct. Once you've completed the assessment, a Smile Concierge will soon be in touch with you to help book an appointment. In doing so, you can receive a $200 voucher to use on your Invisalign treatment*.
*Terms and conditions apply.
All experiences and opinions expressed above are the users' own, and are not reflective of Invisalign's views.
This post was brought to you by Invisalign.
Photography by Adria Tham.
Background image photography: Source

Also read:
12 University Students On Admission Interviews, Uni Life And Non-Existent Group Mates In Singapore Universities