Jenna Ortega Facts
Heads up to those who only know Wednesday as "hump day" or the middle of a week, as there is now a new meaning to it ‒ the viral Netflix series Wednesday. As a TL;DR for the unversed, the drama is based on Wednesday Addams from The Addams Family, played by Jenna Ortega. 
Ever since the release of Wednesday, Jenna Ortega has gained a huge amount of following and become the next "it" girl of Hollywood. For curious folks interested in the 20-year-old actress, read on for more facts of the burgeoning star. 
1. She has 5 siblings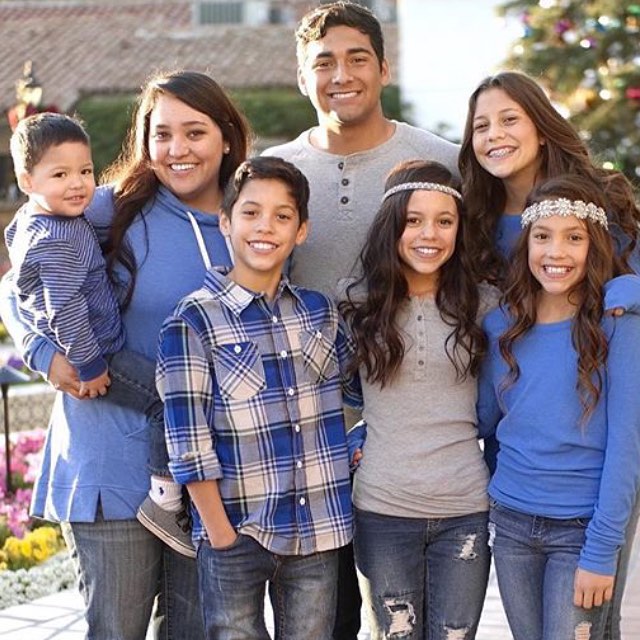 Jenna with her siblings and nephew
Source
For many of us, it is hard to imagine growing up in a big family, but Jenna grew up with five other siblings and her parents. She is the fourth child in the family, and fans were previously introduced to her family members through a YouTube video by Disney. 
The wholesome video suggests that Jenna treasures her family time, and she even shared how she always enjoys a soccer game with them.  
2. Discovered through a Facebook video
Known as a "dramatic kid" by her mother, Jenna revealed that she was discovered by a casting agent after her mother posted a video of her on Facebook. Initially, her mother only posted the video as a joke for her friends, but it seemed like it later became the turning point of her life. 
As Jenna was only 7 years old back then, her mother wasn't sure about letting her enter showbiz, but we're so glad that she did eventually. 
3. Was a Disney child star
Jenna was only 13 years old when she became a Disney child star thanks to her role as Harley Diaz in Stuck in the Middle. Her character is an aspiring inventor who pieces gadgets together as her means of dealing with living in a large family. 
Perhaps because of the fact that she comes from a large family IRL, Jenna pulled off her role as the middle child of the seven Diaz siblings perfectly. Curious fans of Jenna can catch the sitcom series on Disney+. 
4. Was mostly homeschooled
Growing up in Coachella Valley in Southern California, Jenna attended public school until she was cast by Disney for Stuck in the Middle. Since then, she had to be homeschooled for most of her high school years due to the nature of her acting career. 
As Jenna missed out on many high school traditions like prom, it was reported by Yahoo that Disney threw a prom for her where she met stars from other shows too. 
5. Is incredibly proud of her Mexican and Puerto Rican heritage
Being 75% Mexican and 25% Puerto Rican, Jenna understood the meaning of staying true to herself at a young age. During an interview with Teen Vogue in 2016, she emphasised that "it is important to embrace your culture". 
As a person representing the Latino community, Jenna takes pride in her own culture and background. She stood up for Pride Over Prejudice to show her support for refugees and immigrants, especially since her ancestors settled in the U.S. as immigrants to build a better life for their families. 
6. Voiced Disney's first Latina princess 
On top of being proud of her Mexican and Puerto Rican heritage, Jenna was honoured to lend her voice to Disney's Elena of Avalor. Voicing Princess Isabel, a Latina princess, Jenna revealed that she was excited to be part of a show that brought diversity to the small screen. 
Plus, she also shared that it was a dream come true for her to be able to play a Latina princess. 
7. She is the ambassador of UNAIDS
Putting the influence she has as an actress to good use, Jenna is an ambassador for UNAIDS. She has been working closely with the organisation in honour of her late grandfather, who passed away from AIDS. 
To raise awareness about AIDS and the impact it has on young people, Jenna also gave a speech during WE Day in 2017, highlighting that she wishes to "eliminate the stigma of AIDS and get people talking about it". We have no choice but to stan an actress who advocates for positive change in society.  
8. Auditioned for Wednesday with fake blood
Whether it is an interview or an audition, one can easily tell if an applicant is well-prepared or not based on the way they present themselves. During her online audition for Wednesday, Jenna revealed that she had hopped onto a Zoom call with Tim Burton on the other end with synthetic gore and fake blood on her face.
Since she had just filmed a horror scene for the movie X in New Zealand before the call, she thought it was perfect to keep the look. 10 out of 10 for being on-brand.  
Also read: 
20 Facts About Hong Huifang, The Mediacorp Actress In The New Singapore-South Korea Film Ajoomma
9. Gained 10 million followers in 10 days
Jenna's popularity is no joke ‒ after the release of Wednesday on Netflix, her Instagram account gained more than 10 million followers in 10 days. Currently, she has a total following of 26.8 million, but I'm sure that in just days to come, she will surpass that amount already. 
10. She's close to Olivia Rodrigo
Fun fact: Olivia Rodrigo was also a Disney star, and she met Jenna through the set of Disney's Bizaardvark, a comedy series. 
It appeared that they are still close to each other as fans noticed their interaction when Jenna presented the pop singer with the "Best Music Documentary" during MTV Movie and TV Awards 2022. 
11. Has been in front of a camera for more than half of her life
One could easily imagine an 8-year-old kid playing games and having fun. But for Jenna, she was going to auditions and pursuing her acting dream at that age. Along with the help of her mother and casting agents, she secured a small acting role on the TV series Rob in 2012 and made her debut. 
Since then, Jenna has been in front of a camera for acting and commercial advertisements, and her notable works include the TV series Jane the Virgin and Disney's Stuck in the Middle. That's not all ‒ she is also a regular in horror films with her name credited in Insidious: Chapter 2 and Scream 5. 
12. Already won awards for her acting
For many actors, there's no better feeling than getting acknowledged for your hard work. Jenna was nominated thrice for the Best Young Actor award by the Imagen Foundation, and she eventually took home the award in 2018. FYI, Imagen Foundation encourages the positive portrayal of Latinos in the media industry, so you'd know how meaningful the award meant to Jenna.  
Most recently during MTV Movie & TV Awards 2022, Jenna was also presented with the Most Frightened Performance for Scream 5.  
13. Spent more than 6 months in Romania to film for Wednesday
After securing the role of Wednesday Addams, Jenna flew to Romania and stayed there for more than 6 months for the filming of the Netflix series. As the saying goes: "Good things take time" ‒ the eight episodes of Wednesday were filmed from September 2021 to March 2022 in various locations like Cantacuzino Castle and Bucharest. 
14. Her first movie role was in Iron Man 3
With Marvel Cinematic Universe aka MCU being the constant hype in the film industry, it is quite impressive for Jenna to make her movie debut almost a decade ago in 2013's Iron Man 3. Avid Marvel fans might recall her acting as the Vice President's daughter who required regenerative treatment. 
Although Jenna only appeared in the movie for a short while, there's no denying that it would be cool to rewatch the film and spot her name in the credits.  
15. A huge fan of chocolate
Just like everyone else, Jenna has her likes and dislikes when it comes to food choices. As a chocolate enthusiast, she shared that her go-to flavours when choosing ice cream are chocolate fudge brownie and chocolate chip cookie dough.
Fingers crossed that in the near future, we might even see Jenna be the brand ambassador for candy brands. 
16. She choreographed Wednesday's dance scene herself, while having Covid
Chances are, you've seen the Wednesday dance trend on TikTok, and if you didn't know, the viral dance challenge was based on the dance scene in the Netflix series. For context, Wednesday was dancing during Nevermore Academy's dance in front of Tyler, a normie who developed feelings for her.  
During an interview with NME, Jenna revealed that she choreographed the '80s goth nightclub-inspired moves while she was suffering from Covid-19 during the filming. As it was her first day with the virus, Jenna also shared that it was "awful to film". Thankfully, the scene turned out iconic and even went viral. 
Catch the clip of Jenna as Wednesday Addams nailing those creepy moves on YouTube. 
These Jenna Ortega Facts Show That She Is An Upcoming Actress To Look Out For
While Jenna has built an image of being a horror movie actress, there is no denying that she is also a person who cares a lot about making positive changes in society. With her newfound fame with Wednesday, we can't wait to see what she has for fans in the future. 
Also read: 
16 Facts About Christine Chiu, The Rich Tai Tai & Fashionista On Bling Empire