Jewel Changi Airport Wedding Venue
Searching for that magical wedding venue is tricky, especially when the destination wedding you've dreamt of has to be compromised due to Covid travel restrictions. Surprise surprise — Changi Airport now has stunning venues available to help fill your special day with gorgeous views and backdrops for an unforgettable celebration. 
You can hold the ceremony at one of the stunning venues available, including a location with a breathtaking view of Jewel's piazza. Another killer option is Hub & Spoke located near T2, where you can settle into the evening with an alfresco dinner. 
If you're looking for unique wedding venues to tie the knot, this just might be your solution. 
Cloud 9 Piazza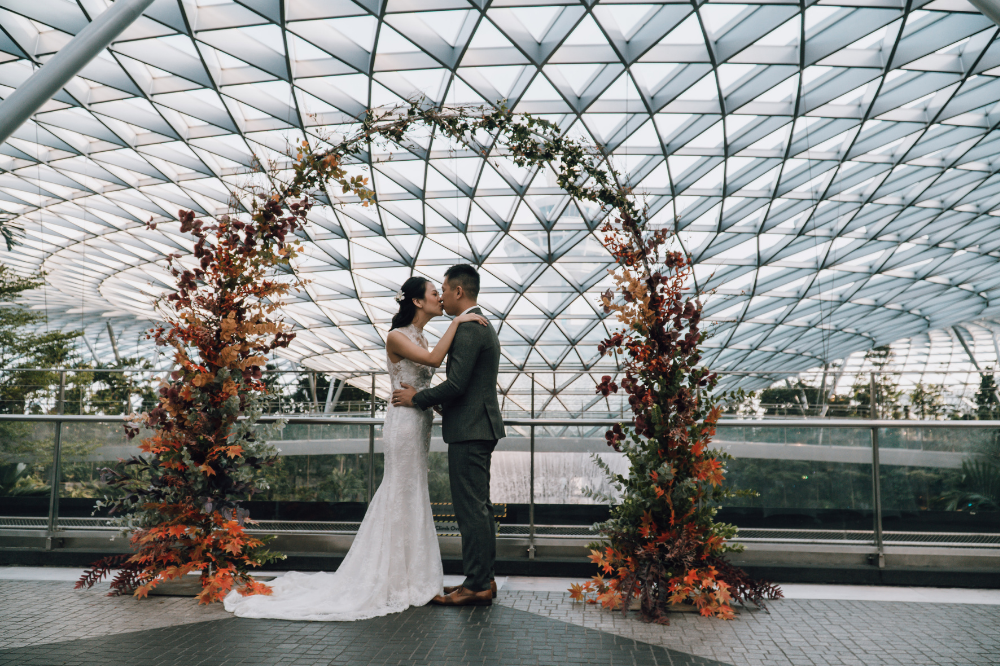 A picture-perfect backdrop of the HSBC Rain Vortex on the highest floor of Jewel is a great complement to a wedding ceremony. Affording up to 200 pax, the piazza can be set up with a floral arch and botanical decor for an exquisite garden feel, and also fit all your friends and family.  
The daytime view of the Rain Vortex offers natural lighting fit for both professional photos and IG stories your guests are bound to snap.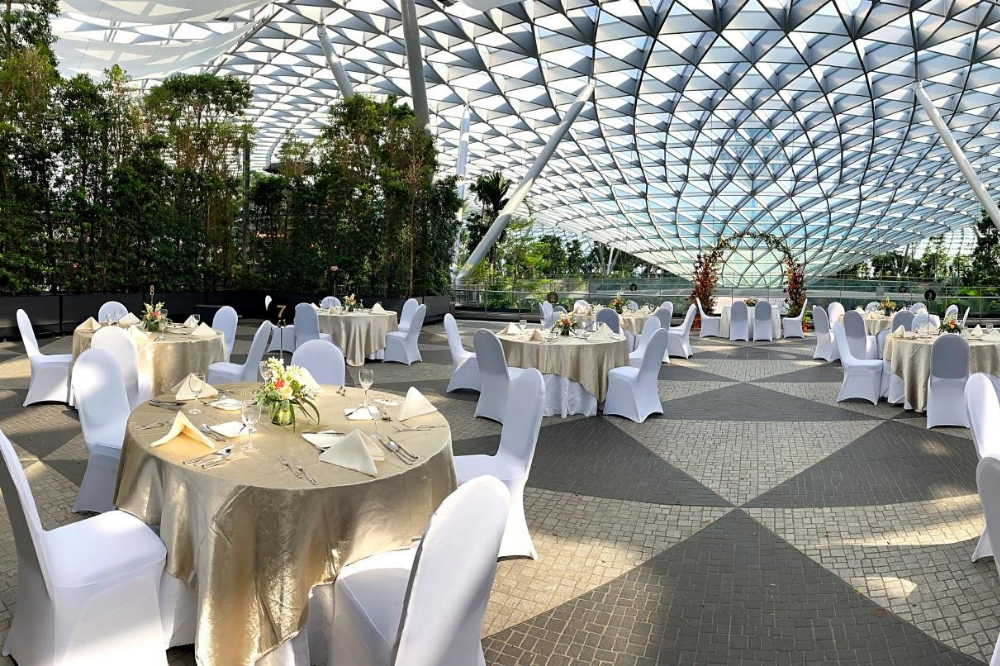 Seat your guests comfortably around the spacious venue and have them enjoy a delicious spread, courtesy of 5-star hotels and catering companies. Options include an elaborate 6-course Chinese menu or a mouthwatering 4-course Western menu.  
The menus even include free-flow soft drinks and the additional option of a beer barrel to liven up the evening.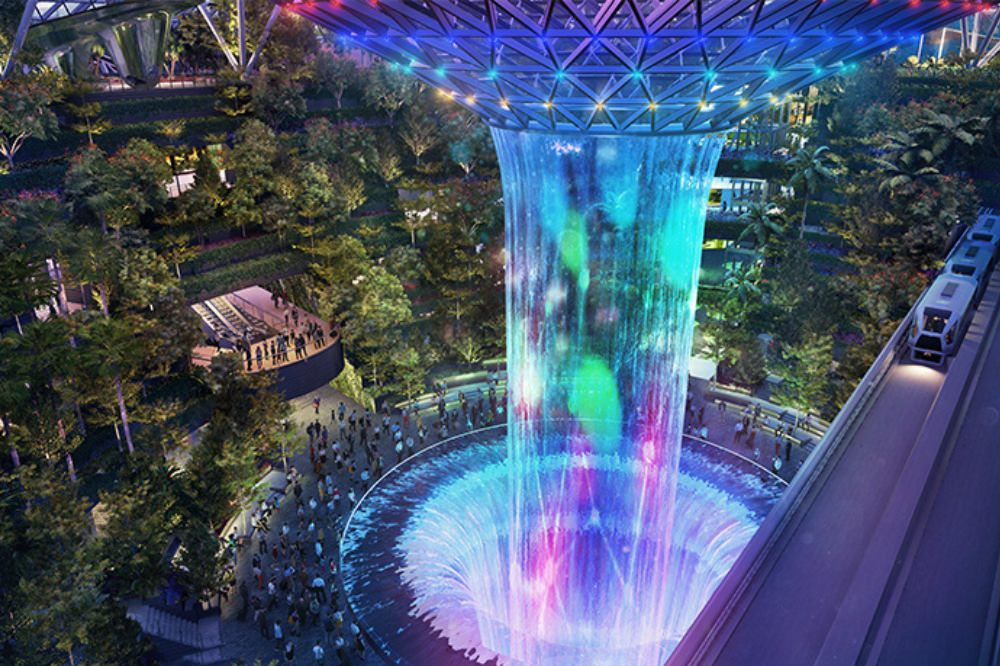 As nighttime rolls around, the view becomes even more sensational with the Rain Vortex roaring to life with lights – a truly stunning way to ensure unforgettable memories for both the happy couple and guests. 
Canopy Park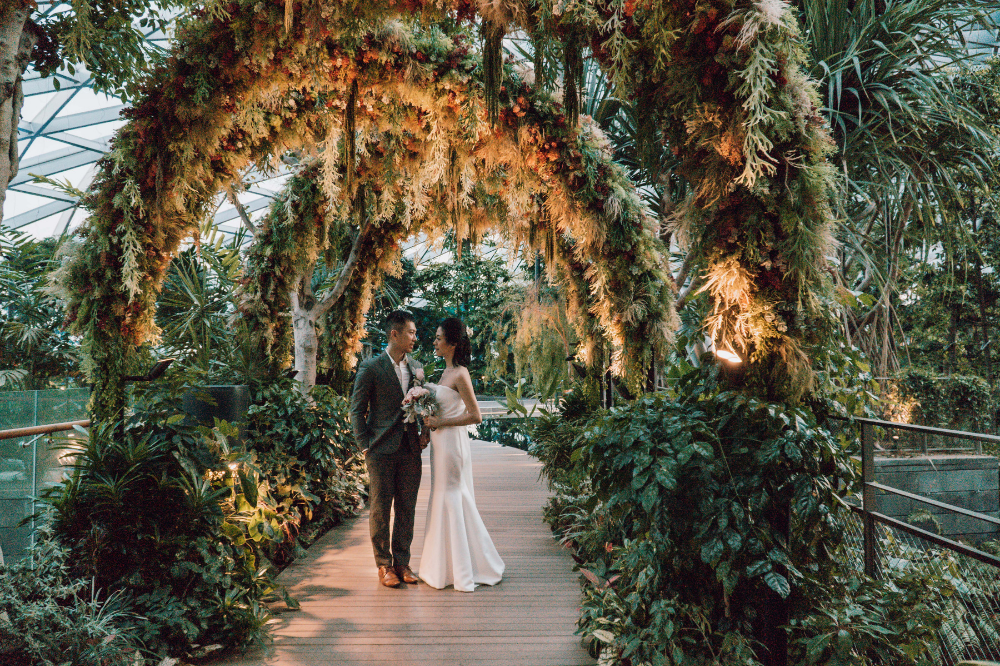 Want a more quiet place to say your "I dos"? The Canopy Park has arches of greenery surrounding the area, filled with floral embellishments for that romantic, fairytale glow.
Take a couple of lovey-dovey shots that'll resemble scenes from your favourite childhood princess movies here  —  it's your turn to be King and Queen for the day, after all. 
Smaller Venues 
Additionally, you can choose from one of these more intimate locations in Jewel Changi Airport that allow a maximum of 20 guests. 
Valley View Private Suite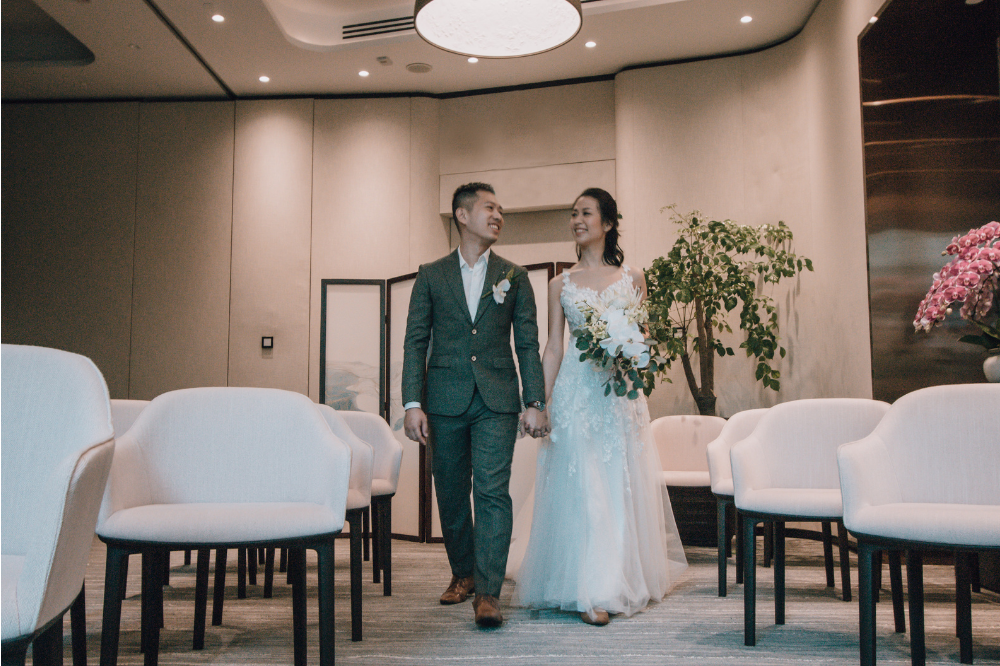 Tucked away from the crowd, you can have a peaceful matrimonial ceremony at the Valley View Private Suite. Spiffed up with elegant decor, you can lose yourself in the moment in the cosy room — just you, your other half and your closest family and friends.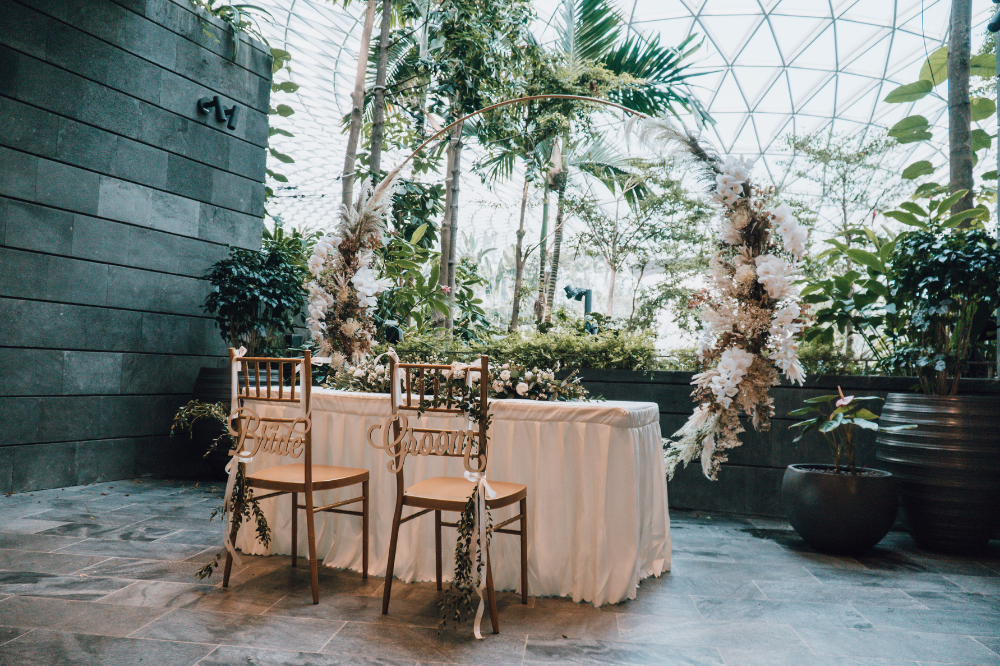 The place even has its very own balcony overlooking the Shiseido Forest Green that includes fixtures of lush greenery and calming picturesque sights.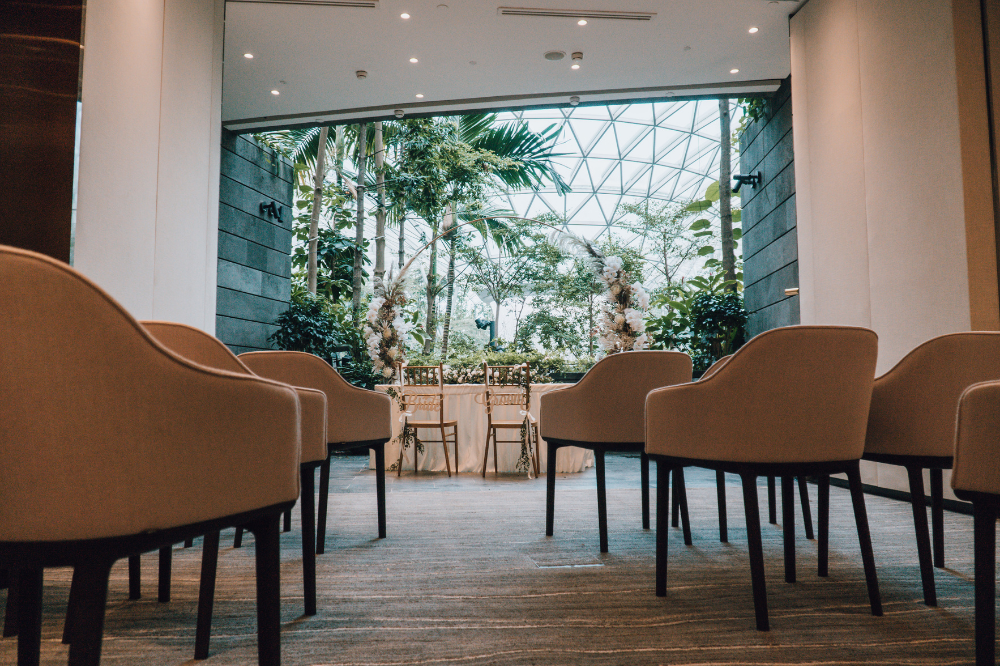 The space is also able to host a tea reception for your guests so you can share the traditional exchange with those who mean the most. 
Jewel Suite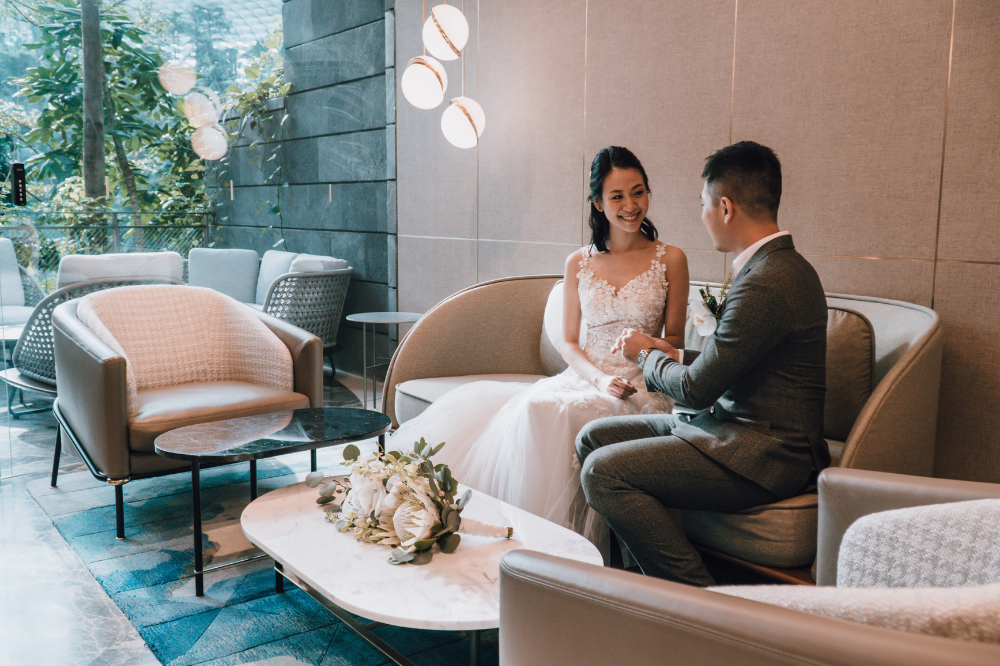 Another option worth considering is the Jewel Suite. The venue can serve as a place to settle down and take in the merriment with friends or be utilised for a traditional tea ceremony in style. 
The suite is located on Level 4 of Jewel and has a lounge setting with darker fixtures and furniture.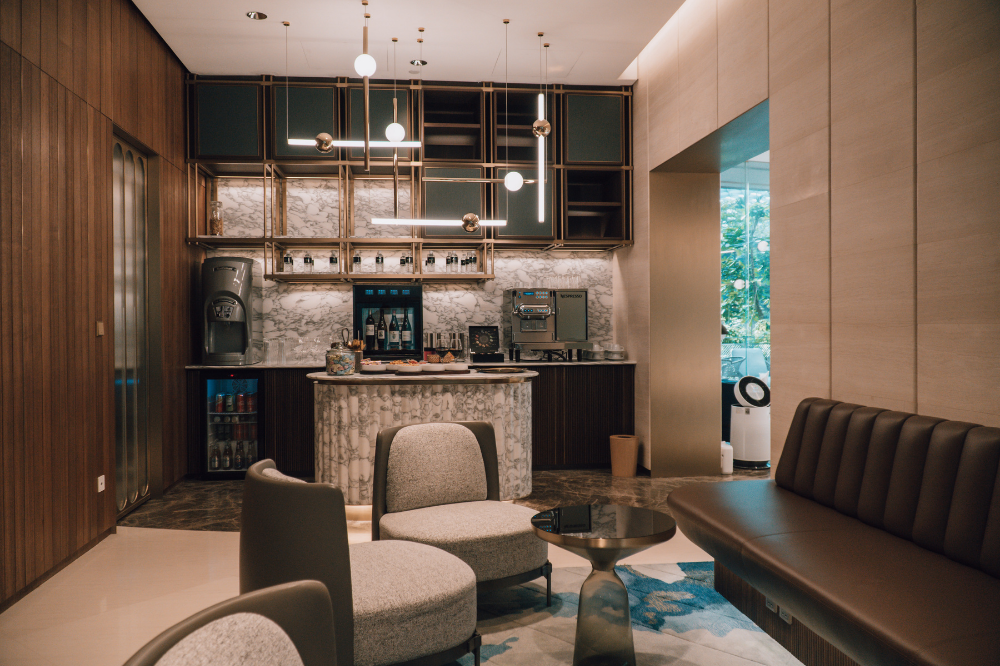 The bar available means you can kick back and enjoy some drinks while you celebrate the occasion.
Hub & Spoke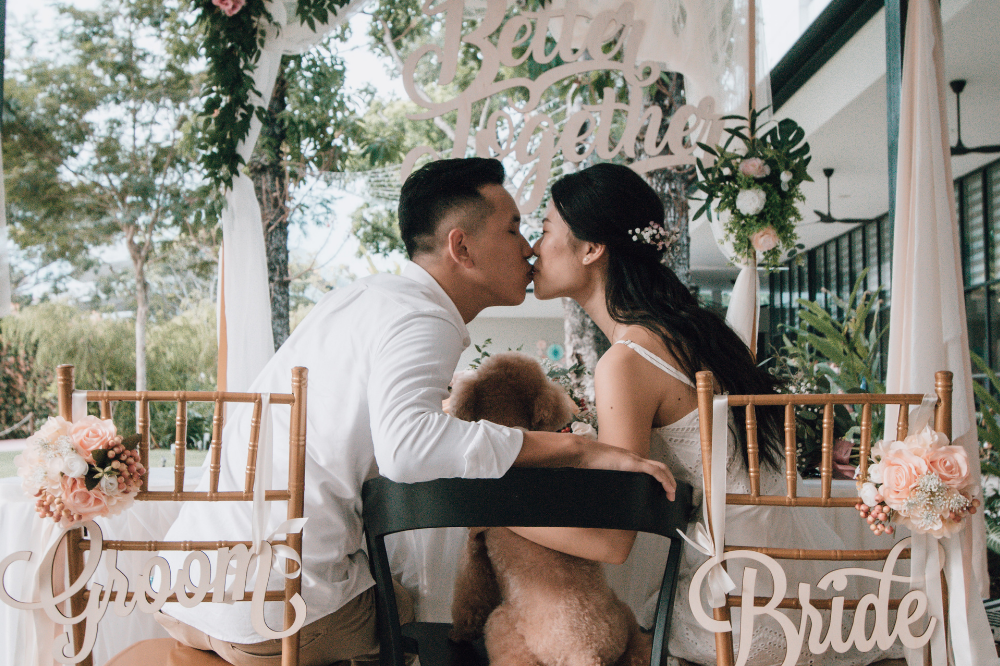 Venturing out of Jewel Changi Airport, you can also plan a dreamy lawn-style wedding at Hub & Spoke Café. Complete with glorious gardens filled with exotic flora, the café located near T2 offers the setting of an enchanted forest. 
Not only is the place brimming with romance, but the glasshouse café also offers a wide range of menu options to fit any wedding theme, from canapes to local favourites including Laksa. The menu packages even come with a sound system, beverages and complimentary parking.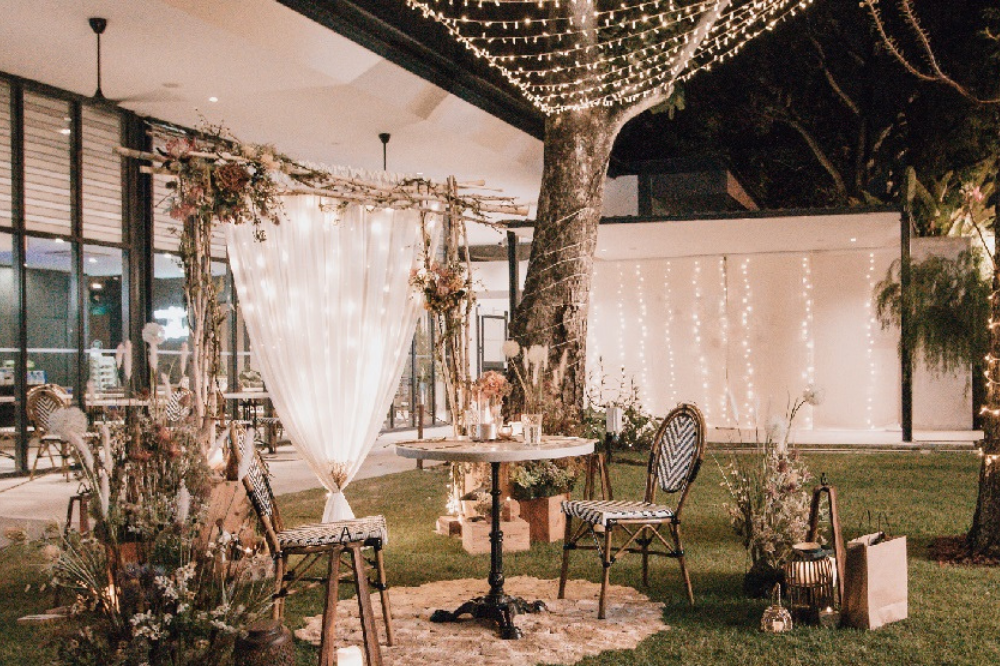 As the evening winds down, take in the magical scene with fairy lights and whimsical decor on the lawn, customised to fit your preference. The venue fits up to 100 guests so you can bask in the evening alongside all of your family members and best buddies. 
The space also allows pets so your furry friends can join in the fun and take part in the life-changing moment.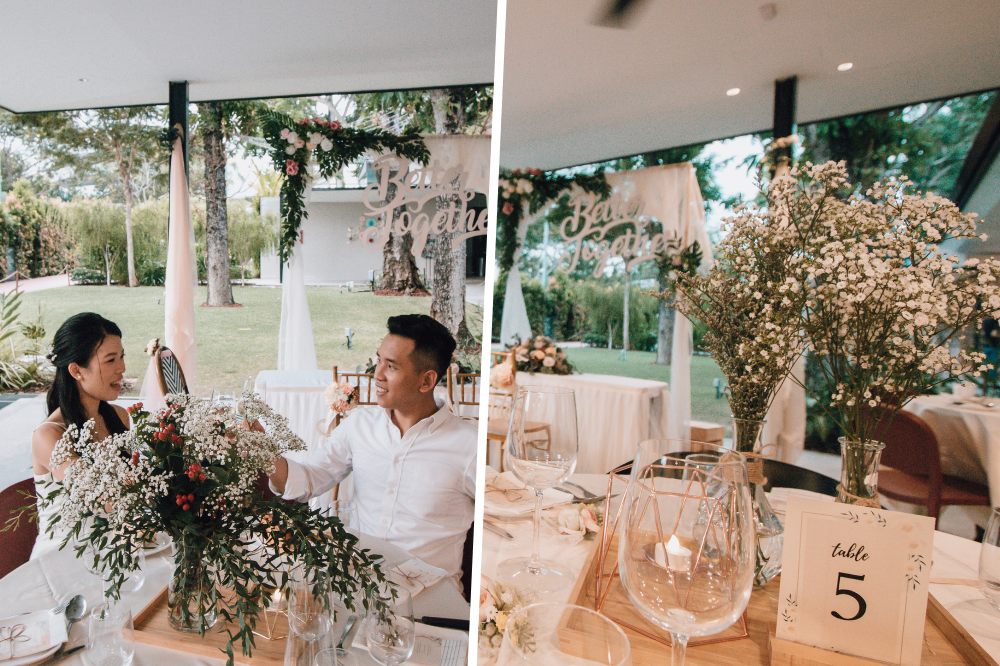 If you prefer an indoor affair, you can host your guest inside the glasshouse, where they can take in views of the garden from indoors. The glasshouse is fully air-conditioned so no need to worry about melting makeup on the day itself. 
Indoor or outdoor, romance will definitely be in the air. 
Pick A Wedding Venue At Changi Airport For A Magical Moment With Stunning Ambience 
These breathtaking venues will leave you teary-eyed thinking about the day you'll finally get to marry the one you love. Whether you're looking for a grand ceremony or a simple set-up, these locations at Jewel Changi Airport and Hub & Spoke are absolutely stunning choices for your big day.
You can even arrange to use multiple venues as the ceremony moves from day to night. More information on the venues and packages can be found here. 
All images courtesy of Changi Airport Group. 
Also read:
Disney's Fairy Tale Weddings Collection Will Transform You Into A Real-Life Disney Princess