Joya Onsen Cafe First Look
Westies who're tired of hearing people brag about "east side best side" can now add a new hotspot to prove them wrong. Situated a 9-minute walk away from Joo Koon MRT, Joya Onsen Cafe is a new Japanese-themed spa with relaxing private and public baths as well as a chio cafe serving up sushi and dessert. 
If you're looking for self-care outing ideas to spend a well-deserved day off with your BFFs, onsens have proven to bring many health benefits like relieving stress and pain. You can sweat it out while experiencing "Japan" — all without boarding a plane.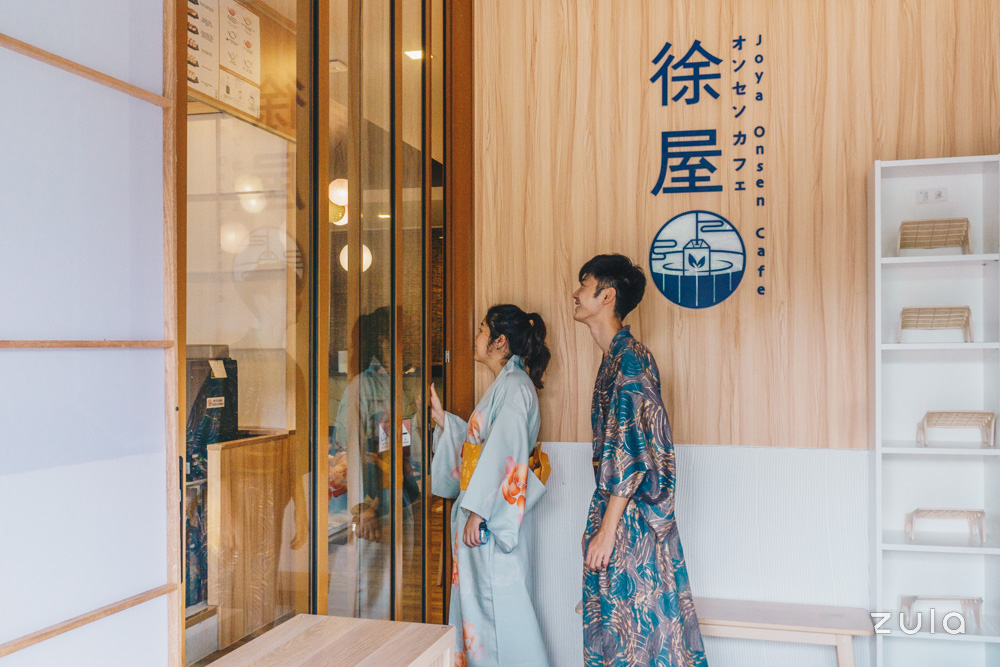 Upon reaching Joya Onsen Cafe, a wooden entrance with a sliding glass door greets you. Shoes have to be removed and placed on the shoe rack next to the entrance.
Picking out your Yukata or Jinbei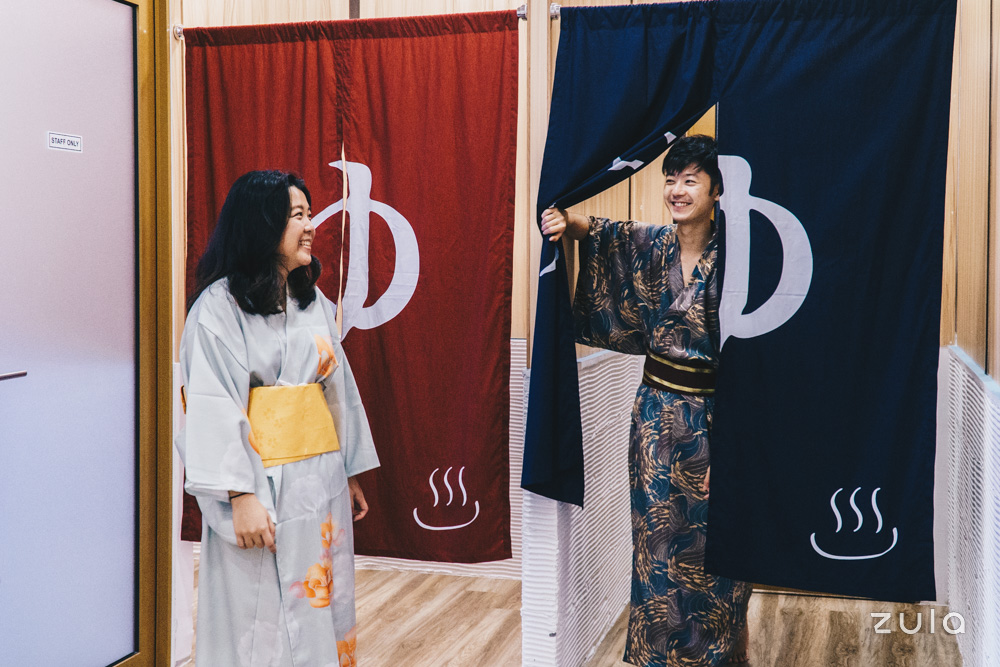 Before your soak, you get to choose an outfit for your post-onsen OOTD. Don't miss out on the chance to snap some cute pics for the 'gram while wearing a Yukata or Jinbei. If you're unsure of the difference between the two, the most noticeable feature is that the Jinbei is a set with a kimono and shorts, while a Yukata has a long design to give your outfit a more wow-factor.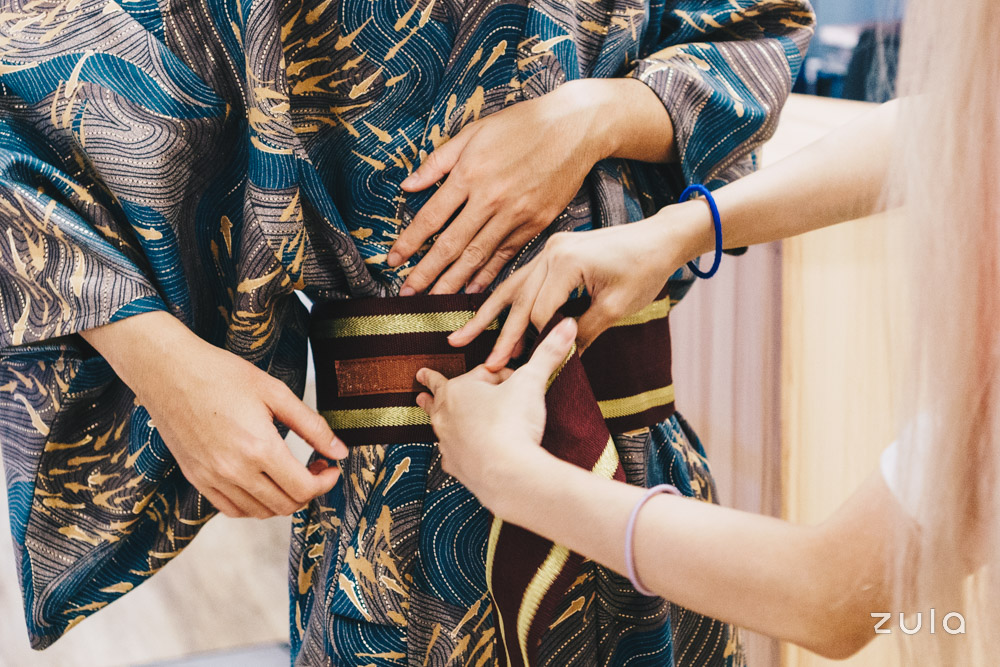 The counter is filled with options with a variety of colours and patterns to suit your tastes. For ladies who choose to wear the Yukata, the set comes with a cute bow to tie on your back on top of the obi, a.k.a the sash to wrap around your waist. 
Pro tip: While putting on the Yukata, don't cross the right side over the left! That's actually how the Japanese traditionally dress for funerals.
Zen Garden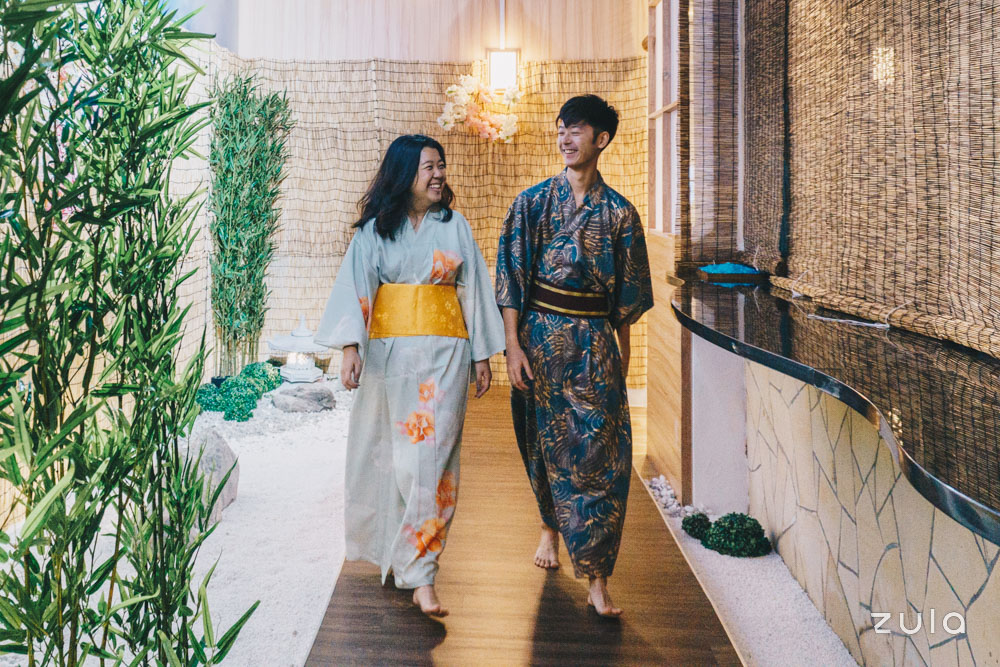 While making your way into the onsens, walk through the Zen Garden with IG-worthy spots featuring a bamboo stone path and orchids hanging from the ceiling. The ceiling is also painted to resemble a sky so you can admire the fluffy "clouds" overlooking your heads.
Onsen etiquette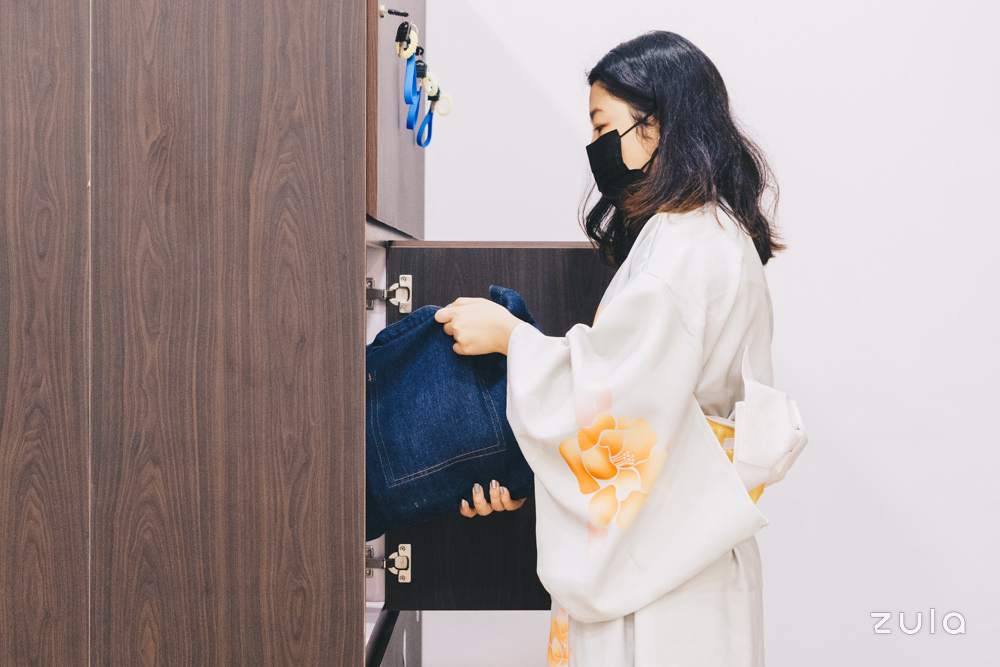 Before entering the onsen, register at the reception counter and collect your keys to the public changing rooms and lockers. The attendant will pass you 2 towels to take with you, but note that these towels cannot touch the onsen water for hygiene reasons. 
The smaller modesty towel is meant to cover your private parts if you're feeling shy. Meanwhile, the bath towel is for wrapping around your hair to keep it out of the water or wiping down your body when you're done.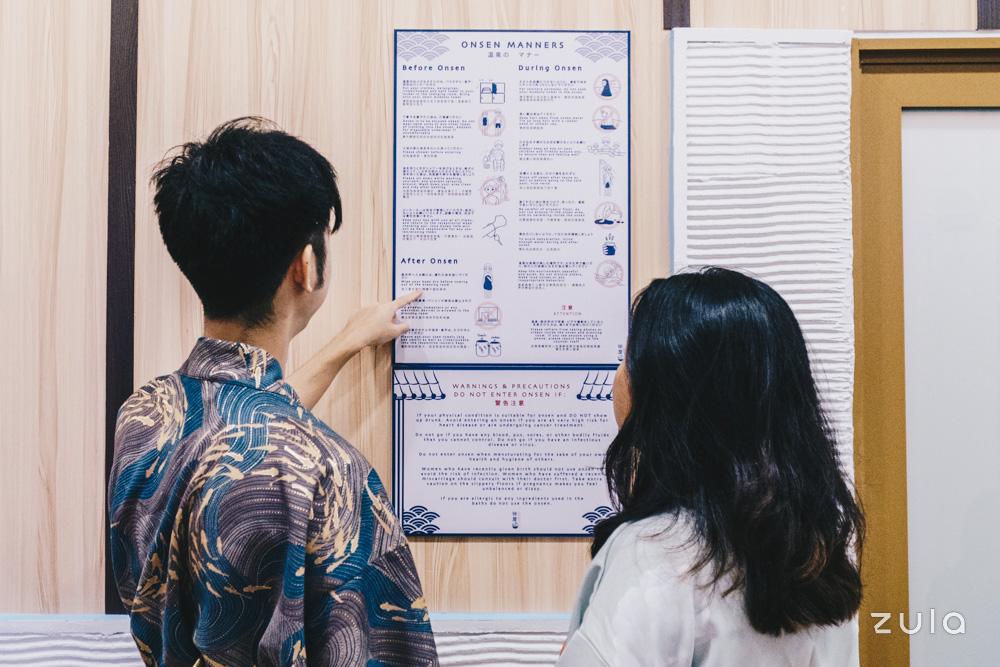 For first-timers who are unfamiliar with onsen etiquette, nudity is mandatory at most onsens in Japan. If you're uncomfortable with being au naturale in the public baths, you may request for disposable underwear. 
Swimsuits or any other types of clothing are not allowed so that you can enjoy the full health benefits of the onsen's waters without restriction. Head over to Joya Onsen Cafe's website to view the full list of onsen etiquette for more details.
Public baths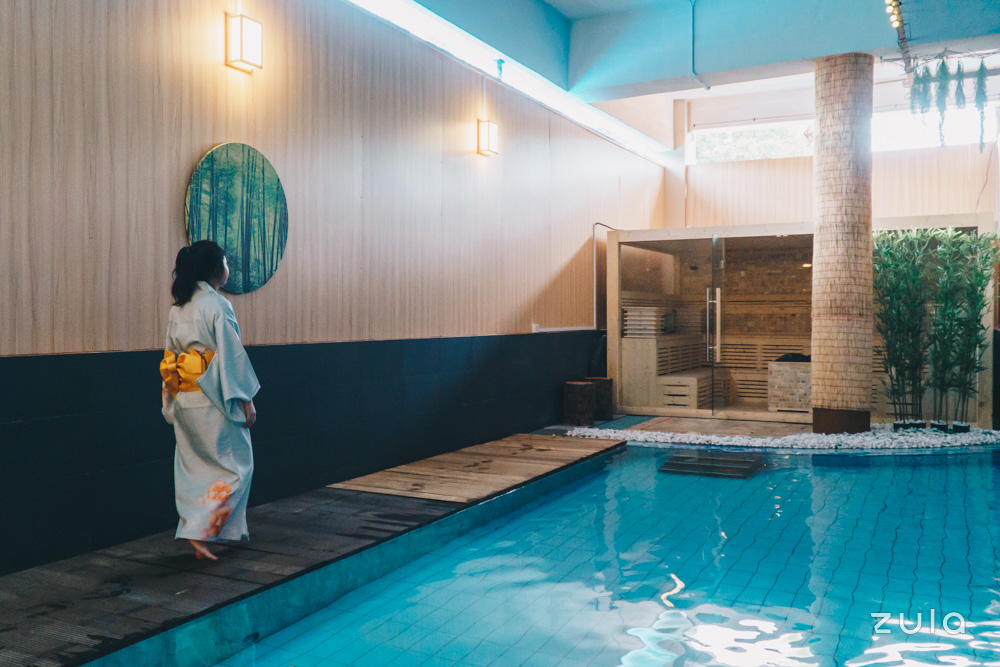 Did you know that in the past, mixed-gender onsens known as konyoku were common in Japan? But these establishments are now rare, with places like Tokyo imposing a ban on them. Not to worry though, the public onsen baths at Joya Onsen Cafe are segregated according to gender. 
As you enter the public baths, make your way to the shower area to give your body a quick rinse before entering the onsen. In Japan, onsen water typically has natural elements with many health benefits such as increasing blood flow and oxygen. Joya Onsen Cafe aims to recreate these benefits by introducing tea into their baths.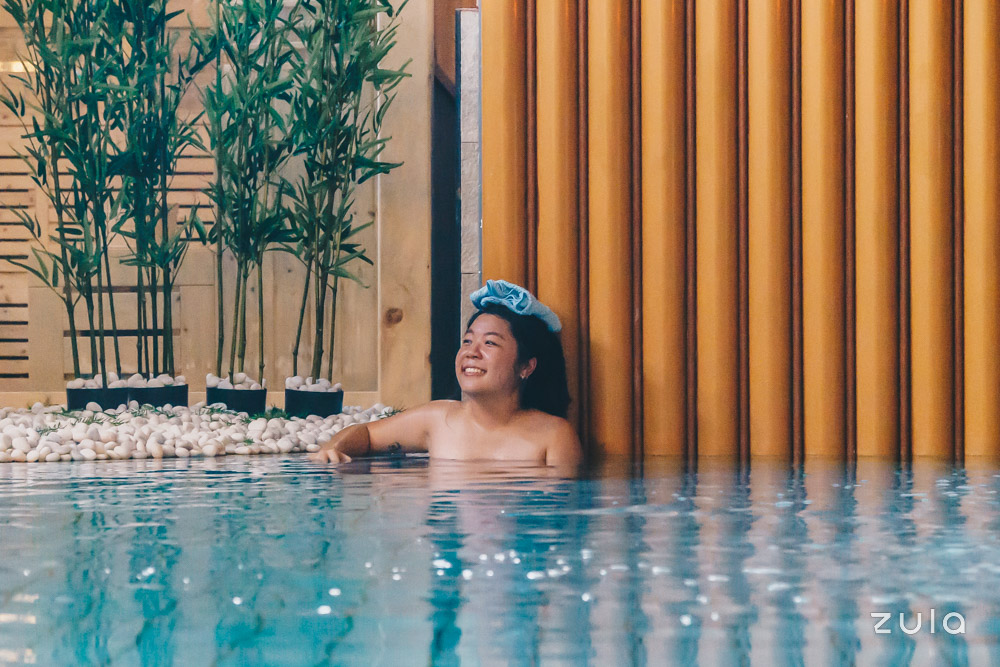 Currently, their baths are infused with Oolong tea. According to their Instagram page, bathing in Oolong tea has minerals which "aids in weight loss, lowering blood pressure and reducing cholesterol levels". Despite the large bags of tea, I felt that the smell of tea wasn't overwhelmingly strong, so soaking in the bath was completely fuss-free. 
The tea flavours will change according to Japan's seasons, and we can expect to see sakura-themed onsens during the cherry blossom season. If you miss flying to Japan to watch the chio sakura petals, perhaps taking a dip in the sakura onsen pool will satisfy your wanderlust for now.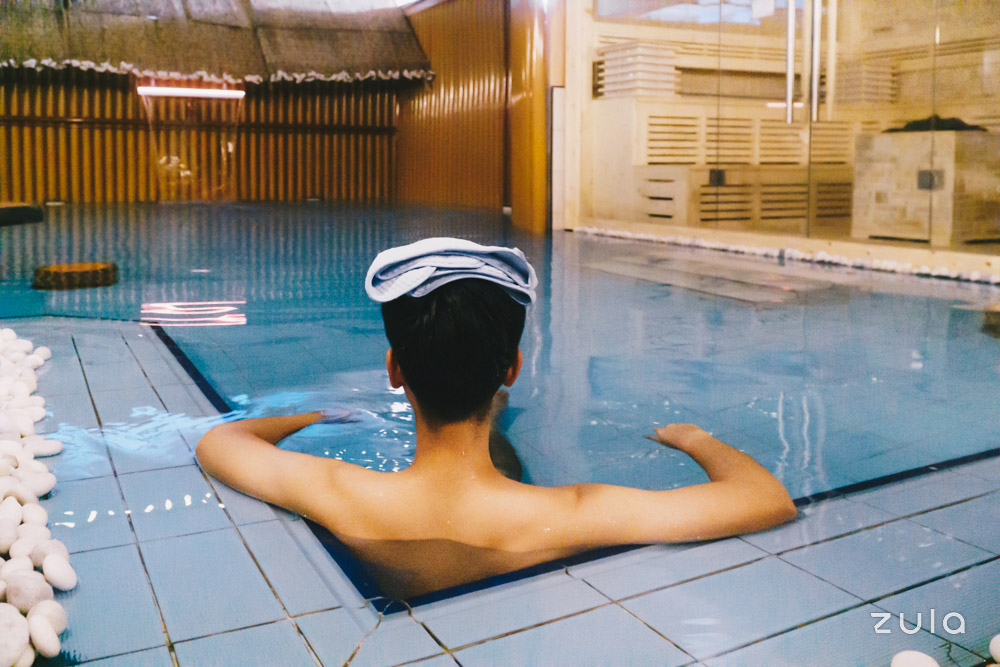 The onsens are automatically set between 38 to 40 degrees. For those who've been feeling stressed and need a short break away from life, this is the perfect opportunity for a self-care session to soak in the hot waters. 
Also read:
This New Japanese-Themed Spa In The West Has Ice Baths & A Cafe, Time For A Spa Date With Bae Or The BFFs
Saunas and ice baths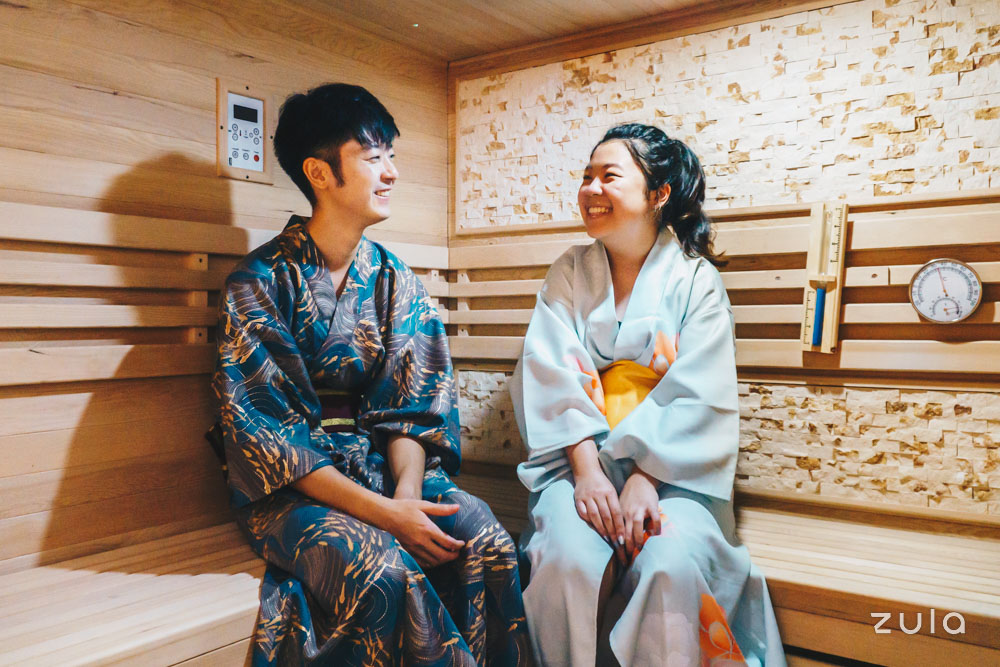 For a quick 10 to 15 minute break from the onsen, get your detox fix at the saunas.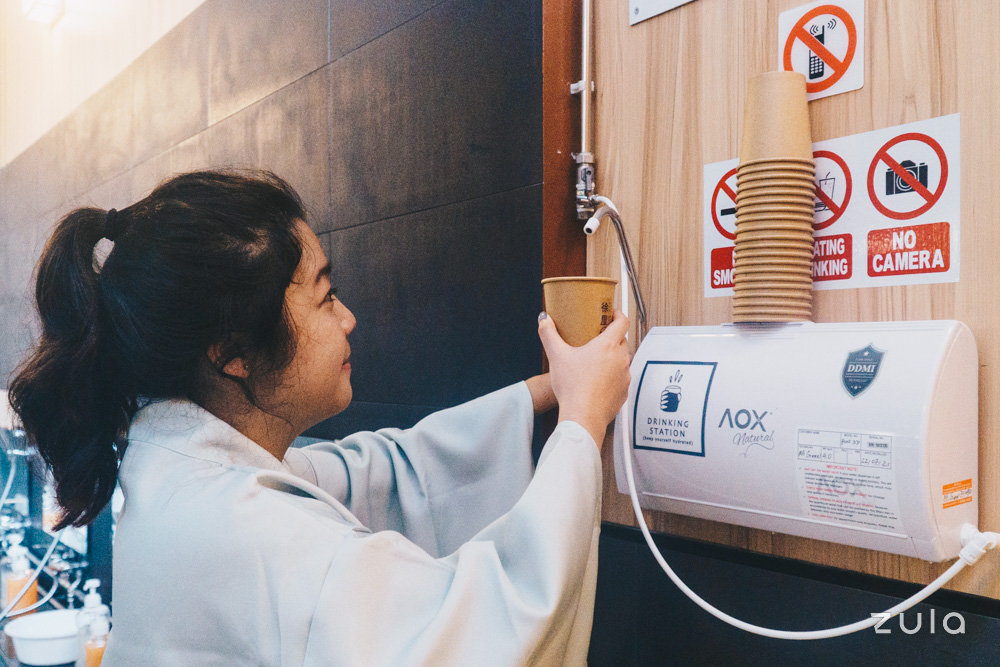 As you're sweating it out in the saunas, remember not to stay inside too long to prevent dehydration. Joya Onsen Cafe keeps your welfare a priority with water stations near the entrance of the onsen to keep you hydrated.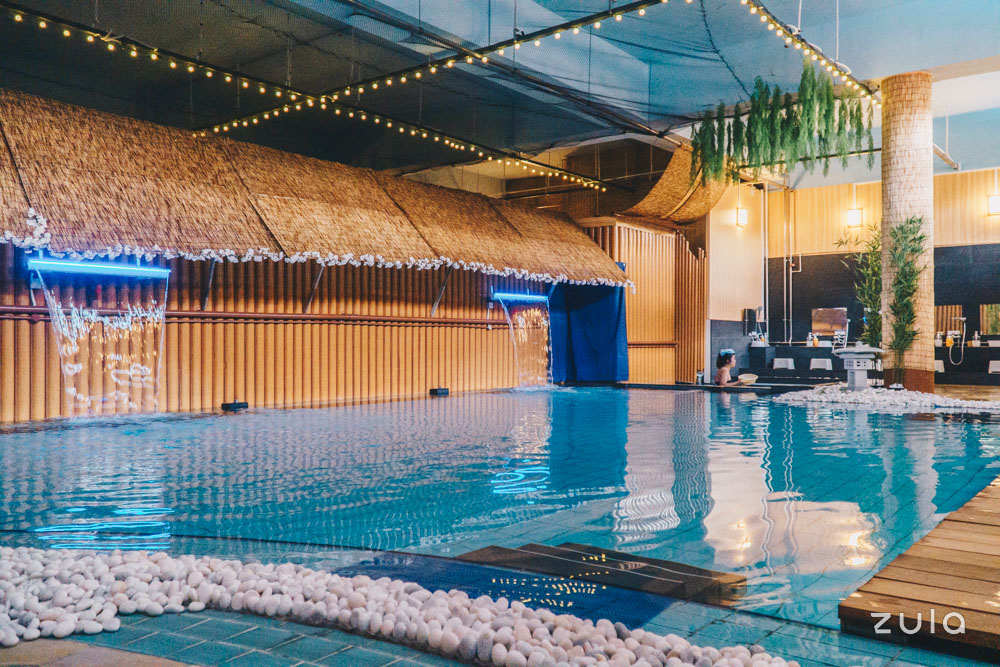 If you're wondering why there's a smaller pool of water separated from the main onsen, dipping your toes into the water will reveal the cooling sensation of an ice bath. Fun fact: alternating your soaks between the onsen and cold bath is a good way to improve your blood circulation as well. 
While I enjoyed the warm and comforting heat of the onsen, the refreshing feeling of the ice bath felt shiok on my skin. Currently, their ice baths are not at its coldest yet, running at 17 to 20 degrees. But you're still allowed to chill in the water and cool down if you're feeling a little dizzy.
Private rooms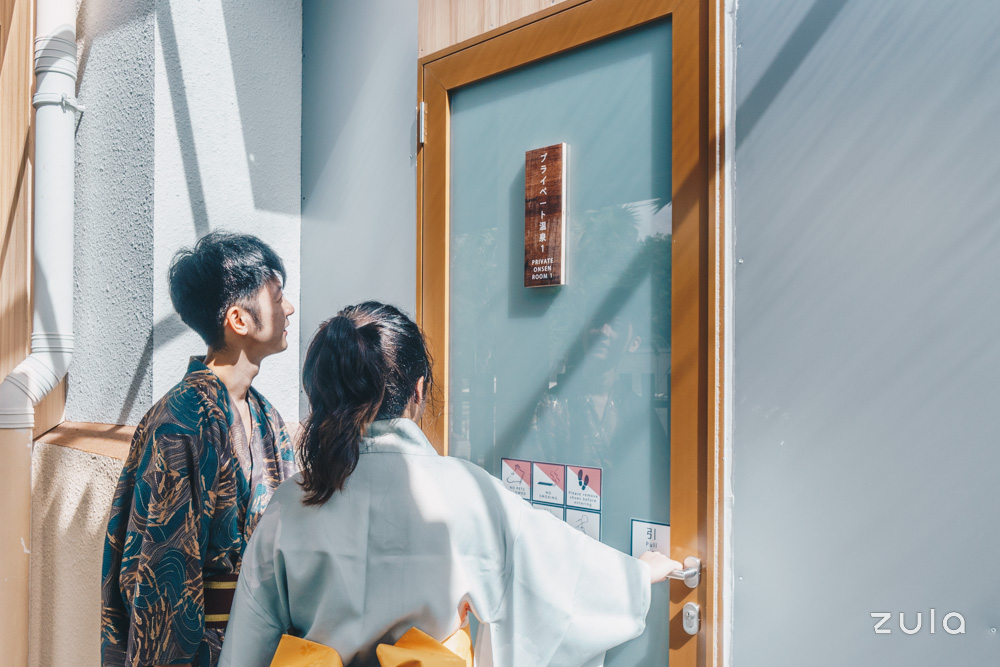 If you're looking to have a quiet and relaxing time with your BFFs or even a private session with bae, opt for the private rooms instead. Up to 5 people are allowed into the private rooms where you can enjoy the privacy of your own dressing room, bath, sauna and shower area. 
The sauna felt a little cramped for 5 people to squeeze in though, so I would recommend 2 people going in at a time for a more comfortable experience. Unlike the public baths, you're allowed to wear your own clean swimming suits into the private onsen. Private onsen customers also get an optional complimentary public bath pass.
Cafe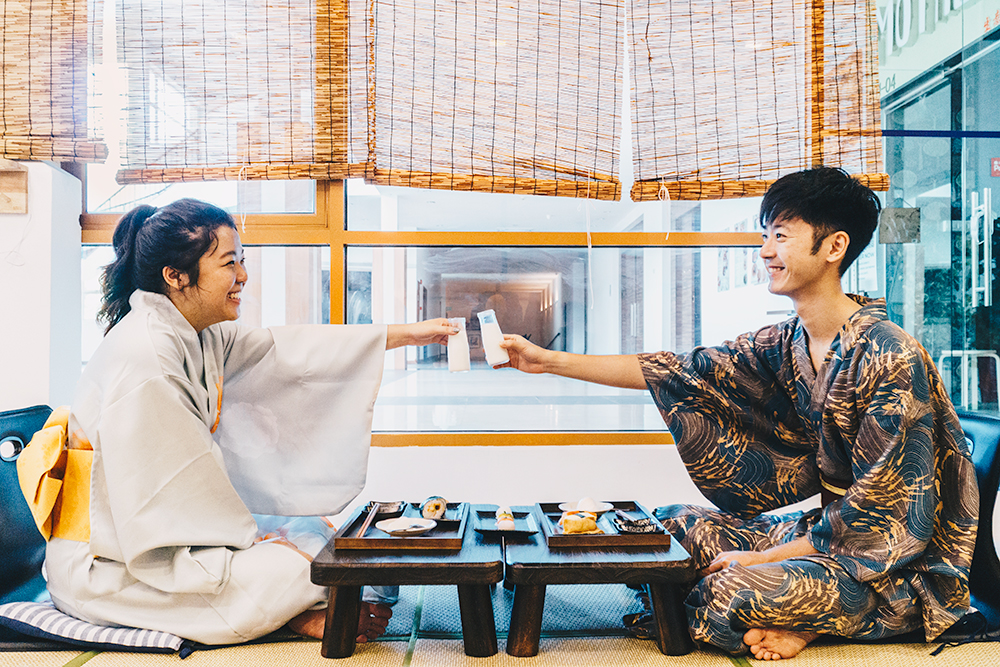 After a nice soak in the onsen, treat your tummy to some refreshments at the Japanese-themed cafe. Continuing to bring you an authentic Japanese experience, the cafe is lined with tatami mats and Zaisu, which are Japanese chairs with no legs but a normal chair back. 
Animal Crossing fans may be familiar with this unique chair that's also known as "floor seat" in the game. Now you can enjoy a glimpse of your character's tranquil island life while you dig into the range of sushi and dessert served at the cafe.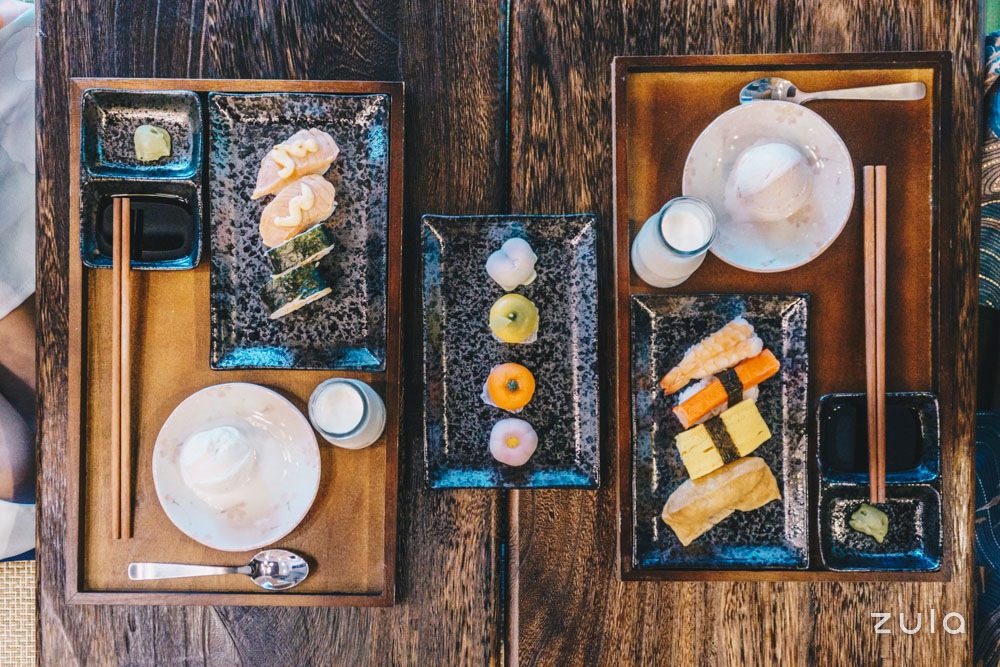 From left: Futo maki & aburi salmon set, Ebi sushi, kanikama sushi, tamago sushi, inari sushi set
Topping up $7 to your alacarte onsen pass will secure an onsen refreshment set consisting of a plate of sushi, ice cream and a drink. If you have a sweet tooth, you'll enjoy the Ichigo San, a fruit parfait with Hokkaido milk ice cream, fruit and cornflakes as much as I did. 
Besides the sushi platters and sweet desserts to order on the menu, guests can also enjoy a complimentary glass of Hokkaido milk. 
If you live and breathe BBT like most of us do, you can also get tea, matcha drinks and milkshakes with pearls or aloe vera. Check out the full cafe menu on its website.
Joya Onsen Cafe Has Relaxing Baths, Saunas & A Cafe To Bring The Japanese Experience To SG
Overall, Joya Onsen Cafe proved to be a unique experience in Singapore that made me feel charged for a new week ahead. If you're looking for a stress-free activity to enjoy with your friends and loved ones, the peaceful environment makes the experience all the more zen. Additionally, first-time customers can also enjoy $8 off their onsen visit.
Though some might feel that the location may be a bit ulu, this 9-minute walk from the MRT station will take you away from the hustle and bustle of the main road — channelling some countryside vibes that are rare in standard spas. 
While we still can't travel to Japan for now, Joya Onsen Cafe serves as a great alternative to transport you to Japan while remaining in SG.
Price: From $38 for the public onsen 1-day pass
Address: 511 Upper Jurong Road, Singapore 638366
Booking: Fill in the booking form on its website
Opening hours: 11am to 11pm daily
Contact: Call 8847 2081, email hello@joyaonsencafe.com or fill in the enquiry form on its website
Website | Instagram
Photography by Doreen Fan.
Also read:
12 Spas In The West Of Singapore For You To Relax At With Massages Starting From $28