Self-care Ideas In Singapore
It's been a year or so since work-from-home arrangements became part of the new normal, along with social distancing and constant hand sanitising. But no matter how much you've grown accustomed to WFH, being cooped up at home 24/7 can be isolating. For the sake of your mental health, it's crucial to take time off to focus on your personal well-being. We've curated a list of self-care ideas to help you get out of the house and spend time with your closest friends, whether it's a fancy lunch, a glam sesh or art jamming. 
And, if you thought you had to venture out of the city to escape reality, think again. These activities can all be done in malls with a central location: 313@somerset, funan, Orchard Central and Orchard Gateway. In fact, since they're located so close to each other, you can even combine some of these self-care ideas, with a spot of shopping in between, for a relaxing 1-day itinerary.
1.  Go for a workcation together from $35/pax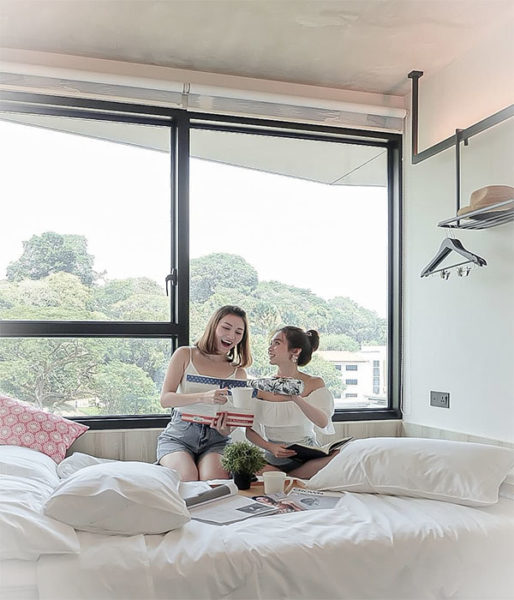 Source
For those bored of studying or working from home alone, give yourself a well-deserved change in scenery for a day with Lyf Funan's One of a Kind Work in Residence package.
Source
Make studying or working less mundane with the companion of a buddy. From 9am to 7pm, you'll get a whole studio to yourselves so you both have ample space to focus on your work without getting distracted. The room has everything you need for a productive work day: high-speed WiFi, a private ensuite bathroom, a stationery kit, coffee or tea and snacks. If you need a power nap, you can top up $20++ for a queen-sized bed.  
Since it is within Funan, come lunch and tea time, you'll be spoilt for choice with all the cafes and restaurants in the mall. Or, if you'd rather stay in and nua during lunch, Lyf Funan offers add-ons such as a bento box lunch delivery and an alcoholic beverage selection.
Rates: From $70++ per day
Address: 67 Hill Street, Level 4, Funan, Singapore 179370
Booking: Make a reservation on Lyf Funan's website
Website | Facebook | Instagram

2. Get a Korean glam-up session and an FOC photoshoot in a cafe
Source
Decorated with lush plants and bright flowers at every turn, Walking on Sunshine is a one-stop self-care spot nestled in Orchard Central. Enjoy the salon's exhaustive list of beauty services together with your BFFs, from perms to colouring and treatments, as well as manicures and pedicures. 
All salon customers at Walking on Sunshine are entitled to a free photo-taking session at its on-site photo studio. Equipped with ring lights, reflectors, different coloured backdrops and an in-house photographer, you'll feel like stars of your own K-drama.

Source
After you're done glamming yourself up, while away the rest of the afternoon over a HTHT sesh and Western-meets-Korean cuisine at the cafe. Try the Signature Souffle Pancake drizzled with vanilla cream, fruits and nuts, which is a feast for the eyes and stomach. Ginseng is a key ingredient in many K-beauty products, thanks to its slew of health benefits. Order each of the cafe's unique ginseng concoctions to share, such as the Ginseng Smoothie or Latte for a health and beauty boost at the same time.
Address: 181 Orchard Road, #03-07, Orchard Central, Singapore 238896
Opening hours:
Cafe: 11am to 10pm (Mondays to Fridays) | 10am to 10pm (Saturdays and Sundays) 
Salon: 10am to 8pm daily
Booking: Whatsapp 8877 0088 (cafe) or 8877 8800 (salon) to make a reservation
Website | Facebook | Instagram
3.  Treat yourself to a 3-course set lunch on the top of ION Orchard
Source
Pamper yourself for a day and go for lunch like how the Bling Empire squad would. Located on levels 55 and 56 of ION Orchard, 1-ATICO is a new multi-concept rooftop dining destination that lets you tantalise your taste buds while admiring the city skyline. Take a break from the humdrum monotony of reality with a meal at Argentinian restaurant FIRE or FLNT, a Japanese-Peruvian gastrobar.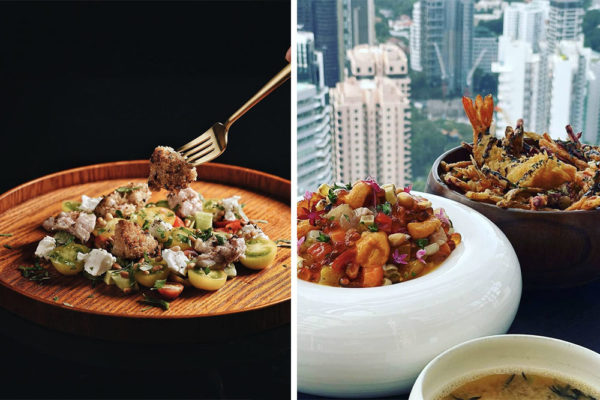 Crispy Veal Sweet Breads from FIRE (left); bara chirashi don and tendon from FLNT (right)
Source, source 
Both FIRE and FLNT offer value-for-money lunch sets so you can get the most bang for your buck. FIRE's 3-course lunch menu ($48++) lets you sample Argentinian cuisine through appetisers such as cured ocean trout and mains including beef cheek with chimichurri. There's also an a la carte menu, with signature dishes like Crispy Veal Sweet Breads in two styles so you and your kakis can have a taste of the different dishes.
If you prefer Asian fare, opt for the 3-course lunch set at FLNT. There are 3 mains to choose from: tendon ($25), chicken tortillas ($35) and bara chirashi don ($45). These all come with an appetiser of japanese tomatoes appetiser, as well as miso soup and a matcha cookie.
Address: 2 Orchard Turn, levels 55 and 56, ION Orchard, Singapore 238801
FIRE
Opening hours: 12pm to 2pm, 6pm to 10.30pm daily
Booking: Call 6970 2039, Whatsapp 8028 1489, email reservation@firerestaurant.sg or fill in the booking form to make a reservation 
Website | Facebook | Instagram
FLNT
Opening hours: 12pm to 2pm, 6pm to 10.30pm daily
Booking: Call 6970 2039, Whatsapp 8028 1489, email reservation@flnt.sg or fill in the booking form to make a reservation
Website | Facebook | Instagram
Also read:
10 Singapore Candle Brands From S$15 For You To Zhng Your Self-Care Routine
4. Have (most of) the Gold Class theater to yourselves on a weekday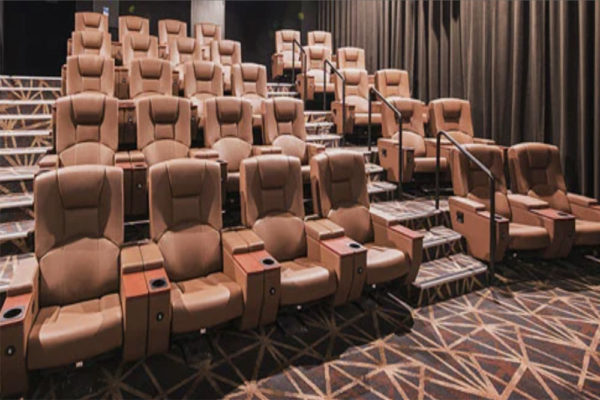 Source
Take your usual dinner-and-a-movie with the girls up a notch by booking seats at Golden Village Funan's Deluxe Plus Hall. 
The Deluxe Plus Hall is luxuriously furnished with spacious leatherette seats that come with lumbar cushioning to support your back and a recline feature to elevate your comfort levels. Each seat is also designed with a USB charging port so you won't have to worry about your devices running out of battery and just focus on enjoying the show.
Rates: From $22 per ticket
Address: 107 North Bridge Road, #05-01, Funan, Singapore 179105
Booking: Make a reservation on Golden Village Funan's website
Website | Facebook | Instagram

5. Feast on $2 oysters at the happy hour you never knocked off on time for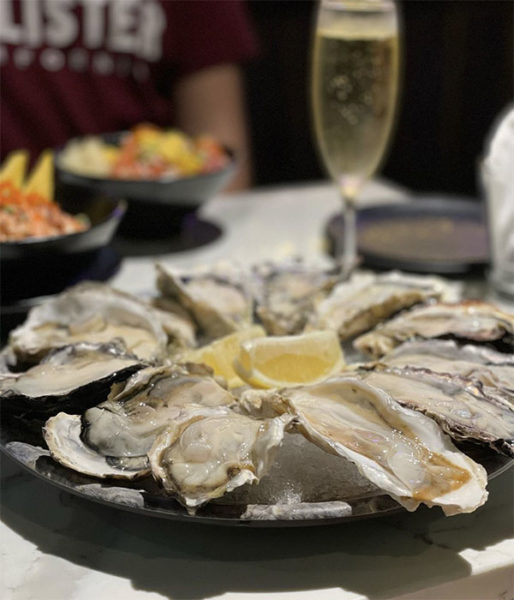 Source
Few things say "treat yo'self" like champagne and oysters. If you thought you had to break the bank to partake of your favourite atas pairing, think again. The Oyster Bank has 2 Happy Hours: one for drinks (12-9pm daily), and one for oysters (5pm to 8pm from Mondays to Fridays, 3 to 6pm on Saturdays and Sundays).
Since good things must share, jio your friends to savour some naked oysters at $2 each (with a minimum of 1 alcoholic drink per half dozen). While you're at it, go all out and live your best life with a bottle of mini Moet Chandon.

Source
If you believe variety is the spice of life, pop by Tanuki Raw at Orchard Central during its happy hour from 5 to 8pm daily. With every purchase of a drink, you're entitled to 6 raw oysters, 1 lobster bao, 1 plate of salmon sashimi and as much uni as you like.
The Oyster Bank
Address: 107 North Bridge Road, #02-32, Funan, Singapore 179105
Opening hours: 11.30am to 3pm, 4pm to 10pm (Mondays to Fridays) | 11.30am to 10pm (Saturdays and Sundays)
Booking: Call 6970 0487 or fill in the booking form to make a reservation 
Website | Facebook | Instagram
Tanuki Raw
Address: 181 Orchard Road, #04-01, Orchard Central, Singapore 238896
Opening hours: 11.30am to 9.30pm
Booking: Fill in the booking form to make a reservation 
Website | Facebook | Instagram
6. Go on airplane mode for 3 hours at an art jamming studio
Source
Looking at the computer from 9 to 5 almost every day can take a toll on you in more ways than one. Let your creative side loose and sign up with your friends for Art Jamming at Cafe de Paris (from $28 per pax for 3 hours). 
You won't have to prep a thing either: you'll be provided with a blank canvas, as well as access to brushes, acrylic paint, a palette knife and everything else you need to channel your inner artist. On top of that, the session comes with a complimentary drink; with 20 beverages for you to choose from, no less.
Source, source
Once you've completed your masterpiece, end off the session by ordering its Instagram-worthy desserts to share. Try the Tiramisu Mille Crepe Cake and Fruits BonBon, a combination of fresh fruits, cream and sorbet. 
Address: 313 Orchard Road, #B1-37, 313@Somerset, Singapore 238895
Opening hours:  11am to 10pm (Sundays to Thursdays) | 11am to 11pm (Fridays and Saturdays)
Booking: Fill in the booking form to make a reservation
Website | Facebook | Instagram

7. Have a picnic at an urban rooftop farm in City Hall
Farms have long provided a respite for city dwellers around the world. However, they are usually located far away from the city centre. Enter Edible Garden City, an urban rooftop farm at Funan, where you don't have to travel miles to get close to nature. Home to a variety of edible fruits and vegetables, this rooftop garden is the perfect place to clear your heads while learning more about growing your own fresh produce at home.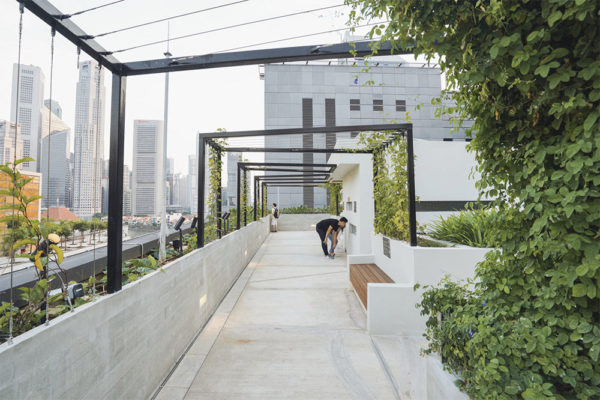 Source
After exploring the urban rooftop farm, take a break on one of the benches or swings dotted across the garden, and admire the scenic view of our city skyline. Better yet, tabao a selection of your favourite food from the mall and head up to enjoy a therapeutic picnic while watching the changing hues of the sky as the sun sets.
Reward Yourself With This List Of Self-care Ideas To Heal Your Mind & Soul
It's normal to feel burnt out, especially since working from home means the boundaries between "work" and "home" are increasingly blurred. Prioritise your mental health by setting aside time to engage in these self-care ideas, and emerge feeling recharged and rejuvenated. 
The best part is, these self-care ideas can all be found in malls in Orchard Road and the Civic District. Choose your preferred activities, make the necessary bookings, take the day off and get ready to spend some quality time with your friends; you deserve it.
This post was brought to you by Singapore Tourism Board.
Cover: Source
Also read:
8 After-Work Activities In Town To Unwind With Friends On Weeknights