Kylie Jenner Hand Sanitiser
The Kardashian-Jenner clan is no stranger to controversy. Earlier this year, Twitter users were quick to call out Kylie Jenner when she launched Kylie Skin reusable face masks. One user tweeted, "Instead of reaching into your own pockets, [Kylie is] reaching into the public's pockets by profiting off a pandemic!"
Now, the reality TV star is receiving backlash once again, after posting a "What's In My Bag" YouTube video. Although she did show off some personal items like a green pea plushie that she claims brings her joy, the video came off as an ad for Kylie Beauty and Kylie Skin, as well as her sisters' brands. Besides the usual beauty products, she also revealed that she will be launching Kylie Skin Hand Sanitiser and Kylie Skin Scrunchies. 
Kylie Skin Hand Sanitiser
The first product that Kylie showed off in her YouTube video was a yet-to-be-released hand sanitiser. In the video, she shared that she had her team create a stash of sanitisers for her to use herself. Now, the product will be available to the general public too. It comes in a palm-sized spray bottle in her brand's signature minimalist aesthetic.
Earlier this year, Kylie announced that her brand, Kylie Skin, would be producing hand sanitisers for frontline workers. A medical professional shared in a tweet that Kylie Jenner donated over 6,000 pounds of sanitiser to medical workers and first responders in the Los Angeles area. 
Prior to manufacturing the hand sanitisers, the former billionaire had also donated US$1,000,000 (~S$1,356,460) to healthcare workers for masks and other protective equipment. This only came to light in an Instagram post made by the obstetrician who delivered Kylie's daughter, Stormi.
Also read:
Kylie Jenner's Evolution—From Reality TV Sidekick To Billionaire Style Icon
Kylie Skin Face Mask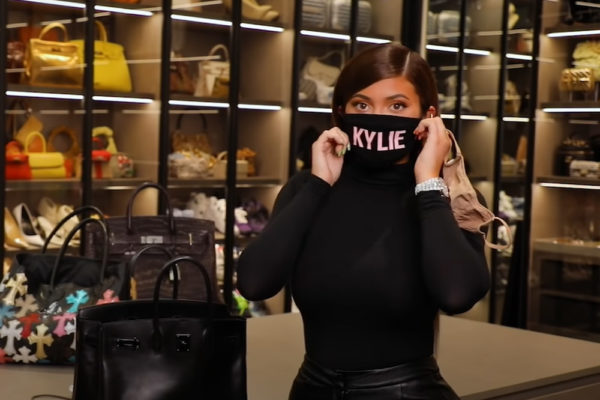 One of the other products she brought up was the previously-mentioned Kylie Skin Face Mask, which was launched in June this year. 
Kylie demonstrated how to wear the black cloth mask with her name printed on it. The other mask in her hand is from her collaboration with Kim Kardashian's shapewear line, SKIMS. According to Kylie, she uses it "to look more discreet when [she's] out."
Kylie Skin Scrunchie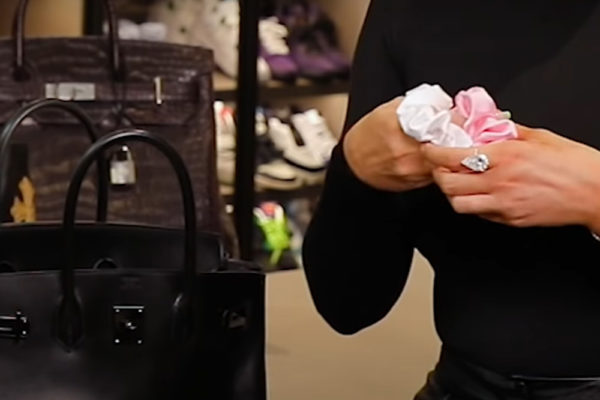 On a non-pandemic note, Kylie also showed off her new scrunchies in the video, which will also be launching soon. Scrunchies made a comeback recently due to the "VSCO Girl" phenomenon. But even if you don't identify as a VSCO girl, scrunchies are still a cute and convenient hair accessory to have.
Kylie Jenner Is Launching Millennial Pink Hand Sanitiser For All The Kylie Devotees Out There
Like many other brands these days, it looks like Kylie Jenner is putting her own spin on pandemic essentials with her face masks and hand sanitisers. Since the Kylie Skin Face Mask that launched this year costs US$14 (~S$18.99), it is likely that the sanitisers and scrunchies will be on the more expensive side too. Currently, there is no further information about the launch, so Kylie fans will have to continue waiting for a launch date to drop.
All images: Source
Also read:
10 Shops in Singapore With Chio Reusable Face Masks From $7 Since They're Now A Must-Have Accessory