LOEWE x Howl's Moving Castle
Over the past two years, Spanish luxury fashion brand LOEWE has collaborated with Studio Ghibli to bring collections inspired by well-loved anime Spirited Away and My Neighbour Totoro. 
This year, LOEWE's final instalment of their partnership with Studio Ghibli features Howl's Moving Castle, treating fans to iconic scenes and characters on bags, tees and accessories.
The collection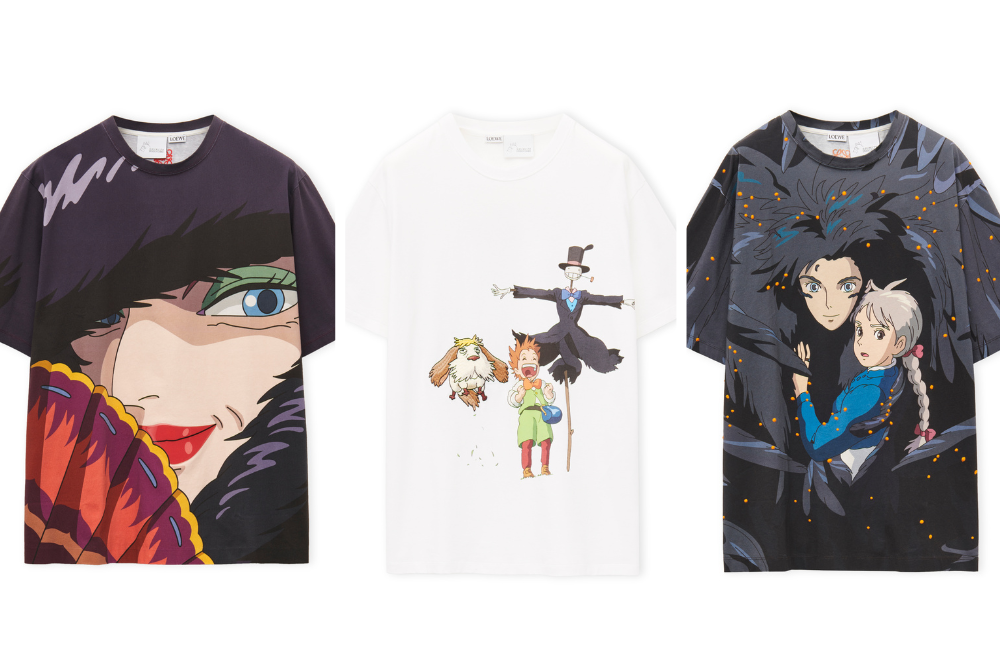 The collection showcases the film's key characters such as the Witch of the Waste, Heen, Markl and Turnip Head designed on graphic tees. 
Of course, the main protagonists Howl and Sophie can't be missed either, with a tee of Howl in his monstrous bird form while cradling Sophie in his arms.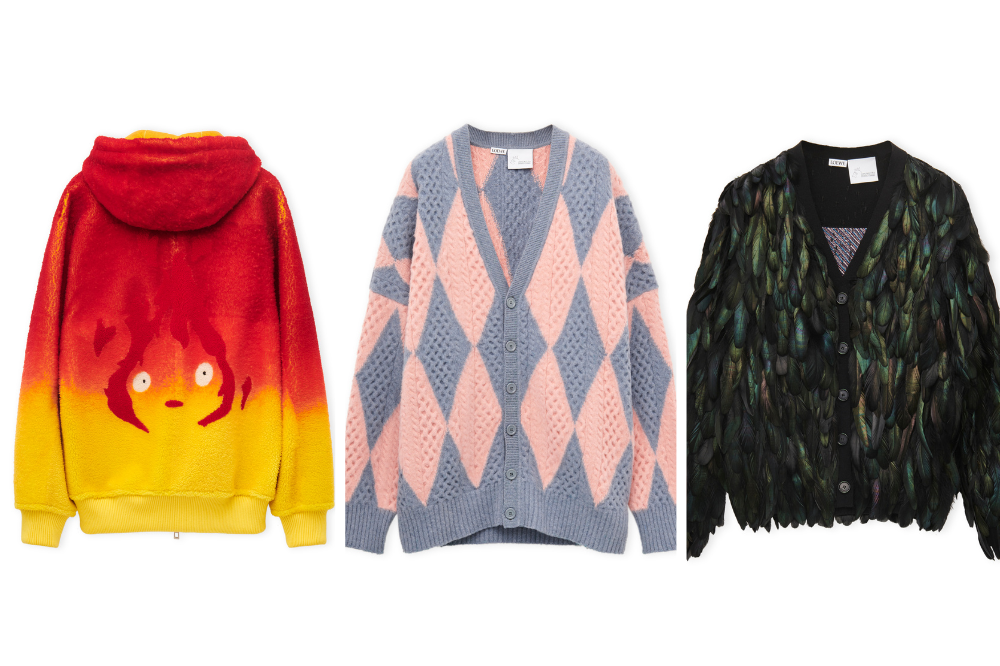 Stay warm during cold rainy days with the hoodies and cardigans in this collection. The adorable fire demon Calcifer appears on an ombré red and yellow hoodie, perfectly showing off his literal fiery personality.
The cardigans from this collection are inspired by Howl's actual outfits in the anime, such as his pastel checkered outerwear and his feathery bird form.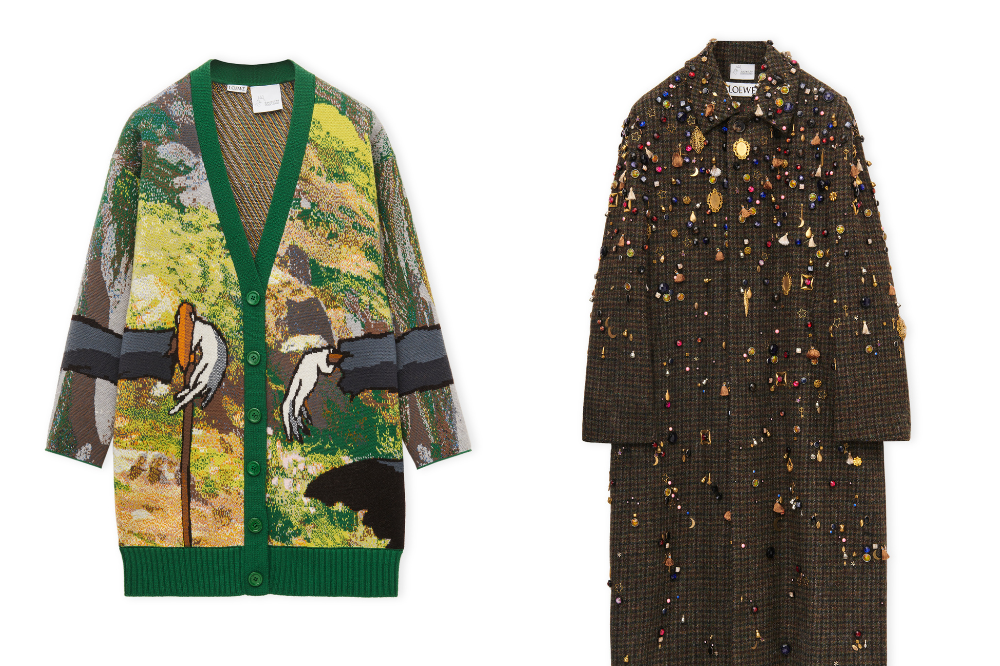 Longer cardigans featuring a unique design of Turnip Man's hands will keep you extra cosy on chilly days. 
For fans who prefer a more subtle design of the anime, go for the long coat inspired by Howl's shiny room filled with wards, talismans and spells. Like how these trinkets hid Howl's presence from unwanted visitors, perhaps this coat can also help to conceal you from the crowds when your social battery is low.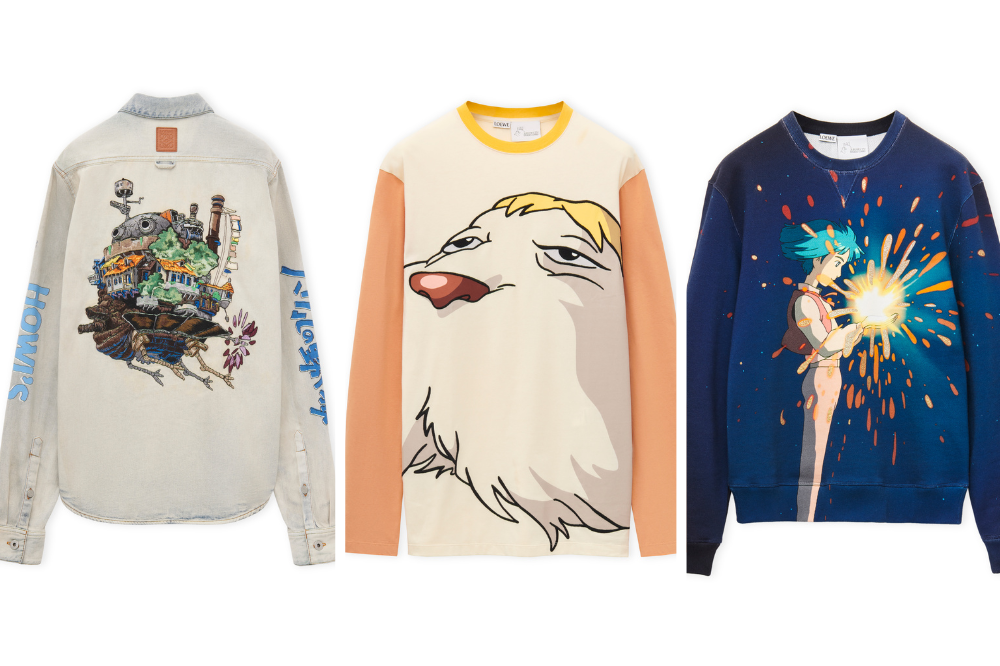 Zhng up your daily OOTD look with the denim jacket with a design of Howl's iconic moving castle, complete with houses, canons and legs to propel it forward. 
Or you can also opt for long sleeved tees and sweatshirts, featuring Heen the errand dog and Howl catching a falling star.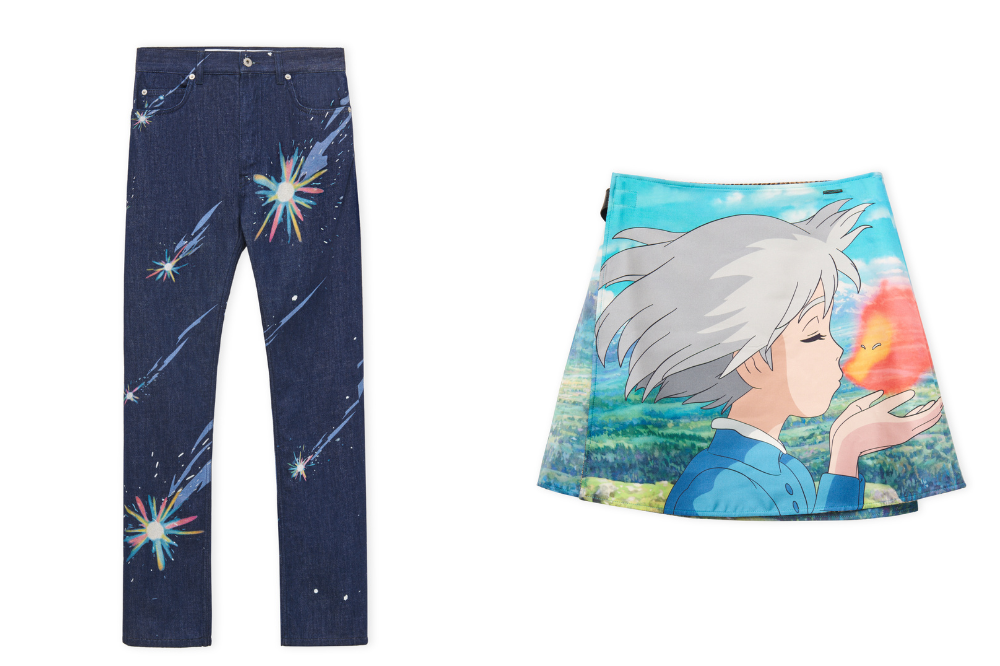 Complete your full Studio Ghibli fit with the jeans inspired by an array of shooting stars across the night sky. There's also a cute scene of Sophie and Calcifer together on a skirt, where Sophie finally claims Howl's heart back from the fire demon.
Bags and wallets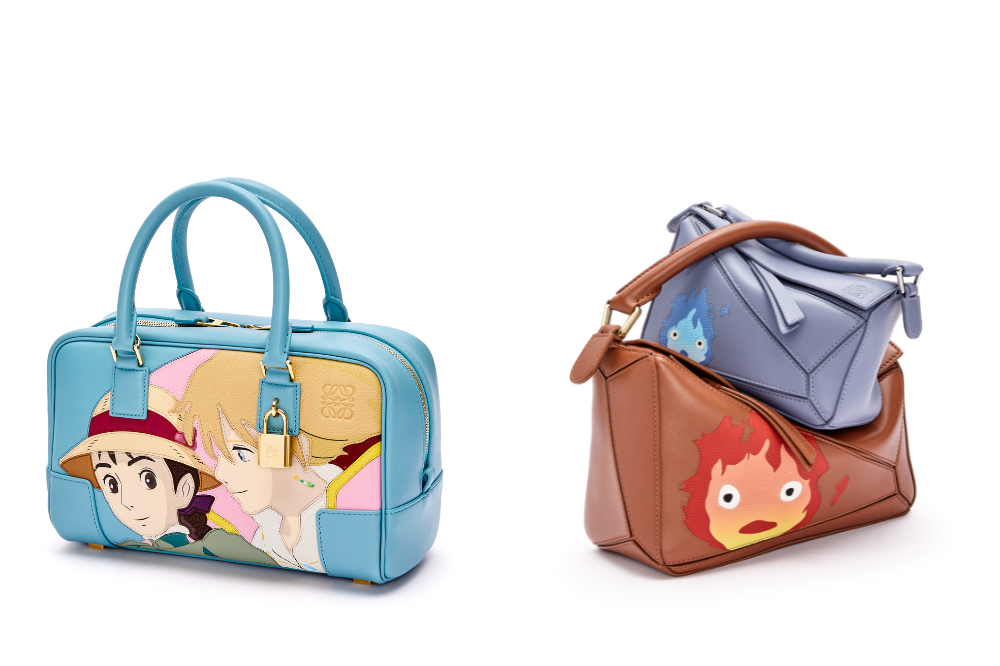 As LOEWE specialises in leather goods, the Howl's Moving Castle characters are also brought to life on these adorable handbags. 
Store your personal belongings in the pastel blue handbag with a romantic scene of Howl and Sophie on the front. If you want to travel light, get the smaller bags featuring Calcifer in his red and blue forms.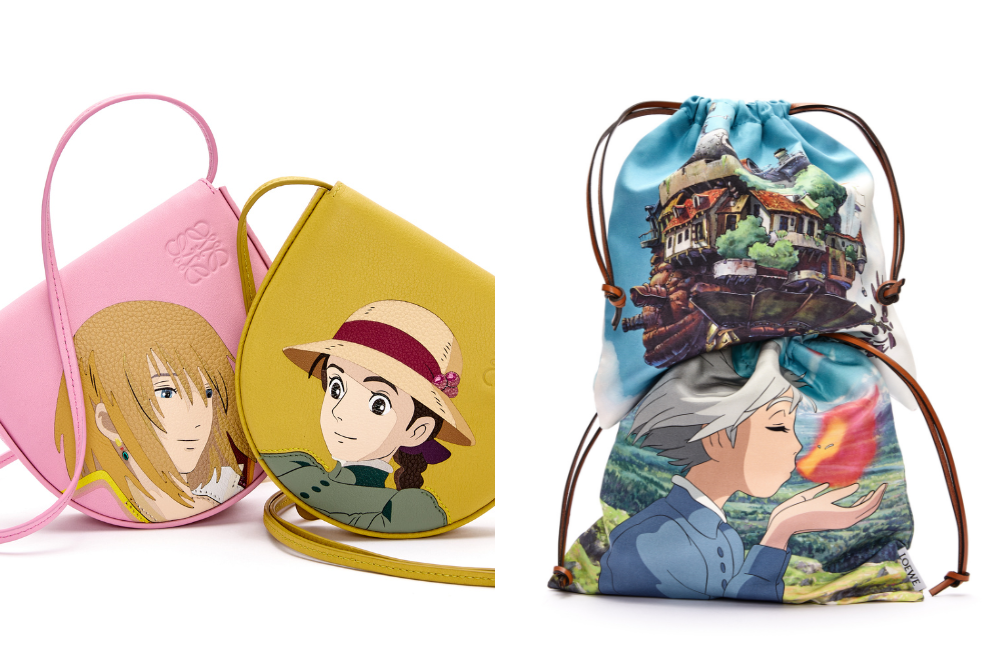 Your bestie might be the Howl to your Sophie or the castle to your Calcifer — don't be afraid to show off your strong friendship with these matching bags. The Howl and Sophie shoulder bags come in bright pink and yellow hues to store your loose change while you're out.
Meanwhile, take a bit of magic with you on the go with the drawstring bags, featuring bold prints of the castle, Sophie and Calcifer.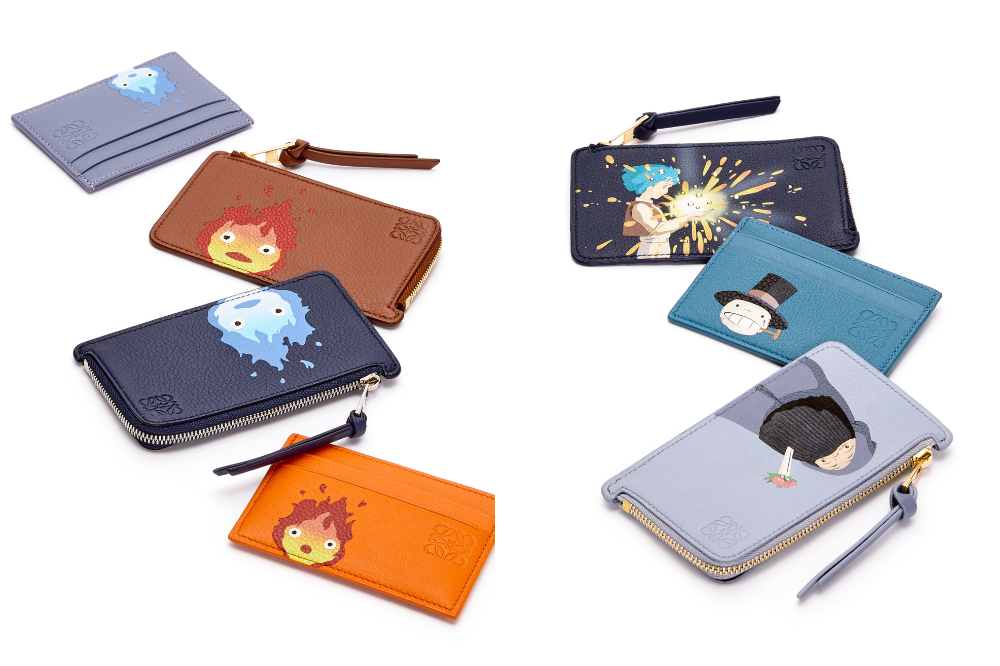 Colourful wallets, pouches and card holders are also available in this collection, each showcasing a favourite character of your choice. There's even a kawaii design of Markl, Howl's young disciple, in a disguise of an old wizard from the scene where he went to town with Sophie.
Accessories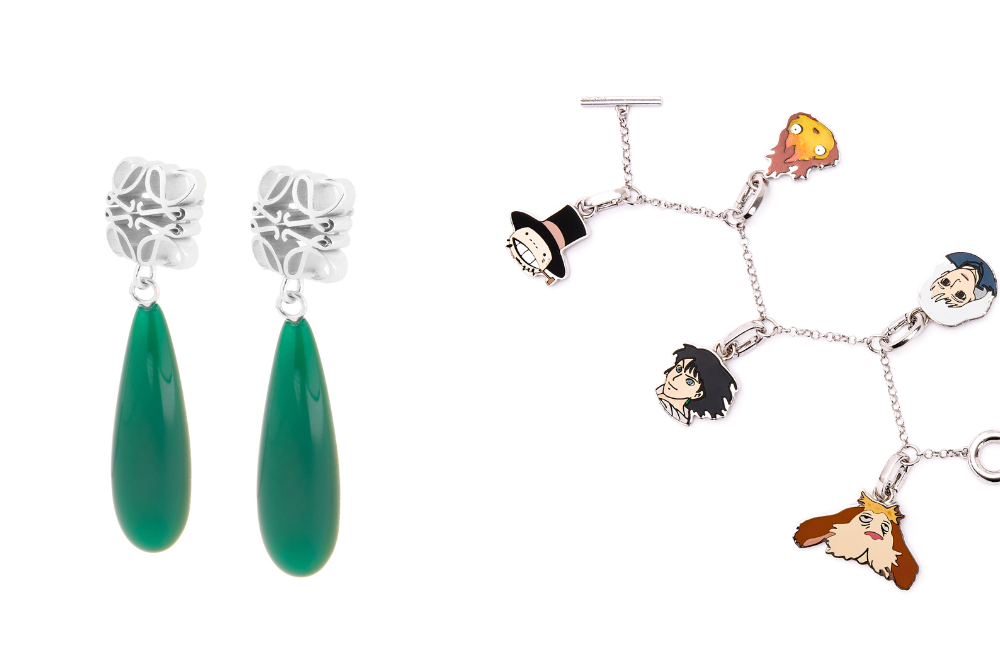 That's not all — fans of Howl can also get his signature green dangle earrings to spruce up your accessories, complete with LOEWE's logo on the stud. 
And if you can't pick a favourite character? Why not take all of them out with you on this silver bracelet with charms of each character's face.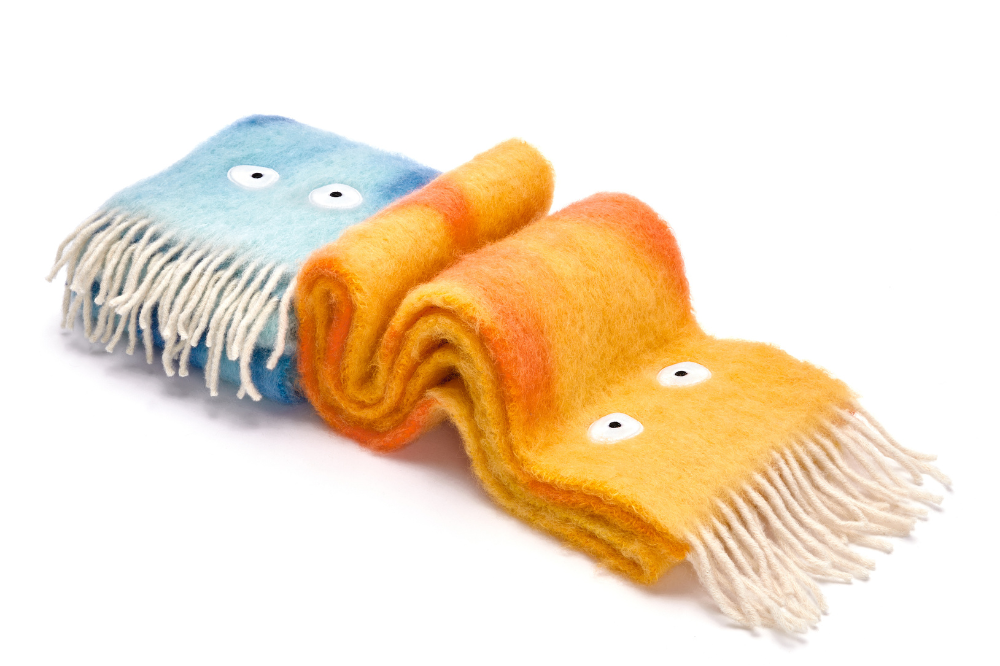 For those planning to escape the humid Singapore climate by travelling to colder countries, stay warm with these knitted Calcifer scarves. These are available in two colours of blue and orange, so you can force the fire demon to lend you his warmth — just like Sophie did when she first cooked for Howl.
The LOEWE x Howl's Moving Castle Collection Is The Final Instalment Of This Magical Collaboration
The LOEWE x Howl's Moving Castle collection marks the brand's final instalment of the anime series collaboration. If you've been following their Studio Ghibli launches for the past few years, make sure to add the Howl's Moving Castle merch to your cart ASAP to complete your full set. 
The full LOEWE x Howl's Moving Castle collection launches globally on 2 February 2023, but fans can gain early access by registering on LOEWE's website. 
All images courtesy of LOEWE.
Also read:
LOEWE Announces NMIXX As Global Ambassadors, Features Giant Face Print Dresses Of Each Member