LOEWE x Spirited Away
Since LOEWE launched their My Neighbour Totoro collection last year, Studio Ghibli fans have been anticipating more magical releases from the fashion brand. Dropping just in time to celebrate director Hayao Miyazaki's birthday recently, LOEWE's next collection is Spirited Away-themed and filled with more childhood nostalgia compacted into apparel, bags and accessories.
Apparel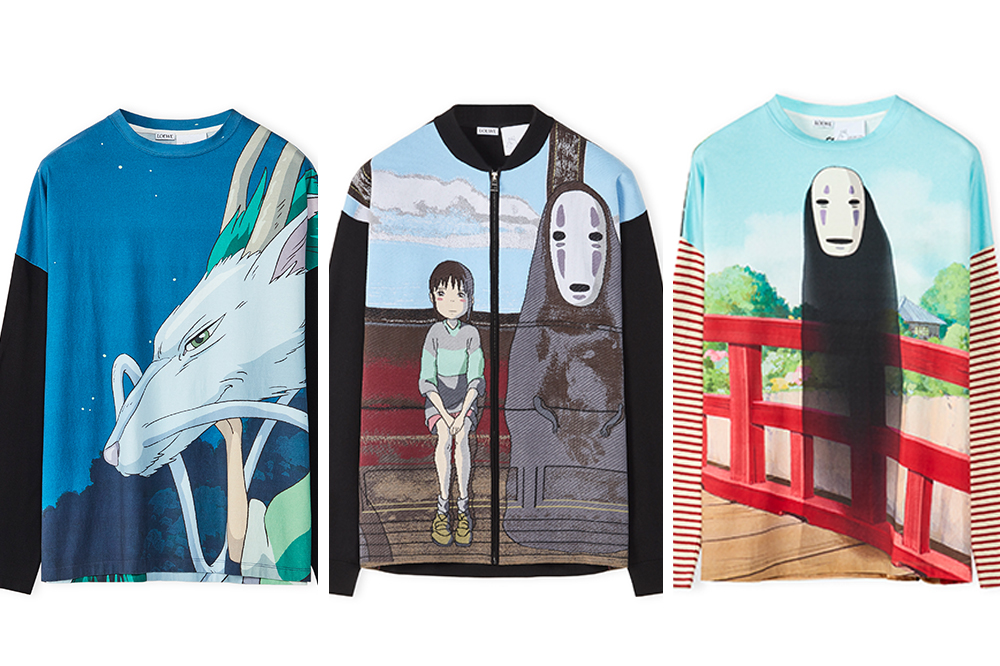 It's impossible to talk about Spirited Away without mentioning the main characters Haku and Chihiro. But Kaonashi, aka No-Face, is also another side character who stole our hearts. 
The collection includes long-sleeved T-shirts and cardigans in designs of Haku in his dragon form, as well as No-Face travelling along with Chihiro on the magical train.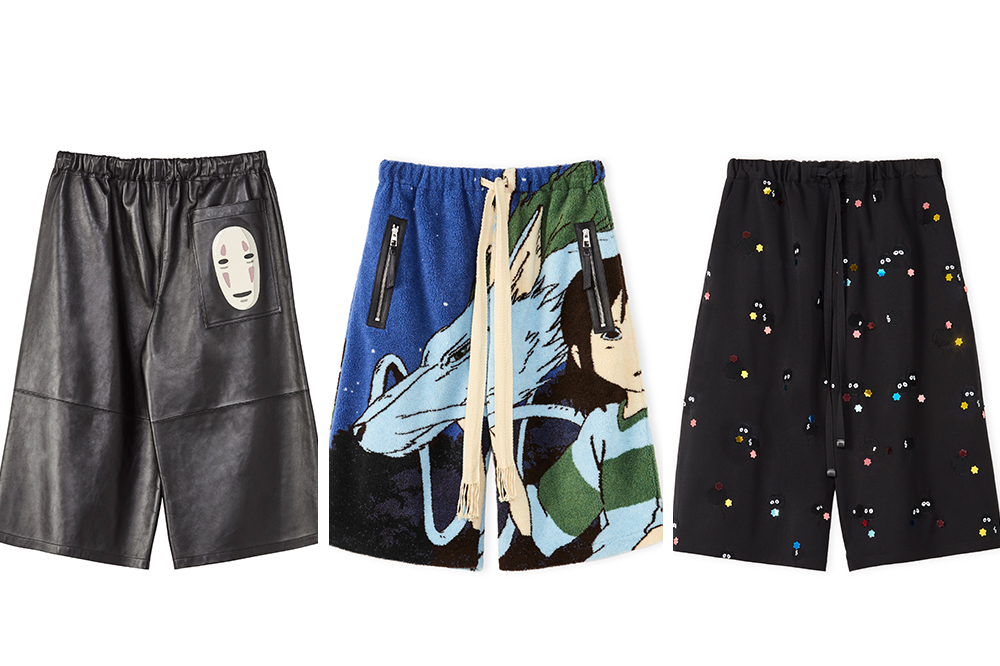 Elastic and cotton drawstring shorts in similar designs are also available, featuring the tiny soot spirits that also made a cameo in My Neighbour Totoro.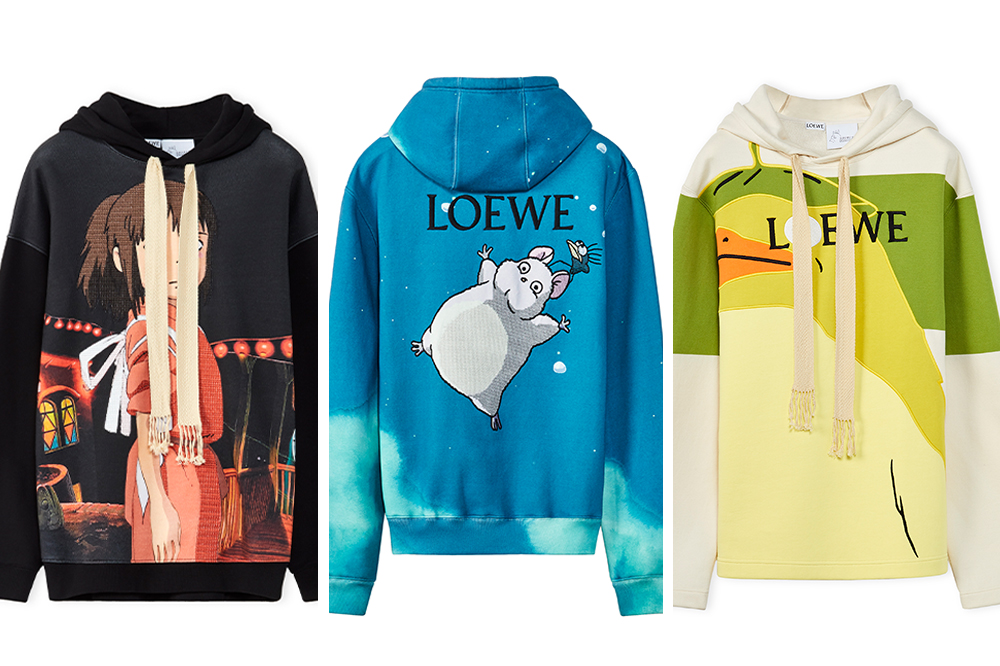 There are just so many little details in the Spirited Away film that we can't help but love — that includes minor characters too. Stay warm and cosy with these hoodies in designs of Chihiro herself, Boh and Yu-bird soaring through the skies, and the adorable Otori-Sama, aka the duck spirit.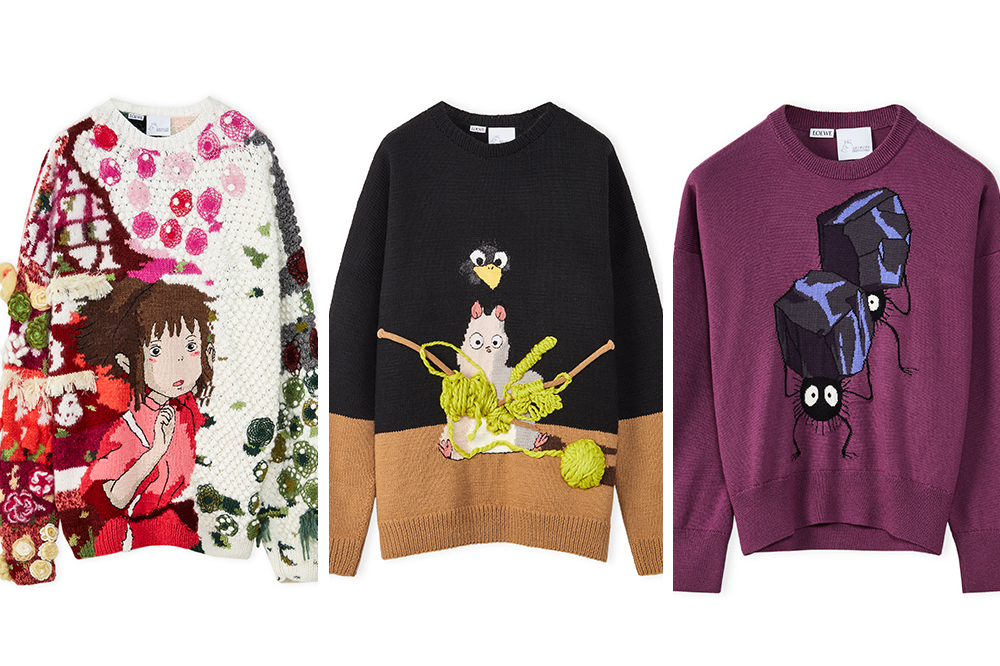 Or, you can tuck yourself into these cosy knitted sweaters on rainy days to show off your sweater weather vibe. The Boh and Yu-bird sweater even comes with a 3D design of the pair struggling to knit a ball of green yarn.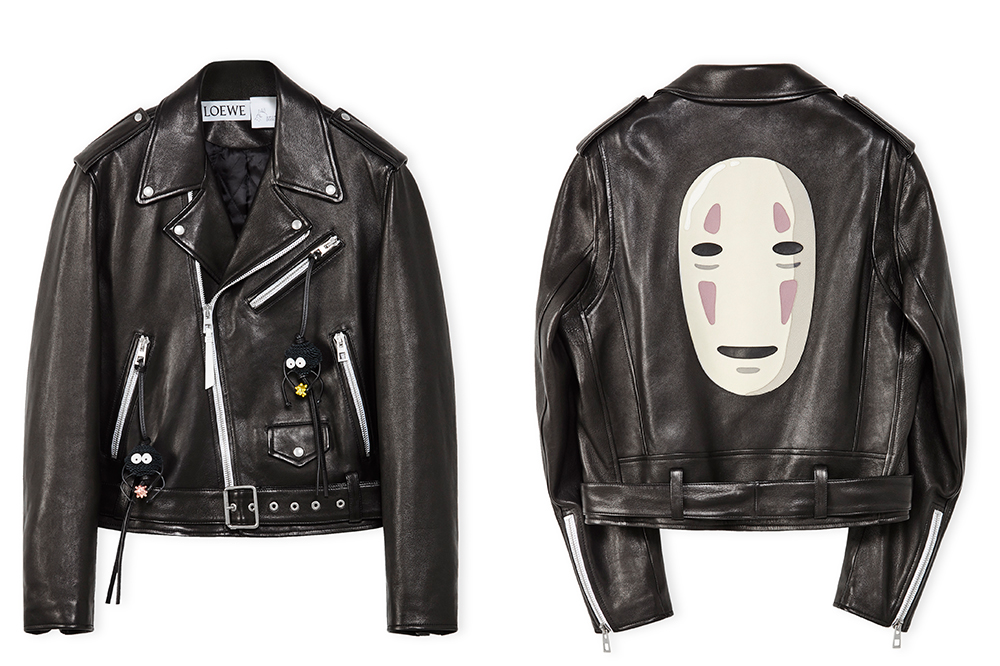 Enhance your e-girl look with the No-Face biker jacket, featuring soot spirits hanging onto the zippers in the front. No-Face appears on the back with his smiley mask, while the black base reminds us of his ability to morph his body into whatever shape he pleases.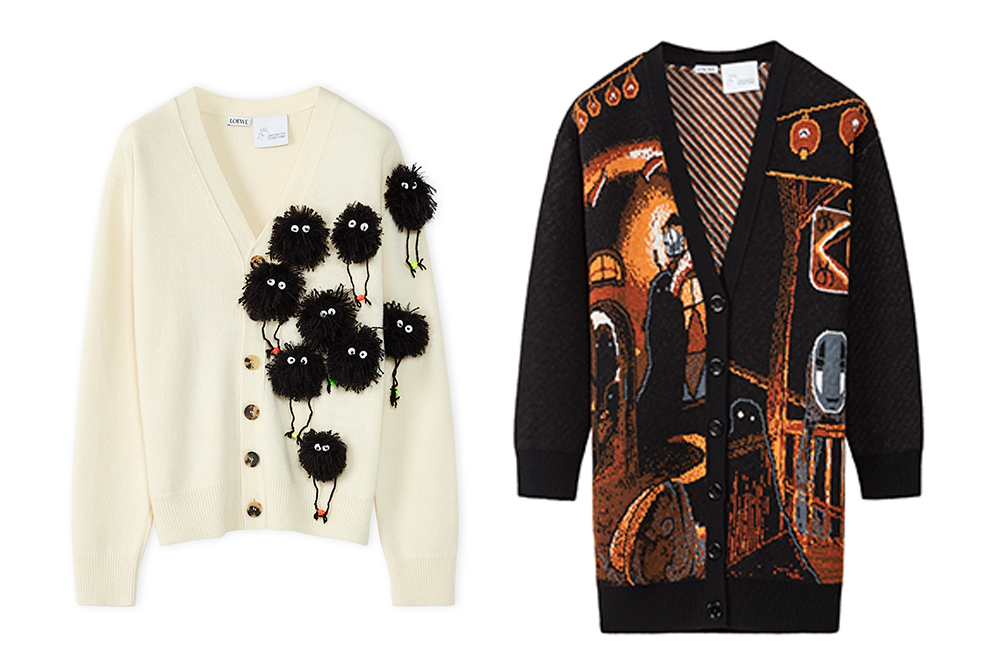 Zhng up your library style fashion with these soft cardigans, featuring puffy 3D soot spirits decorated along the side. 
The long black cardigan pays tribute to the anime's beautiful night scenery of lanterns and shophouses. Fun fact: this scene was inspired by a real-life location at Jiufen in Taiwan!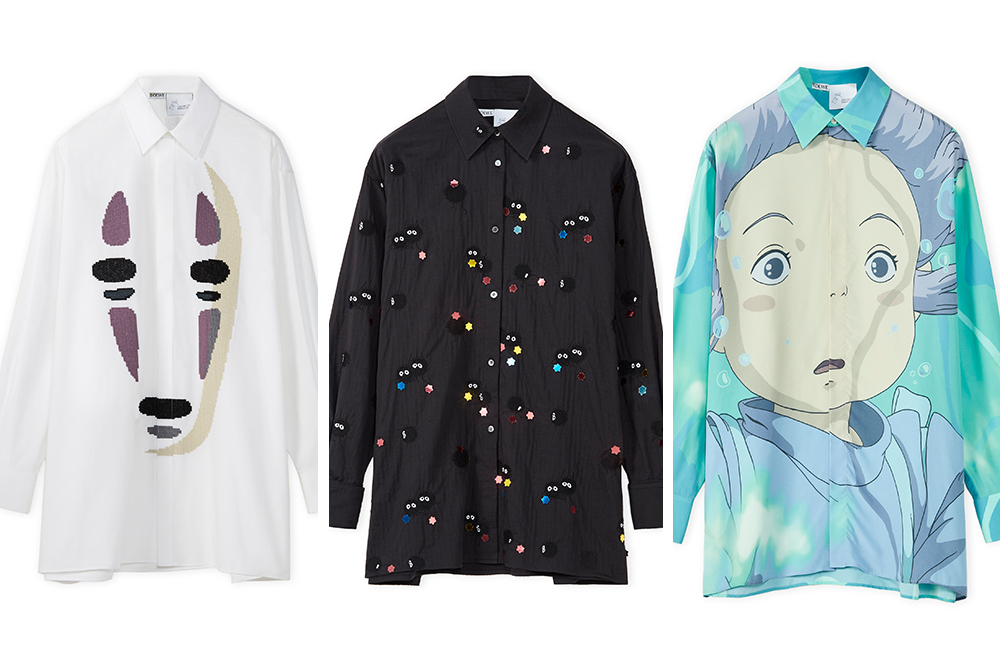 Who says collared shirts have to be boring? Add some childhood imagination instead with No-Face and soot spirits holding onto colourful stars. 
The Chihiro shirt comes in chio pastel blue hues, paying homage to the scene where Chihiro fell into the lake as a kid and met Haku for the first time.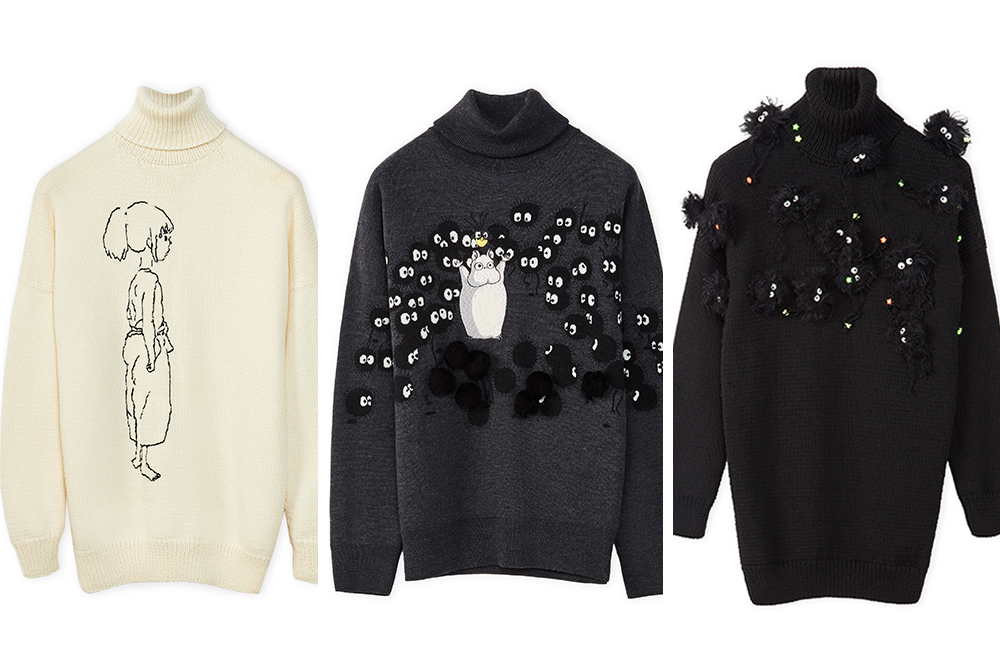 When it comes to dressing up, it's pretty much guaranteed that you can't go wrong with monochrome colours. The black and white turtleneck sweaters come in more minimalistic designs of the characters — perfect for fans who are travelling to colder countries via VTL.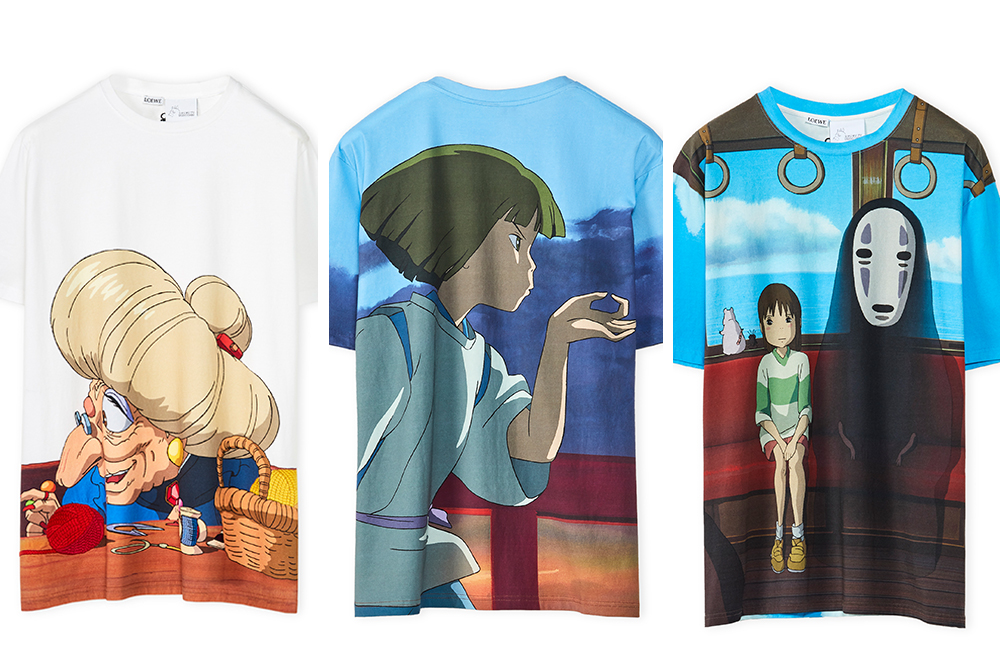 In contrast, the colourful tees in this collection are a fun and quirky way to show off your love for the film. A Zeniba design dons one of the white tees, surrounded by her knitting equipment. Don't mix her up with her evil sister Yubaba though, who had caused countless problems to Chihiro and Haku on the show.
For fans who love the kind-hearted and strong Haku, there's also a shirt that features him in his human form.
Bags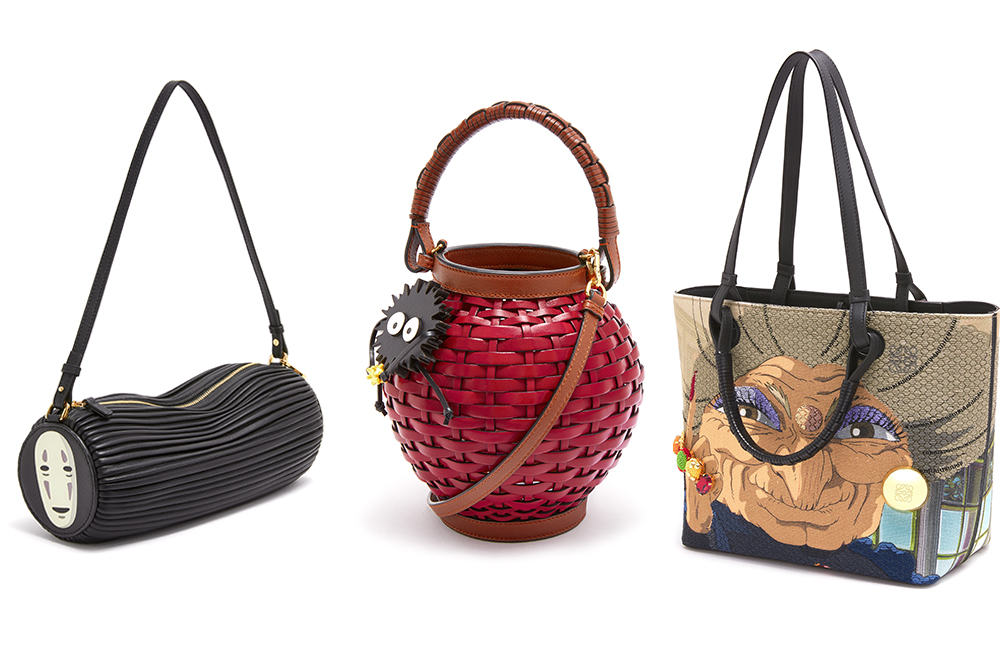 Apart from the apparel, LOEWE is also treating fans to a variety of unique bags inspired by the film. Take the No-Face sling bag out with you on a date or enhance your cottagecore vibe with the lantern bag. 
Alternatively, flex your evil side with the Yubaba tote bag.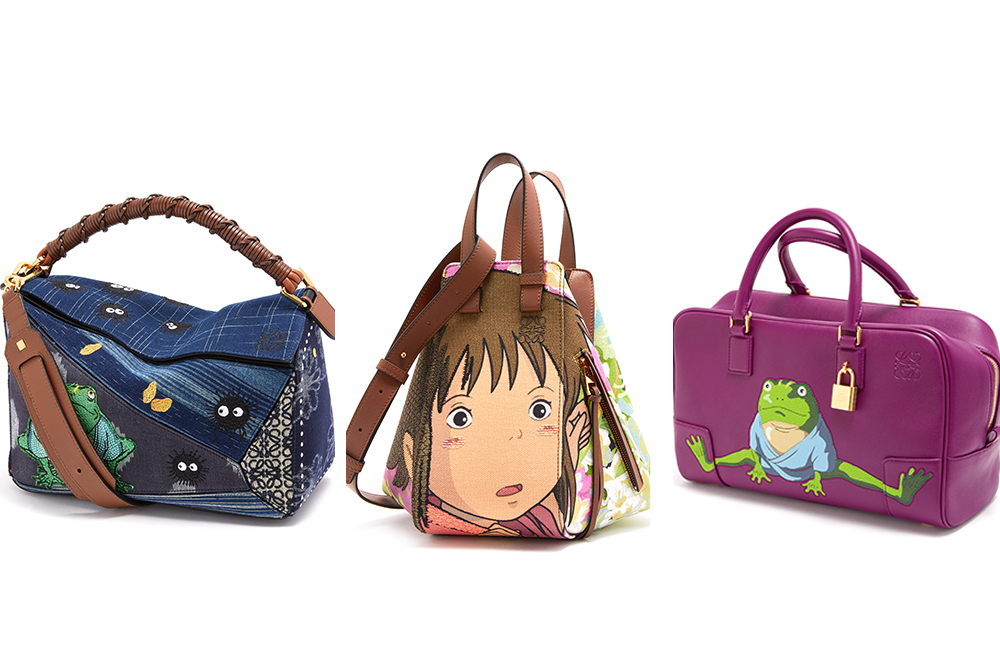 For those who prefer carrying minimally when you're out, more characters and smaller bag designs are here too. Aogaeru, the greedy frog employee at the bathhouse, greets us with his tiny blue kimono on the purple bag.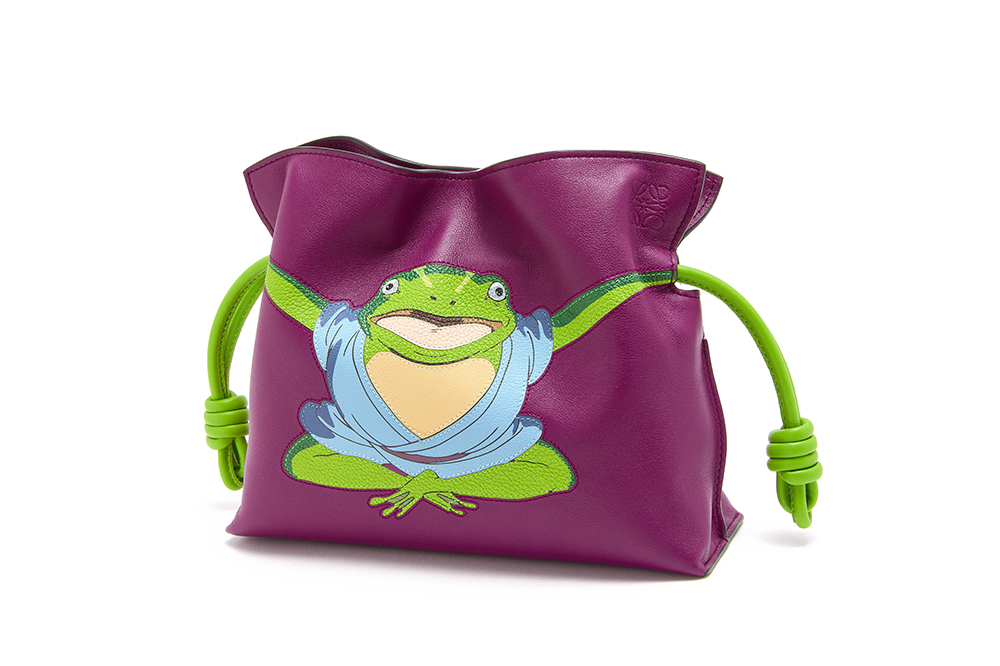 A similar design is also available as a pouch, hilariously making use of Aogaeru's slender arms to secure it tightly.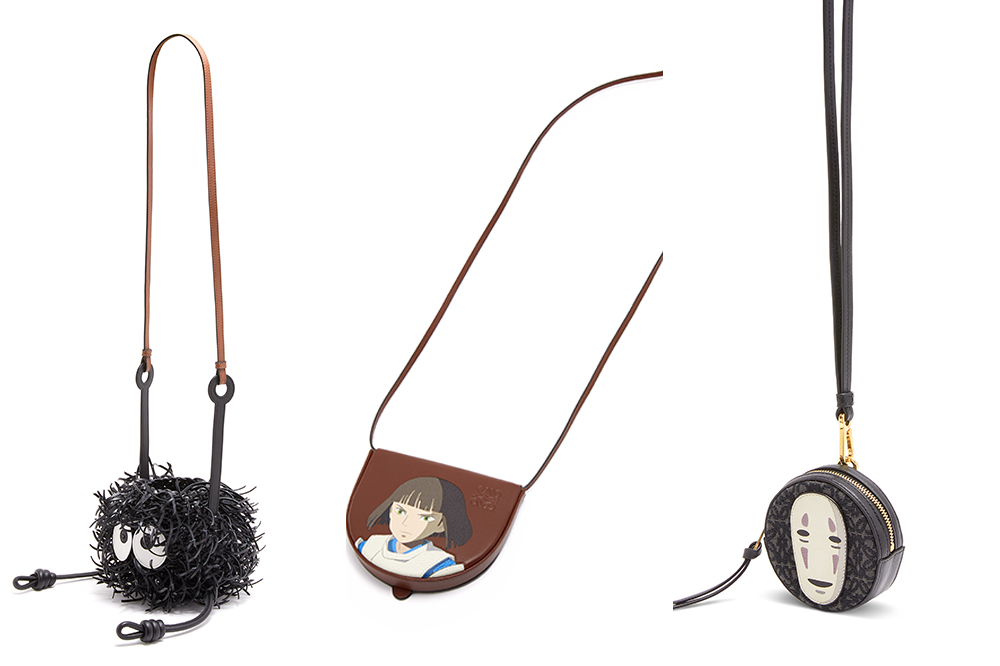 Fans can also get unique sling bags shaped like the furry soot spirits, Haku, and No-Face to complete a chic look.
Accessories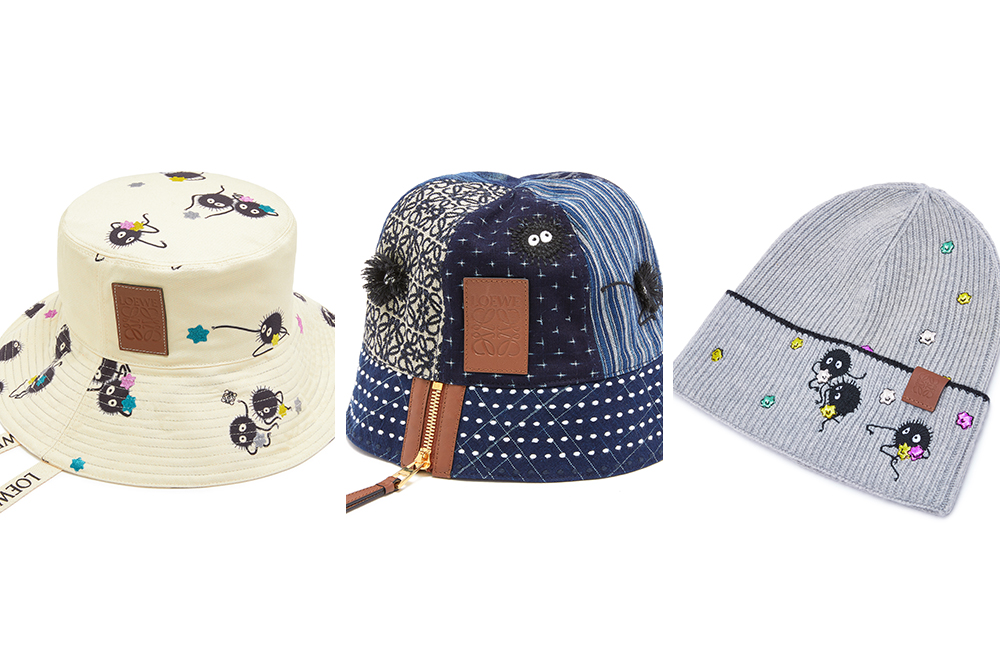 Tie your whole outfit together with these soot spirit hat accessories featuring kawaii bucket hats and beanies fit for any occasion.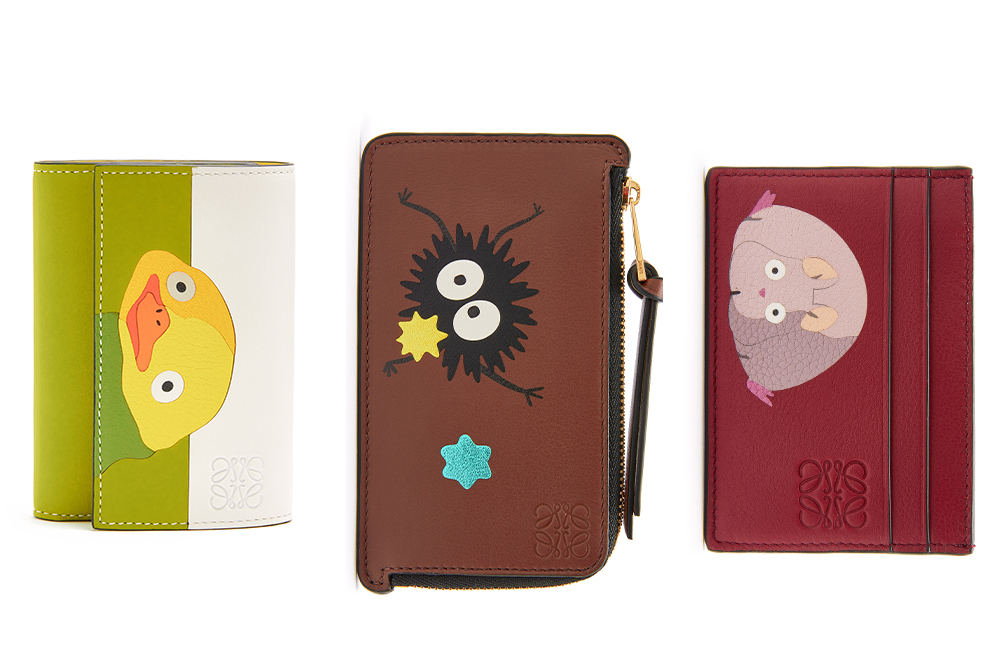 Gift your Studio Ghibli fan friends a unique wallet or cardholder to take with them on their next adventure. The Otori-Sama wallet features the duck spirit having a relaxing soak and peeking out at its user from the water.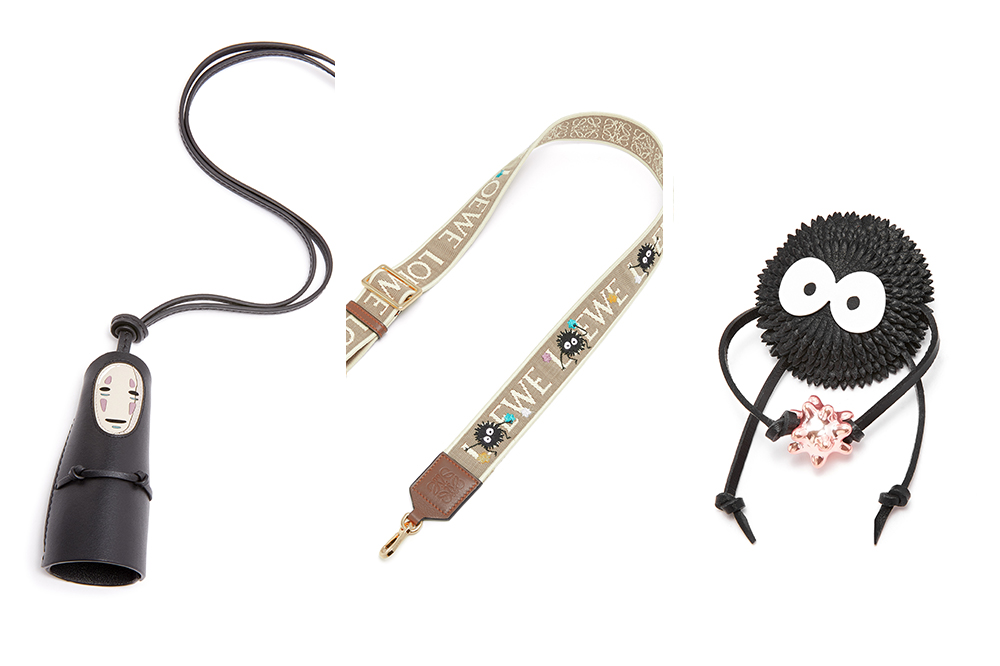 Subtly show off your fave character with the bag charms, mask straps and studs, adding a fun touch to your OOTD.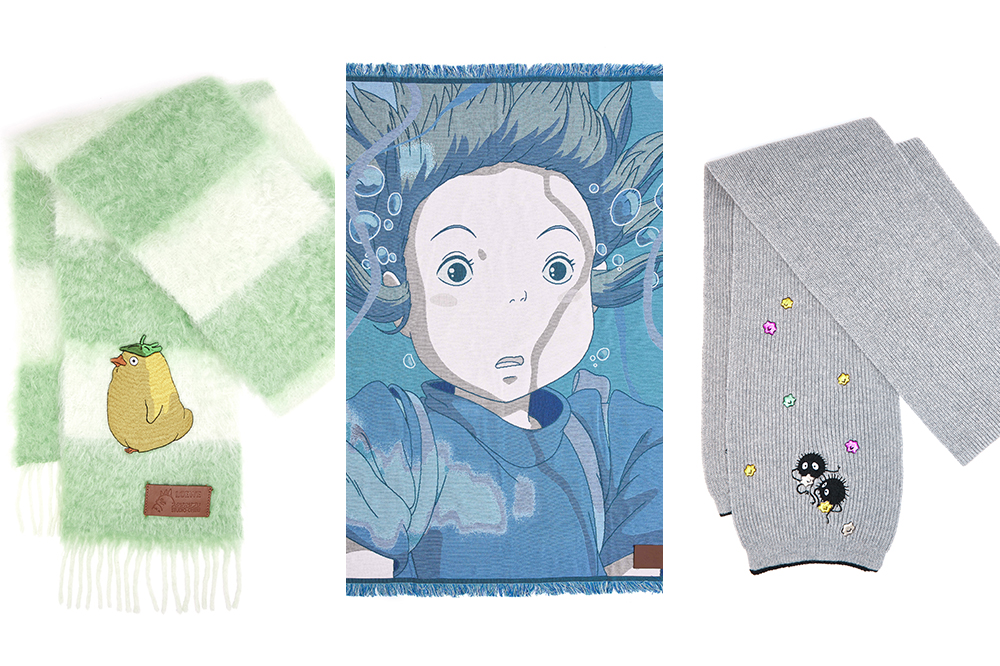 If you're planning a VTL trip for the next winter season, make sure to stay warm with these soft mohair and knitted scarfs. You can also snuggle with the Chihiro blanket too and nua while binge-watching more Studio Ghibli films.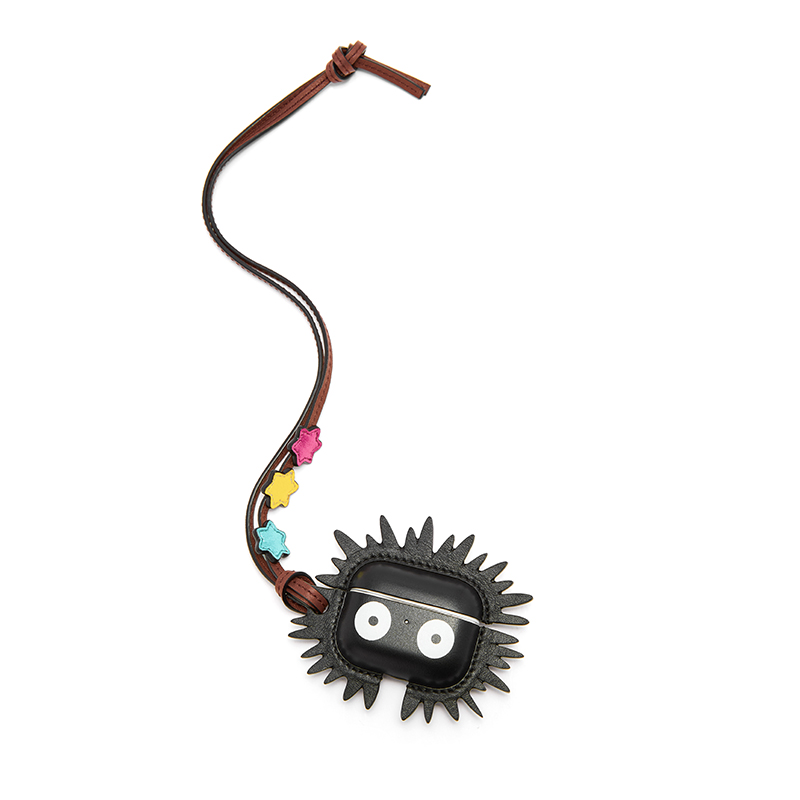 Keep your AirPods Pro safe with the soot spirit casing, decorated with more colourful star candies along the strap.
This New LOEWE x Spirited Away Collection Adds Magic To Your OOTD
Despite being set in Japanese, Spirited Away remains a beloved childhood movie which many people around the world keep close to their hearts. The magical LOEWE x Spirited Away collection will be available in-stores and online from 7 January 2022 onwards. Make sure to check out LOEWE's online website to view the full collection details. 
All images courtesy of LOEWE.
Also read:
McDonald's Singapore Now Has Crossbody Bags With Burger & Fries Designs, We're Definitely Lovin' It