Loft-Style Hotel Rooms In Singapore
Be it with your SO or your group of girlfriends, staycations are currently the best way to celebrate a special occasion or simply break out of your mundane routine. But if standard hotel rooms get a little meh and villas are too huge for a couple, live out your penthouse dream instead. 
With non-traditional layouts, thoughtful amenities and convenient locations in buzzy neighbourhoods, here are 10 loft-style hotel rooms in Singapore that will take your staycation to the next level… literally.
1. The Sultan Hotel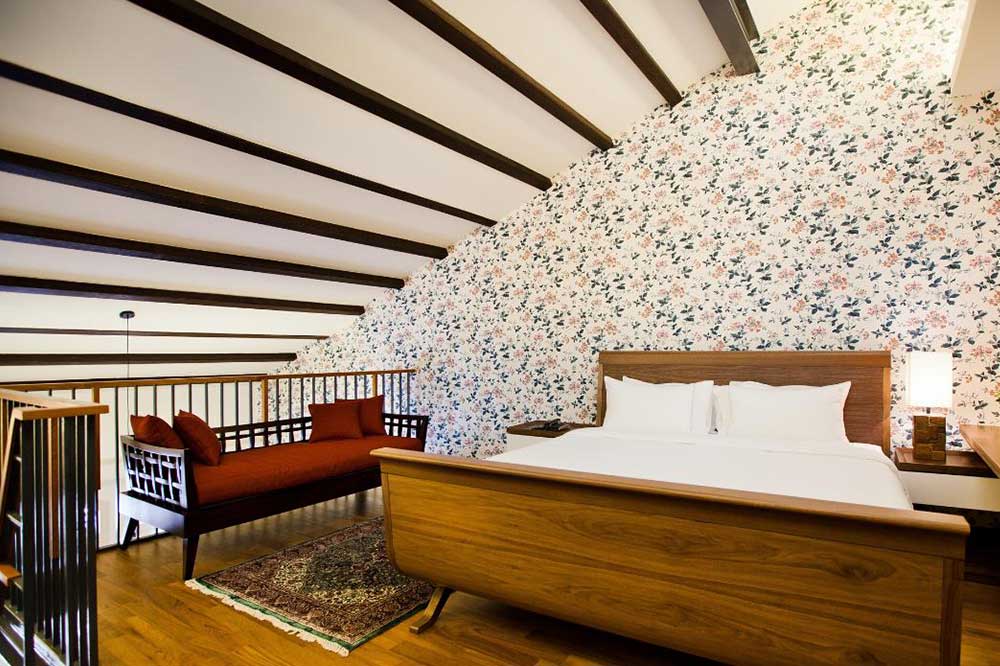 Source
Preserved and recreated from 10 traditional Singaporean shophouses, The Sultan Hotel marries old-world charm with tasteful modern decor. Located in the middle of Kampong Glam, soak in the sights and sounds of the surrounding 'hood, from the heritage architecture to the murals and shops along Haji Lane.
Peek out at the sky from under the sheets when you book The Skylight Room; or go for The Sultan Loft, a duplex bedroom with a living area below and a bedroom on the second floor.
Rates: From $241 per night for The Skylight Loft
Address: 101 Jalan Sultan, #01-01, Singapore 199002
Booking: Book via ShopBack for up to 15% upsized Cashback
Website | Facebook | Instagram
2. Wanderlust Hotel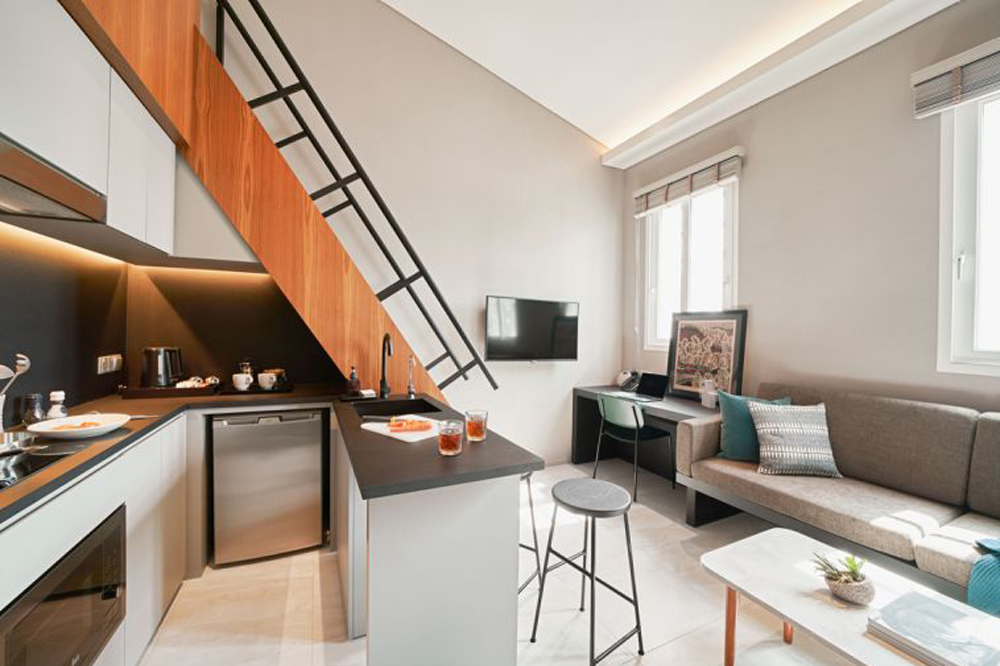 Source
With two different lofts to choose from – the Junior Studio Loft and the Studio Loft – Wanderlust Hotel will truly bring out your desire to go travelling. Located near Jalan Besar, the building is a heritage landmark with a 1920s Art Deco style, and boasts an old shophouse feel. 
Despite its traditional decor, the rooms are filled with modern and aesthetic furnishings. Drenched in sunlight during the day, the lofts are able to fit two pax and are perfect for a romantic weekend getaway. Opt for the Studio Loft, complete with two storeys and a separate living room area for a homey vibe. 
Rates: From $390 for the Studio Loft
Address: 2 Dickson Road, Singapore 209494
Booking: Book via ShopBack for up to 15% upsized Cashback
Website | Facebook | Instagram
3. M Social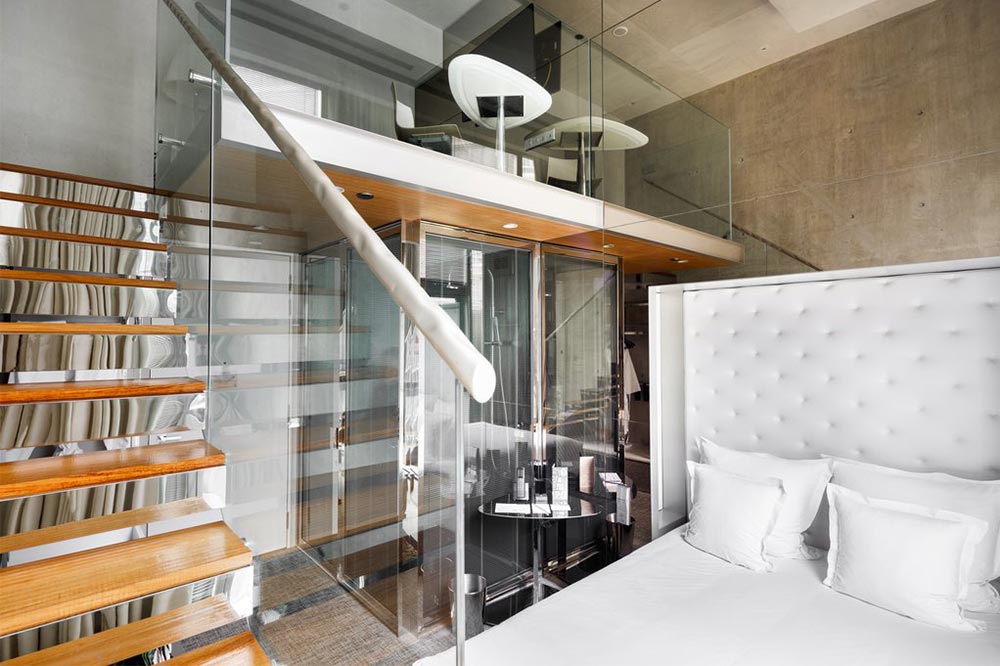 Source
With not one but three different loft room options to choose from, all the rooms at M Social have a touch of eccentricity to their design. No surprises there, since the interiors were designed by none other than the legendary Philippe Starck.
The Loft Terrace Room comes with its own private balcony with a sofa for tête-a-têtes under the night sky. Those who prefer to stay indoors can opt for the Loft Gallery Room or Loft Premier Room, which both have an ensuite bathroom with a rain shower.
Rates: From $400 per night for the Loft Gallery Room
Address: 90 Robertson Quay, Singapore 238259
Booking: Book via ShopBack for up to 15% upsized Cashback
Website | Facebook | Instagram
4. Hotel Soloha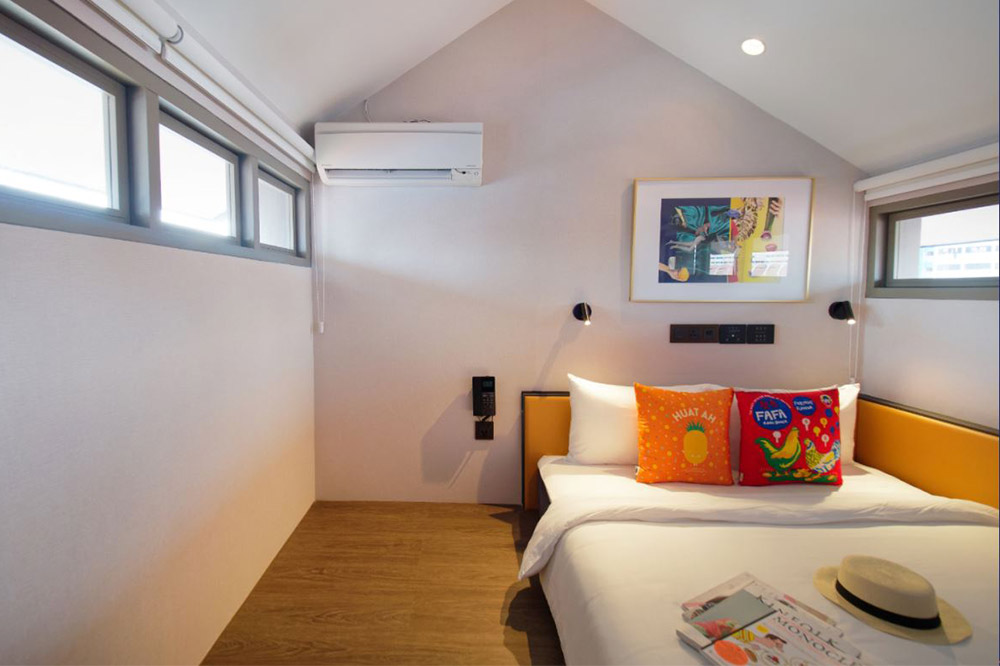 Source
Nestled in the happening Keong Saik area, Hotel Soloha is the perfect base for you to spend a leisurely few days checking out hip cafes, restaurants and bars. Art and design lovers will have a field day, with neon signs and custom commissions by local artists splashed across everywhere from the lobby to the lift and corridors.
The Loft is able to fit two people, while the Family Loft has two queen beds and can accommodate up to four people.
Rates: From $128 per night for the Loft room
Address: 12 Teck Lim Road, Singapore 088387
Booking: Book via ShopBack for up to 15% upsized Cashback
Website | Facebook | Instagram
5. The Warehouse Hotel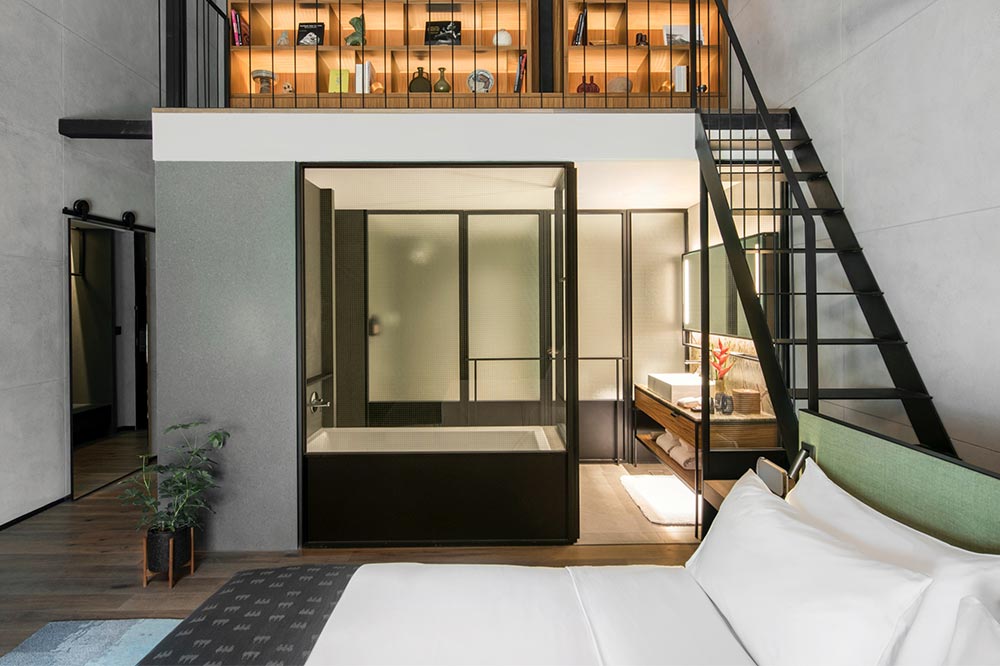 Source
Industrial chic at its finest, The Warehouse Hotel is located in the Robertson Quay area, which used to be a hotbed of "secret societies, underground activity, and liquor distilleries". This is reflected in its minibar of vices menu, which even sells sex toys! All rooms are also fitted with Bang & Olufsen Bluetooth speakers and 100% eco-certified Ashley & Co bath amenities.
The Warehouse Hotel's loft offering is The River View Mezzanine, which spans two levels and is on the top floor of the building. Furnished with a library, and a view over the Singapore River, culture vultures will have no need to leave the room during their stay.
Rates: From $660 per night for the River View Mezzanine (including breakfast, excluding taxes)
Address: 320 Havelock Road, Singapore 169628
Booking: Book via ShopBack for up to 15% upsized Cashback
Website | Facebook | Instagram
6. The Daulat Hotel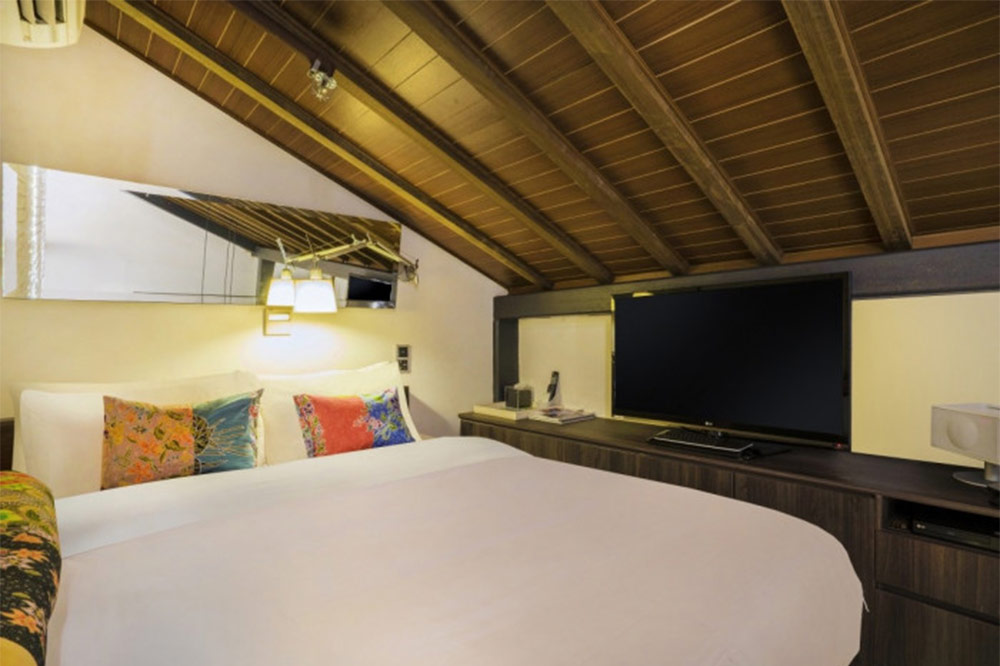 Source
A charming boutique hotel in the heart of Little India, The Daulat Hotel is for those who want a colourful setting for their staycations. Comfort is key here, with luxurious Sealy Posturepedic Mattress and 300-thread count linen bedding in each of its 16 rooms. Not to mention, there's an unlimited flow of soft drinks.
Keep things cosy in the Loft Room, which is furnished with a queen size bed. If you're looking for more space, the Loft Suite has a balcony, with the option of a king or queen size bed.
Rates: From $130 per night for the Loft Room
Address: 16 Madras Street, Singapore 208413
Booking: Book via ShopBack for up to 15% upsized Cashback
Website | Facebook | Instagram
7. Lloyd's Inn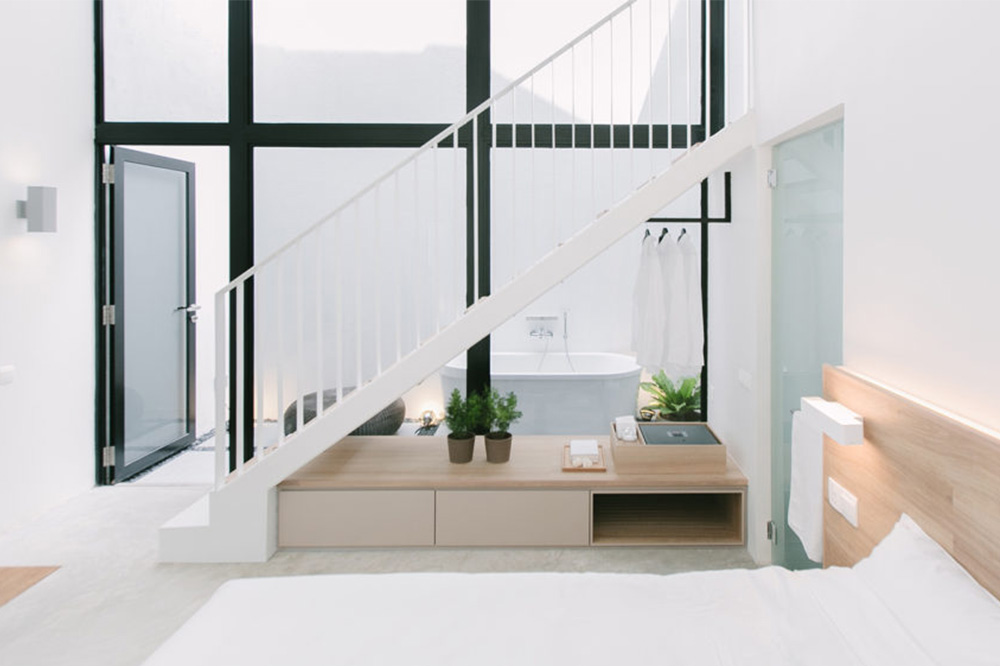 Source
A minimalist's heaven, Lloyd's Inn is the go-to place in town for staycationers looking for a quick respite from the bustle of the city. While they don't have an in-house restaurant, you can indulge in a complimentary Killiney Kopitiam breakfast of eggs, coffee and kaya toast.
The Business Room is ideal when you need to hustle hard on a major project and working from home with the fam just doesn't cut it. The Big Sky Room combines a loft-style design with another staycation favourite in Singapore: hotel bathtubs. The outdoor bathtub fits two, so make a romantic evening out of it! Meanwhile, if you want to be one with nature, you can also opt for the Patio Loft room. 
Rates: From $320 per night for The Patio Loft Room
Address: 2 Lloyd Road, Singapore 239091
Booking: Book via ShopBack for up to 15% upsized Cashback
Website | Facebook | Instagram
8. Arton Boutique Hotel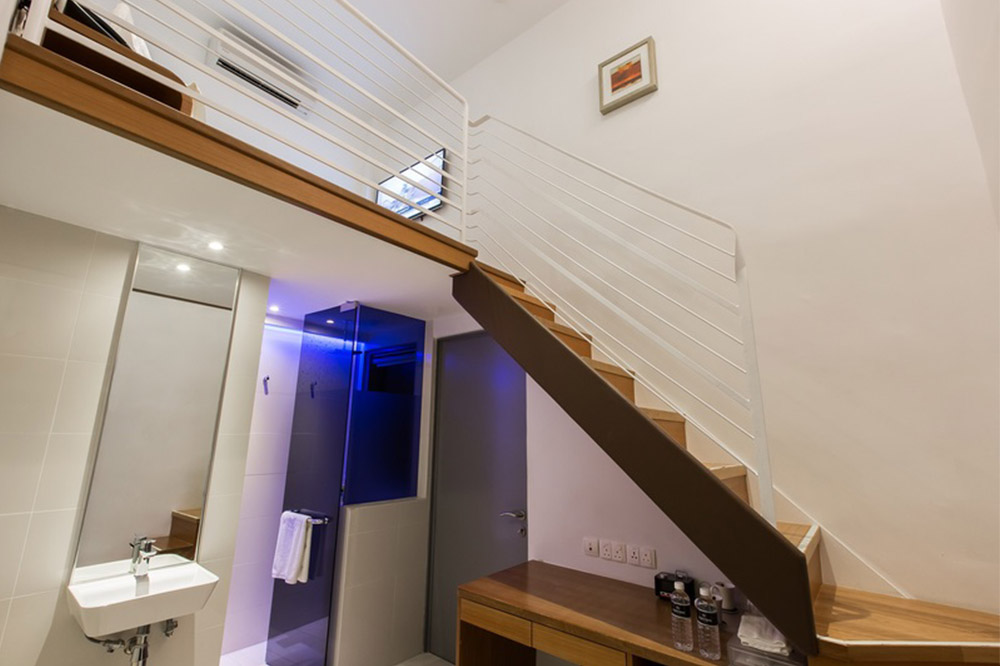 Source
A budget-friendly option, Arton Boutique Hotel is located centrally between Rochor and Lavender MRT stations. The rooms are clean and modern, so you can definitely get some quality Netflix and chill time. While breakfast and additional facilities aren't provided, the neighbourhood has plenty of cafes in the area for you to check out.
There are two loft options available: the Queen Loft, which you have the option of topping up to a room with a balcony, and a Family Loft.
Rates: From $273 per night for the Queen Loft
Address: 176 Tyrwhitt Road, Singapore 207576
Booking: Book via ShopBack for up to 15% upsized Cashback
Website 
9. Mercure Hotel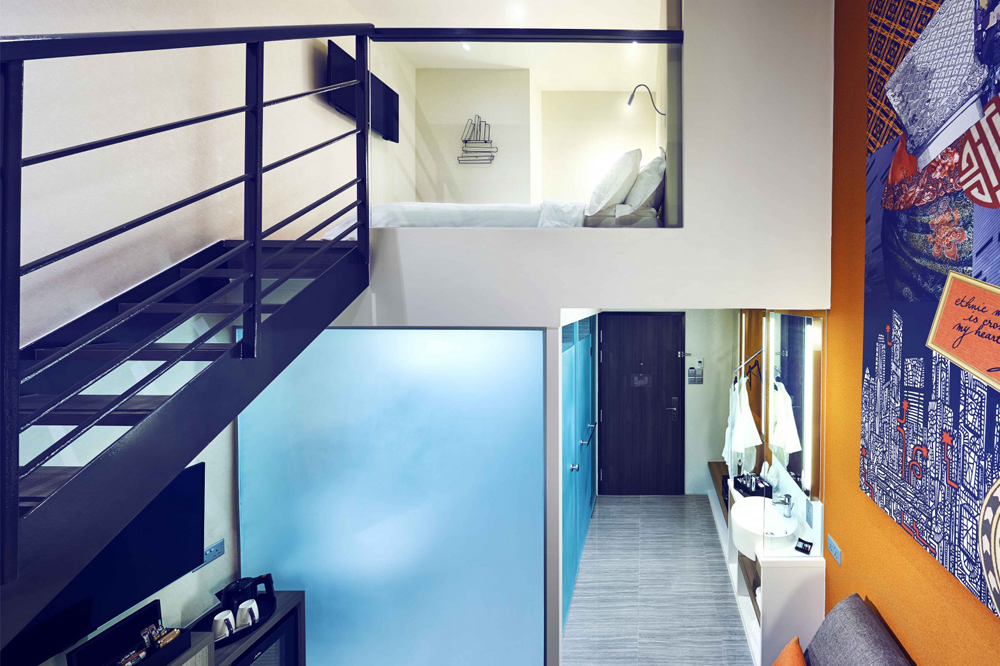 Source
Located in the heart of Bugis, Mercure Hotel has options of their Signature Loft Room and Executive Loft Room. Decorated with tasteful modern art pieces on the walls, including an orange backdrop, you can take more than one OOTD shot before heading out on the town. 
The two-storey room screams art gallery – it has a minimalist staircase in blue leading up to the bedroom, which is furnished simply with an all-white exterior; perfect for you and bae to chill together for the night, undisturbed. 
Rates: From ~S$282 per night for the Signature Loft Room
Address: 122 Middle Road, Singapore 188973
Booking: Book via ShopBack for up to 15% upsized Cashback
Website | Facebook | Instagram
10. Heritage Collection on Seah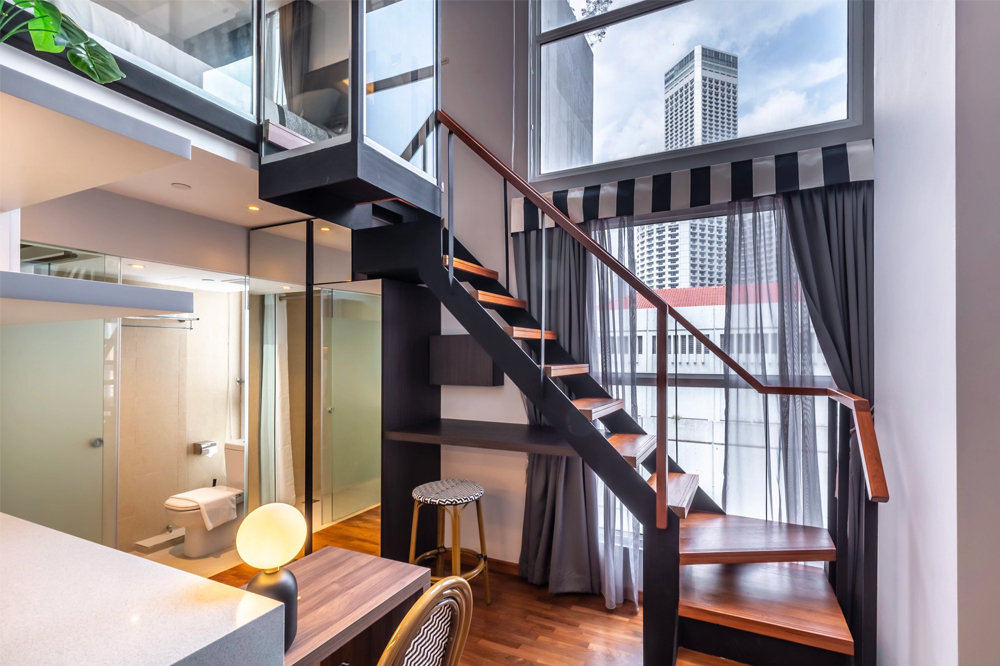 Premium Loft Plus
Source
If you're a culture fan, the Heritage Collection of hotels should definitely be on your list of places to stay at. With multiple rooms in different neighbourhoods around Singapore, such as Chinatown or the CBD you have the option of choosing which Heritage Collection hotel fits your needs best. 
In the Heritage Collection on Seah, they offer three gorgeous loft rooms to choose from. Most of the rooms are completely digital-friendly from check-in to your entire stay – perfect for absolute privacy. Look forward to a myriad of Singapore landmarks around the area to visit too, from CHIJMES to the Esplanade. 
Rates: From $155 per night for Premium Loft
Address: 39 Seah Street, Singapore 188395
Booking: Book via ShopBack for up to 15% upsized Cashback
Website | Instagram 
Spend & Save On Your Celebrations With ShopBack
[Update 27 June 2023]: The ShopBack promo has ended. 
Whether it's for a  party or celebrating a birthday, the perfect gift definitely includes quality time with loved ones. Spice up the romance factor by booking a loft-style hotel staycation or even check out nearby countries like JB, Thailand or Vietnam for the long weekends. 
While hotel and trip bookings can get pricey, you can save more with the help of ShopBack, where you can gain Cashback on all hotel bookings after your purchases.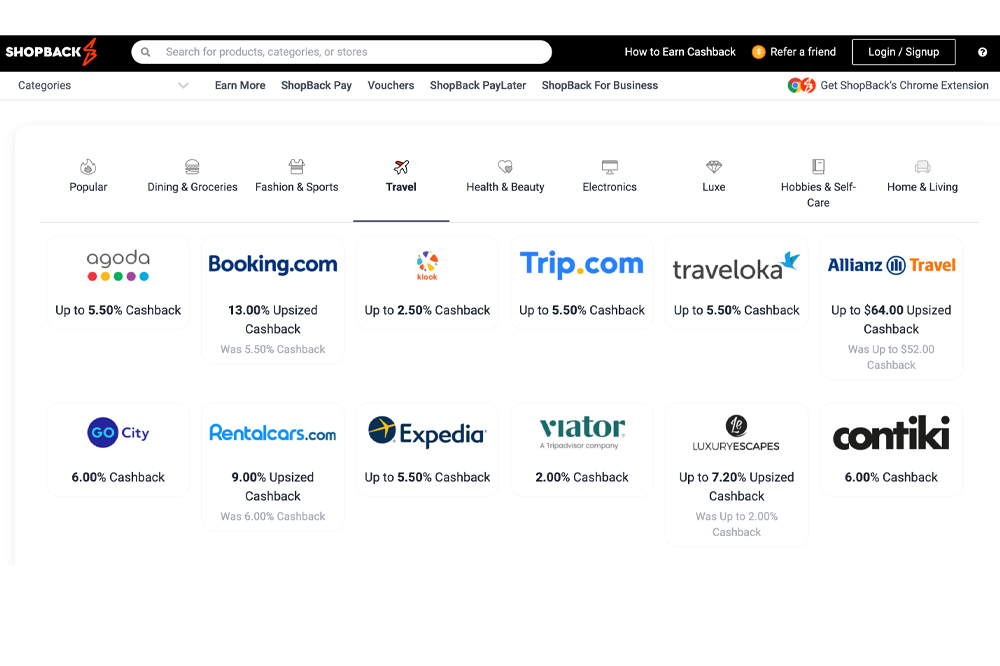 Travel-related platforms available on ShopBack
Source
ShopBack offers deals with well-known online travel agencies such as Agoda, Booking.com, Hotels.com and Expedia with up to 20% upsized Cashback.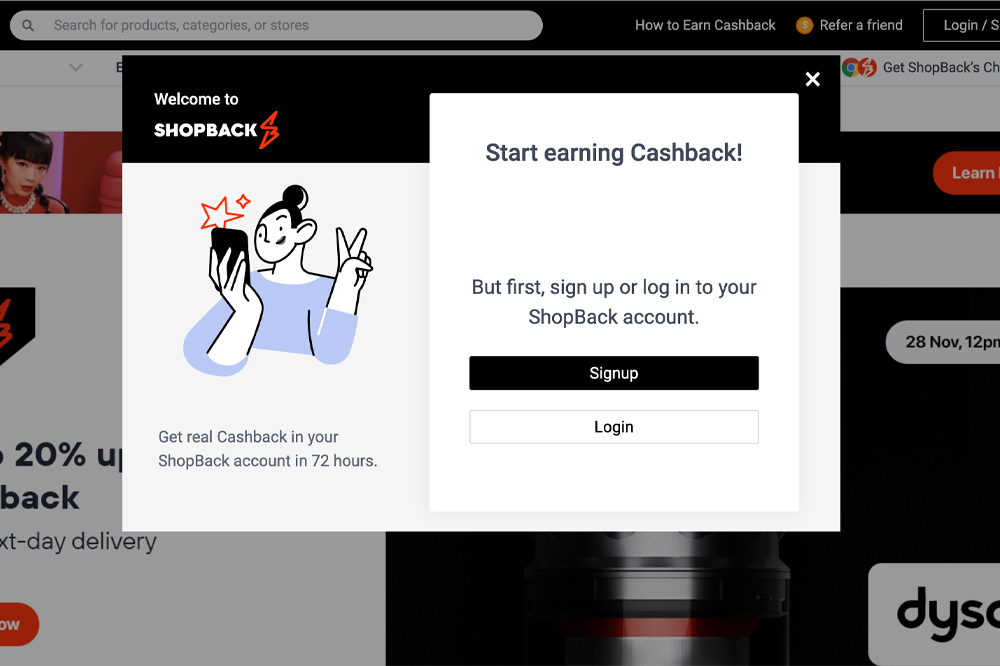 Source
To kickstart your vacation, start by creating a ShopBack account on their app or website, before checking out what deal suits you best. Once you ensure click-through to your favourite online brand via ShopBack during your shopping process, you can be rest assured that you'll get money back from your overall spending. This way, you can have a fuss-free getaway knowing you won't put a major dent in your wallet.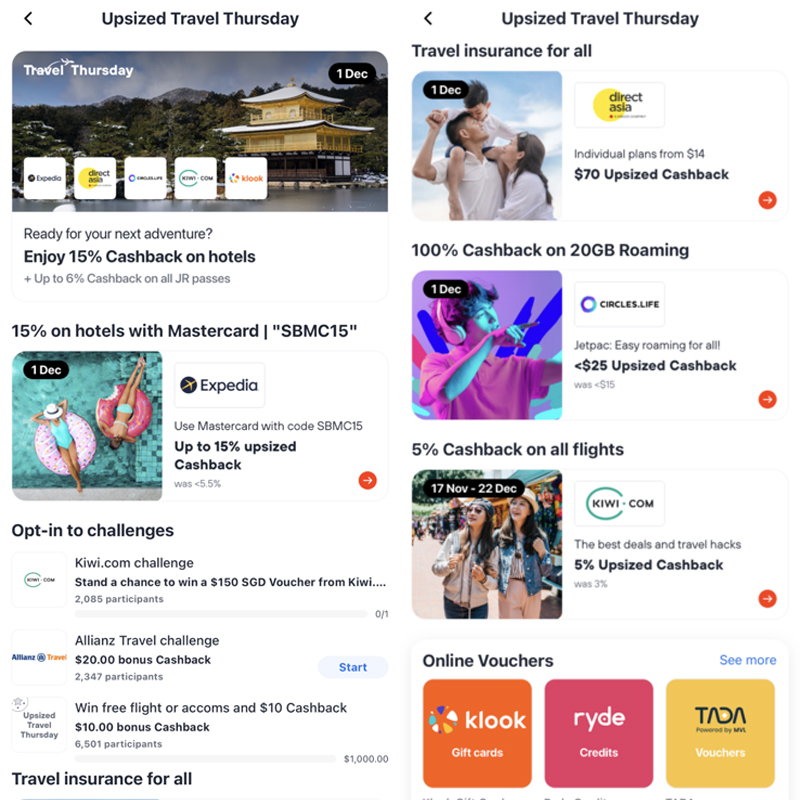 Source: ShopBack's app
On top of staycation deals, ShopBack is having a weekly Travel Thursday promo that provides up to 20% upsized Cashback on travel brands such as Agoda, Booking.com, Klook and Expedia, which will come in handy for those looking for last minute hotel stays and flights to overseas holiday trips. Bookmark the ShopBack site for every Thursday to maximise your savings. 
To make things even better, ShopBack is also offering $10 bonus cashback, as well as the opportunity to score free flights or accommodations with a cap of $1,000 when you shop via selected travel platforms on ShopBack from now to 31 December 2022. This applies to new users with a minimum spend of just $10, while selected existing users will need to splurge $1,000. Fastest fingers first — only limited redemptions available. 
You know what they say: shop smarter, not harder. If you're up for an adventure without breaking the bank, ShopBack can be your go-to for you to enjoy cashback on your bookings this festive season. 
This post was brought to you by ShopBack.
This article was originally published on 27 August 2020 and updated by on 27 June 2023.
Cover: source, source, source