Loft-Style Hotel Rooms
It's almost a fact of life—Singaporeans love staycations. Be it with your SO, your group of girls, or even your family, weekend staycations are a fun way to break out of mundane routines without expensive airfare.
But if standard hotel rooms get a little meh and villas are too huge for a couple, live out your penthouse dream instead. With nontraditional layouts (high ceilings!), here are 11 loft-style hotel rooms that will take your staycation to the next level… literally.
**Room rates vary and are calculated based on the lowest loft room rate**
1. The Warehouse Hotel
Industrial chic at its finest, The Warehouse Hotel is located in the Robertson Quay area, which used to be a hotbed of "secret societies, underground activity, and liquor distilleries". This is reflected in their minibar of vices menu, which even sells sex toys!
For the indulgent, their rooms are fitted with Bang & Olufsen Bluetooth speakers and 100% eco-certified Ashley & Co bath amenities.
Rates: From $445.00++/night
Address: 320 Havelock Road
Contact: reservations@thewarehousehotel.com 
2. Park Hotel Farrer Park
Opening on May 15 2017, Park Hotel Farrer Park sits right on top of Farrer Park MRT station—talk about convenience! Situated near the vibrant Little India, it's within walking distance from the 24/7 Mustafa Centre, making it perfect for night owls.
Rates: From $290.00++/night
Address: 10 Farrer Park Station Road
Contact: info.phfp@parkhotelgroup.com
3. M Social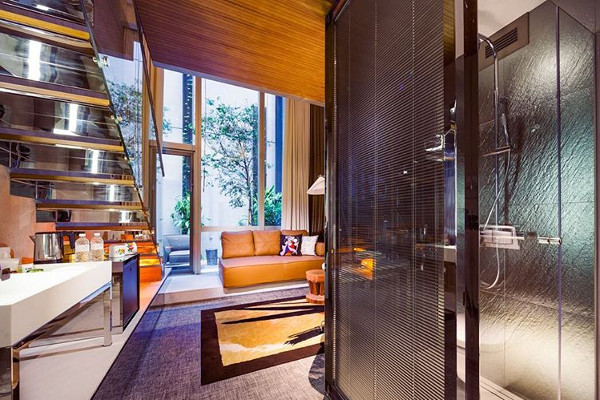 With not one but three different loft room options to choose from, all rooms at the M Social have a touch of eccentricity to their design. True to their name, they organise social activities such as yoga by the pool.
Rates: From $250.00++/night
Address: 90 Robertson Quay
Contact: reservations.mss@millenniumhotels.com
4. The Daulat Hotel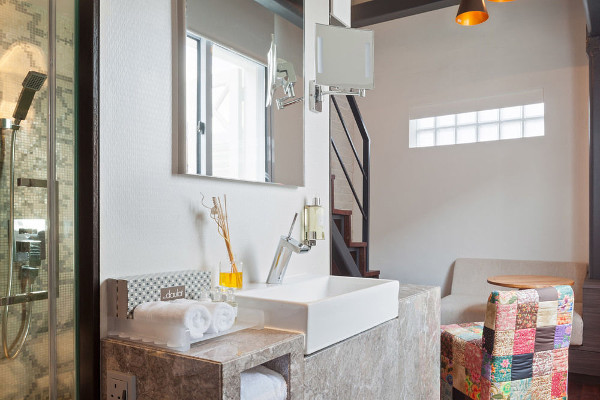 A charming boutique hotel in the heart of Little India, The Daulat Hotel is for those who want a colourful setting for their staycations.
If you like to stay active, the pool comes with an underwater treadmill and sound system to shake up your usual gym routine. Not to mention, there's an unlimited flow of soft drinks. Note: It may not be suitable for light sleepers as it's situated next a dance club/bar.
Rates: From $140.00++/night
Address: 16 Madras Street
Contact: guestservice@thedaulat.com
5. Studio M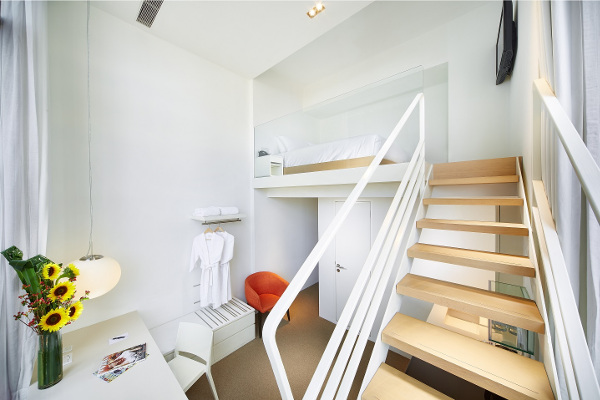 A perennial favourite amongst serial staycationers, you've probably seen Studio M Hotel all over your Instagram feed. Each room boasts floor-to-ceiling windows to let in natural light for that perfect selfie.
They also offer a child concierge service "Ask Alfred!" at $22.00+/child, so you could surprise your child with a welcome ice cream treat, teddy bear, and other surprises!
Pro-tip: rooms are smaller than they appear, so it's not advisable to squeeze a whole party in here.
Rates: From $144.00++/night
Address: No.3 Nanson Road
Contact: reservations.smh@millenniumhotels.com
6. The Sultan Hotel
Preserved and recreated from traditional Singaporean shophouses, The Sultan Hotel marries old-world charm with tasteful modern decor. The SingJazz club is located on the second floor of the hotel, so spend a night indulging wine and good music.
Located in the middle of Kampong Glam,  you may even hear the prayer calls from nearby mosques in the early morning.
Rates: From $220.00++/night
Address: 101 Jalan Sultan, #01-01
Contact: info@thesultan.com.sg
7. Wanderlust Hotel
Unleash your childhood fantasies at one of Wanderlust Hotel's themed lofts under their "Whimsical" room collection. All "Whimsical" rooms are fitted with bathtubs, so be sure to bring your bath bombs along!
For the perfect bikini shot, head to the hotel's outdoor deck that's fitted with a mosaic-tiled jacuzzi. The minibars are also stocked with free soft drinks and juices that are replaced daily.
Rates: From $169.00++/night
Address: 2 Dickson Road
Contact: WLH-Res@unlistedcollection.com
8. Arton Boutique Hotel
A budget-friendly option, Arton Boutique Hotel is located centrally between Rochor and Lavender MRT stations. While breakfast and additional facilities aren't provided, the rooms are clean and modern so you can definitely get some quality Netflix and chill time.
Rates: From $170.00++/night
Address: 176 Tyrwhitt Road
Contact: sales@artonhotel.com
9. Dorsett Singapore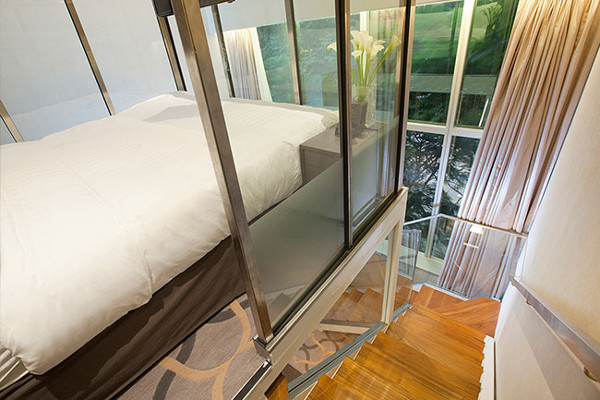 Predominantly a business traveller's hotel, Dorsett Singapore is situated right above Outram Park MRT and within walking distance from Tanjong Pagar and Chinatown.
If you're the type that likes to venture around your surroundings with your SO, you'll be spoilt for choice with the variety of food places nearby. Otherwise, cuddle the day away on your king-sized loft bed.
Rates: From $350.00++/night
Address: 333 New Bridge Road
Contact: info.singapore@dorsetthotels.com
10. Hotel Clover 33 Jalan Sultan
Designed as an urban garden, Hotel Clover 33 Jalan Sultan has a rustic and earthy feel. With some rooms attached to personal gardens, feel free to practice a few yoga poses—there are yoga mats supplied by the hotel.
The minibar is complimentary with your stay, but if you fancy the hotel decor, here's good news: they're on sale!
Rates: From $205.00++/night
Address: 33 Jalan Sultan
Contact: enquiries@hotelclover.com
11. Lloyd's Inn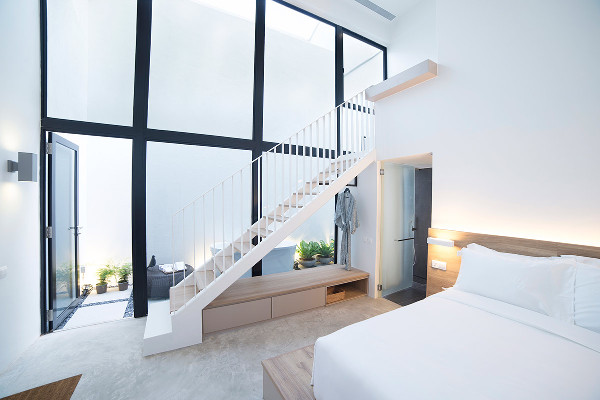 A minimalist's heaven, Lloyd's Inn is the go-to place in town for staycationers looking for a quick respite from the bustle of the city.
Some rooms come fitted with an outdoor bathtub which fits two, so make a romantic evening out of it! While they don't have an in-house restaurant, you can indulge in a complimentary Killiney Kopitiam breakfast of eggs, coffee and Kaya toast.
Rates: From $220.00++/night
Address: 2 Lloyd Road
Contact: mail@lloydsinn.com
Staycation Ideas Singapore
Life can get hectic and sometimes, you won't even know when you've been caught in its whirlwind. To recharge, spend the weekend curled up in a hotel with your boo and let the world melt away.