Mahjong Skateboards
If you grew up jamming with microphone hairbrushes to Avril Lavigne's "Sk8r Boi" music video, her pop-punk skater girl aesthetic might have inspired you to the world of skateboarding fun. Combining the elements of mahjong huat with graphic designs, Hong Kong skateboard brand Nine Push has mahjong-themed skateboards for extra luck to take with you on game nights. 
As we're starting to see more Gen Zs picking up mahjong with their friends, this mahjong skateboard combines the best of both indoor and outdoor activities.
Mahjong skateboard design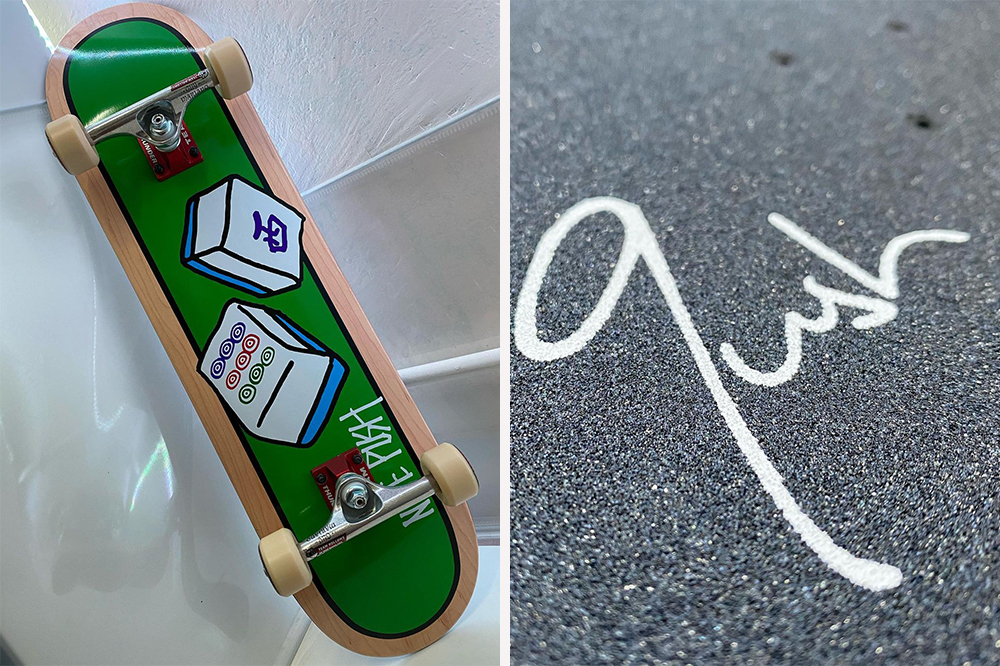 The mahjong design can be found on the bottom of the skateboard, also known as the deck. Its base colour is green, resembling the top of a mahjong table, with the wind tile 西 ("east" in Chinese) and 9 tong zi tile in graphic designs. 
The top part of the skateboard has a black griptape that allows you to gain control of your skateboard while you're practicing tricks. Nine Push's logo is etched on top of it, giving a final clean and minimalist look to your skateboard.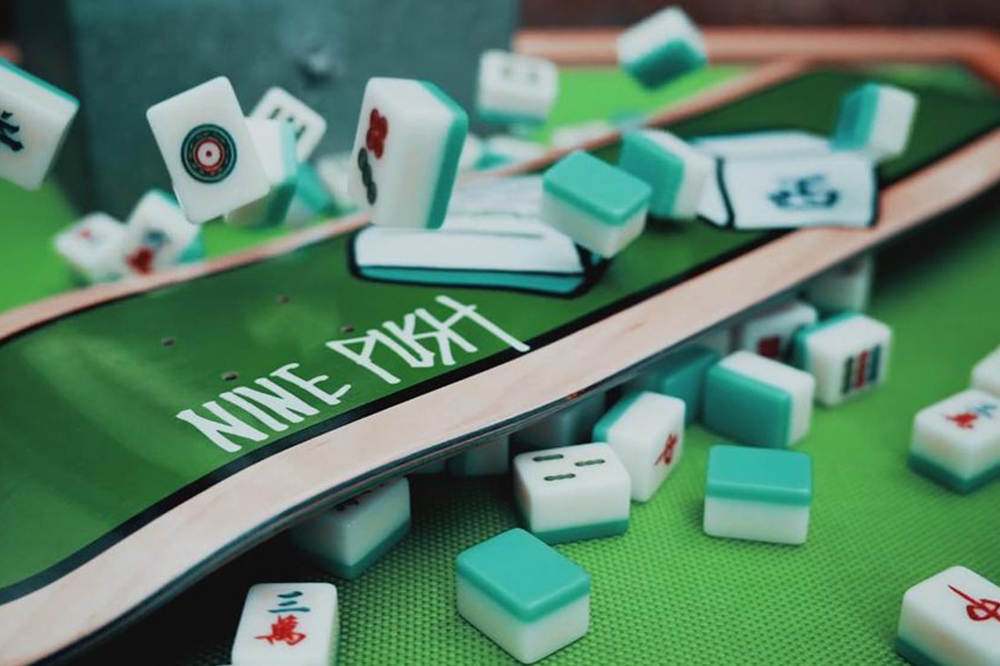 Show up to your mahjong kakis' houses in style and impress everyone with this design that might just bring you an extra chance to man tai zi mo.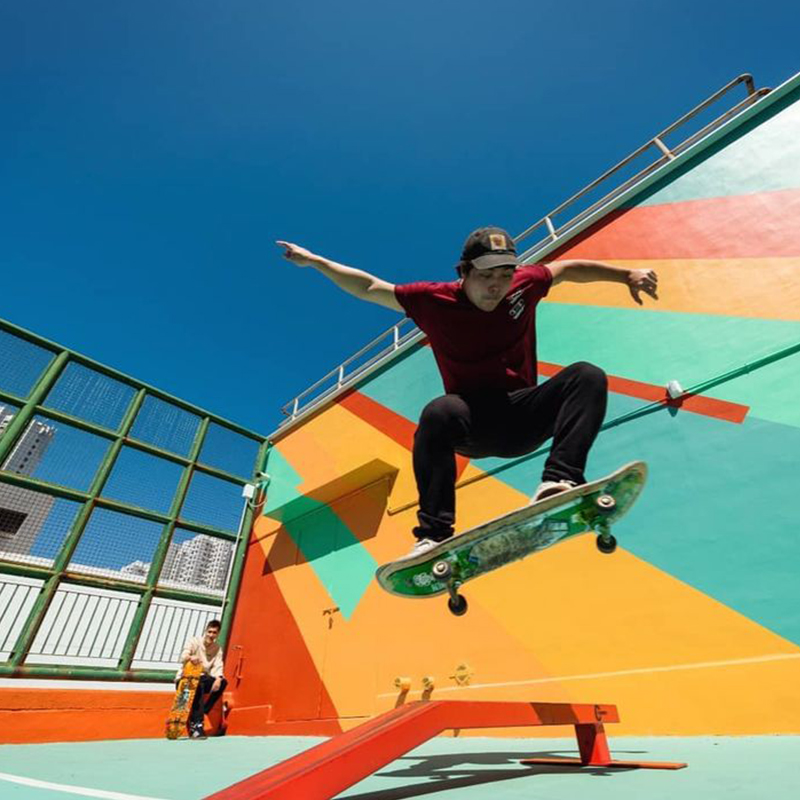 Nine Push's skateboards are made of hard rock maple imported from Canada, proving to be firm and stable while you're up in the air doing an ollie. Its durable elasticity also allows you to go on long cruises with your friends along Marina Bay Sands while enjoying the skyline.
Also read:
The Limited Edition Harvey Nichols x KOLOR Mahjong Set Is So Hype You Won't Feel Blue From Losing
Other skateboard designs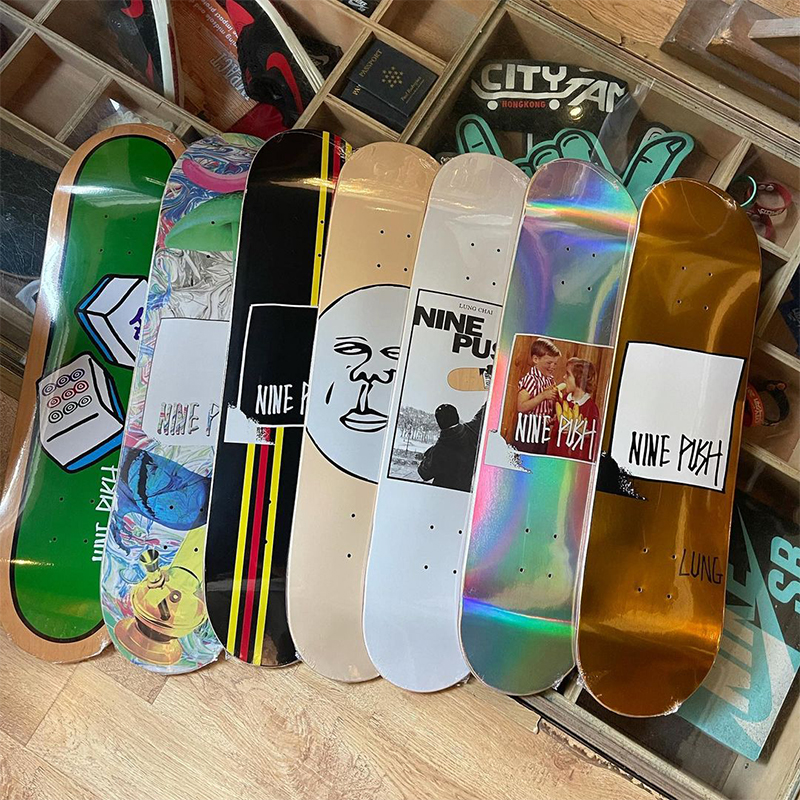 While we all know that mahjong might as well be one of Singapore's national sports by now, Nine Push also has a large variety of other deck styles ranging from holographic, memes, pastel colours and more.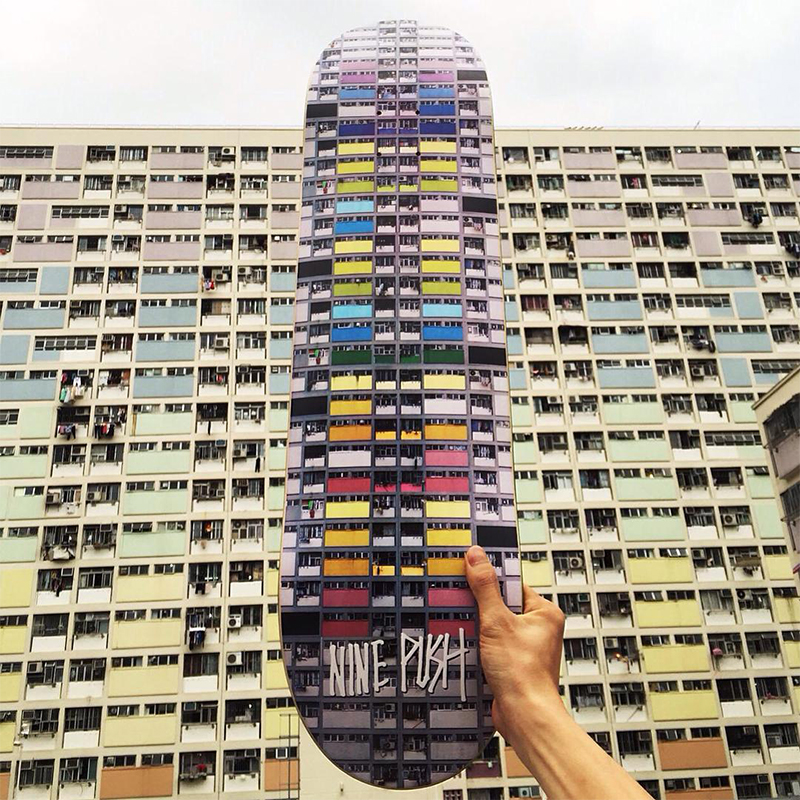 Some of the most unique deck designs include a rainbow building in Hong Kong, also known as Choi Hung Estate, which closely resembles HDBs in Singapore. This serves a touch of local feel to other skaters while you're landing a kickflip at your nearby skatepark.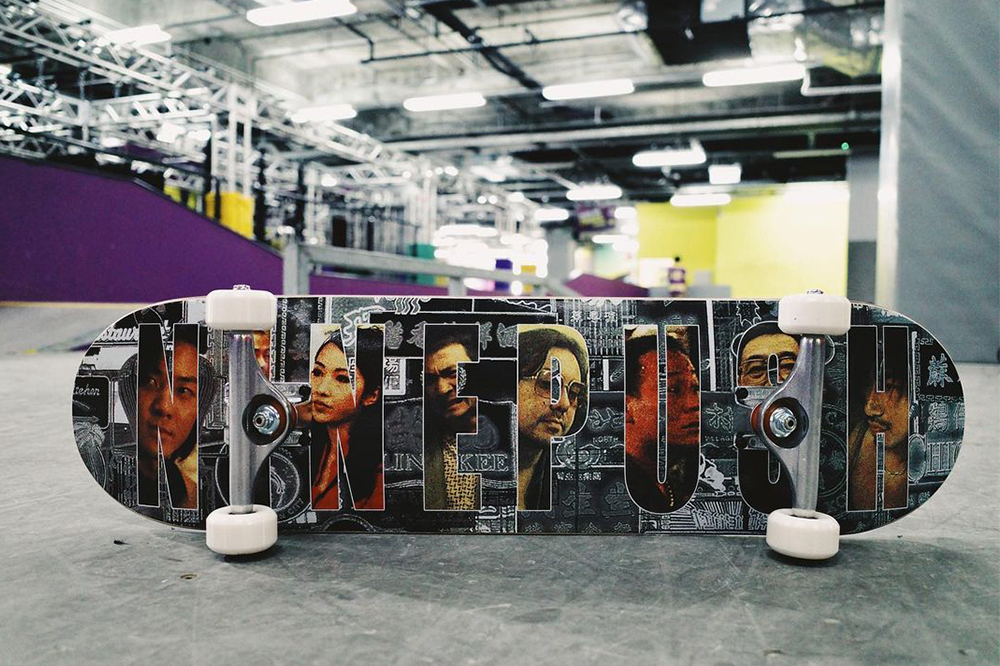 If you're a fan of Hong Kong action films, there is also a deck with famous actors and actresses. Each of their faces are plastered within the letters of the brand's name. The backdrop includes a noir silhouette of the neon lights in Hong Kong, giving off an edgy vibe to the night life.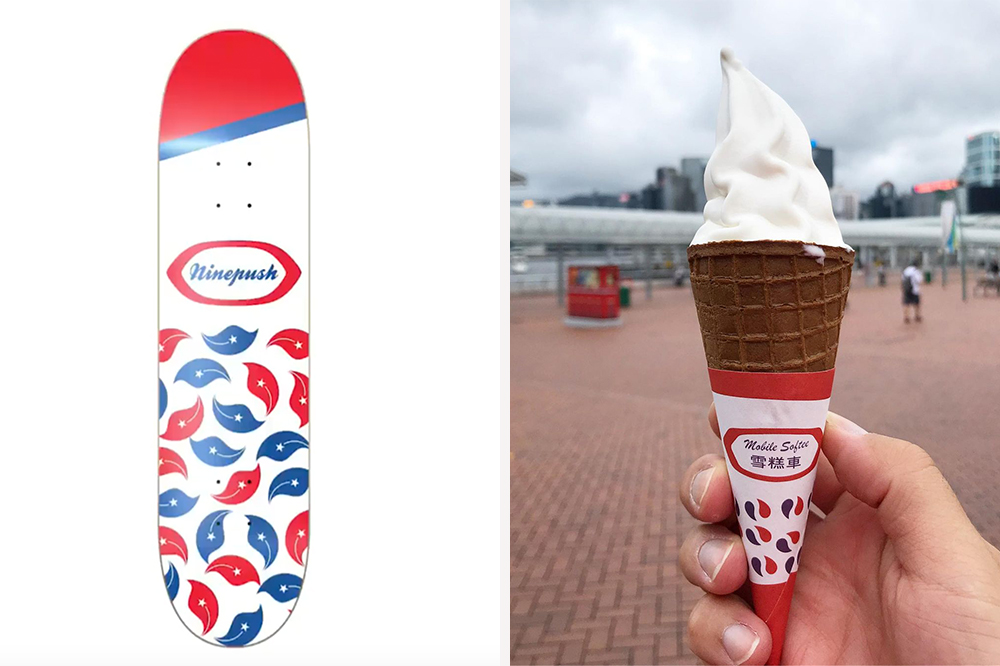 Just as how seeing ice cream cart uncles and rainbow bread sparks a sense of joy in us, Hong Kong also has their version of an ice cream van—Mobile Softee. Nine Push's skateboard deck takes on the Mobile Softee's signature white, red and blue colours. It's perfect for those who miss travelling to Hong Kong to enjoy this cold treat.
These Mahjong Skateboards Are Perfect For Enhancing Your Skater Girl Aesthetic
The skateboards are retailing at $96.82 each and can be bought on ebuy7's website which ships to Singapore. While we're still in the period of Phase 3 Heightened Alert, perhaps picking up skateboarding and mahjong can be your next hobbies to kill the boredom of staying at home.
In the meantime if you're looking for streetwear merch to match your skater girl aesthetic, check out the Comme Des Garçons Play x Nike collection for minimalistic hoodies, tees and sneakers.
Also read:
Comme Des Garçons Play x Nike Will Add Some Heart To Your Streetwear Collection