Makeup Organisers
It's a first-world struggle many makeup junkies face: not having enough space to display their growing makeup collection. While not everyone is blessed with a spacious vanity table at home, you can still flaunt that new seasonal eyeshadow palette or limited edition lipstick with the help of a makeup storage organiser. 
For a clutter-free and aesthetic way to display your vanity items, check out these 18 chio makeup organisers. 
1. Lazada ‒ Beauty nordic makeup organiser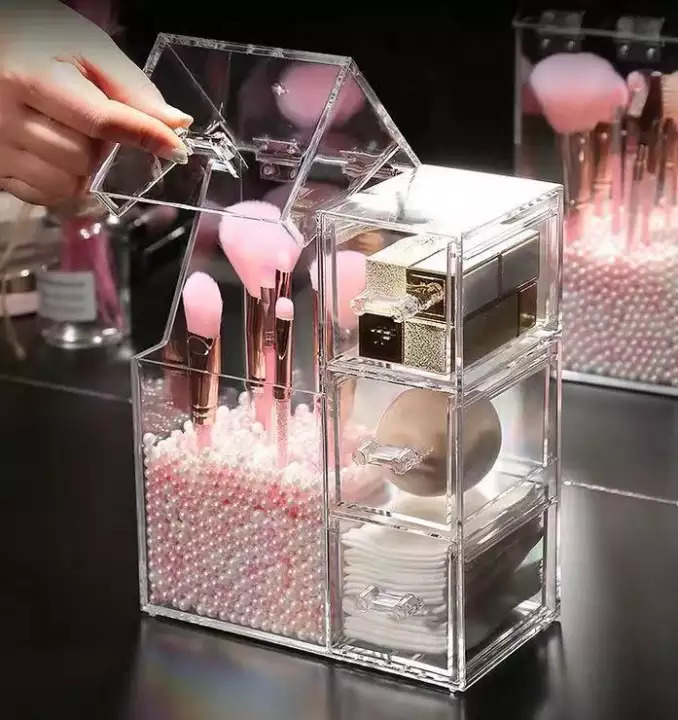 Source
For klutzes who tend to forget where they keep that glittery eye shadow or apricot lipstick, going for a transparent makeup organiser like this has many benefits. You get to see all your makeup items at one glance so won't have to open the drawers one by one. Plus, it prevents visible dust from collecting.  
That's not all, as the section on the left allows you to add in mini pink pearls that act as a base to hold items like makeup brushes upright. They add a pop of colour and also give it a girly touch when you have the makeup organiser on your table. 
Dimensions: 18cm x 9.5cm x 21cm
Price: $15.73 
Shipping: Free 
Website
2. Amazon ‒ Glamlily marble makeup organiser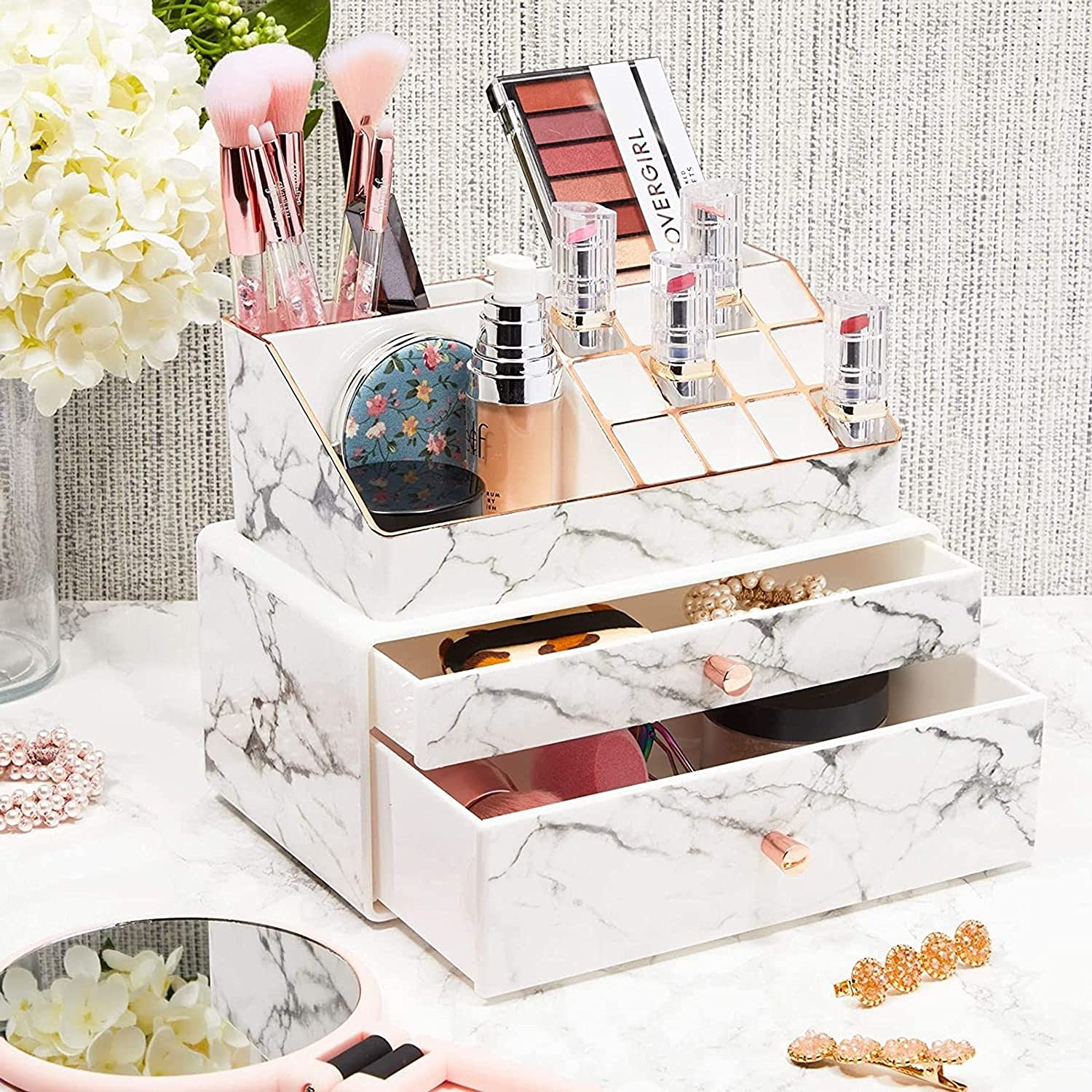 Source
If your aesthetic preference leans toward the classy side, you might be interested in this marble makeup organiser from Glamlily. Besides the marble design, the makeup organiser comes with 2 drawers ‒ the bottom drawer with a deeper storage space. Each drawer also has a rose gold knob which adds to the overall atas vibe. 
On top, it is designed with various compartments so you can keep lipsticks, makeup brushes and even a compact mirror.   
Dimensions: 13.5cm x 10.7cm x 23.5cm
Price: $40.55
Shipping: Free
Website
3. Shopee ‒ Standing lipstick storage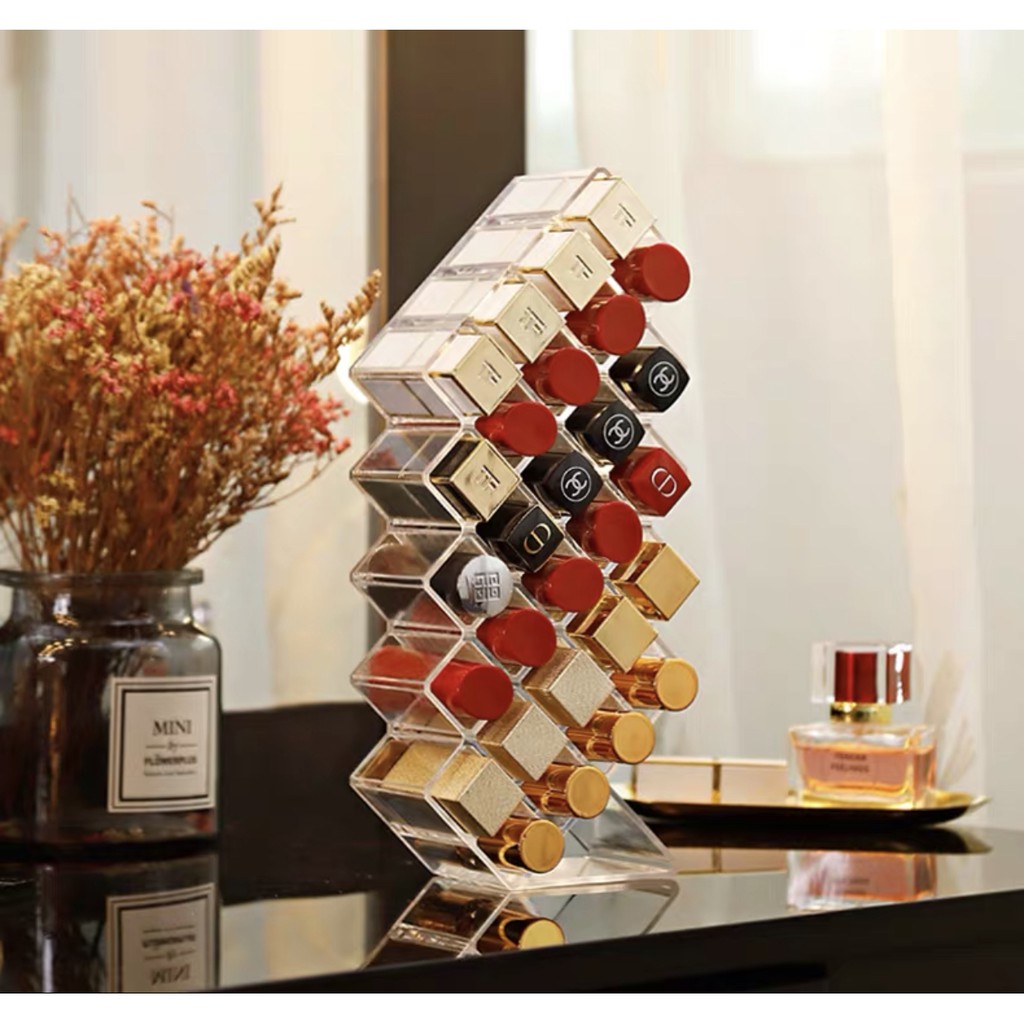 Source
Lipstick fanatics would know the struggle of not being able to display their full lipstick collection. Resembling a beehive, this lipstick holder comes in sets of 16 and 28 compartments so you opt for either one or both to flaunt your collection on your table. 
Pro tip: You can arrange your lipstick according to brands or colours for easier navigation when you're getting ready. 
Dimensions: 27cm x 6.5cm x 12cm
Price: From $17.90
Shipping: $1.49
Website
4. Shopee ‒ Rotating makeup organiser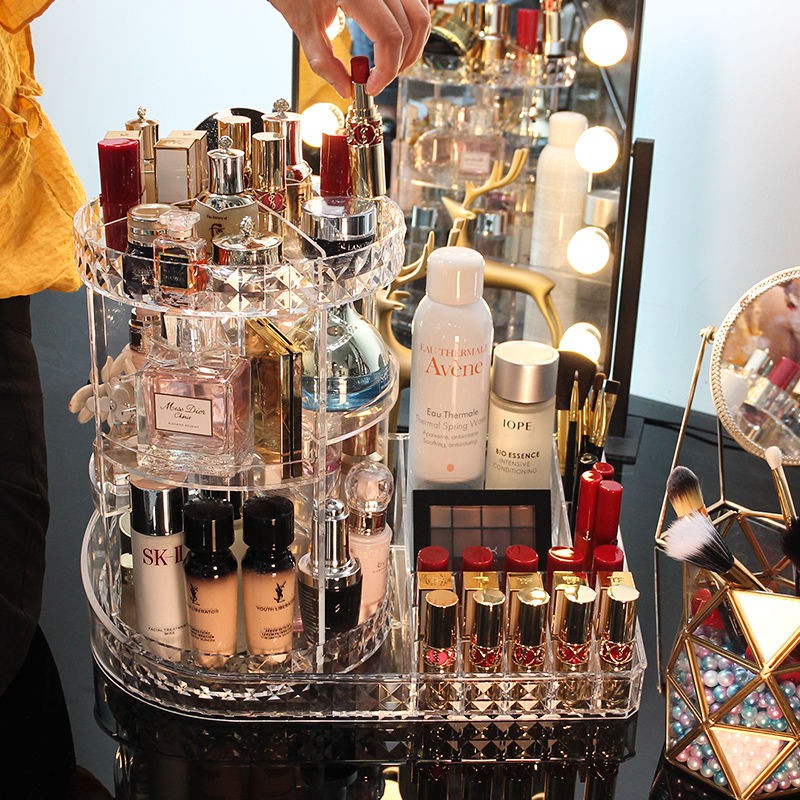 Source
Get access to your makeup items within reach when you have this rotating makeup organiser. Not only does it allow you to have a quick overview of your collection, but it also comes with an additional storage section on the right to display your most-prized lipstick or perfume.
The 3-tier rotating portion of the makeup organiser also has dividers in each layer, making it easy to sort and organise. 
Dimensions: 32cm x 39.5cm x 25.5cm
Price: $17.37
Shipping: $2
Website
5. YOMI ‒ Wall-mounted makeup organiser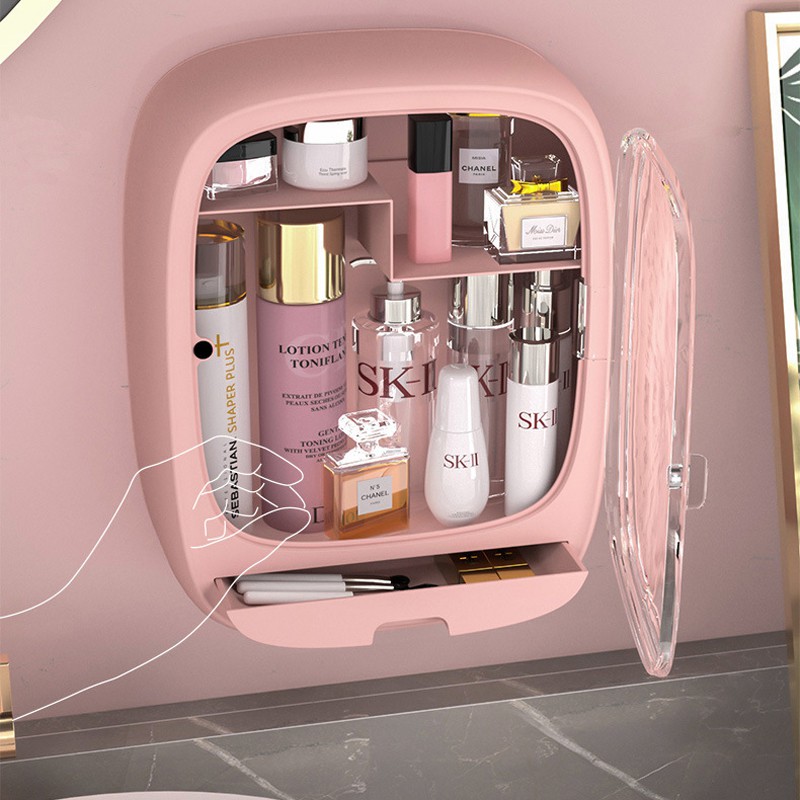 Source
Excellent for those who don't have extra space on their table, this wall-mounted makeup organiser helps to provide an alternative solution. The easy-paste system lets you have it up on your wall without much hassle and the best part is you won't need to drill your walls. 
The makeup organiser has 2 layers, each with different storage sizes to store various products. At the bottom, there is also a small drawer to put slimmer items like oil paper blotters or makeup brushes. Also, the magnetic door closes it shut and prevents dust from entering. 
Dimensions: 27cm x 10.5cm x 38cm 
Price: $16 
Shipping: $1.49
Website
6. JCbeautyforever ‒ Golden vintage makeup organiser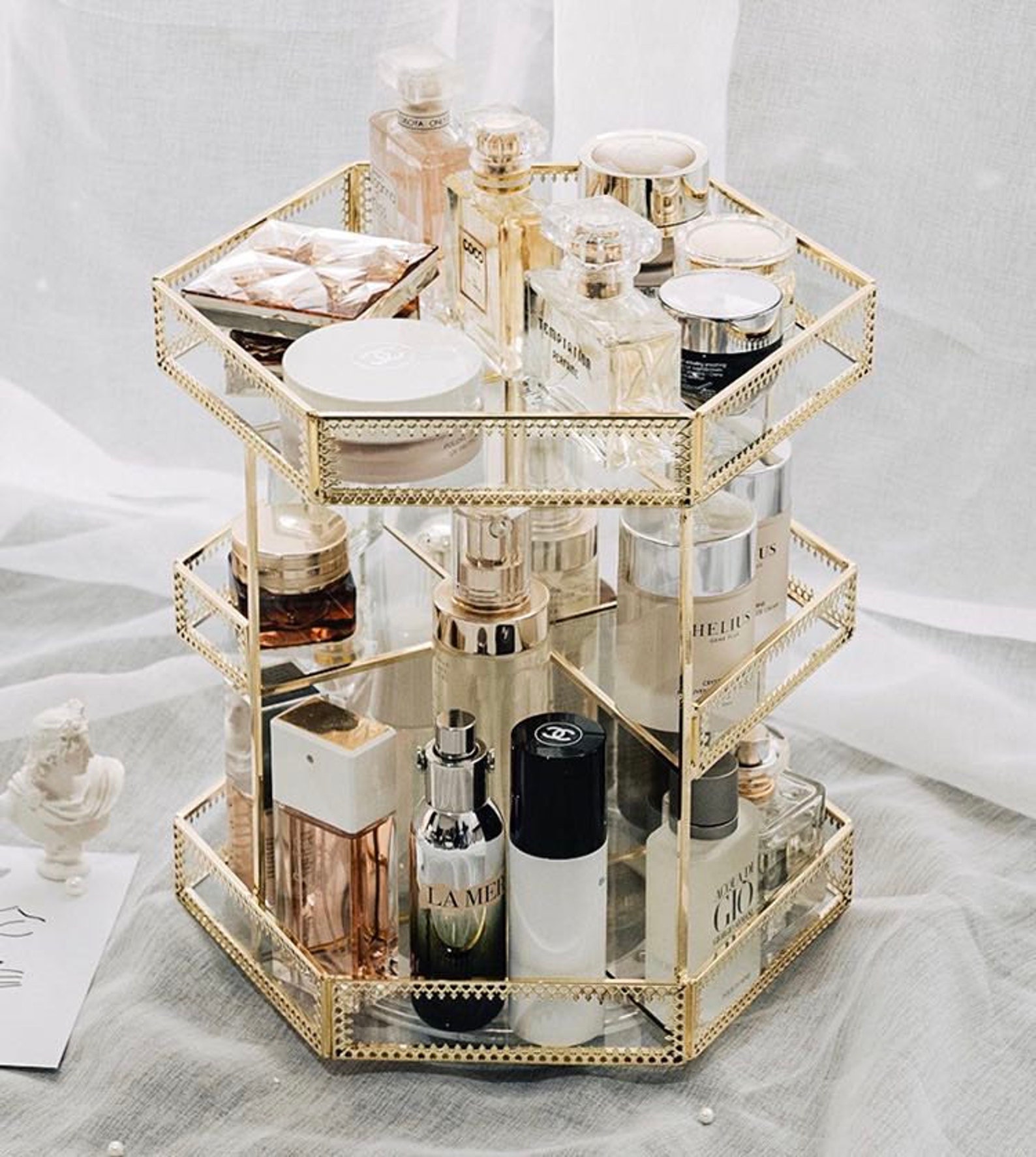 Source
Vintage is always in trend and for those who would like an antique-inspired makeup organiser, you might be interested in this from JCbeautyforever. 
The 3-tier rotating makeup organiser comes with a golden brass pattern edge on each layer and its wide capacity holds makeup and beauty items in different sizes. With this, you would want to show off your fanciest perfume or night cream. 
This makeup organiser is available in both small and large sizes. 
Dimensions: 21.6cm x 21.6cm x 28.2cm (large)
Price: $77.01
Shipping: $106.21
Website
7. DEFSEV ‒ Wooden makeup organiser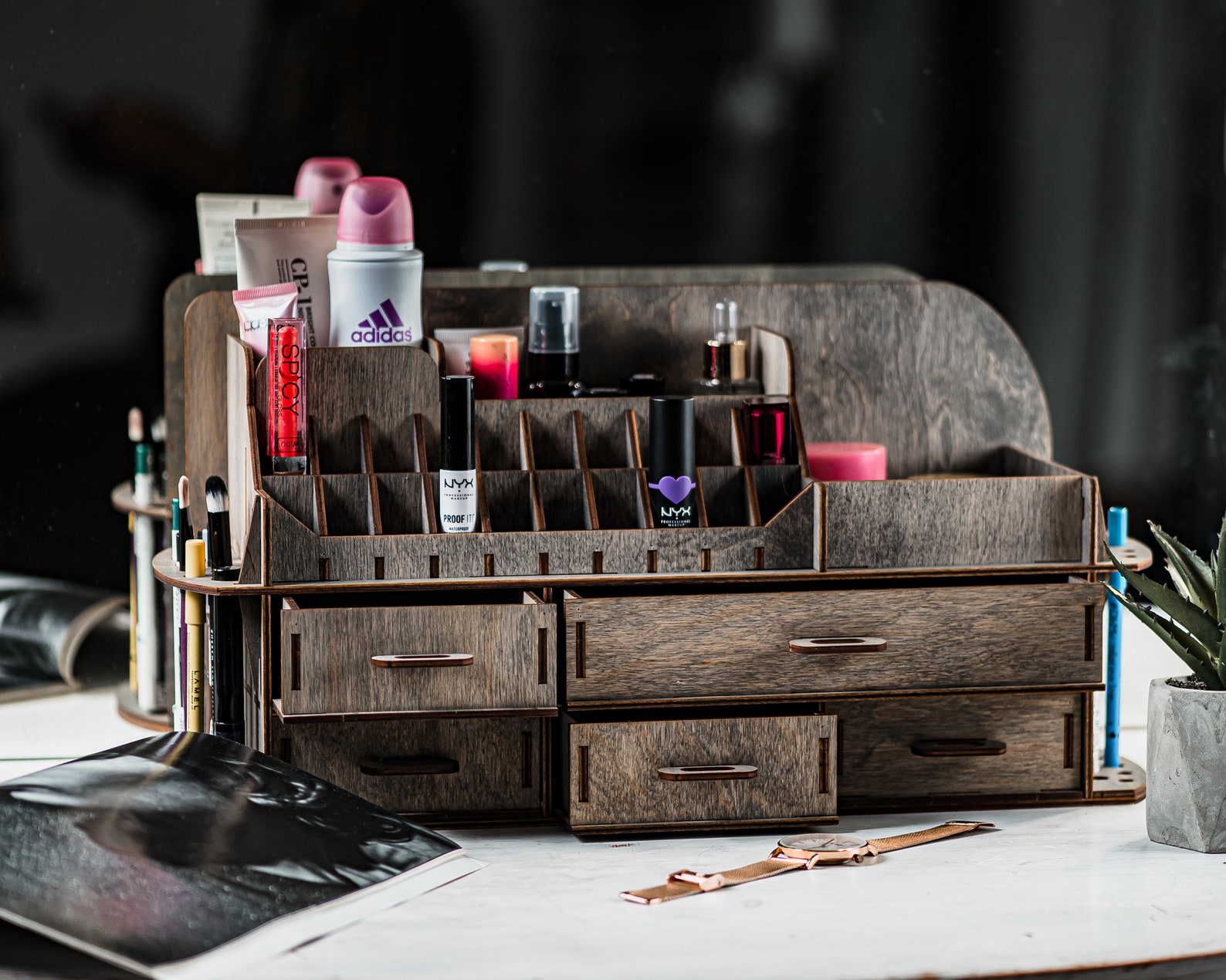 Source
Add some wooden accents into your room's aesthetics with this makeup organiser. Apart from storage spaces on top, it comes with 5 drawers below and also a section to put your makeup brushes on both sides. Thanks to the amount of space available, you can also ensure that you would have enough room when your makeup collection inevitably grows.
For it to last longer, you can opt for the wood to be treated with acrylic varnish or coat it with oil. If you're planning it as a gift you can also request an inscription of your recipient's name at an additional fee.  
Dimensions: 43cm x 17cm x 23cm
Price: $112.68
Shipping: Free
Website 
8. MegaGearCustom ‒ Custom leather makeup organiser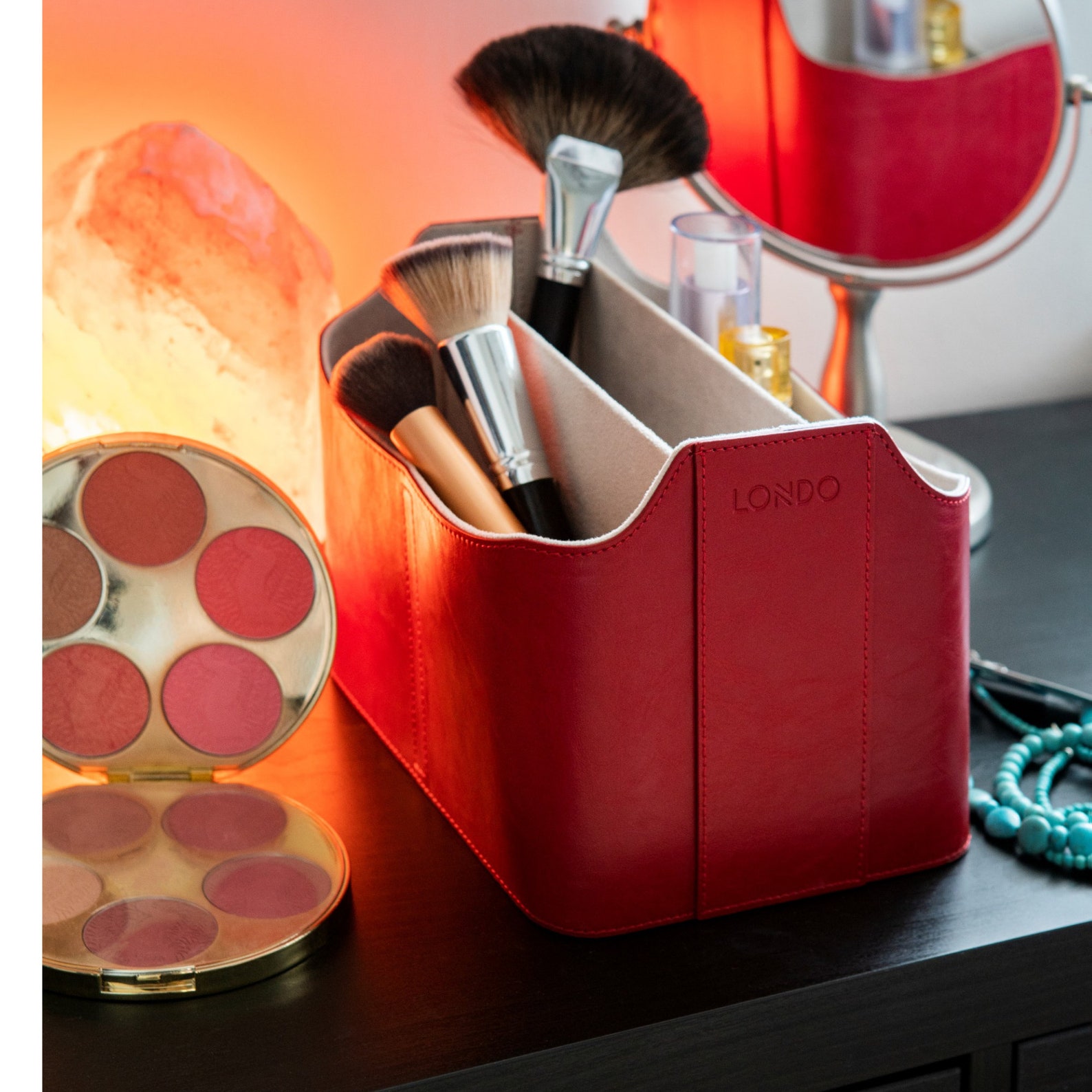 Source
Unlike other makeup organisers, this one is made from leather with durable stitching. You get to choose from 5 shades and the makeup organiser comes with 3 pockets for you to keep beauty products like makeup brushes, hairspray and a handheld mirror. 
If you're planning to give this to your BFF, you can also opt for the customisation of his or her name on the side for a personalised touch. 
Dimensions: 20.3cm x 15.5cm x 15.5cm
Price: From $59.81
Shipping: Free
Website
9. Shopee ‒ Plastic cover makeup organiser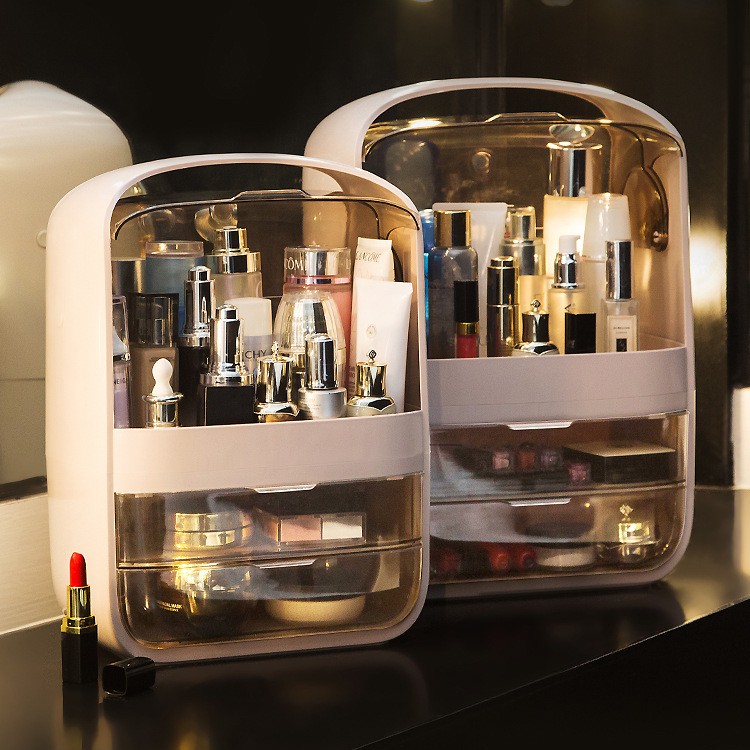 Source
Ageing is a natural human process and it is only normal to find your skincare collection growing with products like an anti-ageing moisturiser as time goes by. With that, you would need an organiser that can hold your expanding beauty collection. 
This makeup organiser provides ample storage for large items on top and has drawers below to keep beauty products like compact cushions. To prevent dust from building up on your goodies, you can also pull down the plastic covers that open on both ends. 
Dimensions: 26cm x 18cm x 36cm 
Price: $17.90
Shipping: $1.49
Website
Also read: 
This Portable Mini Fridge Doubles As Both A Room Cooler & A Chiller For Your Liquid Makeup Items
10. Objecttt ‒ Luxury wooden makeup organiser set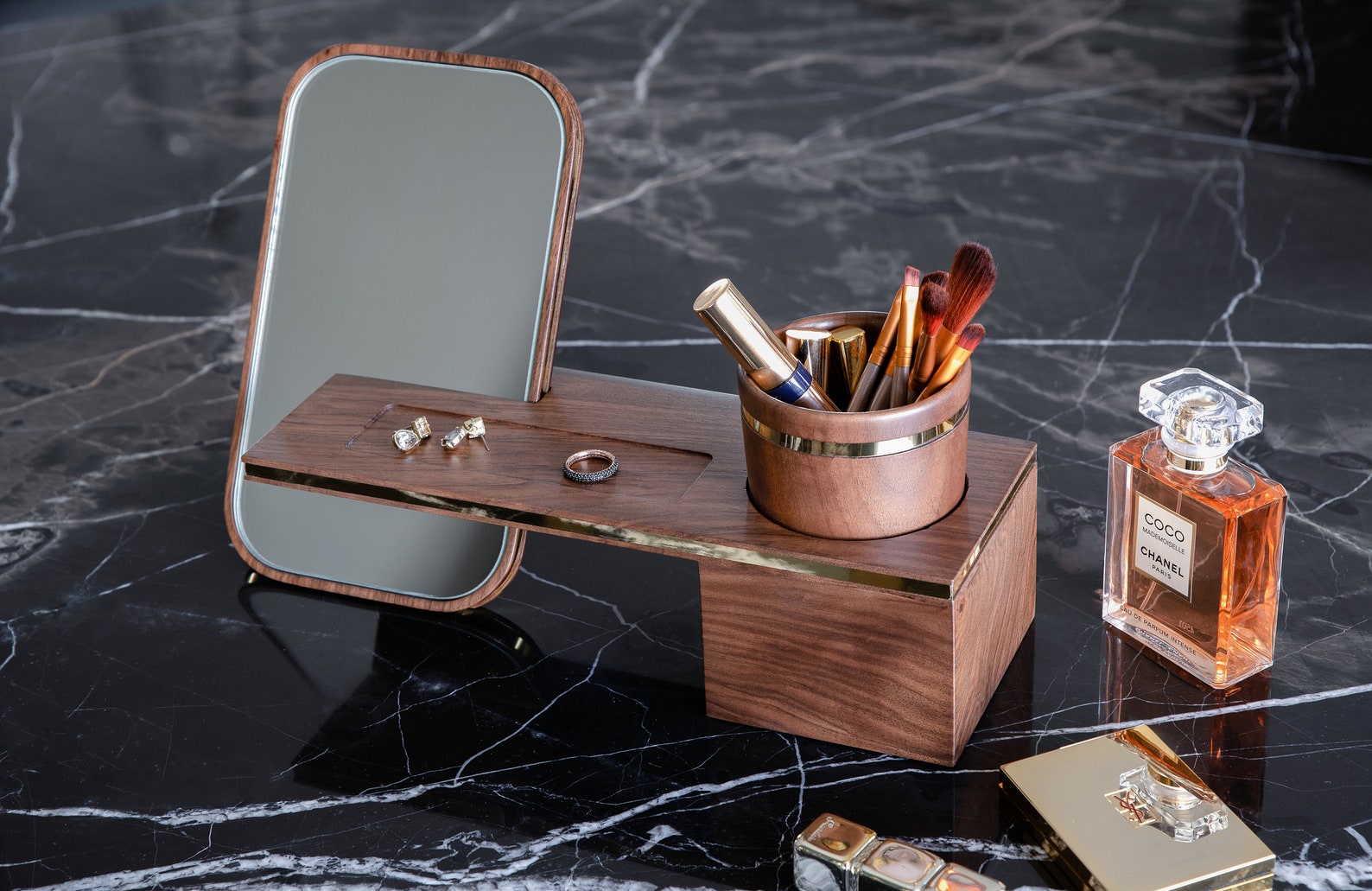 Source
For minimalists who only use a few beauty products, a dainty makeup organiser like this from Objecttt might just do the trick. Not only does it come with a round holder to keep items like makeup brushes, but there is also a mirror on the left for you to check your appearance. Connecting them is a small tray where you can put accessories like rings and necklaces. 
Made from solid walnut wood and with PVD coated gold, this makeup organiser also incorporates intricate craftsmanship.   
Price: $241.26
Shipping: $92.71
Website 
11. Shopee ‒ Cat-shaped with mirror makeup organiser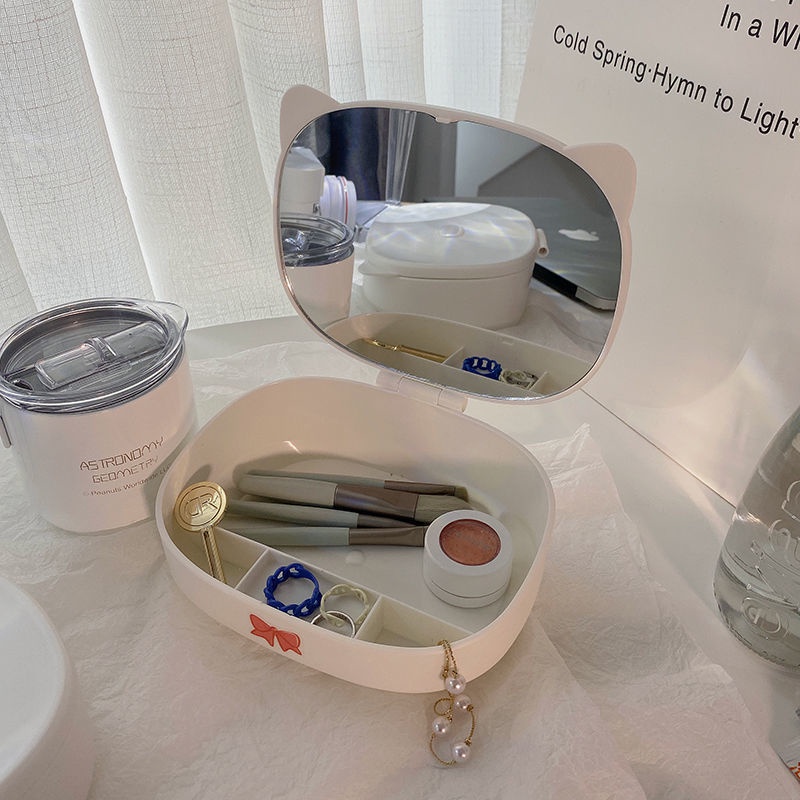 Source
Cat lovers and makeup junkies would be excited to know that there is a makeup organiser that comes with a lid that is shaped like a cat's face. When opened, you'll be greeted by the built-in mirror and compartments to store both makeup and small accessories. 
Now, you won't have to rummage around looking for that favourite lippie or eye shadow of yours. 
Price: $17
Shipping: $1
Website
12. Pottery Barn Teen ‒ Ultimate beauty rotating organiser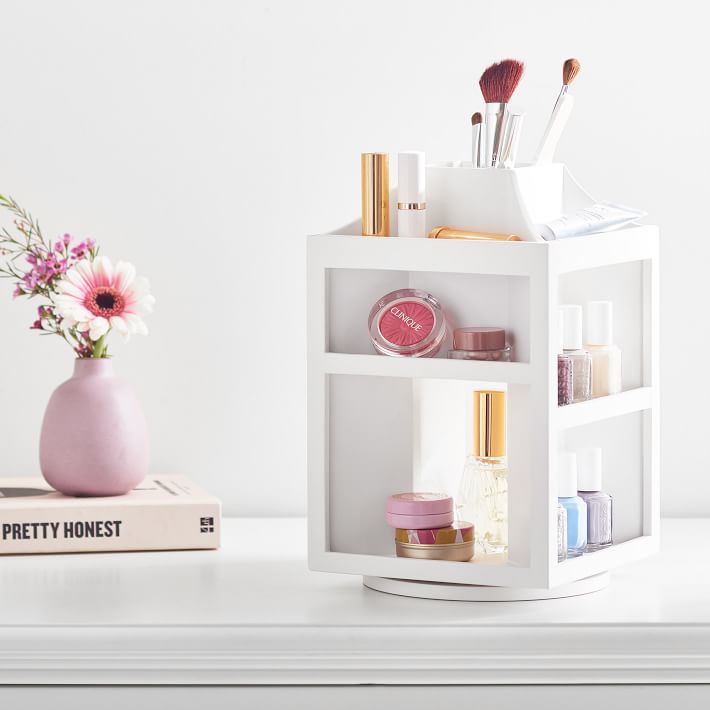 Source
This rotating organiser comes with 3 tiers of storage sections in different sizes where your makeup items can call home. The highest tier features a box-like compartment in the middle and surrounding it are 4 other compartments ‒ perfect for loose items like a single eye shadow piece. 
Below, you can keep other makeup products like foundations and concealers, and any others you would need for a primping sesh. 
Dimensions: 17.8cm x 17.8cm x 27.9cm
Price: $80.90
Shipping: $57.30
Website
13. Emily & Meritt ‒ Gold makeup organiser cups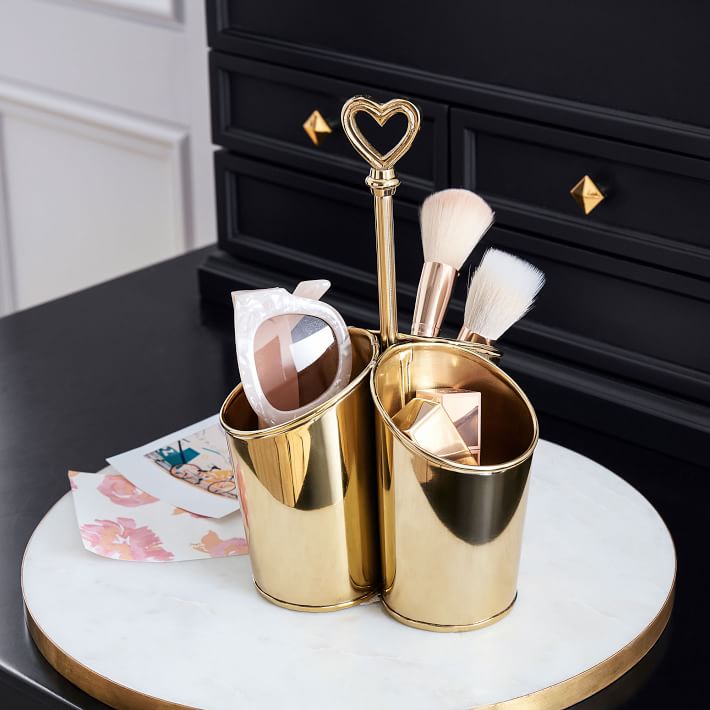 Source
Going for an unconventional design is this makeup organiser from Emily & Meritt. The chic item is designed with 3 cups that are completed with a lacquer golden finish and a mini heart-shaped handle in the middle ‒ allowing you to settle the makeup organiser anywhere you want. 
You can place it near your door so you won't forget to bring out your favourite lipstick or pair of sunglasses, especially when you're running late. 
Dimensions: 15.2cm x 14.6cm x 24cm
Price: $39.80
Shipping: $33.30
Website
14. Shopee ‒ 3-tier makeup storage organiser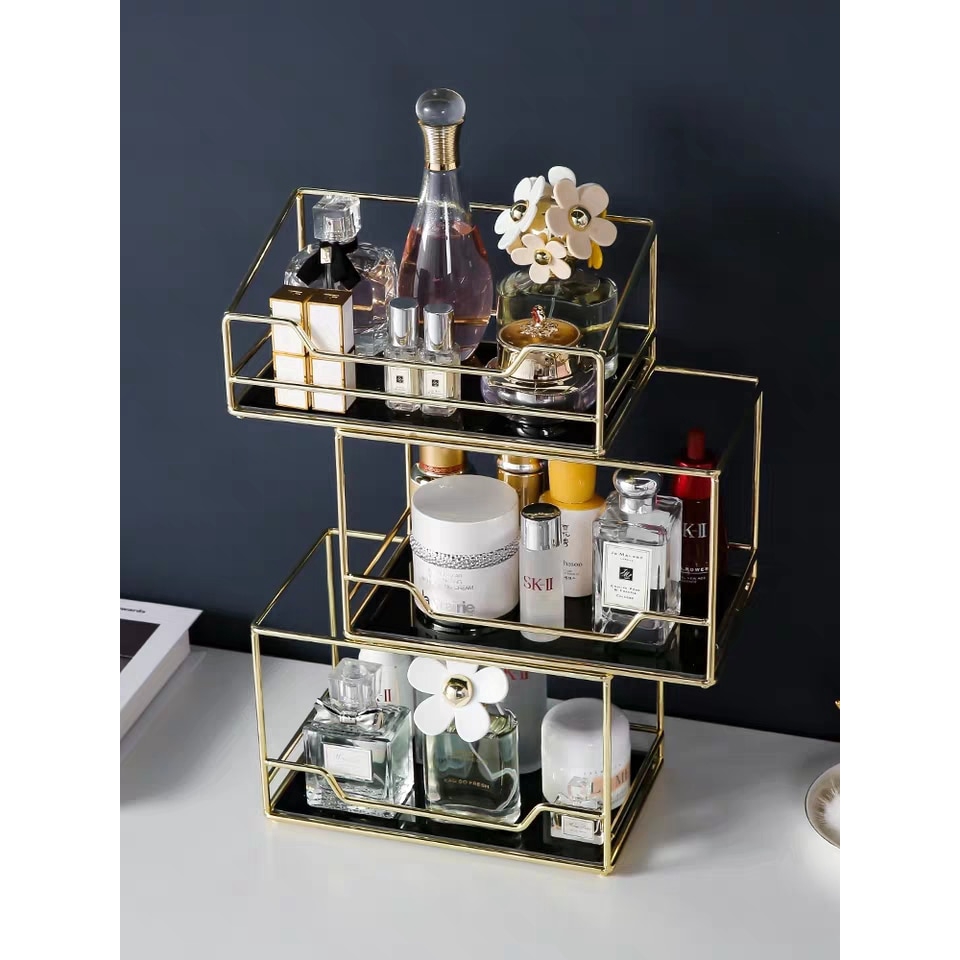 Source
Don't judge how this organiser is stacked up in an uneven manner as it is great for perfume lovers to display their collection. Every layer comes with a golden railing so you won't have to worry about your items falling off.  
Plus, with its wide spacing and depth, the organiser allows you to admire your collection easily at a single glance. 
Price: $63.69
Shipping: Free
Website
15. TrueEsthete ‒ Makeup organiser with LED lighting mirror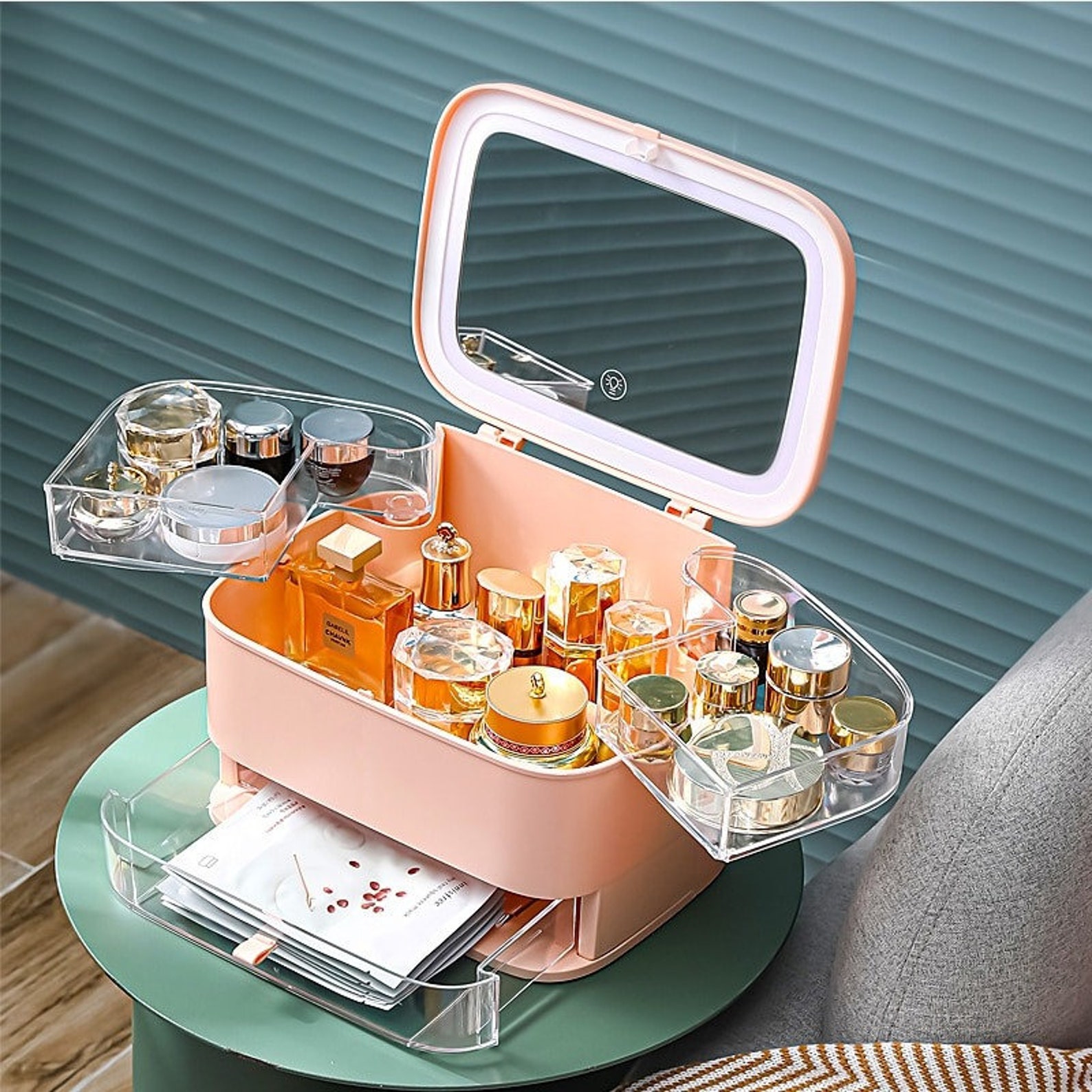 Source
Take primping to the next level with this functional makeup organiser that comes with a LED  mirror on the inside. It opens up to 3 layers of storage ‒ with the first actually opening up to two additional storage spaces. 
The middle layer allows you to store chunkier beauty products whereas the last is a drawer for thinner items like a pampering facial mask. 
Dimensions: 24cm x 33cm x 23cm
Price: 119.81
Shipping: Free
Website
16. Fanenso ‒ Drawer style makeup box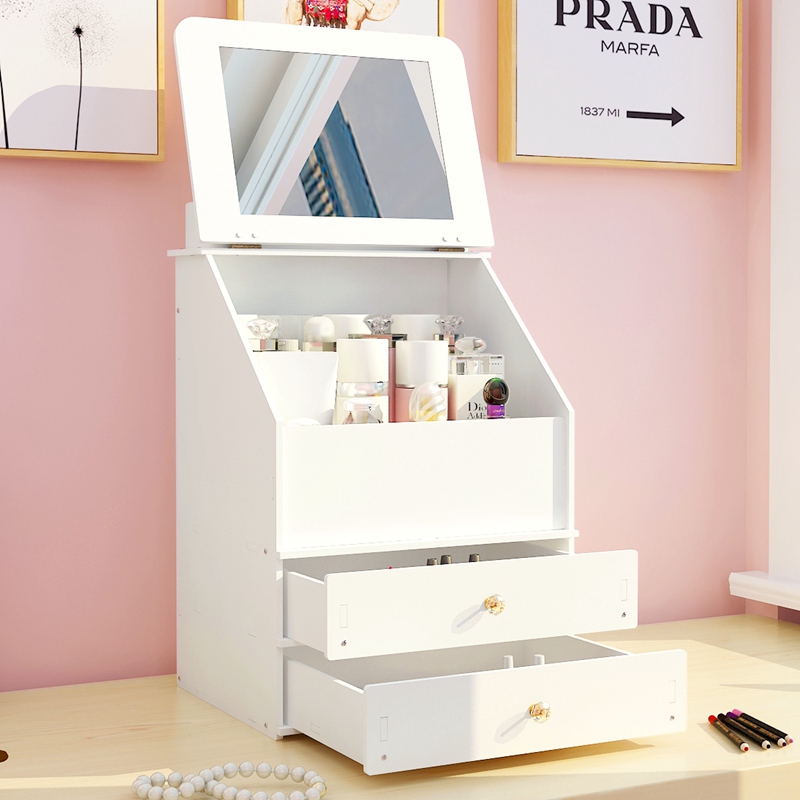 Source
It is hard to go wrong with the colour white and this makeup organiser comes with a simple rooftop design that flips open. When opened, the compartment on top reveals the mirror and two layers of storage spaces for bigger beauty items like hairspray, sunscreen and also your frequent fragrances. Below, the two drawers come with knobs in the middle. 
If you prefer another colour, this makeup organiser is also available in pink. 
Dimensions: 26cm x 21cm x 36cm
Price: $13.58
Shipping: $10
Website
17. Shopee ‒ Palette organiser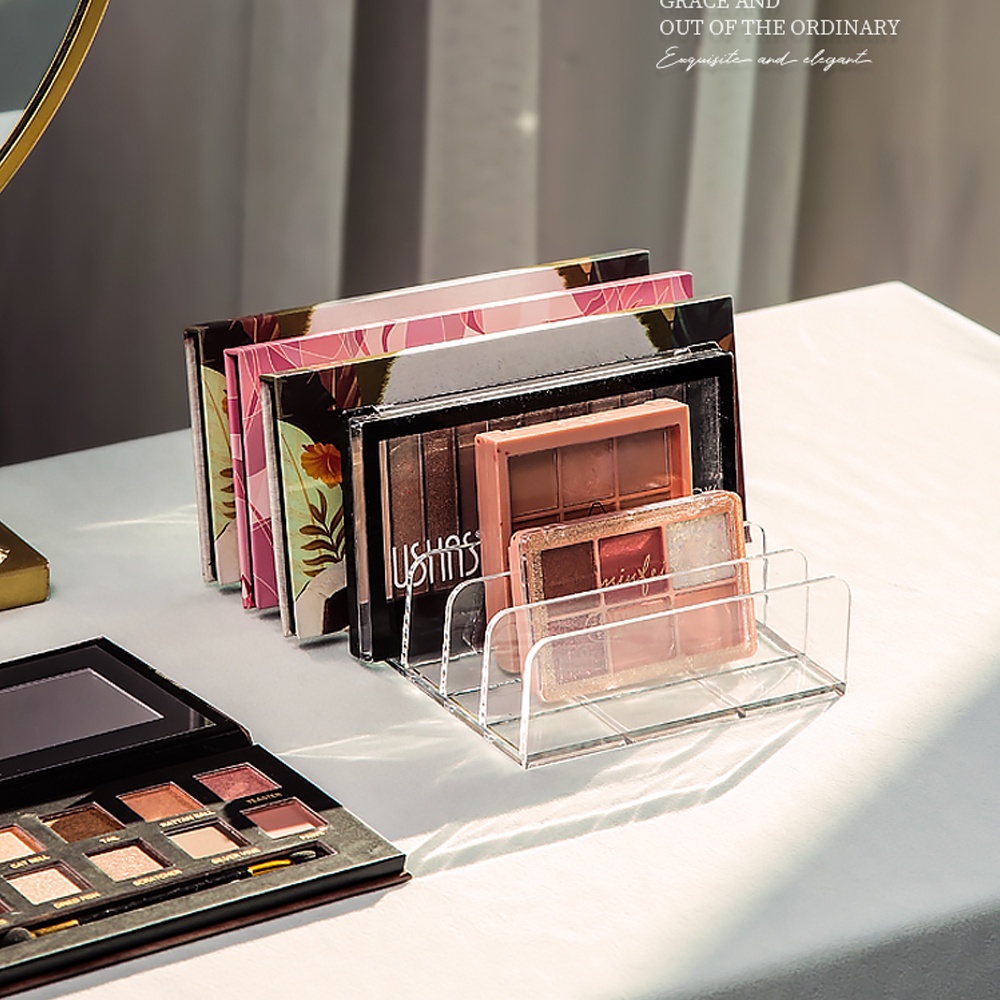 Source
Makeup palette fiends would be interested in this palette organiser as you can finally display those gorgeous eyeshadow and bronzer palettes with ease. With this, you can arrange them according to sizes and also by collection for that full wow factor. 
This palette organiser is also available in two sizes. 
Dimensions: 8.5cm x 17cm x 4cm (small)
Price: From $7.24
Shipping: Free
Website
18. Shopee ‒ Layered see-through makeup organiser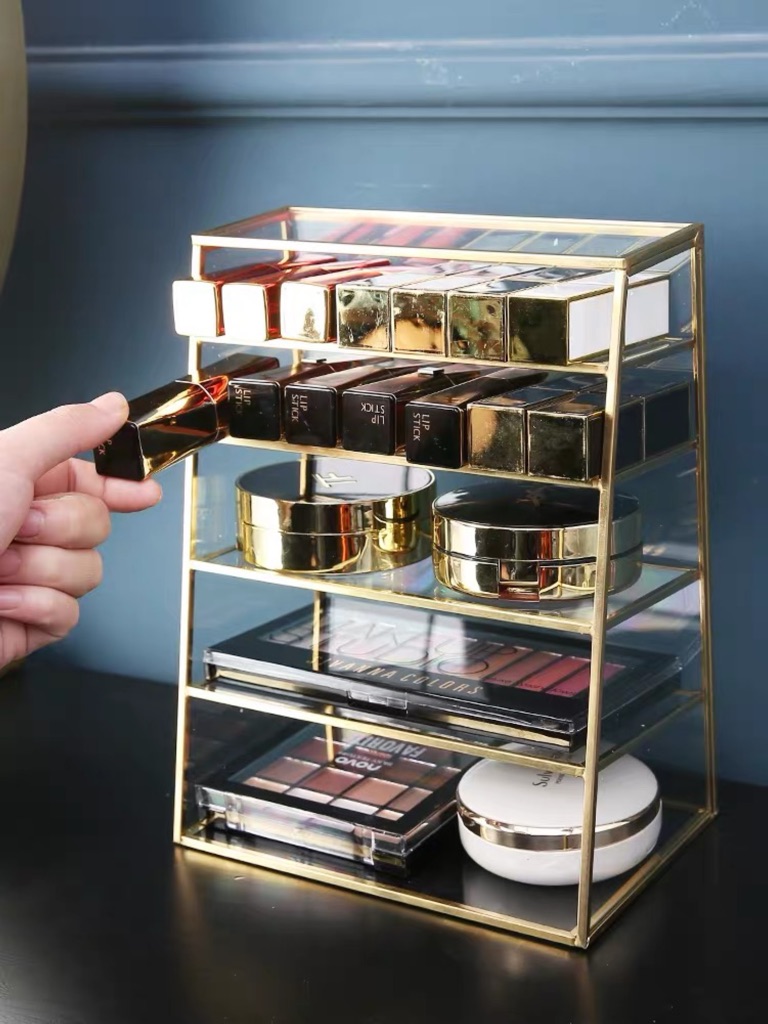 Source
For those who prioritise organising your makeup items rather than displaying them, you might be interested in this layered see-through organiser. Since you have to store them by laying them down horizontally, it would be hard to show off the beautiful packaging of your makeup collection.  
Also, it is great for slimmer makeup items like eye shadow palettes and skinny lipsticks so you won't have to worry about them rolling across your table. 
Price: $24.90
Shipping: $1.49
Website
These Makeup Organisers Are Efficient Storage Spaces That Come With A Chio Factor 
Makeup organisers are useful in keeping countertops clutter-free and organised, especially when you have a growing collection of beauty products. Based on the various designs and price tags, you can look out for one that suits your budget and style the best. 
Also read: 
15 Chio Bedside Tables In Singapore To Up The Aesthetic Game In Your Bedroom