Cute Compact Mirrors
Heading to the washroom to check on your appearance every now and then can be time-consuming, and more so if you are in a rush. Which is why owning a compact mirror can help overcome this hassle. 
Compared to full-length mirrors, compact mirrors not only make it convenient to touch up your makeup while on the go, but can also act as a cute fashion accessory. These days, they even come with various useful features such as LED lighting and a portable fan, that'll make you want to invest in one ASAP. Here's some of the most unique ones you can cop.
1. Mini Apple Macbook Mirror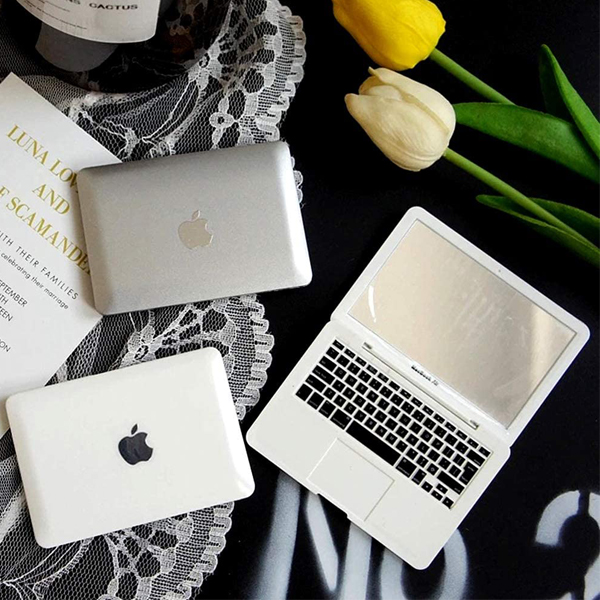 Source
Apple lovers are in for a treat as this compact mirror comes as a mini version of Apple's Macbook. The "screen" of the laptop acts as the mirror and Apple's iconic logo can be seen at the front of the Macbook. 
Thanks to its petite size of 12cm x 12cm x 1cm, this compact mirror can be easily carried around. It is also available in white and silver. 
Price: $13.56
Shipping fee: $7.41
Get it from Amazon
2. Dumpling Mirror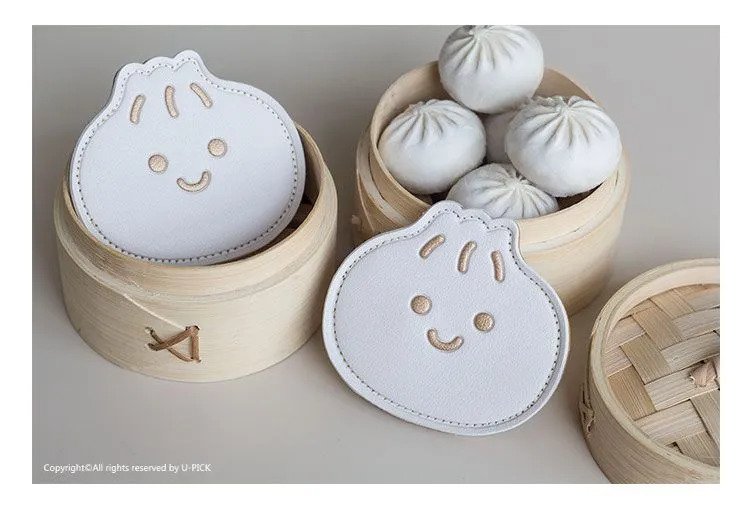 Source
Steamed bun – or bao – is no stranger to any Singaporean. This adorable steamed bun compact mirror will make you want to dapao it in your bag right away. The mirror is fitted into a faux leather pocket shaped like a steamed bun, and is in the size of 8.5cm x 7.6cm. 
Price: $17.55
Shipping fee: $8.88
Get it from Yesstyle
3. I Heart Revolution x Disney Marie Mirror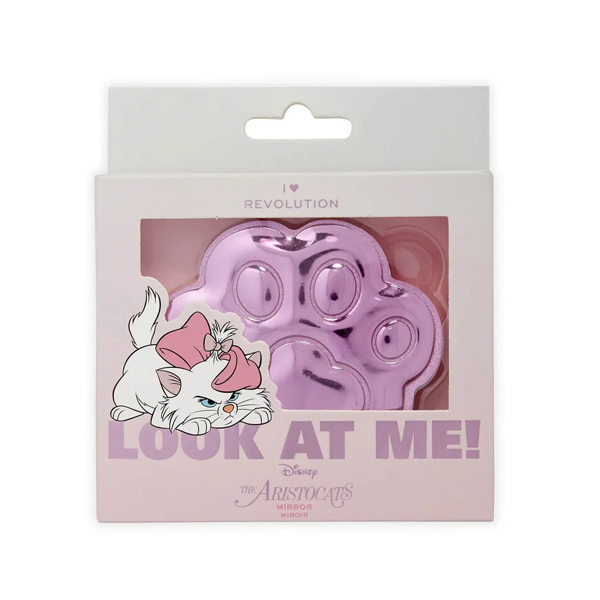 Source
If you are looking for a compact mirror that is simple yet stylish, this compact mirror from I Heart Revolution X Disney Marie might strike the perfect balance. The metallic pink paw opens up into a dual mirror and it makes a purr-fect companion for any cat lovers out there. 
Price: $9
Shipping fee: $8.50
Get it from Look Fantastic
4. 3-in-1 Piggy Mirror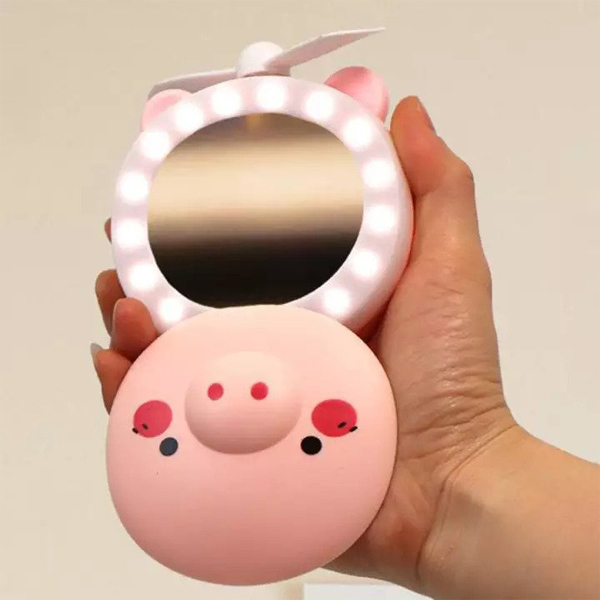 Source
Designed with 3 different features, this piggy mirror is hella useful and practical. As you slide it open to use the mirror, it will also cue its LED feature to light up. This provides better lighting to allow you to blend your makeup like a pro. 
The mini-fan attached on top will also bring you instant relief when you switch it on to fight against the tropical heat of Singapore. What's more, you can charge it easily by using a USB port. 
Price: $9
Shipping fee: Free postal mail
Get it from Lazada
5. Seashell Mirror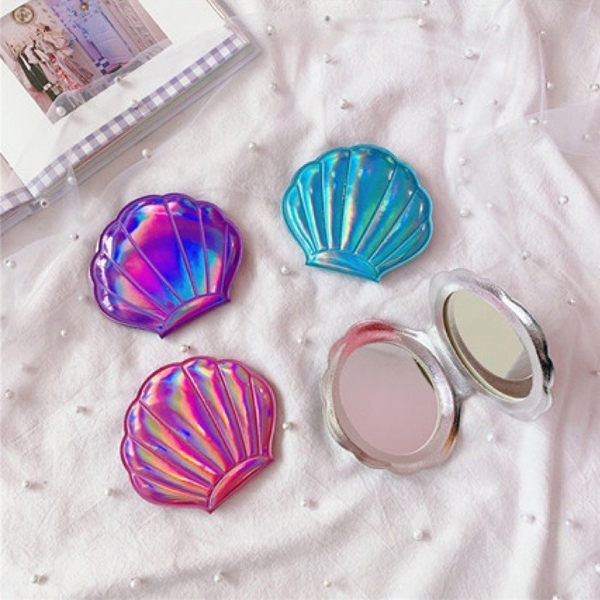 Source
Shaped like a seashell, this compact mirror truly embodies the spirit of a summer vacation. Its casing is strong and durable, revealing dual mirrors when opened. Plus, the hinge is stiff enough for it to stay open at any angle you desire.
Available in 4 different iridescent shades, this compact mirror is an eye-catching item perfect for a beach day.
Price: $3.90
Shipping fee: $1.49
Get it from Shopee
6. LED Makeup Mirror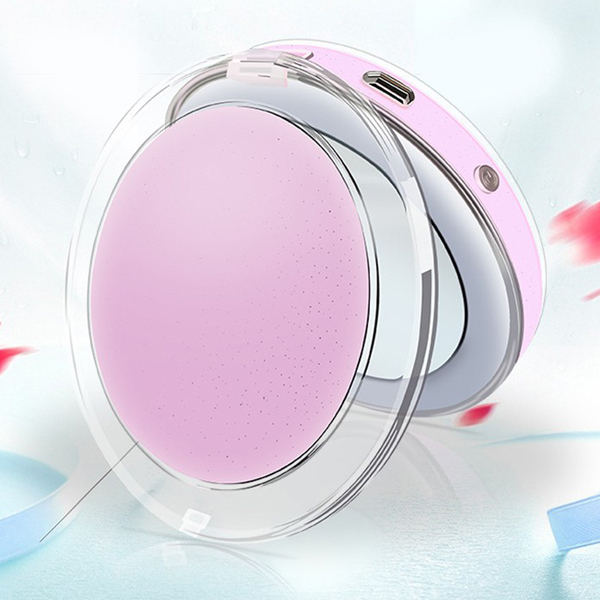 Source
This palm-size compact mirror is everything you'll need for a day out and about. Besides the 3x magnifying mirror that gives you a detailed view of your face, it comes with a smart touch function. The LED lighting illuminates once it sensors your touch and will stay on for 15 seconds before switching off. 
The classy design of the compact mirror makes it a must-have for the ladies, and you can take a pick between rose gold or pink. 
Price: $10.90
Shipping fee: $1
Get it from Shopee
7. Disney Mulan Mirror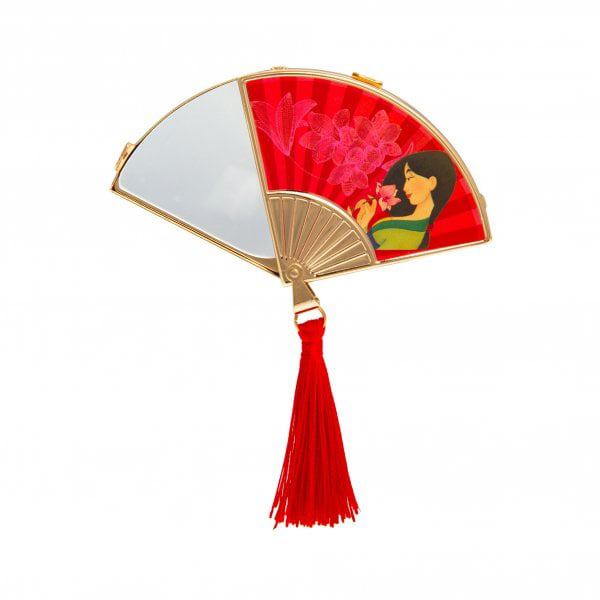 Source
Magnolia is a recurring motif seen in Disney's Mulan and so it's no surprise that you will find Mulan holding a stalk of her signature flower on this compact mirror. 
It comes in the form of a folding fan with a red tassel attached to the end. Sliding it open will reveal the mirror on the inside, so you can touch up with sass. 
Price: $6.27
Shipping fee: $18.99
Get it from Biuky
8. Impressions Vanity Hello Kitty Mirror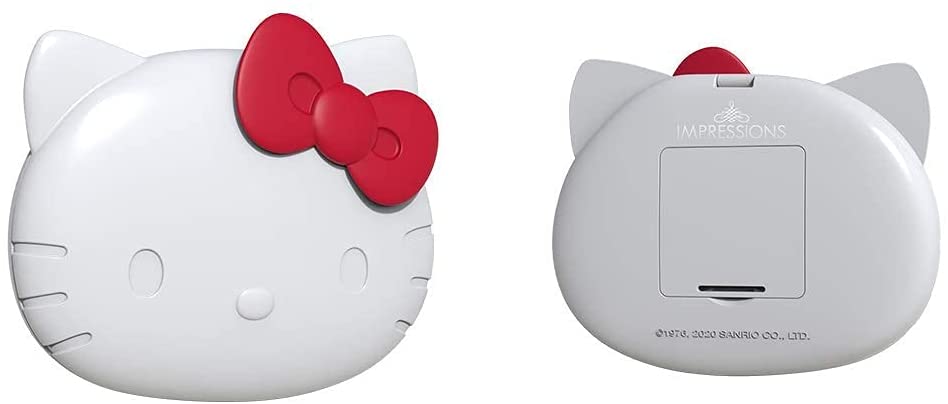 Source
Impressions Vanity and Hello Kitty have released a special Hello Kitty compact mirror that will make fans go uwu. It is equipped with a 2x magnifying mirror and has daylight LED lighting. With a single tap, the brightness of the lighting can be adjusted accordingly. 
On top of that, it is powered by rechargeable lithium batteries that can be removed easily from the back of the compact mirror. 
Price: $25.54
Shipping fee: $7.68
Get it from Amazon 
9. Rilakkuma Mirror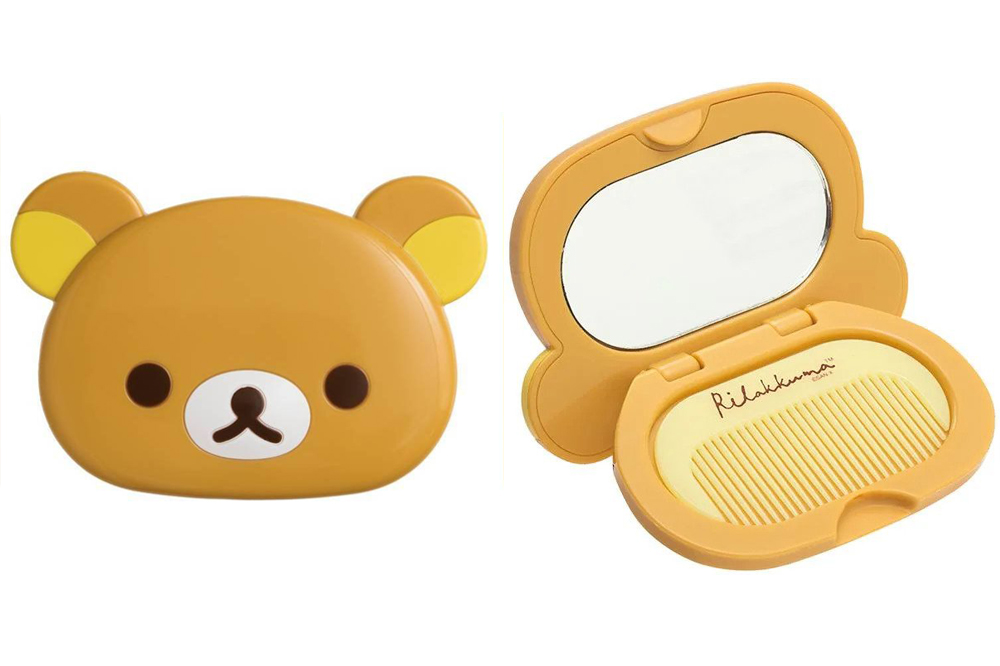 Source 
Rilakkuma is one of San-X's well-loved characters and it means "bear in a relaxed mood" in Japanese. This compact mirror is shaped as the lazy and stress-free bear, and is light and travel-friendly. 
Additionally, you will find a comb in the compact mirror which you can use for urgent tidying up of messy hair. 
Price: $27.56
Shipping fee: $8.88
Get it from Yesstyle
Also read: 
10 Places To Buy Full-Length Mirrors In Singapore So You Can Snap Aesthetic OOTDs At Home
10. Lamianwanzi Mirror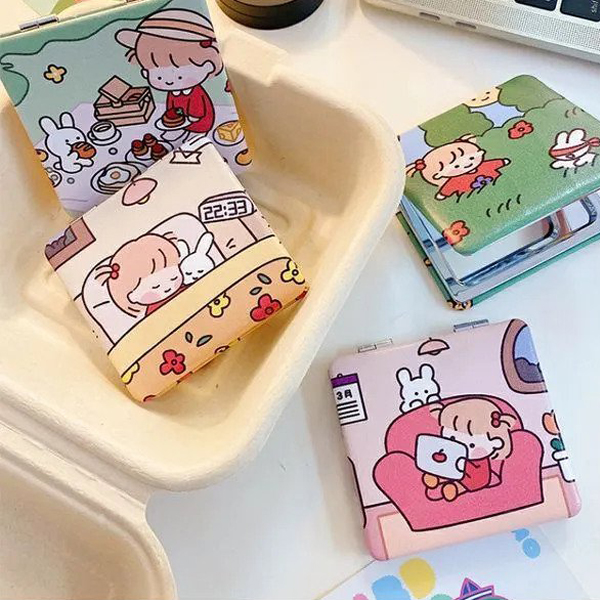 Source 
If you prefer a standard, square-shaped compact mirror, why not check out these ones designed by Chinese designer Lamianwanzi? Through 4 designs, she illustrates various settings of hanging out with her pet rabbit. 
The compact mirror is 7cm x 6.5cm x 1cm, making it pocket-friendly. 
Price: $12.18
Shipping fee: $8.88
Get it from Yesstyle
11. 2-in-1 Cake Mirror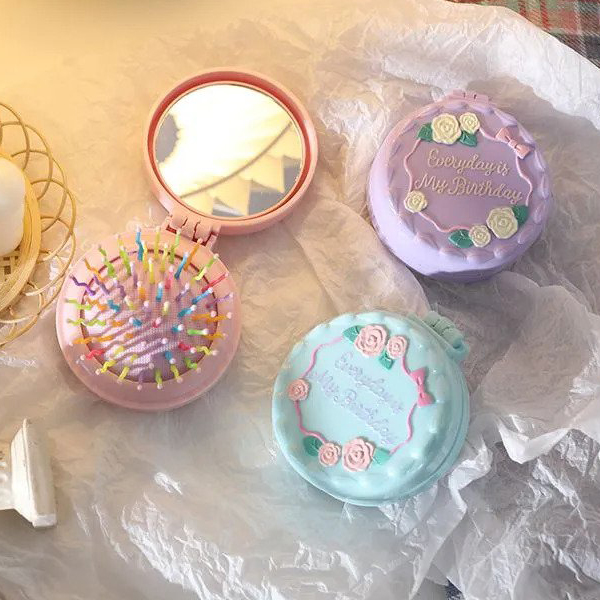 Source
You can never go wrong with retro items and just as it is for cakes, these 80s' inspired cake compact mirrors are both adorable and functional. 
Opening it up, you will be pleased to learn how it is more than just a mirror. It comes with a hairbrush and the rainbow bristles add a whimsical touch.
Price: $14.80
Shipping fee: $8.88
Get it from Yesstyle
12. Cardcaptor Sakura Mirror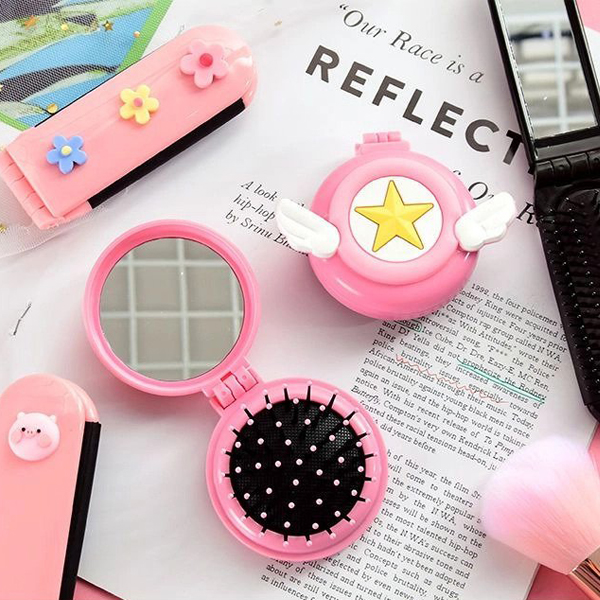 Source 
For those who grew up watching anime, Cardcaptor Sakura was a classic that filled our hearts with magic. This compact mirror takes the form of Sakura's iconic star wand and opens up to reveal a round mirror and a hairbrush. Since it is only 6.5cm in diameter, it fits effortlessly into your bag or purse. 
Price: $12.33
Shipping fee: $8.88
Get it from Yesstyle
13. Vintage Japanese Mirror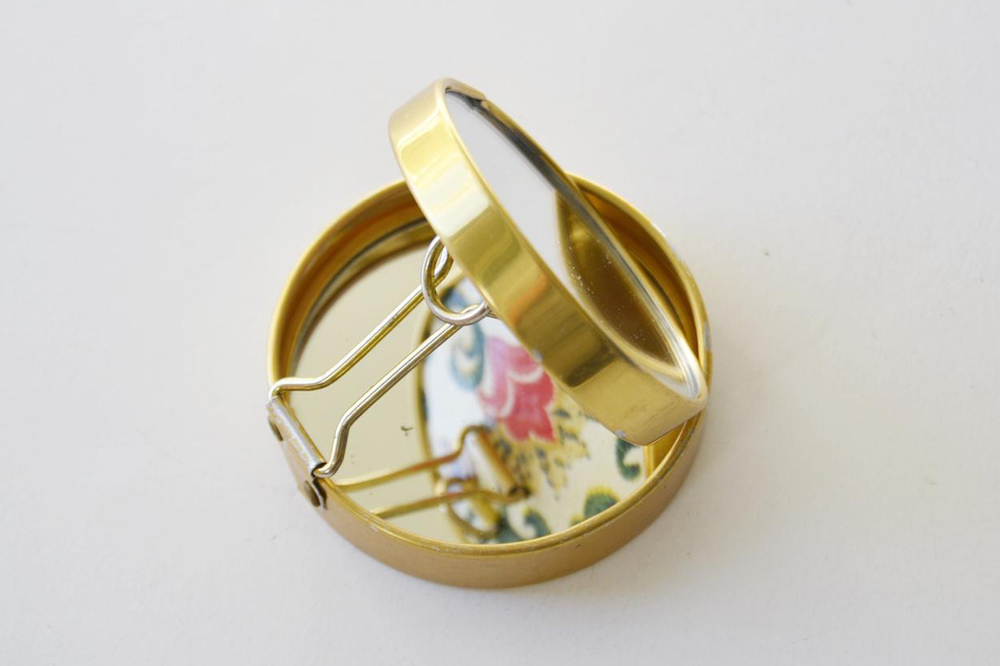 Source 
Vintage lovers will be itching to have this Japanese vintage print compact mirror in their hands. As it does not open like a standard compact mirror, it interestingly functions by pulling the mirror out and propping it up before use instead.
Despite its small diameter of 5.7cm, it's simple design adds a touch of class to your bag of items. 
Price: $25.05
Shipping fee: $10.03
Get it from Etsy
14. Sailor Moon Mirror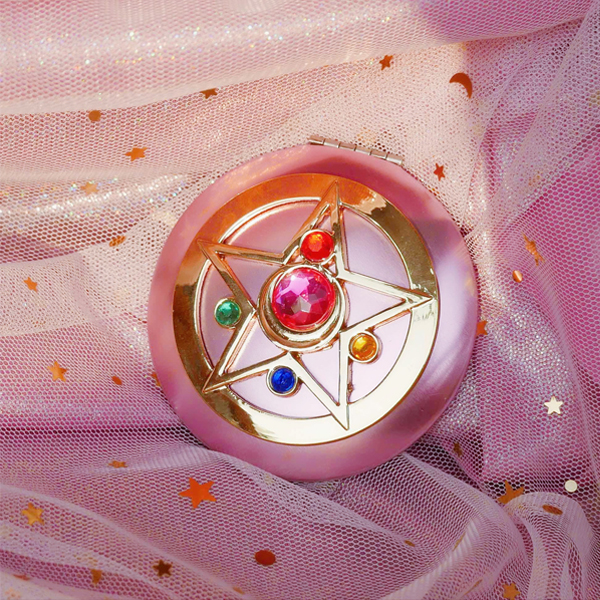 Source 
Almost 30 years after the first airing of the Sailor Moon TV series, the anime is still frequently quoted and the characters are cosplayed by avid fans. It is not surprising to find a compact mirror inspired by Sailor Moon.  
The hard casing takes the form of Sailor Moon's transformation brooch and helps to prevent scratches on the 2x magnifying mirror found on the inside. Plus, it's lightweight with a diameter of 7cm and weight of 75g. 
Price: $25.02
Shipping fee: Free
Get it from Shopee
15. Cherry Heart Mirror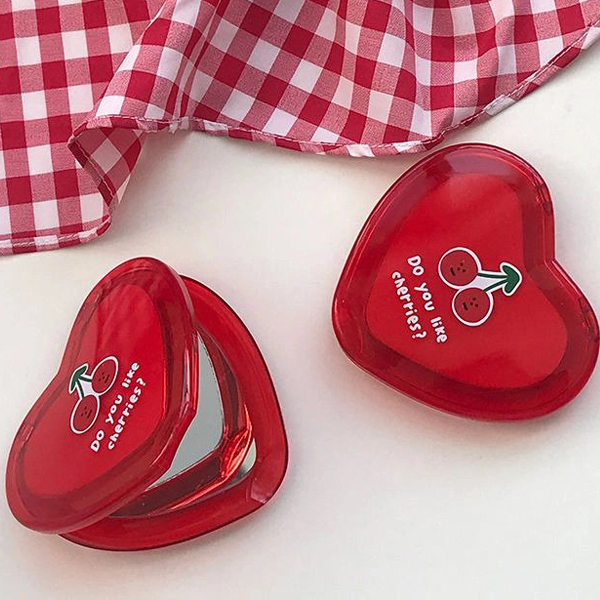 Source
If you believe that breaking a mirror leads to 7 years of bad luck, this heart-shaped mirror with cherry illustrations is so adorable, it'll rid your mind of such superstitions. It comes with a sturdy red frame, proving it to be a long-lasting item in your bag. 
Plus, it stays open at your preferred angle thanks to the strong hinge in the middle. 
Price: $7.46
Shipping fee: $8.88
Get it from Yesstyle
16. Marble Mirror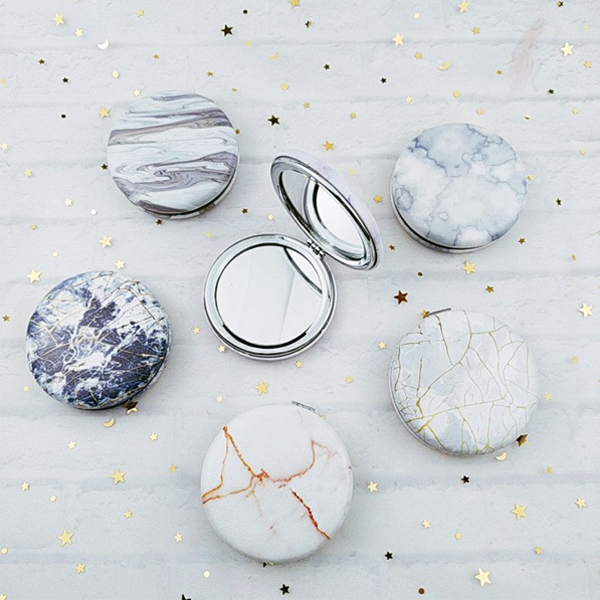 Source
Marble design enthusiasts are in luck, as this compact mirror is designed with elegant veinings against a cool colour palette. 
The even and smooth casing lets you place the mirror on a surface when you want to free your hands to apply makeup. Additionally, it fits snugly in the palm of your hand with a diameter of 6.8cm. 
Price: $8.02
Shipping fee: $1.49
Get it from Shopee 
17. MILESI Kitty Paw Mirror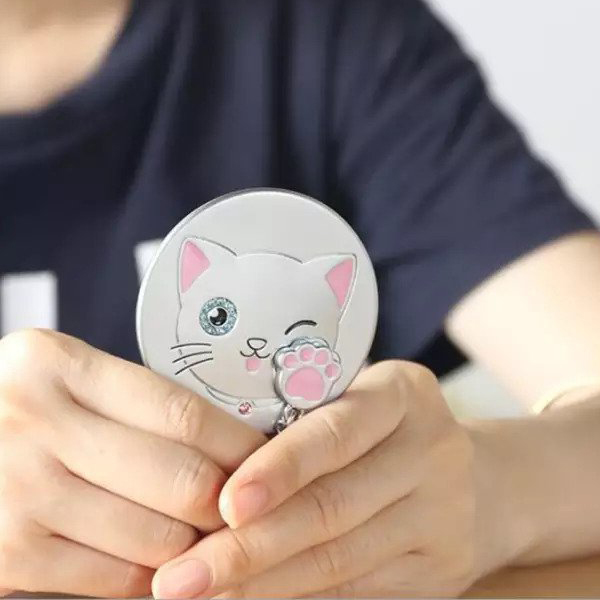 Source
Giving this compact mirror to your cat lover friend will surely earn you brownie points, as it comes with a design of a cat and its magnetic paw that adds a playful touch to the overall design.
Plus, sparkly rhinestones adorn the choker and the eye of the cat. It also comes packed in a flannel bag which makes it suitable as a gift. 
Price: $13.99
Shipping fee: $6
Get it from Amazon
18. Cookie Mirror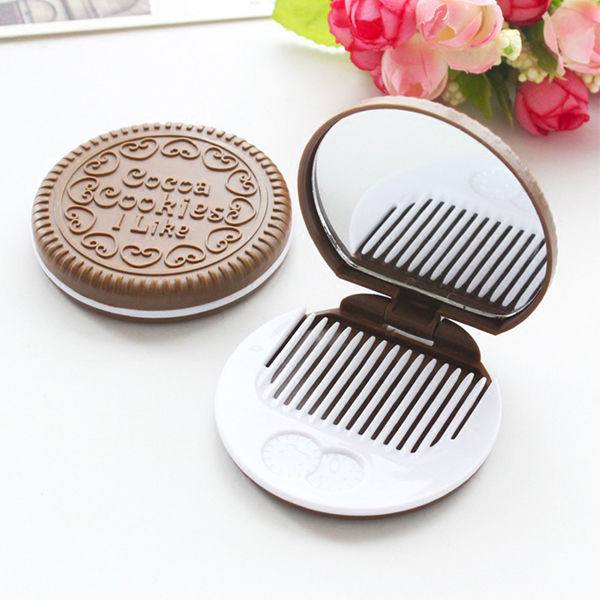 Source
For this cookie compact mirror, the comb found in the middle acts as the "cream" sandwiched between the "cookies". A single mirror can be found on the inside and you can fix your makeup or hair conveniently. In addition to the creative design, it comes in 2 different "flavours", dark and light coffee.  
Price: $1.40
Shipping fee: $1
Get it from Shopee 
These Cute Compact Mirrors Will Make You GO UWU While Touching Up Your Makeup
A compact mirror is more than just for touching up your makeup as you can use it to fix your hair, check for food stains on your teeth or even take a peep at the cute guy sitting behind you. Nonetheless, it serves as a practical tool to keep in your bag. If you are investing in one, why not go for a cute one you won't get sian of? 
Also read: 
LANEIGE's New Cushion Compact Is So High-Tech, It Looks Like An AirPods Case & Provides Blue Light Protection