Bedside Tables In Singapore
Oftentimes, bedside tables are not top priority when furnishing a bedroom. But, they conveniently hold essentials like your phone, glasses or a glass of water – just like how sambal chilli plays an important role in a plate of nasi lemak.
Whether you're looking for an aesthetic bedside table or searching for a minimalistic one to match your interiors, below are 15 designs you can take inspiration from.
1. Urban Mood ‒ IDRIS Luxury Golden Pyramids Bedside Table
Source
Imitating the pyramids that are found in Egypt, this bedside table features 2 golden triangles ‒ one in its usual form and the other one, inverted. The two triangles cross paths in the middle of the table, forming a cube and also giving off an overall hourglass vibe. The interesting take on using shapes and lines will add a modern touch to the room. 
You can choose from 4 different tabletop colours ‒ clear glass, black tinted glass, white and black marble ‒ and 2 base colours ‒ silver and gold. 
Dimensions: 50cm x 48cm x 50cm
Price: $270
Delivery fee: Contact for details
Website
2. Urban Mood ‒ CORA Modern Industrial Solid Wood Bedside Table
Source
Compared to other 2-tier bedside tables, this one from CORA comes with a larger surface at the bottom layer for books, trinkets and photo frames. The leg supports remind us of hairpins, but don't worry as they are sturdy enough to hold heavier items such as a lamp too. 
The table has 5 natural wood stains options for you to choose from ‒ perfect for those who are looking to add some wooden accents into the room.  
Dimensions: 50cm x 50cm x 50cm 
Price: $160
Delivery fee: Contact for details
Website
3. Urban Mood ‒ BJORN Contemporary Solid Wood Side Table
Source
"Versatile" is a word that you'll use to describe this table. Not only is it suitable as a bedside table, but it also works as a chic coffee table or a unique house decor. Since it comes with 2-tiers, you can place your morning cuppa on the tabletop and have heavier items such as books or magazines at the bottom layer.   
The tabletop is made of tempered glass and the rest of the table is made from solid pine wood with defined wood grains.  
Dimensions: 48cm x 35cm x 52cm 
Price: $170
Delivery fee: Contact for details
Website
4. Castlery ‒ Mika Side Table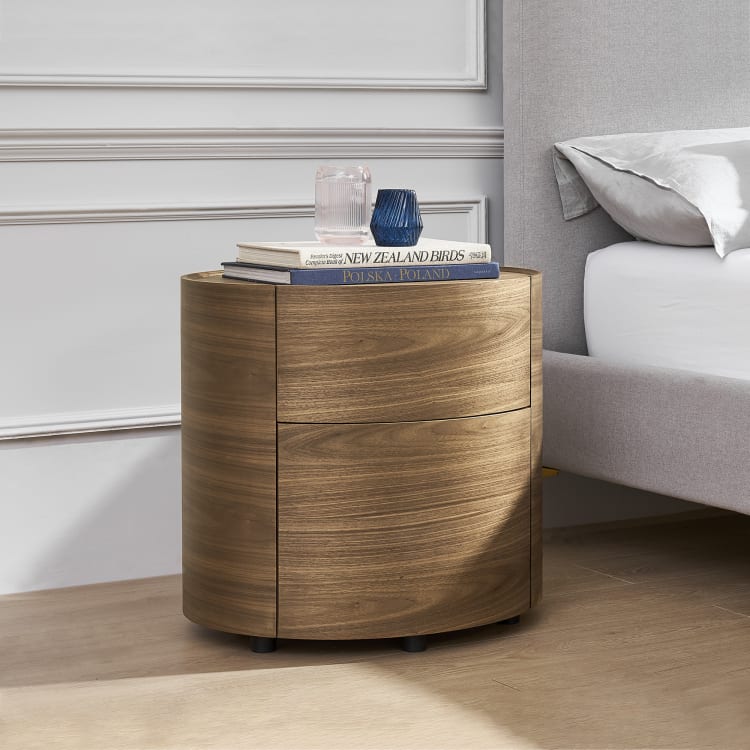 Source
Bedside tables don't necessarily have to come in mundane square shapes – a cylinder design like this one from Mika works well too. It features 2 drawers ‒ with one at the bottom for a larger capacity. Both have a soft closing function, so you won't wake bae up when you accidentally close it with more force. 
Focusing on the details, the swirling wood grain pattern is made from bentwood with walnut veneer. Plus, the table has a maximum of 10kg load that's definitely enough to keep items like your phone charger and bedtime book. 
Dimensions: 58cm x 48cm x 55cm 
Price: $459
Delivery fee: Free delivery for orders above $300
Website
5. Forty Two ‒ Lovina Side Table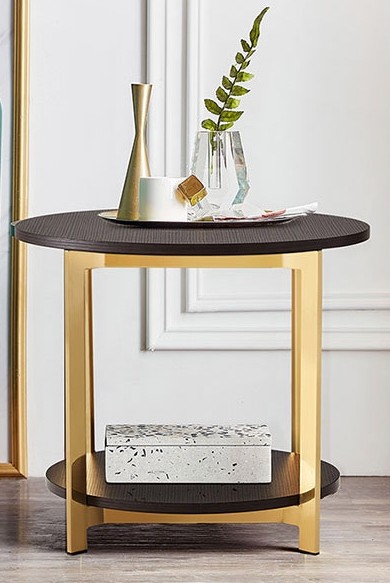 Source
For accident-prone people like yours truly, there'll be no bumping into sharp edges as this side table from Lovina doesn't have any. The 1.5cm tabletop is supported by stainless steel metal frames brushed in gold. It also has a lower compartment where you can put a potted plant or a mini air purifier. 
As the tabletop is also laminated with melamine, it is sturdy and resistant to warping ‒ while capable of holding up to a 10kg load. The minimalist design and golden accent from the frames make the table a sophisticated addition to the bedroom. 
Dimensions: 50cm x 50cm x 43cm 
Price: $197
Delivery fee: $7.90
Website
6. Shopee ‒ Nordic Style Bedside Table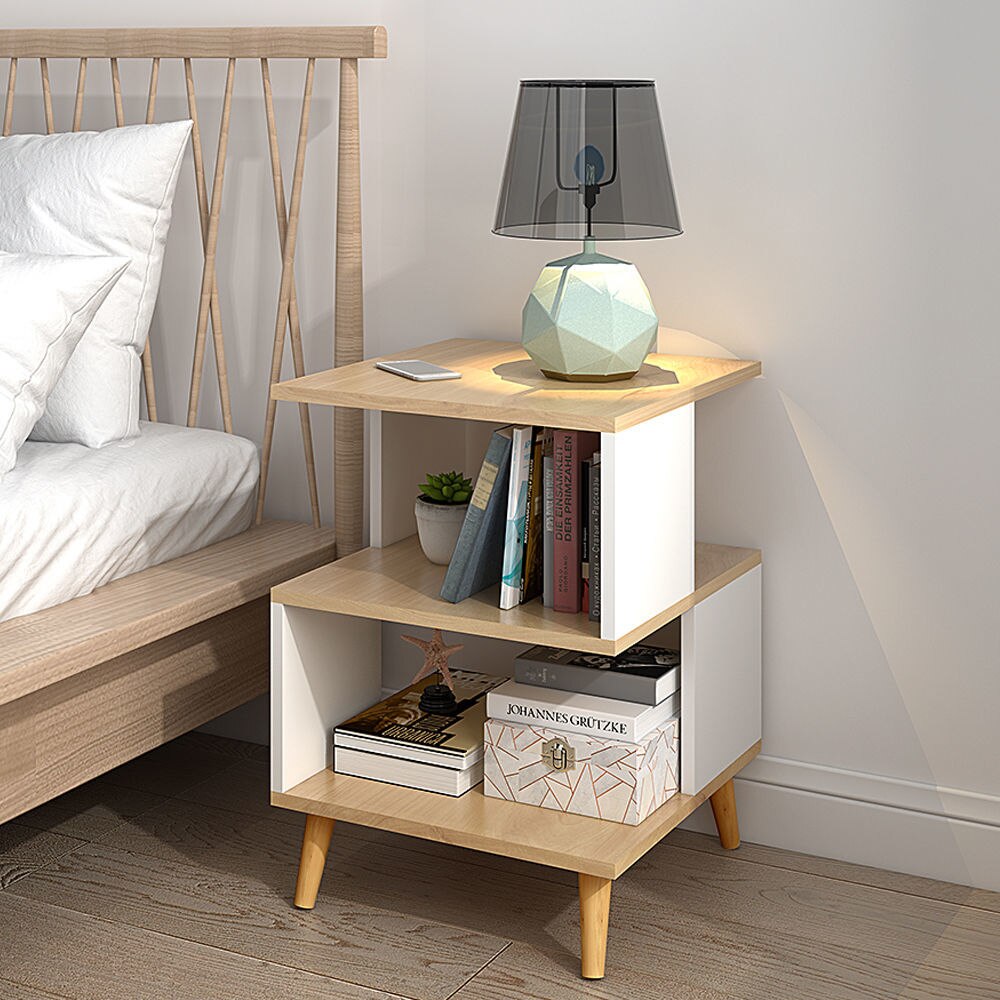 Source
This Nordic style bedside table gives us Tetris vibes because of its hollow-out spaces, which are used to store your barang barang according to their shape and sizes. The layers also come with "fences" at the edge to prevent your items from falling.  
For those who want to add a pop of colour to their bedroom, this bedside table has colour options like blue grain wood. Other safer colour choices include warm white and Nordic pine. 
Dimensions: 40cm x 40cm x 55cm
Price: $33.50
Delivery fee: Free
Website
7. Shopee ‒ Leather 2-tier Bedside Table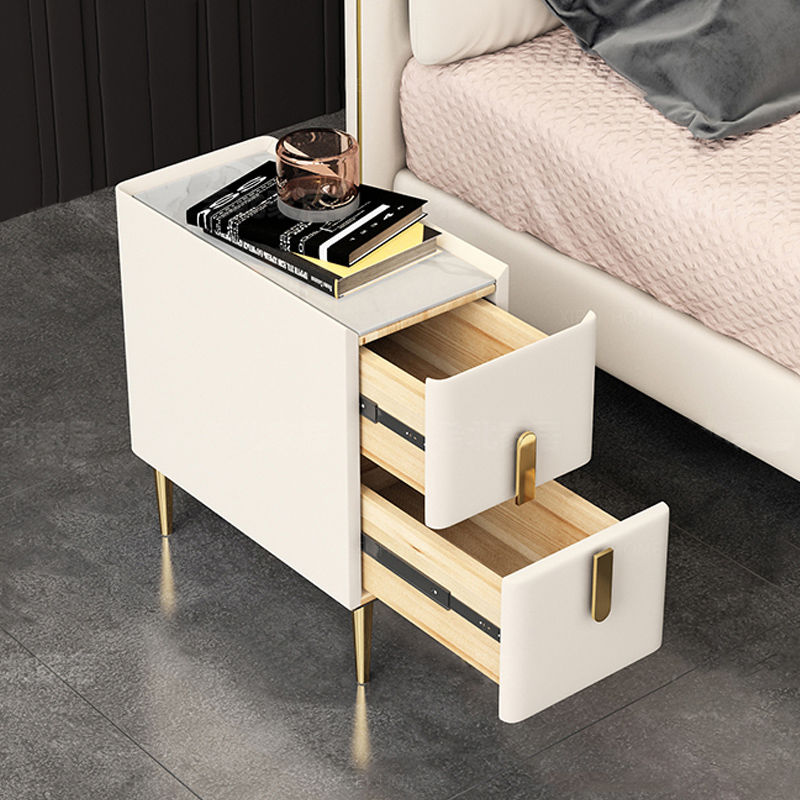 Source
There's something about having golden accents on bedside tables that make your room more atas. On this 2-tier bedside table, you'll find them on the leg stands and the drawer handle. 
The sides of the table are also covered with leather material ‒ completing the sleek design. Since the table comes in 3 sizes, you can be sure to find one that fits your bedroom best. 
Dimensions: From 25cm x 40cm x 50cm 
Price: From $122.58
Delivery fee: Free
Website
Also read: 
This Automatic Mahjong Table Doubles Up As A Chio Coffee & Dining Table For Space-Saving Homeowners
8. Finn Avenue ‒ Valentino 1-Drawer Art Deco Side Table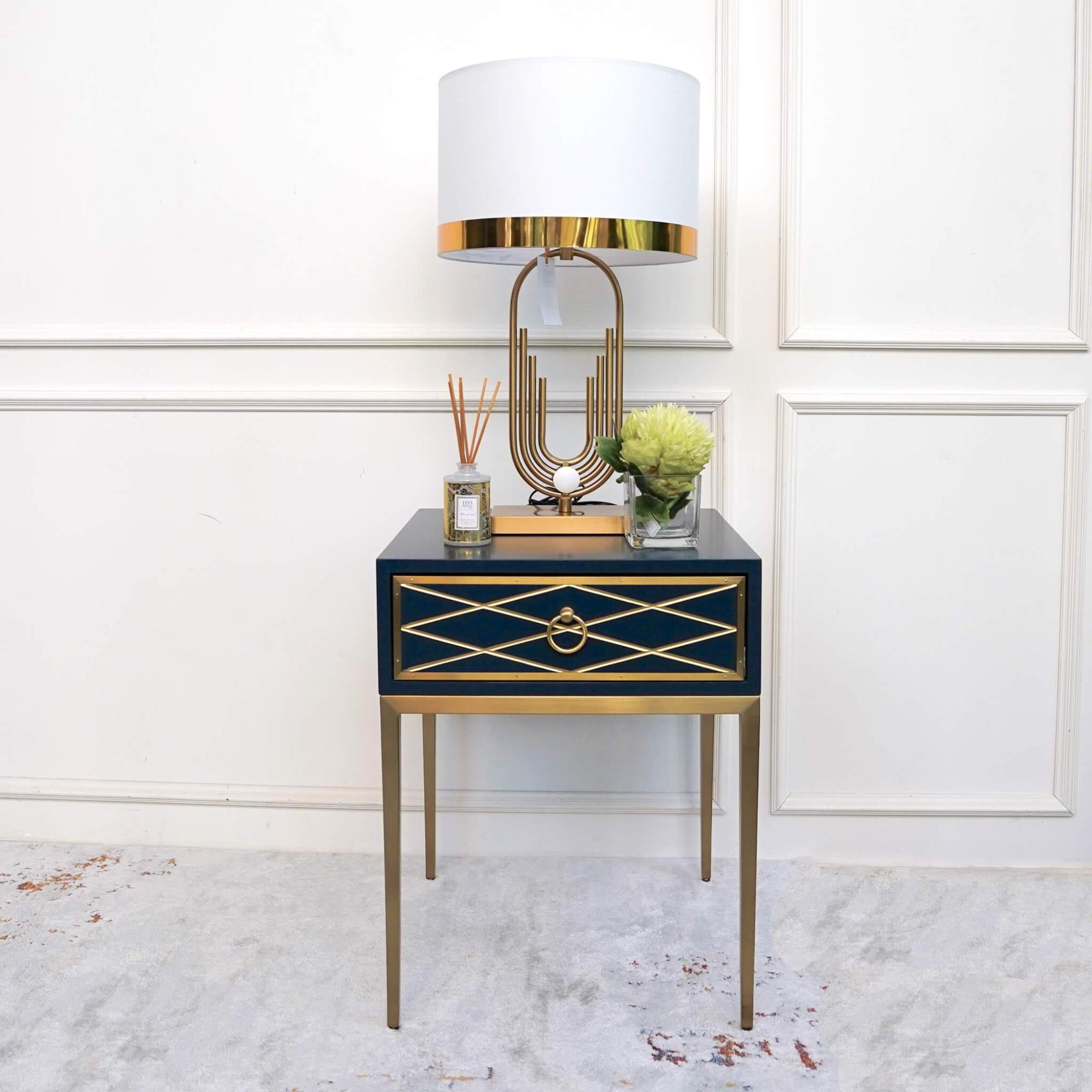 Source
This French-styled table has a single drawer that comes with a diamond filigree pattern. It is also highlighted by gold lines against the royal blue background which exudes class. Right in the middle of the drawer, there's even an antiqued ring handle.
Made of stainless steel, the gold legs give the table a bold and sturdy image. 
Dimensions: 50cm x 50cm x 60cm 
Price: $799
Delivery fee: Free for orders above $1,000
Website
9. Shopee ‒ Tempered Glass Solid Wood Bedside Table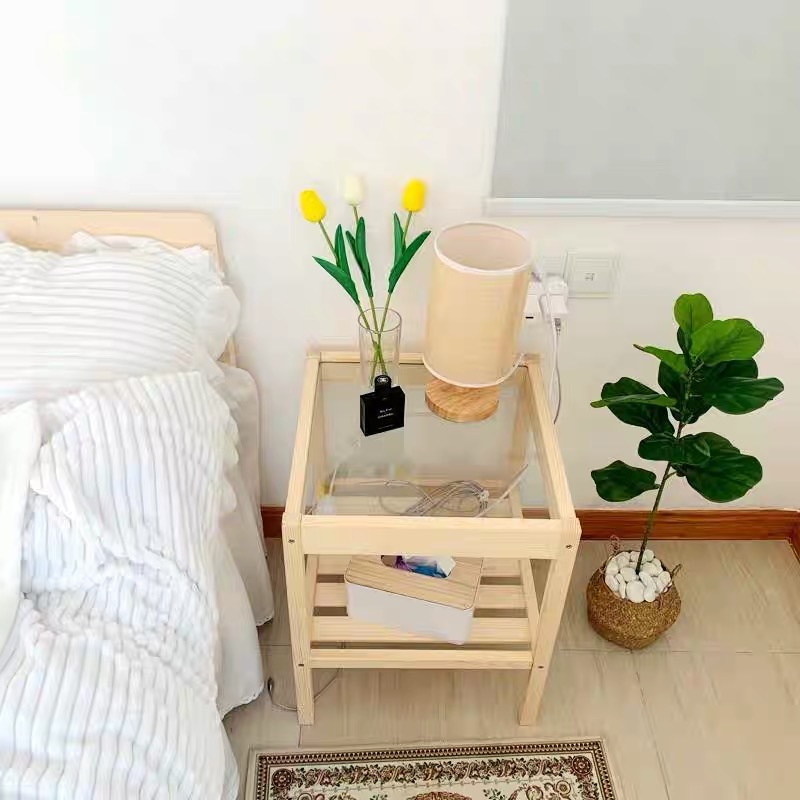 Source
Sometimes we forget what we put in a drawer or storage box because it isn't see-through. With this tempered glass solid wood bedside table, you will be able to see the items you have on the bottom tier with ease. 
The simple design provides a clean look and the table can be set up easily based on the reviews on the website. 
Dimensions: From 35cm x 35cm x 40cm 
Price: From $31.50
Delivery fee: Free
Website
10. Urban Mood ‒ ALIZ Minimalist Magazine Side Table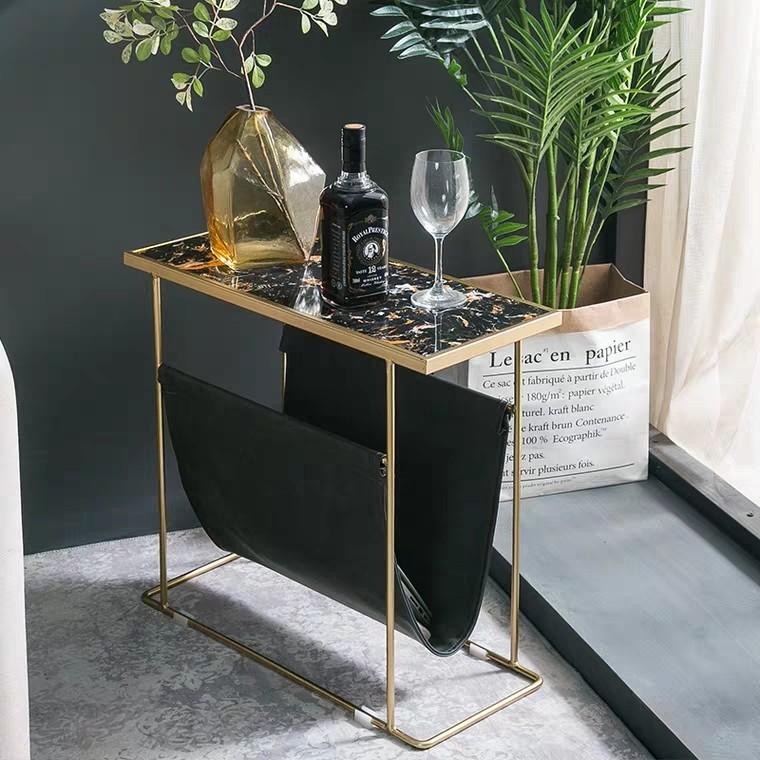 Source
Those who enjoy reading before heading to sleep would take a liking to this bedside table from ALIZ. It includes a fabric holder that acts as a hammock for your magazines or books to have a "good night's sleep" too. Thanks to its slim design, it is suitable for those with little space in the bedroom. Also, the metal frame is powder-coated with satin gold.
Choose between 2 tabletop designs – white or black marble. 
Dimensions: 61cm x 26cm x 54cm 
Price: $170
Delivery fee: Contact for details
Website
11. Urban Mood ‒ EVENTIDE Minimalist Wireframe Side Table
Source
Fun fact: vertical lines enhance the sense of height in a room. Similar to how you'll find them on this table from EVENTIDE, they add to the spacious outlook in your cosy corner. The table has 2 tiers, where you can place bigger items like a potted plant at the bottom 
Instead of mint green, bedrooms with more muted tones can opt for the table in black. Also, if you prefer a more luxurious look, there's also the option of gold. 
Dimensions: 44.5cm x 30cm x 66cm 
Price: $180 
Delivery fee: Contact for details
Website
12. Shopee ‒ Smart Bedside Table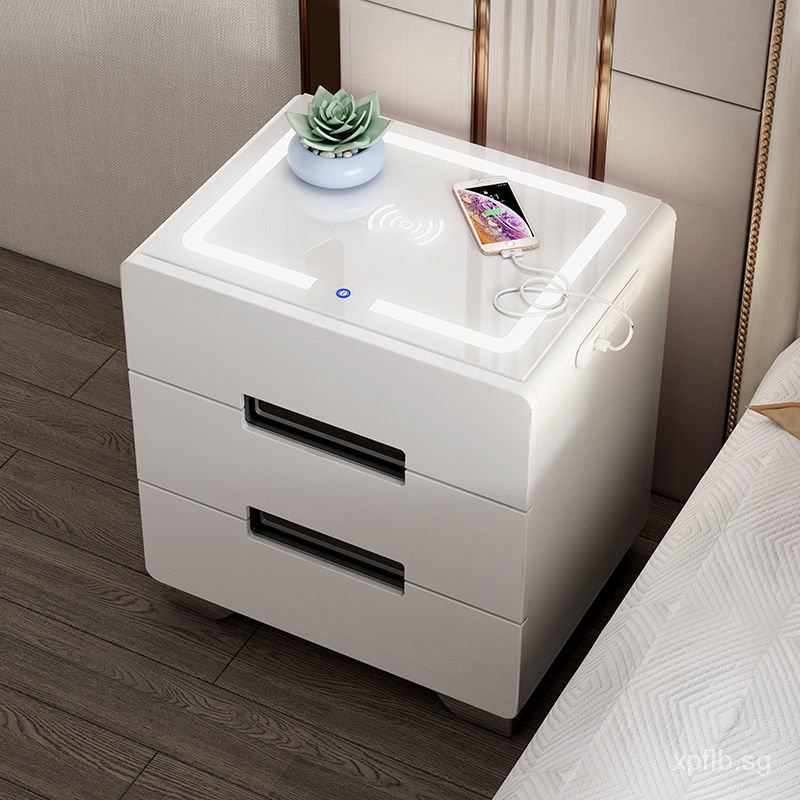 Source
Forget about tangled wires when charging your device – you don't need them with this smart bedside table. Not only can you charge your phone just by placing it on the tabletop, but there's also USB sockets to charge it while you scroll your TikTok or IG feed while in bed. 
Besides the charging functions, the tabletop doubles as a light source that gives off 3 colours ‒ white light, warm white light and warm yellow light. Plus, with its 3 drawers, it's an all-in-one solution for your bedroom needs.
You can get it in black or white, and in 2 different dimensions. 
Dimensions: From 50cm x 40cm x 46cm 
Price: From $124.87
Delivery fee: Free
Website
13. My Seat ‒ JENNIN Solid Wood Bedside Table
Source
This wood bedside table may come with a simple design, but you have to give credit for their take on protecting the environment. They only use wood from trusted sources that don't contain biocides and preservatives which are harmful to the body. On top of that, the tabletop is finished with Green Initiative wood wax oil. 
As the table has a hollow center, you can also grab your items from either end.   
Dimensions: From 40cm x 35cm x 55cm
Price: From $99
Delivery fee: Free shipping for orders above $50
Website
14. Snow Globe ‒ Origami Bedside Table
Source
It's been ages since we got to travel, and this bedside table might just remind you of Japan. The white drawer is inspired by the elegant folds of Japanese origami and the lines exude a playful geometric design. Below, the table is supported by gold frames which can be switched to silver too. 
Dimensions: 53cm x 45cm x 65cm 
Price: $399
Delivery fee: Free delivery for orders above $1,000
Website
15. Snow Globe ‒ Berlin Bedside Table
Source
Normally, you would expect the legs of a bedside table to come in fours but this bedside table has a twist to that conventional design. Instead of having them spaced out, the legs form a perpendicular line, meeting each other at a 6:4 ratio. They are also made from brushed gold stainless steel.  
Besides the modern design, it also has a drawer with the option to choose between a left or right drawer handle ‒ definitely adding brownie points for left-handers. 
Dimensions: 50cm x 40cm x 50cm 
Price: $450
Delivery fee: Free delivery for orders above $1,000
Website
These Bedside Tables Will Be A Great Addition To The Aesthetic Of Your Bedroom 
Bedside tables may not be the first thing that comes to your mind when decorating your bedroom. But they're essential to every home, and make an even better addition when you find one that goes along with your desired theme. 
If you're looking for more house decor ideas, check out this article on where to get aesthetic rugs. 
Also read: 
8 Chio Standing Desks In Singapore To Improve Your Posture For Your Indefinite Work-From-Home