Portable Mini Fridge 
"Good things come in small packages" – so whether it's a mini aircon or BBQ pit, dwarf-sized appliances marry functionality and convenience in the best way possible. For an alternative way to pacify your midnight snacking habits, this portable mini fridge is worth considering. 
From the brand Baseus, the fridge is an adorable addition to your home appliances with its retro styling. Aside from keeping food and drinks chilled, it can also work as a cool compartment for makeup and skincare products. Read on to find out more.  
The fridge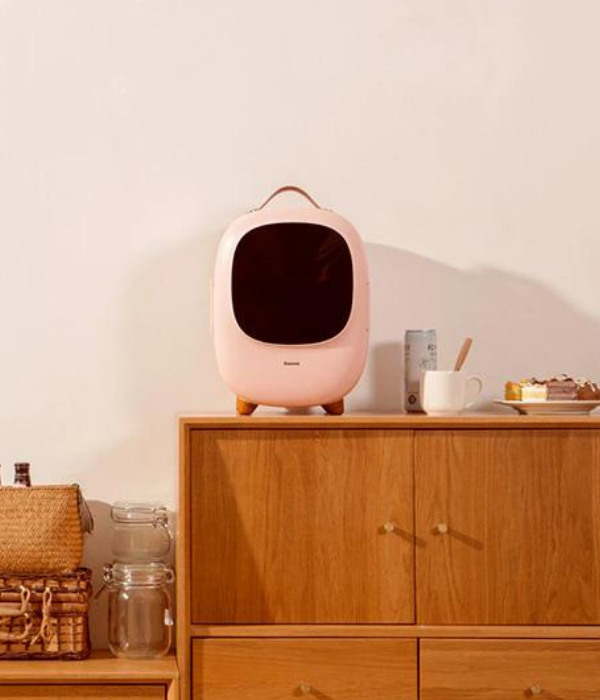 The portable mini fridge is designed to look sleek and simple with a brown leather handle on the top and 3 wooden legs at the base. The front of the fridge has a black translucent window that allows you to take a peek at what's inside. It also comes in 2 colours, the first being a light baby pink which gives it a retro finish.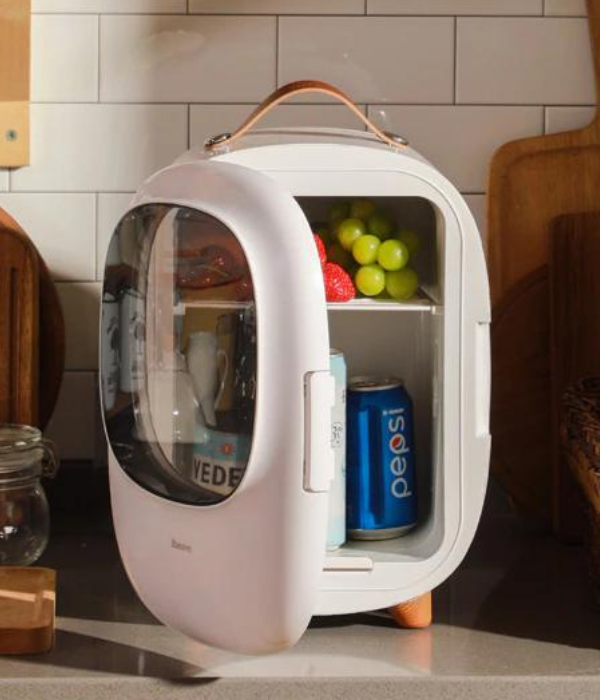 Alternatively, you can opt for a classic powder white version of the fridge that will complement any of your existing kitchen or home furnishings. 
The inside of the fridge is divided into 2 sections with a removable shelf, so you can either store food items separately or remove the shelf to make room for more inside.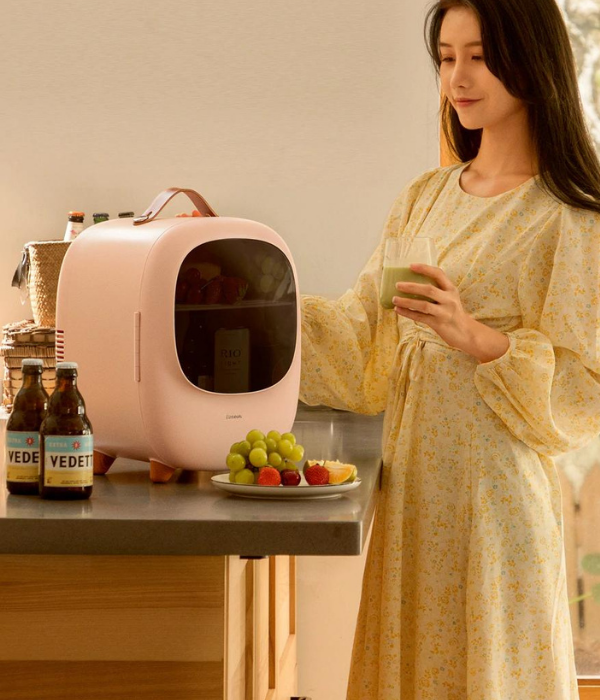 The best part of the fridge? It can keep items both cool and warm with it's dual temperature settings. The device is able to maintain a temperature of 0°C all the way to 65°C depending on the settings you've selected. 
This allows you to stash the dinner you've prepped for later inside, and still enjoy a nice warm meal after you're done with work.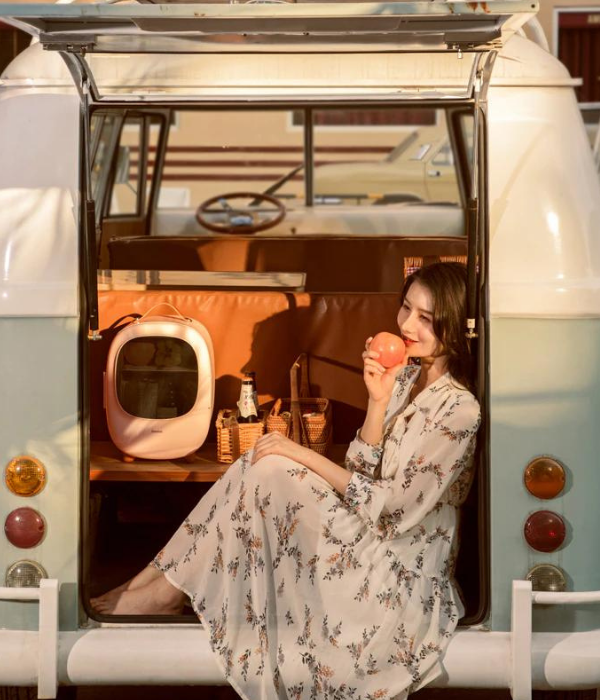 Given the portable size and sturdy handle, you can carry along the fridge for beach outings or camping trips to keep drinks cool while you relax in the sun.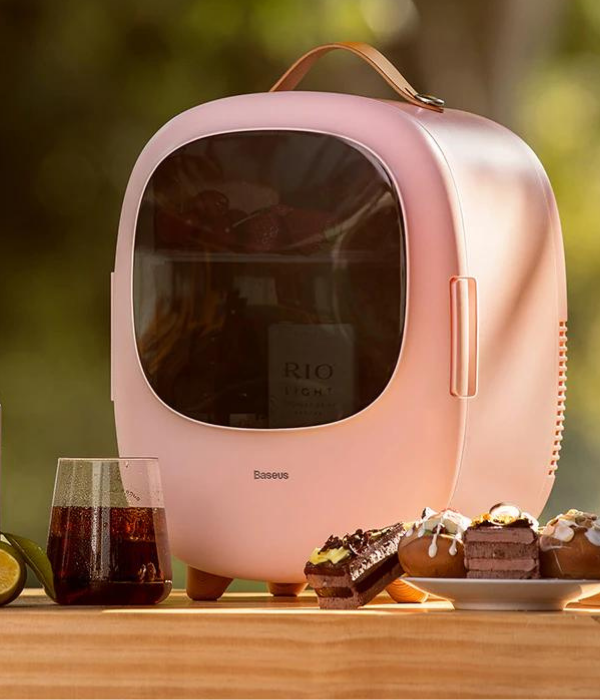 As the fridge is powered by either a DC or AC power cord, which are both included, you don't have to worry about where to plug. The DC cord can be used in cars while the AC cord fits into any regular household power source.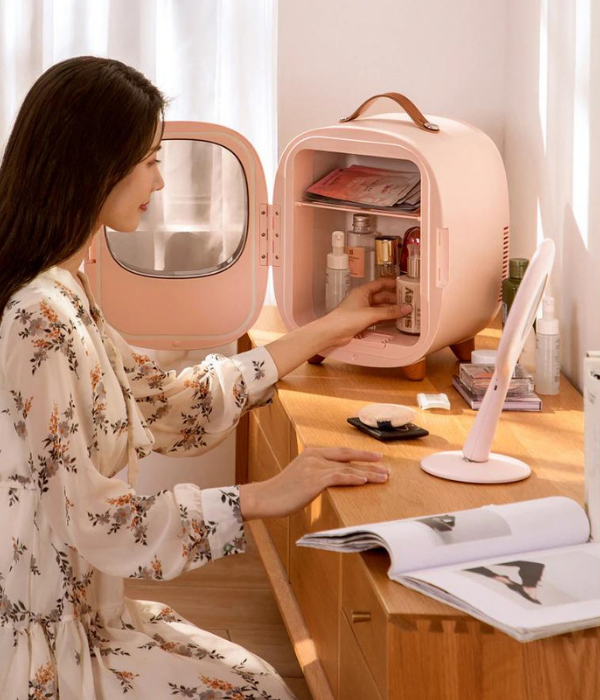 In fact, if you're a makeup and skincare fanatic, you can keep the fridge on your vanity to store products that tend to go bad in the heat – which is especially important with Singapore's forever summer weather. 
The portable mini fridge is priced at $109.90. 
This Portable Mini Fridge Will Help You Keep Both Your Makeup And Food Fresh
This mini fridge is definitely one to consider if you're a regular camper or self proclaimed makeup guru. The fridge is available to ship to Singapore from Shopee or on the Baseus website. 
All images courtesy of Baseus.
Also read:
This Retro-Style Blender Is A Chio Kitchen Addition That Lets You Whizz Up Shakes & Smoothies