Easy Makeup Tutorials
A great makeup look doesn't require high-level skills or hours of application. Says who? Everyone on TikTok. Be it beauty influencers or random makeup lovers, TikTok users have all kinds of tutorials, tips and hacks to help you achieve a variety of snatched looks—demonstrated through 60-second-or-less videos.  
We combed through the app to find 12 easy Tiktok makeup tutorials, arranged according to intensity, for you to upgrade your usual makeup beat. 
1. No-makeup makeup look: dark brown eyeshadow as eyeliner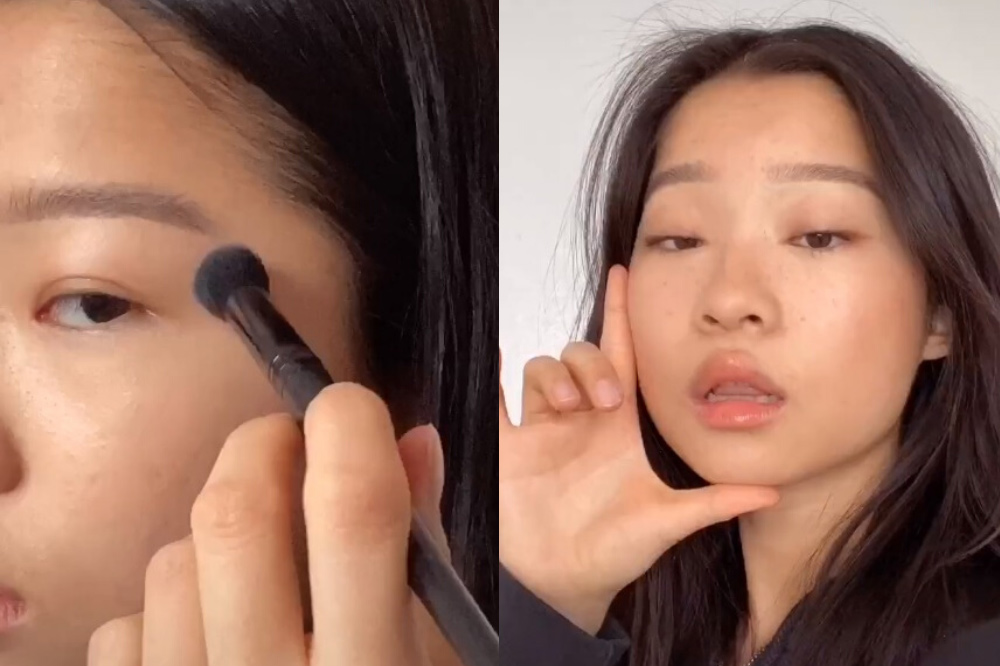 Source
The simplest way to achieve a refined look without going through a whole list of products is the no-makeup makeup Look. User @funkyfitz pulled off the look by drawing on dark eyeliner using eyeshadow. It gives the illusion of wider eyes while eliminating the harshness of black liquid eyeliner. Accompanied by neat brows, fake freckles and light contouring, the effortlessly made-up look is complete.
2. No-makeup makeup look: lip gloss as highlighter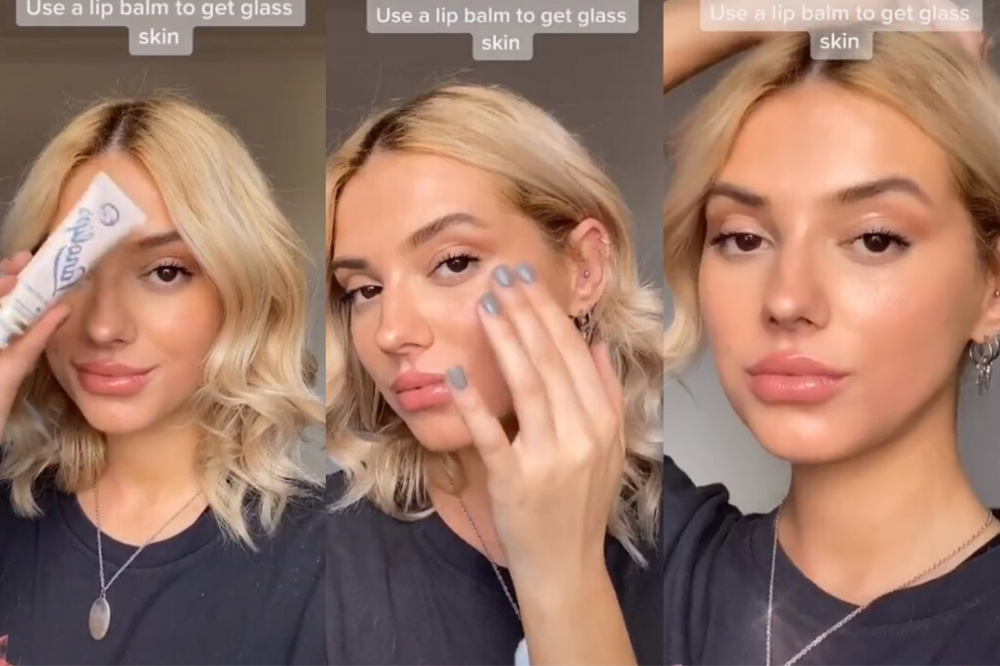 Source
If you're impatient, you can cheat the system to get glass skin. In her makeup tutorial, beauty influencer @daniellemarcan demonstrated how to lightly dab lip gloss on the high points of your face where light naturally hits. We're talking about the cheekbones, brow bone, nose bridge, Cupid's Bow and chin. 
You can opt to finish off your look with some final touches. This includes lightly covering up blemishes, slight contouring and adding a hint of blush and lip gloss.
3. Soft glam: Dramatic eyeliner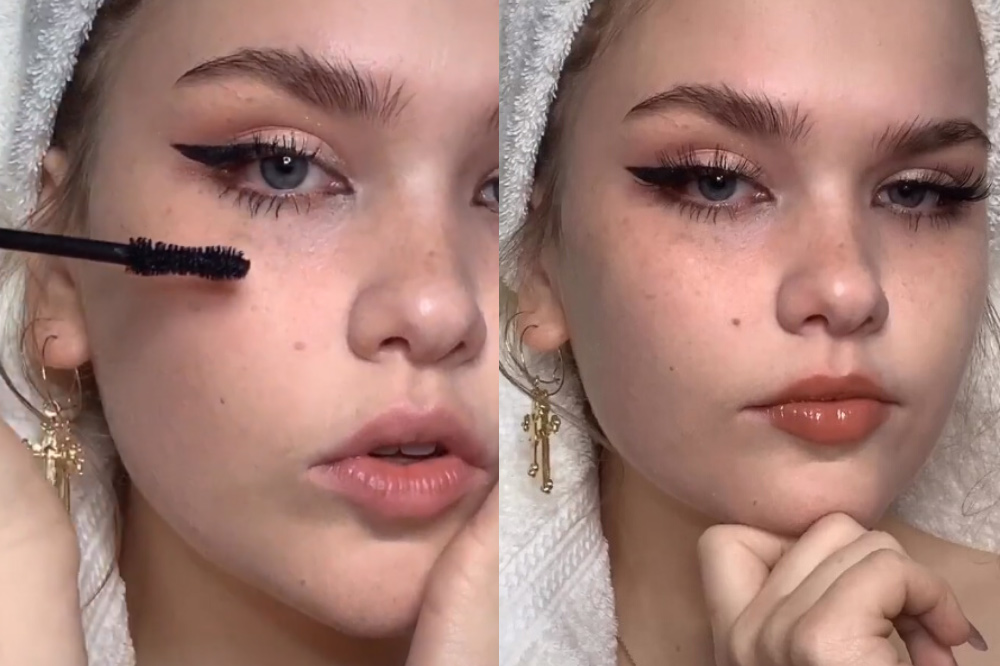 Source
You might be wondering, "What's the difference between the no-makeup makeup look and soft glam makeup?" These looks may seem similar but soft glam focuses on well-blended eyeshadow and blush, as well as glossy lips to give the entire look a soft, filtered aesthetic. 
User @alyczandrajnsn's approach to the soft glam look is to add thick winged liner. To balance out the eyes, she lined the bottom waterline with a burgundy red eyeliner. This way, you can prevent a top-heavy look by not using black eyeliner below.
4. Soft glam: Diffused black eyeshadow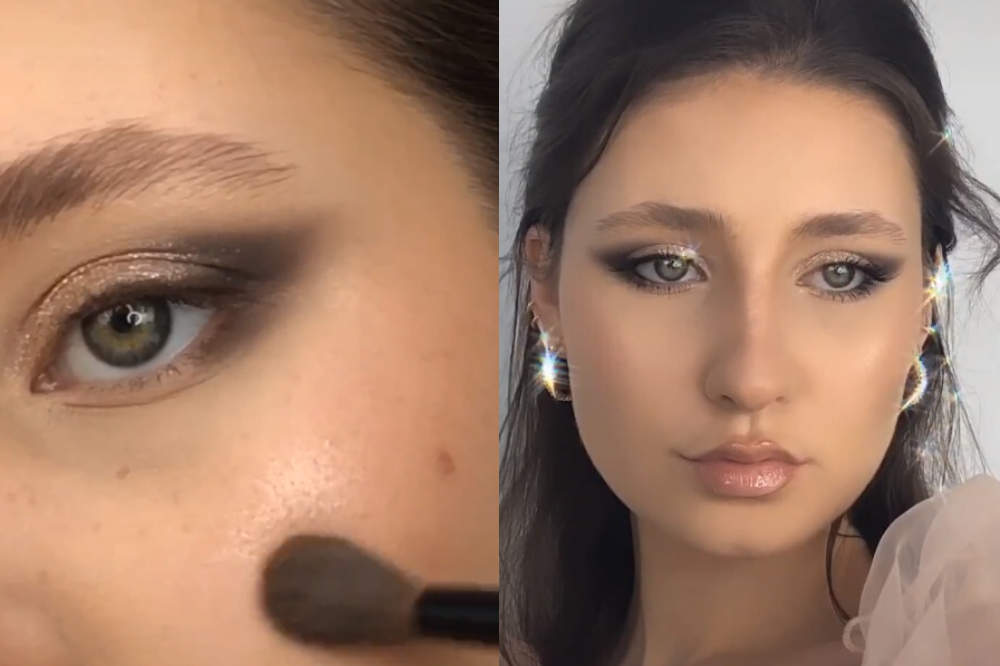 Source
Even though the soft glam aesthetic allows for more dramatic eye and cheek makeup, remember to avoid blinding highlighter and stark eyeshadow so that the overall look still has a diffused effect. Top it off with a fluffy brow and a natural glow, and you've nailed the Soft Glam look.
TikToker @charbarker enhanced her eye look by diffusing black eyeshadow into the outer "V" of the eyes. The gradual blending of the eyeshadow is a great way to lift the eyes without the harshness of a blunt black eyeliner wing.
5. Rose gold eye makeup: Cool-toned pinks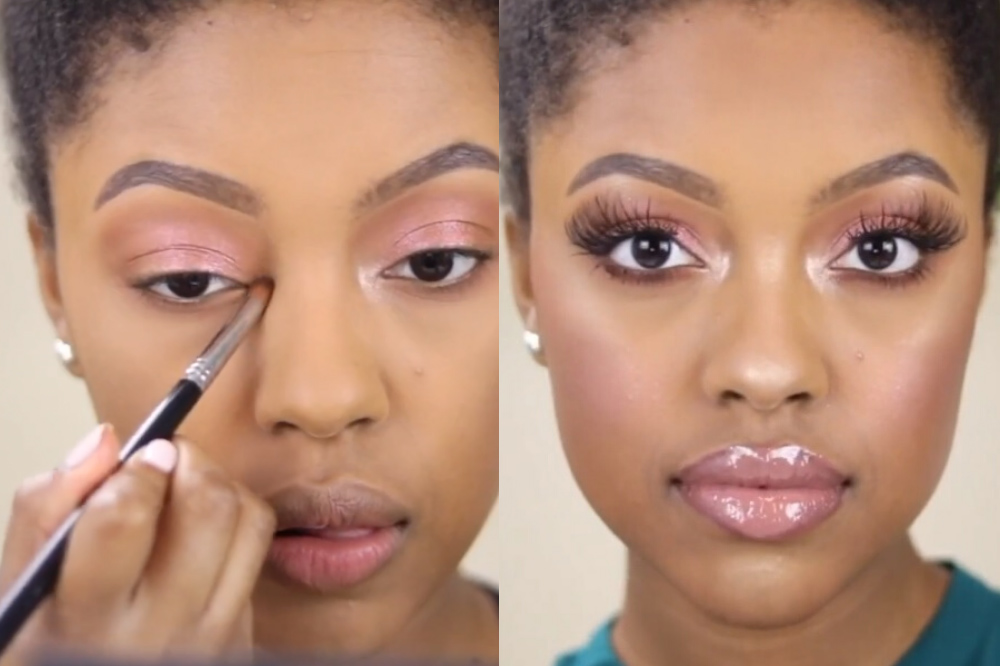 Source
The rose gold eye makeup look mixes pinks and peachy tones to get a dusty rose colour. The hero product is the rose gold shimmer eyeshadow to tie in all the eyeshadow colours together.
In her video above, @tayloranise demonstrated how a cool pink shimmer eyeshadow can complement silver on the inner corners of your eyes. She then incorporated a blush and lip colour of a similar tone to keep to the rose gold theme.
6. Rose gold eye makeup: Warm-toned pinks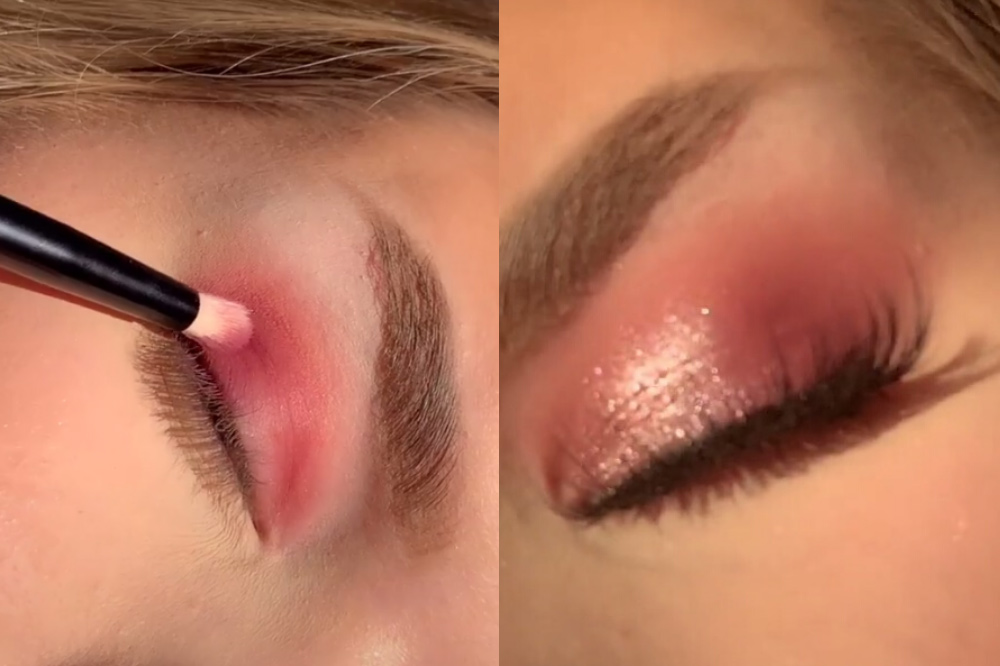 Source
Warm-toned pinks go well with peachy tones and gold reflects. Depending on whatever suits your skin tone, pick your colours and build your beat accordingly. 
User @makeupobsesxion added warm purples to give the eyes further dimension rather than a wash of pink across the lids. After defining the eyes, she finished the rose gold look by topping the lids with a warm rose gold shimmer eyeshadow.
Also read:
7 Creative Ways You Can Use Bioderma's Sensibio H2O That Prove It Is Perfect For Busy Millennials
7. E-girl makeup: Black eyeliner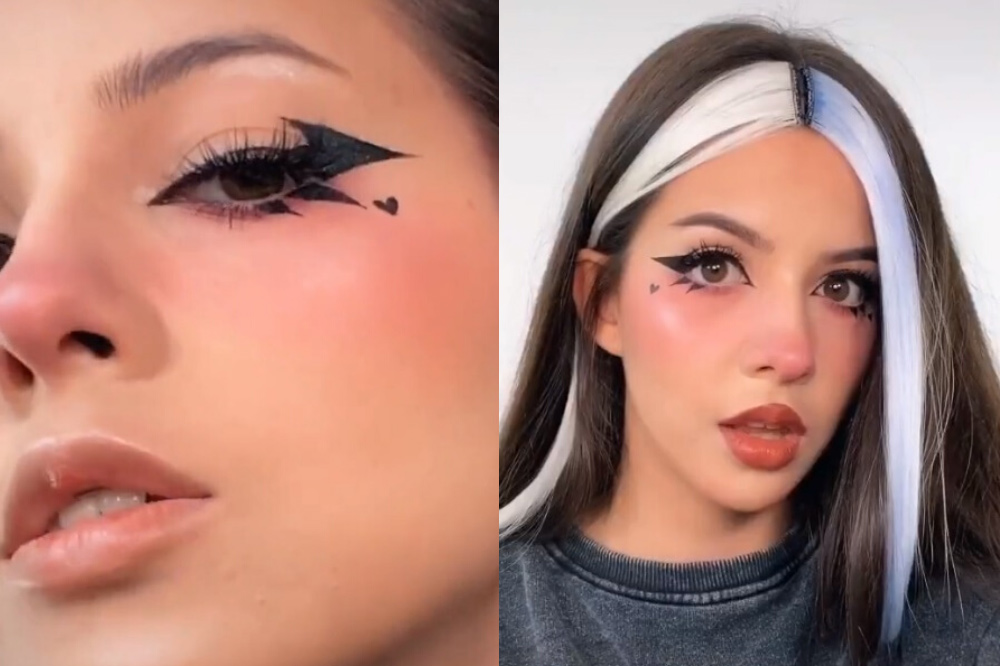 Source
E-girls are part of an internet subculture that was birthed from Instagram and TikTok. Other than donning fits inspired by the '90s or early 2000s, the e-girl look is heavily influenced by emo makeup styles as well as the Japanese Igari "drunk" look. To put it simply, it's a look that combines heavy blush across the face and simple graphic eyeliner.
On top of the Igari blush, beauty influencer @charlottelooks owned her e-girl look with her take on another e-girl essential, thick graphic eyeliner. She completed the aesthetic with exaggerated drawn-on bottom lashes and a set of voluminous falsies. 
8. E-girl makeup: Neon eyeliner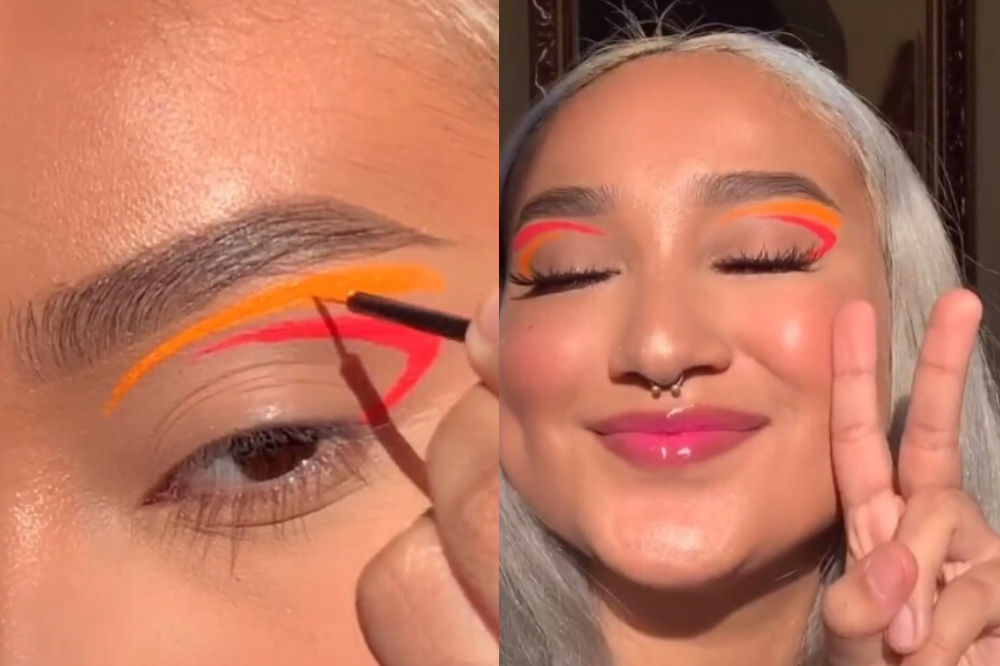 Source
You can take your eyeliner to a whole new level by incorporating coloured liners with more complicated graphic designs to give your look extra edge.
E-girl @cutcreaser amped up her look by adding neon orange and pink graphic eyeliner. Pink blush, a cool pink lipstick and pink-tinted lip gloss kept her look cohesive.
9. Glitter eyeshadow: Liquid glitter eyeshadow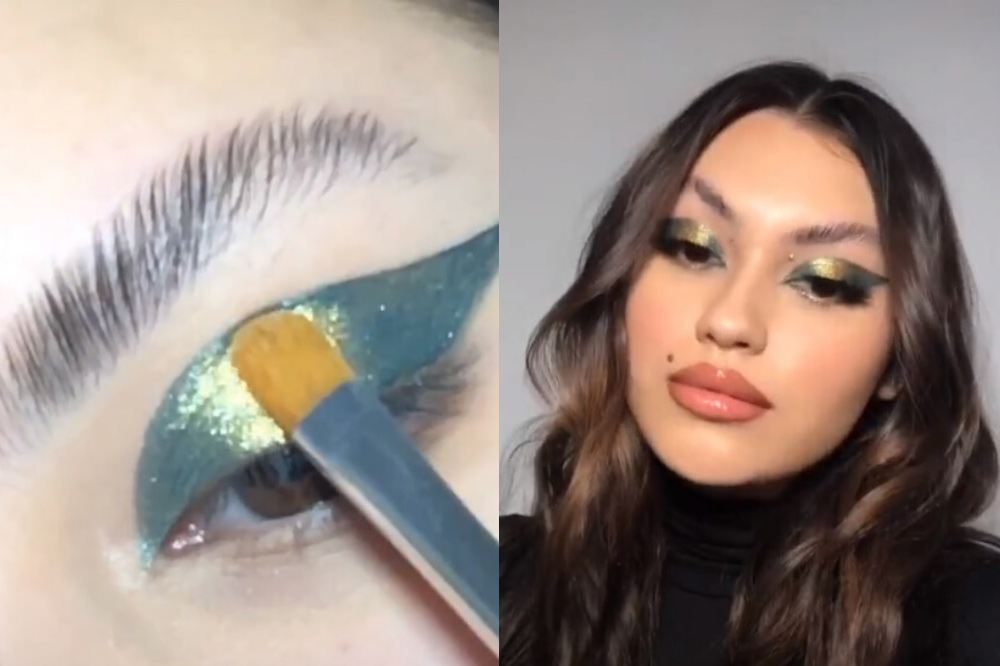 Source
Glitter eyeshadow may seem daunting to pull off but it's the exact opposite. If you have liquid glitter eyeshadow, it's actually a stress-free way to glam up with just a little product. 
@margiezank showed how easy it is to get a precise winged eye with the doe-foot applicators you get in liquid glitter eyeshadows. Since she worked with two pigments, she used a flat brush to pat on the gold liquid eyeshadow to avoid applicator contamination. It's also good to note that she kept her brows gelled upwards without filling them in so as to keep the focus on her eyes.
10. Glitter eyeshadow: Using glitter gel and rhinestones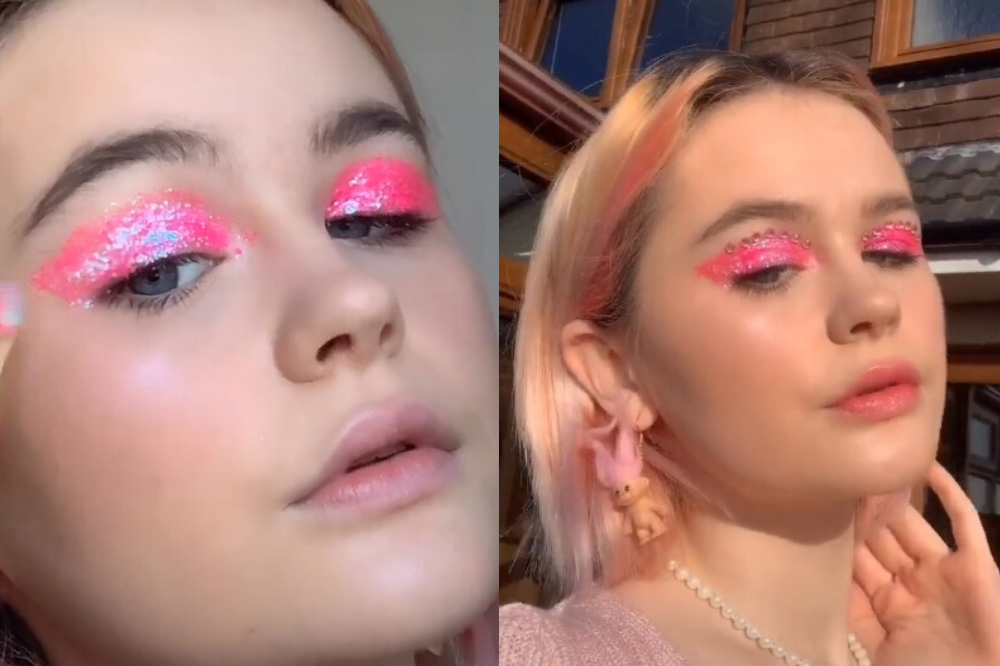 Source
If you don't own liquid glitter eyeshadow, a glitter gel works wonders on top of eyeshadow pigment. Just be sure that you're using a glitter gel that's safe on the eyes. To take this look up a notch, get your hands on nail art rhinestones and eyelash glue, and bedazzle those eyelids.
@ellieaddis applied the glitter gel on top of eyeshadow with a flat brush to build the intensity of the glitter without adding too much product. To keep the look consistent, the cool-toned glitter she chose complemented the neon pink eyeshadow. She finished the look by sticking on some pre-glued rhinestones to the crease she made with the eyeshadow.
11. Smokey eyes: Blending out an intense black outer "V"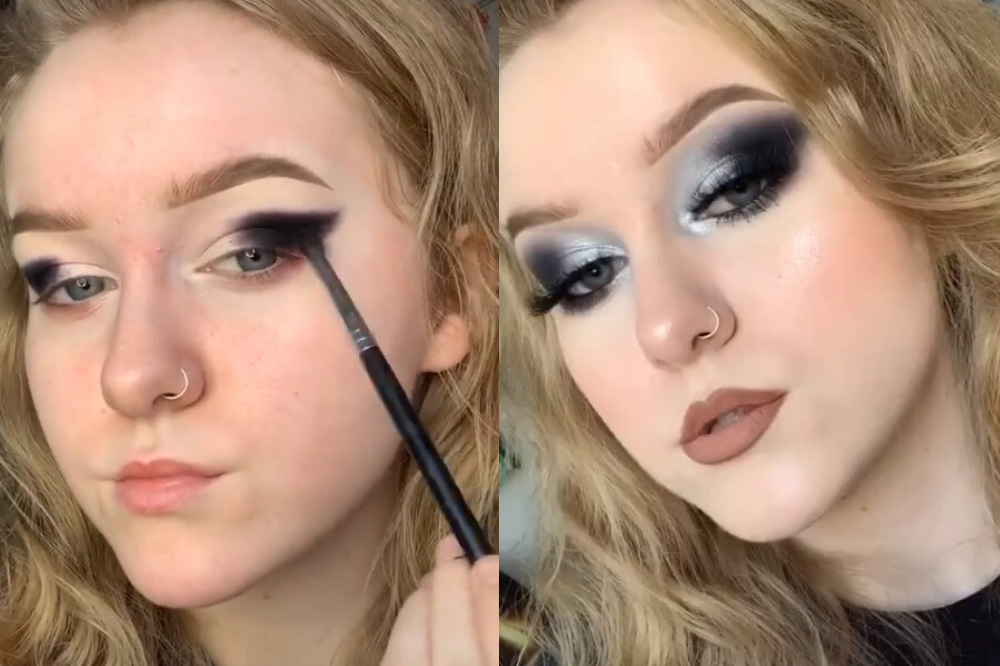 Source
Smokey eyes may seem intimidating to attempt but these TikTok makeup tutorials prove that it's a quick way to get sultry-looking eyes. Instead of smearing black eyeshadow all over the lids, place the eyeshadow in strategic areas to lengthen and give dimension to the eyes.
It's honestly hard to pull off a stark black outer "V". However, with a good transition colour, it's easy to blend out the black into a grey gradient, like how @maddyharmss did it. After mapping out the outer "V" with black, Maddy used a dark grey eyeshadow to slowly create a seamless gradient to help transition into the silver shimmer shadow later.
12. Smokey eyes: Black gel eyeliner as a base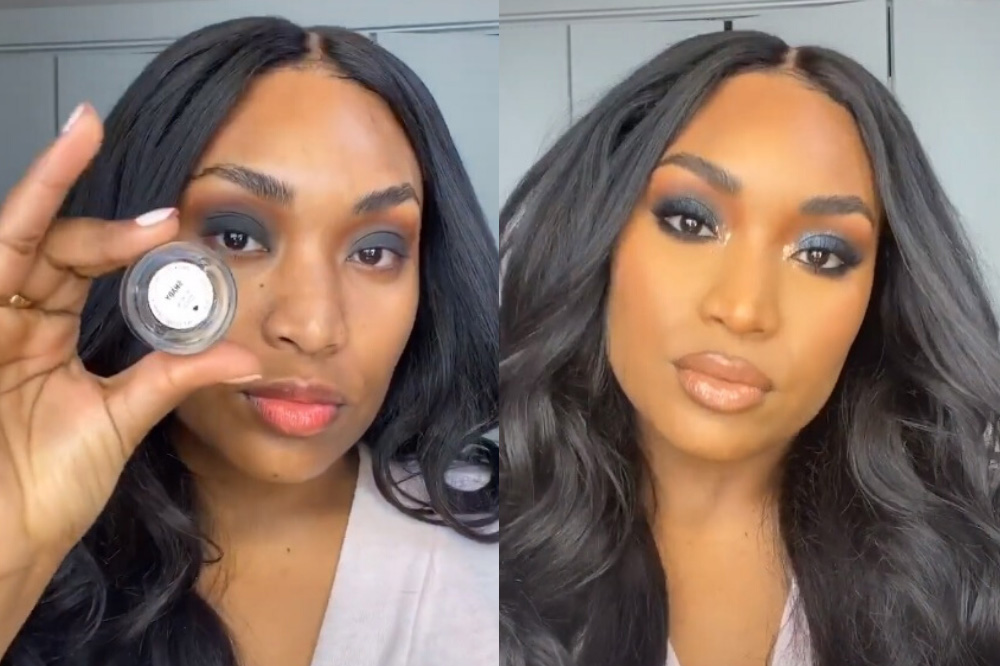 Source
If you like your shimmer shadows to have a darker tone, you can lay a black gel eyeliner over the lids before patting the shimmer on. The liner also acts as a tacky primer for the shimmer to stick on better.
@irisbeilin used her gel eyeliner to intensify her black shimmer eyeshadow. Similar to Maddy, Iris opted for a transition shade to blend into the crease, making the look less in-your-face. Lastly, she lined her lips with a lip liner close to her original lip colour and added a gloss topper to accentuate the lips lightly.
For those who swear by doing foundation before the eyes, add a layer of translucent powder under the eyes. It's not necessarily baking but it's to catch any excess eyeshadow fallout that might smear on your foundation. Once you're done with your smokey eye, gently flick off the powder away from your face with a powder brush.
These Easy-to-follow Makeup Tutorials Are Perfect For Beginners
It doesn't hurt to look good on a Zoom call or when you're trying out virtual dating ideas with bae. You could even gather your friends for a cute GRWM sesh. And after this Circuit Breaker season is over, you can apply your new-found skills to future looks too. 
Cover image: Source, source, source
Also read:
8 Lesser-Known Superfoods That Will Easily Give You 10/10 Skin