Making Good First Impressions Online
Ever since we've been thrown into this pandemic, a huge part of our lives has been shifted online. Especially when it comes to work, there's no way we can attend an important online meeting with our bed hair and pyjamas, no matter how comfortable work-from-home may seem.
After all, first impressions still play a key role when it comes to meeting clients through online meetings. For those who are struggling to find the perfect balance between comfort and professionalism, we spoke to 6 women to share some useful tips with us. 
Whether it's matching your top to your background or making use of a good skincare routine, read on to pick up tips that will ensure the ultimate WFH glow-up.
1. "Clients tend to be nicer or more willing to hear you out when they can see you"
"I'm working in the media publishing industry and as a project manager, I often have virtual meetings with clients around 2 to 3 times a week. Honestly, during this Zoom era, I prefer meeting clients online because that means only the top half of me has to look presentable.
I think the most important tip is that if you have the rest of your team with you on the call, you should properly introduce who's who in the call. This way, no one is awkwardly left out. 
I learned that clients tend to be nicer or more willing to hear you out when they can see you. Besides, having your camera on tends to encourage clients to have theirs on too. This means that you can judge their body language when you're sharing — it can help you mentally prepare for what to do next. 
I do believe how you look matters [when it comes to first impressions], but more so of how you present yourself. Having no confidence even when you have a full face of makeup doesn't exactly help your case. 
Skincare is more important than makeup. Having a good base and complexion means even without makeup you can look presentable. Every morning before work, I normally cleanse my skin with a foaming face wash, use a BHA toner to get rid of any other impurities, followed by a hydrating moisturiser to lock it all in."
— Clarice, 24
2. "I will ensure that I have makeup on and wear a presentable top"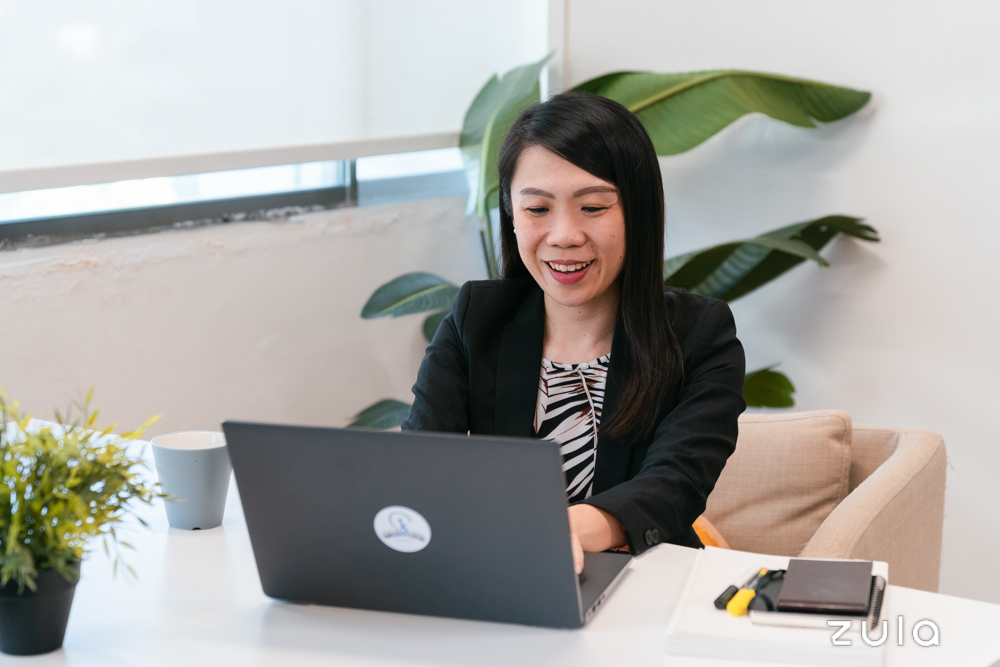 "As someone who works at the front desk, I meet clients via phone calls, face-to-face and online meetings every single day. I am also a people person, so meeting clients is something I genuinely enjoy.
First impressions definitely matter. As we are human, we are very visual and judge others by how they dress, communicate, and how they look at us. For all my online meetings, I will ensure that I have makeup on and wear a presentable top. This is a part of respect for the other parties who are online. 
I've learned my grooming tips from influencers and celebrities online. Looking good plays a big part in presenting a good impression. To me, having a good skincare routine is important as the glow will show on your face. The products that I am using now help with my dry skin and bad eyebags.
While I would also love to explore aesthetic clinics, they are way too costly and time is not on my side as work and part-time school are pretty busy for me."
— Kaitlyn, 40
3. "Inform clients if it's a camera on or off situation so they won't be caught off guard"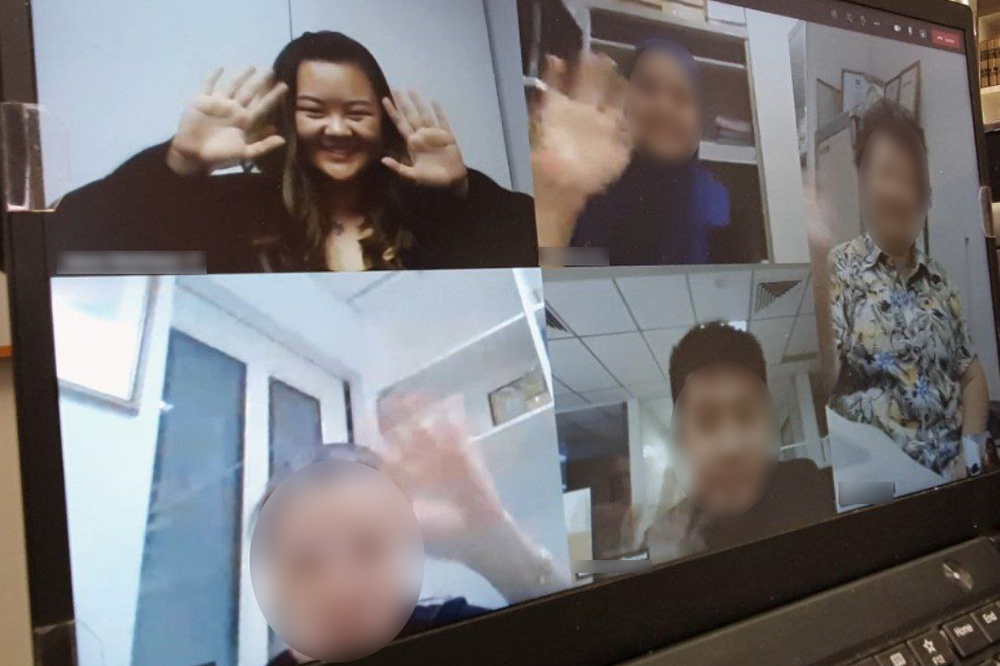 Melissa in a meeting with her clients
"I work in the hospitality industry and meet online clients almost every single day. It doesn't matter whether it's online or in real life, but if you are meeting a client it is basic respect to be well-groomed. You shouldn't short change your clients just because we can't meet face to face. 
Logistically, the things to prepare online are actually more than onsite appointments. Apart from the physical product or presentation slides, you have to prepare the online conference right to make sure that the message is clearly sent across.
Before the meeting, inform clients if it's a camera on or off meeting. Some clients are not comfortable being on camera and are more appreciative as they don't get caught off guard. Also, be early for the meeting to have your webinar room set up. That way, you don't waste their time on any technical difficulties which you may have solved before they arrive in the "room". 
Looking good is always a plus. I think keeping your face clean is important even though I don't use facial products much. Presenting yourself as confident is most important as it will be translated to clients as well."
— Melissa, 27
4. "Send pre-reads in advance so that people can ask questions efficiently"
"I work in the media industry and meet clients online weekly. Overall, regaining more control of time helps me stay relaxed and focused, channelling that into mental preparation on what to discuss later. 
There is a need to double up on efforts to engage the attendees online. My advice would be to send pre-reads in advance so that people can come into the meeting to ask questions, clarify the information and make decisions efficiently. As the meeting organiser, I always aim to keep the meeting personable.

Making an effort to look presentable while coupled with being highly organised goes into building your credibility. It shows that you can be entrusted with what they've signed up with you to achieve. Someone showing up visibly unkempt draws more attention. People may not take you seriously and you might potentially self-sabotage what you set out to achieve in the meeting.
Similarly, skincare routine is part of reasonable efforts to be presentable. Depending on my skin condition, I use products for sebum control, to manage breakouts, minimise pores and address dull skin. I haven't quite used aesthetic clinics as there is a need to commit to a costly package and I also do not have enough time. The skincare routine has to be simple and not time-consuming, since I have three young children too."
— Nirelle, 40
5. "It will definitely help if you have good, glowing skin so you look fresh and ready"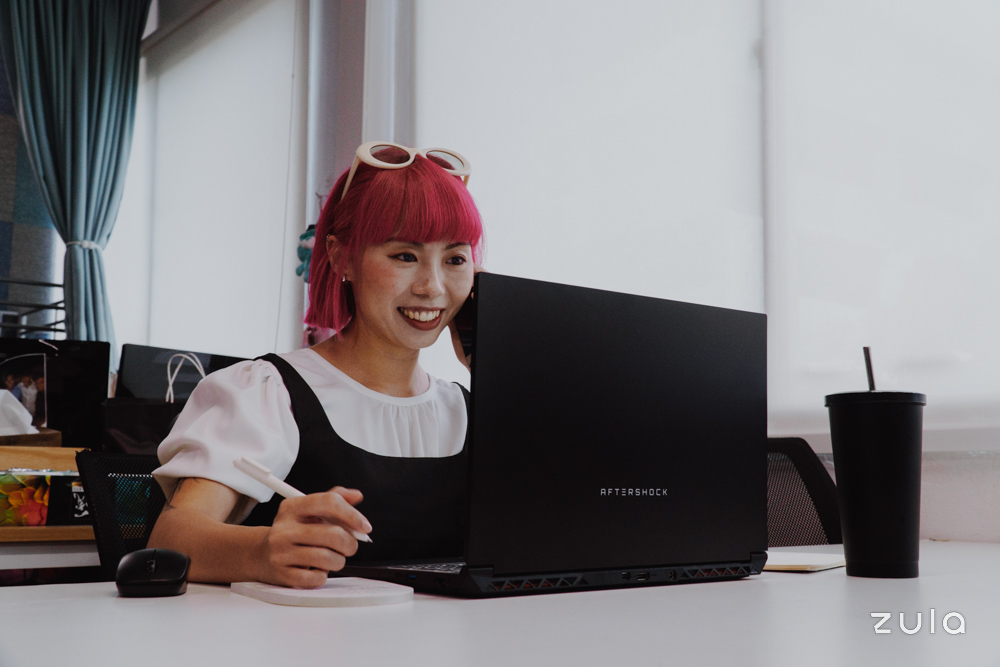 Steph in her usual makeup look for online clients
"As an account executive and project manager, interacting with clients is the main bulk of my job. But due to Covid-19, most communication has moved to email, text and online meetings. 
I'm quite image-conscious and I always believe it is important to look presentable to clients. If I'm working from home, I would change out of my pyjamas into a simpler outfit than if I were to meet my client in real life. 
My biggest tip is to turn on your camera. Clients will feel more assured if they can put a face to the name they have been interacting with over email or text. 
Make sure you look fresh and wear a lip tint or lipstick so you don't look "sickly". I would even consider what kind of clients I'm meeting with and will customise my outfits and make up looks accordingly. 
As the saying "love at first sight" goes, people tend to judge based on what they see first. I also think that it will help if you have good, glowing skin so you look fresh and ready to take on the world! I use skincare products that are hydrating, brightening and can reduce fine lines and puffiness. I even use a quartz roller to make sure my skin absorbs all that goodness."
— Steph, 33
6. "Match your top with the background chosen"
"I'm in the digital and tech industry and I meet clients online almost every day. Since I'm also a recent pandemic hire, I've actually never met my clients before in real life. 
I prefer to go to work bare-faced, so there's not too much of a difference for me when it comes to meeting clients online. My team and clients are generally more chill when it comes to online meetings. 
To me, lipstick is the most important thing for online meetings. I'm a believer of not having to put on a lot of makeup if your skin holds up. I prefer to spend money on skincare rather than makeup. Also, a good necklace would help to brighten your appearance too. 
Try to match your top with the background chosen. If your background is dull, put on a brighter colored top. Or, if you're feeling brave and willing to go without a background, be sure to ensure it looks neat and tidy.
The way one looks affects the first impression to a certain extent, but with a client presentation, it's more for formality and professionalism. As skincare is always important, I also visit facials and spas once every few months."
— Jane, 27
Impress Your Clients With Unnie K-Shop's Advance Korean Home Skin Care Routine
After hearing about these useful tips from women who often have to deal with clients online, it's clear to see that there's one key tip that they all share: skincare. Despite being viewed through the fuzzy camera on our laptops, our appearance ultimately still plays an important role — almost as important as meeting the client in real life.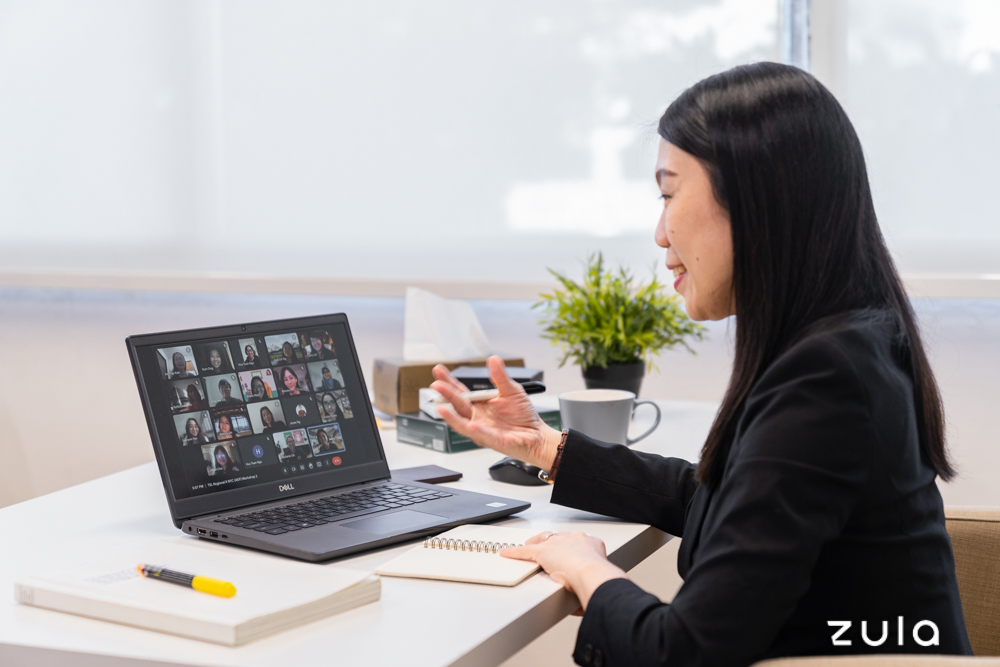 As some of these ladies have mentioned, going to aesthetic clinics is also something that they've considered, yet their busy schedules have not allowed them the time to do so. As a relatable concern that many of us share, now is the best time to make use of the small pockets of time at home to embark on a new skincare journey.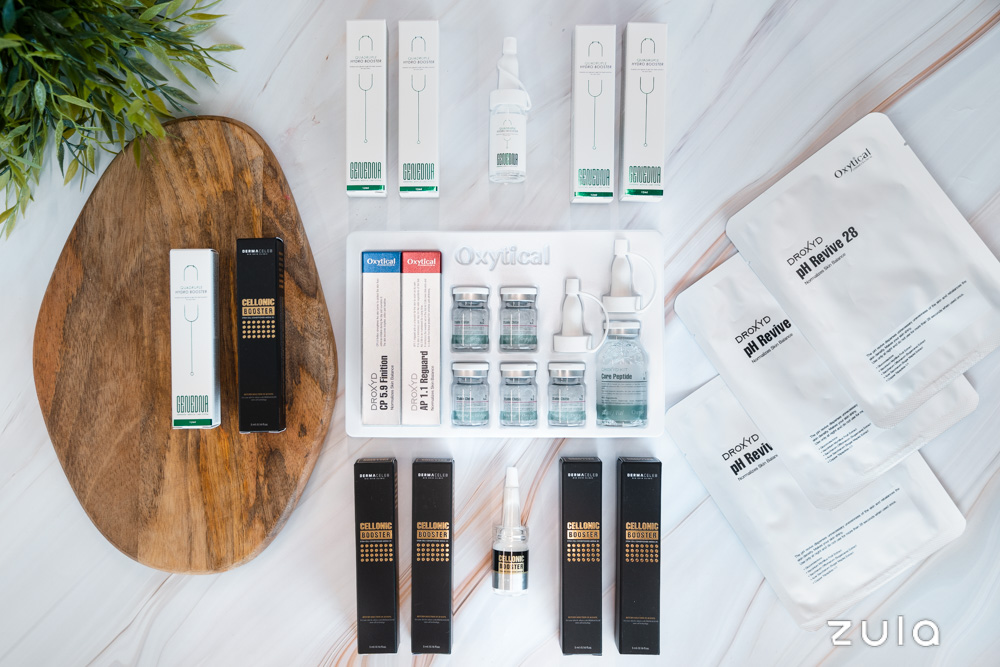 Unnie K-Shop provides advanced Korean home skincare routine sets to help you achieve aesthetic clinic-like results from your home. Instead of having to put in the extra mile by leaving your house, now you can sit back and relax — all while knowing you're preparing yourself for your next online meeting too.
Oxytical Droxyd Kit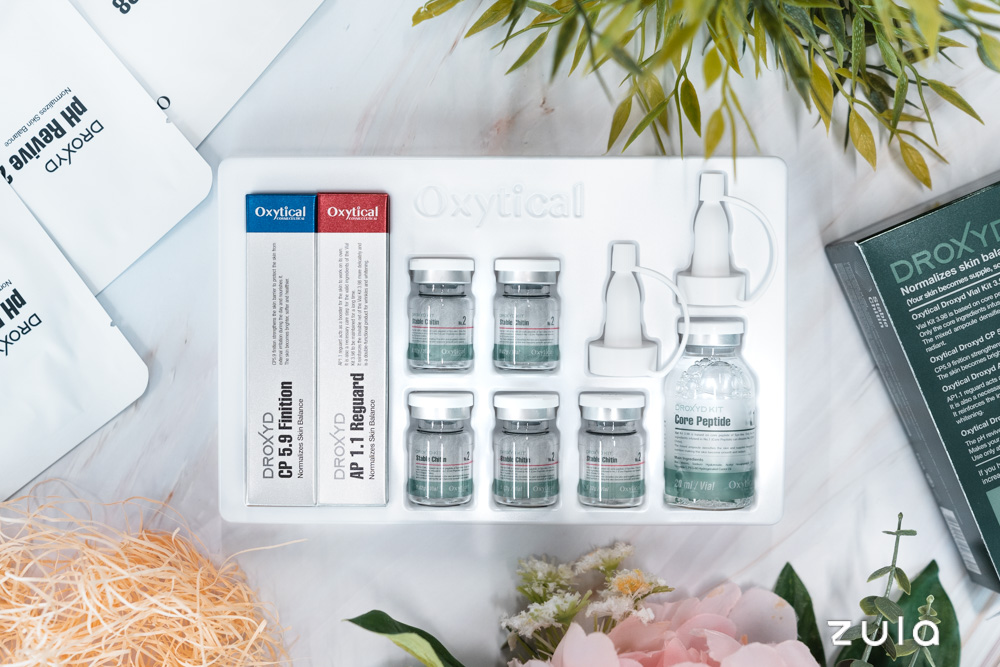 As part of their skincare routine set, the Oxytica Droxyd Kit is the go-to for those suffering from skin stress. If you're known for being an OT queen during this period of WFH, the Oxytical signature Vial Kit, CP 5.9 Finition Cream and AP 1.1 Reguard Cream can provide lasting effects to the skin through day and night.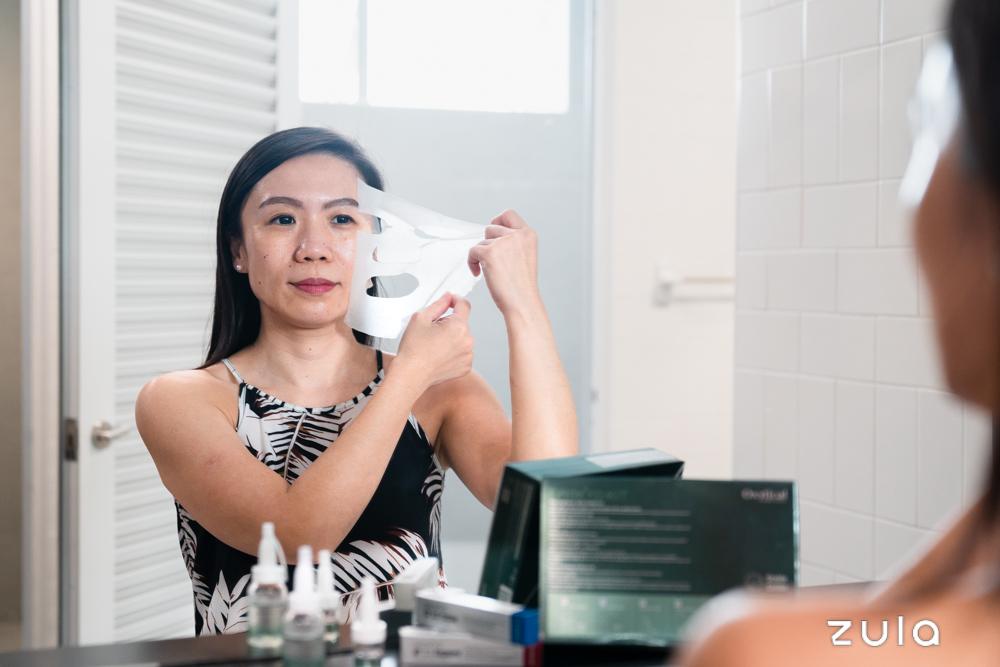 3 sheets of pH Revive 28 masks are also included in the Oxytical Droxyd kit, so you can treat your skin to a cooling soak right before your next meeting starts. The kit is retailing at $308.
Dermaceleb Cellonic Booster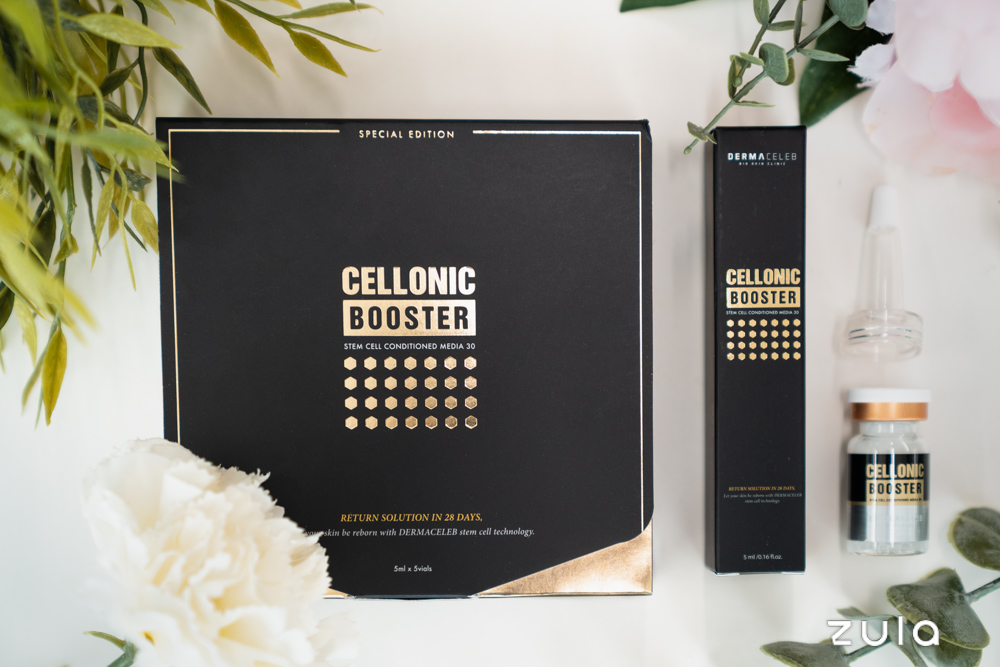 The Dermaceleb Cellonic Booster is created for ladies who are looking to regenerate their aged skin, containing a whopping 300,000ppm of stem cell conditioned media. For those who aren't skincare junkies, this means that it can restore the natural vitality and health of the skin by protecting the cells from the inside.
Rejuvenation for ageing skin will definitely appeal to those who emphasise a youthful glow – think Captain America looking way younger than his actual age with smooth and flawless skin. The booster set is available at $358.
GeneDNA Quadruple Hydro Booster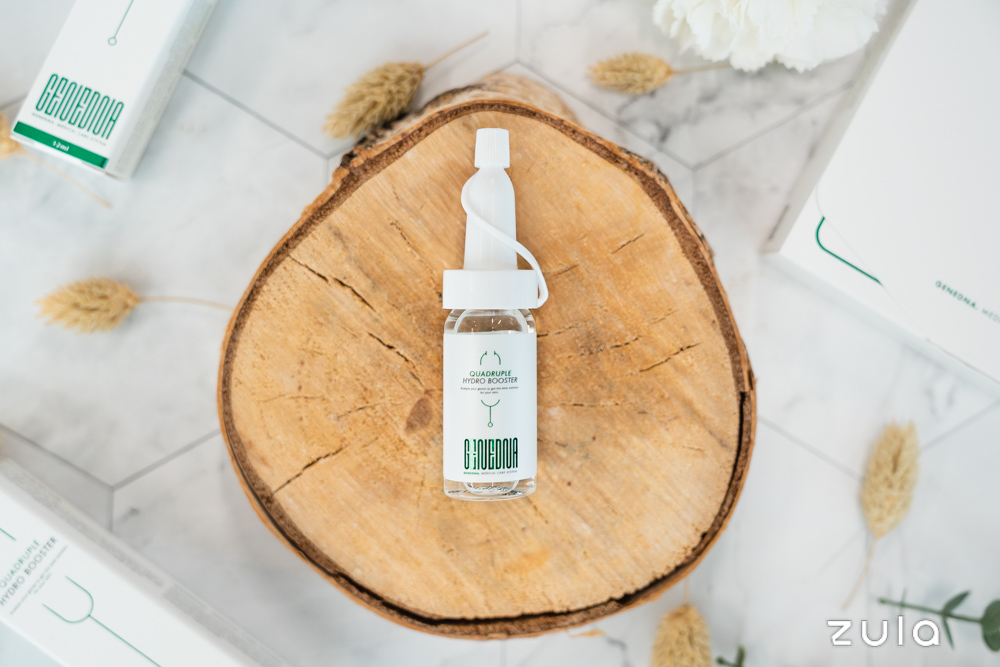 Everyone knows that you can never have too much moisture for your skin. Finish off your skincare routine with the GeneDNA Quadruple Hydro Booster, a medical-grade concentrated serum that supplies intense moisture deep into your skin. The serum comes with 8 different molecular size hyaluronic acid ingredients, ensuring your skin feels gentle and soft. 
Radiant and elastic skin that can be seen even through a video call? Sign us up. The serum is retailing at $98.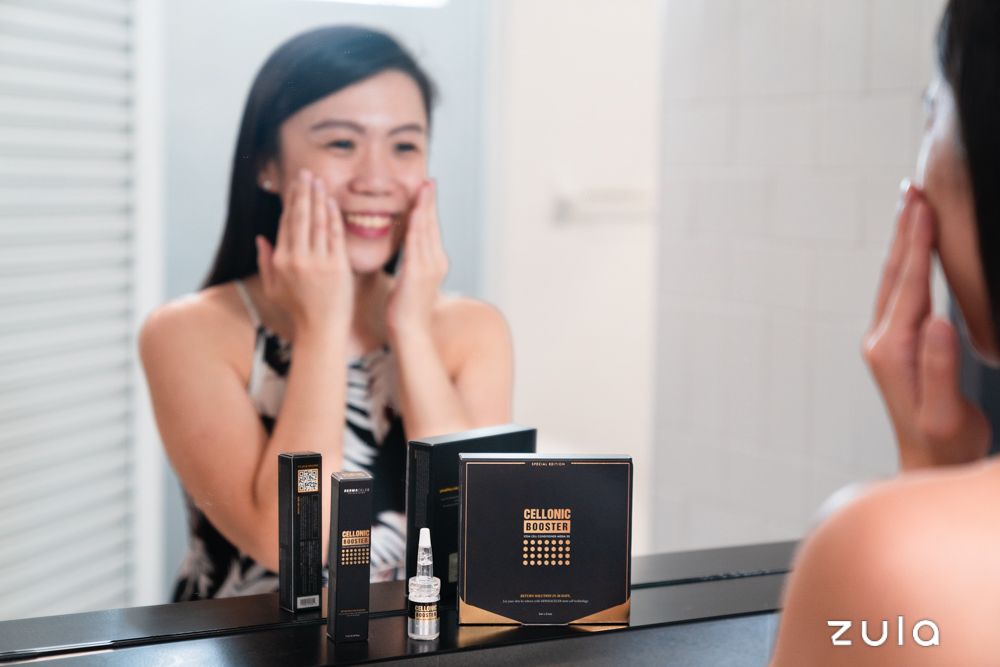 Skincare should never feel like an everyday chore. Rather, it is an important part of your daily self-care routine to get you refreshed and ready to take on any clients or meetings coming your way. 
There's no better way to get started on a new skincare journey than with Unnie K-Shop's range of products. These highly concentrated and effective products are the same ones that are used by aesthetic clinics in Korea. To get you started on your next level beauty treatments at home, Unnie K-Shop is also offering a 10% off discount on minimum purchases of $150 with the promo code <ZULA10>. This will be valid until 31 January 2022. 
No need to scramble to book your next aesthetic clinic appointment anymore — you can achieve just as much with these simple skincare techniques in the comfort of your own home.
This post was brought to you by Unnie K-Shop.
Responses have been edited for clarity and brevity.
Product photography by Li Haiyang.