CLOT x McSpicy Collection
The last time McDonald's China got us Singaporeans green with envy was earlier this year when they dropped an exclusive mahjong set. Now, they are back with a streetwear collection with Chinese fashion brand CLOT that centres around their popular menu item – McSpicy. Read on to find out more about the limited edition merchandise. 
Tops
For the unacquainted, CLOT recently hit their 20th-year milestone. To celebrate the occasion, the fashion house has released their CLOT x McSpicy collection, which features Silk Royale prints that pay tribute to Chinese heritage. 
Greeting us with bold, red patterns and dragon motifs, this black shirt is designed with McDonald's iconic logo on a breast pocket alongside red and white stripes that circled the top. 
Unlike shirts with standard buttons, this design takes inspiration from traditional Chinese costumes like cheongsams that feature Chinese knots instead. 
Yes, we know that the next Lunar New Year isn't happening any time soon, but hey, there's no reason why you can't get ready early for the festive season. KIV this red shirt when you go bai nian next year.
Injected with CLOT's Silk Royale patterns, the shirt also features a breast pocket with McDonald's logo. Compared to the aforementioned design, this one comes with white and yellow stripes, which are the colours found on the fast food brand's logo. 
Wet weather days in Singapore are the perfect occasion to nua at home ‒ stay warm and snuggly with these hoodie sweaters in black and red. Since these sweaters are branded with a yellow McDonald's logo on the front, they are an excellent way to express your love for the fast food chain. 
Flip them around and you'll find an eccentric illustration of McSpicy with a rooster crown and legs. The Silk Royale patterns also make an appearance in white on the right sleeve. 
Bag
Complete your ensemble with this tote bag that is in no way subtle about the McDonald's branding. The letterings of McDonald's are smacked near the bottom of the bag, and on the handles in yellow. Similar to the other items in the collection, the CLOT's Silk Royale patterns repeat on the bag.  
Since this bag also has handles of different lengths, experiment with your look by carrying the bag with your hands or on your shoulder. 
Cold cup
Play your part in contributing to greener living when you bring this cold cup to dapao drinks. The adorable drinkware lets you go hands-free when you suit up the cold cup with a red cup sleeve and a yellow strap with letterings that read McDonald's. 
Pro tip: Sling the cold cup across your body for extra swag factor. 
Special packaging
Apart from the exclusive fashion collection, McDonald's China has also replaced their usual food wrappings, tray sets, and cups with unique ones adorned with CLOT's Silk Royale pattern.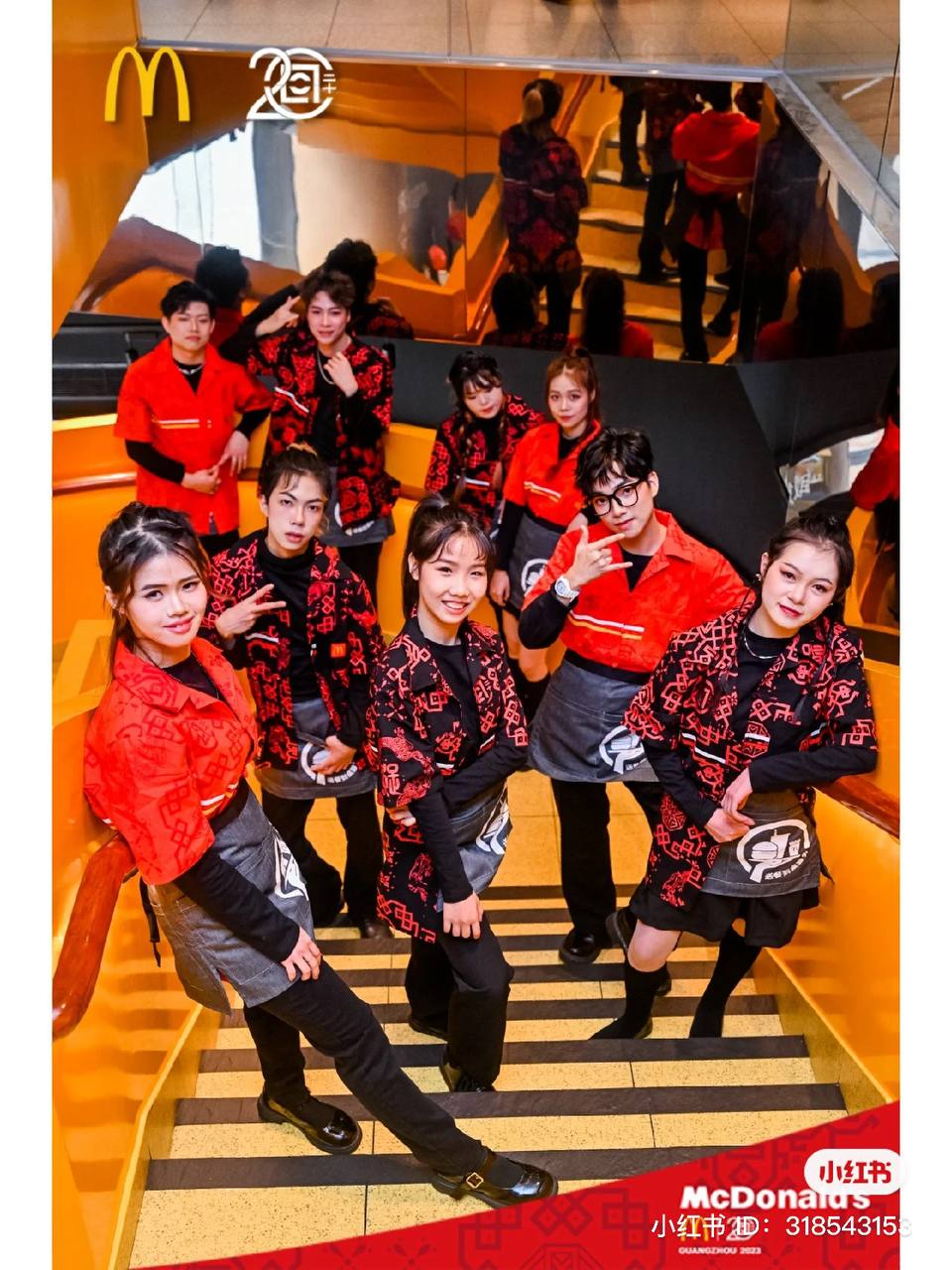 McDonald's staff dressed in the CLOT x McSpicy collection
Source
What's even more amazing is the fact that selected outlets in China will also feature their staff wearing the CLOT x McSpicy collection. This means you get to draw style inspiration from them while they serve you your order. 
Satisfy Your Style & Cravings For McDonald's With The CLOT x McSpicy Collection
Good news to those who are keen on purchasing the CLOT x McSpicy collection. According to McDonalds, they plan to make the collection available to the Asian region, which means there is a high chance that they will come to Singapore soon. 
While we wait for more deets from the fast food chain, check out these upcycled McDonald's uniforms. 
Also read: 
This Model Customised The McDonald's BTS Meal Into Face Masks & Lingerie So You Can Be The Snacc Instead