Trying A Morning Ritual
With work-from-home remaining the norm for now, many of us are used to hopping straight into a Zoom meeting while still in our pyjamas. But this also means work-life balance becomes blurred, since many of us don't take the time off to focus on our physical and mental health. As a result, the hype of morning routines are on the rise, with many looking to find a perfect balance at home.
As someone who understands how draining it feels to sit at a desk from 9 to 6 every day, I've been craving for some change to improve my lifestyle. Over the course of a week, I decided to try out a 5-step morning ritual every day to see if it was worth the hype in making a difference. These simple steps were as basic as stretching, to trying out trends like massaging my face with a jade roller.
1. Stretching after waking up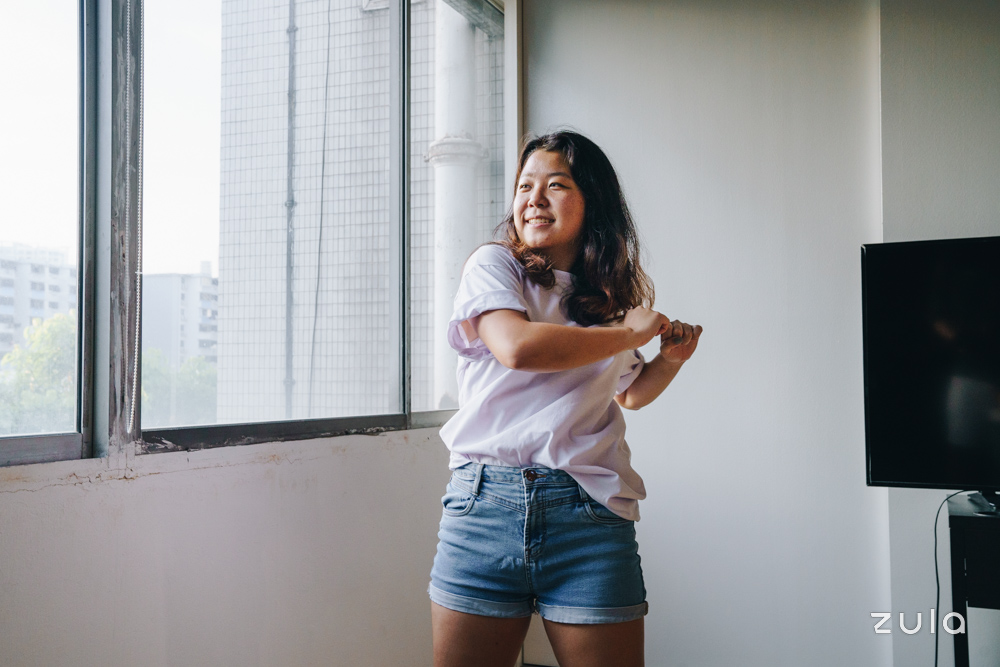 I've done sports throughout all my years of school, so most people are surprised to hear about how inflexible I am. I've even failed my sit-and-reach test in JC and had to redo it — so claiming I don't enjoy stretching is an understatement. 
Ever since I graduated, there's an even lesser incentive for me to stretch. My body has become stiff regularly, especially since I'm in WFH mode. I decided to start with some light stretches that I found online, spending around 15 minutes each day stretching my body on a yoga mat.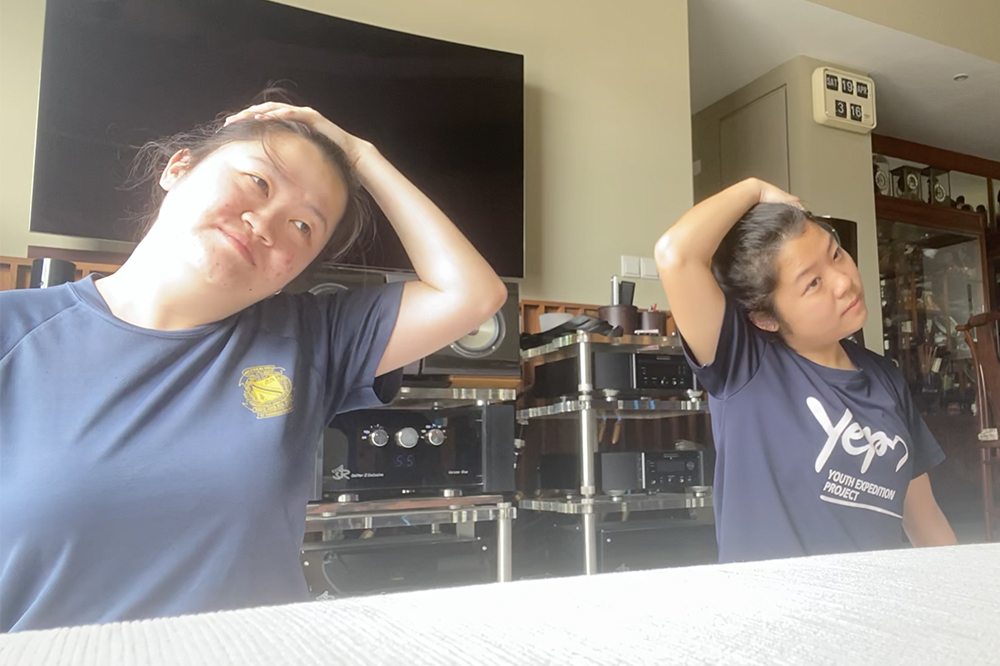 My sister and I stretching during breaks 
First impressions: it felt really beneficial to get my heart pumping and blood flowing. The loud "crick" sounds in my back only served to remind me that my body was thanking me as well. Still, it was quite tough for me to keep up with doing morning stretches by myself, so I got my sister to join me. If you're looking to try this out yourself, having a companion is a huge motivator. 
Verdict: 8/10. Starting my mornings with stretching significantly reduced the pressure I would often feel on my neck and back from sitting for too long. By the end of the week, I also got used to stretching whenever I took breaks in between work. 
Now I finally understand why elderly ladies like to go to the park to stretch at the break of dawn. The only downside is that I'm still as inflexible as ever, so I'll have to learn not to push myself too hard so as to avoid aches.
2. Embarking on an oral care routine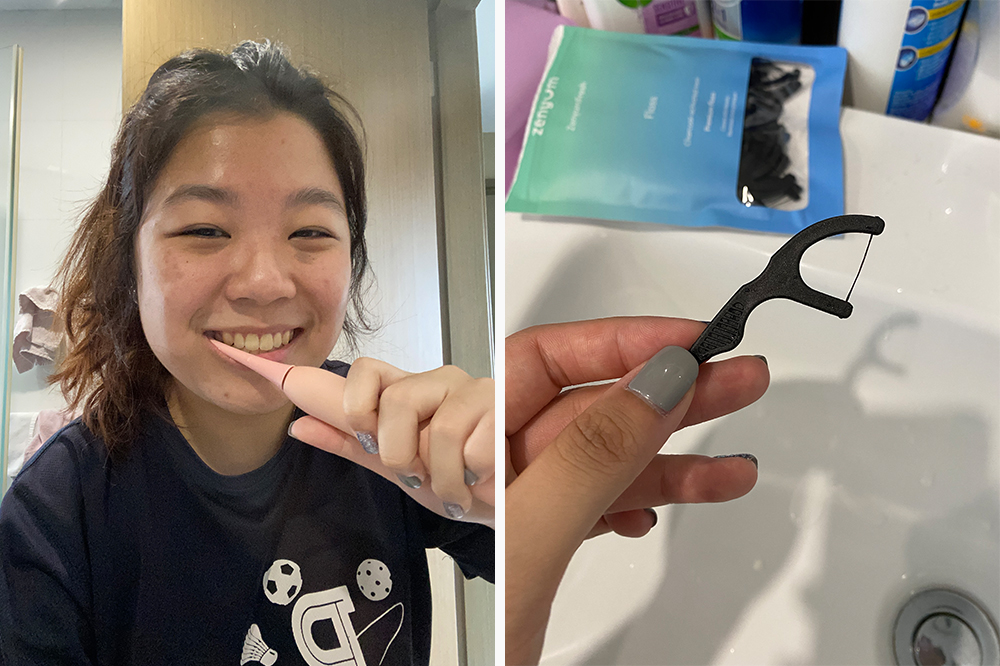 Everyone knows that oral hygiene is important. But honestly, beyond brushing my teeth twice a day with a manual toothbrush, I've never tried an oral care routine religiously. I decided to try out the New Smile Ritual pack from Zenyum, which consisted of an electric toothbrush, 2 toothpaste tubes, a mouthwash and a pack of dental floss. 
It was my first time using an electric toothbrush so I was admittedly a little nervous. The ZenyumSonic toothbrush had 3 settings: clean, gentle and white. I opted for the gentle option first and the buzz felt light and comfortable, even for someone like me with sensitive teeth. 
I'm sure most people, like myself, tend to use floss only when food gets stuck in our teeth. Every 6 months when I visit the dentist, I often get nagged at for not flossing enough. As such, I wanted to incorporate flossing more regularly into my morning routine too. The ZenyumFresh floss picks felt sturdy yet gentle on my gums, leaving my mouth feeling minty fresh all day.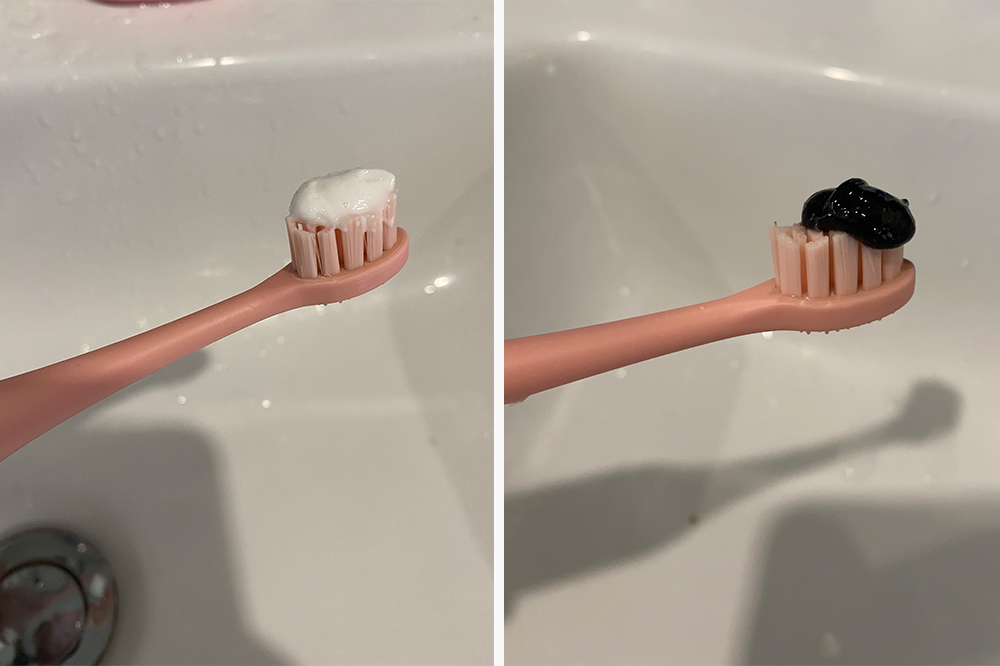 ZenyumFresh Day! Toothpaste(left) vs ZenyumFresh Night. Toothpaste (right)
I've only ever used one tube of toothpaste to get me through both day and night, so I was surprised to see that there were 2 toothpaste tubes labelled for the time of the day. Both of them smelled minty and felt smoother compared to other toothpastes.
I used the day toothpaste every morning, which came with an all-day enamel protection. My breath felt much fresher, if the brighter smile staring back at me in the mirror wasn't indicative enough.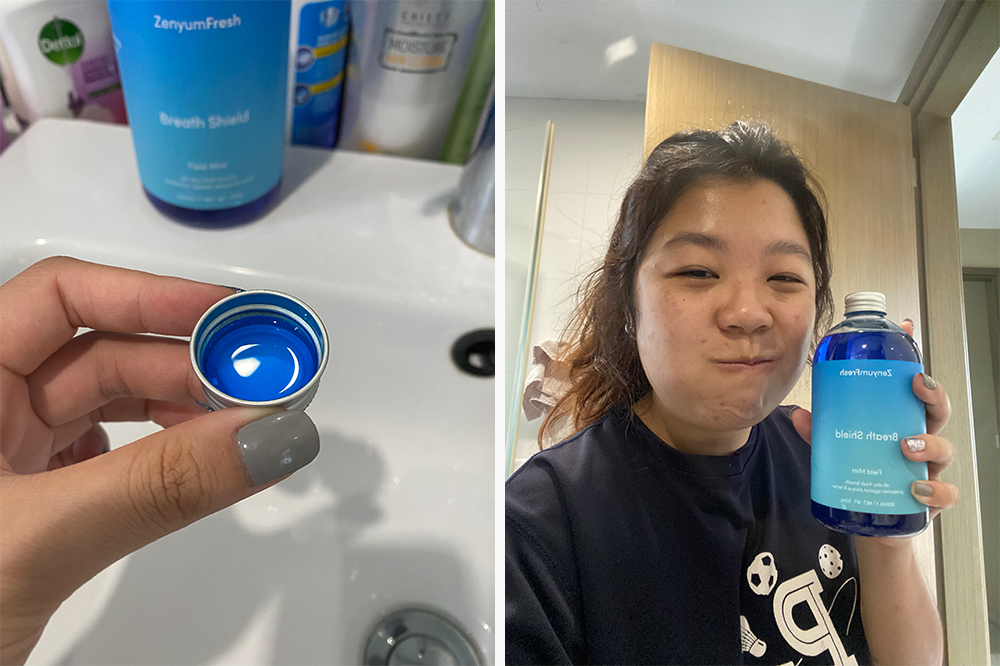 After brushing and flossing, I moved onto the last step of my new dental care routine: mouthwash. The ZenyumFresh Breath Shield reminded me of a magical elixir. Its cooling feeling reminded me of chewing on a piece of minty gum. I had to fight back the habit of rinsing my mouth with water after spitting out the mouthwash though, as the instructions advised against it for better results.
Besides leaving my mouth feeling brand new, my whole body was surprisingly refreshed and ready to start my day as well. It felt similar to taking a long, relaxing shower in the morning, something which most of us don't have the luxury of time to do.
Verdict: 10/10. Not only did this feel like a self-care step to pamper myself, but I also felt like I had levelled up my oral hygiene. Going through this routine every day for a week was fuss-free and simple. Since brushing teeth was already a key necessity in my routine, taking on this new oral care routine felt like an upgrade from there. 
While most of my peers are into elaborate skincare routines, this step made me realise that getting into an oral care routine is just as important and rewarding. 
3. Massaging my face with a jade roller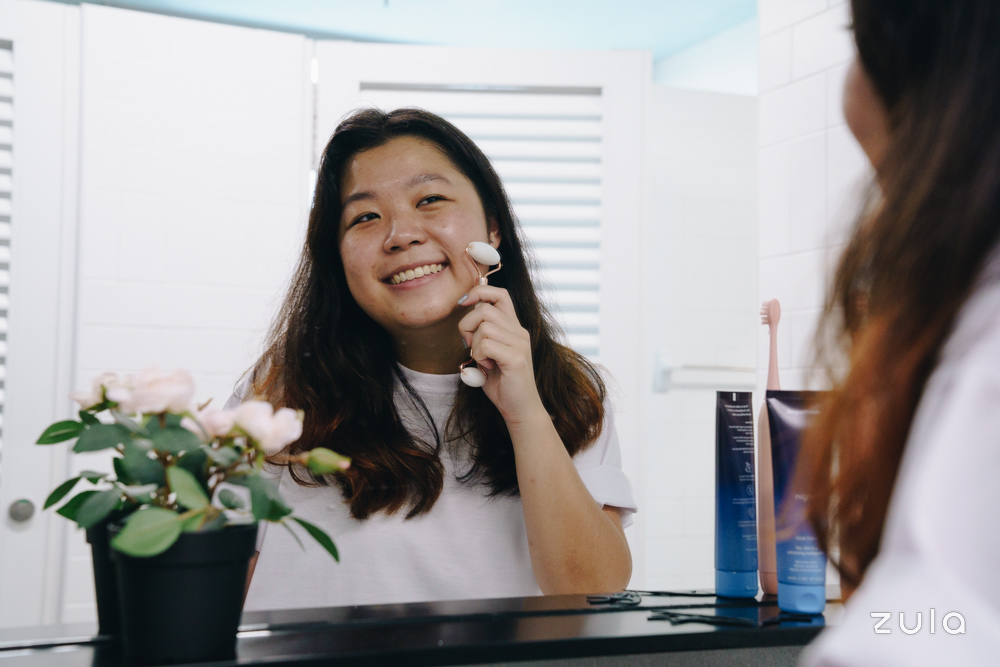 Jade rollers have been a skincare hype for a while now, with influencers preaching beauty benefits such as removing toxins from the face and reducing puffiness. When I first saw a jade roller, I didn't believe that there was any way this simple product could make my skin brighter and firmer. 
I used the jade roller as the last step to my skincare routine after facial cleanser, toner and moisturiser every morning. Though it did give off a gentle, soothing feeling that felt shiok on my skin, I couldn't really see much difference to my face after a week.
Verdict: 4/10. I'm honestly still not sure what a jade roller's true purpose is or if I was doing it right, though it did feel nice temporarily. Despite it not being physically or mentally beneficial to my morning routine, I think it's a novelty tool to massage my skin when I'm looking to unwind after a long day. 
4. Listening to self-help podcasts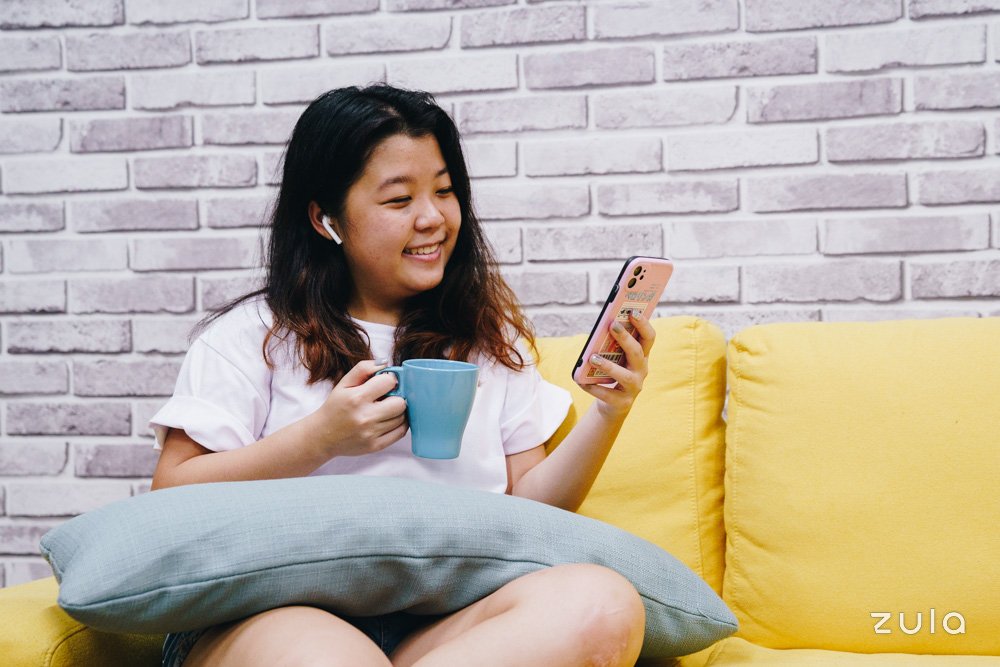 I'm more of a visual learner than an audio one, so getting into a routine of listening to self-help podcasts was one of the biggest challenges for me. Listening to music while working would be too distracting since I'd feel an urge to sing along, while meditation audios would just drift me off to sleep. Hence, podcasts helped to strike the perfect balance. I went for a podcast that had short sessions and focused on positive energy.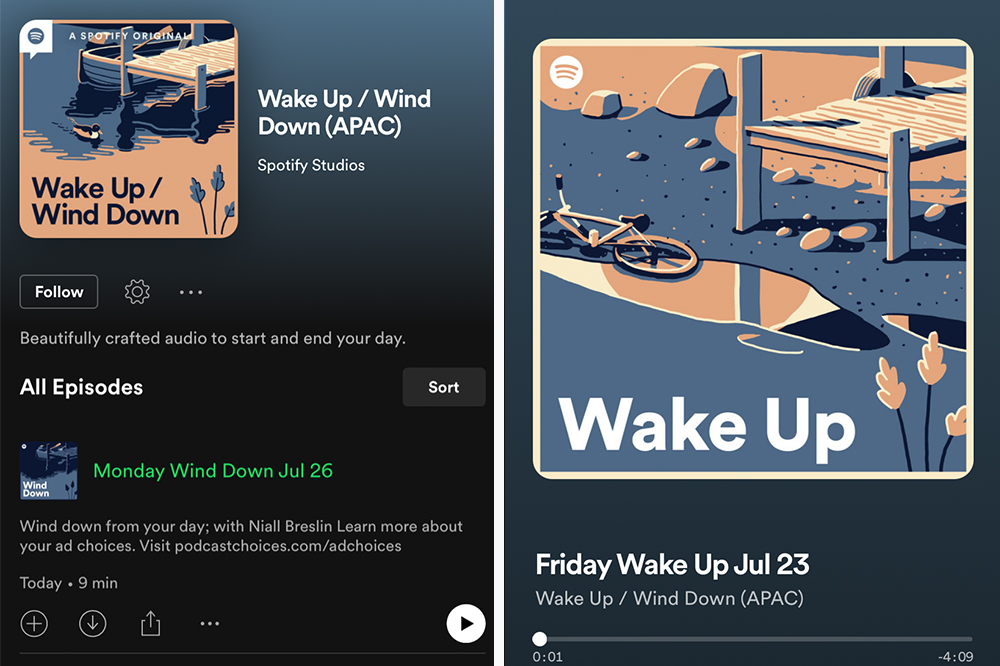 I followed this podcast on Spotify called Wake Up/Wind Down where a different audio was specially created for every day of the week. It covered topics such as learning to let go of negativity and picturing oneself in positive scenarios. My favourite part was the quote of the day, where the speaker would introduce a motivational quote to get you inspired. 
Verdict: 6/10. It felt therapeutic to take some time off in the morning for self-reflections and channeling positive vibes. The podcasts helped to alleviate some of the stress from work too. However, I still found myself getting distracted as I much prefer watching videos as opposed to listening. 
5. Burning essential oils while working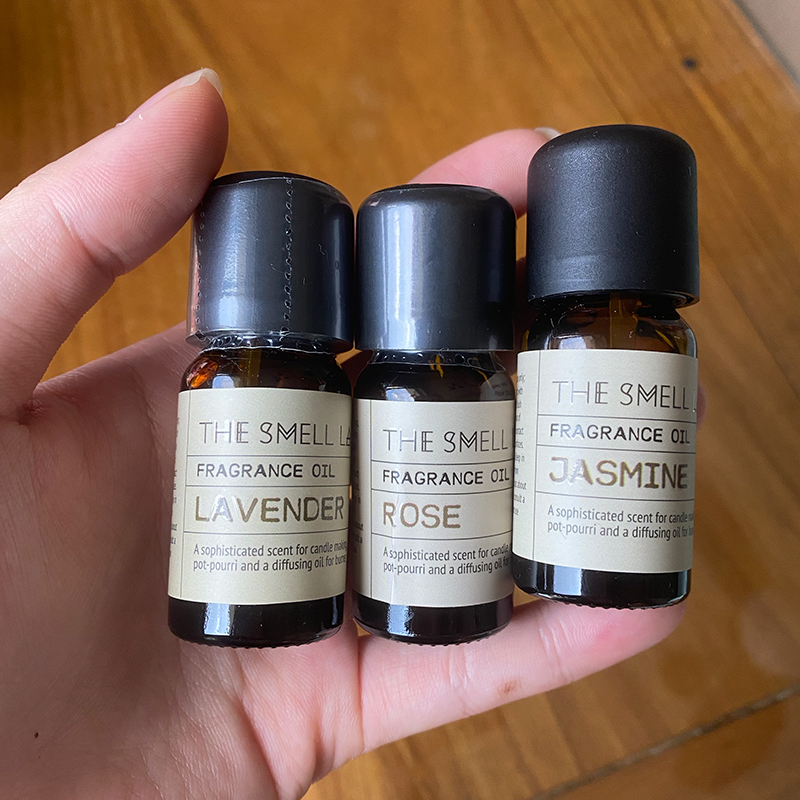 I received a diffuser as a gift a few months back, but I hadn't got the chance to try it out until I embarked on this 5-step morning ritual trial. I got a little too excited and ended up buying 3 different essential oils of lavender, rose and jasmine as they all gave off scents I wanted to fill my room with. Adding water and essential oils to the mix, I switched on the diffuser every morning for a week and let it burn while I was working.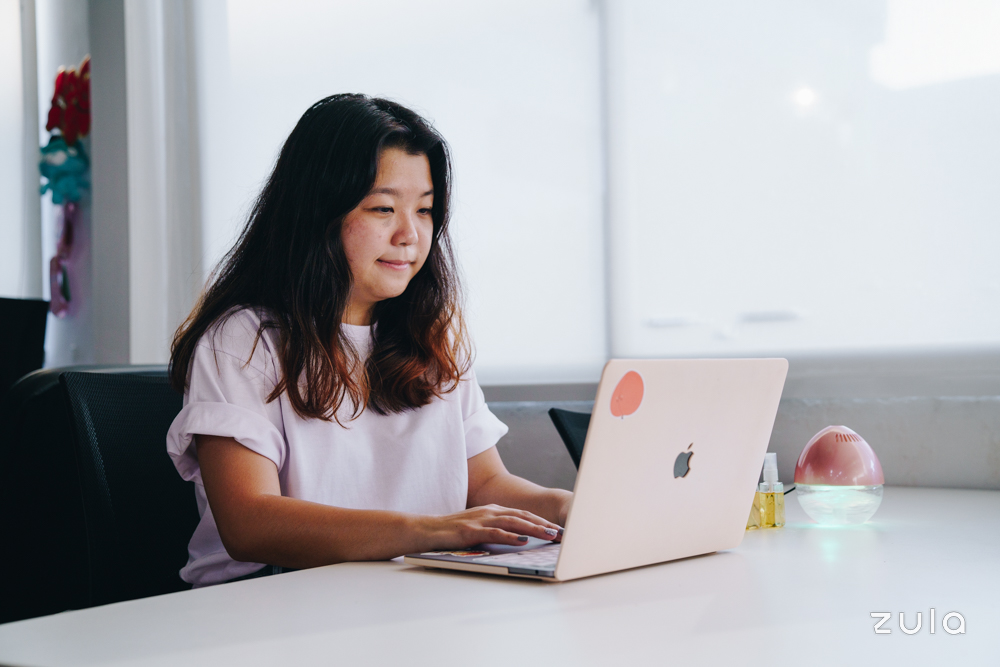 The gentle scents of the essential oils made me feel calmer and lighter, while the mist also added a good amount of moisture in the air. Though the weather was hot while I was working from home, my skin didn't feel dry at all.
Verdict: 9/10. I've never really thought much of aromatherapy, but now I'm a convert. I've heard that burning essential oils can also encourage better sleep and healthier skin, so I'll definitely continue to add this to my mourning ritual. 
Zenyum's New Smile Ritual Bundle 
Morning rituals are a great way to set control of how our day will go, giving us the power to start each one with renewed perspective and productivity. While there may be many suggestions online of different types of rituals to try out, it's important to find the routine that works best for you. 
With all the hype around morning rituals, I think it's safe to say that making a habit out of things that make you feel positive is a valid reason to keep it up. At the end of the week, I felt that I could do without using the jade roller, but oral care and essential oils worked great for making me feel good throughout the day.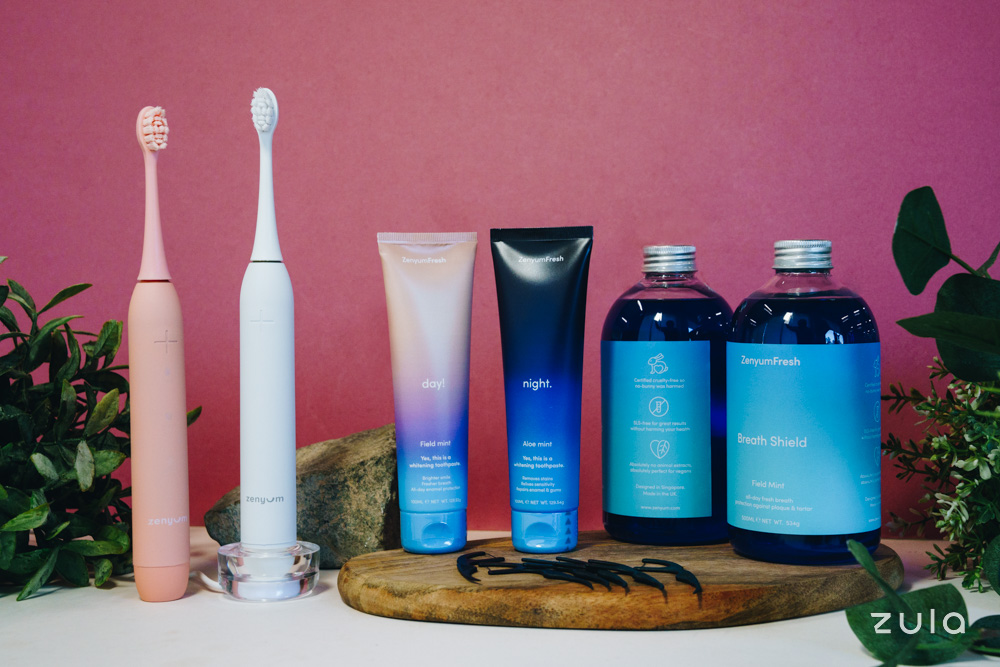 It can be hard to get your butt out of bed earlier every morning just so you can get your daily ritual in motion. But self-care should not be compromised when you're prioritising yourself, especially if you're leading a busy lifestyle and need to catch a break.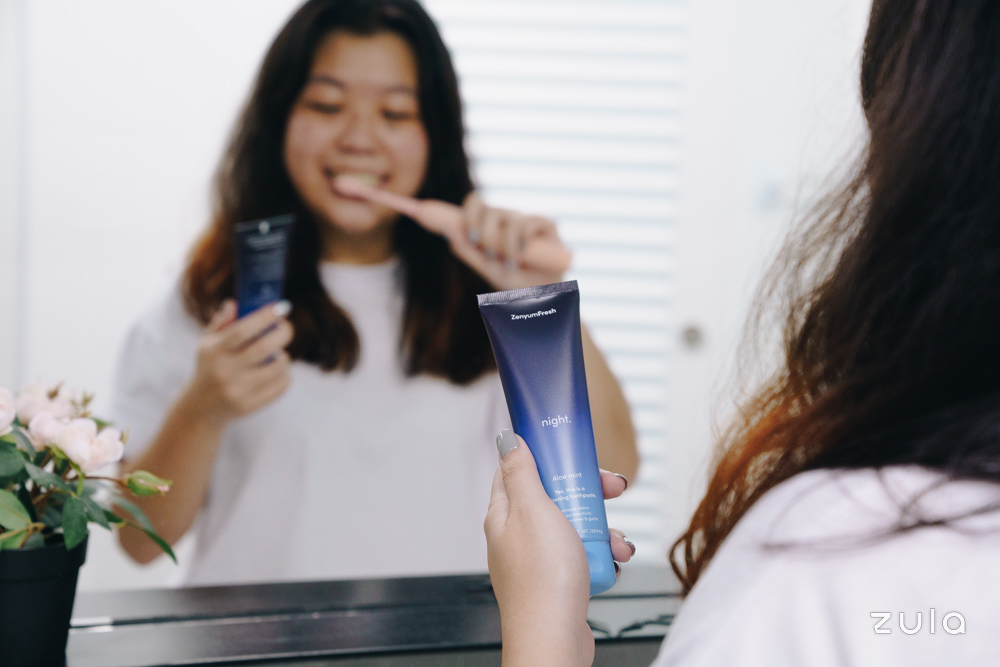 If you're looking to add oral care into your morning ritual just as I did, the Zenyum New Smile Ritual bundle has all the essentials you need for a perfect step-by-step routine. 
Embarking on an oral care routine was fuss-free and didn't take up as much time as I expected it to. Each product in this set also uses natural flavours and ingredients for a healthier and more effective ritual. 
ZenyumSonic Toothbrush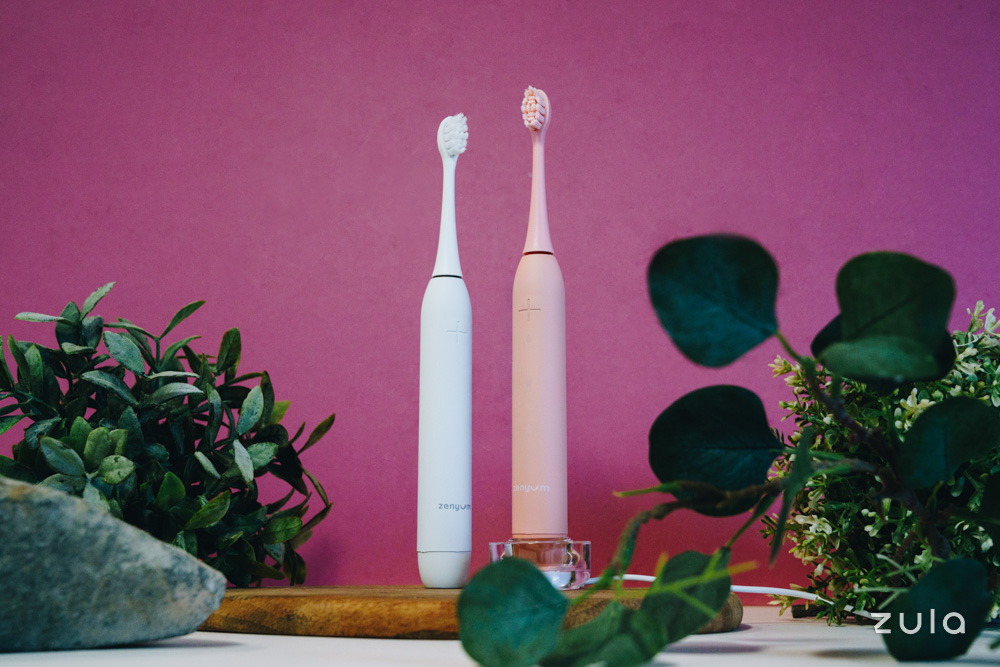 The ZenyumSonic Toothbrushes come in 3 different colours of white, pink and black. Unlike your manual toothbrush, its features feel more atas, such as wireless charging and battery life that lasts up to 3 weeks. 
Despite being 10 times faster than standard electric toothbrushes at 33,000 vibrations a minute, you don't have to fret about hurting your teeth and gums as the DuPont nylon bristles are soft. A brush head pack is also included to occasionally replace your toothbrush.
Flip the toothbrush around for an additional surprise — a tongue cleaner that cleans hard-to-reach places and eradicates bad breath. 
ZenyumFresh Toothpaste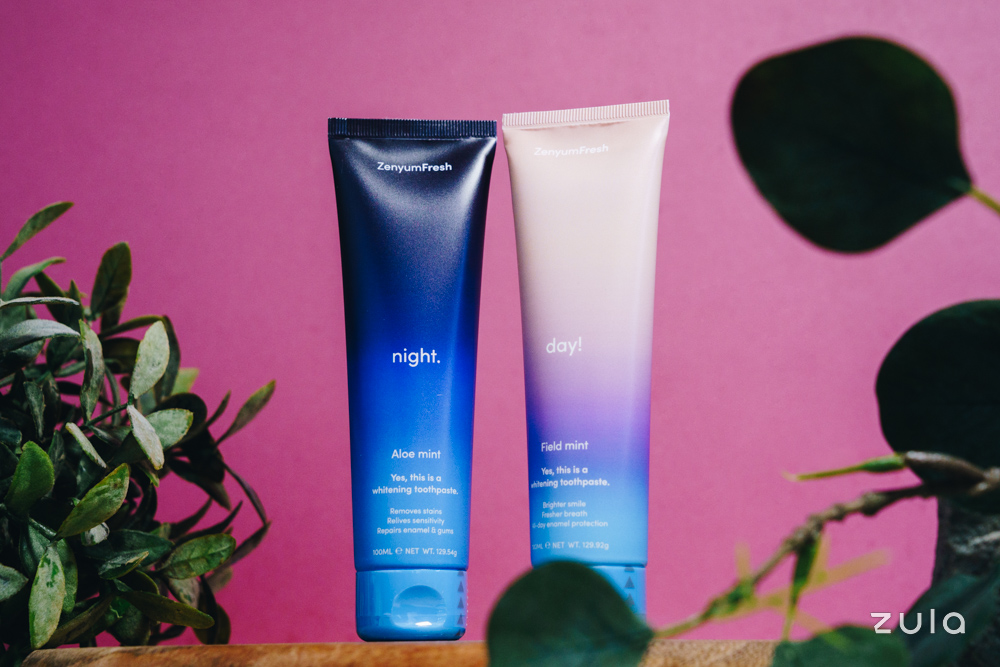 Our mouths actually go through different stages while we're awake and asleep, so it only makes sense to get 2 different toothpaste tubes to suit the time of the day. The day toothpaste has Papain, an enzyme from papaya, which whitens our teeth and protects it from stains from things like coffee and sauces. 
Meanwhile, the night toothpaste makes use of ultra fine-grade activated charcoal, hence its darker colour, to remove stains and repair your enamel and gums while you sleep. These are also whitening toothpaste, so you can ensure that your teeth will be bling bling enough for your next Instagram selfie. 
ZenyumFresh Floss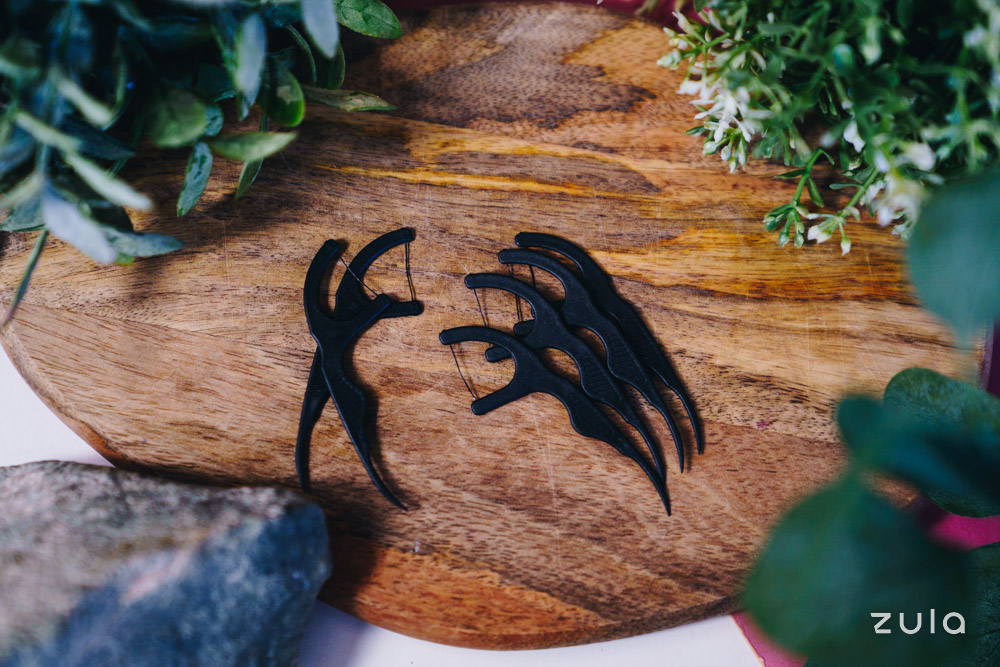 There's nothing worse than having something stuck in your teeth throughout the day. It's both uncomfortable and humiliating, especially if you're going out on a date with bae. Add flossing to your morning ritual to get rid of all the plaque that's haunting the little spaces between your teeth. 
The ZenyumFresh floss is also made up of charcoal-infused mint so it can reach every spot in your mouth effortlessly. 
ZenyumFresh Breath Shield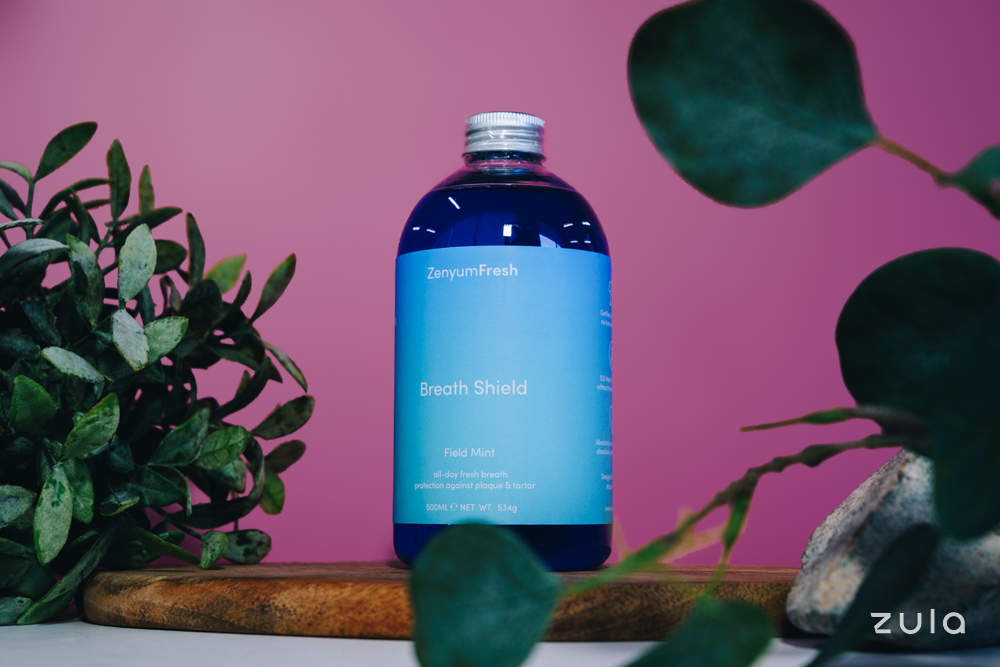 As we're always wearing our masks while we're out, we may sometimes notice that our breath smells bad underneath it. That's a sign of poor oral hygiene, with the buildup of bacteria releasing this smell. 
To counter the nasty feeling of being stuck with bad breath the whole day, simply swish the ZenyumFresh Breath Shield around your mouth for 30 seconds. Just 20ml of this will do the trick, so you don't have to keep spamming water or breath mints while indoors. Don't be shy to use it after meals throughout your day too, as the food buildup in our mouths can also lead to bad breath.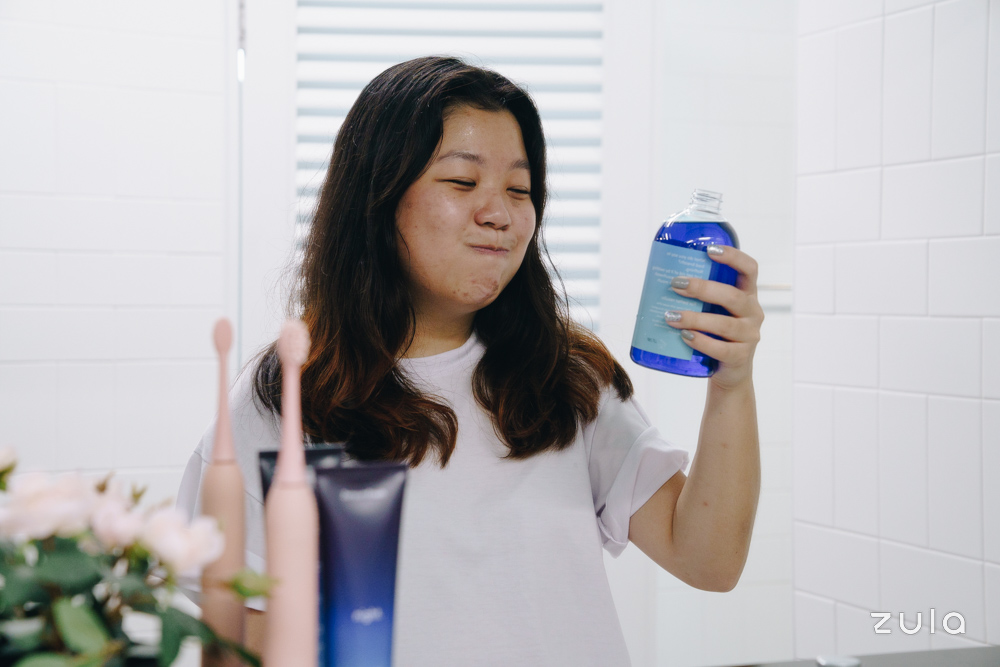 Instead of feeling like oral care is a chore that we have to go through, level it up into a game-changing beauty ritual instead. We all deserve to be pampered in the mornings before we head off to our busy schedules. 
As an added bonus for animal-lovers, these products are certified cruelty-free and made with no animal abstracts. The bundle is worth $157, but you save 24% by getting it all at $119. Before doing so, don't miss out on the promo code FRESH10 to get 10% off storewide on Zenyum too!  
This post was brought to you by Zenyum.
Photography by Ian Sim.