Munah Bagharib's Beauty Routine
Munah Bagharib and Hirzi Zulkiflie may have retired from their decade-long comedic ventures in 2018, but it certainly wasn't the end of the road for the self-avowed "Prince and Princess of Singapore's YouTube scene".
While Hirzi champions LGBT rights and helms his YouTube ground, Munah has been starring in television shows and theatre productions. Last year, she also gave an uplifting talk at the Singapore Youth Conference, using her voice and platform to empower budding creatives.
She does all of that with a cheerful disposition and glowing visage—something we couldn't help but notice. We sat down with Munah for a catch-up session as she divulged her entire beauty routine for us to cop.
SKINCARE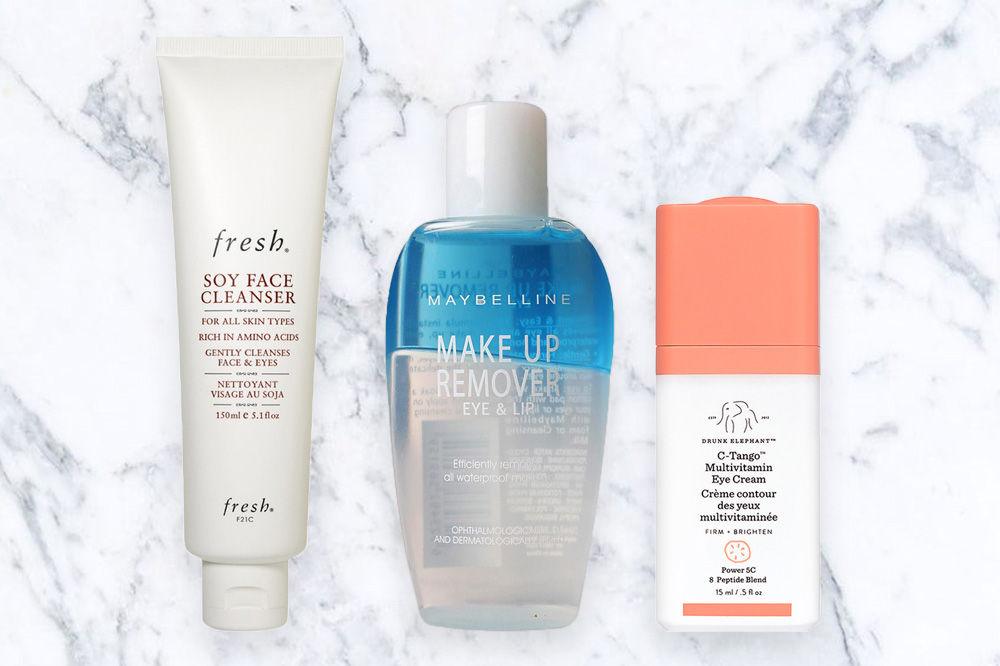 Left to right:
Fresh Soy Face Cleanser ($63)
Maybelline Eye & Lip Makeup Remover ($9.90)
Drunk Elephant C-Tango™ Multivitamin Eye Cream ($90)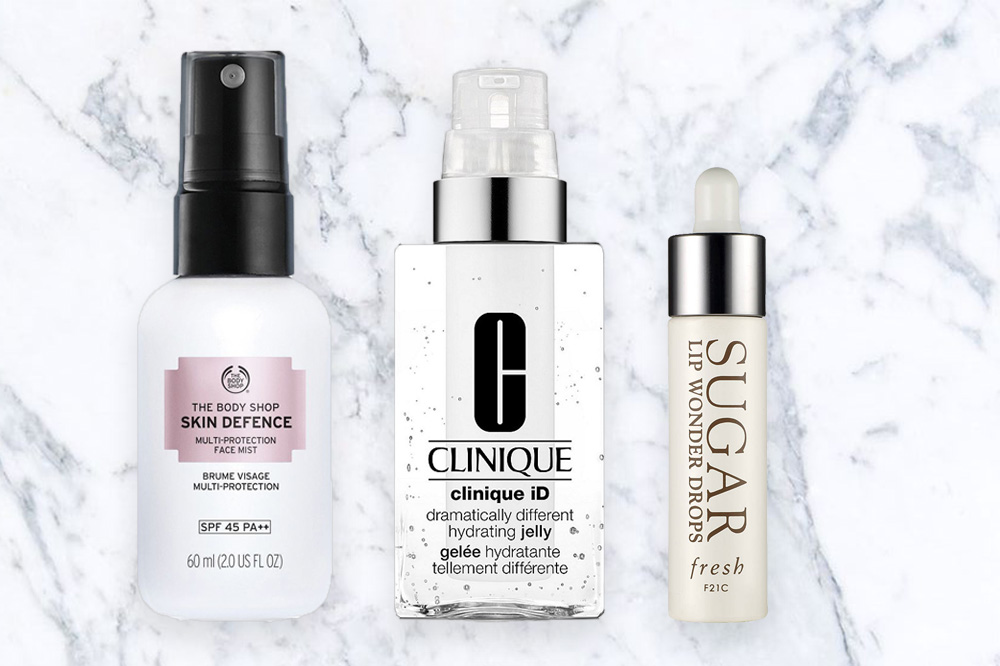 Left to right:
The Body Shop Skin Defence Multi-Protection Face Mist SPF45 PA++ ($35)
Clinique iD Dramatically Different Hydrating Jelly + Active Cartridge Concentrate: Uneven Skin Tone ($75)
Fresh Sugar Lip Wonder Drops ($39)
Which acne treatment do you reach for when you get sudden breakouts?
I use Benzac's AC Gel 5% from Guardian and it's amazing—kills off those little buggers overnight!
What's the most expensive product on your shelf?
It might just be my Bali Body tanning oil bundles, when added together. I buy so many at one time. They've even got a new Self Tanning Mousse, which gives you a gradual natural tan. Works wonders!
What is the most underrated beauty product you've discovered?
It's not exactly underrated but it's more convenient than I thought. It's the Nudestix Nudies Matte All Over Face Color Blush & Bronze in Sunset Strip and Sunkissed! I can use it for my eyes, lips, cheeks, even for a little bit of contour.
What's the most outrageous beauty treatment you've tried?
I've tried this thing where they wrap your body in plastic and then put you in a machine. The room was dark and I got claustrophobic in the first minute. I immediately called for the therapist and told them to get me out.
I don't even remember the name of the treatment but it had something to do with body sculpting, I think. I don't know, I was in my early 20s and won the treatment in an online contest. Never again!
MAKEUP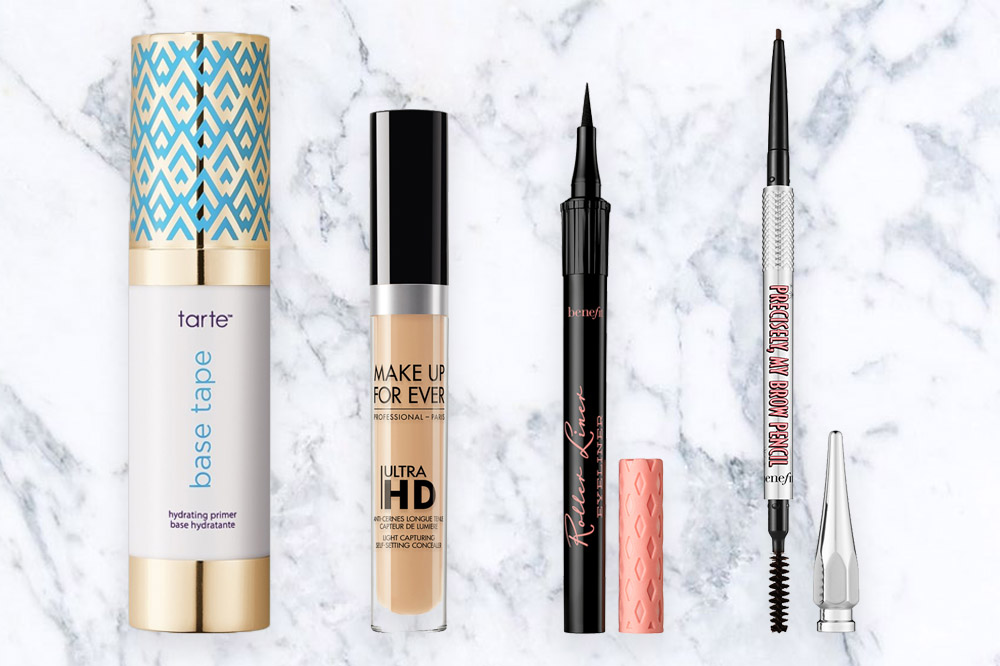 Left to right:
Tarte Base Tape Hydrating Primer ($39)
Make Up For Ever Ultra HD Light Capturing Self-Setting Concealer in 32 Neutral Beige ($50)
Benefit Cosmetics Roller Liner Black Liquid Eyeliner ($39)
Benefit Cosmetics Precisely, My Brow Pencil in 05 Deep ($44)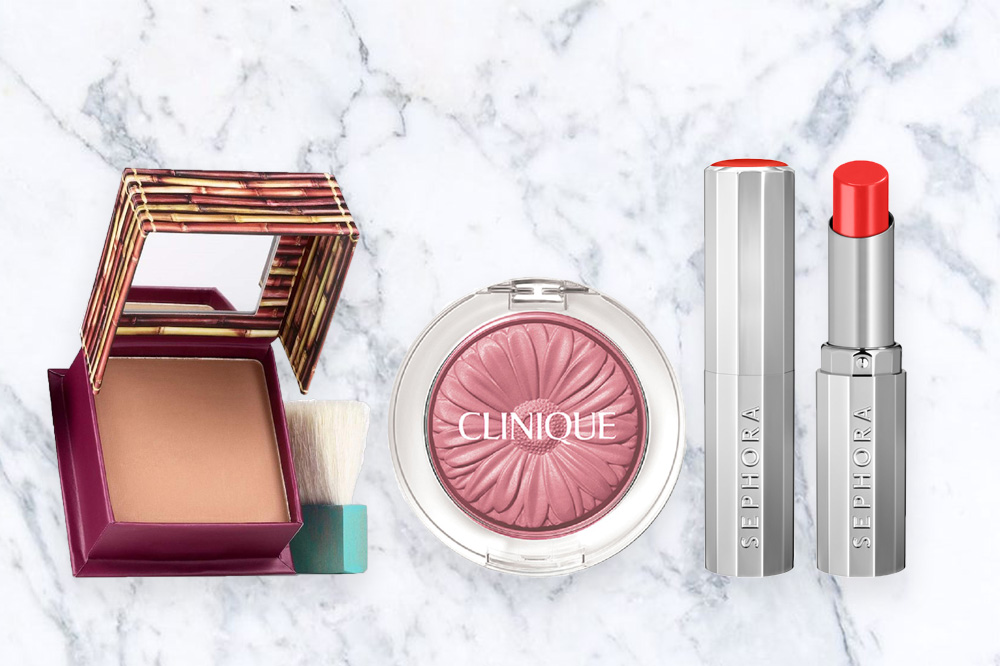 Left to right:
Benefit Cosmetics Hoola Bronzer ($53)
Clinique Cheek Pop in Heather Pop ($40)
Sephora Collection Rouge Lacquer Lipstick in 13 CEO ($19)
When did you start getting into beauty?
I only started taking care of my skin in my early 20s and that was because I was more exposed to [the world of] beauty from shows and performances. I realised how important it is, especially when I wear loads of makeup [on-set] and when I'm exposed to different physical environments.
Who are the women you look up to in your personal and professional life?
In my personal life, I look up to my mum. She's the epitome of patience and grace, and she does everything with a smile and positive spirit. She's my idol and my pillar of strength.
In my professional life, the one person off the top of my head is Deepika Padukone. That woman never stops working and never complains. She also stands for very important issues like female empowerment and diversity. Absolutely love her!
Also read:
Jemma Wei Shares Her Beauty Routine And Why She Wakes Up At 5am Every Day
What's your biggest challenge when hosting?
The nerves! I still get very nervous right before anything starts. It gets better after the first few lines, when I'm settled in. But the moments before a show or event or performance, it never gets easier. I always need some time on my own to calm myself down and focus on what I need to achieve.
Do you have a wellness routine that helps you unwind?
To unwind, I actually just sit in my chair and stare at the ceiling to clear my mind completely. I also like to go to Mustafa Centre because looking through rows of groceries and reading labels calms me. I also do yoga.
HAIR & BODY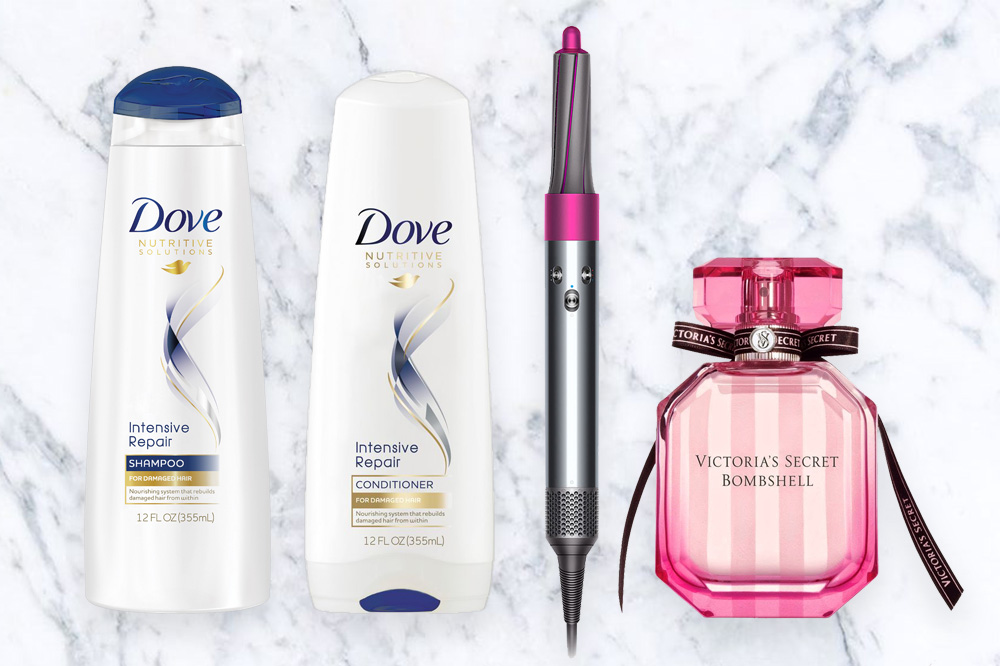 Left to right:
Dove Intense Repair Shampoo ($11.70)
Dove Intense Repair Conditioner ($11.70)
Dyson Airwrap Hair Styler Complete ($699)
Victoria's Secret Bombshell Eau De Parfum ($119)
What's your secret to having self-confidence, especially when you're on camera?
I don't really have a secret. It's really a learning process and something you start to get used to. What helps is when you focus on what you're trying to achieve. Don't stay in your head for too long. You have to learn to let go and have fun with it.
Can you tell us more about the new Clicknetwork web series, Girl Band Called Girl Band?
It's a wonderful and hilarious series about a group of 30-year-olds who are rediscovering themselves again in this new era of life. It's different moving from one stage in life to another and I feel like moving into your 30s, the changes are bigger than ever.
It's a show for everyone because it's about growing up and understanding that it's okay to find yourself again and again. You are a beautiful aurora, ever-changing and luminous.
What other projects are you currently working on?
I'm working on quite a few things at the same time. A lot of them are on embargo at the moment. What I can tell you about is a Lifetime Asia series I'm hosting about everyday issues we face, we see, we want to talk about.
That's happening on its Facebook and YouTube pages. I'm also working on a stage production that opens in July this year, so I'm super excited for it. Mat Champion, which I'm co-producing and starring in, is a children's show about empowerment and relearning your culture. That's going to be a delight because it's got songs, dances and a great cast!
Apart from that, my year is also filled with working closely with Teater Ekamatra. I'm under a mentorship to produce for theatre at the moment because it's something I really want to get into in the near future. New and exciting times ahead for sure!
Munah Bagharib's Skincare & Makeup Favourites
Get to know Munah Bagharib by following her on Instagram, Facebook and YouTube.
Also read:
Youtube Comedienne-Turned-Actress Munah Bagharib Shares Lessons Learnt In Entertainment