Naomi Yeo's Beauty Routine
Frequent radio listeners would know the name Naomi Yeo. Those who aren't, however, may still find her voice a tad familiar. Today, we're putting a face to the name and voice.
Not just a radio presenter at 987FM, Naomi is also an actress, host and voice-over artist. Her work spans across movies, short films, numerous TV series on Toggle as well as commercials. Occasionally, she'll take the stage to host beauty events too, which is where we first met her.
At a La Roche-Posay event, we were charmed by her personality and winning smile. We invited Naomi over for a chat to find out how she keeps her skin in tip-top condition and what she's been up to lately.
SKINCARE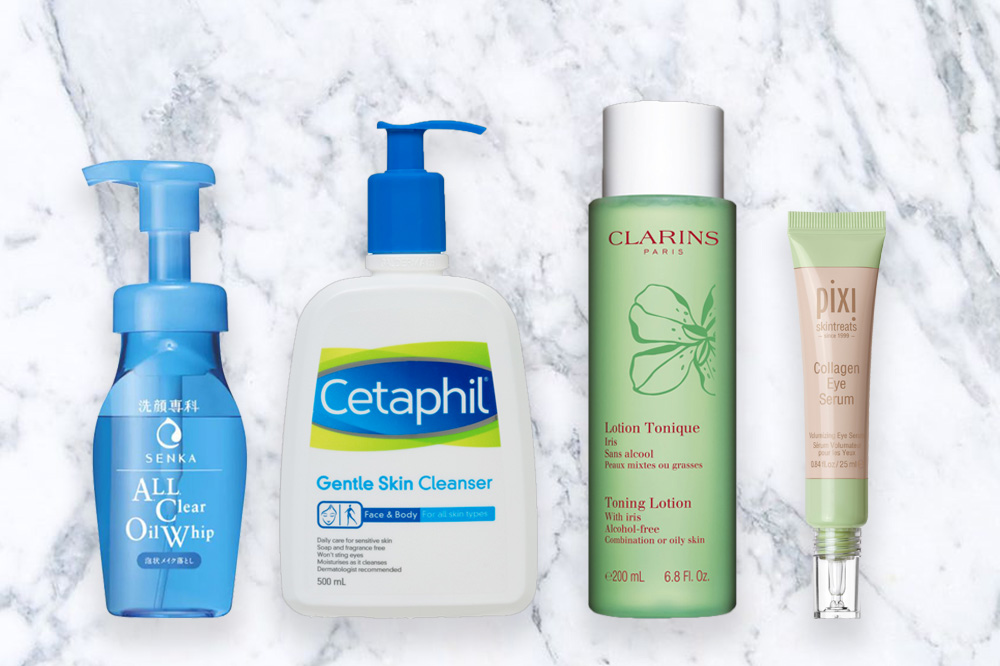 Left to right:
Senka All Clear Oil Whip ($14.90)
Cetaphil Gentle Skin Cleanser ($21.90)
Clarins Toning Lotion with Iris ($46)
Pixi Collagen Eye Serum ($38)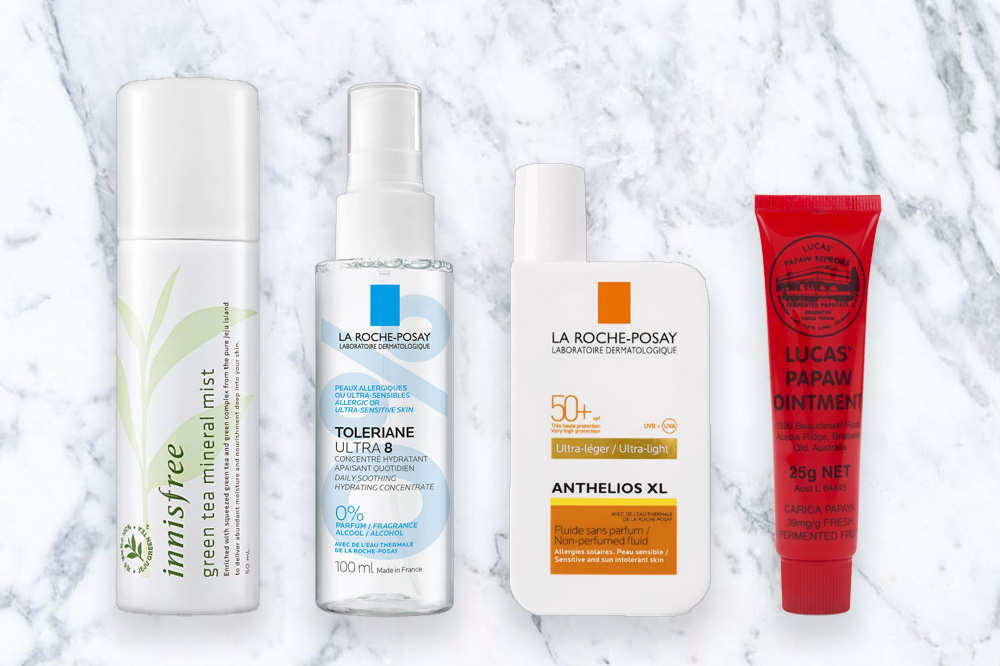 Left to right:
Innisfree Green Tea Mineral Mist ($18)
La Roche-Posay Toleriane Ultra 8 Mist ($35.90)
La Roche-Posay Anthelios XL SPF 50+ Ultra-Light Fluid ($46.90)
Lucas' Papaw Ointment ($20.60)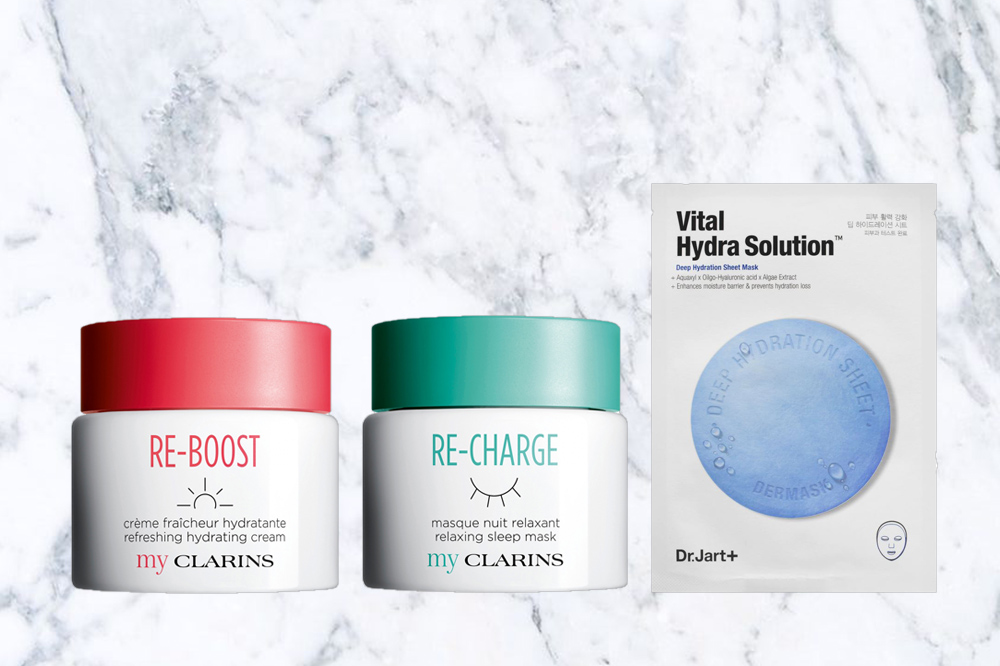 Left to right:
My Clarins RE-BOOST Refreshing Hydrating Cream ($45)
My Clarins RE-CHARGE Relaxing Sleep Mask ($45)
Dr.Jart+ Dermask Vital Hydra Solution Facial Mask ($33 for 5 sheets)
Walk us through your daily morning routine.
Assuming I'm not on sloth mode, I do my best to clock in a morning run or swim to jumpstart my day. Getting my skin prepped is often quick and easy. Cleanse, tone and moisturise. And I never forget to use a generous amount of sunblock. Depending on whether I'm meeting clients or running errands, I'll add another 30 minutes to do my makeup. Otherwise, I go barefaced.
What's your evening beauty routine like?
If I come back with a full face of makeup, I take my time to remove it. I find it incredibly satisfying. It's almost symbolic of me patting myself on the back for having gotten through a hard day's work. I cleanse, moisturise and put on a sleeping mask to soothe my skin. If I'm feeling extra, I pop on a hydrating mask and finish a cup of moscato while I'm waiting.
Your skin looks flawless. Have you always had good skin?
I've struggled with acne since I was 14. [I had] small little oil seeds all over my forehead, down my cheeks to my chin and a lot of those big ones as well. I felt so crappy about myself, like I didn't want to go out. It's only after I saved up enough money, that I went to see a skin doctor.
[The first doctor] didn't work out so I went to see another dermatologist and he offered me Acnotin. I did have a little bit of skin dryness [after that] but that only really helped to regenerate my skin. So now I feel a hundred times more confident, I feel really great about myself.
MAKEUP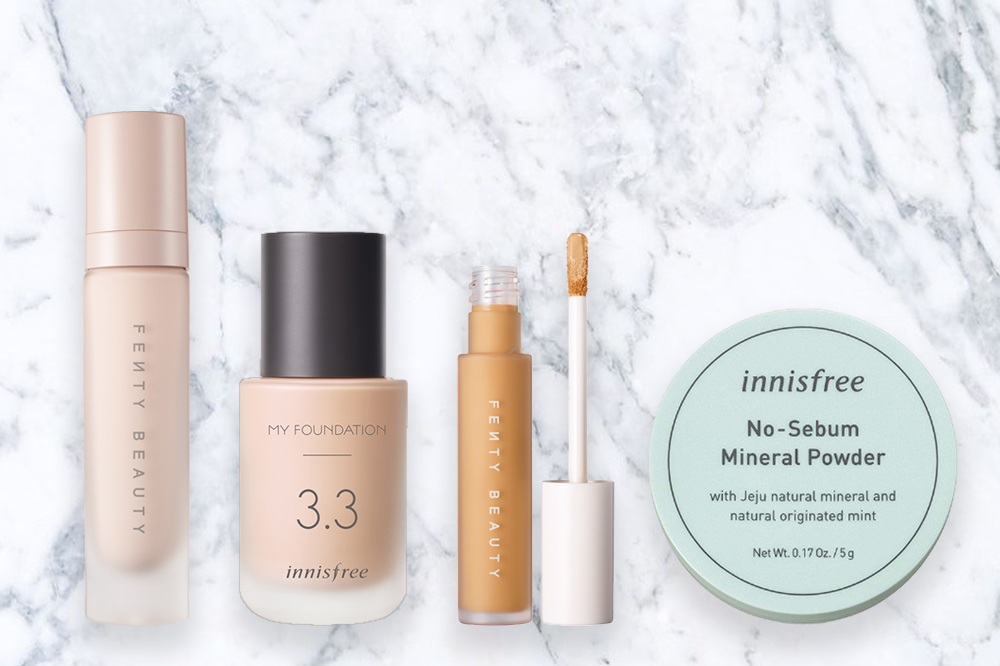 Left to right:
Fenty Beauty Pro Filt'r Instant Retouch Primer ($24)
Innisfree My Foundation 3.3 in W35 ($32)
Fenty Beauty Pro Filt'r Instant Retouch Concealer in 250 ($38)
Innisfree No-Sebum Mineral Powder ($10)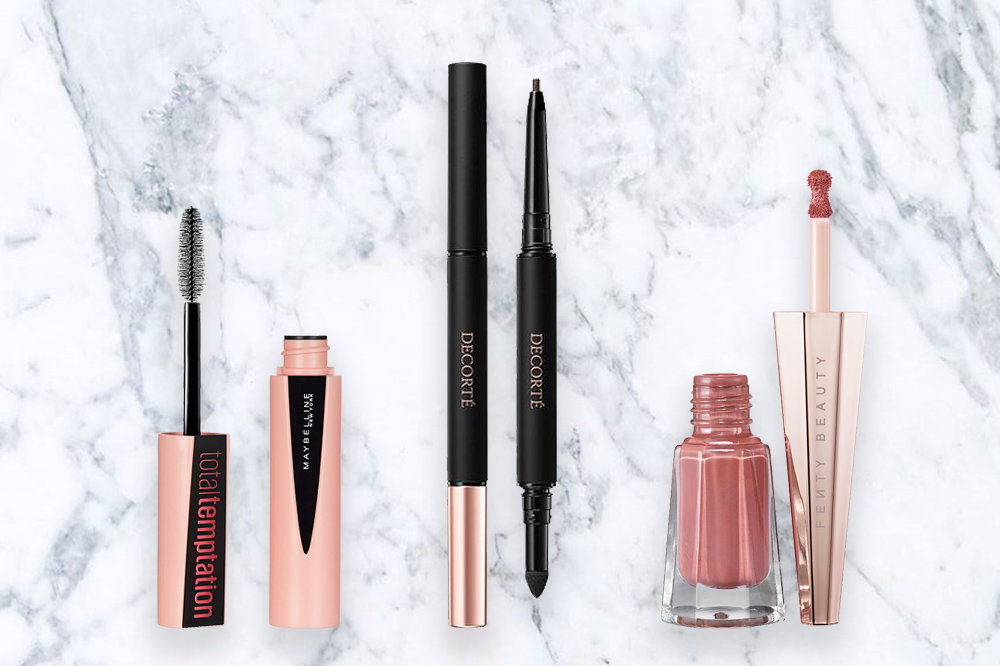 Left to right:
Maybelline Total Temptation Mascara in Very Black ($21.90)
Cosme Decorte Lasting Gel Eyeliner in BR301 ($57)
Fenty Beauty Stunna Lip Paint Longwear Fluid Lip Color in Uncuffed ($36)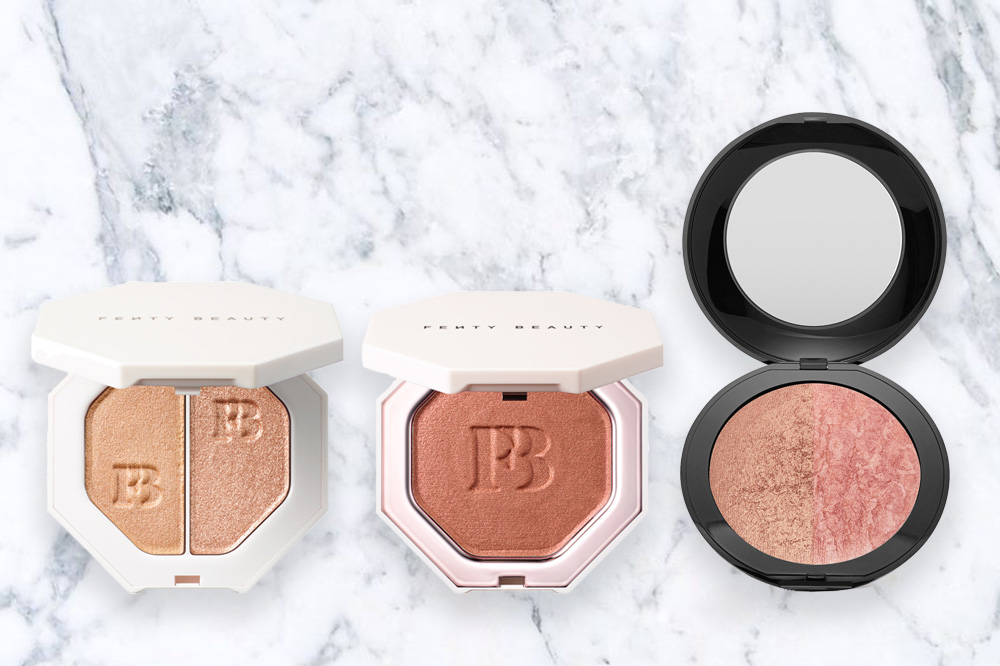 Left to right:
Fenty Beauty Killawatt Freestyle Highlighter Duo in Afternoon Snack/Mo' Hunny ($54)
Fenty Beauty Killawatt Foil Freestyle Highlighter in Penny4UThots ($54)
H&M Blusher Highlighter Travel Duo in Copper Rose (~$20.82)
When did you start getting into makeup?
I only started buying makeup and getting into makeup two years ago. One of my best friends had an extra Too Faced peach palette blusher so I took it. The first time I used it, I swiped a whole chunk on my face, so I looked like I had two little orange pinkish peaches [on my cheeks].
I didn't dare ask my friends for makeup advice because the first question would be, "Huh?! You now then put on makeup ah?" So I had to go through a couple of YouTube videos. The thing I learnt from YouTube beauty vloggers is that the first step should be to moisturise and put on primer after that.
What's the best beauty advice you've ever received?
This quote has nothing yet absolutely everything to do with beauty, and it's by far something I still align myself with.
"A person who has good thoughts cannot ever be ugly. You can have a wonky nose and a crooked mouth and a double chin and stick-out teeth, but if you have good thoughts it will shine out of your face like sunbeams and you will always look lovely."—Roald Dahl
Also read:
Caitanya Tan Shares Her Beauty Routine & Why Going Dairy-Free Has Been The Highlight Of Her Year
Out of all the beauty events you've hosted, which has been the most memorable and why?
Meeting Hector Espinal (Global Makeup Artist for Fenty Beauty) and Penny Antuar (makeup artist) with Fenty Beauty was probably the most memorable. Doing my research on how they got to where they are, and watching these professionals do what they do best was a bonus. An opportunity for me to learn from the best while on the job!
HAIR & BODY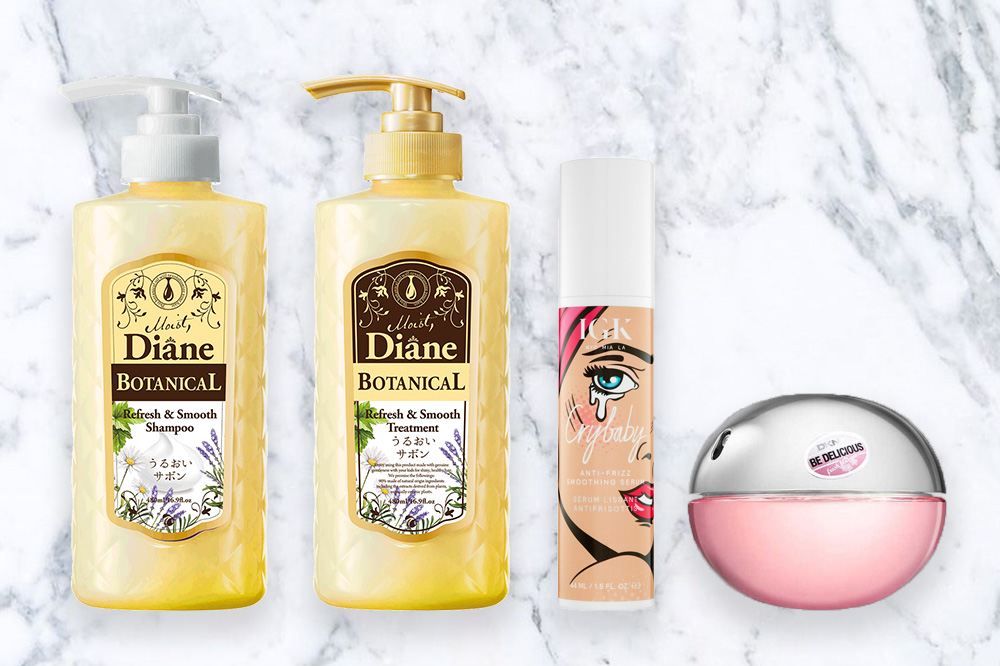 Left to right:
Moist Diane Botanical Refresh and Smooth Shampoo ($18.90)
Moist Diane Botanical Refresh and Smooth Treatment ($18.90)
IGK Crybaby Anti-Frizz Smoothing Serum ($37)
DKNY Fresh Blossom Eau de Parfum ($54)
What was it like working with Benjamin Kheng on The Intruder?
Ben is extremely professional and the first time I actually worked with him was on Dead Lucky. I was just doing a little snippet of that. He kept the set very light. Sometimes on set, it can get very serious, so it pays to have someone on set with a sense of humour and doesn't take anything too seriously.
Do you think he'd make a good boyfriend?
One characteristic that would make him boyfriend material would be his sense of awareness. He would be very in tune [with you] and he would listen to what you have to say. I think that he's very accommodating. These are all traits that are pretty good boyfriend material. So good on you, Ben.
How do you manage your career and lifestyle?
When it comes to work-life balance, I go on ClassPass and I just pick a workout class [when I have some free time]. One of [the] workouts I do is Bikram yoga. I've gone for two years now. It's really helped with my breathing. I used to not be able to climb a flight of stairs and not feel [like I was] dying, out of breath.
I remember the first lesson I had for Bikram yoga, I couldn't last 20 minutes. I had to run to the toilet to puke out my lunch because it was really intense. I cried for the next 40 minutes but I told myself that I really have to get my health back on track, so I kept going for it.
Now that I see the effects, I love it so much. It's really made a huge difference. I'm generally able to have a better outlook on life. You never really notice or feel the effects of sports and what it does to you and your mental health until you actually try and incorporate it into your life. So I would really recommend people to just do it. Don't even think. Just do it.
You've mentioned your love for backpacking. Do you have any tips on staying safe during a solo trip?
You have to have a good sense of direction, pay attention to your instincts and what your gut has to say. I have learnt to always carry a Swiss Army knife because there are so many things you'll encounter when you're solo backpacking, like cutting through material [and] opening a can or bottle.
What can we expect to see from you for the rest of 2019?
I want to put out more content for [people] to get to know me better. It could be talking to you about what I do on a daily basis, taking you through my everyday life or through some of the productions that I'm currently working on. Hopefully, I'll be able to travel more as well so you [can] see more videos on my Instagram page.
Naomi Yeo's Skincare & Makeup Routine
Get to know Naomi Yeo by following her on Instagram, YouTube and her website.
Cover image: Source
Also read:
Prettyfrowns Shares Her Beauty Routine & How She Stays Positive In The Face Of Backlash